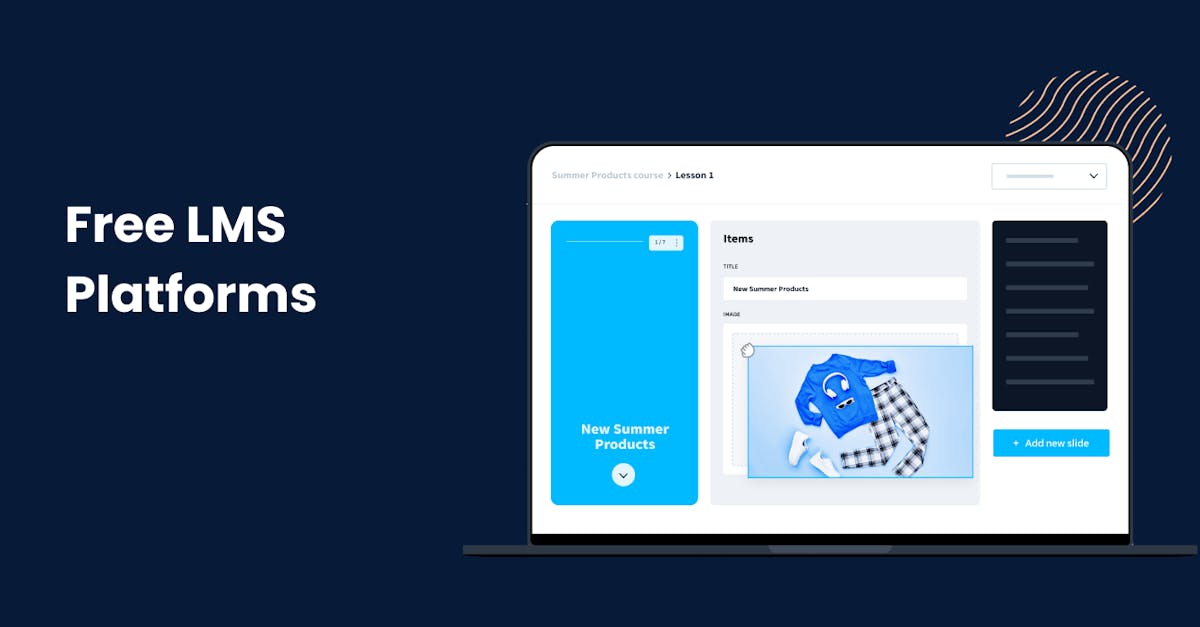 Choosing the right LMS platform is crucial to the success of your training. So we've handpicked learning management platforms to help you decide what's best for your organization's needs.  Scroll down below to learn more.
1. EdApp
Packed with a lot of features, EdApp is the perfect LMS platform that gives you a complete insight into your training. It's a free all-in-one learning solution that helps you create, test, and roll out visually aesthetic and engaging microlearning courses with its intuitive authoring tools, ready-made templates, and editable course library. It's also made with mobile in mind so your learners can access and complete their lessons anywhere at their convenience. To drive participation and engagement, EdApp offers interactive quizzes and games, such as the jeopardy game, memory game, and letter jumble.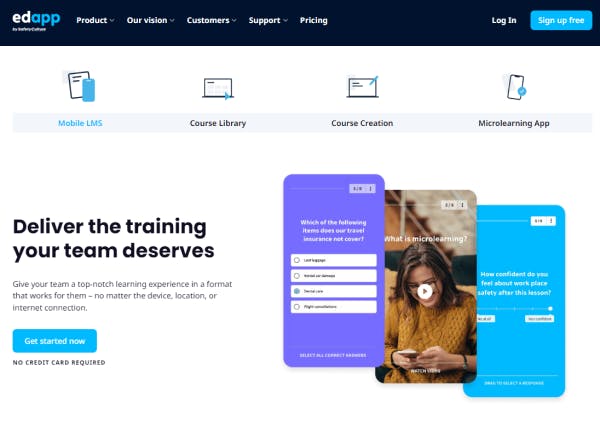 Fret not if you have never created an online course before. Your first five lessons of your course can be created by EdApp, saving you time on creating courses from scratch.
Also functioning as an effective employee training tracker, EdApp allows you to monitor the learning progress of your team through reports & analytics. In just a few clicks, you can check their course progress and success rate based on their behavioral habits and also confirm if they are successfully retaining key concepts. This is all thanks to EdApp's powerful performance dashboard which is presented in a visual color schematic way and will also help you identify ways to improve engagement and completion.
Cost: Free
Key features: Mobile-first environment, editable course library, games & quizzes, actionable reports
Join EdApp for free to take advantage of this LMS platform's amazing learning solutions designed for modern learners.
2. Violet LMS
Violet LMS is a full-service LMS platform that helps develop employees through a sustainable learning experience. It offers dedicated guides depending on the type of training session you're deploying such as employee training, onboarding, sales training, compliance training, distribution training, and even customer training. This LMS also enables blended learning by assisting in offline training through features, such as an external trainer management system and a venue management system. Employee knowledge is further strengthened with interactive courses and virtual classroom sessions. With the adaptable training plan provided by this LMS, training consultants have access to a visual calendar of priorities and tasks, as well as track and measure results for each individual through a powerful reporting tool. Through individualized learning plans tailored to the needs of the learners, employees can maximize their potential and improve their performance.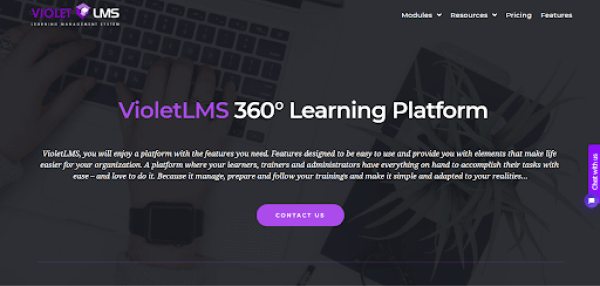 Cost: Price upon request
Key features: Mobile learning, unlimited courses, virtual classroom, learning paths
3. Gyrus
Gyrus is a cloud-based learning management platform that assists training managers in effectively meeting the learning needs of their employees and equally creating a meaningful learning experience for their learners. Its AI-driven features like e-learning and skills management tools are designed for developing personalized learning programs for various groups of employees. In Gyrus, training content can be delivered through file-based courses, videos, webinars, simulations, documents, and virtual classrooms, which give you more flexibility in planning an adaptable training strategy. You're also able to instantly monitor the effectiveness of your training programs with its real-time data visualization and reporting.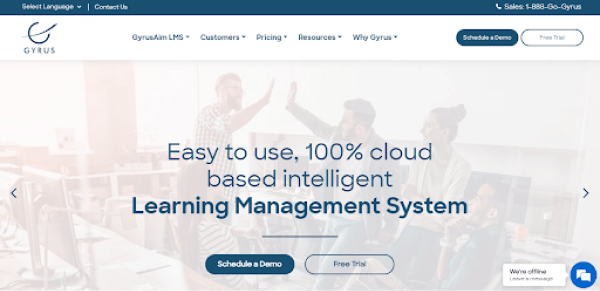 Cost: Starts at US 00/month
Key features: Various eLearning formats, real-time analytics & insights, file-based courses
4. Looop
As an advanced LMS platform, Looop helps you create online learning resources and automate training processes for your employees. With their simple yet visually appealing UX design, you can create engaging learning materials and access features like campaigns. Furthermore, you can automate the delivery of your training content through different channels like Slack, Teams, and even SMS. Other features like user insights and analytics dashboards give you visibility on your teams' completion rates, learning gaps, and overall performance. Through these enhanced reporting features, you'll be able to gauge the effectiveness of your training and address your workers' learning challenges. To access all of Looop's products, you can sign up for a monthly subscription, allowing a maximum of 50 users.
Cost: Starts at US 99/month
Key features: Automated training delivery, user insights & analytics, cross-application integration
5. Tovuti LMS
Tovuti LMS is another learning management platform that you can use to streamline your employee training process. With its built-in course authoring suite, you can create, schedule, and deploy interactive courses in just a few easy steps. You can also include gamification and leaderboard features to encourage them to complete their assigned learning tasks. If you want to integrate synchronous learning sessions into your training, Tovuti LMS's live virtual classroom allows you to meet with your team members in real-time and discuss learning content through third-party online video conference platforms like Zoom and GoToMeeting.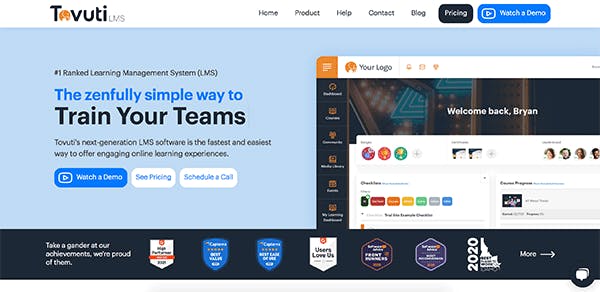 Cost: Contact Tovuti LMS for pricing
Key features: Course authoring, analytics tool, virtual classroom, personalized learner portal
6. ProProfs
ProProfs is designed to ease up the process of creating training content. It allows you to develop online training courses and quizzes with hundreds of available templates and media content. This learning management platform also provides a premium library with pre-made courses on topics such as compliance and customer service that you can easily deploy to your teams. A collaborative learning environment is also promoted through features like discussion forums and virtual classrooms. Through its training management system, you're able to efficiently streamline processes in developing training materials, as well as track the progress of each employee.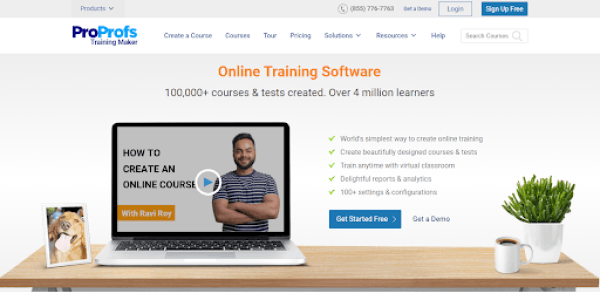 Cost: Free and paid plans
Key features: Premium course library, editable course templates, virtual classroom
7. Learnbook
Learnbook touts itself as the world's friendliest LMS platform. It has an advanced dashboard designed to easily help manage various tasks such as enrolling learners in a course, sending them notifications, and checking their progress. Connecting with your teams from anywhere in the world has been made easier with Learnbook's webinar software. You can run, record, and even publish webinars as courses. It also has its own messaging feature so that all communication can happen in one place instead of using external applications.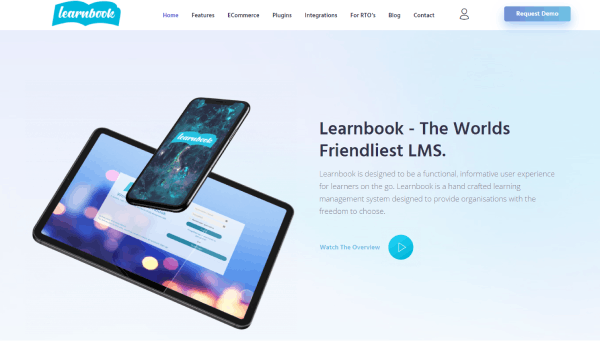 Cost: Contact Learnbook for pricing
Key features: Easy to use administration dashboard, course library, webinar sessions
8. Innform
Innform is a one-stop shop if you're looking for a learning management platform that can cover all your training needs. You can choose from over 100 ready-made courses or use your existing content then have them automatically converted to a manual. It also features a built-in repository so you can easily drag and drop your files to the courses or quizzes you create. To boost engagement, you can reward learners with points, badges, and seats on the leaderboard whenever they complete a course. With Innform, you can always keep tabs with your learners as it includes tracking and reporting features.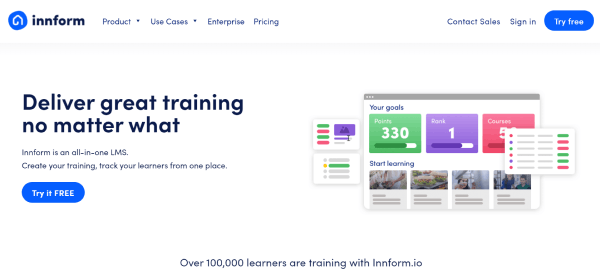 Cost: Starts at £1/month
Key features: Built-in course authoring, 360-degree feedback, learning paths
9. Vowel LMS
Vowel LMS enables you to take control of how learning happens in your organization. It allows you to conveniently assign courses, track learner progress and view customized reports. You can easily author courses on the fly with its drag and drop HTML course builder even without any technical knowledge. If you already have existing SCORM or Tincan-compliant content, you can just upload it with a click of a button or you can opt to choose from their content library if you don't want to start from scratch. Vowel LMS believes that engagement is a huge factor in learning so they've included a personal profile feature where learners can share their interests and display their achievements to their peers.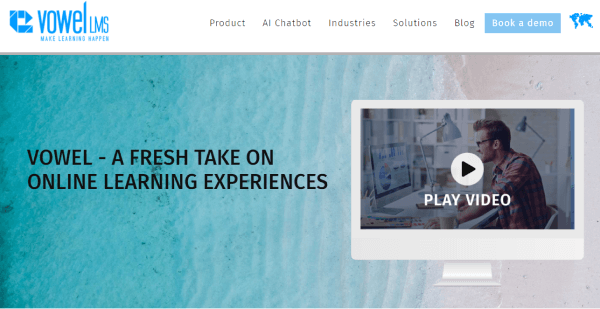 Cost: Contact Vowel LMS for pricing
Key features: Drag and drop course authoring tool, content library, social learning hub
10. IPIX LMS
IPIX LMS is a cloud-based learning management platform to help you easily manage large training programs with a huge number of learners. You can create unlimited courses and incorporate PowerPoint, SCORM, PDF, and CSV files. It also has a visual dashboard so you can keep track of different statistics such as completion rates, top performers, and course activity. To enable training anywhere, IPIX LMS also offers apps on Android and iOS with full features.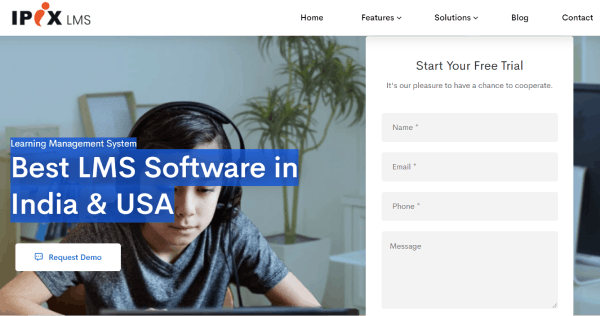 Cost: Contact IPIX LMS for pricing
Key features: Mobile management, course authoring, learner dashboard
11. HR Learn (formerly Inquisiq)
HR Learn, formerly Inquisiq, is a web-based, SCORM-compliant LMS platform specifically for small to medium-sized businesses, so if your organization is growing and/or your looking to train at scale, this isn't the platform for you. While Inquisiq does provide some tools to help support your training, it lacks many abilities around important elements like customization and branding, ease of authoring, real-time edits, language translation, and more. The LMS provides a free demo but 100 users will cost you 40 a month and only 50 users will cost you 75 a month, making it a somewhat costly option.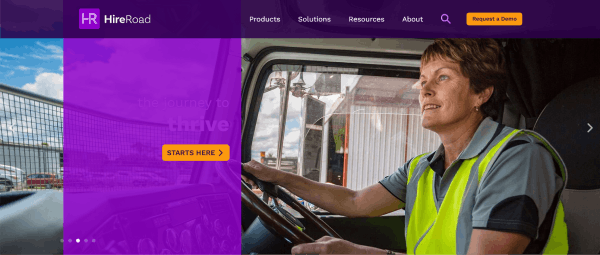 12. NextThought
NextThought is a lightweight (but not skimpy) LMS platform designed to make teamwork easier, which comes in handy, especially during remote working time. The platform compiles a few staple features: learning department, with all learning materials collected in one place, assignment zone where your feedback needs to land, and community page. With easy progress tracking and feedback options, NextThought is a go-to when training a team of employees or wanting to become a source of professional knowledge and looking for a comprehensive but not overpacked online tool. Additionally, NextThought offers an easy-to-use course authoring tool and all-inclusive film-shooting services to serve your company's training programs. The platform offers a free trial and later comes at a minimum price of 9.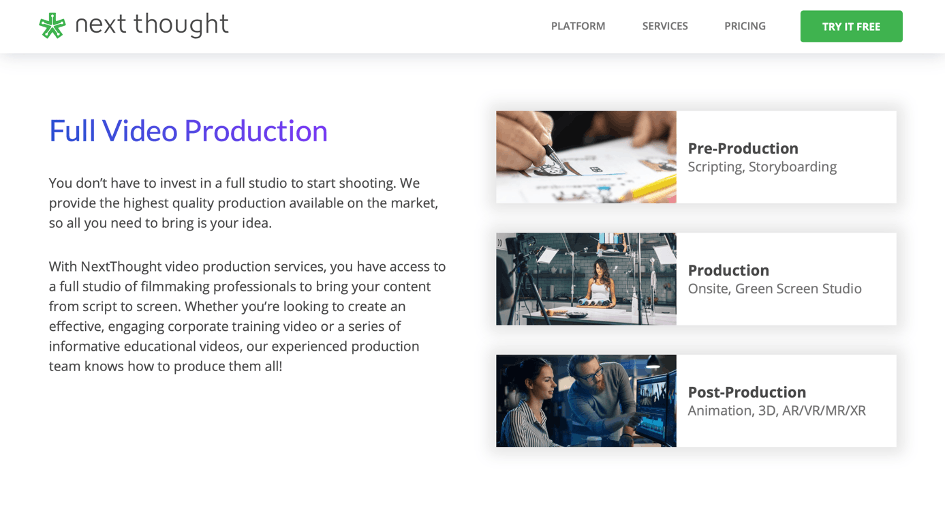 13. WizIQ
WizIQ is a multifaceted learning platform designed to deliver an online classroom experience equipped with a comprehensive set of LMS features. The platform offers simple, no-nonsense authoring tools allowing for the creation of customizable, impactful courses. Using WizIQ online test builder you can prepare and conduct tests and assessments for your team, and the powerful analytical tool will allow for detailed and useful feedback on the outcome of your training. WizIQ is entirely mobile-friendly which makes access to knowledge easy and stress-free. The platform offers a range of integrational plug-ins, as well as a range of LMS software: from MOOCs to white labeling, including cloud storage. Using WizIQ comes at a price starting from 25$ a month, however, to receive a personalized quota one needs to contact the company directly.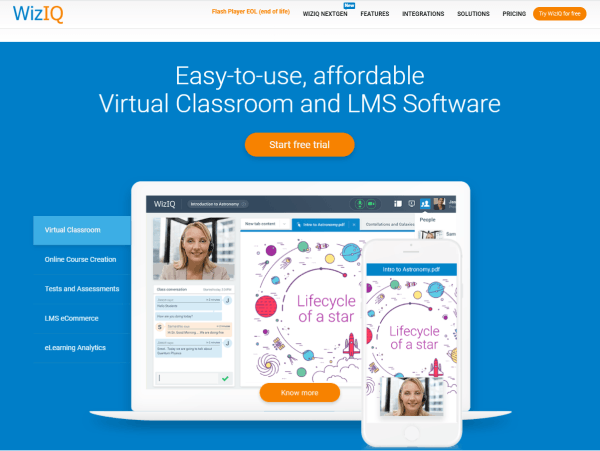 14. iCohere
iCohere is software designed primarily for educational purposes, perfect for business clients and educational institutions. It's an LMS platform comprising on-demand online classrooms and courses (webinars, self-paced, and many others, together with the blended learning experience) together with community-based features, and all-in-one portals for education-based enterprises. iCohere offers tailored customer service and training to make your courses and training programs efficient, accessible, and enjoyable for your teams. The constant education made available through iCohere is boosted through the bridging of LMS, Communities, and webinar solutions for IMIS. Using iCohere can certainly be attractive however, the interface of the online training website could use a lifting.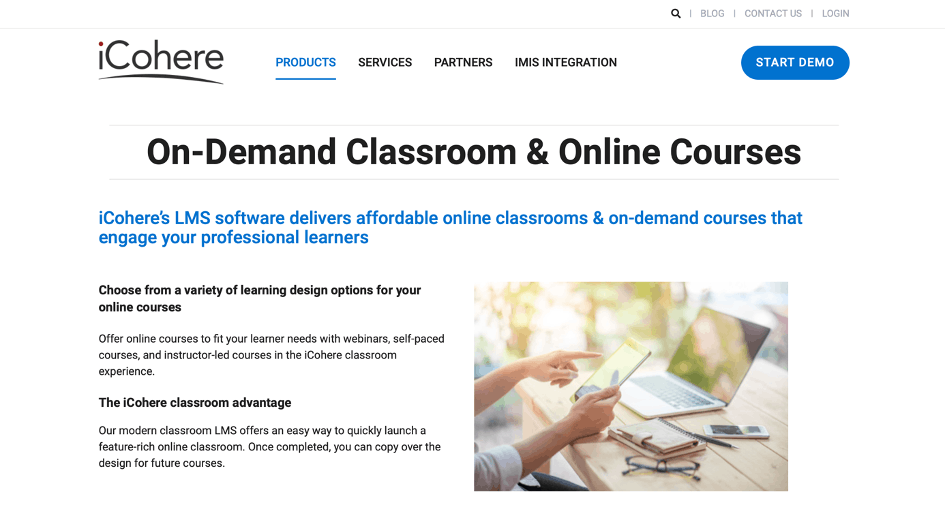 15. Sibme
Sibme offers professional online learning tools for clients in educational institutions. It focuses on video coaching for self-reflection, annotations, analytics, and feedback. Research shows that recording oneself helps to acquire a necessary distance to one's professional skills and catch the issues one would never notice otherwise. Sibme offers professional coaching advice and customer service, lending a hand on how to start working with video recording. Sibme offers team support through workshop planning, choice of a training style and webinars, as well as feedback. However, Sibme's offer is generally aimed towards schools and institutions, it can provide an interesting alternative and additional support for corporate environments.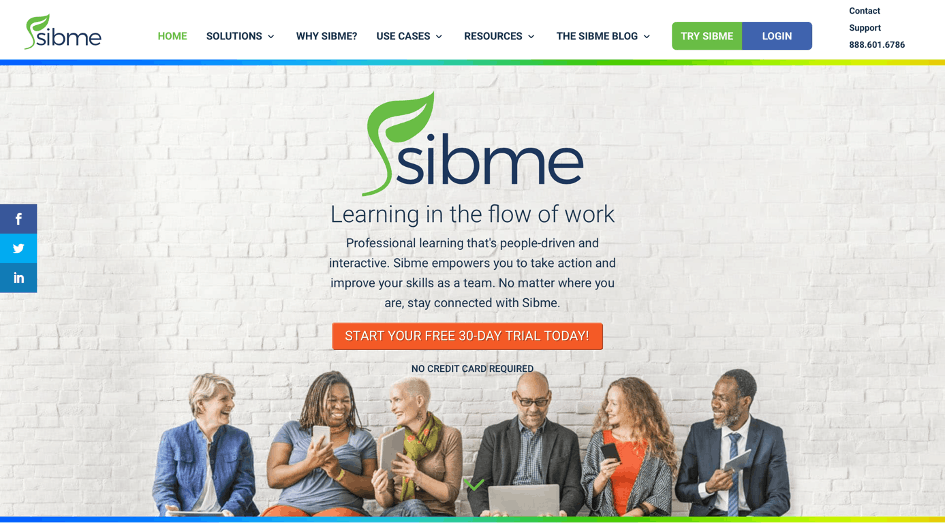 16. Oracle
Founded in 1977, Oracle is a powerful institution offering a range of tools, starting from infrastructures to applications, all developed in a secure cloud LMS system. Oracle is lending a helping hand in the Yellow Fever and Covid-19 vaccinations, managing the national programs in the US, Ghana, and many other countries. Oracle, as they claim, offers an application portfolio for the modern digital business. They deliver to a wide range of business functions: from human resources, through finances to marketing. NetSuite product offered by Oracle combines all the applications necessary to run the business in one place, allowing to avoid losing of information, smoothing and accelerating productivity. Data Cloud tool allows for better recognition and targeting of ad audience and sales improvement. Oracle is a great solution for big brands but for smaller companies it might just turn out to be too costly and all the innumerable features – unnecessary.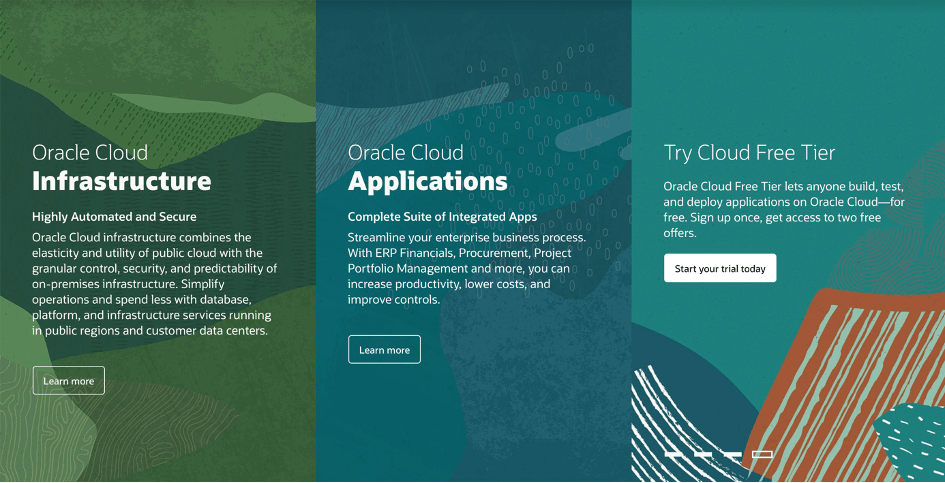 17. EduBrite
EduBrite is an LMS platform designed for professional onboarding, support, and training of your employees, customers, and partners. EduBrite proposes various LMS solutions, all concentrating on education. Hence this platform offers support for all business sides: from salesforce, through HR to compliance training. EduBrite is a versatile toolkit to help small to big enterprises to become successful. A feature definitely worth mentioning is Google App integration, as well as multiple other software integrations. EduBrite is also entirely mobile-friendly.
18. Vairkko Suite
Vairkko has been dubbed one of the best onboarding software of 2020. It's an intelligent learning experience platform designed to manage the training of your workforce. In global business, maintaining a consistent level of knowledge, efficiency, and information flow is one of the biggest challenges. Vairkko offers onboarding tools, making the transition from a beginner to a professional smooth, easy and successful for both: the employer and the employee. Vairkko offers certificate tracking software, e-learning, classroom, and skill testing cloud, helping to track the progress of multiple training programs at the same time. The platform makes business and HR management easy, including time and attendance tracking feature, making payouts time that much easier. The platform offers a free trial; however, the full version of the software is available only through a paid subscription program.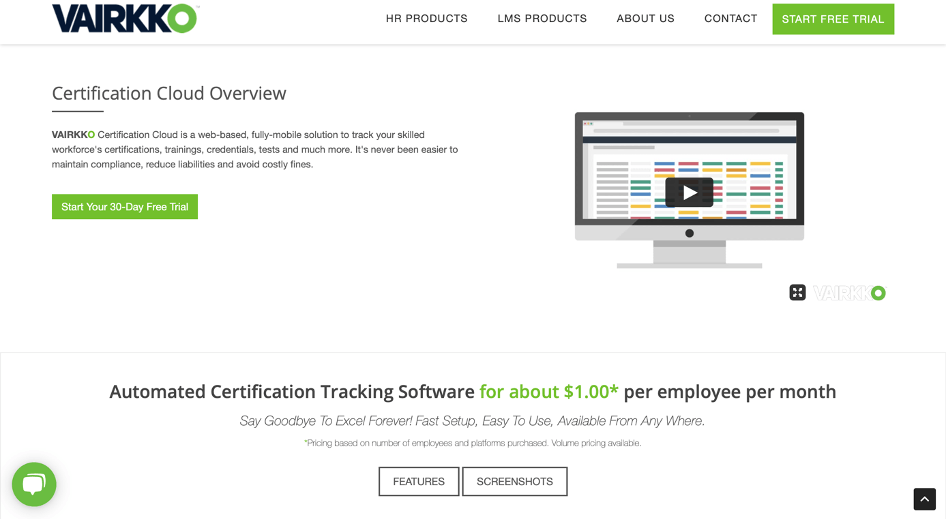 19. Auzmor Learn
As an LMS platform, Auzmor Learn allows you to create courses, deploy learning content, and monitor employee performance with ease even without coding knowledge or technical design skills. With its easy-to-use course builder, you can create your own training materials or customize courses using templates from their expansive lesson library. This computer learning software automatically adjusts lessons for any screen size, so your employees can complete their assigned learning materials on any device. On the other hand, Auzmor Learn's real-time reporting dashboard and customized analytics features can help you track overall employee training progress, monitor course completion rates, identify learning trends, and address knowledge gaps. To get access to all these tools, you can ask for a demo and obtain a custom quote directly from their site.
20. domiKnow
domiKnow is an all-in-one cloud-based eLearning LMS platform that comes complete with a training manual creator and a content management system. This tool allows you to design interactive content using a range of templates and digital assets, and deploy completed learning materials on any device. It also has translation and localization capabilities which allow you to choose from over 50 languages to translate learning content for learners from a specific region.