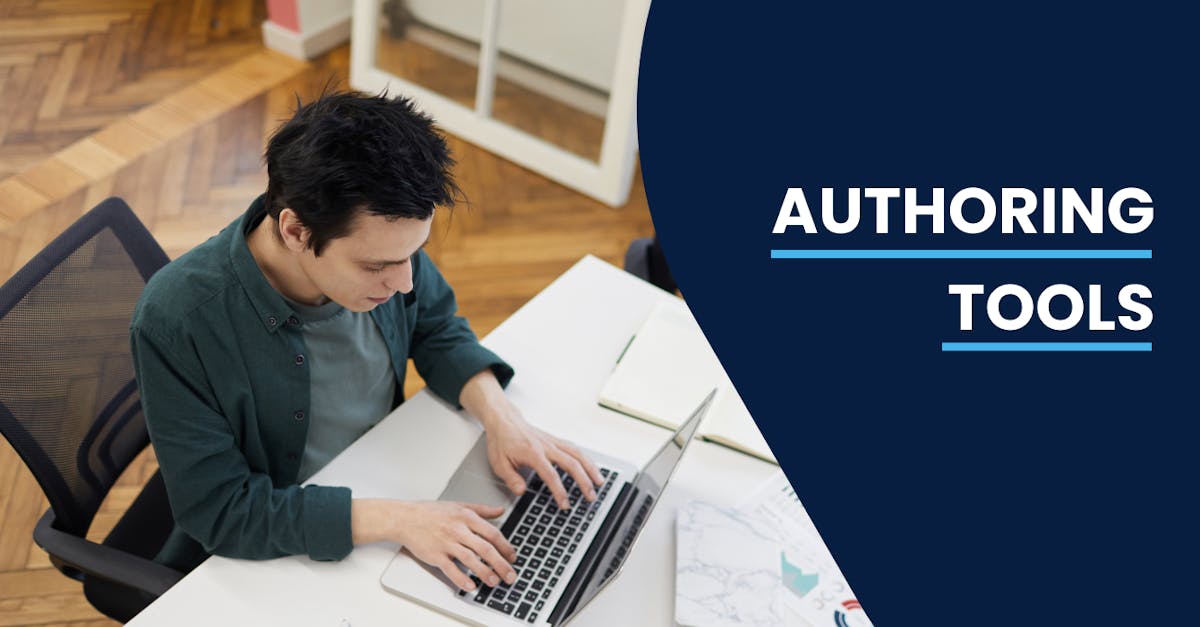 Here, you can explore various authoring tools that can help you simplify and accelerate the process of developing courses so you can deploy relevant training programs in a timely manner. Our recommended authoring tools provide user-friendly interfaces, as well as features like readily available templates and engagement elements.
1. EdApp
EdApp is the best elearning software that large and small teams all over the globe can use. An authoring tool definition refers to an elearning software program that allows users to create and publish digital content, such as e-learning courses, websites, or multimedia presentations, without the need for advanced programming skills. And EdApp's authoring tool has functionality that ticks all the boxes.
It offers a cloud-based LMS authoring tool that enables you to design beautiful, engaging, and effective microlearning courses. Thanks to its template-driven authoring approach, you don't start with a blank page: they already know what a good microlesson looks like. All you need to do is choose the responsive template that suits your learning objective and add your content. Creating and updating agile eLearning courses takes minutes and hours, not weeks and months. It's a simple and effective tool to use regardless of how much experience you have.
Beyond an expansive template library, EdApp includes a completely free, editable content library that's full of ready-made courses, contributed by thought leaders from around the world. This high-quality content is there for you to access, edit, customize, and deploy to your teams with ease. What's great is the content library is always growing, meaning every week you will see new courseware ranging in topics from health and safety procedures to sustainability and everything in between. Additionally, EdApp provides additional account setup assistance and your first course, which will be created by a team of professional instructional designers.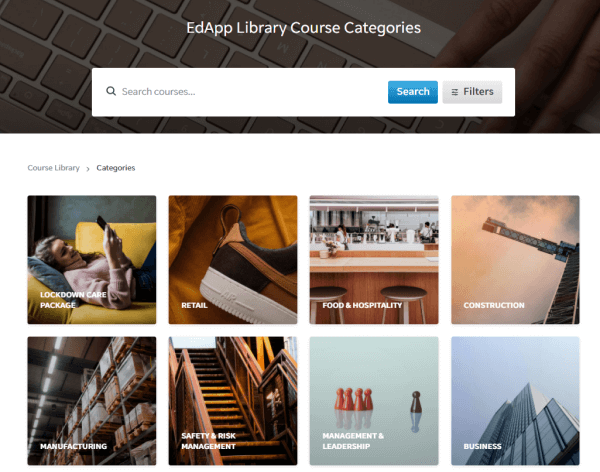 Some of their impressive clients include the United Nations, Shell, Mars, and Pandora, to name a few. A collection of EdApp's clients have also shared their experience with the platform, to give insight into how they successfully train their teams with the innovative and intuitive Learning Management System (LMS).
Create microlearning courses with EdApp's authoring tool
2. CourseLab
CourseLab version 2.4 is another free authoring software for building eLearning courses that can be published on the web or an LMS. You can make slide-based courses with images, videos, complex multi-object interactions, and quizzes. However,  it doesn't have a library of ready-made courseware available. Fortunately, CourseLab does come with a set of eLearning templates that you can edit and save in your library. Although, learning how to use and customize them may require quite a lot of time. Courses can be accessed on popular browsers and even mobile devices, which means that accessibility won't be an issue. The downside of this authoring tool is that the interface isn't as intuitive as others and may even feel a little outdated. This means it can feel quite complicated to those who are just beginning to work with authoring tools for eLearning. This tool is better suited to more experienced developers who have an idea of how LMS authoring tools work and are more comfortable navigating the platform.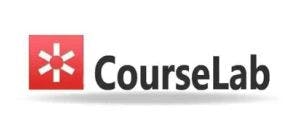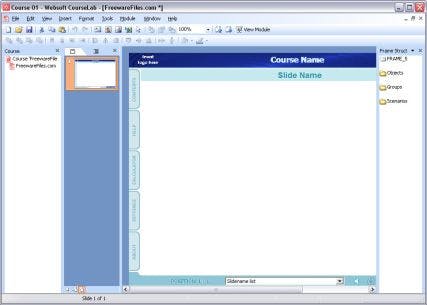 3. IsEazy
IsEazy is an example of cloud-based website authoring tool that is useful for creating eLearning courses and has a simple and friendly interface that is easy for everyone to use, regardless of experience level. It promises three times faster course creation time compared to its competitors, thanks to its pre-configured slides, WYSIWYG Editor, image library, and the ability to duplicate or recycle projects. If you're a team collaborating on a single project, you'll be glad to know that this authoring tool offers real-time collaborative authoring. Your work is also automatically saved and can be recovered when deleted so you don't have to worry about losing the hard work you've done.
 To cater to your training content, isEazy offers two kinds of course formats: Classic and Express. The former is best suited for longer and structured courses, while the latter is perfect for bite-sized learning that works on any device. What makes this platform stand apart is the ability to create slide-based courses using modern design templates. There's an option to add voiceovers, videos, links, and cards. Courses consist of chapters, but sequential navigation is available only in a PRO plan. After a course, learners can be provided with a final quiz.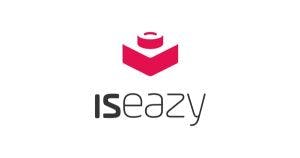 4. Moovly
Moovly is another authoring tool you should consider if you're looking to create training or marketing videos to be shared with customers, students, or employees. With its online video editor, Moovly promises users that they can create beautiful and professional-looking videos in just minutes. You can opt to either create a clip from scratch or pull from an editable template for inspiration. Moovly also allows users to upload their own media, such as videos, pictures, text, and sounds. There's also an option to import Powerpoint slides, enable auto-subtitling, text-to-speech, and more. The built-in stock libraries of photos and videos can be combined with doodles, infographics, animations, and transitions. You can even automate the creation of videos from your CRM with email marketing software or a marketing automation tool of choice. Moovly also plays nicely with other apps and has integrations with Google Drive, Dropbox, YouTube, Vimeo, and many more. There's also a mobile app to view videos and upload media from a mobile device.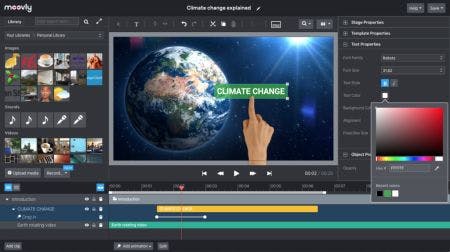 5. AdaptiveU
This authoring tool allows you to create simple lessons and combine them into courses. The free plan allows you to create up to 10 challenges and invite 10 active users to take them. Your courses are limited to 1 GB of storage space. The start page can be customized to be more personalized to your training, and courses are created using a simple, easy-to-use editing tool that contains all sorts of media components, such as files, documents and pop quizzes. You can do all this, while also viewing reports and tracking data, but it lacks an editable content library meaning more time is needed to create your content.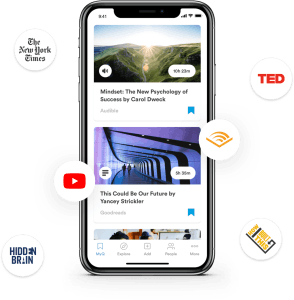 6. Crowd Wisdom
Crowd Wisdom LMS is designed specifically for large-scale professional education and partner and customer training. They allow users to personalize, manage and track education in one hub, and to better engage learners through personalized learning tracks. It's designed specifically for growing and mature learning programs. Unfortunately, Crowd Wisdom only offers a free trial and it's been reported on platforms like G2 that the platform is too expensive and provides little to no support after regular changes are made to the LMS.
7. Adapt
Courses built with Adapt provide a webpage-like experience – they scroll vertically, not flipped like slides. This e learning platform is an open source that's designed for rapid content development. It stands distinctly apart from other content developing tools that have evolved from a 'PowerPoint' format design and is suited only to those who want to create long read courses with 'linear navigation.' It also lacks a free, editable content library and has limited built-in features to help support better learning outcomes.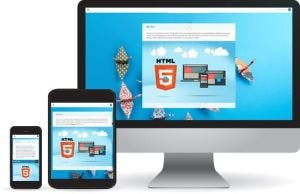 8. GLOMaker 3.0
This free open-source tool enables you to create structured learning materials, by dividing the process of authoring into two parts: planning and designing. The planner tool offers instructional design guidance for using and setting up each block, and this is where the storyline learning design is created. The designer part is where slides are developed. There are a variety of templates that can be customized according to your training needs. GLOMaker provides a great number of options, including quizzes with feedback, slide-show viewer, photo display with zoom facility, video and audio players, and more. However, this tool is complicated to use, and novice course builders may have a hard time navigating the platform.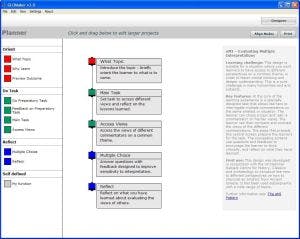 9. H5P
H5P is an open-source online course software that allows you to create HTML5 eLearning content and publish it on popular platforms like WordPress, Moodle, or Drupal. It is modular, and there are a lot of content types and applications available for use with no technical skills needed. These include videos, HTML5 presentations, branching scenarios, quizzes, flashcards, and more. However, the tool is quite limited as far as creating complex and customized eLearning projects.
10. Coassemble
Coassemble is an eLearning creator software designed to provide a user-friendly course creator that makes the creation of interactive learning materials easier for managers and effective for your personnel. This training software allows you to transform your old presentations as well as PDFs and documents into engaging online courses with its available screen templates that support various media forms and provide interactive elements. You can assess your personnel's knowledge retention through pop quizzes or activity-based challenges. A certificate is also given to your employees upon course completion. 
11. Proprofs training maker
As a SaaS LMS platform, Proprofs training maker is designed to help training consultants ease up the process of creating training content. Its course creator allows you to create courses and quizzes with hundreds of available templates and media content. It provides a premium course library available with pre-made courses on topics such as compliance, customer service, and many more that you can easily deploy to your personnel. A collaborative learning environment is also promoted through features like discussion forums and virtual classrooms. Through its training management system, you're able to efficiently streamline processes in developing training materials as well as track the progress of each employee.
12. Gyrus
Gyrus is a cloud-based learning management platform designed with AI-driven intuitive features helping you bring world-class training and development objectives for your employees. This LMS serves as an e Learning creator software and blended learning solution by allowing you to develop training materials delivered through various digital formats – such as e Learning videos, webinars, documents, and virtual classrooms – which provide support in traditional onboarding and training activities, as well as 24/7 accessibility across any device. 
13. Tovuti LMS
Tovuti LMS is another learning management platform that you can use to streamline your employee training process. With its built-in course creator suite, you can create, schedule, and deploy interactive courses in just a few easy steps. You can also include gamification and leaderboard features to encourage them to complete their assigned learning tasks. If you want to integrate synchronous learning sessions into your training, Tovuti LMS's live virtual classroom allows you to meet with your team members in real-time and discuss learning content through third-party online video conference platforms like Zoom and GoToMeeting.
14. Raptivity
Raptivity is an e Learning creator software that you can use to design engaging and visually stimulating online learning experiences. The tool features a growing library of pre-made responsive interactions that include parallax displays, panning slides, and 360 interactions. Even with no design expertise, anyone can customize interactive quizzes, games, simulations, flashcards, and brainteasers through the tool's user-friendly interface. Whether you're a teacher or an instructional designer, you can maximize the tool's many capabilities to keep your learners engaged and motivated throughout their learning journey. But it is important to note that the tool has a few feature limitations and you might need to download additional tools to design a well-rounded eLearning course.
15. Accessplanit
Accessplanit is a training management software suitable for training providers and other L&D professionals that deliver hundreds or thousands of courses. It serves as an all-in-one learning platform that can help you streamline and automate processes. With its training module creator, it also enables you to easily create high-quality training materials and provide exceptional learning experiences for employees or customers. Its course management feature also allows you to efficiently manage course and training events, may it be in-person learning sessions or e-Learning, making it compatible with a blended learning strategy. 
16. Mural
As a digital workspace and brainstorming tool, Mural allows team members to visually collaborate with one another. With its flexibility, teams can easily use the platform to share knowledge, plan projects, organize data, conduct workshops, outline content, and so much more. As an e Learning creator software, it allows project facilitators to create icebreakers and customize e Learning templates from the template library to enjoy a fun and interactive engagement activity with the team. While this is a great tool for remote collaboration, one disadvantage of this software is the difficulty in using its mobile version.
17. Academy LMS
Academy LMS is another training module creator that allows you to create simple yet well-designed online course modules and set up multiple online quizzes. Lessons can be delivered through different content formats like video, pdf, doc, and image files, Instructors can use the course management feature within the tool to easily deploy training materials to their team. Meanwhile, learners can download the Academy app to access their learning content anytime and anywhere. 
18. VAIRKKO
VAIRKKO e-Learning Cloud is built to meet the demands of L&D leaders looking for an intelligent training manual creator to manage their courses. Perfect for businesses of all sizes, you can create and publish as many business training courses as you wish, automatically assign lessons, and also monitor their completion and success rate, all using this easy-to-use platform. Course lessons can be uploaded in PowerPoint, PDF, images, videos, and audio clips, and they can be taken from mobile devices, laptops, and desktop computers. 
19. 360 Learning
360Learning is an LMS and collaborative eLearning platform complete with a training manual creator, content integration system, and analytics dashboard. Their intuitive course authoring suite requires no technical skills to use and enables you to create courses in just a few minutes. You can also include learning resources like videos, images, blog articles, and research into your course to keep training content up-to-date and engaging. 
20. Arlo
Arlo is an LMS designed specifically for training providers aiming to empower learners through self-paced learning, live online learning, and blended learning. This LMS provides a blended learning solution by extending training with digital learning incorporated on live and interactive webinars, eLearning modules discussion forums, recorded videos, and assignments.
21. Chameleon Creator
Chameleon Creator is another rapid authoring solution that you can use to create fully-responsive learning content quickly, easily, and beautifully. It has a simple and intuitive user interface (UI) that allows you to choose dynamic interactions, where you can enter text, videos, animations, and more. You can even customize each interaction to match your branding by choosing different color themes. If you want to recycle or edit any assets you've previously used, Chameleon Creator features a built-in library to store your content safely in the cloud. Lessons that you create can be used in a different LMS since they're SCORM-compliant but you can also rely on their native platform to deliver your training. Chameleon Creator isn't free to use but they offer a 14-day trial.
22. Thinkific
Thinkific enables you to quickly develop professional-looking learning content for any kind of audience. Its user-friendly course builder doesn't need any coding knowledge or technical expertise as Thinkific provides ready-to-use templates at your disposal. Courses can include live lessons, quizzes, assignments, certificates, and more so you'll have plenty of options to lay out your content. Like other rapid authoring solutions, Thinkific offers a variety of media you can add to your courses, such as video, audio, images, PDFs, or presentations. One unique selling point about this platform is that you can sell the courses you've created and they don't take a cut off the sales you make.
23. Visme
Visme is an easy-to-use visual content creation and collaboration platform. Visme is easy to use yet can be used to create professional-looking training content. It has a great variety of templates, and you can add audio, voiceovers, visuals, and animations to keep your readers attention. Visme includes a drag-and-drop editor and a library of hundreds of charts, graphs, data widgets, maps, tables, diagrams, and flowcharts.