1. Create, edit and deploy training in minutes
With EdApp's simple course creation tool, Ryman Healthcare creates highly relevant and branded courses about core care practices – such as medication, sanitation, safety regulations, and food service – in record time. Admins can also respond to change with real-time edits so their training moves as fast as they do. This means that Ryman Healthcare can deliver important updates instantaneously to maintain its highly transparent and supportive work environment.
2. Training that members can easily complete in between tasks
Ryman team members are caring for residents most of their shift. They're needed constantly and don't have time to sit through hours of training. Being able to access EdApp's bite-sized courses on any device means they can complete training when it's convenient for them. 55 percent of team members chose to complete courses on their smartphone, and a further 32 percent completed training on a work desktop computer. Ryman Healthcare has achieved a 100 percent increase in participation from their learners since choosing to deliver their trainings through EdApp
3. Reinforce key information with our in-built quiz maker
Giving residents the best experience is at the forefront of everything Ryman Healthcare stands for. Part of achieving this is making sure that their team members have a solid understanding of policies and key information regarding residents. Ryman can easily monitor and reinforce key information with EdApp's built in quiz maker, Rapid Refresh
Since Ryman Healthcare members are caring for residents throughout the day, a one-time training session isn't enough to ensure the high quality of care in their mission. As Rapid Refresh quizzes are regularly delivered to team member's devices, knowledge retention has significantly increased up to 90 percent – a huge jump from traditional learning that sees retention rates of about 15 percent.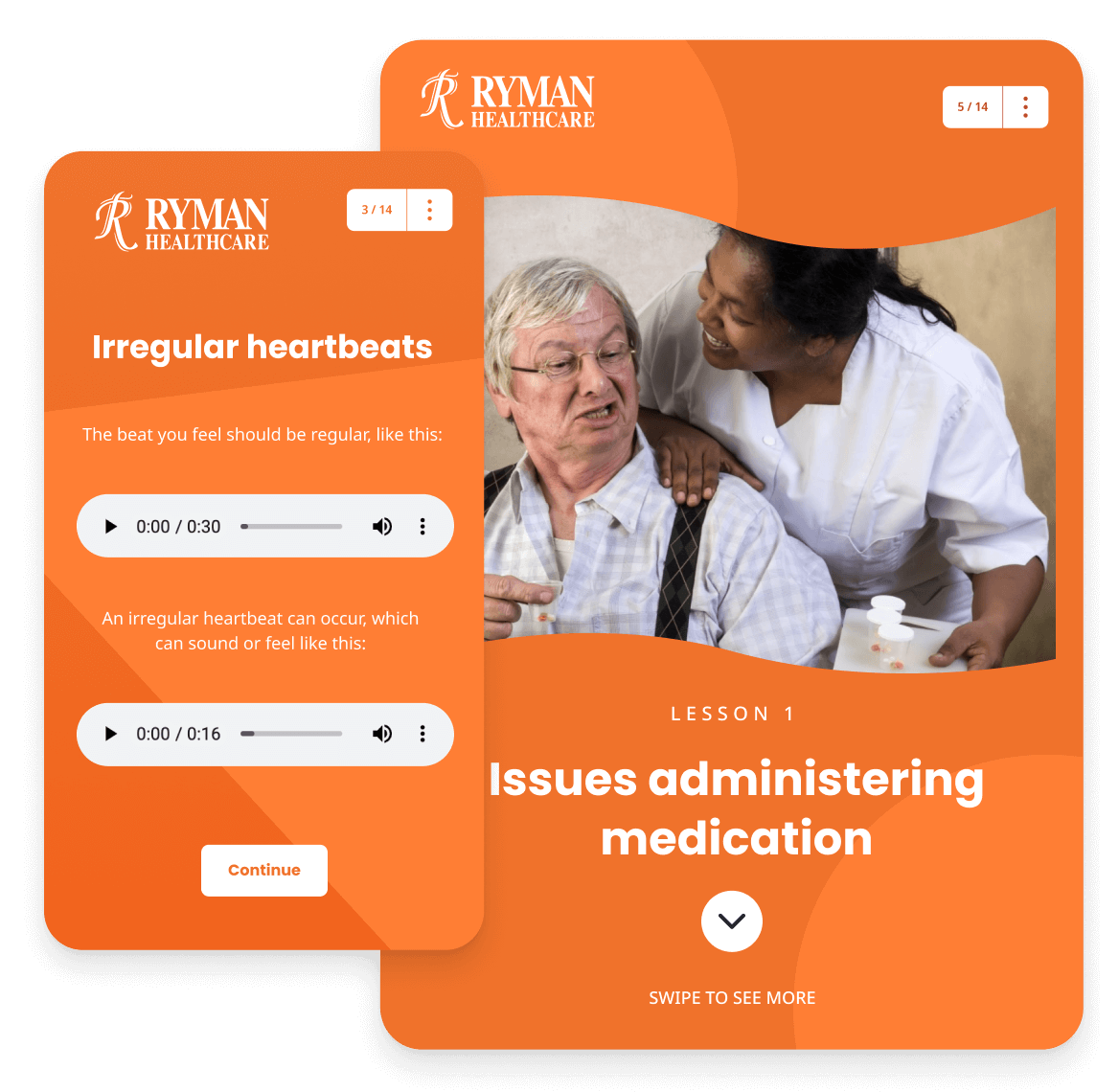 4. Track course progress and ensure compliance by default
Unlike traditional paper-based learning, EdApp's comprehensive reporting suite enables Ryman Healthcare to monitor course progress and maximize completion rates with custom push notifications to remind their team to complete their training. As reports can be organized into groups, each Ryman Village can easily pull their location's data directly from EdApp and integrate it into their existing PowerBI report for seamless compliance.
5. Learners prefer EdApp over other mobile learning platforms and paper-based training
Ryman Healthcare tested EdApp against another well-known, health-focused learning management system (LMS) and found that EdApp offered a cleaner UX for learners and enabled a branded learning experience. As EdApp is a mobile-first platform, learners can interact with courses like they would with any other app. With interactive and intuitive courses, Ryman Healthcare team members can easily flick and swipe through training content anytime, anywhere.
Here's what Ryman Healthcare employees had to say: