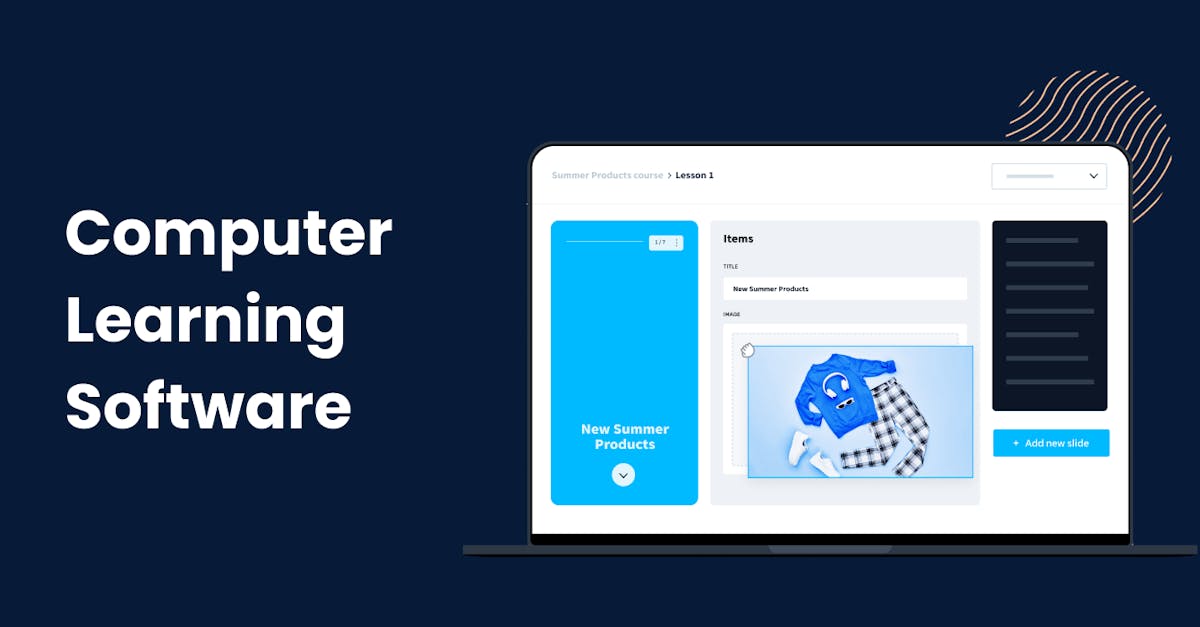 Computer learning software are online platforms that give companies and organizations ways to easily create, store and manage learning materials for their employees to learn from. These learning software are very integral to companies today because they allow for training to be done without the use of expensive, inconvenient, traditional classroom training.
1. EdApp
When we talk about EdApp, we are talking about the computer learning experience at its best. From a manager or course creator's point of view, computer learning should be done in a way where all the customization tools needed to create, share, manage, and monitor training materials are readily available in one easy-to-use place. From a learner's perspective, the best computer learning is when you can access your lessons in easily digestible chunks and in ways where your retention is boosted by repeated key information with increased difficulty levels. EdApp is a learning management platform that does all of this and so much more. By far the best computer learning environment software on the market, and best of all, it's completely free.
This SAAS platform is designed to help instructional designers and training managers automate training processes. It's perfect for compliance training and corporate training. If you need some help when it comes to creating training content, EdApp also has you covered. They have a team of experts ready to give you additional onboarding and account support, plus course creation services.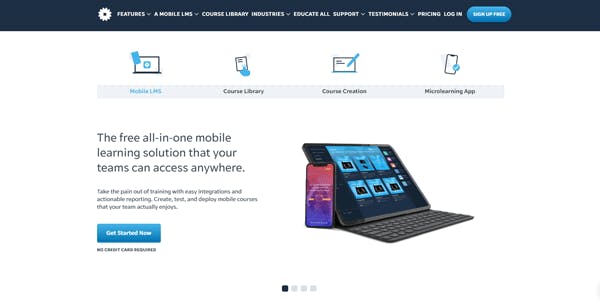 Price: Free
Features:
LMS

Authoring tool

Editable content library

Spaced repetition

Mobile learning

Microlearning

Rapid Refresh

eLearning gamification

Active learning

Virtual classroom
Sign up for Free and Start Using The Best Computer Learning Software
2. Inquisiq
Inquisiq is a learning management software (LMS) platform that allows managers to deploy, manage and track the learning computer programs that their employees, customers, volunteers, and partners need to access. The platform allows you to create your entire online training program in one place. It has automated learning, SCORM compatibility, blended learning support, a configurable interface, eCommerce functions, and more. You will also get the option to set up branding on the platform after you sign up. Inquisiq is mobile compatible so your team can train on the go. On the cons side of things, the platform isn't free to use so it could get very costly when you start to scale.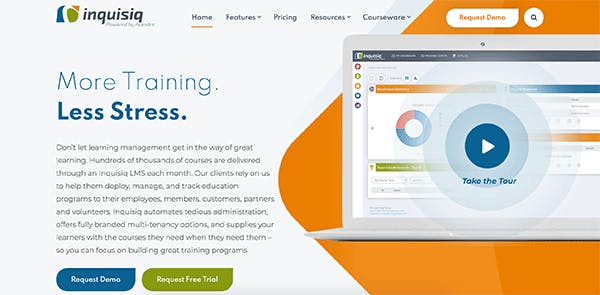 Price: Starts at 50/month
Features:
3. Looop
Designed for enterprises, Looop is a highly ranked computer learning management platform to deliver your online computer learning activities. With a focus on automation, the platform includes campaigns, user insights, dashboards, and resource builders. Looop's UX design means you can create engaging learning materials. This platform is ideal if your organization juggles multiple platforms since Looop automates the delivery of training content through channels like Microsoft Teams and Slack. On top of that, they also offer SCIM integration to synchronize data between different applications. Beyond integrations, the learning software also has some built-in features to measure completion rates and identify learning gaps to create great workplace training.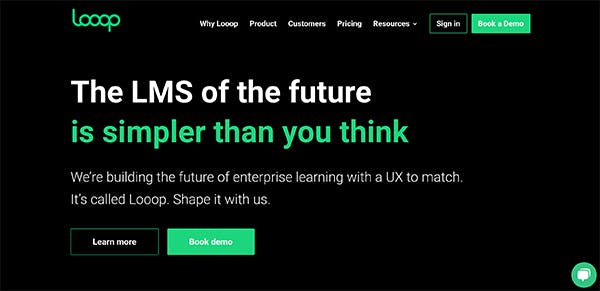 Price: Starts at US 99/month
Features:
4. Tovuti
Tovuti is an all-in-one LMS platform that is cloud-based best for elearning development. The learning management platform can be used to create, deliver and track the online computer learning activities assigned to your workforce. In addition to training your workforce, you can also use Tovuti to create learning materials for your company's customers and partners. With Tovuti, you can host multiple websites under different branding. Another useful feature of this LMS is the 7,000-course library which hosts materials on HR training, compliance, and professional development. That bit is good, but on the flip side, we think the scope of the library is limited and could be improved.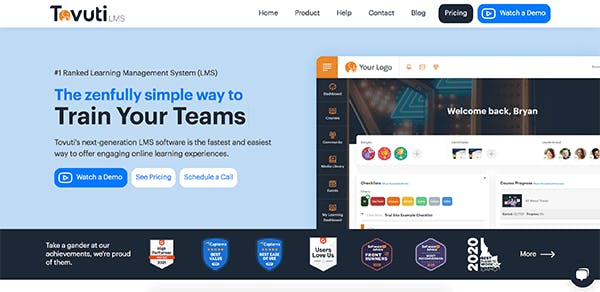 Price: Starts at 50/month
Features:
Gamification

Microlearning

Asynchronous learning

Mobile learning

Instant Messaging

Subscription management
5. BRIDGE
If you are looking for a computer learning platform that offers peer-to-peer learning and live in-person training, then BRIDGE is a great option for you and your company. This unique platform offers live training along with online lessons, learning activities, mentorship options, goal tracking, and peer assessment. There are also other traditional computer learning features like a course library, interactive videos, skills assessment options, performance management, and reporting. This platform also supports SCORM content so there are even more options for trainers and course builders. The major drawback to this platform is the price which is on the premium side of the scale.

Price: Starts at /month per user
Features:
LMS

Performance management

Skill and career development

Seamless integrations

Employee Engagement Surveys
6. Classe365
Classe365 is an LMS and student information system. It can be used to train your workforce to some extent, however, it was designed to be used primarily by educational institutions. You can manage your course content deployed to your workers with this tool. The learning  platform offers elearning development, blended learning, discussion platforms for your students to share thoughts, and more. Classe365 allows for digital registration, so your employees or students can enroll themselves in training. Even though the platform offers a lot to students, its capabilities are a bit niche and unsuitable for businesses, especially medium to large businesses.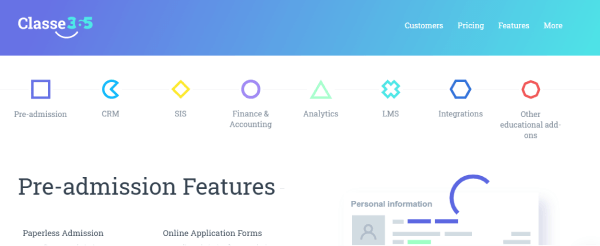 Price: Starts at 0 per month
Features:
Alumni management

Social network, finance, and accounting features

Self-paced online courses

Quizzes and tests

Email follow-ups
7. Auzmor Learn
This learning management platform enables organizations and businesses to deliver, manage and track training materials for employees and their other stakeholders. With Auzmor Learn, you can author courses and store them along with other data in one place. If you decide to go with this LMS, you will get a dashboard that shows the progress of your learners, and the learners will also have a similar dashboard to keep track of their learning activities. One great feature of Auzmor Learn is its open enrollment feature. With this feature, your workers will be able to enroll themselves in any course and continuously upgrade their knowledge. We would love to see this platform get an international deployment function for teams that speak multiple languages.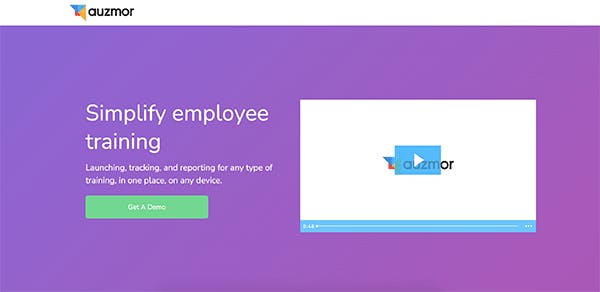 Price: Starts at 000
Features:
Course builder

Lesson library

Reporting

Edit learn settings

Mobile learning
8. VAIRKKO Suite
VAIRKKO Suite provides a product called eLearning Cloud which is a cloud-based LMS. With this elearning software, users are able to distribute the learning content that your employees need. Speaking of materials, with eLearning Cloud you will be able to create content in multiple forms such as PDFs, images, PowerPoint files, audio clips, and even movies. If your employees answer questions on tests on the platform, automatic remedial training is provided based on these questions. We think the features are nice, but the interface is a bit congested and could be revamped for a cleaner, more user-friendly look.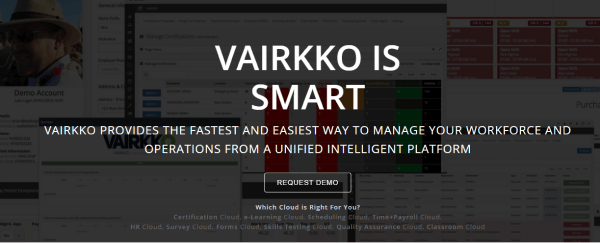 Price: Starts at per month
Features:
Remedial lessons

Policy management

Skill testing

Timed tests

Online ticketing  
9. Schoox
Schoox is a cloud-based computer learning software that assists with delivering employee training, certificate, and development courses. The platform is mobile compatible so you can train your team remotely. The training can be done from custom-branded academies where you can store images, videos, exams, documents, and even third-party coursework. This platform also offers a compliance management feature that you can use to ensure that your course materials are consistent across different states, countries, and even your own stores.

Price: Starts at per user, per month
Features
 Drag-and-drop dashboard

Progress tracking

Custom branded academies

Compliance management
10. 360Learning
Here we have a platform that will help you with onboarding new employees, training partners and customers, and developing your teams at the front. 360Learning provides tools for elearning development so you can easily create courses in a collaborative way. This computer learning software prides itself on collaborative learning. This means that there are more opportunities for your team to benefit from personalized learning experiences. Unfortunately, the platform is not free to use.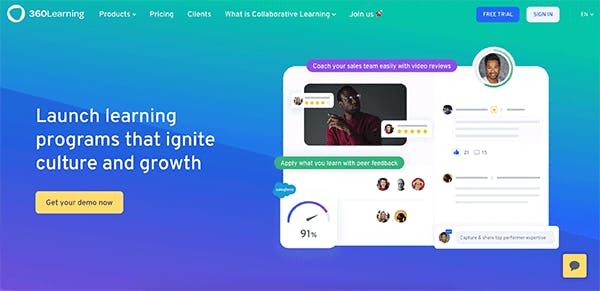 Price: Starts at per month
Features:
Collaborative learning

eLearning

Collaborative authoring

Personalized training
Conclusion
We believe that EdApp is the most complete computer learning software on this list. All the tools you need to make sure your workforce is properly trained and compliant are available for free from EdApp.