One corporate training strategy for knowledge reinforcement is to create online test for employees. This is essential information you must know as training managers so you can gather insights that will help you effectively design and improve training programs that are timely and relevant for the learning needs of your employees. It also allows you to reinforce knowledge from their online learning and development. Read further to learn more about the role of online exams in employee training. 
What are online tests for employees?
An online test in training and development is an assessment technique that allows you to determine the level of knowledge and expertise, knowledge gaps, and learning progress of your employees. This can be in a form of question-and-answer, multiple-choice, true or false, and more, depending on your objectives. Online scorm tests can be delivered before or after completing online courses and PowerPoint or training sessions in a form of pre-tests, post tests, or refreshers within lessons.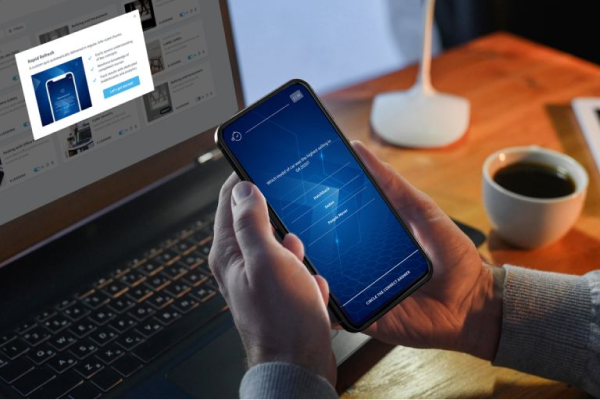 Online quizzes usually cover various topics that include key information from their learning courses, learning management systems, training sessions, or even company meetings. Aside from allowing you to evaluate the knowledge and skills of employees, it can also be used as an engagement strategy to improve knowledge retention among trainees. It helps ensure that employees are aligned and up-to-date on product training, compliance training, skills development, etc. 
How to create an online test for employees
By leveraging online quiz creators, you can conveniently reach your teams and efficiently make a quiz and deliver online graded tests and quizzes across a wide reach of learners. Let's take a look at our guide below on how to create an online test for your employees using some quiz software.
Create pre-tests and post-tests using EdApp's Rapid Refresh 
Rapid Refresh is EdApp's very own spreadsheet-based in-app quiz maker software that's designed to help you engage your learners, reinforce training concepts, improve retention rates, and track their overall performance. This allows you to create an online test for employees even without any prior existing content in EdApp.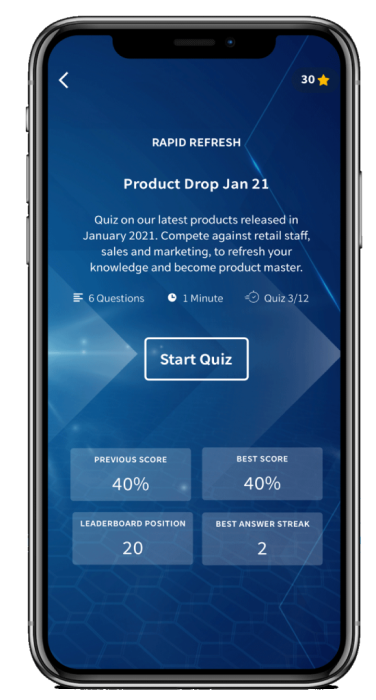 With its intuitive user interface, you can instantly create interactive and visually appealing online tests and deploy them within just a matter of minutes. To create a quiz, all you have to do is input your questions and answers through the training tool's user-friendly spreadsheet template. From there, Rapid Refresh will automatically transform your content into well-designed gamified tests, which you can then deploy directly to your learners' mobile devices on a daily or weekly basis. You can even choose to randomize the customizable quizzes and send all the quizzes in a single burst.
It also includes analytics tools that enable you to efficiently track employee performance and respond to reports accordingly. For your employees, Rapid Refresh helps in improving knowledge retention and motivating better performance through its leaderboards feature.
Sign Up for Free to start creating engaging quizzes with EdApp!
No credit card required.
Create quizzes within lessons using EdApp's authoring tool 
EdApp is a mobile-first microlearning platform that enables you to create quizzes within your lessons aside from designing microlearning courses. Its user-friendly authoring tool provides a library of 80+ fully interactive and immersive templates that are readily available for you.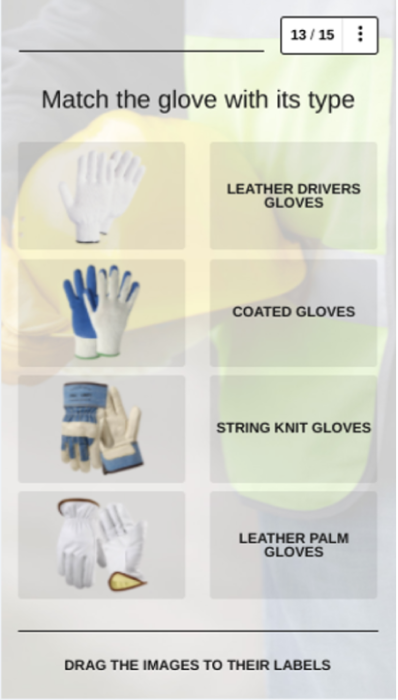 In its wide range of templates, it includes sections that can be perfectly utilized for quizzes:
Concepts

– Reinforce singular concepts by having your learners recreate and filter statements.

Multiple Choice

– Reinforce key concepts by having learners identify the correct answer with multiple choice questions

Numbers

– Ask number-based questions for numerical reinforcement.

Relationships

– Reinforce the connections between related concepts 

Games

– Deliver rapid-fire questions about any subject to reinforce concepts for learners.
With this tool, you can just simply enter your questions in a variety of slide templates. You can also set a minimum score to pass the quiz. 
Recommended courses that include refresher quizzes in the lessons:
Create quizzes using Kahoot!
Primarily an online quiz maker, Kahoot! uses visually appealing gamification elements to maximize engagement and ensure higher completion rates among learners. 

With this software, you can utilize game-based templates to create an online test for employees, Quizzes are uniquely called "Kahoots" and can be accessed via web browser or an elearning mobile app. The best part is that they can be presented on a shared screen and answered by a group of "players" all at the same time through any video conferencing platform. Alternatively, you can also set Kahoots as a self-paced challenge to be completed by each team member asynchronously. Kahoot! provides trainers with reporting and analytics so that knowledge gaps can be addressed and feedback can be provided.
Create quizzes and surveys using Google Forms
Google Forms is a Google Suite tool that comes with Google Drive.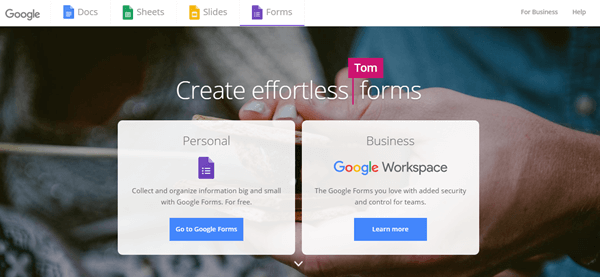 Thanks to its simple and easy design, you can quickly create straightforward quizzes like multiple choice, checkbox, and dropdown. The summary report of the responses is instantly provided after each successful quiz completion, saving you an incredible amount of time for computation and assessment. However, as compared to other tools, Google Forms tends to be static due to its limited customization options. As the available templates are also very basic, you'd have to create quizzes from scratch to achieve your training objectives. 
Examples of online tests for your employees
Online tests for employees have different purposes depending on how you apply them to your training programs. Below are some of the common examples of online tests in employee training:
1. Knowledge test
Online tests can be used as a pre-test on certain topics to determine and analyze the learning needs of the employees. Knowledge tests allow you to determine the scope of awareness of employees on essential information. In fast-paced industries such as sales and retail, it's crucial for employees to keep their product knowledge up-to-date with product training. Deep, extensive knowledge is the foundation of effective sales. This core skill equips your employees with the right answers when a customer asks a question about a particular product or service, as well as the right solutions when developing pitches. Some employees may have charisma and strong communication skills, but without enough knowledge of a product or service, it will be hard to sell. By incorporating online tests into your process of developing training programs, you can determine which products or services most employees are unfamiliar with. With this information, you can better understand and tailor your training programs according to their knowledge gaps.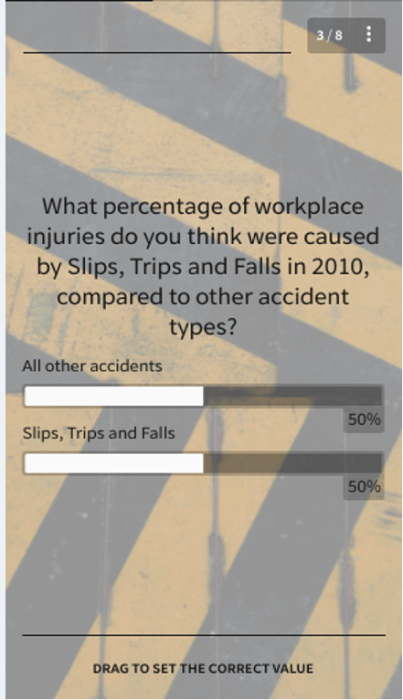 2. Skills assessment test
Once foundational knowledge is established, it's crucial to support employees with regular training through skills development. But to commence that, it's important to implement skills assessment. Data and insights that you can gather from your online tests will enable you to understand the strengths and weaknesses of your employees. It can help you equip and reinforce vital knowledge and skills that employees will need to perform well at work and build stronger relationships with customers. By constantly testing your employees, you can push them to unleash their fullest potential. This way, you can also continuously improve how your training programs are delivered.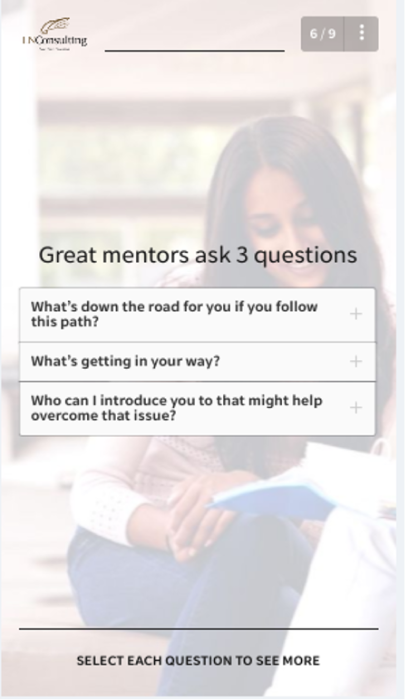 3. Refresher quiz
While training is key in developing competitive and knowledgeable employees, refresher quizzes are a great way in checking if knowledge is retained, understood, and transferred from theory to real-world practice. You can practice this by inserting refreshers within lessons or after every course. It also serves as a strategy to keep learners engaged and improve their memory retention.  But, it's not only applicable to training sessions. It can also be used for reinforcing key information such as company updates after general meetings.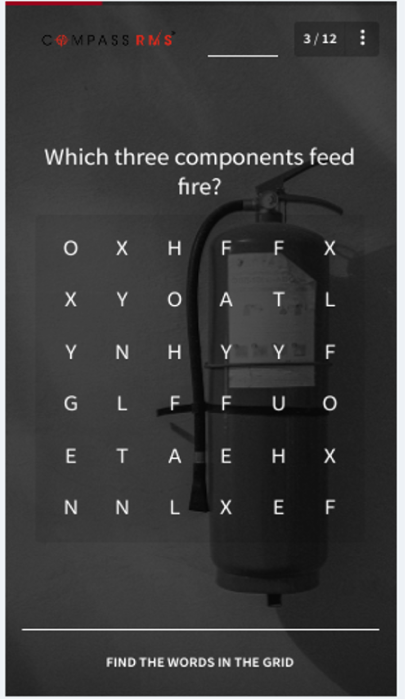 4. Survey
Deploying surveys is a way to understand learners better and gather feedback on what worked and what didn't in your training programs. Surveys can serve as online tests where you can ask learners a clear question and give them multiple choices to gather any direct information that you need. Or, to give employees more freedom on how they give their feedback, you can incorporate open-ended questions. This way, you can incorporate opinion-based answers in order to understand specific views from the learner.