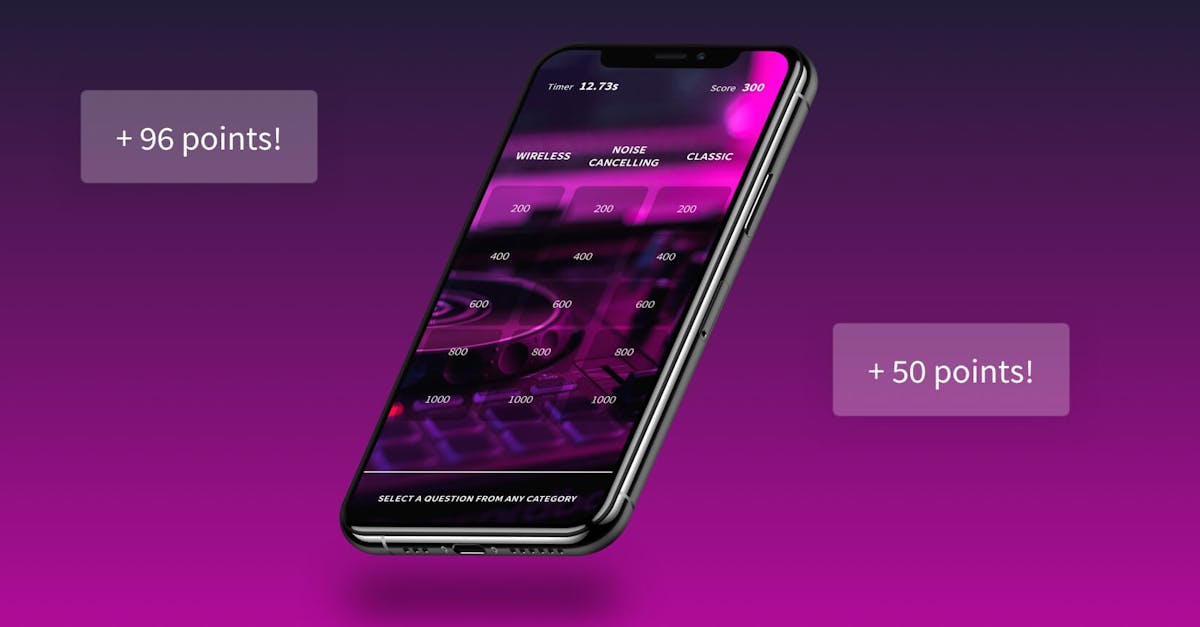 When it comes to learning, using games can be a great supplement to your curriculum. A few advantages of using games include:
Reinforcement of what has already been studied

Motivation of learners to get a high score

Evaluation of how well learners understood a topic
While that's just a brief list, I'm sure you can see why including games in your lessons can have its advantages. However, coming up with your own ideas for games can be challenging. Luckily, EdApp has many games that you can basically drag-and-drop into your lessons and that includes a jeopardy game maker free of charge!
Did you know that you can easily recreate the game of Jeopardy in EdApp? Through the jeopardy game maker which uses jeopardy game built-in templates, make a jeopardy training game or make your own jeopardy PowerPoint for teaching through a simple process. In this article, we'll guide you step-by-step so that you can get your own version of free Jeopardy game or jeopardy powerpoint up and running.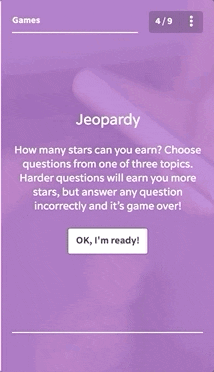 Setting Up the Game
The first thing you will need to do is log in to your free EdApp account as an admin. We will make a new course for this example, so once you are logged in, click 'Create a new course' in the Recent Courses block. You can name the course anything you want, but I will name it Jeopardy Game here.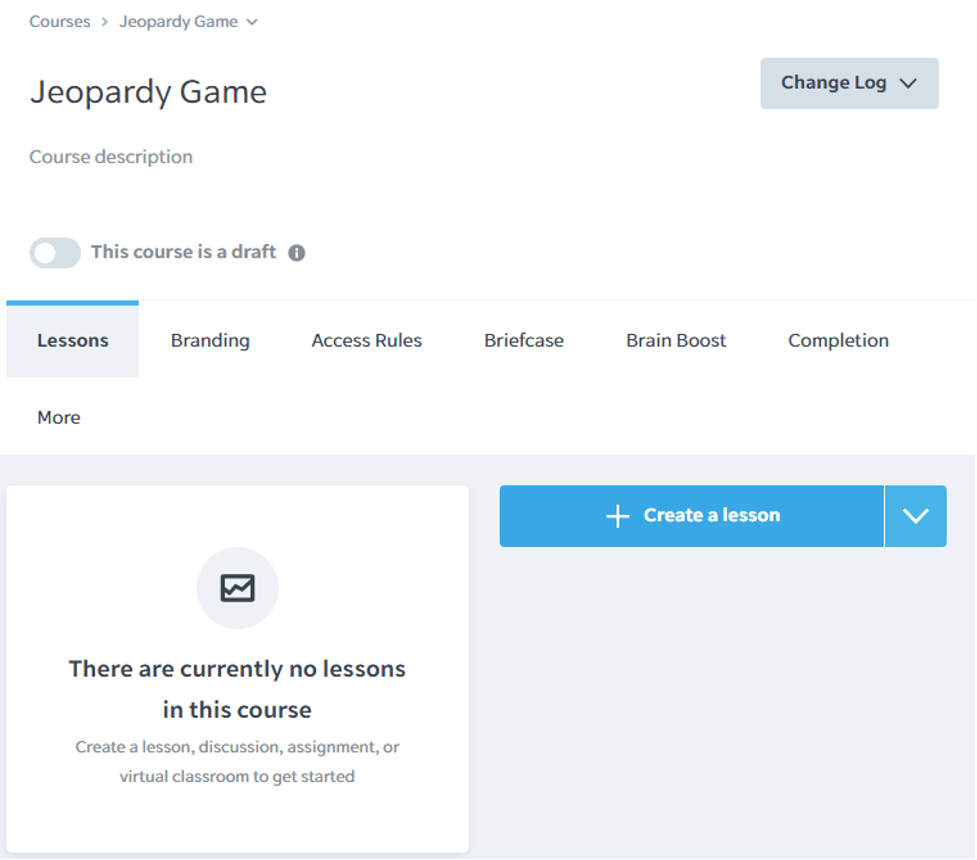 [Figure: Creating the lesson for the Jeopardy game maker ]
Create your own jeopardy board
Once the Jeopardy Game course is made, you will need to create a lesson for the course. To create your own jeopardy, lick the big blue button that says "Create a lesson." When you arrive at the lesson screen, you will see that you can make a name for the lesson, too. Come up with a name and then click the big blue button that says "Edit lesson content."
That will take you to the lesson edit screen. From here, click the big blue "Add a new slide" button. You will see a popup window full of templates for new slides. In the left tabs, find and click on the Games tab. You will see many types of games show up in the middle column of the window.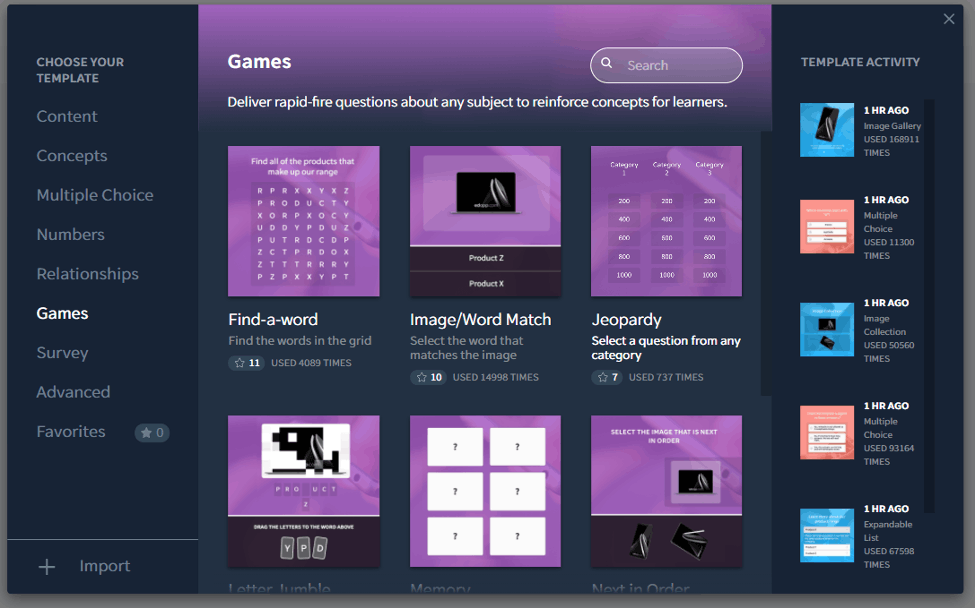 [Figure: Selecting the Jeopardy template ]
EdApp has numerous types of games that are useful for teaching. In addition to teacher tools Jeopardy, you can add templates for Find-a-word, Image/Word Match, Letter Jumble, Memory, Next in Order, the Elevator Game, and True or False games. for now, select the Jeopardy game create to continue.
You are then taken back to the slide edit screen. Your new slide has everything that you need to start making your Jeopardy game. When viewing on a desktop, the left column shows a preview of how the slide looks on a selected device. The middle column is where we can edit all the Jeopardy content. The right column will have all the slides in your lesson.
Start Creating your game today with EdApp Authoring Tool
No credit card required.
Step #2 – Creating the Game Content
We can start by editing the title and description for the game in the middle column. Let's make this a Jeopardy game about clothing lines to help trainees in the fashion industry. We'll change the name to Fashion Jeopardy and make an appropriate description.
The next block of things you can edit is the Categories. There are three categories, and each one has five questions which can be selected from a mix of 3 true or false questions. To see all three categories at once, click on the minus sign next to the Questions heading to close that cabinet.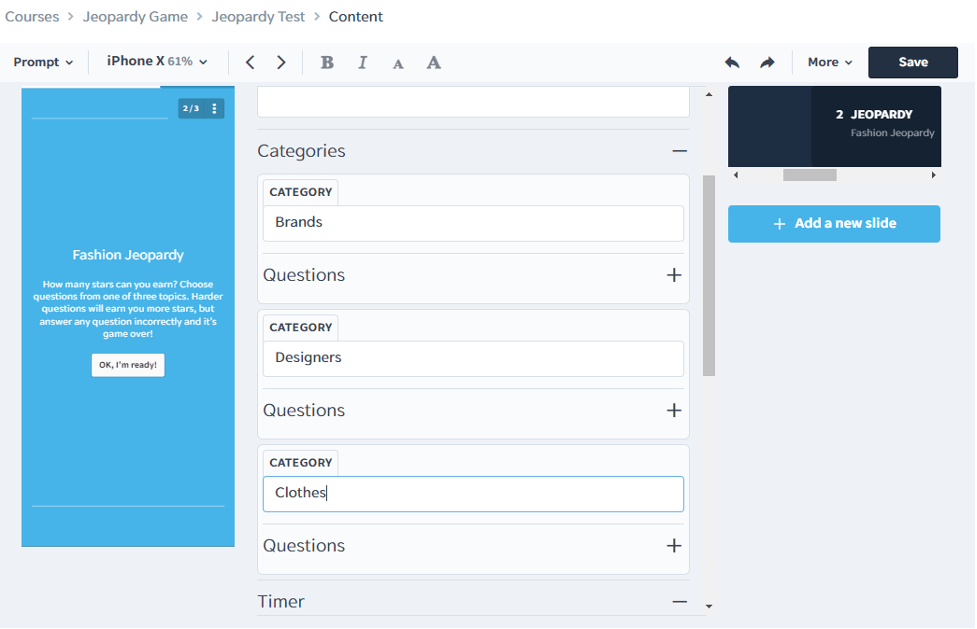 [Figure: Naming the three categories ]
Let's name the three categories Brands, Designers, and Clothes. Now we can start making the questions for the first category. Expand the Questions cabinet again by clicking the plus sign. Inside Questions, there are five Mix blocks. Within each Mix block are three true or false questions. The first Mix block will have questions that can appear at the 200-point level for the Brands category. Let's fill them in with some questions.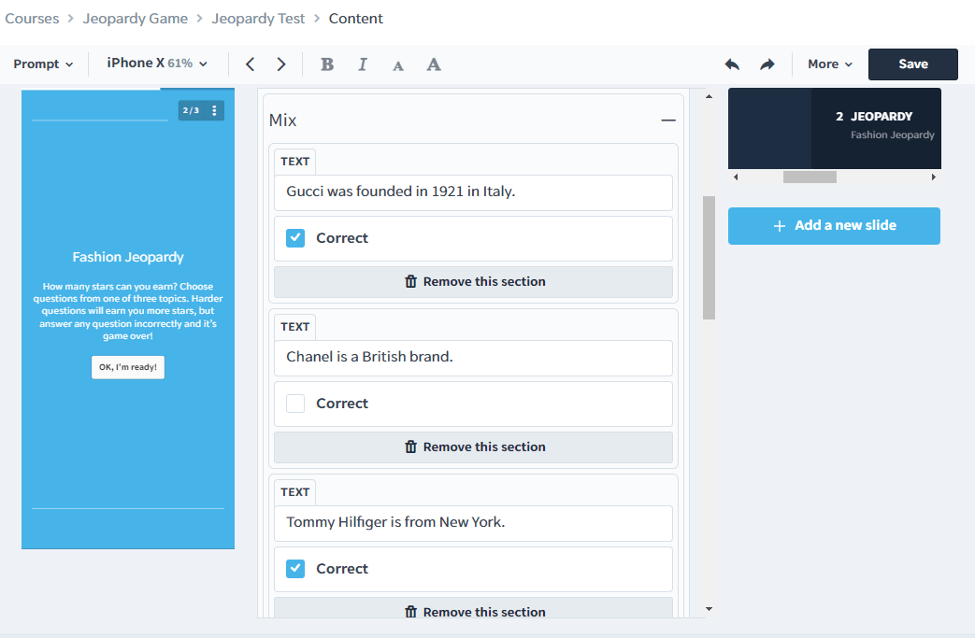 Once you have these three questions entered, you can move on to the next Mix block, which will be for 400-point questions. Continue in this way until you have filled out all the questions for each category. You can test at any time by clicking the "Ok, I'm ready!" button in the preview on the left side.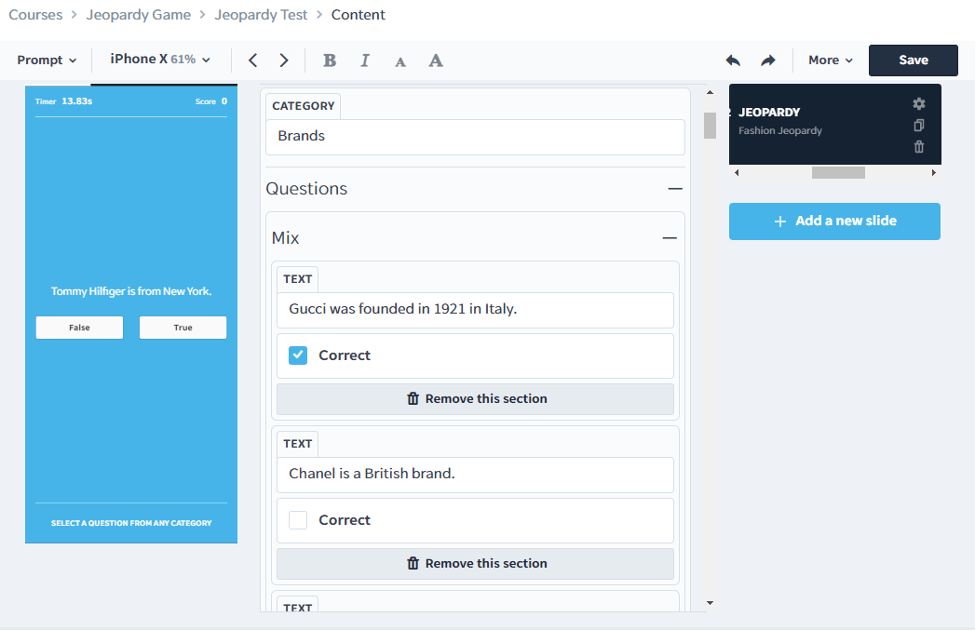 [Figure: Putting in true/false questions ]
Once you are happy with all your questions, you can start tuning the rules of your game. After the Categories block, there is a Timer block. In this block, you can decide how much time in milliseconds to give your learners. You can also choose to disable the timer entirely.
Below the Timer block is the Stars block. Here you can decide how many stars to award based on the number of points earned. You can also change the Prompt text that appears at the bottom of the screen as well as the Done Text when the game is finished.
The final box is for Scoring. This determines the weight that this game will have on the final score. The default weight is one.
Now you have set up your Jeopardy game in the lesson. Make sure that you click the big blue Save button at the top-right of the screen if you don't have auto-save turned on.
You can return to the Lesson screen by clicking on the lesson name in the breadcrumb menu at the top. Here you can preview the game again at various screen resolutions.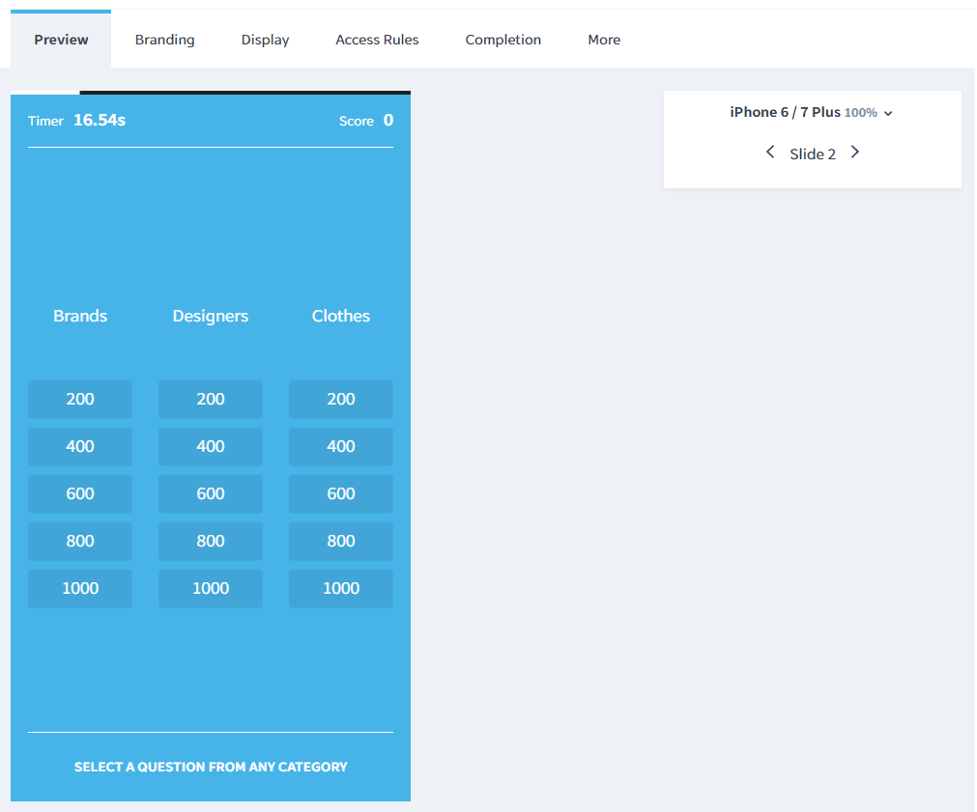 [Figure: Previewing the final game ]
You've now seen how EdApp can be used to make your own jeopardy game free. Setting it up was quick and easy because EdApp has already set up the templates. Try out jeopardy, make your own with your learners and see how well it engages them.
Also, don't forget to check out the other games that EdApp offers. You will find that they are just as easy to get up and running and give additional variety to your lessons as well as enhancing your overall curriculum.
Now that you've seen how straightforward it is how to make your own jeopardy games, what other types of games would you like to see added to your eLearning environment?
Give EdApp a go and sign up for a jeopardy maker free!