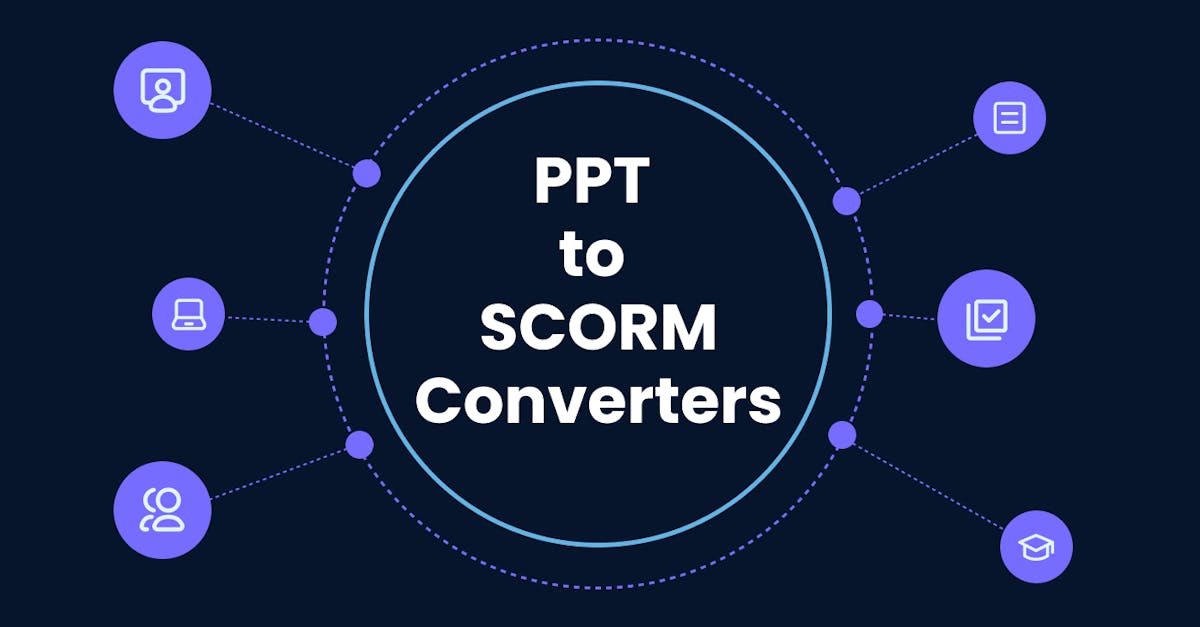 If you're looking to shift your learning materials from traditional PPTs to modern SCORM content, then you're in the right place. We've listed 10 PPT to SCORM converters that are designed to make learning better and easier for your learners. Let's dive in. 
PPT to SCORM Converter #1 – EdApp
With EdApp, you get a built-in PPT to SCORM converter that does the job most efficiently. Here, you don't have to spend a week trying to figure out the first step and another week working on getting your first course completed. With EdApp's PowerPoint Conversion Tool, you can easily turn your old PPTs into bite-sized lessons. Plus, you can also customize it even more by editing the slides, adding more content, and many more using EdApp's course creation tool. 
What's more, is that all converted lessons are mobile-friendly. So, your learners can easily take their lessons anytime and anywhere. They won't have to sit through extended training sessions at their desks, which is perfect for remote or agile teams.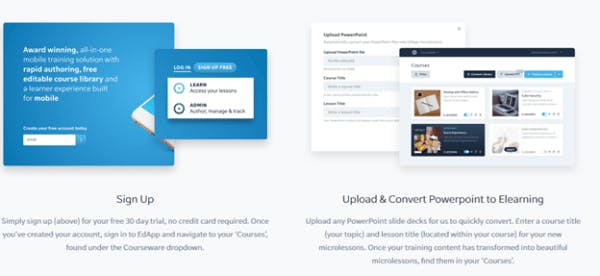 And not to forget, EdApp lessons can be exported into SCORM files. It only takes a click, so you won't have to go through so many unnecessary steps. The process of converting PPT to SCORM is traditionally a lengthy process that involves specialists and instructional designers, but this learning management system (LMS) is basically a do-it-yourself kit that can have the entire process done in minutes. 
And to top all these features, EdApp also offers an impressive course creation service that takes all the hassle of building courses from scratch, or even importing your PPT to SCORM. Their instructional designers can create the custom course for you, so you'll never have to worry about the admin side of training again.
Price:  Free
Features: LMS, Elearning authoring tools, SCORM Compliant, Editable templates, Customization, Gamification, Mobile friendly, and much more.
Join EdApp for free so you can easily transform traditional PPTs into SCORM content.
PPT to SCORM Converter #2 – isEazy
With isEazy, you can create PPT to SCORM courses by exporting PowerPoint slides into isEazy as images where multiple formats are available. There are options to add flair and interactivity to your courses. You can choose to do an image plus text, card, or hot spots. These options allow you to add value and a more interesting touch to your elearning course with little effort. Remember, after you've created a content template, you can reuse it with new content.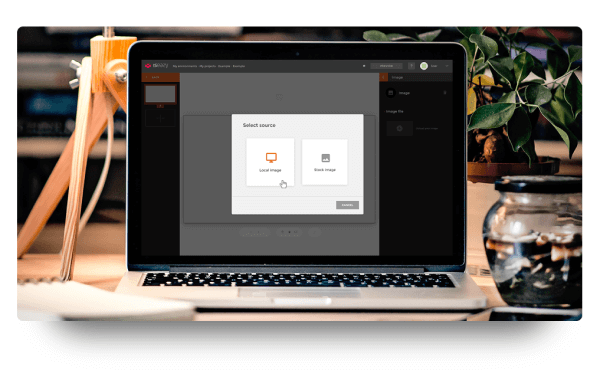 IsEazy also allows games and activities to be incorporated in your PPT to SCORM course to make it more entertaining which means making it more memorable. The software is great and all, but it needs to be more mobile-friendly.
Price: Free and Paid plans (starts at US 00)
Features: Course editor, Interactive online learning platform, Slides, WYSIWYG editor, Personalized images, Content management, Mobile learning, and more
PPT to SCORM Converter #3 – Wondershare PPT2Flash
Wondershare's PPT2 Flash professional version gives users the ability to create SCORM content. The tool is not just a simple PowerPoint conversion tool, but it's actually a tool that can be viewed as a comprehensive presentation suite useful to professionals in marketing and sales for course creation, as a speechmaker, and more. With this program, users can generate either 1 solid small web format file (SWF) or a series of SWF files. In addition to that, you can produce final pieces that are up to 90% less in size with the PPT2Flash converter. Many output options are offered by the software such as e-mail, CD, server upload, web, SCORM, and more. You can also make your courses more memorable by utilizing the animation feature to make text, charts, graphics, and diagrams look more lively. This software may be quite useful, but you should really consider if such a high price point is justified.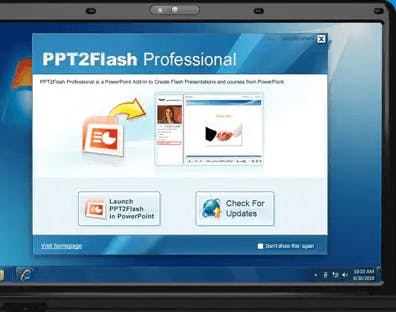 Price: US 99
Features: File size reduction, PPT to SCORM, Animation, HTML5, Audio Editor,  synchronize audio tracks, customizable flash player, Insert flash movie, Record your own voiceover, and more.
PPT to SCORM Converter #4 – Scormify
As you can probably guess from the name, Scormify is a platform that allows users to convert various file/media types into SCORM compliant courses. These include Vimeo, PPT, Youtube, PDF, Word, and other generic streaming videos. You are allowed a certain amount of conversions based on the plan you sign up for, and your converted content can be downloaded an unlimited amount of times.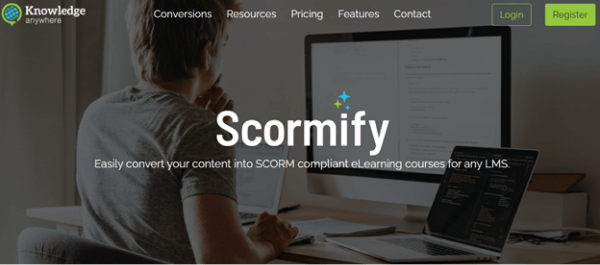 This PPT to SCORM platform allows users to style their courses according to the needs of their brands/organizations. In addition to that, there are two default styles that are provided. The files you post are securely stored on Amazon S3 which means they are not publicly available and cannot be retrieved outside of Scormify. While Scormify produces content that's usable in any LMS, it isn't one itself, so another software will be needed to distribute your courses.
Price: Free and paid plans (starts at US 0/month)
Features: Elearning development emplates, Custom themes, PPT to SCORM, PDF to SCORM, Vimeo to SCORM, Youtube to SCORM, secure and more.
PPT to SCORM Converter #5 – ScormHero
The name of this one may sound like a Marvel character, but this PPT to SCORM converter is actually real and pretty great. The service is available 100% online and no download is required. You are able to create SCORM content from PPT and videos and YouTube videos are also supported. Still, on the topic of videos, ScormHero allows users to record videos with their browser, directly from the platform. This is useful as you can use these recorded videos to explain the content of the course. After you've created your course/content with ScormHero, you can then download it for import to your LMS or personal website. Customizations features are also available that you can use to make the course pop. You are able to add/change colors and even add your organization's logo. Quizzes are also an option. Add those to test your learners' progression and keep them engaged. ScormHero has one other important feature to talk about, the licensed package feature allows you to set a time for your course to expire after distribution, so your clients or students won't have it available forever. Unfortunately, the platform is a bit niche in its offering.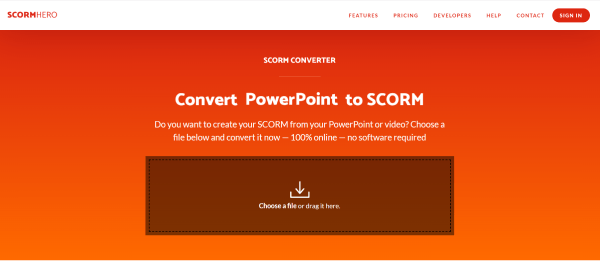 Price: Free and paid plans (starts at US 9/month)
Features: Record Videos, Add Quizzes, Youtube videos supported, 100% online, Customizations, and more.
PPT to SCORM Converter #6 – ELK Education Consultants
Unlike most PPT to SCORM converters on the list, ELK does not provide you with a do-it-yourself kit to convert your files. Instead, they offer a team of professionals who take on all of the responsibility of converting your files to SCORM. They offer a customizable course player that is capable of playing audio and video. Before turning over the finished product, ELK tests the SCORM content in their cloud-based system to ensure that the effects, fonts, audio, video, and images are the same as your original PowerPoint file. They also claim to provide a secure course at the end of the process. Some people may rather hand off all their files to a team of professionals to convert, especially if there are a ton of them involved. Unfortunately, we don't see where this is the majority as most persons prefer to do the work on their own for quality purposes and minimal turnaround time.

Price: Request a quote
Features: Secure, content is tested, course player provided, customizable, and more
PPT to SCORM Converter #7 – Synapse
Synapse is an LMS that offers PPT to SCORM conversions among other typical LMS offerings. Its PPT to SCORM feature allows you to build learning content to educate and empower your team. With Synapse, you can centralize all your training so all data from training activities across the organization is available in one location which is useful for tasks involving employee training, project planning, and shared learning. For project planning, you can keep track of your different team's progress and move their task through different project levels. Synapse also helps with planning task allotments so you can use your team optimally. With a price tag of over USk/month, this platform is one of the priciest on the market, so that's a huge thing to consider.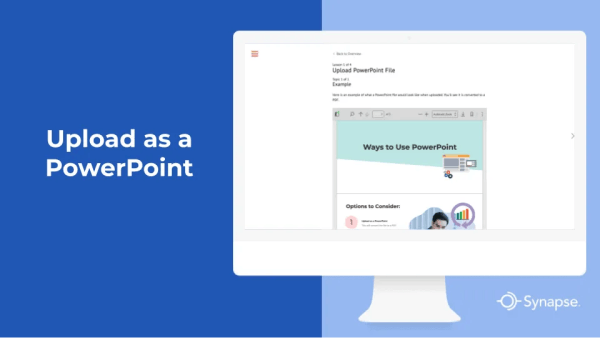 Price: ,499 / User / Annum
Features: Training intake, Integrations, Content creation, Project planning, and Capacity Planning.
PPT to SCORM Converter #8 – SimTutor
SimTutor is a very niche software learning system that caters to the medical field. The software offers learning to students in a mobile-friendly, futuristic way. Founded by medical care professionals, it was designed and is operated in a manner that aims to enhance the education of healthcare students. One of the solutions offered includes PPT to SCORM within the content authoring space. Content can be fully or semi-customized by authors who have access to over 100 healthcare simulated modules.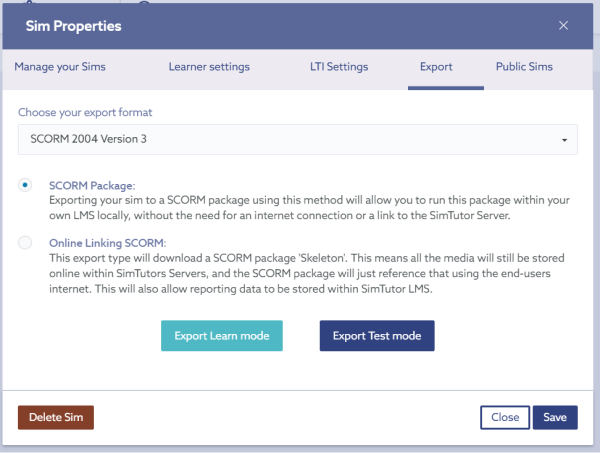 Price: Custom
Features: Simulations, Custom courses, Healthcare simulation modules, and more.
PPT to SCORM Converter #9 – DominKnow
The DominKnow tool is a cloud-based authoring tool with built-in simulations. This mix allows users to easily collaborate on creating, sharing, and reusing content in a convenient way. You can create engaging, interactive, and timeless content with templates that can be customized any way you'd like. Your interactive elearning courses will be easily accessible to your learners since the content created can be easily converted from PPT to SCORM and is mobile-friendly which is a big plus for any content delivery system. Speaking of learners, course content can be translated and localized for multiple languages across the world. With this platform, users can also collaborate in real-time to access and review workflows in order to complete tasks faster.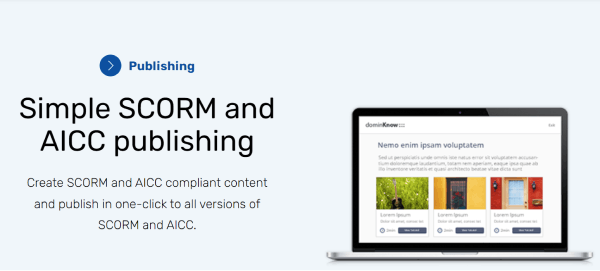 Price: US 97- 497/year
Features: Authoring software, Easy To Use, Collaboration & Review, Responsive & Mobile, Publishing, Accessibility, Translation & Localization, LCMS, and more.
PPT to SCORM Converter #10 – Lectora
The Lectora platform allows users to design, publish, and deliver courses on a myriad of devices. The software can be utilized fully in the cloud or be downloaded to your machine. With this software, you can bring scenario-based, responsive learning or video-based content to life, you can also convert PPT to SCORM. Having access to the eLearning Brothers Asset Library, users are able to use multiple pre-built layouts, and quiz templates. This means it is very easy to put together a complete course in no time.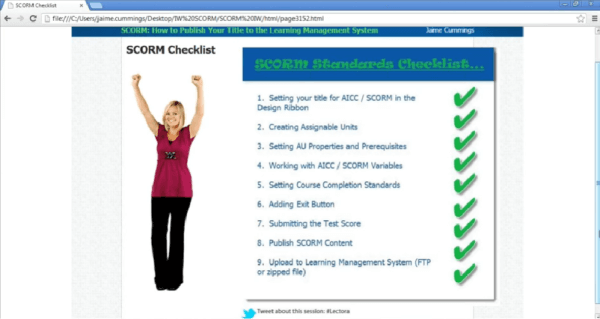 With the online web-based version, you will be able to do collaborative authoring with automatic revisioning. Your final product will always be compliant based on the latest Web Content Accessibility Guidelines.  Lectora also allows users to track their learner's behavior and create personalized learning experiences in order to foster retention. If they were to add a world-class quiz maker to the platform, it would definitely make it unbeatable.
Price: Request Quote
Features: Course Authoring, PPT to SCORM, content library, analytics, and more