Including videos in your lessons has now been made easier, thanks to the availability of training video software. Now that videos have been a go-to format due to their effectiveness, we've listed 10 training video software to help boost the learning experience of your employees.
1. EdApp
EdApp is an all-in-one training video software that can be used both on mobile and desktop. It's the perfect software to use for creating training videos through its intuitive authoring tool and video templates. To add and videos to your lessons, all you have to do is to drag and drop the video files into the upload box or select it from your computer. You can also add videos from external sources, such as YouTube and Vimeo, if you already have existing videos uploaded on those platforms. EdApp also gives you a number of configuration options that you may find handy, such as Play on Demand, Auto Play, Auto Progress, and Always Show Skip Button.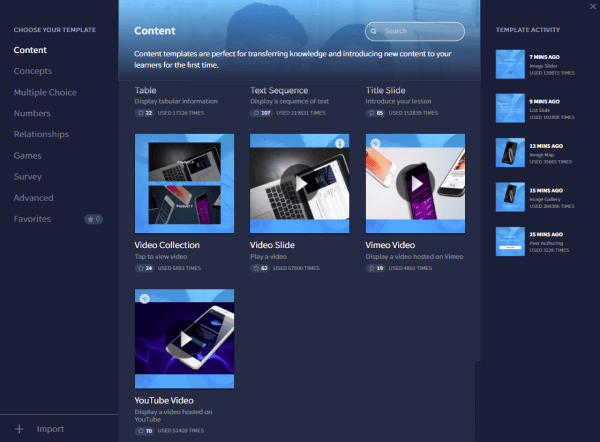 If you're going for a live video format, EdApp has a virtual classroom feature that enables you to schedule and carry out Zoom video meetings that are directly linked to a course. You can also record your video meetings and send a link to your learners for future reference.
Cost: Free
Key features: Video templates, drag-and-drop video authoring tool, video conferencing
Sign up for Free and Start Using the Best Training Video Software
2. Camtasia
Camtasia is a video training software that enables you to edit video and record and screenshot anything on your screen, whether it's a website, software, video narration call, or PowerPoint presentation. Unlike other video editors, this video-editing software also contains avatars and interactive scenarios in which text files, MP3 and MP4 files, picture-in-picture photos, and deep focus frames can be inserted through its drag-and-drop authoring tool. You can also use special video effects and filters or just work on their pre-built video templates for easier video creation, compositing, and editing.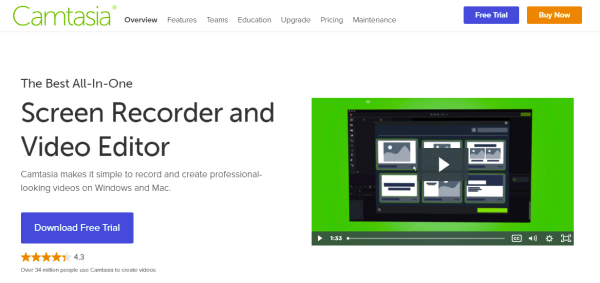 Cost: US$249.99/user
Key features: Screen recording, pre-built assets, video templates, video exporting, drag-and-drop editor
3. Skillshare
Skillshare allows you to film your class and publish it with its class upload tool. Here, you can attend classes for whatever topic you may want to learn more about or provide a link to your learners for a specific lesson. It also contains hundreds of pre-recorded videos from creatives and experts that you can use to train your teams. If you are a premium member, there is an offline viewing option available.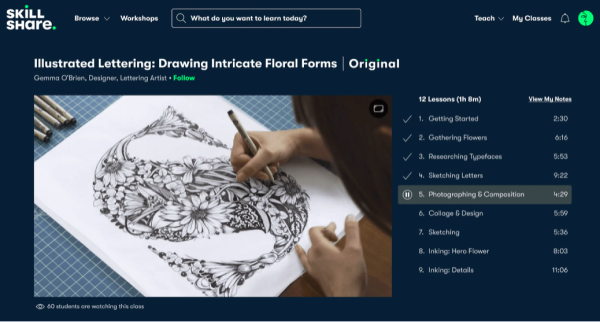 However, Skillshare is merely a platform to upload videos and doesn't come with any free video editing tools. You'll have to use other software to make sure your video is optimized for publishing.
Cost: Starts at $139 USD per user, per year
Key features: Class upload tool, video library, offline downloads
4. Animaker
Both non-designers and designers will surely find Animaker useful when it comes to creating video training programs. You can easily create a video or animation with its drag and drop builder. You can even create your own character to use in your videos and add voiceovers with auto lip-sync so you don't have to worry about editing it later on. This free video editing software also has tons of templates and assets that you can add to your videos so you don't have to scour the internet for resources to use.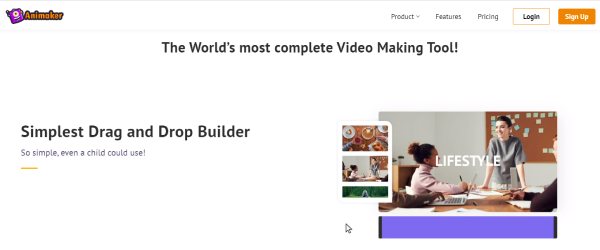 While they have a free plan, the assets will include watermarks and you'll only have a file size upload limit of 2 GB
Cost: Free and paid plans
Key features: Template library, asset library, character builder, auto lip-sync
5. Hippo Video
Hippo Video was designed to improve the sales skills of customer-facing teams through video learning. This is one of the best video editing software that allows you to screen video capture, edit clips, fix transitions, and share them in several ways, such as emails, links, and social media. You can even overlay text, images, GIFs, and microphone recording to spice up your videos without any watermarks included. You'll also have the ability to create a learning video portal for your trainees so they can access all your uploaded resources in one place. It also allows learners to use the software to give peer presentations, which is perfect for a blended learning approach.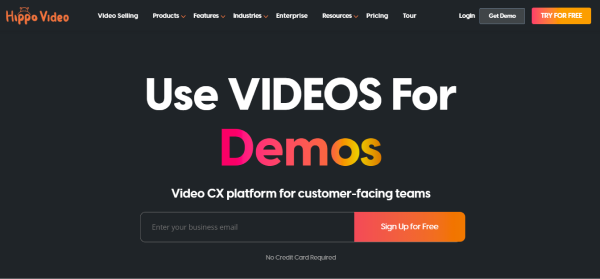 Cost: Starts at US $15/month
Key features: Screen recorder, video sharing, learning video portal
6. uQualio
uQualio is a cloud-based training video software that you can use for your training needs. Their innovative digital eLearning tool can be used for corporate training, bite-sized webinars, marketing, onboarding, product training, and many more. You can turn recordings into videos, upload pre-recorded videos, or link to YouTube and Vimeo and include them in your courses. uQualio also allows you to add supporting pictures and documents to your course before publishing. It works on all devices, including mobile, making it convenient for learners to access their training materials on the go.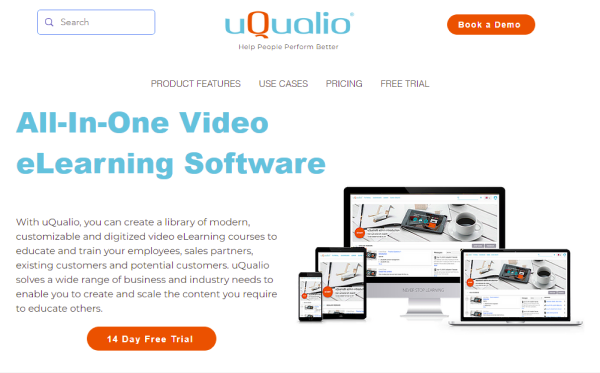 Cost: Starts at US $89/month
Key features: YouTube & Vimeo support, mobile video accessibility, screen recording
7. LearnWorlds
LearnWorlds is a training video software wherein you can create and sell your online courses. This software is best used for video learning and they even provide a tutorials on how to design videos for online learning. LearnWorlds has its own video editor that you can use to create your interactive video training. With a click of a button, you'll be able to show interactive transcripts & captions, screencasts, navigation, and end questions in your videos.
Cost: Starts at US $24/month
Key features: Video editor, synchronized transcript, screencasts
8. Thinkific
With Thinkific, you can add and edit training content, quizzes, and upload your videos easily with their drag and drop software features. You can also schedule lessons, automate content, and even set pricing for the courses you want to sell. There are over 50,000-course creators and over 100 million courses taken in more than 165 countries. Should you wish to find samples to guide you with the courses, there are available videos on the site.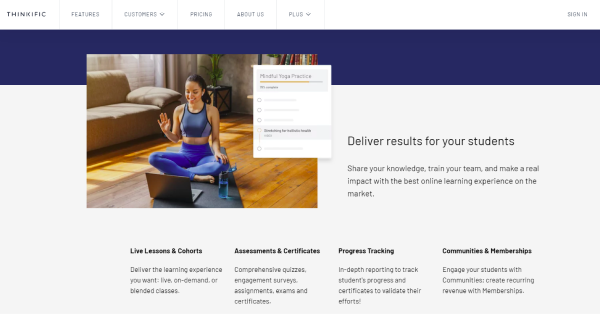 Cost: Free and paid plans
Key features: Drag and drop editor, course selling, course library
9. Powtoon
If you're looking to design professional-looking animated training videos, Powtoon is a software that you must consider. Powtoon has a vast library of video templates that you can customize for any type of training using its online video editor. With Powtoon Capture, you can record both your screen and webcam, then add your visuals and branding for a more personalized touch. You'll also have access to royalty free videos and images that you can use in creating your presentations and whiteboard animations.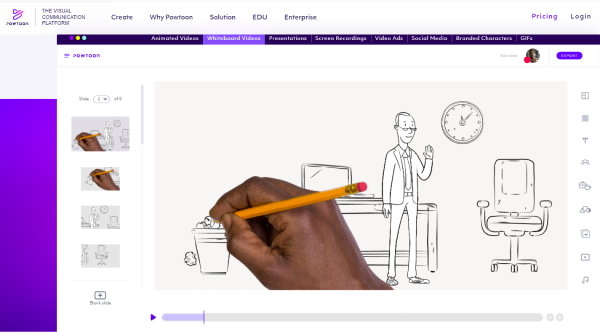 While it has a free plan, it's more suitable for personal use as it lacks a lot of features that can be used to enhance your videos.
Cost: Free and paid plans
Key features: Video editor, screen recording, royalty-free videos and images
10. Snagit
Snagit lets you capture your screen or webcam to quickly create on-demand training videos. You can easily create videos in no time using their pre-made templates and image to video conversion tool. They also provide a built-in library with lifetime access so you can store all your assets and keep them organized.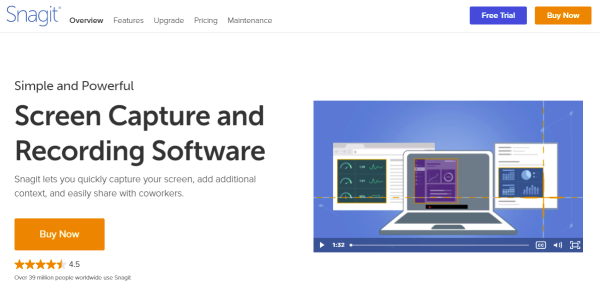 Although Snagit isn't free, they only charge a one-time fee instead of a monthly or annual subscription.
Cost: Starts at US $49.99
Key features: Video editor, screen recording, royalty-free videos and images