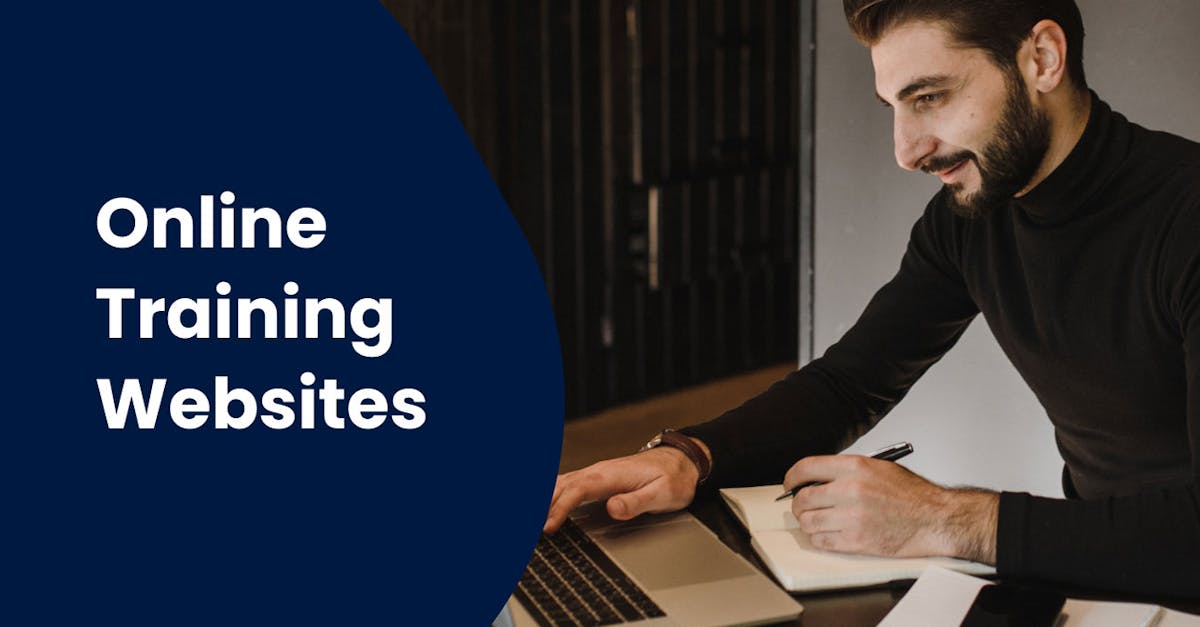 Streamline your employee training process with the help of online training websites. Through these advanced tools, you can give your workers more engaging and convenient learning experiences. We've put together a list of websites, including their features and benefits, to help you choose the best platform for your team's training needs.
1. EdApp
Currently one of the best online training websites on the market, EdApp is a blended learning platform that allows you to effectively manage your entire employee training process. Through its highly adaptable authoring tools, you can design training courses in just minutes. Simply choose from their wide range of ready-to-use interactive templates, add your elearning content, and distribute the final courses directly to your employees. It also has a Canva integration that makes it easier for you to design visually appealing courses.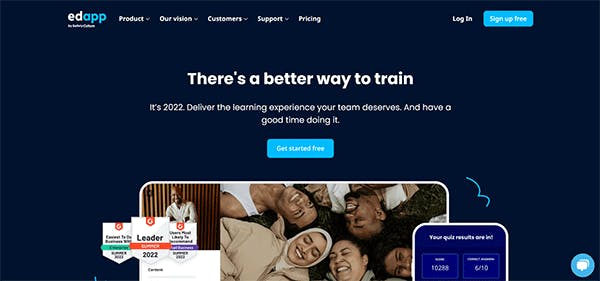 You can also opt to import a course directly from EdApp's library of free, ready-to-deploy, and customizable courses. These cover a range of topics, including marketing tutorials, stress management courses, retail training programs, risk assessment courses, and so much more. Additionally, the platform offers a comprehensive analytics learning suite that lets you monitor the learning progress of each team member.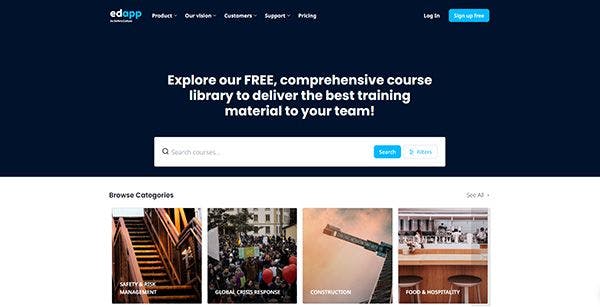 This LMS also uses gamification and mobile-first strategies to make learning simpler and more engaging for your employees. Instead of feeling unmotivated or bored when doing their training, your team will be able to have fun finishing game-like lessons that are delivered in bite-sized chunks. And to aid with their long-term knowledge retention, this platform even has a spaced repetition feature that allows you to reinforce training concepts at predetermined intervals.
Highlights: Adaptable authoring tool, free editable course library, analytics suite, gamification, mobile learning, spaced repetition
Cost: Free
Join EdApp for free and start using the best online training website today!
2. Easywebinar
EasyWebinar is a webinar software that allows online meetings, remote conferences, training, and even marketing. With up to four presenters allowed at a time, it's a good option to help support participation for small groups. It provides live engagement features such as real-time chat for interactive online onboarding and training employees virtually. This web-based training platform easily allows any attendee to be a presenter giving your learners an opportunity for an active discussion during training sessions. This learning software also includes an analytics tool that allows tracking of attendance and actions taken by your learners on real-time call-to-actions push offers. Emergency evacuation training courses, marketing tutorials, and technical training courses are a perfect use case for EasyWebinar, as they allow for real-time interaction between participants and can be used to give vital information to employees.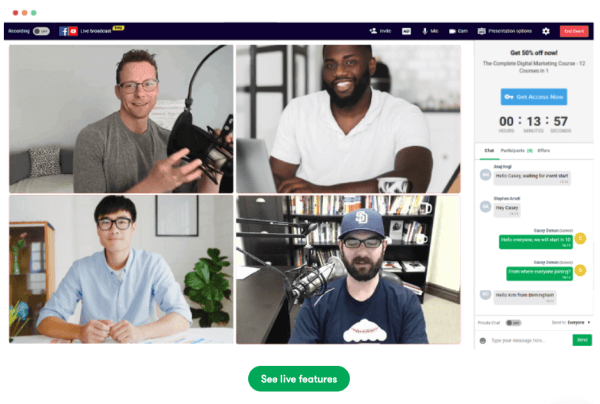 Highlights: Live webinars, engagement tools, and analytics
Cost: Starts as 8 USD (monthly)
3. Trainual
Trainual is a knowledge and learning management platform designed for team leaders and training managers to have a streamlined structure for onboarding and training employees. This online training website allows training managers to accelerate the process of creating training manuals and playbooks through easier content authoring with its available 150+ templates. It seamlessly makes company knowledge more centralized and enables training to be repeatable and scalable.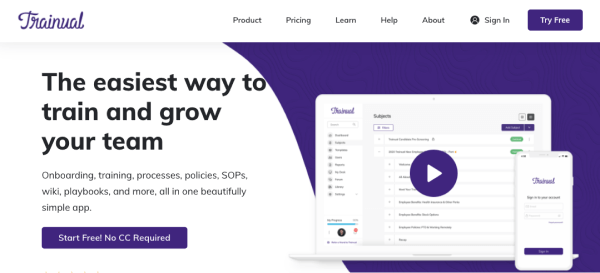 Highlights: Training manual templates and an automated training tool
Cost: Starts at 9 (monthly)
4. Gyrus
Gyrus is a cloud-based training LMS that assists training managers in effectively meeting the learning needs of their employees and equally creating a meaningful learning experience for their learners. Its AI-driven smart learning features are designed for developing personalized learning programs for various groups of employees. In Gyrus, training content can be delivered through file-based courses, videos, webinars, simulations, documents, and virtual classrooms, which give you more flexibility in planning an adaptable training strategy. You're also able to instantly monitor the effectiveness of your training programs with its real-time data visualization and reporting. Gyrus is also a great option for businesses looking to develop training programs like assertiveness training courses and leadership training courses for their employees.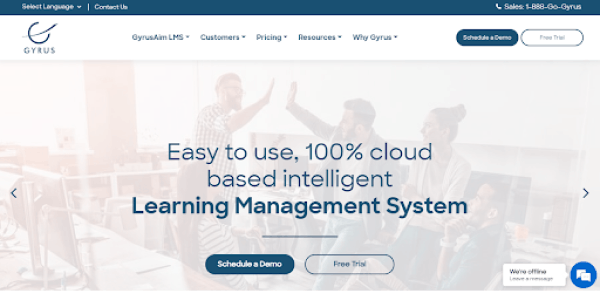 Highlights: Seamless training management, various eLearning formats, and real-time analytics and insights  
Cost: Paid subscription starts at 00 USD (monthly) and 000 USD (annually)
5. LearnWorlds
LearnWorlds is an online training website that provides professionals with a learning solution through an eLearning LMS. It promotes an engaging learning experience through interactive templates, video learning, course player, interactive ebooks, and a built-in social community. A branding and theme editor also makes it possible to customize the style, logo, and theme from within the platform. It also allows you to test the knowledge and understanding of your learners through self-improvement quizzes and file assignments.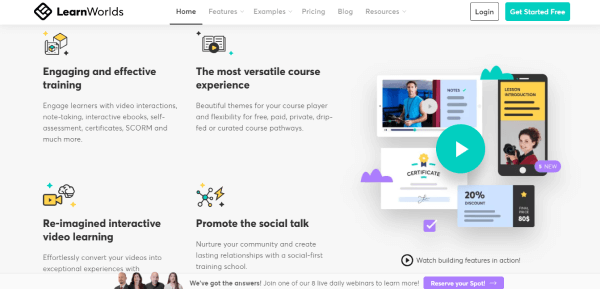 Highlights: Course player, video learning, and social learning
Cost: Starts at 9 USD (monthly)  
6. TopClass LMS
TopClass LMS is an award-winning learning platform that serves as a training technology tool in providing a comprehensive and flexible learning experience for employees. It helps organizations provide skills development and career advancement for learners through a personalized learning experience, including a wide range of educational programs for employees such as mini-courses, learning pathways, apprentice programs, certificate programs, discussion forums, interactive videos, and many more. With this online training website, you can integrate a blended learning approach to your training program wherein they can access online learning materials prior to a conference event, and explore more content in the LMS after to extend their learning experience.
assertiveness training courses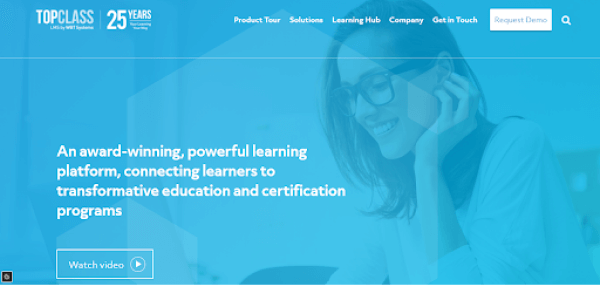 Highlights: Virtual conference events, online testing tools, and social learning tools
Cost: Price available through a quote request
7. GoSkills
GoSkills is a great learning content management system offering a manageable LMS system aimed especially at small-scale business clients. With a library of ready-made courses and a built-in responsive authoring tool, it allows you to enhance your company's eLearning experience. This online training website improves engagement rates through microlearning and gamification techniques and provides feedback options, together with progress checks and basic statistics. Access to the LMS is free, however, courses at GoSkill are only available for purchase.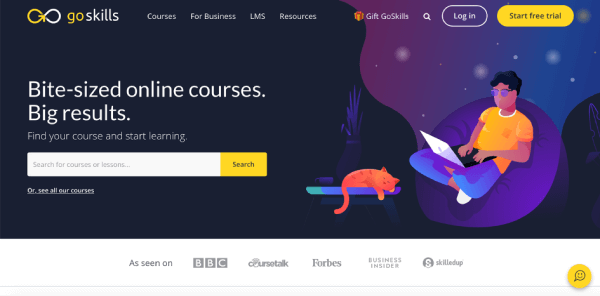 Highlights: Course library, authoring tool, microlearning, and gamification
Price: Starts at USD/learner (monthly)
8. Qstream
Qstream is a microlearning platform dedicated to delivering learning programs that combat the forgetting curve and improve knowledge retention among employees. Delivered through a mobile-first approach, Qstream reinforces knowledge, develops skills, and enhances productivity. Its Content Hub feature enables training managers to create content with a template library and a set of guide questions in the online training website, including the ability to facilitate real-time practice through videos submitted by your personnel. You can also track learning progress through an analytics dashboard and proficiency heatmaps.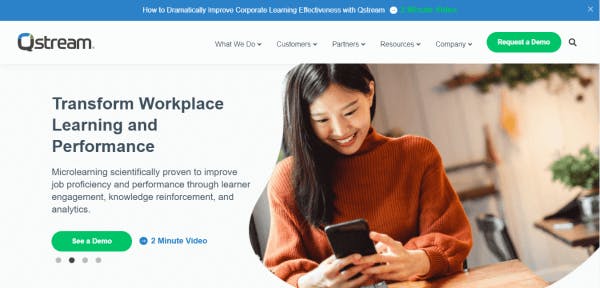 Highlights: Microlearning, content hub, and analytics dashboard
Cost: Price available through a quote request
9. Auzmor Learn
Auzmor Learn is an online training website dedicated to simplifying the process of planning and implementing employee training programs. With its simple user-friendly interface, you can easily create courses that help you reinforce important concepts and skill sets, or you can access and customize existing courses from its library. This LMS's reporting dashboard also gives you a real-time view of your personnel's learning progress to help you identify effective strategies and remedy the gaps.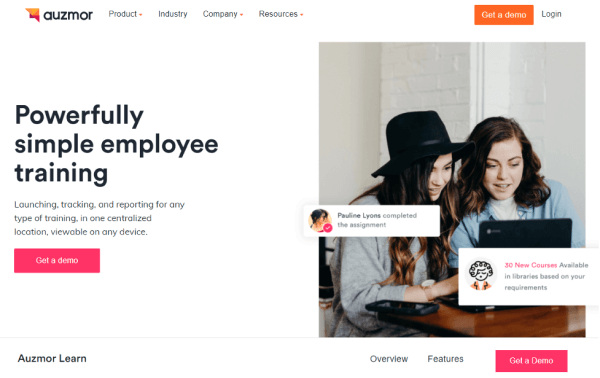 Highlights: Online courses builder, lesson library, and real-time analytics dashboard
Cost: Price available through a quote request
10. Arlo
Arlo is an LMS specifically for corporate training providers that focus on empowering learners through self-paced learning, live online learning, and blended learning. This online training website enables a blended learning solution by extending training through live and interactive webinars, eLearning modules, discussion forums, recorded videos, assignments, and quizzes. Its innovative training management system design streamlines processes and simplifies tasks enabling training providers to save time while still effectively increasing course registrations.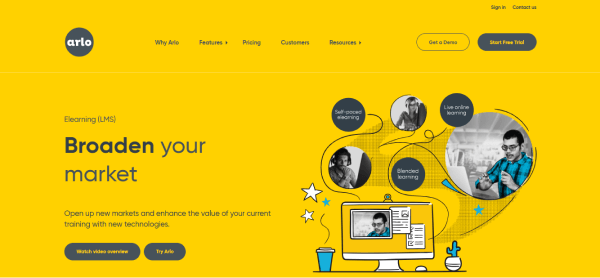 Highlights: Self-paced eLearning, live online session, and blended learning strategy
Cost: Price available through a quote request