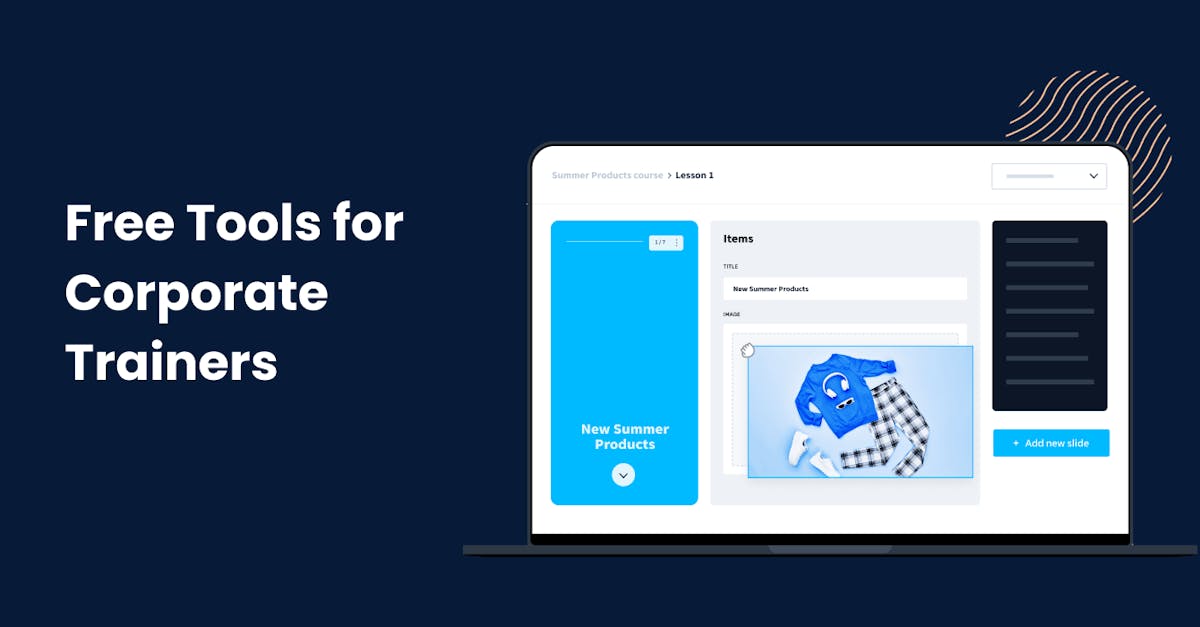 Training at a corporate level requires some advanced and intuitive solutions to streamline training processes which many SaaS already offer. In this article, we've gathered 10 tools for corporate trainers that managers and HR staff can leverage to deliver high-quality training.
1. EdApp
EdApp is a multi-award-winning free tool for corporate trainers that can be used for personal and professional development. This LMS has a simple and easy-to-use interface to make your corporate training as efficient and effective as possible. It boasts of a vast library of interactive course templates that make it easier to distribute elearning content to teams.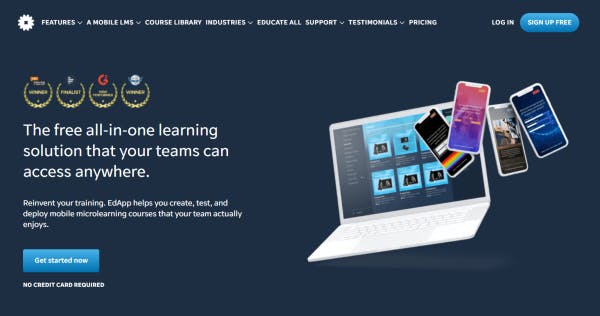 EdApp also features a library of ready-to-deliver courses that you can already send out to your learners. These courses cover a wide range of topics and can be customized any way you want, thanks to EdApp's authoring tools. Some of these courses include retail training courses, confidentiality training courses, HIPAA training courses, and cyber security training courses.
Both templates and courses are designed in EdApp's microlearning approach. With microlearning, you can make training more fun and entertaining while also simplifying big concepts for better knowledge retention.
This corporate learning solution also offers Rapid Refresh, a quiz builder tool, which allows you to create gamified exams. With gamification, you can evaluate where your employees are with their skills and knowledge and make the assessment process fun and interactive. After taking their assessment, you'll be shown a report of their performance through the built-in analytics tool. You can use the reports to improve your training process and other initiatives to enhance your employees' performance.
EdApp mobile learning is available on the Google Play Store and App Store so they can learn on the go. You won't have to worry about scheduling their training sessions when they have packed calendars. They can take their courses during their morning commute or when they're at home.
Features:
Editable course library

800+ high-quality courses

80+ highly customizable authoring & testing templates (no coding required)

Gamification quiz templates

Compatible with most devices with optimized display scaling

Completion certificates

Analytics
Cost: Free
Create better learning experiences with EdApp today.
2. Coursera
Coursera is a corporate training platform that offers courses taught by experts from more than 200 reputable educational institutions and corporations, including The Wharton School, Stanford University, Google, and IBM. Through their large range of training materials for trainers, learners can obtain industry-recognized course certification at their own pace while being completely online. There's no need for instructor-led training.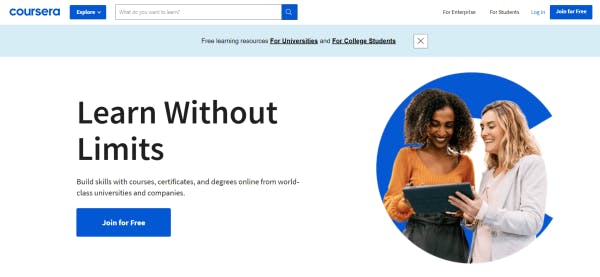 Learners can sign up with Coursera for free and browse its library of free and paid courses. Depending on what you're looking for in your corporate training, you can choose from a variety of learning packages. The length varies for every subject offered so courses can be finished in weeks or months.
Features:
Courses by 200+ leading universities and companies

5,100+ courses and specializations

Course certificates and degrees
Cost: Free, paid plans
3. FutureLearn
FutureLearn is a corporate trainer tool that can help employees acquire new knowledge and skills. This online course platform features 2,000+ unique programs covering a wide range of topics such as business, management, creative arts, and many more. Similar to other course training platforms, FutureLearn's courses are created by big universities and industry leaders. These are delivered in different formats such as videos, exams, and discussions. The programs provide certification while being 100 percent online so your employees can take courses in the comfort of their workspace. Some of the various courses you'll find on the platform include project management training courses, language lessons, leadership training courses, and confidentiality training courses. 

Features:
Cost: Free
4. Khan Academy
Khan Academy is a free educational corporate learning tool that features thousands of expert-produced videos. The learning platform offers a diverse range of educational materials, ranging from elementary school subjects to college and professional levels. There are several subjects to choose from to tailor your learning, and each one includes practice activities and handouts. To give you an idea, some topics covered are computer science, arts & humanities economics, and life skills. Khan Academy mainly used videos as their medium of instruction so it is perfect for visual learners.
Features:
1,000+ courses in the library

Personalized learning

Assessments every course

Practice exercises and supplementary documents
Cost: Free
5. Looop
As an advanced learning management system, Looop helps you create employee development resources and automate training processes for your employees. With their simple yet visually appealing UX design, you can create engaging learning materials and access features like campaigns, and automate the delivery of training content through channels like Slack, Teams, and even SMS. Other features like user insights and analytics dashboards give you visibility on your teams' completion rates, learning gaps, and overall performance. Through these enhanced reporting features, you'll be able to gauge the effectiveness of your training and address your workers' learning challenges. To access all of Looop's products, you can sign up for a monthly subscription that starts at 99 per month for a maximum of 50 users.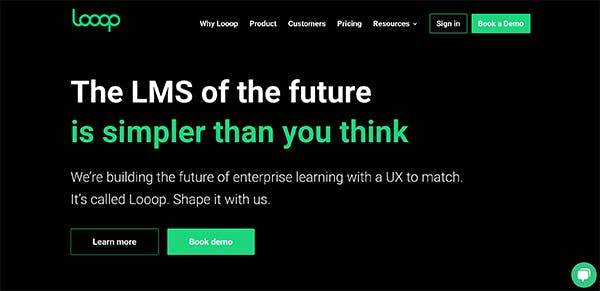 Features:
Campaigns

User insights

Dashboards
Cost: Starts at 99 USD for 50 users
6. GoToTraining
GoToTraining is an innovative tool for corporate trainers with exciting built-in features, making it ideal for anyone who's always presenting tedious training and webinars. This platform makes it simple for businesses to conduct custom registration, organize training materials, and share courses. When it comes to sharing, you can email your training to your team for self-paced learning, or you can hold an online conference session to communicate synchronously with your employees. The tool also supports improved learning retention and engagement during live training sessions by having exams, collaborations, and other group exercises. Following each session, complete attendance and progress reports are accessible to help you to assess the effectiveness of your program. GoToTraining manages and keeps your training courses and assessments for learners to enroll and access later on. 
Features:
Custom registration

Content sharing

Online conferencing

Reports
Cost: 09 USD monthly
7. MasterClass
MasterClass isn't your typical training tool for corporate trainers since this platform gives your employees access to more than 100 online classes taught by renowned experts and celebrities. Your team can take and complete them whenever their schedule allows, allowing for a self-paced training and development experience. MasterClass platform is convenient for learners as they can even watch the courses anywhere by downloading the app to their phone.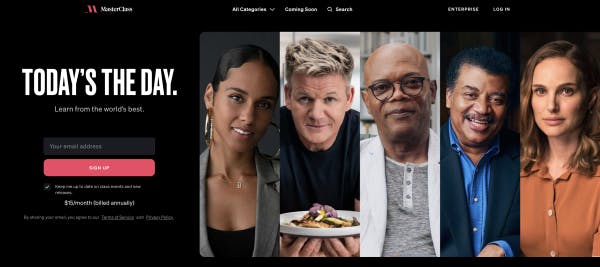 The disadvantage of this platform is that their course selection isn't that vast because they invited renowned individuals of their own craft. Secondly, most courses are geared toward beginners, which doesn't seem appealing if you're looking for advanced learning with your working knowledge.
Features:
Cost: 5 USD monthly
8. EasyWebinar
Do you need a webinar-based tool for distance learning? Then you may want to consider EasyWebinar, a flexible webinar tool that can run high-quality webinars with up to four presenters allowed at a time. It promises pixel-perfect, high-definition presentations with no delay and latency, audio echo, and blurry screens, even with two persons speaking and presenting at the same time. Recording and archiving are also feasible with this tool, providing your learners access to your webinar training sessions even after they have already concluded. 
EasyWebinar has three pricing plans available: Standard, Pro, and Enterprise. It has no free version, unlike your basic Zoom account, despite having almost similar features. However, you do have the advantage of having numerous presenters at the same time, which is uncommon for most webinar tools.
Features:
Cost: Starts at 8 US monthly
9. Ruzuku
Another great corporate training tool to consider is Ruzuku, built with a powerful yet clean and user-friendly interface that allows you to create and run great online courses without overwhelming designing tools and options. They are all yours to edit – you can customize the design to fit your brand and incorporate content suited to your students' learning objectives. If needed, you can also add PDFs, Word, PPT, and other files to your course content and make them downloadable for self-paced learning.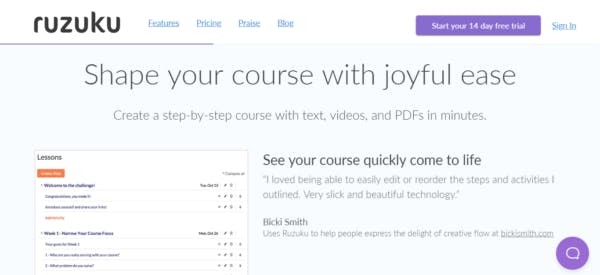 But it's not just limited to elearning development and deployment. Ruzuku's course health feature also allows you to keep track of your team's learning progress, including activity completion and any queries or comments they may have about their courses. Any updates made by participants will be sent to you automatically via email.
Features:
Cost: Starts at 4.75 USD
10. WorkRamp
WorkRamp, which is a great tool for corporate trainers, can be modified for various training types including HR, marketing, sales, retail, and support. The platform includes specialized courses specific to their job roles – perfect for any department in your business. You can also use their compliance training features to develop your own technical compliance training courses, such as CNC training, construction training, hazard communication, and chemical spill training courses.  Other added features cover a streamlined onboarding process, content creation, automated reports, verified compliance training, and instructor-led virtual training events. WorkRamp helps you build an optimized training experience for your team by incorporating all of their products.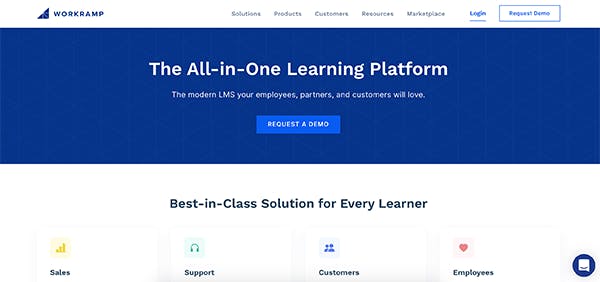 Features:
Onboarding

Content creation

Automated reports

Different training types
Cost: Paid plans