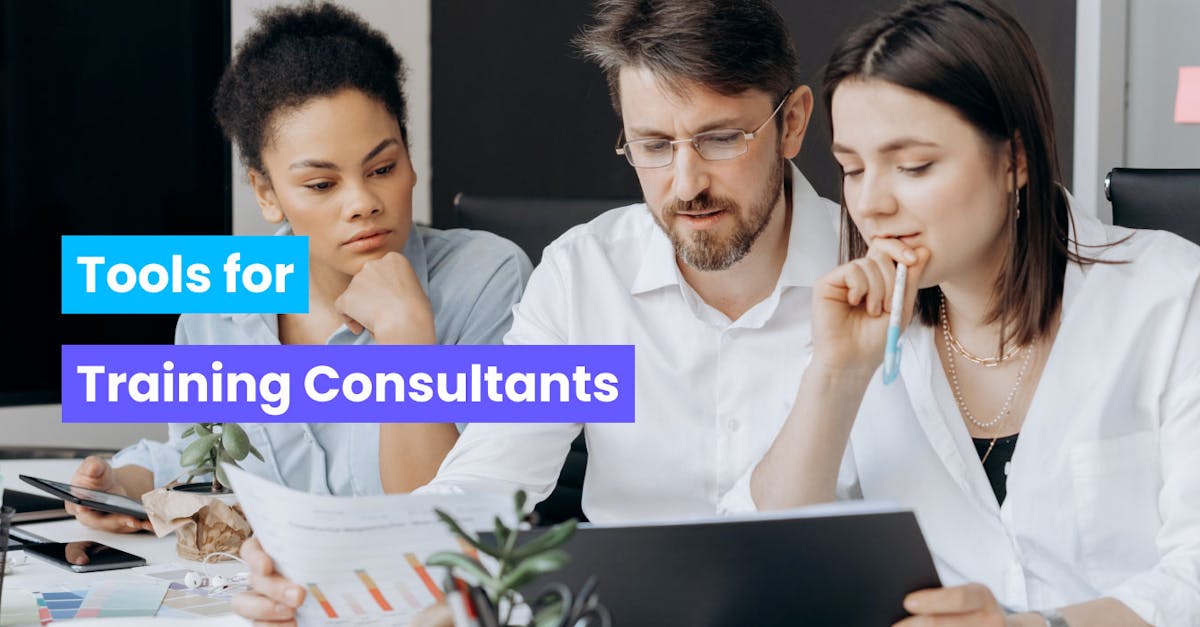 Every business aims to increase its employees' performance, typically through training and upskilling. This is why training needs to be constantly assessed to check if it's still effective, relevant, and in line with the organization's objectives. Consultant trainers are the ones in charge of ensuring that this goal is achieved in collaboration with subject matter experts and the L&D team. Their job consists of a lot of duties, from creating instructional materials to analyzing skill gaps, which is why it's beneficial for training consultants to have access to tools to help streamline certain processes. Traditional training and development can be a time-consuming process, so using these tools saves time and costs, allows them to organize their work, and serves as a one-stop shop for all their resources.
Aside from answering what is learning systems consultant, we've handpicked 10 tools for training consultants to help you with your search and help you create training programs for developing and improving your employees' skills.
Free Tool for Training Consultants #1 – EdApp
EdApp is a mobile-friendly LMS that will take care of all your training needs. It has a free editable course library, which gives you access to hundreds of readily deployable courses that you can edit and customize with your own expertise or with company-specific information. You can also create your own courses with EdApp's built-in authoring tool that comes with over 80 ready-to-use interactive templates. This LMS also gives you full control over user and course management through its analytics dashboard, actionable reports, and push notifications. It serves as a stimulating training tool that helps training consultants streamline processes in building and deploying onboarding training and employee training programs.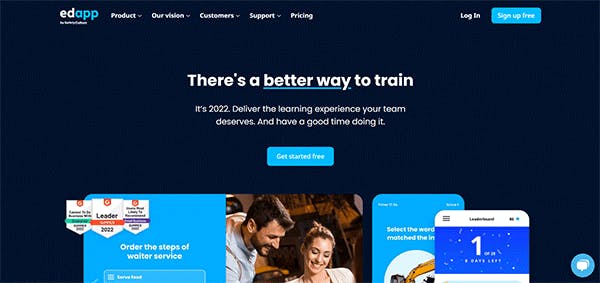 Cost: Free
Key features: Course library, template library, analytics & reporting
Free Tool for Training Consultants #2 – GoToTraining
GoToTraining has features for creating and managing online training sessions and courses that any training consultant will benefit from. This training tool is great to help you get to know your audience before the training session through custom registrations. With the additional information you gather about the participants, you can better plan your training courses to suit the learners. There are in-session activities and breakouts to boost engagement and knowledge retention. After the session, detailed reporting on attendance, test results, and evaluations are available to see how successful your consultant training was.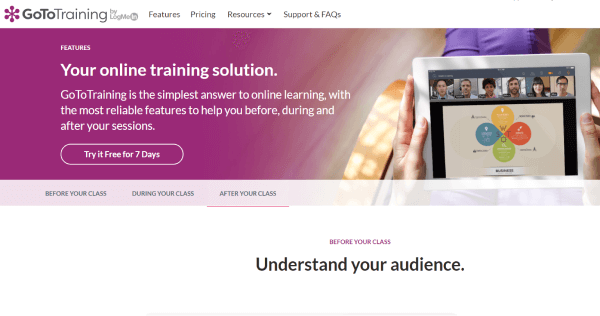 Cost: Starts at US 09/month
Key features: Content library, breakout sessions, reporting
Free Tool for Training Consultants #3 – Brainshark
Brainshark is a training platform that can easily diagnose performance issues so you can address knowledge gaps early. The platform offers courses that help upskill your teams, especially your client-facing employees. Brainshark also has a training module creator software that can help you author courses faster. With their training and onboarding software, employees will be able to develop critical skills since dynamic courses will be assigned to them depending on their learning path.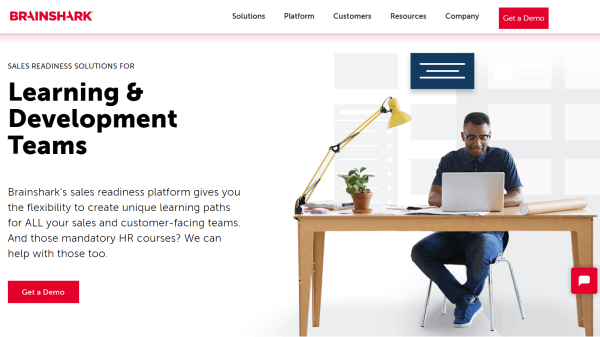 Cost: Contact Brainshark for pricing
Key features: Coaching & practice tool, readiness scorecards, content authoring
Free Tool for Training Consultants #4 – Arlo
Arlo is an LMS that focuses on empowering learners through self-paced learning, live online learning, and blended learning. Built specifically for any trainer consultant or manager, this online training website enables a blended learning solution by extending training through live and interactive webinars, eLearning modules, discussion forums, recorded videos, assignments, and quizzes. Its innovative training management system design streamlines processes and simplifies tasks, enabling training providers to save time while still effectively increasing course registrations.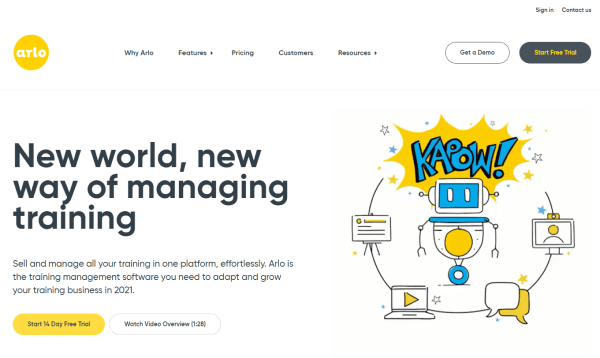 Cost: Starts at US 9/month
Key features: self-paced eLearning, live webinars, course management
Free Tool for Training Consultants #5 – Looop
As an advanced learning management system, Looop helps you create online learning resources and automate training processes for your employees. With their simple yet visually appealing UX design, you can create engaging learning materials and access features like campaigns, and automate the delivery of training content through channels like Slack, Teams, and even SMS. Other features like user insights and analytics dashboards give you visibility on your teams' completion rates, learning gaps, and overall performance. Through these enhanced reporting features, you'll be able to gauge the effectiveness of your training and address your employees' learning challenges. Looop isn't free to use, but you can book a demo to check out all the features.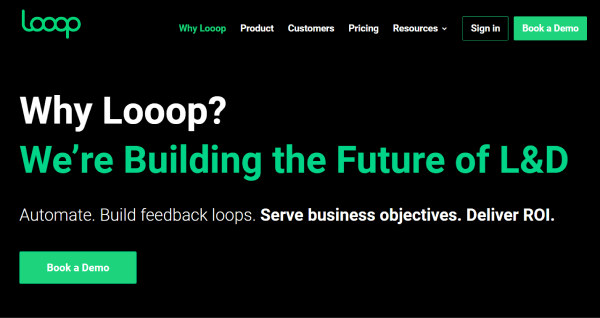 Cost: Starts at US 99/month
Key features: User insights & analytics, cross-app integrations, user campaigns
Free Tool for Training Consultants #6 – Raven360
Raven360 is a training tool dedicated to building flexible learning paths for users with content that's more relevant to their development. While it focuses on sales, it can also be used for any kind of employee training. It works with any browser or device, making it highly accessible to your teams. Raven360 supports different learning methods such as instructor-led training, virtual instructor-led training, and on-demand learning for a holistic experience. It also provides analytics to check on your sales team's performance. 
Cost: Contact Raven360 for pricing
Key features: Flexible training methods, learning paths, analytics
Free Tool for Training Consultants #7 – Schoox
Schoox is a cloud-based training tool that focuses on learning and talent management programs. It has a course library that training consultants can use that includes a wide range of topics, such as safety, security, human resources, and many more. With Schoox, you can create courses in any format with its drag and drop authoring tools. To test your team's knowledge retention, you can automate assessments to be sent out to learners based on their performance. It also has a feature called Impact Factor which considers factors like the employee's job, their skills performance, and skills strength, to better assign personalized courses.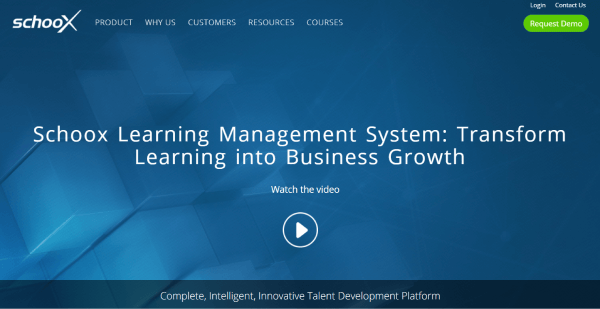 Cost: Contact Schoox for pricing
Key features: Course library, drag & drop content authoring, personalized course assignment
Free Tool for Training Consultants #8 – GoSkills
GoSkills is a training tool built to manage all your training needs in one place. You can create your own courses on the platform or import existing ones. It also promotes gamification in the workplace through coins, daily streak goals, and status tiers, which you can customize based on your preferences. GoSkills also includes easy-to-understand reports and course tracking to check on your learners' progress. While it is free to use, you'll need to pay for upgrades to have access to more features, such as importing courses (which might be a dealbreaker if you want to bring in previous courses you've created).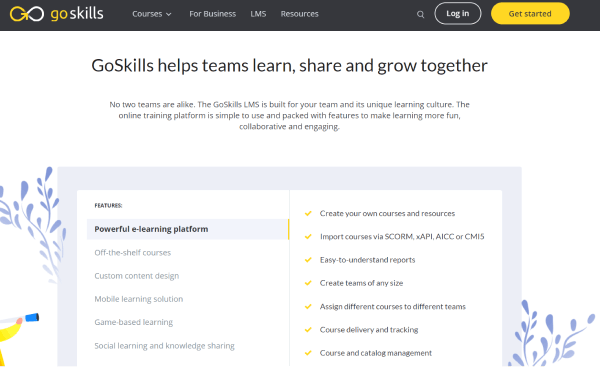 Cost: Free
Key features: Course library, gamification, reporting & tracking
Free Tool for Training Consultants #9 – Arist
Arist is a unique training tool that uses text messaging to deliver training. While it may seem like an odd choice, Arist claims that it can increase learner engagement and completion rates. Text courses can be created quickly with its easy-to-use course builder where you can insert images, interactive questions, GIFs, and emojis. You'll also have access to user data, such as completion rates and learner progress. Right now, you're only limited to sending courses via SMS and WhatsApp, but they're looking to have it available through other popular messaging platforms like Slack and Facebook Messenger.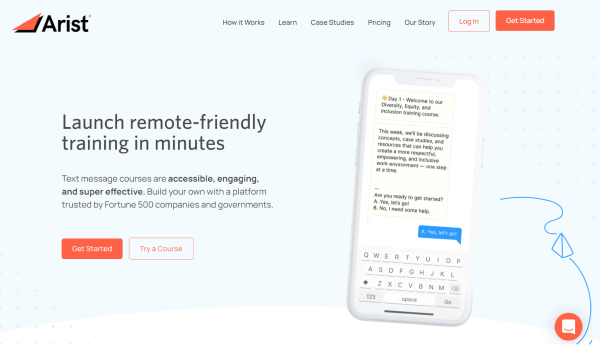 Cost: Free and paid plans
Key features: Course builder, text courses, comprehensive analytics
Free Tool for Consultant Trainer #10 – Beedeez
Beedeez is a mobile learning solution that focuses on providing a premium mobile learning experience. It offers six different learning modes: Solo, Battle, Live, Memorization, Sprint, or even Self-diagnosis to suit your employees' differing learning styles. You can also conduct face-to-face training through real-time activities and games on their platform. To keep learners engaged, it triggers an animation whenever an achievement is reached. You can also include avatars, points, and rewards at any point in your training to boost your employees' interest.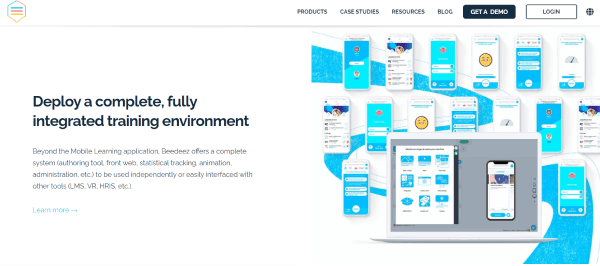 Cost: Contact Beedeez for pricing
Key features: Different learning modes, gamification, mobile-friendly