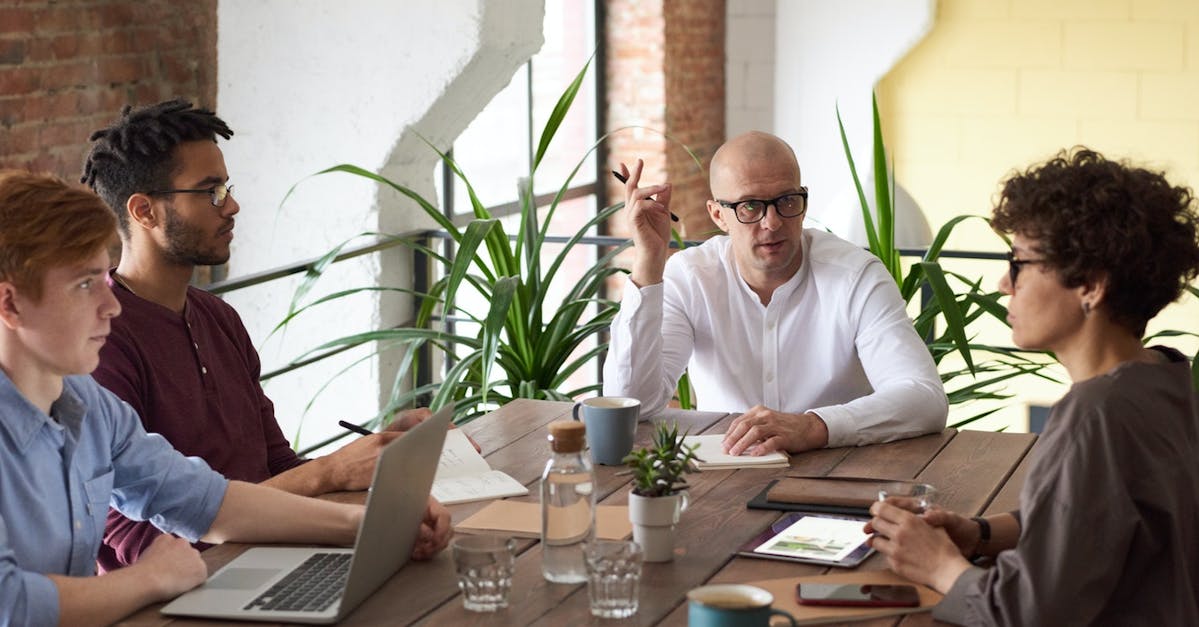 Not only is it vital to hire qualified candidates to fill in a job role but it's also important to communicate organizational goals and promote company culture to help them feel that they belong to the team. Effective onboarding is key for new hires to understand their roles and responsibilities better and facilitate compliance with company procedures, helping them adjust easier to their new work environment. A good headstart will lead to better performance in the long run, which is advantageous for both employees and the company. Building an onboarding program is not easy but with the availability of onboarding software online, HR professionals need not worry about how to create or adopt courses to present to the new hires.
Here are 10 onboarding software that HR professionals should look into to make your onboarding process effortless:
1. EdApp
EdApp is the leading learning management system that allows you to carry out your training easily, for free. It's an all-in-one employee onboarding software that allows training professionals to author and deploy aesthetically appealing and engaging microlearning courses that leads to better knowledge retention and comprehension. HR professionals can use it to onboard the new hires with job role-specific training courses or orient them with the company rules, benefits, and culture. There are countless ways to execute your onboarding strategies with EdApp's tools and features.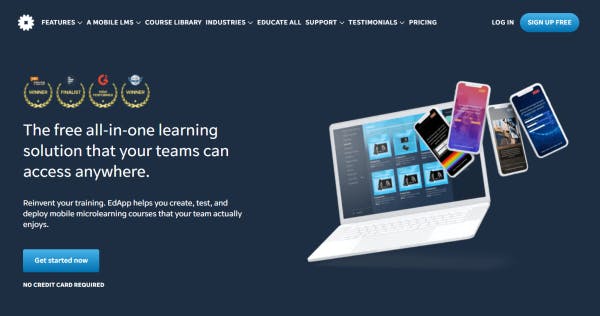 With its completely editable course library, managers can customize courses and lessons specific to their onboarding needs.  It also comes with a collection of 80+ engaging and gamified microlearning templates readily available for anyone to use. HR personnel may also opt to create onboarding materials from scratch with the use of EdApp's authoring tool. Even without coding background or design expertise, this enables you to quickly and easily construct interesting microlearning courses with an average completion rate of 80%. EdApp is also available for download on smartphones, making it very convenient for those always on the go.
Features:
Editable course library

800+ high-quality courses

80+ highly customizable authoring & testing templates (no coding required)

Gamification quiz templates

Completion certificates

Analytics
Cost: Free
2. AcademyOcean
AcademyOcean is a great way to onboard and educate new hires and current mobile employees. Its biggest feature is that it can automate the entire onboarding process of your employees, reducing the onboarding preparation time by 60%. Instead of sending them PDF or PPT files of training courses, you can use this onboarding software to build interactive content with images, videos, and assessments. Course tailoring is available so trainers can customize the content according to their needs, but branding options are limited. AcademyOcean offers certificates for your team members at the end of a course as proof of training completion. They can also download AcademyOcean's app on their mobile device to access the courses anytime, anywhere.

Features:
Course creation

Course customization

Completion certificate
Cost: Starts at 00 USD monthly
3. WorkRamp
Designed as an all-in-one learning solution and onboarding tool, WorkRamp can be customized for different types of onboarding processes and employee training, more specifically for sales, support, retail, marketing, and HR. It can even be used to train your clients on product adoption, increase customer engagement, or drive more revenue to the business. Some of the platform's notable features include a streamlined onboarding process with manager dashboards, custom reports, and an automated calendar. By combining all of these tools, WorkRamp enables you to create a smooth training experience for your employees.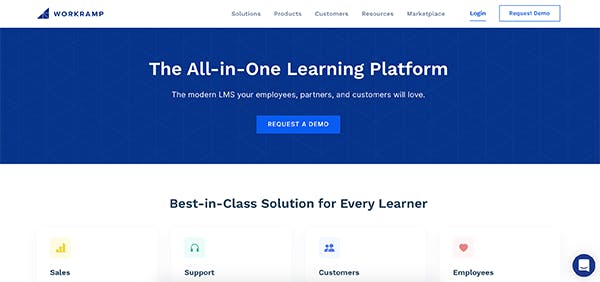 Features:
Sales training

Support training

Customer training

Compliance training
Cost: Paid plans
4. AdaptiveU
Grow your team and foster a culture of growth with AdaptiveU. There are so many things that you can accomplish with this course management tool. Here, you can tailor onboarding training courses for new employees, and host regular compliance training for existing team members to ensure that their skills and knowledge remain compliant with the professional standards. You can even create quizzes to make sure new hires are retaining their onboarding lessons. Aside from encouraging an open and collaborative environment, it also allows learners to track their peer's performance, and share any learning content that they may find relevant and helpful.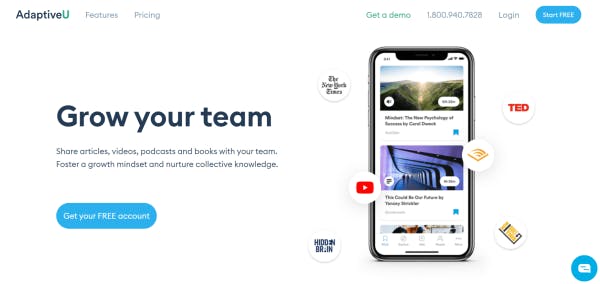 Whenever you need a course progress report, this onboarding tool also has powerful analytics and learning management functionality that will produce the statistics you need. 
Features:
Custom courses

Content sharing

Learning management

Analytics
Cost: Free, paid plans
5. Whale
Whale is an onboarding software that can be used for training employees, onboarding new hires, and documenting processes. With its intuitive editor and engaging templates, managers can build fun onboarding lessons regarding the company's background and employee tasks that can then be automatically delivered to new employees in no time. It also includes a plug-and-play browser extension that can be accessed through the apps your team members are currently using. To receive insight into employee performance, skill profiles are available for managers to evaluate which employees require more training to acquire specific abilities and achieve team goals. There is a free trial available but to access complete services, you'll have to pay 19 per month, which is limited to 10 people.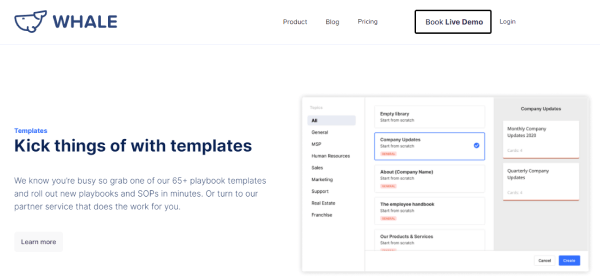 Features:
Browser plugin

Skill insights

Custom integrations
Cost: US 19 USD monthly
6. Academy LMS
With Academy LMS, you can design your onboarding program by creating online course modules, setting up multiple online quizzes, building lessons using different content formats like youtube, pdf, doc, or image files, and communicating with learners via a built-in interactive messaging feature. Instructors can use the course management feature within the tool to easily create and deploy training materials for onboarding. Meanwhile, learners can download the Academy app to access their learning content anytime and anywhere.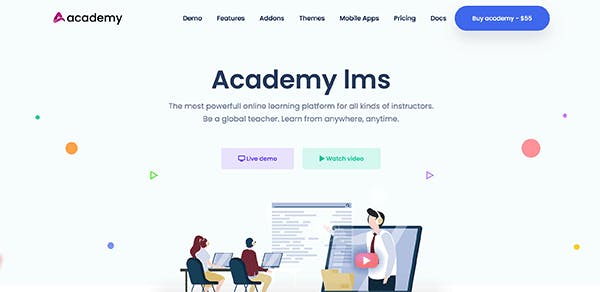 Features:
Course builder

Quiz maker

Interactive messaging
Cost: Starts at 5 USD
7. Administrate
Administrate makes it possible to organize, deliver, and track all your course resources in a single-centralized system. With this onboarding software, managers can schedule an instructor for onboarding, take command of the essential course documents, and automate email communications to the new hires with ease. Built with maximum flexibility, it can manage virtually any form of training delivery, from online to blending learning, even face-to-face, and virtual instructor-led training. It also features a unique vILT Rapid Implementation should you need to transform your instructor-led training to online training.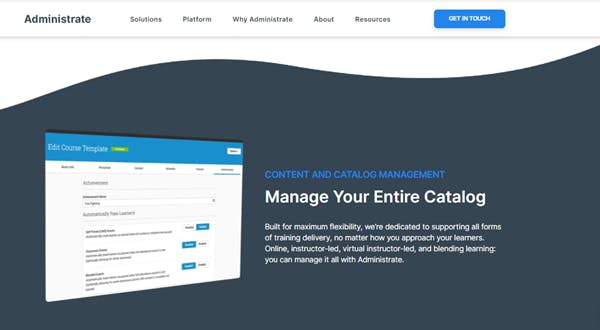 Features:
Training course management

Single-centralized system

Easy instructor scheduling

Automated email alerts
Cost: Paid plans
8. Cloud Academy
Cloud Academy is an online onboarding software solution that allows businesses to create highly comprehensive and targeted tech learning content for both new hires and current employees. It has a Team Activities panel that HR can use to onboard their new hires and provide them with onboarding assessments. Also, some of the other ways you can maximize this training platform include customizing exams using pre-built questions and giving users access to a vast content library on technology fundamentals. This training tool allows your employees to access learning resources even while offline and also comes with a Cloud Roster feature that encourages users to learn what skills they should train for by exploring in-demand skills from specific job roles.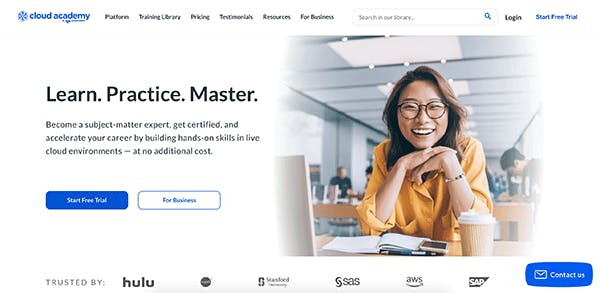 Features:
Training content library

Customizable quizzes

Cloud roster
Cost: Free trial, paid plans
9. aNewSpring
aNewSpring is an onboarding tool that allows you to make training courses more impactful and engaging. Whether you're running blended training, adaptive learning, or social learning, you can facilitate various types of onboarding or training programs within the platform, without any hassle. With their onboarding tool that manages courses and content in one place, HR professionals can easily organize onboarding materials for different employees. Thanks to its easy online authoring editor and course templates, you have the freedom to build online lessons just the way you like. Plus, you can mix your course content with videos, images, blogs, even external content from Youtube or Prezi. The course you create is all yours, stored and secured in top-tier data centers in Europe.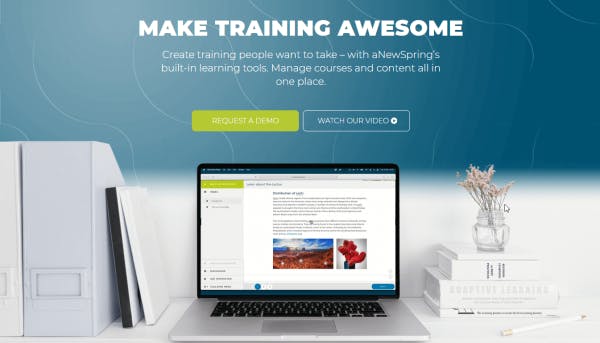 Features:
Onboarding training tool

Centralized course management

Online authoring editor

Training courses

Interactive course templates
Cost: Starts at 7 USD
10. 360Learning
For organizational training, 360Learning is a collaborative and onboarding software. Through the tool, you can provide new hires with a goldmine of company knowledge and processes, which they can refer to anytime. Managers may effectively carry out relevant training to encourage teamwork and collaboration among their employees. The collaboration hub, which is a learning community that has been shown to boost learners' attention, makes this possible. The forum-style function uses social learning to help you improve your learners' knowledge and address knowledge gaps.  You may then turn topics that your team is having trouble grasping into gamified lessons, making learning more entertaining and stimulating for users. It is also mobile-friendly, which is convenient because learners can access classes at any time and from any location.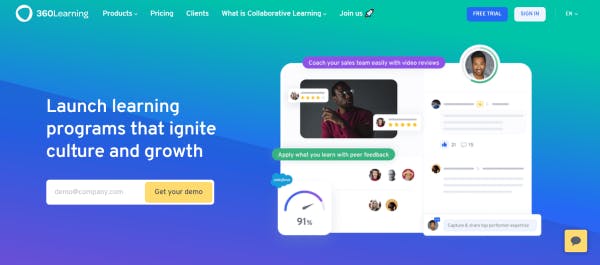 Features:
Authoring tools, content integrations, collaborative editing

Gamification

Collaborative hub

Mobile friendly, offline mode supported
Cost: Free trial, paid plans