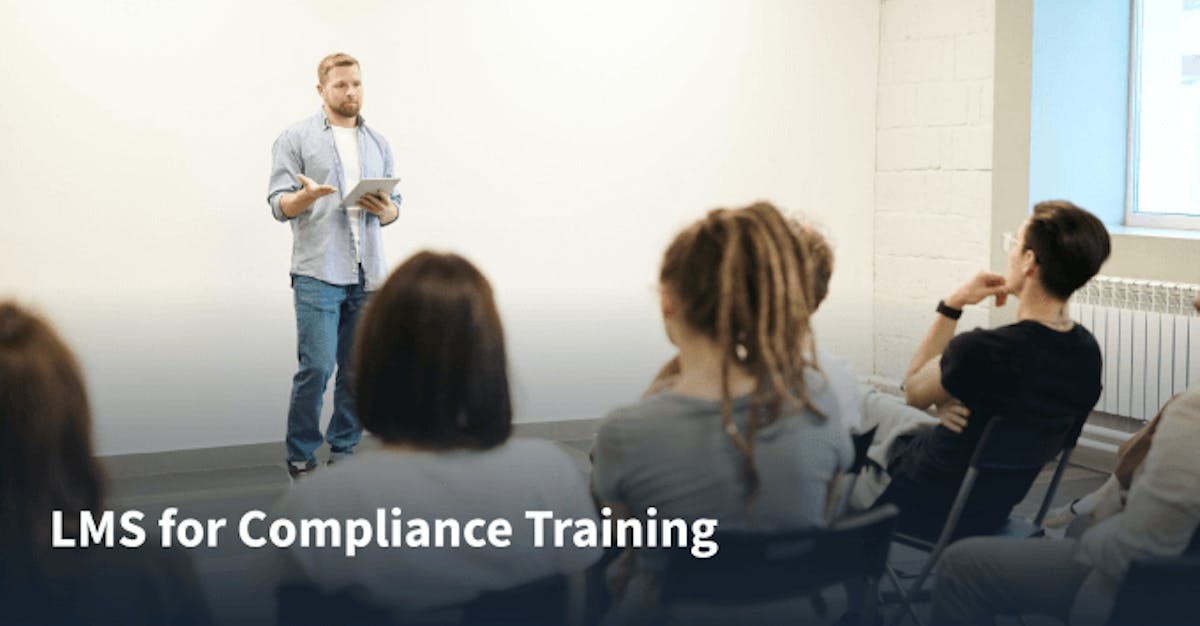 Using an LMS for compliance training helps defend your company from any legal trouble easily and efficiently. With the modern features that these LMS software have to offer, safeguarding your organization's reputation and fostering a culture of business ethics can all be tracked, monitored, and managed in one place regardless of your team's location.
1. EdApp
EdApp is an award-winning LMS that's perfect for conducting any form of compliance training. It features a free course library that's constantly growing, thanks to its partnership with thought leaders and reputable brands, which consists of world-class courseware that you can edit and customize to your heart's content. You can use various courses as a compliance training guide, including topics on HIPAA Compliance Training, Safety in the Workplace, Sexual Harassment at Work, Workplace Bullying, Code of Conduct Training, and many more, which follows a microlearning design model where bulks of overwhelming information are transformed into bite-sized modules that focus only on key elements of any subject for easy understanding and retention. EdApp also offers training videos to improve compliance training, like its HIPAA compliance training course video.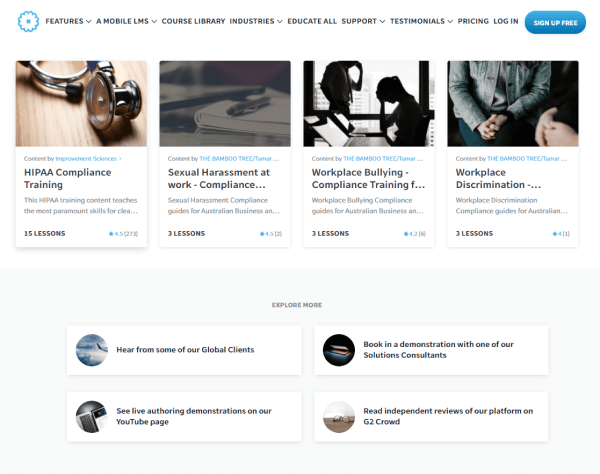 Since compliance training is crucial, you can also track key metrics with EdApp's analytics tools, such as each learners' course progress, their ability to correctly answer in-lesson questions, and how long it takes for them to progress past each slide and in your lesson overall. This enables you to easily uncover challenging sections, and quickly update your training courses to improve adaptability and flexibility skills for a seamless learning experience for your teams.
While topics involving compliance training are serious due to their legal implications, courses in EdApp make sure that learners will be able to learn while having fun through gamification that keeps them engaged and motivated. As it's critical that employees remember the information in their lessons, EdApp's Brain Boost repeats key learning concepts through spaced repetition, to enhance long-term memory retention and combat the forgetting curve.
Cost: Free
Key features: Editable course library, gamification, and Brain Boost
2. Abara LMS
Abara LMS provides features for tracking the performance of users on compliance training tests and assessments, as well as generating standard and custom reports. It also has an integrated assessment/survey creator that offers multiple question types, such as short answers, multiple-choice, open-ended, and more. You can also set time restraints to make sure that employees can accomplish their courses within the timeframe you provide. If you're looking to engage learners with their courses, you can even create simulation-based courses where you can add animations, illustrations, or actual people to act out scenarios for better understanding.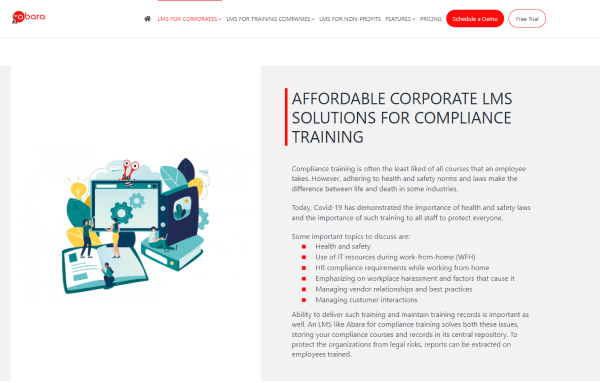 Cost: Starts at US 20
Key features: Tracking, assessment creator, time limits, and simulation-based courses
3. Inquisiq
The importance of accomplishing compliance training can't be overstated. With that, Inquisiq offers a sophisticated rule-based automation, so you don't need to worry about missing out on enrolling employees and sending them notifications to remind them of their training. To create your lessons, all you need to do is add your content, such as PowerPoint slides, videos, or even SCORM and xAPI files, which is a plus when it comes to flexibility. Tracking and monitoring your team's progress is also a breeze with Inquisiq's intelligent reporting features. As Inquisiq is made to be responsive on different devices, employees can take their training anytime and anywhere on any device they have.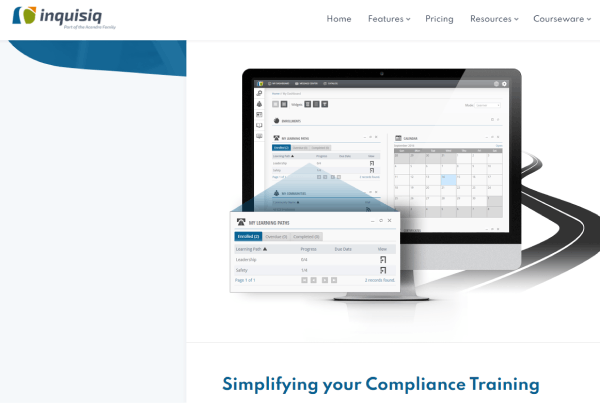 Cost: Available upon request
Key features: Automated enrollments, notifications, content flexibility, and tracking & monitoring
4. Spark
Spark is a cloud-based LMS that allows you to deliver scalable compliance training content with ease since there are no downloads or installations needed. With its eLearning dashboard, you can easily track the progress of your teams at a glance for efficient compliance management. If external bodies ever need proof that your employees have completed their training, Spark provides a compliance summary containing easy-to-understand information. Spark also has an extensive eLearning module library, where learners can access other learning content, such as quizzes, webinars, surveys, and more.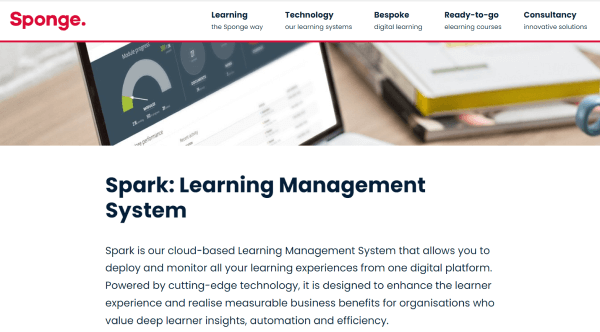 Cost: Available upon request
Key features: Cloud-based, eLearning dashboard, compliance summary, and eLearning library
5. Traliant
Traliant promises to transform boring compliance training into a brilliant learning experience with its fresh approach to online learning. They make this happen with their Hollywood video production team that can create high-quality, interactive training videos for you with a Choose Your Own Adventure style. Here, learners have to select what happens next instead of just aimlessly clicking to progress and finish their course. If you need bespoke training, Traliant can also create courses to fit your organization's needs and preferences. The best part yet is that courses are mobile-friendly, so employees don't need to be tied down to their desks just to complete their training.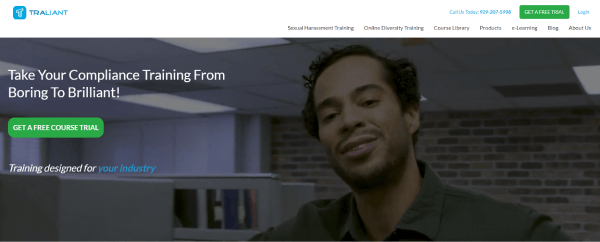 Cost: Available upon request
Key features: Interactive training videos, bespoke content creation, and mobile accessibility
6. Tovuti
Creating, delivering, and managing compliance training materials is made quick and hassle-free with Tovuti's course management feature. There's no limit to how many courses you can create. Additionally, you can use and reuse your own content. But if you don't have enough resources on hand, you can also purchase from an eLearning vendor or utilize the learning materials from Tovuti's very own content library. 
The courses can be assigned directly to learners, either individually or in bulk, saving you a significant amount of time when compared to doing everything manually.You can also turn on the rate and comment sections within courses to determine the success rate of your training program.
Cost: Available upon request
Key features: Easy building and delivering of courses, use and reuse of own content, comprehensive Tovuti content library, individual or bulk assigning of lessons, and course tracking
7. TRACE
TRACE is another LMS for compliance training where you can find free compliance training courses from their vast library. Here, courses can be accessed in 26 different languages, which makes it helpful for those managing global teams. Most of their courses can be completed in as little as 20 minutes and include topics, such as Anti-money Laundering, Sexual Harassment Prevention, Conflicts of Interest, and many more. To enhance learner engagement and retention, TRACE leverages gamification in its courses.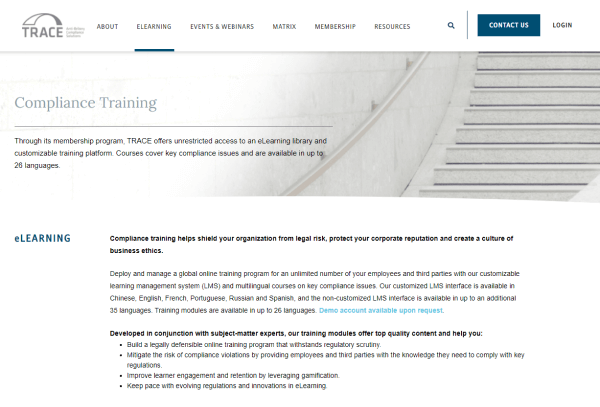 Cost: Available upon request
Key features: Free course library, multilingual support, and gamification
8. BrainCert
BrainCert is an all-in-one cloud-based LMS that delivers compliance training and goal setting training courses online with real-time tracking, so you're always in the loop about your team's progress. This white-label solution enables you to customize at a basic level by inserting your company's logo, theme, and colors into your course content. It also has powerful features, including a virtual classroom, course creation wizard, custom theme design, testing platform, and shareable tests to help you deliver courses, perform assessments, and conduct live online classes in just a few steps. Braincert has many paid plans you can choose from, but with their free tier option, you can experiment with their features before buying the tool. 
Training courses to improve adaptability and flexibility skills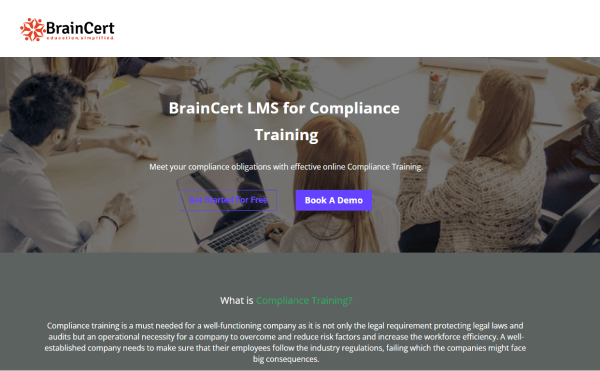 Cost: Free and paid plans (Starts at US 9/month)
Key features: Virtual classroom, course creation wizard, testing platform, and custom theme design
9. Upside LMS
Upside LMS is an AI learning management system designed to help businesses upskill their workers, centralize learning resources, and ensure their employees comply with company standards. It has many powerful features to help create and make the most of your compliance training, including content authoring, gamification, business intelligence and reporting, instructor-led training, and virtual training. It also provides a comprehensive online library of over 80,000 ready-to-use microlearning courses and videos, giving your learners quick access to high-quality learning resources. The multi-lingual support feature is perfect for organizations that have multiple offices across the globe. Both learners and instructors can easily use the platform on the go with UpsideLMS' mobile app.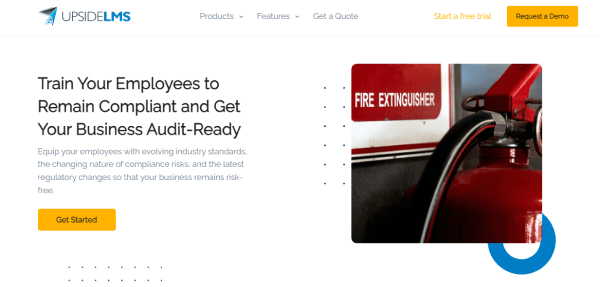 Cost: Available upon request
Key features: Content authoring, gamification, business intelligence & reporting, instructor-led training, virtual classroom training, ready-to-use content, and multi-lingual support
10. Redseed
Redseed provides ready-made compliance training courses that only take 1-2 hours to complete on any device. They can be customized by adding your company's theme, logos, and colors, so you can take ownership of your training content. Their content library includes courses, such as Cyber Security Threats, Fair Trading Act, Health & Safety at Work, and many more. Lessons contain different formats to engage learners, such as short videos, questions, and activities that help reinforce learning for your employees. If you want to try out this LMS, you can sign up for a 7-day free trial. While it includes access to the LMS itself, you'll only be able to access a couple of courses that may not be what you're looking for.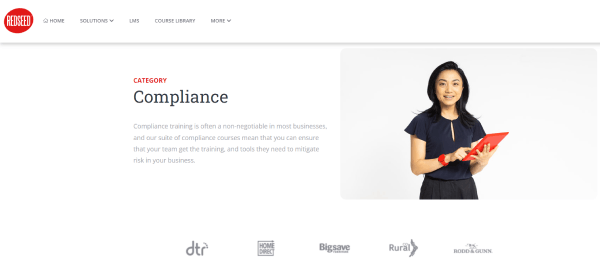 Cost: Available upon request
Key features: Content library, customizable courses, and multi-device compatibility