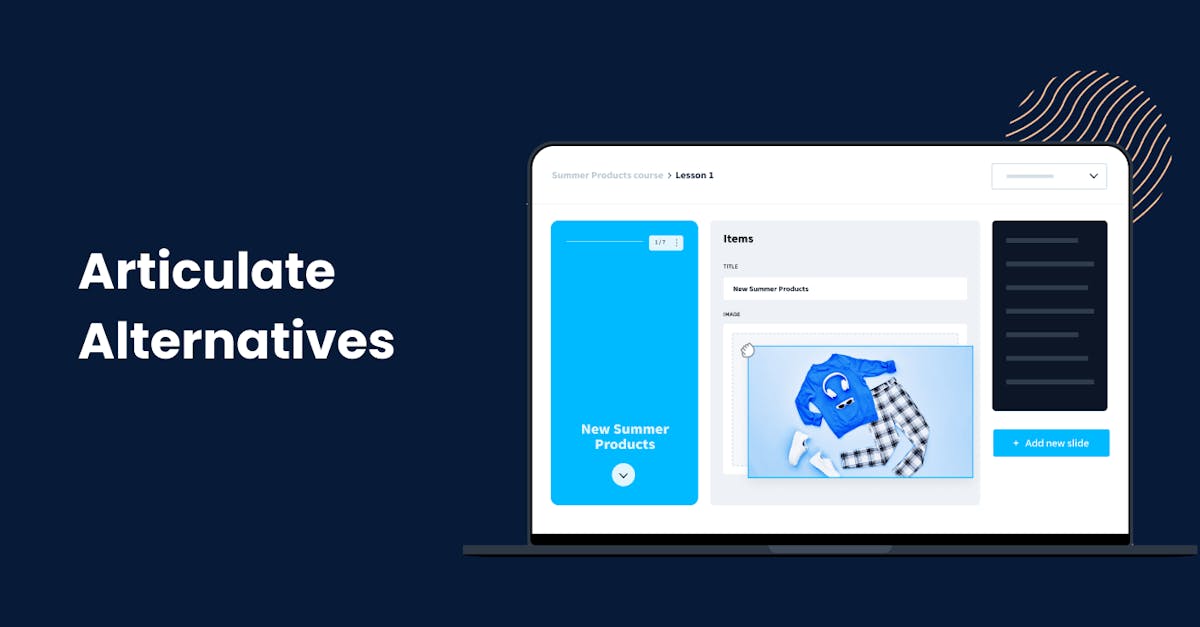 Articulate is a renowned online training and creator software used by many companies around the world. But unlike other training platforms, this tool comes with a bigger price tag and a steeper learning curve. To provide you with more intuitive, flexible, and cheaper options, we've gathered a list of Articulate alternatives below.
1. EdApp
Currently one of the best Articulate alternatives on the market, EdApp is a blended training solution designed to help you train your employees and manage your organization's learning resources. Packed with multiple user-friendly features, this platform gives L&D professionals the flexibility to develop online training courses in just a few easy steps.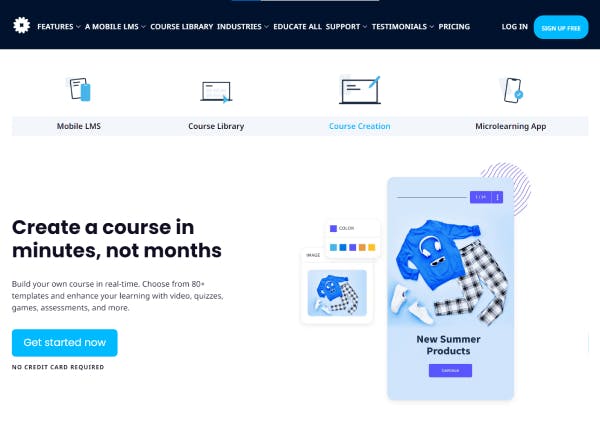 Among its hallmark features is its powerful SCORM authoring tool, which allows any user to build highly engaging course content even without a design or coding background. Choose from more than 50 pre-made quiz and elearning templates, drag and drop your content, and deliver training in minutes. To spice up your lessons, you can add gamification elements like multiple choice, matching game, and sequencing games. You can also design quizzes from scratch using EdApp's very own online quiz maker called Rapid Refresh. You can even promote user engagement by incorporating the leaderboards and rewards features into your training programs.
If you don't want to start from scratch, you can import a course directly from EdApp's course library and customize it according to your team's training needs, all for free. Here, you'll find free courses like For those with existing PowerPoint training materials, EdApp's PowerPoint conversion feature allows you to transform existing slides into interactive microlearning courses. Global companies can take advantage of this elearning platform's built-in AI translation tool to deploy courseware in multiple languages at scale.
Cost: Free

Highlights: SCORM authoring tool, templates, course library, gamification, rapid refresh PowerPoint conversion, AI translation, leaderboards, rewards
Join EdApp for free and deliver training with the top Articulate alternative today.
2. Tovuti LMS
Tovuti LMS is a highly flexible Articulate alternative that you can use to streamline your employee training and onboarding processes. With its built-in course authoring suite, you can design, schedule, and distribute interactive courses in just a few easy steps. You can also include gamification features like badges, certificates, checklists, and leaderboards to encourage learners to complete their assigned learning tasks. If you want to integrate synchronous learning sessions into your training, Tovuti LMS's live virtual classroom allows you to meet with your team members virtually and discuss learning content through third-party online video conference platforms like Zoom and GoToMeeting.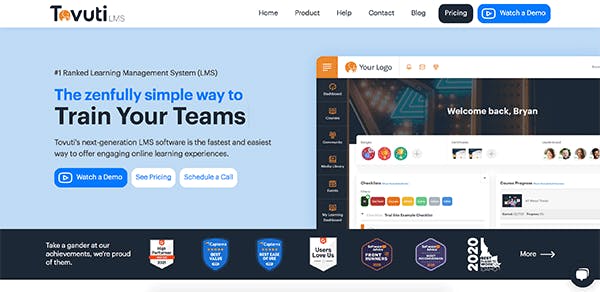 Learners also have access to a personalized portal that shows their badges, certificates, leaderboard ranks, checklists, assigned courses, and upcoming training sessions. Compared to Articulate LMS, this learning management system even has an all-in-one custom reports feature that allows you to track your employees' learning progress,  KPI stats, and other micro-interactions with your course content. 
Highlights: Course authoring suite, personalized learner portal, gamification, leaderboards, virtual classroom, custom reports
3. LearnWorlds
LearnWorlds is another Articulate alternative built to make learning more fun and engaging for your learners. Instead of providing them with typical PDF files or PowerPoint-based modules, you can use this platform's drag and drop course builder to design eye-catching and interactive online courses that your learners will surely enjoy. You can even include self-improvement quizzes, tests, and assignments in your lessons to boost knowledge retention among your learners. Their course player is another great feature, perfect for taking down notes and highlighting important topics.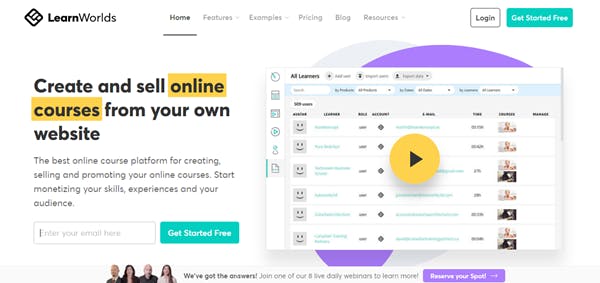 Aside from online courses, you can also create elearning videos through its easy-to-use video editor. With a click of a button, you'll be able to show interactive transcripts & subtitles, screencasts, navigation, and end questions in your videos. Unlike other online learning platforms, LearnWorlds also gives you the ability to sell and market your online courses through their built-in marketing tools. Considering Articulate pricing, LearnWorlds is a cheaper alternative
Cost: Free trial, Paid plans start at 4 USD per month

Highlights: Course builder, course player with note taking and highlighting features, video editor, marketing tools
4. uQualio
uQualio is a cloud-based video training tool that you can use to implement quality online training for your employees. It works well as an Articulate alternative, allowing you to design a variety of learning materials, including corporate training programs, compliance courses, bite-sized webinars, as well as marketing, onboarding, and product training materials. Using their course builder tool, you can turn screen recordings into videos, upload pre-recorded videos, or add YouTube and Vimeo links and include them in your courses. uQualio also allows you to add supporting pictures and documents to your course before publishing. 
If you want to get a complete overview of your learners' performance and completion rates, you can use the reports feature to track data, pinpoint learning patterns, and identify possible areas for improvement. This online video learning tool is available on all devices, including mobile, making it convenient for learners who want to access their training materials on the go.
Cost: Free trial, Paid plans start at 9 USD per month

Highlights: Video-based course builder, course progress and user activity reports, mobile accessibility, Youtube & Vimeo support, quizzes, gamification
5. Abara LMS
Abara LMS is a powerful corporate elearning solution designed to simplify businesses' employee training processes and resource management. It also operates well as an Articulate alternative by providing training administrators with web and mobile-based features like course creation and distribution, knowledge management, SCORM compatibility, virtual classroom training, as well as assessment and survey capabilities. Apart from scheduling and deploying courses to your learners, you can also send out push notifications to remind them of completion deadlines, tests, or lesson updates. There are also a couple of learner engagement tools that your employees can use, including the learner dashboard, course progress feature, and gamification elements like leaderboards, points, badges, and certificates. Compared to Articulate SCORM, Abara LMS also incorporates social learning through discussion forums and a modern message center. 
Cost: Free trial, Paid plans start at 20 per month

Highlights: Course creation, knowledge management, virtual classroom training, assessments and surveys, push notifications, learner dashboard, course progress, gamification, discussion forums, modern message center
6. Auzmor Learn
As an Articulate alternative, Auzmor Learn allows you to create courses, deploy learning content, and monitor employee performance with ease even without coding knowledge or technical design skills. With its easy-to-use course builder, you can create your own training materials or customize courses using templates from their expansive lesson library. This computer learning software automatically adjusts lessons for any screen size, so your employees can complete their assigned learning materials on any device. On the other hand, Auzmor Learn's real-time reporting dashboard and customized analytics features can help you track overall employee training progress, monitor course completion rates, identify learning trends, and address knowledge gaps. To get access to all these tools, you can ask for a demo and obtain a custom quote directly from their site.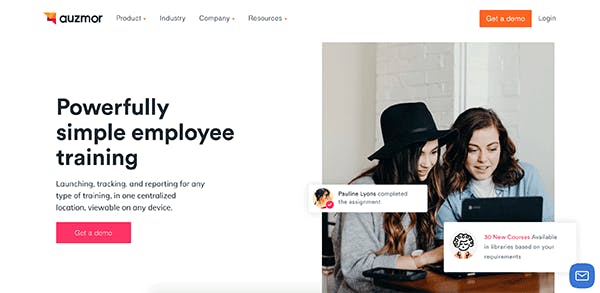 Highlights: Course builder, lesson library, mobile learning, reporting dashboard and customized analytics
7. WorkRamp
Designed as an all-in-one elearning LMS, WorkRamp can be customized for different types of employee training, more specifically for retail, sales, and support. It can even be used to train your clients on product adoption, increase customer engagement, or drive more revenue to the business. WorkRamp, as an Articulate alternative, allows you to build dynamic learning content and create customized learning pathways for your employees based on their role, teams, skills, or seniority. Similar to Articulate software, It provides specialized onboarding and compliance training capabilities, learning progress tracking through dashboards and analytics, and a blended learning experience with support for virtual instructor-led sessions.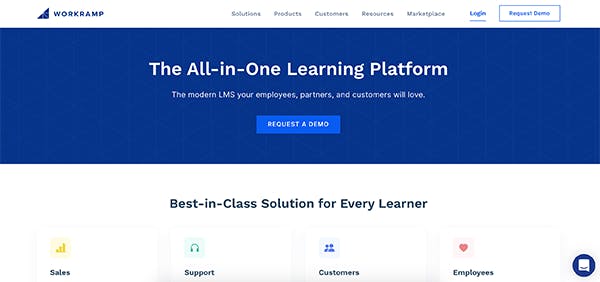 Through its advanced features, you're able to transform the learning experience in your organization into something more engaging. In return, your employees are able to perform their roles better, improve relationships with customers, and deliver desired business outcomes.
Highlights: Advanced content creation, retail, sales, and support training, virtual instructor-led training, onboarding, compliance training, customized learning pathways, dashboard analytics
8. UpsideLMS
UpsideLMS is an AI learning management system designed to help businesses upskill their workers, centralize learning resources, and ensure their employees comply with company standards. It has many powerful features that make it a great Articulate alternative for learning and development professionals. Some of these features include content authoring, gamification, business intelligence and reporting, instructor-led training, and virtual training. It also provides a comprehensive online library of over 80,000 ready-to-use microlearning courses and videos, giving your learners quick access to high-quality learning resources. The multi-lingual support feature is perfect for organizations that have multiple offices across the globe. Both learners and instructors can easily use the platform on the go by downloading UpsideLMS' mobile app.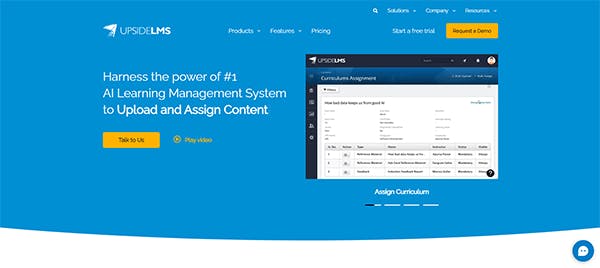 Highlights: Content authoring, gamification, business intelligence and reporting, instructor-led training, and virtual classroom training, ready-to-use content, multi-lingual support
9. Academy LMS
With Academy LMS as your Articulate alternative, you can create simple yet well-designed online course modules, set up multiple online quizzes, and build lessons using different content formats like PDF, DOC, or image files. You can even communicate with learners and resolve course problems via interactive messaging. Another unique feature is the course portal, which allows learners to browse from a library of courses, save their favorites to a wishlist, and buy courses. They can even give a rating and post reviews for any of the courses they purchase. All they have to do is download the Academy LMS app to access their learning content anytime and anywhere. And what's awesome about this tool is that you only have to pay for it one time. No need for monthly or yearly recurring payments.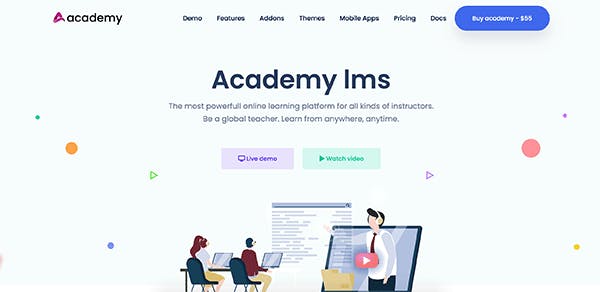 Cost: 5 USD regular license, 50 USD extended license 

Highlights: Course builder, quiz creator, interactive messaging, course portal
10. ProProfs
With Proprofs' learning management system, you can easily craft well-designed online courses in minutes. To build a course, simply choose from over a hundred ready-made templates, add your own videos, images, or text, and customize learning materials according to your company's brand guidelines. This powerful Articulate alternative also provides you with a vast library of pre-made courses on important topics like compliance, sales, leadership, and customer service training, all of which you can easily deploy to your teams. Test your learners' knowledge levels using their simple online quiz maker software and quickly get insightful data on their learning progress through ProProf's AI-powered reporting feature.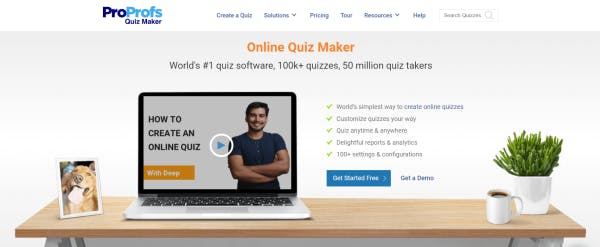 For seamless collaboration and knowledge sharing among your learners, Proprofs also provides additional features like a learning community, virtual classrooms, discussion forums, and a centralized knowledge base for FAQs, how-to manuals, and other training materials. 
Cost:

15-day free trial, get a

quote

Highlights: Editable course templates, course library, quiz maker, AI-powered reporting, learning community, virtual classrooms, discussion forums, knowledge base
You may also be interested in: