Benefits of an LMS
Learning Management Systems - LMS offers an array of benefits to both training managers and learners. Here, we'll look at the specific benefits of this training tool for each group. 
How an LMS benefits the training managers:
An LMS simplifies and streamlines your training management process. With such a tool at your disposal, you can create courses, assign them to learners, and track progress, all within the same system.

An LMS can save you a lot more than traditional training methods. You don't have to worry about the cost of renting a venue or printing training materials. All of this can be done online and within just a few clicks, making it a cost-effective option for training. 

An LMS allows you to easily train and reach your remote employees. You can organize remote training for all your employees, regardless of where they're currently located. This makes sure that they receive the same quality of upskilling or retraining as those who are in the main office. 

An LMS makes your training fun and engaging. You can use different multimedia elements like videos, audio, and interactive quizzes to spice up your training, maximizing engagement and retention.
How an LMS benefits the learners: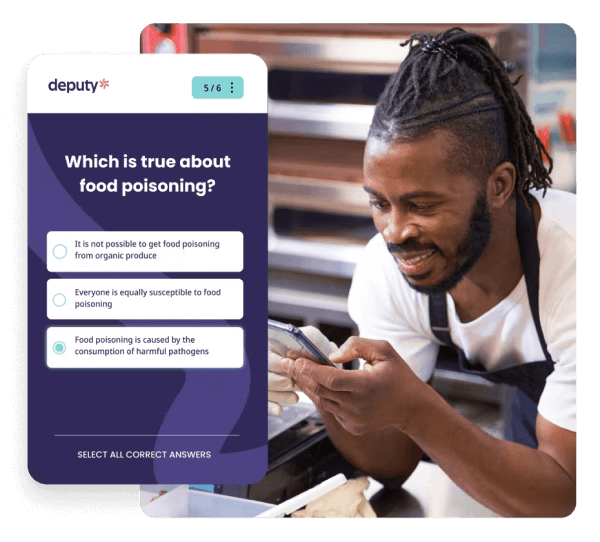 An LMS gives learners the flexibility to learn anytime, anywhere. This makes it easier for them to fit training into their busy schedules, leading to higher training completion and retention rates.

An LMS lets your team learn at their own pace. Access to learning resources kept in an LMS is pretty much always accessible. This gives your learners the flexibility to take their time to fully understand a specific topic and go over certain concepts again whenever necessary.

An LMS gives learners a clear overview of their progress. Learners can easily see the courses they've finished and most times, even get certifications that they can add to their credentials. 
How does an LMS work
The way an LMS functions can vary depending on the specific platform being used, but in general, it works as follows: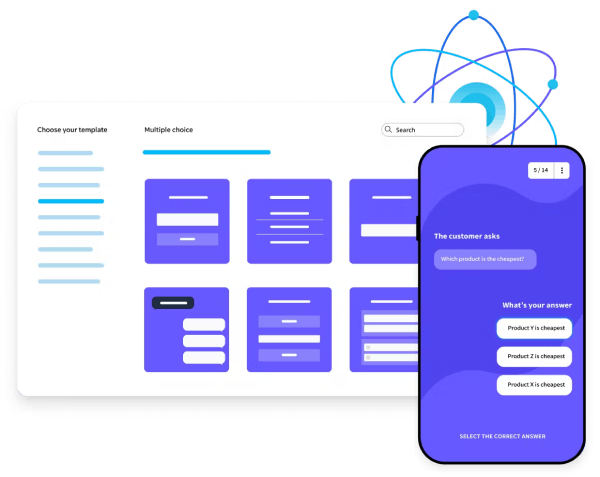 Content creation is pretty much the key functionality of an LMS. Either you can create your courses from scratch with the help of an authoring tool, or import any training materials you already have on hand. 
An LMS also acts as a central repository where you can store and organize your elearning courses. This specific functionality makes it easier for you to deliver the right training to your teams, and for learners to access the learning materials anytime they need them.  
An LMS also allows you to see how well your learners are doing with their training. You can track their progress, see how well they did on their assessments, and know when they completed their courses. 
Most LMSs can also generate automated reports, giving you valuable insights into how effective your training is. By looking at this data, you can find out if there are any particular areas where your team is struggling. Then, you can offer them extra help if they need it.
Learning management system examples
An LMS is not just limited to one type of learning activity. In fact, it can be used in many different ways! Here are some LMS examples: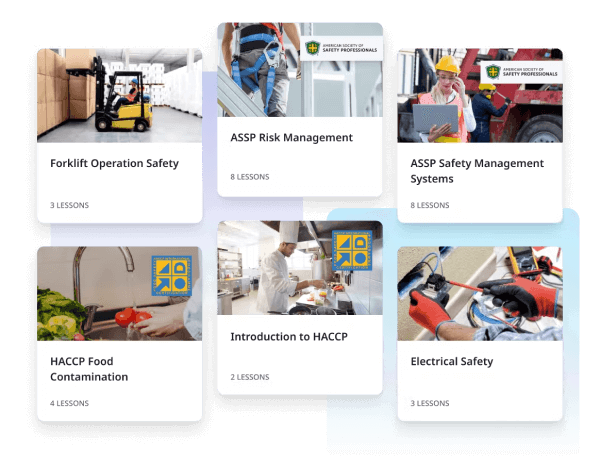 An LMS can be a very valuable tool if you want to quickly get your new hires up to speed with their role and responsibilities. You can use it to share interactive courses and familiarize them with the company culture, policies, and procedures.
Most LMSs have great tracking features, making them a very useful tool for compliance training. They can help you look for workers who have already completed their mandatory courses and those who have yet to take their training. 
An LMS like EdApp even goes to extra lengths with its Practical Assessment tool. Basically, this tool can help evaluate your team's skills at each stage of the training process to make sure that they're performing their tasks in compliance with the industry standards and regulations.

LMSs can also be used to build and deliver courses to boost your team's job-related skills. And with the convenience of an LMS, they can access the training materials anytime they need to refresh their knowledge. This can lead to an improvement in their overall performance and productivity in the workplace.
An LMS is a helpful tool for teaching your product and sales team about the products your company offers, their features, and how to use them well. You can create interactive courses, demos, and tutorials to help them understand the products better and give them some tips on how to promote and sell them to customers.
Best LMS Features to consider
When selecting a Learning Management System (LMS), there are several key features to look for that can level up the learning experience of your learners and improve their learning outcomes. Here are some of the best LMS features to consider: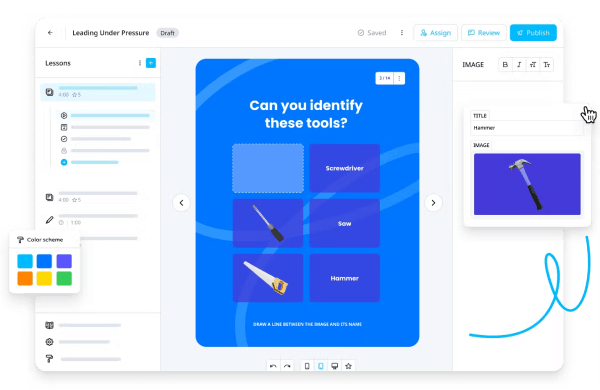 A good LMS platform should give you the ability to build courses from scratch and also reuse any existing learning materials you have. It's also important to find a platform that'll allow you to customize your course content to fit different learning styles, such as incorporating quizzes and assessments for hands-on learners or including images and videos for visual learners. 
Any LMS that's compatible with mobile devices such as smartphones and tablets gives your learners the ultimate convenience to take their training anytime and anywhere they are, even while they're on the go. The mobile-friendly interface of an LMS also adapts to the smaller screen size of mobile devices, making it easier for learners to navigate and access the content.
To make it easier to manage your training, it's important to look for an LMS with good user management features. It should give you the power to easily control who can access the platform and assign different roles like instructor, manager, or learner, depending on the level of access needed. You should also be able to group users into categories like departments or teams for easier tracking and reporting.
The best LMSs have seamless integration with other software systems, such as HR management and video conferencing tools. This particular feature allows you to make the most out of your existing tools and systems, streamline your workflows, and improve the impact of your training programs. 
Gamification features in an LMS can make learning more fun and engaging for your employees. By incorporating game elements like points, badges, and leaderboards, you can motivate learners and create a more immersive experience. This can help them retain information better and apply it in their daily work.
It only goes without saying that a good LMS should have powerful analytics and reporting tools. It should be able to help you track the progress of your learners and measure the effectiveness of your training program. 
Plus, it's important that your LMS can give you insights into how your learners are progressing with their training and present it in a way that's easy to understand. Your LMS should also be able to generate data in real time, so you can immediately spot any areas in your training program that need improvement. 
Social learning is an important LMS feature that allows learners to connect and collaborate with each other, like sharing knowledge and offering peer learning support. Investing in an LMS with social learning tools can help you enhance the learning experience of your team and give them opportunities to gain new perspectives and insights. It can also improve engagement and motivation, as learners will feel more connected and invested in the learning process.
What makes EdApp the top choice for LMS training
There are many different learning management system examples available on the market today, each with its own set of features and capabilities. Some popular examples of LMS include Blackboard, SAP Litmos, ProProfs, and 360learning. 
But if you're on the lookout for an LMS that comes packed with all the features we've mentioned above, then EdApp is the way to go. 
EdApp is considered the top LMS training tool today because of its top-notch features and benefits that are way better than most LMS platforms today. Here are some of the best features that you'll surely love to use for your training:
Course creator tool

- you can easily publish your course within minutes, rather than spending days or even weeks creating it from scratch.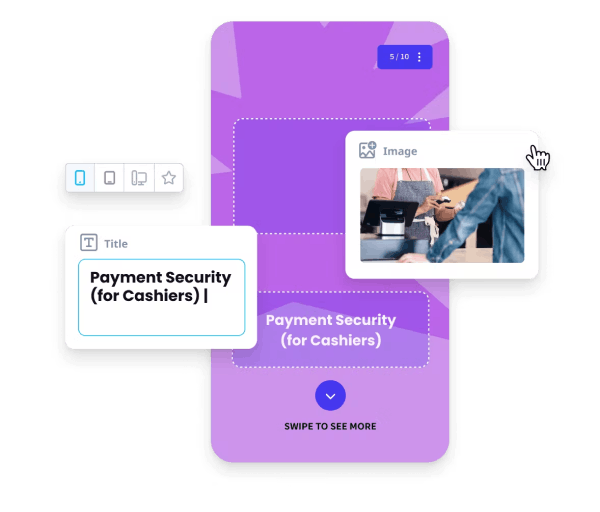 Customizable templates

- these templates offer flexibility in course creation, making it easy for you to create all sorts of content.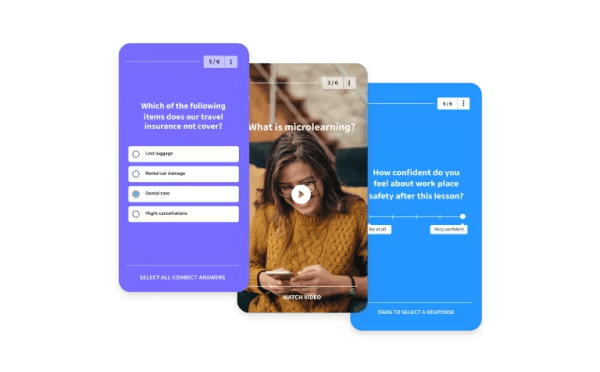 Gamification features

- from leaderboards to weighted timers, achievements, and certifications, these gamification features are designed to crush your team's mental barriers to workplace learning.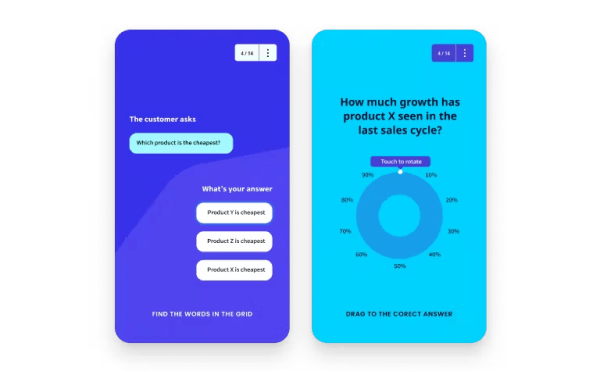 Mobile-friendly

- all EdApp courses are responsive to smartphones and tablets, making remote learning a breeze.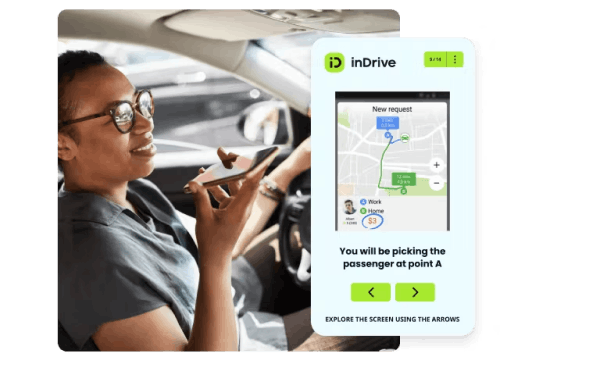 Course library -

EdApp has a collection of ready-made microlearning courses that you can share right away with your team
User management -

it streamlines the process of managing a large group of learners, making sure that everyone has access to the right content at the right time.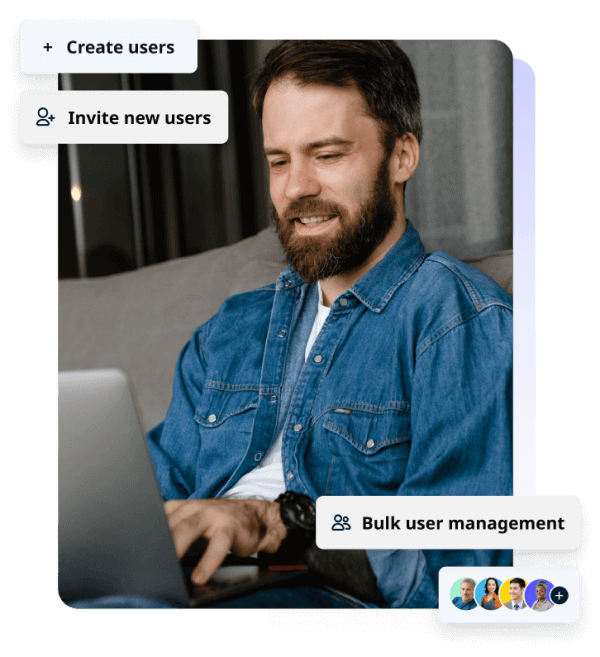 Third-party Integrations -

it integrates with a wide range of third-party tools and platforms, like Zoom, BambooHR, Xero, and Deputy, among others.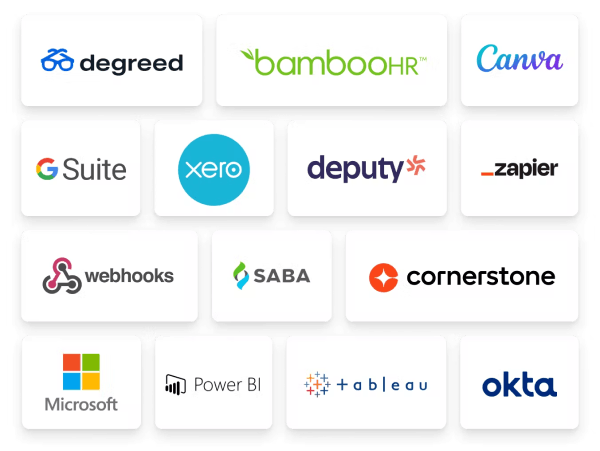 Social and peer learning

- it offers a discussion forum that allows learners to collaborate and share knowledge with one another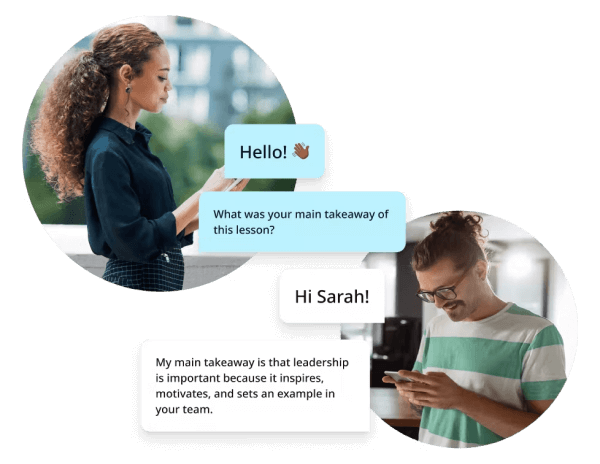 Analytics suite -

EdApp tracks completion rates, course evaluations, and real-time reporting to identify areas for improvement and optimize your training strategy.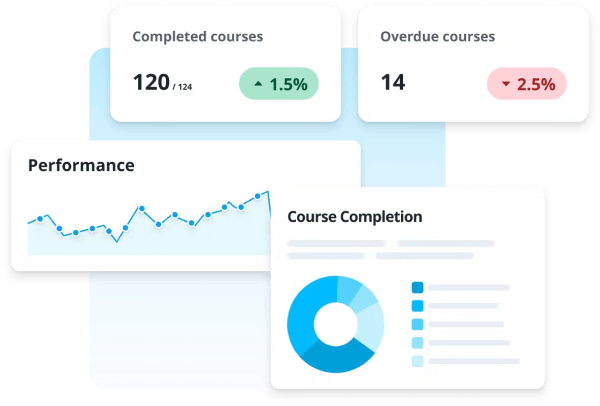 Actionable reporting

- it includes a customizable email and push notification system to remind learners of important training updates and deadlines.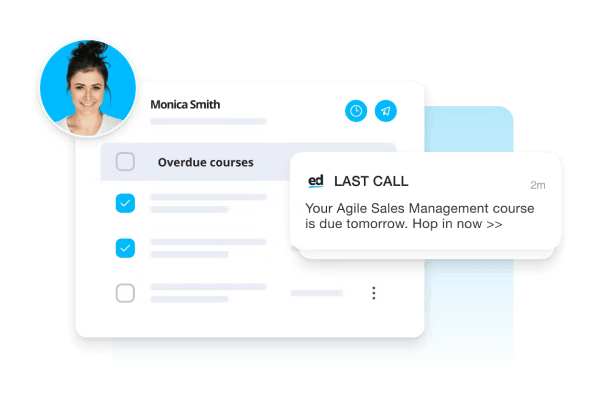 Dive deeper into the amazing features of EdApp by checking their Features page today! Or swing by the Customers page if you're curious about how EdApp is helping businesses and organizations improve their training. Meet some of our happy customers and learn about the awesome results they've achieved with EdApp.