One of the most-needed eLearning courses for businesses is compliance training. Compliance training is so important that, depending on the industry or job function, it is often mandated by law that employees complete it. In fact, failing to properly train employees can result in pretty hefty fines, if not worse.
With the importance of compliance training in mind, as well as the advantages of having it completed online, let's now take a look at 10 of the top free compliance training courses out there on the Internet.
Another compliance course available for free is New Hire Safety Orientation course. This safety compliance course for new employees is hosted on the EdApp platform, which is a system that allows organizations to easily create their own training materials.
In this course, trainees can conveniently access all the information they need to do their jobs safely and effectively. They will learn about all aspects of safety in a microlearning format that breaks bigger concepts up into smaller parts. Multimedia and gaming features make it an enjoyable experience for trainees.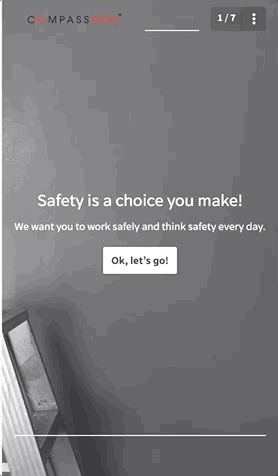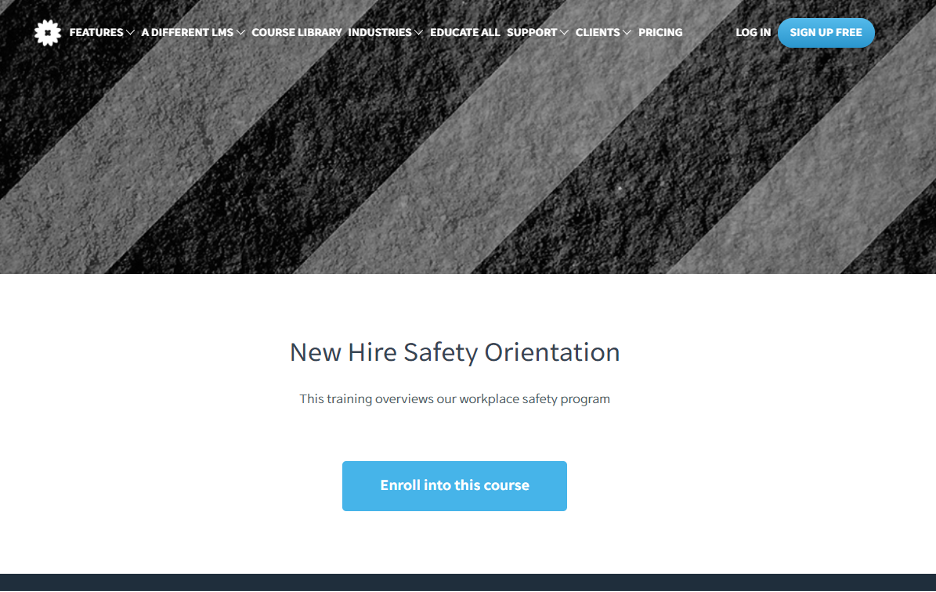 2. Legal Compliance of WSH Management System
Another free compliance course that can be found on the Internet is Legal Compliance of WSH Management System. This course is hosted on Udemy and will teach you how to apply workplace health and safety.
This course is divided into 12 sections and takes a total of 2 hours and 20 minutes to complete. You will learn about all aspects of being a supervisor in a construction environment. There is also an offline component to complete to finish the requirements for this course, however, all online content is free.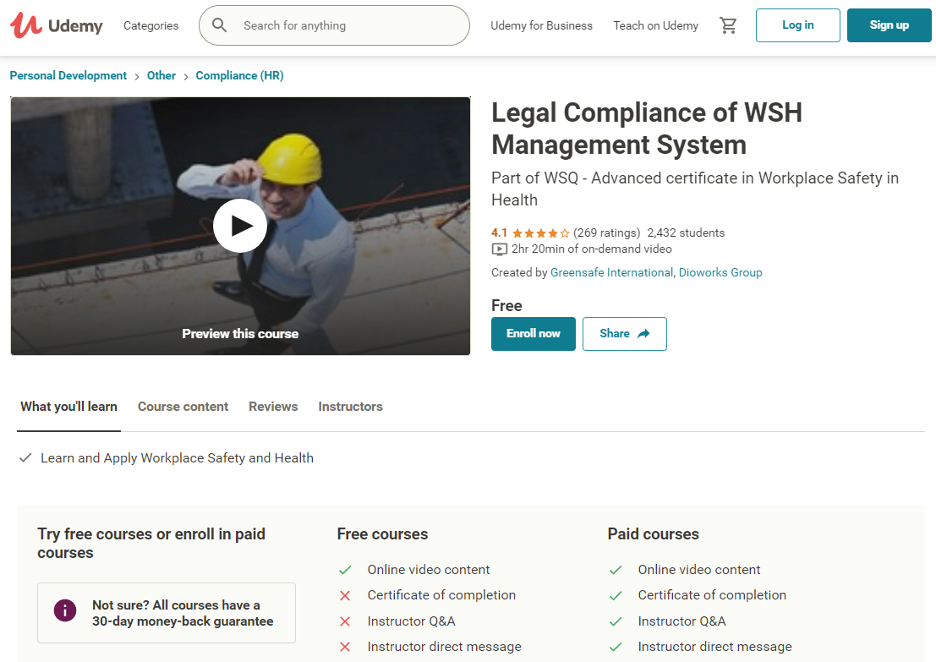 3. Skillcast
Another place where you can find free courses is at Skillcast. You can download training materials for compliance on a wide variety of topics, including bribery & corruption, health & safety, GDPR, fraud, and information security.
Registering for free on their site allows you to download many of their learning materials. Some of these modules are in an eLearning Training Module format, although others are just in a PowerPoint slide format. While the free materials can give you a lot of information on the compliance topic of your choice, the site is more geared towards selling custom training portals for organizations. The third module looks at GxP, which considers good practices. That last module concerns international data privacy.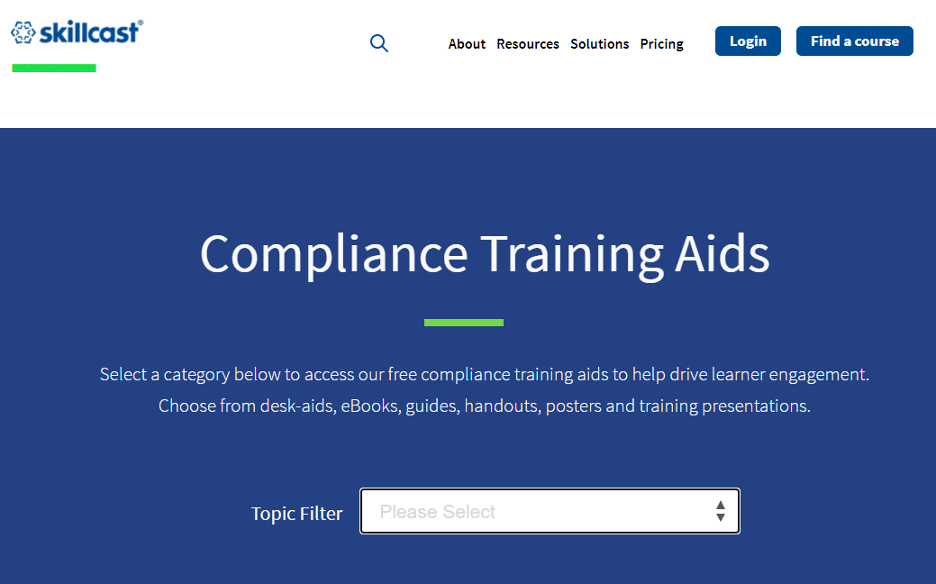 4. Intro to Healthcare and Life Sciences (HCLS) Compliance
Another place to find free compliance training on the Internet is at Amazon Web Service's training and certification center. One compliance course offered is Intro to Healthcare and Life Sciences (HCLS) Compliance on AWS.
This AWS course is divided up into four modules, with each one taking 20 minutes to complete. The first module is on incorporating AWS into programs for healthcare and life sciences compliance. The second module looks into HIPAA and HITRUST, which deal with standards for health care data.
This course is free but is intended for AWS Partners. You can still register as long as you have an AWS customer account.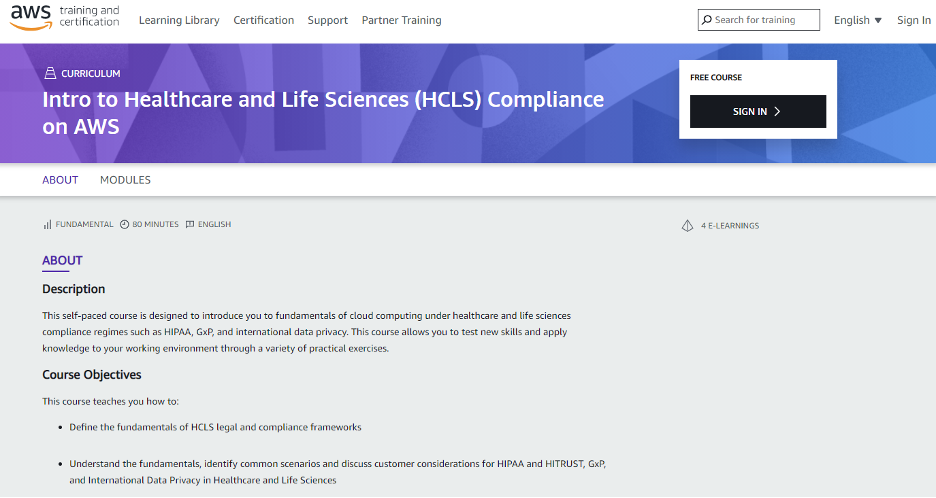 5. Construction Ethics and Compliance
Another free compliance course on the Internet is Construction Ethics and Compliance. This course is hosted on the FutureLearn platform. It teaches trainees how to stay ethical and compliant in the construction industry.
Learners in this training course will be able to recognize ethical choices in the construction industry and apply methods to make decisions when they occur. They will also explore various legal and compliance requirements in construction. The course is free to take, but receiving a digital certificate involves buying an upgrade.
6. Financial Regulation
Another free online course on compliance is Financial Regulation: From the Global Financial Crisis to Fintech and the Covid Pandemic. This course is on the edX platform and comes from MIT. It looks at the interplay between the financial industry and regulators.
This 8-week course covers a lot of scope, including the goals and limitations of financial regulation, reforms due to the 2008 financial crisis, policy tools used to prevent financial instability, and how regulations apply to fintech and the recent COVID pandemic. While the content is available for free, a verified certificate of completion is available for a small fee.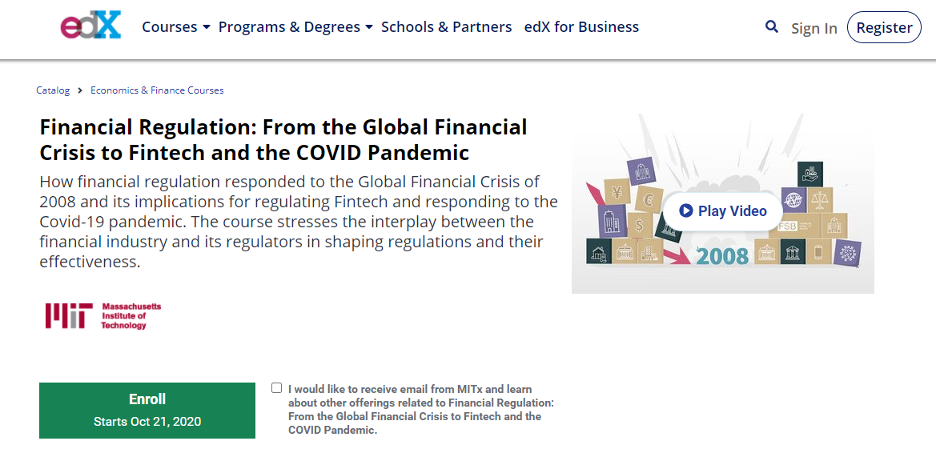 7. Anti Money Laundering (AML) in Canada
Anti-money laundering courses for a wide variety of countries are available at the Banker's Academy website. As an example, Anti Money Laundering (AML) in Canada is available for free.
These informal eLearning lessons don't require any sort of special login, although many links don't seem to work at the time of writing, and require Flash, an outdated technology, to run. When you do view the tutorials, though, you can get a lot of useful information on the specific AML regulations in your target country.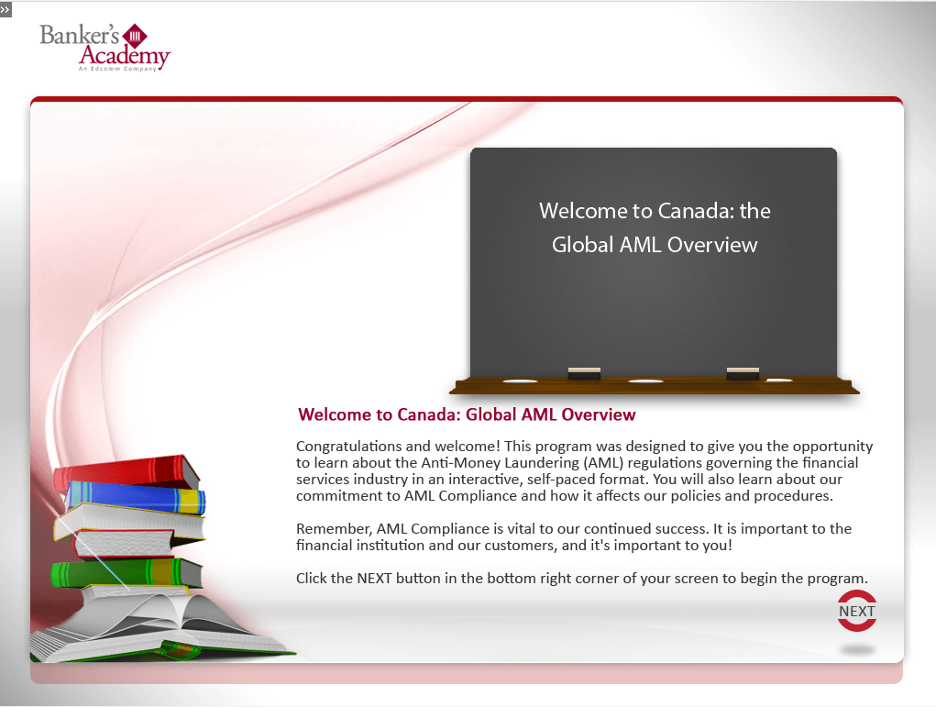 8. Get to Know GDPR
The free course Get to Know GDPR is available on the Alison platform. This course teaches you what you need to know for complying with customer data laws in the European Union.
The course includes 6 modules, with the last one being a course assessment. You will learn about the concept of data protection and the rights that users have to their data in Europe. You'll also learn about the correct procedures to take in case of a security breach. Although the course is free, it involves registering and frequently receiving notification emails.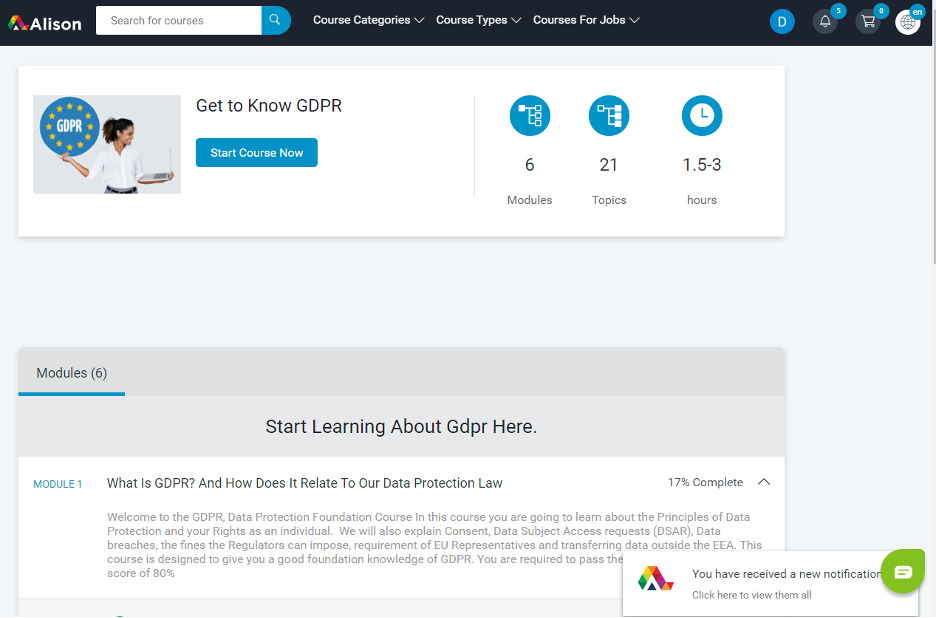 9. What Is Compliance?
A good place to start is with the course called What Is Compliance? This course is offered for free by the University of Pennsylvania and is hosted on the Coursera platform.
As an introductory course within a larger series, this one is for 10 hours and is divided into 4 units. It starts by looking at why compliance is so essential by examining high-profile cases of non-compliance. In the second unit, it then looks at laws that have been created to enforce compliance. The third unit examines risk, and looks at how compliance can be used to mitigate risk. The last part of this course looks to the future of compliance by highlighting recent trends and developments in the field.
Once completed, there are three more courses in this series to further your knowledge in the field. Completing the course will award you with a certificate you can share with employers.
Compliance Courses Online Free #10 – Remote Worker: Safety, Health, and Security
Remote Worker: Safety, Health, and Security is another compliance course available online. This course is available from the Training Power platform.
This course addresses the timely issue of safety in remote work. It covers such topics as OSHA regulations, maintaining a home workplace, fire safety, ergonomics, and computer security. It is composed of 10 lessons, and the course can be completed in less than 30 minutes.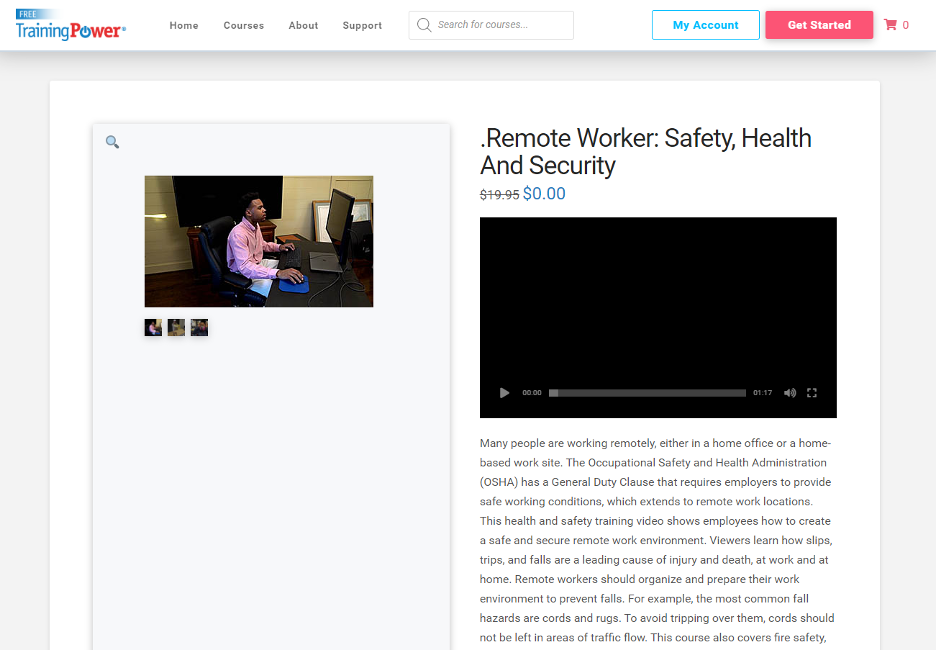 In this article, we've looked at several different offerings for online corporate compliance training. These compliance online training resources should give you a good idea of what type of training there is out there that doesn't cost anything. Many offer compliance certifications, although that typically involves a small fee. What other types of compliance online training resources have you found online?
Sign up to EdApp easily and for free!
Other free course lists
Free Compliance Training Courses
As essential as compliance training is, it's not restricted to expensive offline courses. There are actually many benefits to having your compliance training done online. These benefits include:
Better learning results because of spaced repetition
More convenience because of the ease of delivering training to mobile devices
Increased engagement because of gamification and rewards
Fully customized because you can develop your own courses easily, such as with EdApp