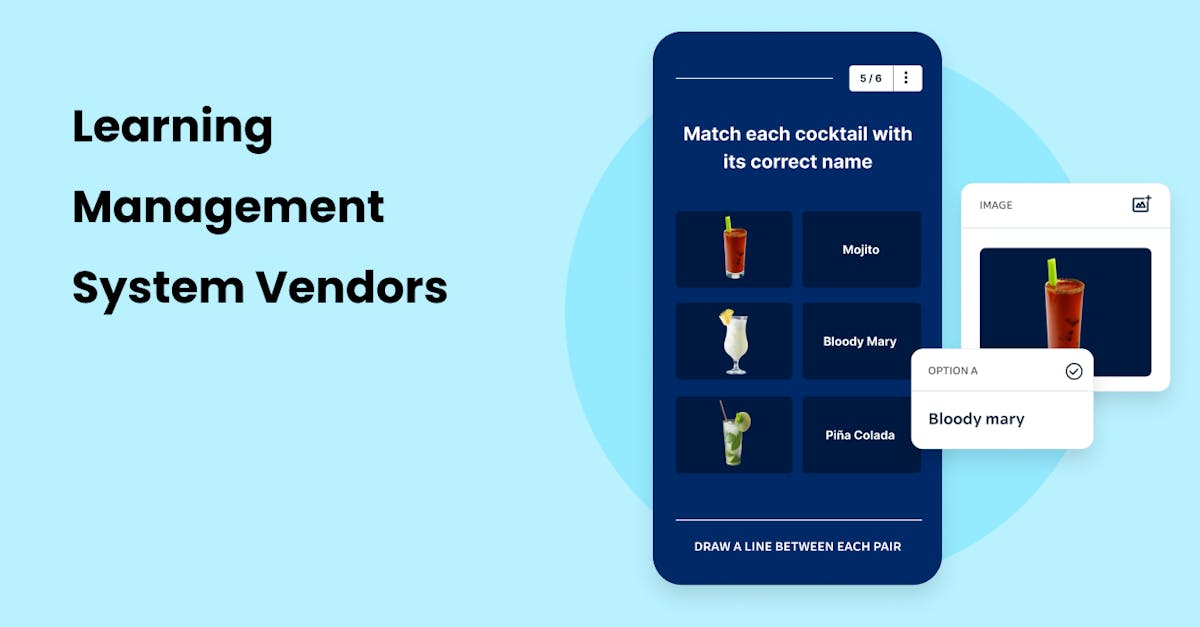 Learning management system vendors can better streamline your organization's training and create better learning experiences. In this article, we'll help you compare the best learning management system vendors and find the best one for your organization.
1. EdApp
With EdApp, you can enjoy a hassle-free training management and course creation experience, thanks to its free, yet is jam-packed with a range of intuitive features. The platform has customizable and highly adaptive tools that make training activities and management easier for your trainers, and the learning journey more convenient for your employees.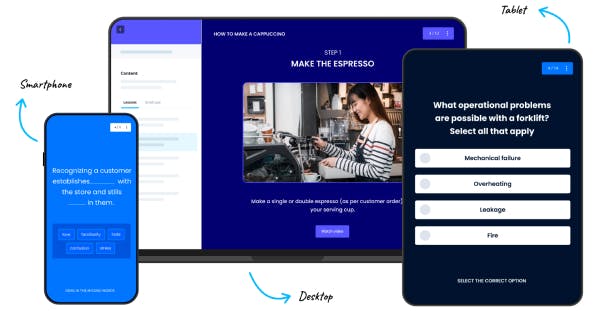 Course-building is easy-peasy with EdApp's cloud-based and SCORM-compliant creator tool. This isn't your ordinary authoring tool that heavily relies on in-depth technical and graphic design skills. It uses a drag-and-drop template structure that can transform your static content into beautiful, engaging slides in a few easy steps.
If you don't have enough time to create courses from scratch, you can also import and edit pre-made courses from their editable content library. These courses tap on a variety of topics for different industries, like manufacturing training courses, food safety courses, leadership development programs, internet marketing training courses, and so much more. 
If you need a custom content that's not available from their library, EdApp also has a team of skilled instructional designers who can work with you. By getting its Course Creation services, they can help create these courses for you and make sure that you can roll out your training quickly and seamlessly.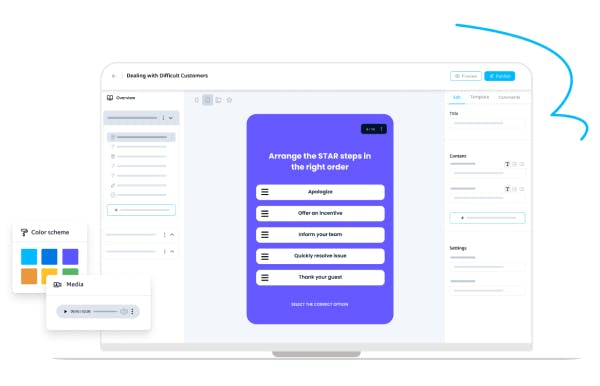 As for monitoring and tracking, you can count on EdApp's suite of administration tools. Their analytics and reporting tools are automated, making it easier to monitor your team's performance, identify skill gaps, and assess behavioral trends.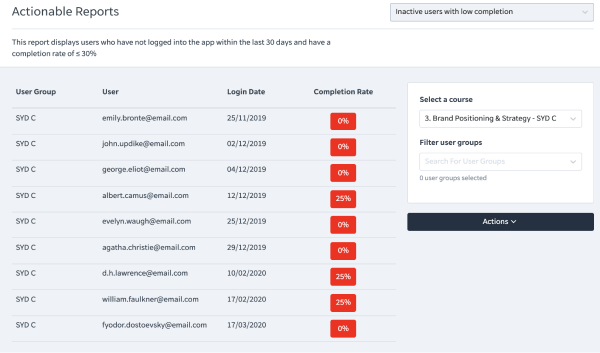 This learning management system vendor also features an actionable report format, where you can choose a variety of actions depending on the performance of your learners. For example, you can send a push notification to users who have never started any course, or inactive learners with low completion.
Cost: Free

Key features: Cloud-based and SCORM-compliant authoring tool, editable content library with premade courses, automated analytics and reporting tools, actionable report format
Choose the learning management system vendor that gives you tried and tested features. Join EdApp for free today.
2. ExpertusONE LMS
ExpertusONE LMS offers a simple user interface that makes delivering digital training across your corporation a breeze. There's nothing like this learning management solution's invisible learning delivery, which eliminates the need to manually search for training courses like internet marketing training courses. Innovative tools such as shareable links and embeddable widgets are already placed in areas that are frequently visited by your employees, which makes the access for learning seamless. Not to mention that all learning materials stored in this LMS can also be viewed using mobile devices, allowing the ultimate convenience for learning to take place anytime and anywhere, whether online or offline.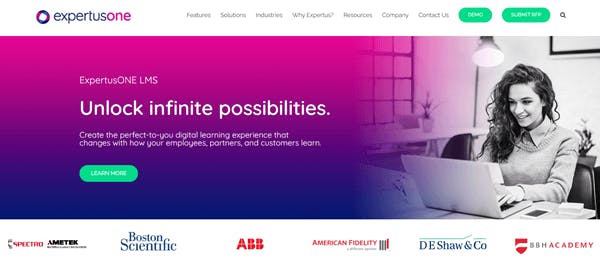 What's more, training monitoring is also made easy and simple with ExpertusONE's sophisticated LMS reporting system. All it takes is five clicks or less, and a custom report will be immediately exported to an Excel file. 
Cost: Paid plans

Key features: Invisible learning delivery, shareable links and embeddable widgets, mobile accessibility, LMS reporting 
3. NetExam
Another learning management system vendor that has been gaining quite a lot of attention across the corporate world, especially from the sales and business departments, is none other than NetExam. It works as a channel partner LMS, focusing on providing training solutions and services to your channel partners and helping them sell easily and more effectively. You can use this platform to develop sales courses, SCORM modules, and even exam question banks for better learning reinforcement. It also offers a full suite of localization where you can translate your courseware into over 30 different languages. It's a truly global solution that allows you to easily reach your international partners, without worrying about any language barriers.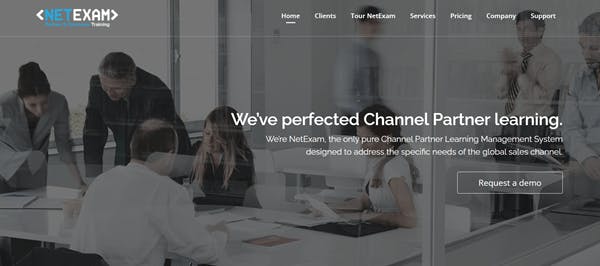 4. IMC
With IMC's learning management technology, you can transform your employee training initiatives and working from home training courses into real business success. What's noteworthy about this software is that it balances the potentials of both learning management systems (LMS) and learning experience platforms (LXP). For trainers, you can use it to tailor, manage, and track your training courses, all in one centralized location. As for the learners' side, they are in full control of creating their own learning path and deciding how they can access it–mobile or desktop, online or offline, or on the internet or through their app. Without any doubt, it is an enterprise training tool that you and your employees will love and enjoy using.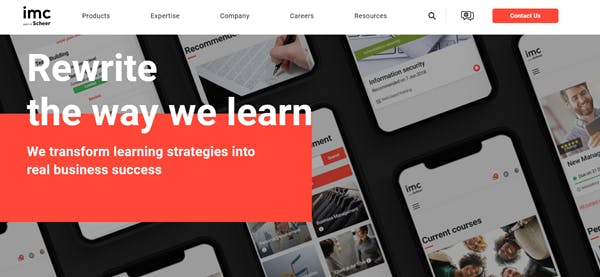 Cost: Paid plans

Key features: Combined LMS x LXP features, custom content authoring, course management, custom learning path, mobile accessibility
5. Forma LMS
If you're looking for a learning management system vendor that can easily integrate with your existing intranet software, then you should check out Forma LMS. Apart from its easy integration with intranet software, it also offers a modern and responsive layout, designed for an easy and engaging user experience—no learning curve! You can use this LMS to create engaging courses from any topic, from customer service courses to electrical PPE free online training courses, you have the ultimate freedom to choose. And the best part? You can publish them in different formats: SCORM multimedia, HTML pages, videos, and powerful assessments.
Forma LMS also supports a range of configuration and automation options for users, courses management, and edit actions, saving you an incredible amount of administration work. They even produce custom reports, helping you quickly spot skill and knowledge gaps within your team.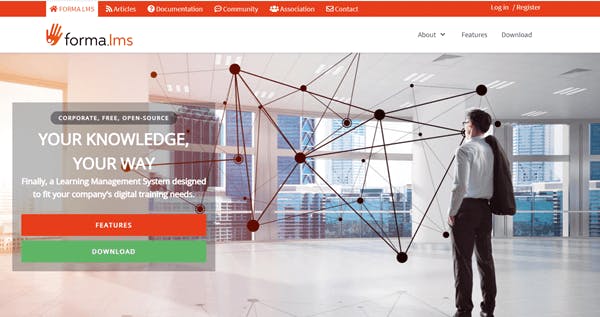 Cost: Free and paid plans

Key features: Intranet integration, modern and responsive layout, different elearning formats, configuration and automation options
6. Blackboard
Blackboard has gained its reputation being one of the leading learning management system vendors that leverages technology to maximize the potential of online learning. Here, you're in full control of your training program—tailor e-learning courses like merchandising training program, organize your tasks, and track your learners' progress. You can also host virtual training, enable discussion boards, or hold a live chat to improve employee engagement. 
The best thing about Blackboard is that their team never stops upgrading their system. Enhancement, new features, and fixes are expected every month, and they are immediately integrated into your system with no installation or additional upgrades needed.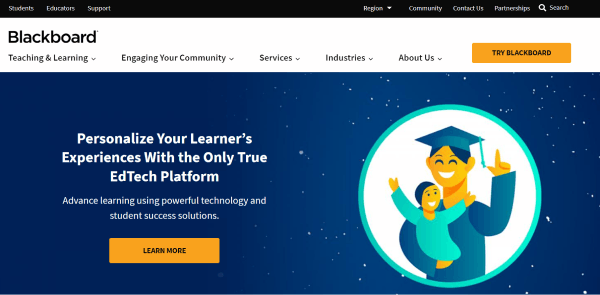 Cost: Paid plans

Key features

: Custom e-learning courses, course management,

employee training tracker,

virtual training, discussion boards, live chat
7. Tovuti LMS
You can also streamline your employee training process with Tovuti LMS. This online learning management system has several useful tools that make designing a variety of training materials quick and simple. For starters, they have an in-built authoring tool where you can create courses of any topics, like electrical PPE free online training courses for electricians, HIPAA courses for healthcare workers, or sales forecasting courses for your sales team, it's all up to you.  You can also import existing content from other LMS, upload videos, audio, and PowerPoint, and so much more. Your imagination is your only limit—build as many lessons as you need, and gate them in a central location for a linear learning experience.
If you're struggling with chasing inactive employees into completing their courses, you can also automate notifications and reminders using Tovuti. Just schedule when the courses are due, and then customize pop-up alerts that will appear in their email.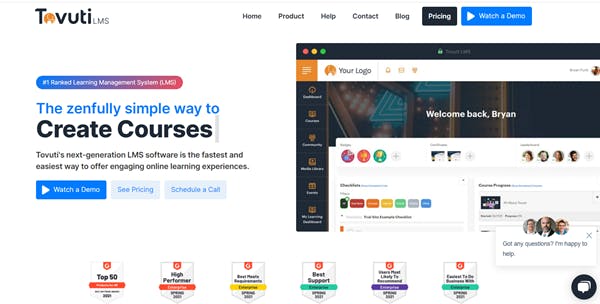 Cost: Paid plans

Key features: In-built authoring tool, course import, unlimited course creation, automated notifications and reminders
8. 360Learning
360Learning is another top-performing learning management system vendor that you can use to manage your workforce. It's widely known for its collaborative training tools, which feature an authoring suite, a content integration system, and an analytics dashboard. As managers and team leaders, you can develop and deploy content like merchandising training programs so that your employees know how to promote your products and brand. You can also include learning resources like videos, images, blog articles, and research into your course to keep training content up-to-date and engaging. With 360Learning, workers also have access to collaborative learning features like discussion boards and group pages that allow them to participate in meetings with both managers and their fellow employees.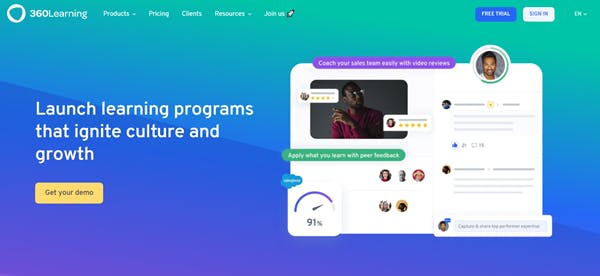 Cost: Paid plans

Key features: Collaborative learning, authoring suite, content integration, analytics dashboard, discussion boards
9. GoToTraining
GoToTraining is packed with reliable features that you can use to create and manage online training sessions and courses. This LMS offers unique, built-in tools that enable organizations to conduct custom registration, manage training materials, and share and publish courses without any fuss. It also encourages better knowledge retention and engagement during live training sessions through tests and polls, small-group activities and collaborations, as well as discussions. This tool can also host a content library where you can upload, organize, store, and reuse your courses, tests, and recordings. These learning materials can then be accessed by your workers anytime and anywhere.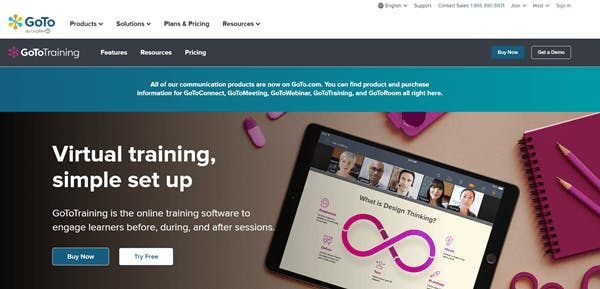 Cost: Paid plans

Key features: Custom registration, small group activities and breakouts, tests and polls, content library
10. Violet LMS
Last but not least in this list is Violet LMS, a full-service learning management system vendor that helps develop employees through a sustainable learning experience. It offers dedicated guides depending on the type of training session you're deploying such as employee training, onboarding, sales training, compliance training, distribution training, and even customer training. This LMS also enables blended learning by assisting in offline training through features, such as an external trainer management system and a venue management system. Employee knowledge is further strengthened with interactive courses and virtual classroom sessions. With the adaptable training plan provided by this LMS, training consultants have access to a visual calendar of priorities and tasks, as well as track and measure results for each individual through a powerful reporting tool. Through individualized learning plans tailored to the needs of the learners, employees can maximize their potential and improve their performance.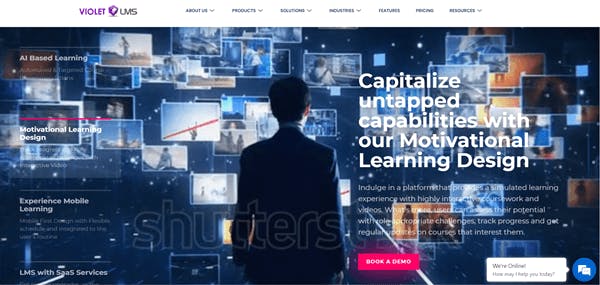 Cost: Paid plans

Key features: Supports different training methods,  interactive courses, virtual classroom sessions, interactive courses and virtual classroom sessions, powerful reporting tool
You may also be interested in: