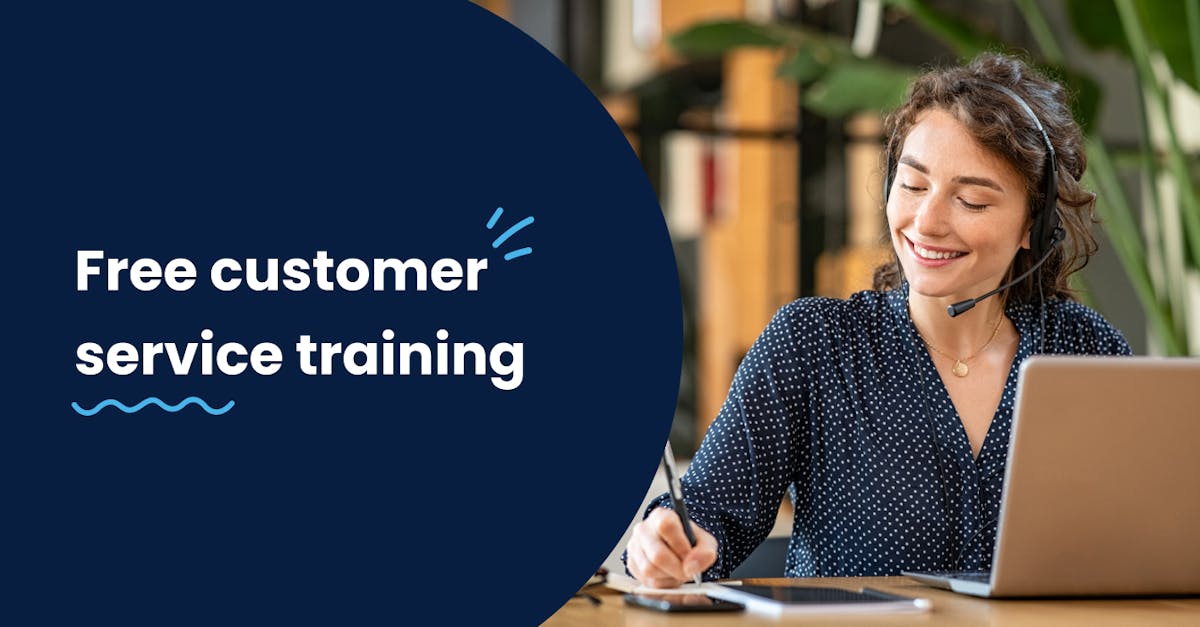 Customer service is at the forefront and one of the most important aspects of a business. Effective customer service training can help your staff to engage better with customers, drive sales up, and have them coming back to your business. Good customer service training allows you to properly equip your team with vital knowledge and customer service skills for every type of scenario customer-facing roles deal with.
It's easy for customers to switch to a competitor after only one bad experience with customer service. So, it's important that your teams are guided with a customer service training plan. This way, they'll better know how to navigate difficult situations with customers and efficiently assist them with their needs.
To get started, you can explore our recommended customer service management training courses and see which courses will best fit the training needs of your team. 
1. Guest service in hospitality and tourism (free online course)
Hospitality and tourism businesses are expected to have top-of-the-line customer services. They're part of what potential clients look for in reviews or feedback when considering going to a hotel or tourist site. Good and bad customer service can make or break your business.
The Guest Service in Hospitality and Tourism course from EdApp was designed to guide customer service reps in the hospitality industry and help them ensure customer satisfaction. This free online course helps employees to identify the meaning of good customer service and understand why great customer service matters.
The online course is particularly useful for teaching face-to-face customer service skills and customer care skills that your hospitality staff members will need when dealing with tourists. It goes into the nitty-gritty details of what to do in everyday situations such as how to properly greet guests and communicate with them. It also tackles specific actions that should be done to make each interaction a positive one for your guests and how to be a better customer service rep.
Guest Service in Hospitality and Tourism is highly recommended for organizations looking for mobile learning. Your staff can pause their lessons and return to them anytime. They can also learn anywhere since the course is available on mobile and desktop devices.
EdApp courses are also completely editable, with its highly customizable course creation tool. If you want to add your branding or your own hospitality learning materials, you can easily do so because the tool is basically drag-and-drop. And if you're feeling stuck with course creation, EdApp's new AI Create feature will help you overcome and content creation barriers all with a click of a button!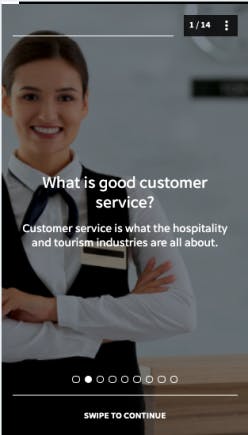 2. Call center customer service
If you are looking for a customer retention course that provides perfect call center training for all your employees who will be utilizing telephone processes for their job, this call center customer service course is what you need. The course is comprehensive and consists of five useful modules that teach various techniques and skills to prevent poor customer service. Your call center customer service rep will be taught how to prepare for their calls, behave while using the phone, understand the different aspects of a call, and deal with difficult customers and new customers to ensure high customer satisfaction and increased customer success. If you would like your employees to properly represent the company while on the phone, sign them up.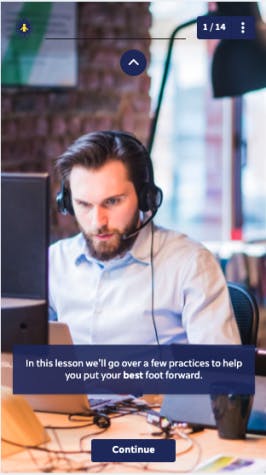 3. Excellent customer service through communication
Also from EdApp, the Excellent customer service through communication course teaches customer service rep how vital communication is to customer success. This course goes hand-in-hand with the Speaking with Confidence course also offered by EdApp. Amongst other things, the course teaches that confidence is one of the biggest barriers to communicating effectively and helps students find ways to express their opinions confidently. One of the major advantages of using the course to train your employees is it will help your employees enunciate better, leading to better understanding. We recommend using this customer retention course and the Speaking with Confidence course to train your staff to improve internal and external communication and prevent poor customer service.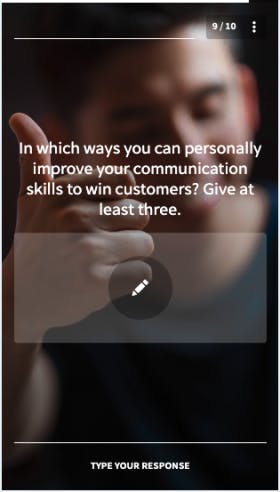 4. Customer service: Handling complaints
This EdApp Handling Complaints course is a course that teaches customer service employees about proper techniques that should be used when addressing new customer complaints and frustration. This course is unique because it helps your employees realize that complaints are a good thing and greatly impact your company and should be treated accordingly. The course identifies and explains how workers can positively handle negative reviews, and this is one of the main reasons you should train your employees with it. No company is perfect, so having employees know how to turn negative feedback into positive outcomes is a plus.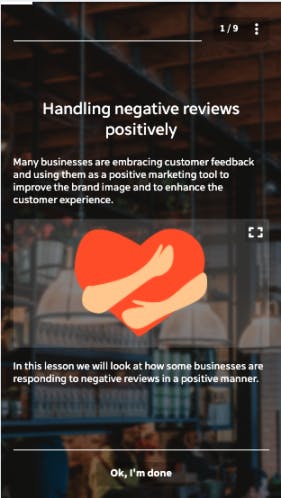 5. Dealing with difficult customers
If you're in the market for a workshop or course that will teach your employees the best practices when dealing with problematic employees and guests, the Dealing with difficult customers course that you should be working with. The course teaches problem-solving skills that will have your employees correctly and confidently finding and utilizing the best ways to get optimal outcomes in no time. If you want to maintain excellent service and promote problem-solving amongst your customer service staff, this course will educate them on just that. The course is very detailed and has four parts that will teach how to deal with difficult clients, handle complaints, handle mishaps, and work with drunk customers and new customers.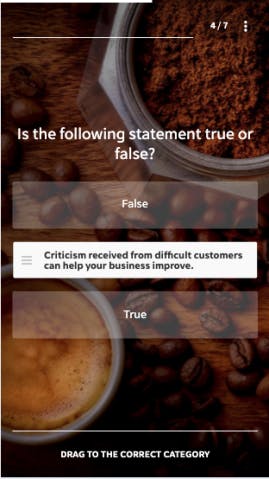 6. Customer service (short online training)
This customer service course from the Oxford home study center is a free customer service course created by leading academics and focuses on customer service career advancement. The course does not have any time restrictions or deadlines, so you can study at whatever time is convenient for your current lifestyle commitments. This short course has five units that cover customer service from a modern business perspective and helps customer service representatives to evaluate customer expectations properly. One drawback of the short course is its length. You can use this course to teach your customer service employees how relationships and customer satisfaction can benefit your business.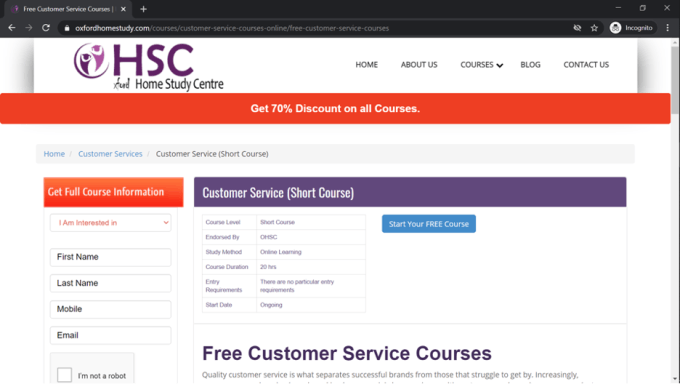 7. Outstanding customer service – your ultimate guide
This course is branded as a guide to outstanding customer service, has CPD accreditation, and is mobile-friendly. This customer retention course is designed to teach your employees the skills that are required to provide an outstanding customer service experience. The unique aspects of this course are the certificate option and the fact that it is accredited. The course teaches one important thing: businesses can stop losing money from bad customer service. Unfortunately, the course is not editable, so it cannot be tailor-made to your company's needs or customer expectations. This great Customer service will be useful to your company as it will help eliminate bad customer service habits.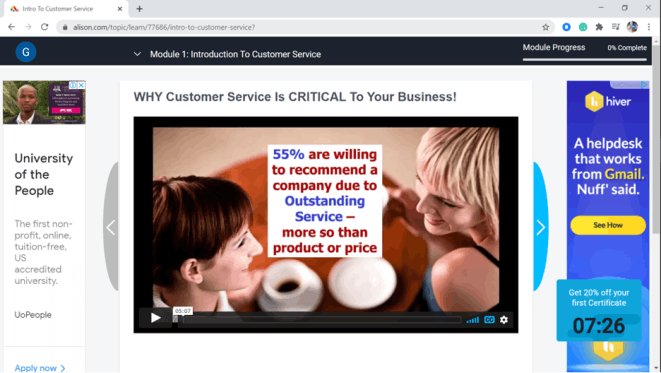 8. NapoleonCat tool training for social media customer service
Tool literacy is one of the crucial customer service skills. If you want to stay ahead of the curve, take your time to help your team discover customer service software like NapoleonCat. This tool allows them to deliver timely customer service on social media. The course consists of video tutorials and additional resources that will allow them to discover NapoleonCat's features. Upon completion, they can take a test and obtain a certificate.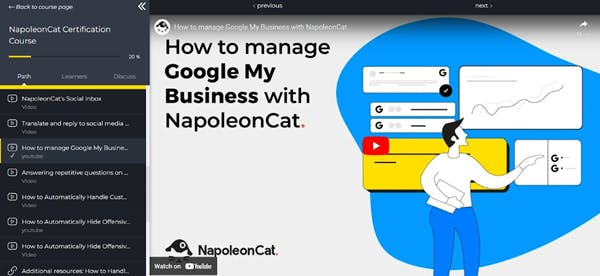 You can enroll your team in the NapoleonCat course for free to help them learn how to use the tool to its full potential, streamline workflows, and automate some of their repetitive tasks. 
9. Brentwood customer service course
This short customer service course from Brentwood is an entry-level course that is approximately 20 hours long. This workshop is quite basic and teaches the fundamentals of great customer service. This customer service training course focuses on the 6 topics such as the definition of customer service, the importance of nurturing strong relationships with customers, reaching customer expectations, etc. The course is particularly helpful for teaching employees how to analyze and react to employee feedback. Since the course is quite basic, it will not be a sufficient standalone customer service course for your employees.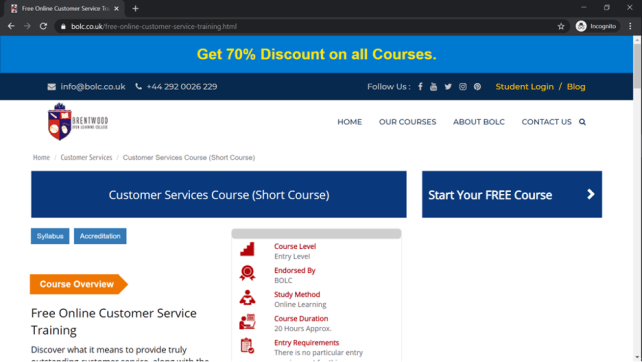 10. Diploma in customer service
This free customer service diploma course teaches customer service members customer service skills that will help turn one-time customers into lifelong customers. The diploma opportunity from the course makes it one of the most unique ones on our list. Another good thing is that this course brings to the table that it is mobile-friendly so your employees can learn on the go. Unfortunately, the course is 6 to 10 hours long, so it may take busy employees a long time to complete it. This is a good course for your employees because it also provides career advancement due to its certificate and accreditation.
11. Customer service level 2
This is another online self-paced customer service course that will teach your front-line employees how to deliver excellent customer service through improved communication skills. The workshop has examinations and certificates available for your employees. A good thing that employees will get from the course is the knowledge and principles necessary to provide quality customer service experience and understand customer care. Unfortunately, the course is extremely long and time-consuming.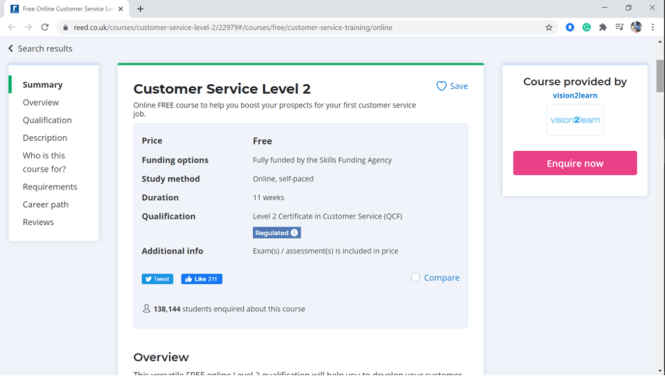 12. Creating a Positive Customer Experience 
EdApp created the Creating a Positive Customer Experience course for your employees in the retail industry to help them develop and improve their skills, as well as retain and increase their customer base by creating a positive customer experience. This 4-part course focuses on teaching your employees how to keep customers happy by emphasizing topics on the customer service's role on the customer's overall brand experience, as well as ways to effectively interact with customers. EdApp's microlearning feature makes this course convenient and engaging for your team and only a couple of minutes are needed to complete the course.
13. Customer Care Skills
Alison, a free learning platform, provides the Customer Care Skills course to help your employees build and develop essential customer service skills and techniques, as well as improve on handling inquiries, complaints, and frustrations to deliver the best outcomes for your customers. This 5-part course is delivered through long-form videos and your employees can check their knowledge retention with a quiz at the end of every lesson. They can also take the course assessment and achieve an 80 percent score to complete the Certificate course. However, despite the course being offered for free, the official certificate is only available for purchase.
14. Serving Food
Serving Food is a restaurant customer service training course by EdApp intended to guide servers through providing an excellent dining experience for customers. It begins with a lesson on the key areas of a restaurant, as well as the proper procedures for serving and interacting with customers. Then, it outlines how to take orders properly and more efficiently. The course also includes how to maintain a section of tables, confidently carry plates, and communicate with your team of wait staff. Lastly, it covers upselling and suggestive selling techniques for your staff which will help your staff be effective suggesting additional meals or better deals for customers. Through this course, you can help your waiting staff improve their customer service skills and create an accommodating experience for your customers.
15. The Bar World of Tomorrow
EdApp's The Bar World of Tomorrow is developed in collaboration with industry experts – Pernod Ricard, Trash Tiki, and the Sustainable Restaurant Association. This sponsored course consists of 13 interactive microlessons that the bartender community can use to become part of a greener, more responsible, and inclusive industry.
It kicks off by building a foundational knowledge of restaurant customer service training through lessons on the importance of brand knowledge & product curation. and responsible serving of alcoholic beverages. Timely and very unique, it also addresses the challenges brought by the COVID-19 pandemic crisis and how you can reopen the right way.
This course uses a microlearning strategy that helps improve learner engagement. Although readily available in seven different languages including English, Chinese, and Spanish, EdApp's AI translation tool allows you to easily translate courses into 100+ languages.
16. Guest Experiences
EdApp's course on Guest Experiences is a restaurant customer service training course that's focused on ways to provide guests with the best experience possible. As you move through the lessons, you'll gain insight into topics like breaking the ice, creating a welcoming atmosphere, personalizing guest experiences, delivering consistent service, and managing issues, complaints, and frustration. By reinforcing these key basic skills in interacting with your guests, you're able to create a more accommodating culture in your hotel.
17. Positive Scripting
Delivering bad news about a medical condition is one of the vital yet most challenging responsibilities of healthcare providers. Whether it's about a severe illness or even death, the messages must be stated clearly but in the most compassionate way possible. Positive Scripting by EdApp provides some practical strategies for effectively sharing terrible news with your patients and their families. It also delves into the common pitfalls of delivering unwanted news and the overall goals of positive scripting. 
18. The Power of Empathy
Empathy is one of the most crucial traits that a healthcare professional must possess in the medical field. It can help healthcare workers communicate better with their patients, and as a result, lead to customer loyalty and better treatment of their health concerns. This free EdApp course on The Power of Empathy highlights the different components of communication, which include words, tone, and body language. It also goes into detail about the habits of highly empathetic individuals, some of which include cultivating curiosity, challenging prejudices, discovering commonalities, and listening to others. There's also a short video at the end that discusses the difference between empathy and sympathy. 
19. Introduction to Informed Consent
Every patient has a legal right to accept or refuse medical treatments and clinical practices, hence why clinicians and physicians must have a sound understanding of the entire context of informed consent. Ensuring that your patients know what they're getting into is a basic requirement of good healthcare customer service. Global Health Training Centre's course on Introduction to Informed Consent will walk you through the importance of informed consent and its limitations. It also goes over the regulations and guidelines that you, as a healthcare provider, should follow to prevent poor customer service, patient misinformation, exploitation, and coercion. At the end of the course, your employees can take a final quiz and if they achieve a passing mark of 80% or higher, they'll be issued a certificate of completion. 
20. Selling Strategies & Interacting with Customers
Selling Strategies & Interacting with Customer by EdApp teaches retail employees how to leverage customer interactions and customer loyalty and turn them into successful sales. Here, employees will learn how to greet customers appropriately to set the mood. They'll then discover how to ask the right questions to pique their interest and curiosity. Since the price of an item is one of the main considerations of consumers, the principles of value-based selling are also discussed to help them realize that their purchase will help them achieve customer success.
This course makes use of eLearning examples, such as image sliders and scratch to reveal, to reinforce key concepts in a fun and interactive way. There are over 80 templates available on EdApp that you can use for free and are suited to a diverse set of learning methodologies.
21. Crowd Management
Big sales events like Black Friday and Christmas holidays can be exciting and also stressful at the same time due to a large number of people. Crowd Management by EdApp is perfect for learning how to manage huge crowds during those times or any other similar high-attendance events. It provides the best practices on how to plan and prepare for such an event, like adding more staff and extra security to ensure everyone's safety. This course will also discuss how to set up lines, admit customers, establish customer loyalty, and handle irate or frustrated buyers. Lastly, it teaches what to do in case of accidents due to overcrowding.
Other free course lists