2. Looop
As an advanced learning management system, Looop helps you create online learning resources and its automated training software helps streamline training processes for your employees. With their simple yet visually appealing UX design, you can create engaging learning materials and access features like campaigns, which help you automate the delivery of training content through channels like Slack, Teams, and even SMS.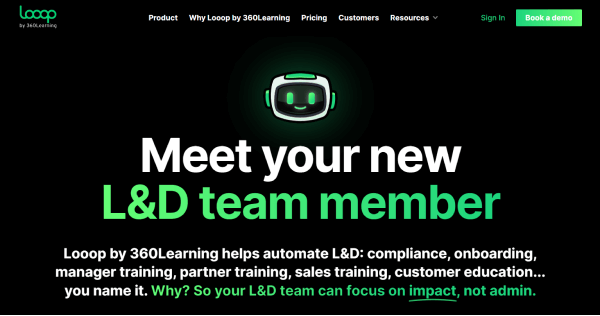 Other features like user insights and analytics dashboards give you visibility on your teams' completion rates, learning gaps, and overall performance. Through these enhanced reporting features, you'll be able to gauge the effectiveness of your training and address your workers' learning challenges. To access all of Looop's products, you can sign up for a monthly subscription that starts at 99 per month for a maximum of 50 users.
3. Cloud Academy
Cloud Academy is an online training solution that allows businesses to create highly comprehensive and targeted tech learning content for their employees. Some of the ways you can maximize this web-based training platform include customizing exams using pre-built questions and giving users access to a vast content library on technology fundamentals.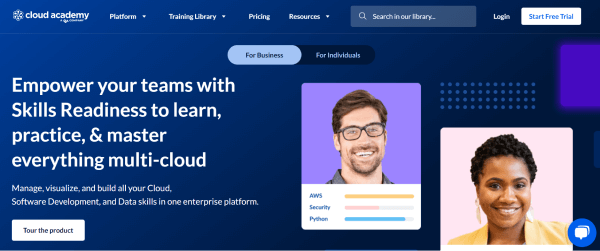 This training tool allows your employees to access learning resources even while offline and also comes with a Cloud Roster feature that encourages users to learn what skills they should train for by exploring in-demand skills from specific job roles. You do have to pay for a subscription to access all the best features but you can try the platform for free for 7 days.
Highlights: Customizable exams, cloud roster, training content library, offline mode 

Price:

7-day free trial, 9 USD/month for individuals, 5 USD/month per user for small teams, get a price

quote

for enterprise
4. Learn Amp
Learn Amp is an all-in-one learning management system and engagement platform focused on helping businesses develop and retain their employees. With this computer learning software, your employees can develop their professional skills through social learning and peer-to-peer features like in-app messaging, self-generated content, discussion threads, event management, and group assignments.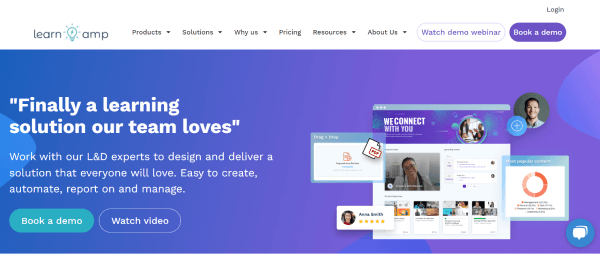 You can access performance reports easily through Learn Amp's built-in visual dashboard and based on these stats, you can also design learning pathways to further each employee's growth. Do note that if you want to try out this tool, you'll have to get a price quote from their site. 
5. Auzmor
With its simple user interface, Auzmor is an employee training tool designed to help you easily create courses, deploy learning content, and monitor employee performance even without coding knowledge or advanced technical skills. With their easy-to-use course builder, you can create your own training content or customize courses from their vast lesson library. You can also track employee training progress and identify learning trends through Auzmor's real-time analytics dashboard. To get access to this tool, you can ask for a demo and obtain a custom quote directly from their site.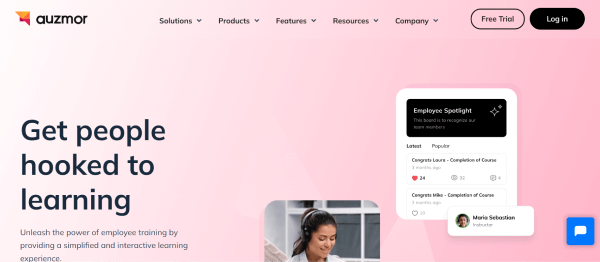 6. HireRoad
HireRoad incorporates the key concepts of blended learning and social learning into their powerful elearning tool. With blended learning in mind, you can deploy features like on-the-job training and task assignments that allow your employees to perform tasks in real-time and submit lesson homework for knowledge evaluation. Also, to integrate social learning into the platform, they've added collaborative features like built-in messaging, user communities, and discussion boards. If you think this employee engagement tool might be the right fit for your business, be prepared to shell out a minimum of ,128 USD per month.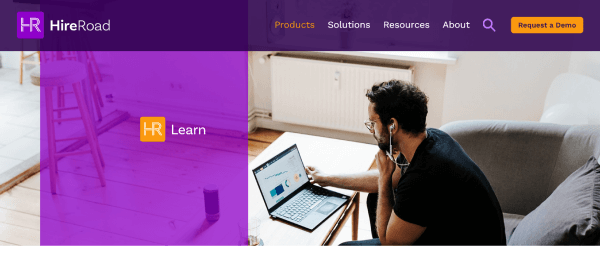 7. V360E
As a virtual-reality-based online training platform, V360E was originally created for training in the aviation industry. It has now evolved into a highly interactive eLearning software for other manual and labor-intensive industries like healthcare, construction, and transportation.
To create a VR-based training program, you can add a 360 panoramic photo or video, audio elements, and additional text to enhance learning. Your learners can practice their skills by accessing online testing software through V360E's desktop and elearning mobile apps. Although due to its limited features, you might need to find additional tools for more well-rounded training.
8. EdCast
EdCast is an AI-powered learning experience platform designed to help different organizations scale employee training and learning engagement with a strong commitment to performance improvement. Using employee performance data from EdCast's detailed analytics reports, you can create customized learning paths and provide upskilling courses for each learner enrolled in your system. Through the tool, you can also encourage your employees to engage in social learning activities by sharing knowledge through video or article content.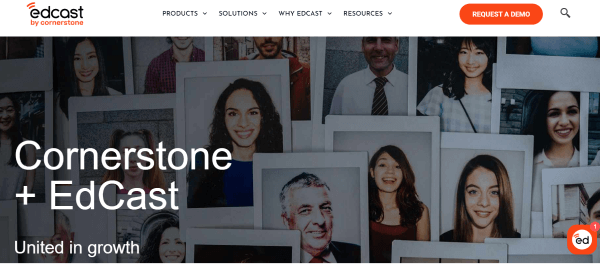 9. ProProfs Training Maker
With ProProfs Training Maker, you can craft well-designed online courses in minutes. To develop an online, all you have to do is choose from more than 100 ready-made templates, then add your own images, videos, text, and branding elements. For easier knowledge sharing and collaboration among your learners, Proprofs also offers additional features like a Q&A forum, a learning community,  as well as a centralized knowledge base for FAQs, how-to manuals, and other training materials.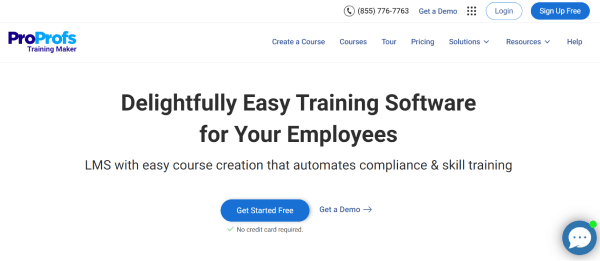 10. Cegid
Primarily focused on talent management strategies and learning, Cegid is a mobile-friendly cloud-based eLearning software that allows you to train your workforce and boost employee performance at scale. Through its authoring tool, you can create SCORM software-compliant learning programs and provide learners with highly engaging gamified content. There's also a built-in video conferencing feature available and your learners can use it to share knowledge, ask questions, collaborate on tasks, and interact with one another while learning.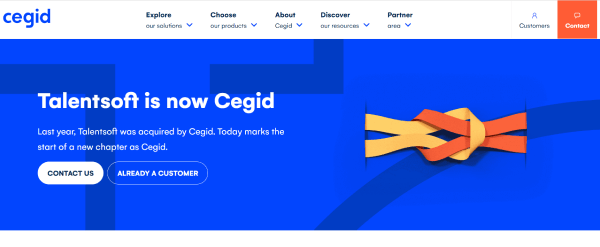 11. Tovuti LMS
Tovuti LMS is another learning management platform that you can use to streamline your employee training process. With its built-in course authoring suite, you can create, schedule, and deploy interactive courses in just a few easy steps. You can also include gamification and leaderboard features to encourage them to complete their assigned learning tasks.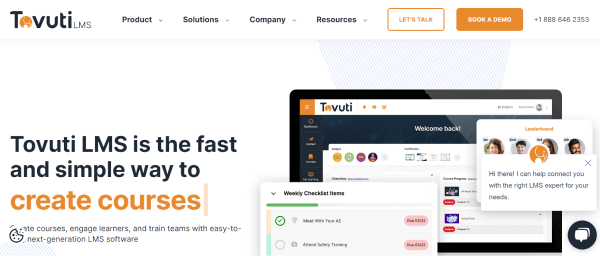 If you want to integrate synchronous learning sessions into your training, Tovuti LMS's live virtual classroom allows you to meet with your team members in real-time and discuss learning content through third-party online video conference platforms like Zoom and GoToMeeting.
Highlights: Course authoring, notifications, leaderboards, virtual classroom 
12. Code of Talent
Code of Talent is a SaaS LMS platform that helps learning and development professionals build, customize, and launch microlearning courses for their teams. To promote self-paced training, social learning, and content engagement, Code of Talent's courses are designed to be mobile accessible, easy to digest, and interactive. Through its gamification feature, you can also create content or quizzes similar to mobile games, which can motivate learners to engage with the learning materials, complete their courses, retain information for the long term.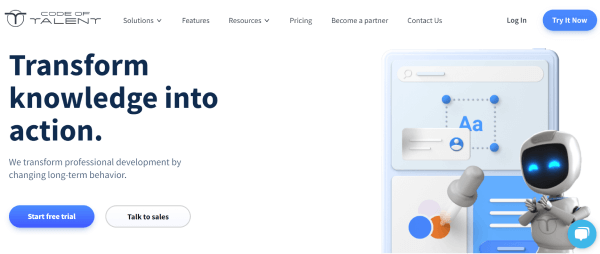 13. Coassemble
As a remote training software, Coassemble can help you create and deploy interactive elearning courses that fit your team's training needs. With its authoring tool, you can choose from a total of 35 content templates, customize lessons and publish your course, all within a few clicks. There are also a number of preloaded quiz templates that you can use to incorporate learning assessments at the end of each course. If you're a first-time user on the platform, you won't have to worry about customer service availability since Coassemble's support team is available around the clock.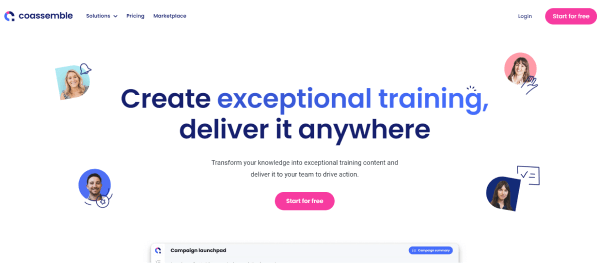 Highlights: Authoring tool, quiz templates, 24/7 support

Price: Starts at USD/month
14. Zoho ShowTime
Zoho ShowTime is a comprehensive training solution that can help you run and manage your employee training programs more efficiently. Using this tool, you can provide your employees with self-paced courses and facilitate collaborative learning through peer interaction. If you're planning to implement synchronous online training sessions, you can also maximize the platform's virtual classroom. Within this feature, your employees can access additional tools like whiteboards, polls, and in-app messaging that allow them to discuss learning and share knowledge with fellow team members.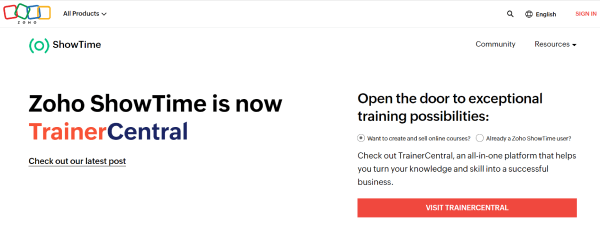 Highlights: Whiteboards, virtual classroom, in-app messaging, polls 

Price: 15-day free trial, .83 USD/month for single user basic plan, .33 USD/month/user for standard business plan, 2.50 USD/month/user for professional business plan, 6.66 USD/month/user for enterprise plan
15. 360Learning
360Learning is an LMS and collaborative eLearning platform designed with an authoring tool, a content integration system, and an analytics dashboard. Their intuitive course authoring feature requires no technical expertise to utilize and allows anyone to design online courses in just a few clicks. You can also include learning resources like videos, images, blog articles, and research into your course to keep training content up-to-date and engaging. With 360Learning, your workers also have access to collaborative learning features like discussion boards and group pages that allow them to participate in meetings with both you and their fellow employees.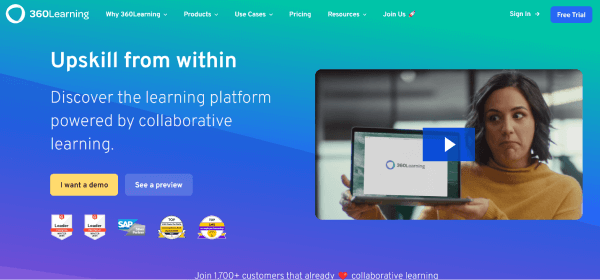 Highlights: Authoring tool, integrations, dashboard, collaborative learning

Price:

14-day free trial, schedule a

demo

for a custom quote
16. Unlock:Learn
With more than 25 years of experience in the corporate training industry, Unlock:Learn enables organizations to design tailored learning experiences for their employees. Its easy-to-use features and automated processes, allow you to seamlessly onboard, engage, and train your entire business. You can also plan for training strategies by accessing relevant reports through the platform's analytics feature. An AI-powered chatbot also guides employees through different training processes to minimize the need for support requests.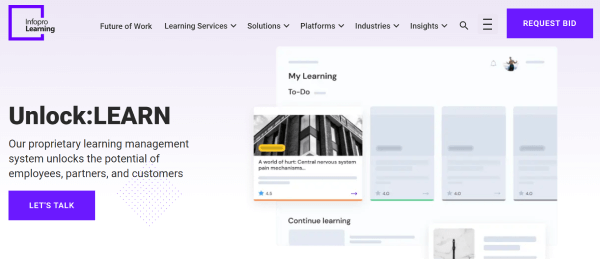 Highlights: AI-powered chatbot, automation, reporting analytics

Price: 15-day free trial, 0 USD/year/employee for the corporate plan
17. WorkRamp
Designed as an all-in-one learning platform, WorkRamp can be customized for different types of employee training, more specifically for sales, support, retail, marketing, and HR. It can even be used to train your clients on product adoption, increase customer engagement, or drive more revenue to the business. Some of the platforms' notable features include a specialized onboarding process, custom reports, virtual instructor-led training events, and compliance training. By combining all of these tools, WorkRamp enables you to create a streamlined training experience for your employees.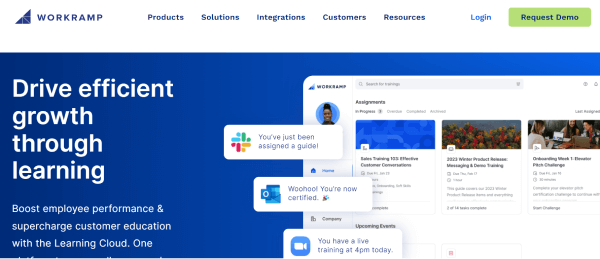 Highlights: Sales training, support training, customer training, virtual events, compliance training
18. Trainual
Trainual is another online learning solution that you can use to onboard new employees or train current team members. You can easily customize learning materials by choosing from the platform's 150 free templates. And once your training courses have been deployed, your employees can access them through multiple online platforms that include iOS, Android, Chrome extension, and web browser. Although to get access to the tool's basic features, you'll have to spend at least 9 USD per month.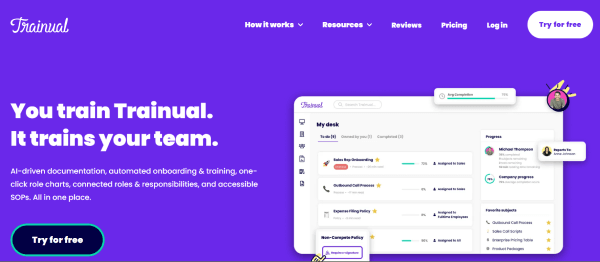 19. Degreed
As a learning development tool and upskilling platform, Degreed can help you run both small and large-scale employee training programs with ease. Before you begin training your team, you can access the tool's analytics data and determine whether your employees need upskilling or reskilling. After this process, you can then start creating custom content pathways for each employee to help them become more proficient in skills that they used to lack. To help learners feel more motivated as they try to learn new skills, certifications are available after each course completion.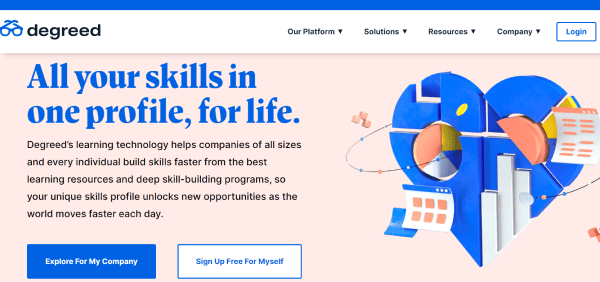 20. Memrise
If you're a teacher or instructor looking for a platform to support learning a language, Memrise is a great option. It's an affordable and practical way to teach conversational French, German, Chinese, and more. The platform also has a 3-step approach to learning a language, to help support your learners through the process. The first step is learning real-life words and phrases with their built-in learning engine, next the platform helps your learners understand and reinforce language with audio and video clips. Lastly, the platform aims for learners to gain the confidence to speak out loud and put their knowledge to the test.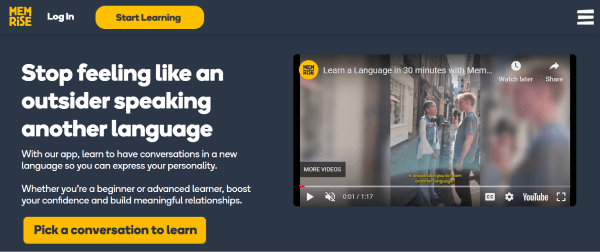 21. Pathgather
Pathgather is a modern social learning feature. It aims to make enterprise training fun and engaging and is essentially an integration tool that falls under the Degreed umbrella. Pathgather gives you the option to consolidate your learning in one place to have better visibility of your different training tools. As the name suggests, Pathgather enables the curation of learning paths to enable quick and effective peer-to-peer learning.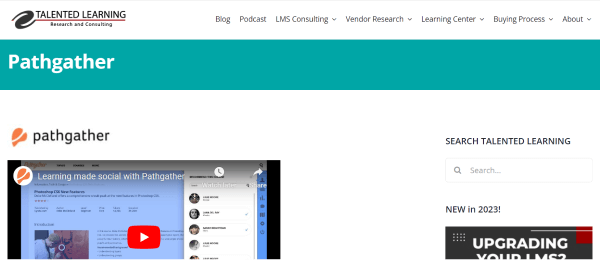 While it isn't suited best for a standalone training tool, if you have multiple training platforms, it might be a good option to bring all your programs together.
22. Schoology
Schoology is a free LMS designed for elementary education to support teachers and instructors in the age of COVID-19. Since a lot of training and learning has shifted online, Schoology provides support to school districts, with a focus on K-12 schools. The learning engagement platform offers built-in tools to help engage and encourage students with a wide variety of content like videos, text, games, and more.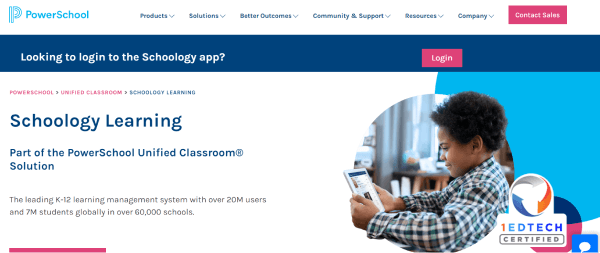 23. Slack
As a business communication tool, Slack is quick, simple, and targeted. Teams can experience a unique learning design through interactive channels that spark conversation and feedback in real-time.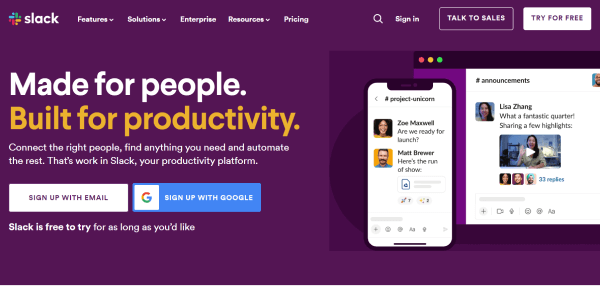 Slack's communication feature allows your team members to easily share their thoughts whether they're working remotely, at a desk, or on the go. The platform's grouping feature also means that teams can be easily organized, to help keep the conversation on topic. While Slack is limited as a communication tool, it does a great job at promoting facilitating collaboration on projects through its integration feature. Slack can easily connect with a wide range of apps like Jira, Zoom, Google Drive, and more.
24. Asana
Asana is a comprehensive tool with a range of features that include calendars, task allocation, and project status updates. The organizational tools allow teams to know what to do and understand why it matters.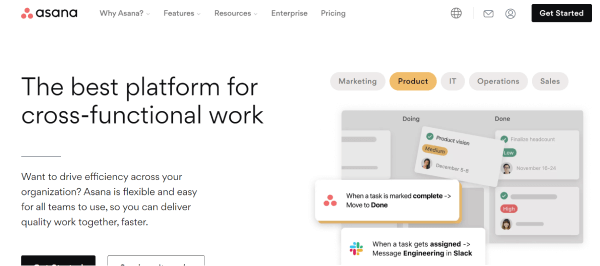 The platform also supports cross-team collaboration, which can keep projects organized. While the tool isn't ideal as a standalone LMS, it's best suited to organize and manage projects. It can easily bring your team's goals, tasks, and files together to help support your training but should be relied more as project management tool.
25. Kitaboo Insight
Kitaboo Insight offers eBook publishing options for digital publishers as well as Augmented Reality (AR) capabilities for teachers in the educational setting.  It's available via mobile and desktop and hosts various training tools on its platform including PowerPoint, PDFs, and videos.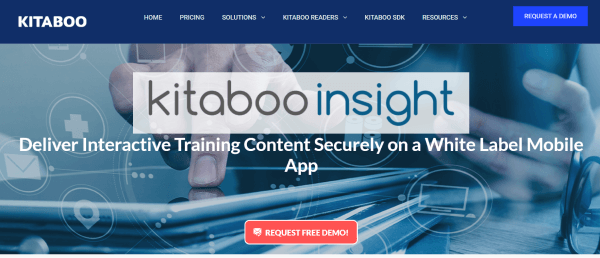 But while Kitaboo Insight is engaging, the learning tool is somewhat limited in its training capabilities, likely since it prioritizes digital publishing and classroom education on top of training. Analytics and tracking are available as well as assessments but beyond that, the platform isn't highly evolved in terms of features, meaning you're better off pairing Kitaboo Insight with another platform or finding an alternative all-in-one platform.
26. Adobe Learning Manager
Individuals can utilize Adobe Learning Manager as an online employee training tool, enabling them to design basic training courses. The platform enables stripped down content curation and the interface is relatively easy to navigate. Adobe Captivate Prime can integrate with existing enterprise apps like Zoom, Workday, and LinkedIn. Although slightly pricier, the platform also offers additional features like webinars and content streaming.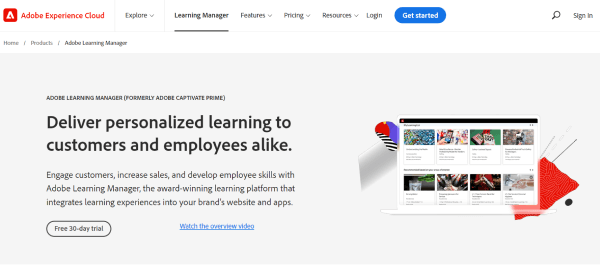 While the platform has some notable features, it is somewhat difficult to navigate and requires some time to grasp. Because of this, it may take longer to get up and running with this particular training tool.
You may also be interested in: