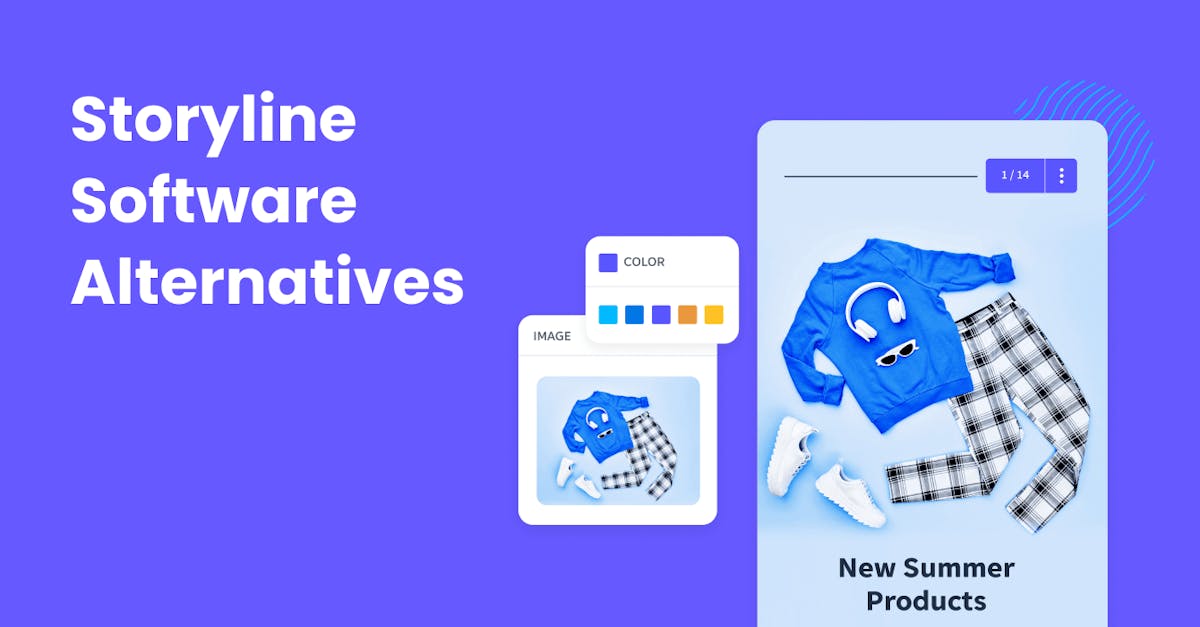 Storyline software is a well-known authoring platform among L&D professionals but a large disadvantage of this tool is its steep price tag and difficult learning curve. Nowadays, there are hundreds of Storyline software alternatives to choose from that are cheaper and more user-friendly.
1. EdApp
EdApp is a blended training solution that lets you create, customize, and manage online training courses for your learners through multiple user-friendly tools and features. It serves well as a Storyline software alternative, giving you more training flexibility for free. You can have instructor-led training, self-paced online training, or on-site group training through EdApp, allowing you and your learners to decide on their preferred learning method.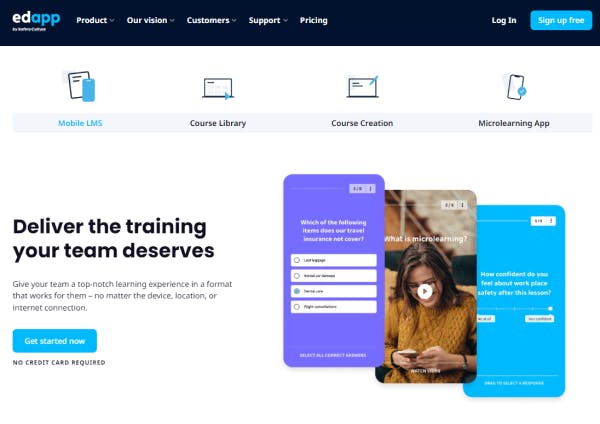 One of EdApp's best features is its cloud-based creator tool. Build beautiful and interactive courses without any coding knowledge or design experience needed. You don't even need to start from scratch! Import courses from EdApp's free-to-use course library, choose from over 80 pre-built lesson slide templates, or convert existing PowerPoints and PDF materials into SCORM-compliant courses.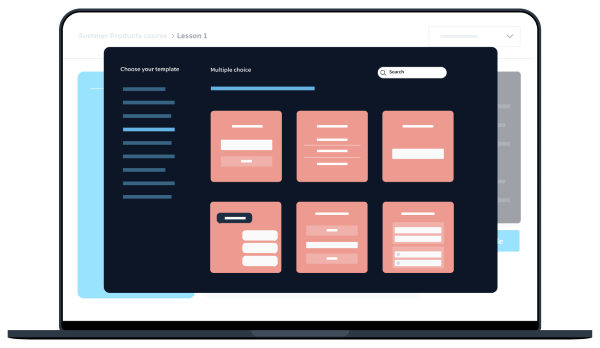 You can also include gamification examples into your training with elements like drag-and-drop, sequencing, and matching type. Other features like leaderboards, rewards, and scoring are also available to help promote user engagement. If you want to improve communication and collaboration among your learners, then EdApp's Discussions feature can do that for you. 
Target inactive and disengaged learners with actionable reports. Easily re-engage learners with lower performance with our built-in notification system for higher completion rates and export detailed data to understand how your teams are tracking. Doing this can help you address knowledge gaps and improve learning outcomes. 
Cost: Free

Highlights: Authoring tool, course library, leaderboards, rewards, actionable reports, discussions and forums, push notifications
Join EdApp for free and start using the best Storyline alternative on the market today. 
2. Coassemble
Coassemble is a cloud-based LMS solution that allows you to create, manage, and deploy online courses according to your team's training needs. With its authoring tool, you can choose from over 40 interactive content templates, customize lessons and publish your course, all within a few clicks. There's also a variety of preloaded quiz templates that you can use to incorporate learning assessments at the end of each course. As a collaborative learning platform, you can also use this tool to build a shareable training hub where you can store your course materials and playbooks, giving your team easy access to everything they'll need. And if you're handling a large mobile workforce, you'll also be able to appreciate its mobile-responsive feature, enabling field employees to access their learning materials anytime and anywhere.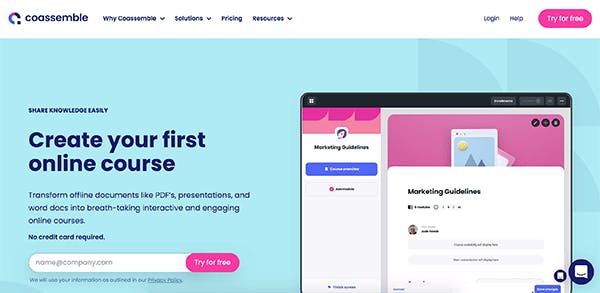 Priced at around 9 to 99 per month, this tool is perfect as a Storyline software alternative as it is more budget-friendly. Another huge benefit is that Coassemble's support team is available around the clock so your users won't have to worry about customer service availability.
Cost: Starts at 9 USD per month

Highlights: Authoring tool, customizable templates, shareable training hub, mobile-responsive, 24/7 customer support
3. dominKnow
dominKnow is another Storyline software alternative that comes complete with an authoring tool and a content management system. This all-in-one cloud-based eLearning LMS has been used for more than a decade by both small and large organizations to meet their training and collaboration needs. Similar to Storyline software, you can use this tool to collaborate with learners in real-time, manage content centrally, design interactive content using a range of templates and digital assets, and deploy completed learning materials on any device, all with just one tool. It also provides translation and localization capabilities that allow you to choose from over 50 languages to translate learning content for learners from a specific region. For companies that manage workers in different parts of the world, this is a huge benefit.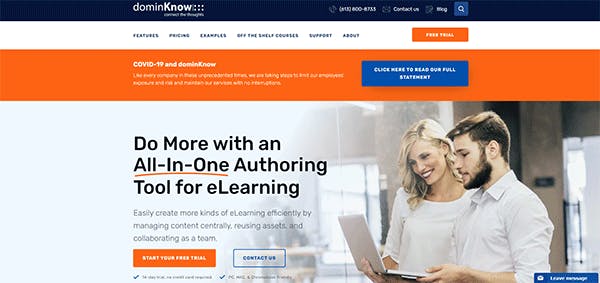 Cost: Starts at 97 USD per year

Highlights: Authoring tool, content management system, real-time collaboration, translation, localization
4. LearnWorlds
LearnWorlds is an online learning management system that has all the capabilities of Storyline software with bonus features that you won't find anywhere else. Instead of providing learners with typical static modules created in a PDF file or PowerPoint presentation, you can make your content more engaging and interactive to capture your learners' attention. Through this tool, you can easily create your training content and use the platform's eye-catching themes and styles to turn learning materials into visually engaging online courses that your learners will surely enjoy. You can also combine your lessons with self-improvement quizzes, formal tests, and assignments to drive their confidence and boost learning retention.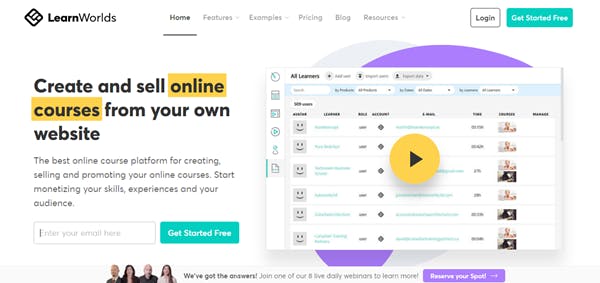 This training platform provides numerous training features that allow you to create a beautiful course player and schedule the delivery of these training materials with ease. You can even provide your learners with note-taking and highlighting capabilities to help them review their lessons more effectively. One unique feature of LearnWorlds that is unlike any other platform is that allows you to sell and promote your courses on their site. 
Cost: Starts at 9 USD per month

Highlights: Course building templates, quizzes, tests, assignments, course player with notetaking and highlighting features, selling and promoting courses
5. Genially
Genially performs well as a Storyline software alternative by allowing teachers and other learning and development professionals to create interactive presentations, infographics, gamified quizzes, videos, and other visually engaging learning materials. Its easy-to-use editor requires no technical skills to use and enables anyone to create next-level graphics in just a few minutes. You don't have to download additional tools as it already provides advanced resources like free templates, illustrations, GIFs, and the like. You can even apply your company logo, colors, and fonts so your online training materials are aligned with your branding guidelines. Other useful features include metrics, which allow you to measure how well your materials are being received, and achievement certificates, which allow you to customize a digital diploma with just a few clicks.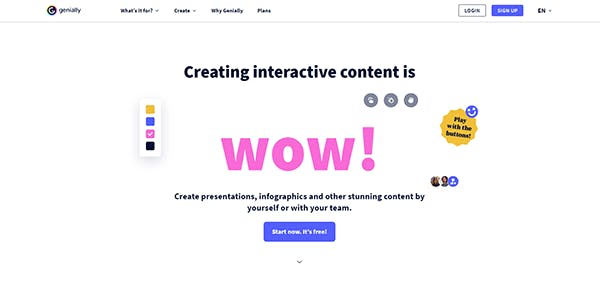 Cost: Free plan, Paid plans start at .49 USD per month

Highlights: Genially editor, free templates, company branding, metrics, achievement certificates
6. isEazy
Utilize isEazy's powerful computer-based training tool as a Storyline software alternative and build your very own professional eLearning courses. With its simple interface and intuitive editing system, you'll quickly be able to design polished learning materials without needing technical design skills. The platform enables you to choose from a range of well-designed slide templates and course layouts, personalize your images, and translate courses with ease. You can also customize your courses by adding interactive elements like quizzes, catalogs, and timelines. But do take note that with the free version, courses are published with an isEazy watermark.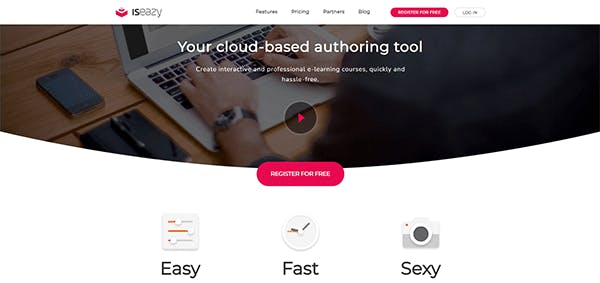 With its cloud technology tools, you'll never lose your work and you'll have full control of your courses such as options to edit, delete, and move courses in real-time, even duplicate and reuse projects whenever applicable. And if you want to deploy a course more efficiently and save time, the collaborative tool is another handy feature that allows different users to simultaneously edit a single course.
Cost: Free basic plan, Paid plans start at 9 USD per month

Highlights: Cloud-based authoring tool, slide templates, cloud technology, course collaboration tool
7. AdaptiveU
With AdaptiveU, you can create responsive web-page-like courses through their all-in-one cloud-based authoring software and LMS platform. Designing your own course is easy, intuitive, and requires no advanced tech skills. Whether you're creating leadership training courses or fire extinguisher training courses, just copy and paste your lesson's text, add links to relevant articles, and attach images or videos. To help learners retain the material better, you can even add multiple choice and true or false knowledge checks throughout the course. It works seamlessly as a Storyline software alternative, allowing not only course creation and content management but also collaboration and report generation. Through this tool, learners can track their peer's course progress and share relevant learning content with one another. Teachers or trainers can also generate reports because of AdaptiveU's powerful analytics and learning management functionality.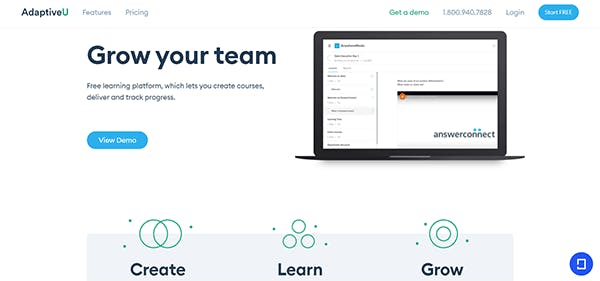 Cost: Free plan, Paid plans start at 5 USD per month

Highlights: Responsive web-page style courses, collaboration and content sharing, peer performance tracking, analytics
8. Raptivity
Raptivity is an interactive eLearning tool that you can use to design engaging online learning experiences. The tool features a growing library of pre-made responsive interactions that include parallax displays, panning slides, and 360 interactions. Even with no design expertise, anyone can customize interactive quizzes, games, simulations, flashcards, and brainteasers through the tool's user-friendly interface. Whether you're a teacher or an instructional designer, this intuitive and affordable Storyline software alternative can help you keep your learners engaged and motivated throughout their learning journey. But it is important to note that the tool has a few feature limitations and you might need to use additional tools to implement a well-rounded elearning program.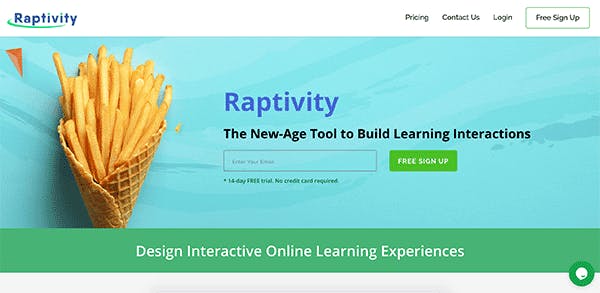 Cost: Free plan, Paid plans start at 0 USD per month

Highlights: Library of pre-made responsive interactions, content customization, quizzes, games
9. Trainual
Trainual is another online learning solution that you can use to onboard new employees or train current team members. It works well as a Storyline software alternative, allowing you to customize learning materials by choosing from the platform's 150+ free templates. When creating courses, you'll have the option of embedding images, videos, and multiple-choice questions. However, it doesn't support SCORM files or other eLearning formats, which can be a deal-breaker for those with existing content on other platforms.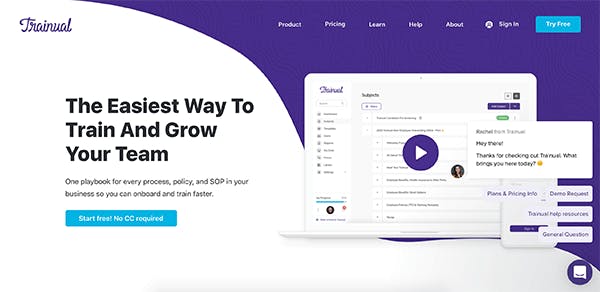 Once your training courses have been deployed, your employees can access them through multiple online platforms that include iOS, Android, Chrome extension, and web browser. Trainual also highlights the importance of process and procedure documentation so they provide playbook templates for training to become infinitely repeatable and scalable. One big disadvantage of this tool is that you'll have to spend at least 9 USD per month to get access to all of its notable features.
Cost: Starts at 9 USD per month

Highlights: 150+ free course templates, multi-platform access, playbook templates
10. Brainshark
Brainshark is a data-driven Storyline software alternative that can easily diagnose performance issues so you can address knowledge gaps among your learners early on. Through their readiness scorecard feature, you can track how your team is progressing through their courses and how they're applying their training. The platform offers courses that help upskill your teams, especially your client-facing employees like sales and customer service representatives. Brainshark also has a content creation tool that can help you author courses faster. Their training and onboarding features, on-demand learning paths, and dynamic courses can help the employees develop critical skills, which will prepare them for their everyday tasks. Another unique feature is the virtual coaching tool, which allows you to directly communicate with your workers and roleplay scenarios to demonstrate their knowledge and skills.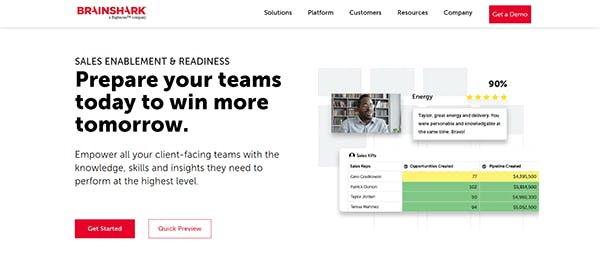 Cost: Get a demo

Highlights: Readiness scorecards, eLearning library, content creation, onboarding features, learning paths, virtual coaching