Thanks to virtual training platforms, your learners can now gain better knowledge and skillsets faster, no matter where they are. This allows you to address their learning wants and needs immediately without having to wait weeks or months for their next training session. In this article, we'll take a look at the top virtual training platforms out there.
Virtual Training Platform #1 – EdApp
EdApp makes it at the top of our virtual training platform list with its vast library of features that are available for free. With this app, you can build your own courses using its intuitive authoring tool, generating beautiful eLearning materials that work on any device. EdApp's customizable templates also make it easier to construct eye-catching, branded training courses.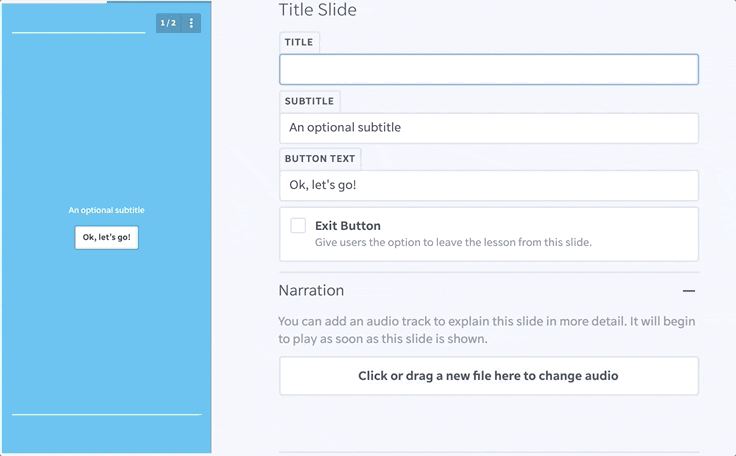 If you're short on time and don't have a lot of resources, you can also import and alter courses you like from EdApp's course library. Some of the courses available in the library include sales, management, cybersecurity, and customer service. You can deliver them to your learners in their original format or tweak them to customize them for them. They'll also love EdApp's offline feature, which allows them to take their courses virtually anytime and anywhere.
This mobile training solution also includes Discussions and Assignments features that support collaborative learning, instant coaching, and mentoring. Discussions gives a dynamic and interactive learning experience through forum-like discussions. Coaches can step in to deliver answers on key responses, making it easier for learners to communicate any questions and feedback they may have.
Meanwhile, the Assignments feature allows learners to submit responses that can be easily reviewed and graded. There's also a Virtual Classroom feature that allows your teams to connect virtually. Here, you can schedule in-app video conferencing through Zoom and Microsoft Teams, which you can set as a lesson within your learning course. 
Check out EdApp to see how you can turn your old corporate training program into an exciting virtual learning environment.
Virtual Training Platform #2 – Raven 360
Another virtual training platform is Raven 360. This product separates itself from others by the amount of control you have over presenting content to individual learners. You also have the ability to create courses that you can charge learners for. That allows you to get a revenue stream from your learning materials. Raven360 supports different learning methods such as instructor-led training, virtual instructor-led training, and on-demand learning to cater to different learning styles. It also allows for the creation of Learner Paths so you can guide your employees to training content that's important and relevant to them. This platform also provides analytics to check on your team's performance and measure the effectiveness of your training program. One issue with Raven 360 that people point out, though, is that the interface is a little clunky.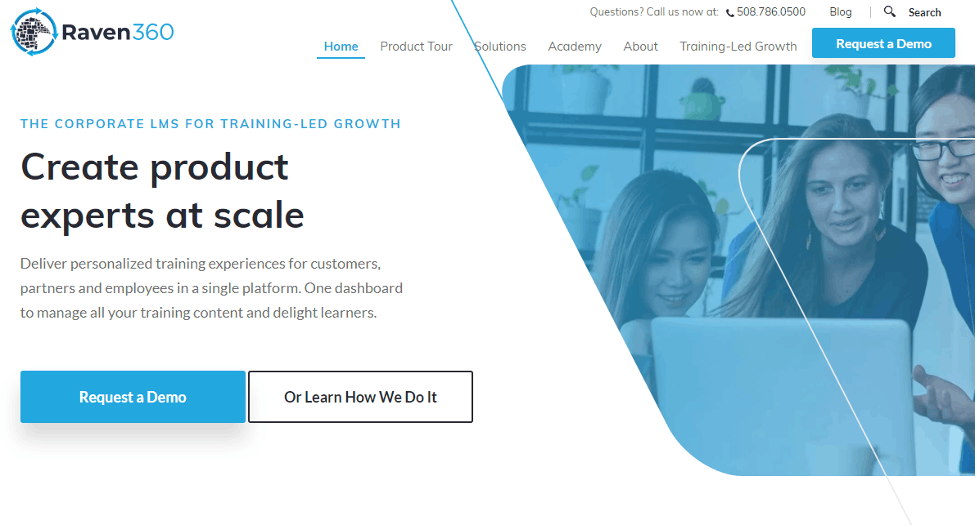 Virtual Training Platform #3 – Kajabi
Kajabi is a SAAS platform for virtual learning.  It allows you to convert your own knowledge into courses that you can monetize in a variety of different ways. It handles all aspects of your business, such as having a website, marketing, and building a community.  There are so many things that you can do with this platform. Thanks to its smart yet easy-to-use product generator, it's easy to build polished, profitable digital courses and launch them out into the market fast. You can also create membership sites where you can provide more exclusive content for your target audience. One issue that has been brought up, though, is that metrics could use improvement so that course builders can learn more about their audience.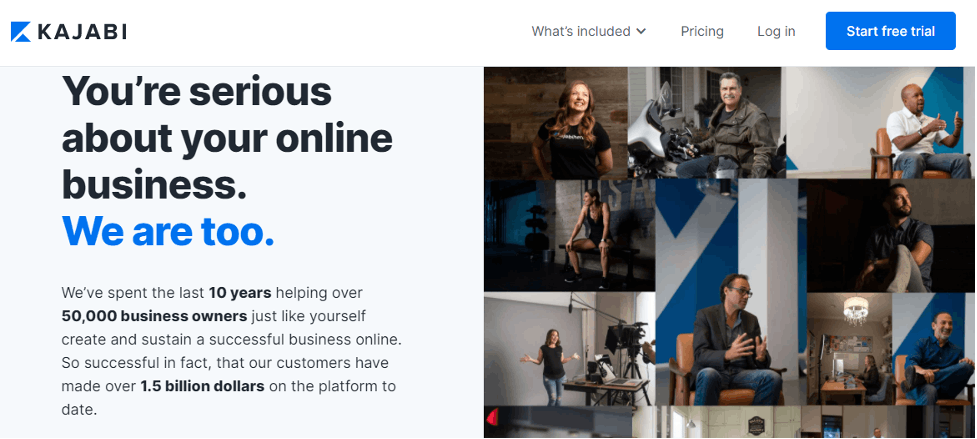 Virtual Training Platform #4 – WizIQ
WizIQ is another virtual classroom software that is available. It has a free trial so you can start testing it out right away. It offers support for many LMS essentials, including an online whiteboard, polls, quizzes, and a dashboard. It also works well on any platform. As an eLearning mobile app, WizIQ makes knowledge easily accessible and stress-free. It also provides a powerful analytical tool that allows you to monitor and assess the learning outcomes of your training. It has a few issues that users have complained about, though. One that is worth mentioning is the lack of support when issues arise.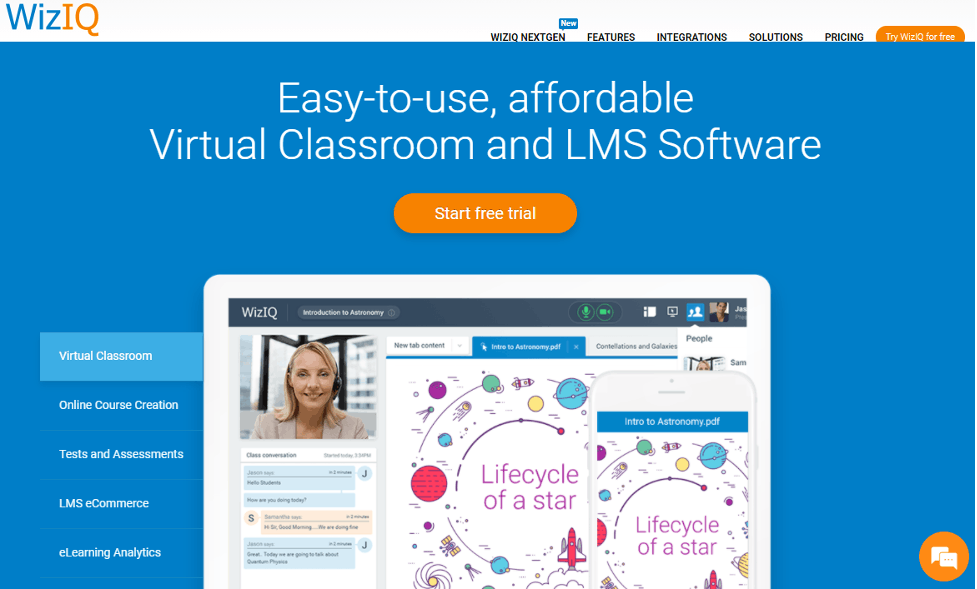 Virtual Training Platform #5 – Vedamo
Vedamo is another virtual classroom platform for managing online classes. It focuses on online tutoring and uses a browser-based virtual classroom that doesn't require any plug-ins. It has plenty of tools that come with it, such as an online whiteboard, breakout rooms, and screen sharing. Furthermore, it integrates well with Canvas, Google, and Moodle. One issue that has been pointed out, however, is that bugs often appear when new features are introduced.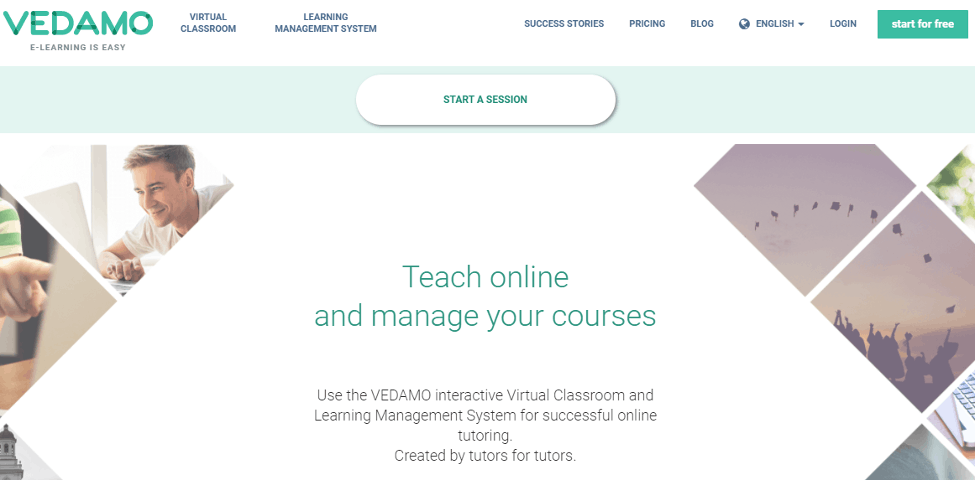 Virtual Training Platform #6 – Newrow Smart
Another type of cloud-based software for virtual classrooms is Newrow Smart. You can try it out for free on their website. It has many features such as a digital whiteboard, a CMS, screen sharing, cloud recording, breakout rooms, and live quizzes. It also runs in any browser without needing additional plug-ins or downloads. One issue that has been raised about the software is that you can't always use two features at the same time, such as sharing the screen while using the whiteboard simultaneously.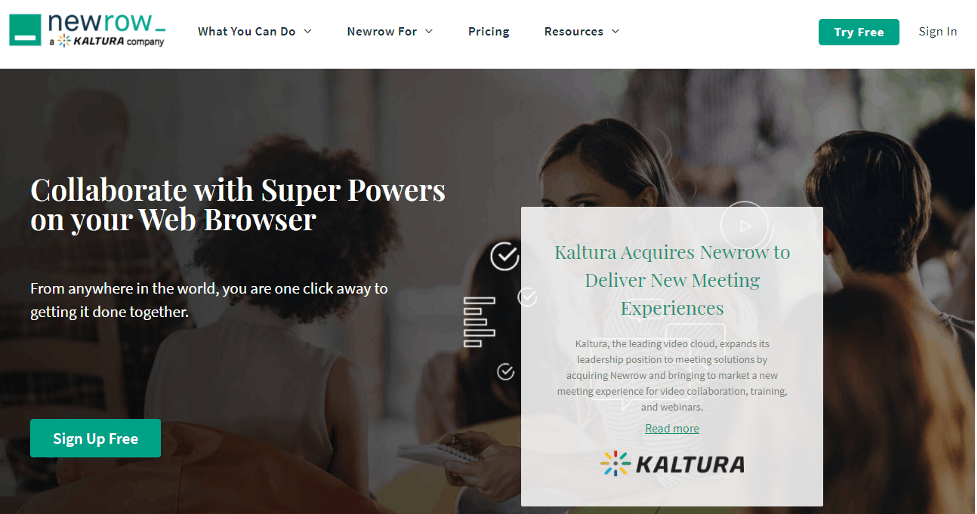 Virtual Training Platform #7 – Velpic
Another virtual training platform is Velpic. Velpic has an intuitive user interface and good video editing capabilities. It allows users to watch 3D videos and immerse themselves in the environment with the appropriate viewing devices. It has a free trial so you can check it out without hassle. Buying the software requires a subscription, however, so you will need to keep paying for it every month that you need it.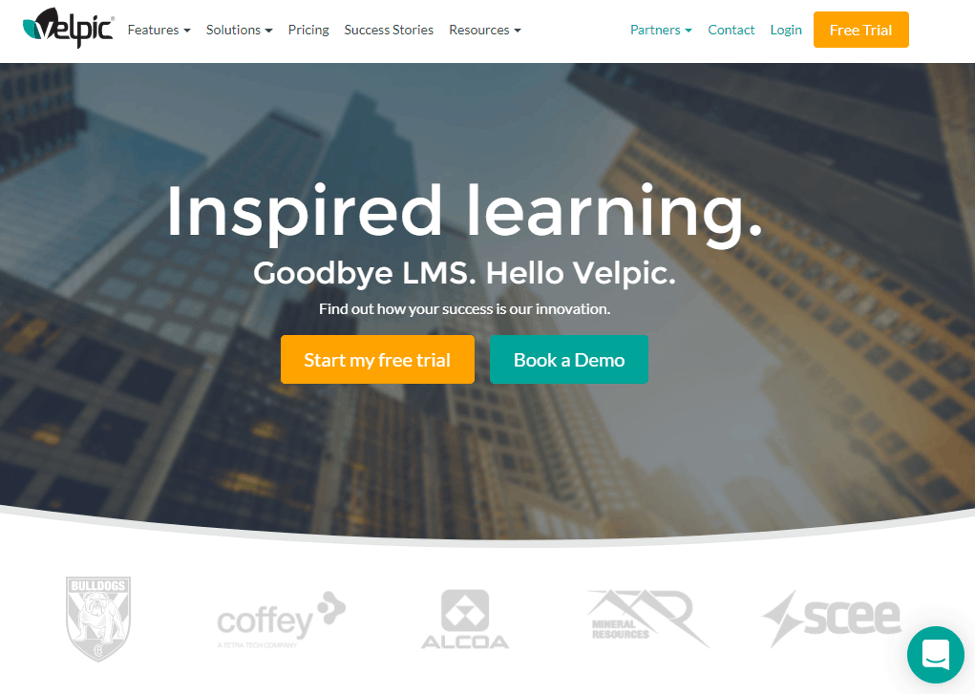 Virtual Training Platform #8 – ezTalks Meetings
Another popular Learning Management System example and virtual training program is ezTalks Meetings. It includes high-definition videos for online collaboration, instant messaging, a virtual whiteboard, and easy screen sharing. It's compatible with all devices and also has multi-language support. One issue that has been brought up is that it isn't easy to call a single person. Instead, you have to wait for them to invite you by email to join a conversation.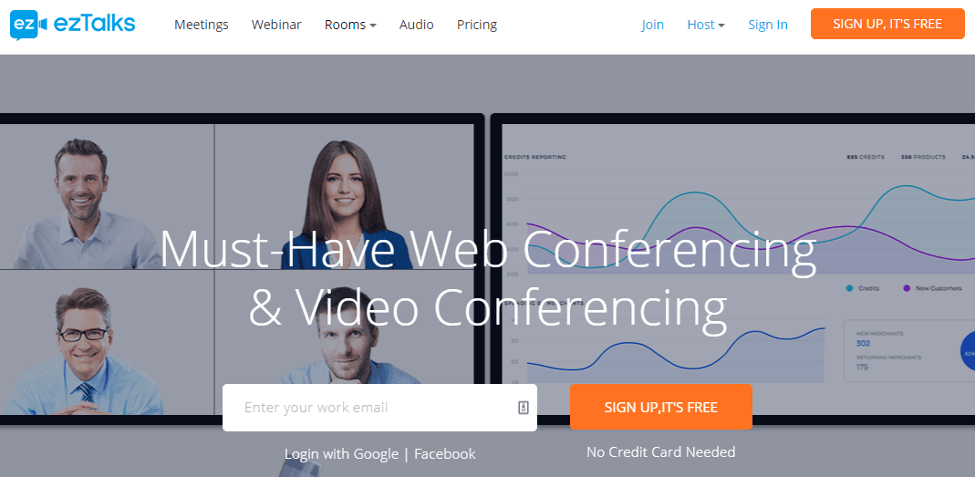 Virtual Training Platform #9 – BigBlueButton
BigBlueButton is another virtual learning platform. Unlike the others on this list, this is open-source software. It supports an interactive whiteboard, sharing files and desktop, and up to 15 simultaneous webcams. Furthermore, it can be integrated into many other common online learning management systems. One issue that users have is that it doesn't host more than 100 participants and can be hard for students to use.
Virtual Training Platform #10 – LearnCube
Another virtual learning organization is LearnCube. It is browser-based and has an interactive whiteboard, custom branding, a CMS, instant messaging, and the ability to record classes. It's especially useful for teaching languages and online tutoring. One negative comment that users have had is that it doesn't scale well to large institutions with lots of students.
Virtual Training Platform #11 – Tovuti LMS
Tovuti LMS is another virtual training platform that you can use to streamline your employee training process. With its built-in course authoring suite, you can create, schedule, and deploy interactive courses in just a few easy steps. You can also include gamification and leaderboard features to encourage them to complete their assigned learning tasks. If you want to integrate synchronous learning sessions into your training, Tovuti LMS's live virtual classroom allows you to meet with your team members in real-time and discuss learning content through third-party online video conference platforms like Zoom and GoToMeeting.
Virtual Training Platform #12 – WorkRamp
Designed as an all-in-one learning platform, WorkRamp can be customized for different types of virtual employee training, more specifically for sales, support, retail, marketing, and HR. It can even be used to train your clients on product adoption, increase customer engagement, or drive more revenue to the business. Some of the platforms' notable features include a specialized onboarding process, custom reports, virtual instructor-led training events, and compliance training. By combining all of these tools, WorkRamp enables you to create a streamlined training experience for your employees.
Virtual Training Platform #13 – V360
As a virtual-reality-based online training platform, V360E was originally created for training in the aviation industry. It has now evolved into a highly interactive eLearning software for other manual and labor-intensive industries like healthcare, construction, and transportation. To create a VR-based training program, you can add a 360 panoramic photo or video, audio elements, and additional text to enhance learning. Your learners can practice their skills by accessing online testing software through V360E's desktop and mobile learning apps. Although due to its limited features, you might need to find additional tools for more well-rounded training.
Virtual Training Platform #14 – Zoho Showtime
Zoho Showtime is a comprehensive training solution that can help you run and manage your virtual training programs more efficiently. Using this tool, you can provide your employees with self-paced courses and facilitate collaborative learning through peer interaction. If you're planning to include synchronous online training sessions, one awesome feature of this platform that you can maximize is its virtual classroom. Within this feature, your employees can access additional tools like whiteboards, polls, and in-app messaging that allow them to discuss learning and share knowledge with fellow team members.
Virtual Training Platform #15 – LearnWorlds
LearnWorlds is a virtual learning platform that allows you to create an engaging learning experience for your employees through a course player, templates, ebooks, and a social community. This virtual learning environment is especially adept with video learning, allowing you to synchronize transcripts, add quizzes, and other interactive elements. You can even customize your learning materials through the tool's branding and theme editor. If you want to boost learning retention among your learners, you can add self-improvement quizzes and assignments to each course. With the help of LearnWorld's note-taking and highlighting functions, it's easier for learners to go through lesson readings and keep track of important concepts.
Virtual Training Platform #16 – Arlo
Arlo is a remote training software created for training providers whose focus is on empowering learners through self-paced learning, live online learning, and remote learning. It extends training outside the four walls of the classroom through live and interactive webinars, eLearning modules, discussion forums, and recorded video tutorials. With Arlo, you can create modules that your learners can complete in their own time, online, from anywhere. You'll also be able to assign quizzes, record scores, and track progress. Arlo's base plan only provides basic features and the price can go up to 85 to get all their premium features.
Virtual Training Platform #17 – Apty
Apty is a training software that aims to provide high-impact, remote employee training. It allows you to build and maintain training materials with ease through its code-free course editor and course management features. One of its standout features is on-demand on-screen guidance, which effectively enhances the remote training experience. It enables you to present training material to your learners step-by-step in such a way that they feel guided by a trainer who is sitting next to them.
Virtual Training Platform #18 – Blink
The Blink platform is designed to boost employee engagement and retention by making the tools necessary for your teams to do their jobs conveniently all in one place. Users of Blink will have access to an intuitive content creation toolkit which makes it easy to create valuable content for the team. As a team and project manager, you will also gain moderation abilities so you can control your team's content. With Blink, you can access, necessary information such as rostering, payslips, surveys, training, forms, and benefits all in one application. This means your team spends less time logging into different platforms and more time being productive. If there's one thing that Blink could improve on, it would be making multiple languages available to support teams worldwide.
Virtual Training Platform #19 – OpenLearning
OpenLearning is a trusted online teaching platform that takes pride in its course authoring and designing tools, supporting the new wave of teaching and learning delivery. In this platform, you'll enjoy its drag-and-drop Content Widgets that will help you easily craft learning materials in any format—text, audio, files, and images. If needed, you can also leverage its Share Widgets to promote social and peer learning and achieve higher engagement and participation from your team. 
Virtual Training Platform #20 – EasyWebinar
EasyWebinar allows instructors to host remote conferences and real-time learning sessions without any fuss. The best thing about this training platform is that it allows up to four hosts and moderators at a time. Meaning, you can collaborate with a co-instructor to teach and mentor your team for a certain topic or task. As for the learners' side, they can actively participate, share their insights, and provide feedback through real-time chat. They can also join the presentation whenever needed. 
What Is Virtual Training?
Virtual training is learning that is mediated by a computer. This type of training can be done in several different ways. We often think of it as happening when the instructor and learner are in different physical locations. In that case, the instructor connects to the students through a video conferencing app. There are also many other tools, such as virtual whiteboards or quiz apps, that complement this type of learning.
Virtual learning doesn't always have to be remote, however. An instructor can assist students in a lab who are learning in a simulated environment. Virtual training can include virtual reality applications that put learners into a 3D environment.
The use of various types of virtual training techniques is a very intriguing idea. But is it pedagogically sound? Let's take a look at some of the benefits and see.
What Are Some Benefits of Virtual Training?
Virtual training has shown to have numerous advantages over in-class learning. Some of these include:
Anytime, Anywhere Learning. With virtual learning, you can study when it is most convenient for you. That makes it an ideal choice for adult learners who are already in the workforce.

Asynchronous Conversations. You can be included in any discussion so you can have your points heard and challenged by others. That gives learners the chance to more deeply formulate and reflect on their learning materials.

Immediate Feedback. A digital format means that many types of assessments can be graded automatically: sometimes right as the student is learning, such as during an interactive video. That can help reinforce learning right away.
Conclusion
In this article, we've taken a look at some of the best virtual learning platforms out there on the internet. We've seen that they have a lot of common features, but some offer a little more than others. Tell us about your experiences with using virtual learning platforms.
Sign up to EdApp for free!