There are three key benefits you can gain from using online quizzes in your onboarding and employee training.
You can assess how well a person knows a specific topic.

You know where each employee's knowledge gaps are so you can improve existing lessons and modules.

 It reinforces information that your employee has learned, which increases the likelihood of them retaining your lessons.
It is important to take note that quizzing is just as important as training. You can't say that your employees are signed off on training if they haven't shown that they can demonstrate what they've learned. Thankfully, creating quizzes is now easier than ever before with online quiz makers. Here are the 10 best online quiz makers available: 
Best Online Quiz Maker – EdApp
EdApp is a free learning management system and online quiz maker that makes learning fun and engaging for users. With this microlearning mobile app, teams are still able to catch up with their course lessons even with a busy schedule or shift work. That's why EdApp is the leading LMS across a number of industries, including retail, hospitality, manufacturing, and construction.

Its newest feature, Rapid Refresh, is a user-friendly online quiz maker designed to check your team's understanding of your training and reinforce their learning. Questions are set up using an easy-to-complete spreadsheet, and you'll have access to actionable reporting to understand any knowledge gaps an individual or your team may have.

Features:
Upload questions in our easy-to-complete spreadsheet

50+ authoring & testing templates (no coding required)

Completion certificates

Gamification with real prizes built into the learning process

Automatic grading, scoring, and advanced dashboard analytics

Easy in-app branding and customization

Automatically-generated spaced repetition to reinforce content

Translate your test into 100+ languages with our cloud-based translation tool

Diverse question templates: Multiple choice (carousel, chat simulation, circle the answer, images), games (find-a-word, jeopardy, letter jumble, true or false), and more

User groups access

Complete the quiz anytime, anywhere on the mobile app

Compatible with most devices (scaled display)

Reports & analytics
Cost: Free Quiz Maker
Online Quiz Maker #2 – Quizlet

Quizlet is a tool that is mainly promoted as a free online quiz maker for teachers to assess their students. With its easy-to-use instructional design, instructors from other fields can use it to create their own online quizzes.
Features:
Flashcard format

Diverse question template: Multiple choice, written answer, audio button

Gamification to make content more engaging

Audio function for auditory learners and for people of all accessibility needs

Curated study sets available for different topics

Readily available flashcards for everyone to access

Backed up by a Learning Assistant Platform
Cost: Free
Best Online Quiz Maker #3 – SurveyMonkey
SurveyMonkey is an online survey software that allows users to quickly create questionnaires. The free basic plan is highly limited with a view-only mode of up to 40 survey responses.
Features:
Easy creation of surveys, quizzes, and polls

Multiple quiz templates available

Customization tools for themes and designs

Export results

Analytics
Cost: Free basic plan, paid plans
Online Quiz Maker #4 – Quiz Maker
Quiz Maker – as its name suggests – is a free platform to create quizzes. With its straightforward and basic interface, authoring quizzes is now made easy.
Features:
Different quiz types: Trivia, personality, graded, survey, polls

Simple user interface

Multiple Default and customizable themes

Timed quizzes

Score results and leaderboards

Completion certificates

Integration of 3rd party tools
Cost: Free basic plan, paid plans
Free Online Quiz Maker #5 – TriviaMaker
TriviaMaker is a free app to create quizzes in a game format. The game styles are inspired by popular TV game shows, such as Jeopardy, Family Feud, Wheel of Fortune, and Multiple Choice. It's a fun and interactive way to challenge your teams while learning.
Features:
Different quiz styles: Grid, list, trivia, wheel

100+ pre-made games available

No need for sign-ins or downloads

Compatible with different devices
Cost: Free basic plan, paid plans
Free Quiz Maker Online #6 – Interact
Interact is an online test maker to create quizzes mostly to generate leads for business growth. With their selection of quiz types, it could be used not only in businesses but also in other institutions or for personal use.
Features:
Quiz types: Personality, scored, assessment

800+ readily available templates

Includes branding customization

Theme customization

Segmentation

GDPR compliance

Promotional assistance available

Analytics
Cost: Free basic plan, paid plans
Quiz Maker Online Free #7 – FreeOnlineSurveys
FreeOnlineSurveys is a free online quiz maker that allows the creation of unlimited quizzes. It is powered by KwikSurveys should you need a business or an enterprise account. 
Features:
Different question types: Multiple choice, date/time, open-ended, multi-factor, ranking order, picture choice, split testing

1000+ responses supported

Customizable templates and quiz samples available

Automatic scoring 

Filter & segmentation, cross-tabulation 

Time limit feature

API access available

Rapid survey design assistant
Cost: Free
Best Online Quiz Tool #8 – ClassMarker
ClassMarker is a free online test creator software for business and education. It includes a web-based quiz maker to assess learners' proficiency.
Features:
Different types: surveys, quizzes, forms

User access available (public or private viewing)

Flexible branding customization available

Custom completion certificates

Software downloads not required

High security hosting solution that backs up data every hour

Compatible with different devices

Analytics
Cost: Free basic plan, paid plans
Best Online Quiz Maker #9 – QuizGame
QuizGame is a training tool and free quiz maker tool to create quizzes in a game format. Seeing that the quizzes are gamified, the recall of knowledge is increased with its interactive approach.
Features:
Quiz modes: games, stock-market-like structure, duel, group trivia

Several pre-made templates available

Assign questions to users

Mobile use supported

Analytics (based on 85 metrics)
Cost: Free demo
Online Quiz Maker #10 – ProProfs
ProProfs is a knowledge management and customer software for enterprise needs. The platform includes a free online quiz authoring tool for users.
Features:
Quiz types: Scored, personality

10+ quiz question types: Multiple choice, matching, fill in the blank, essay, etc.

Editable ready-made templates 

Simple user interface

Branding and customization available

Data privacy: 100+ smart security configurations

Completion certificates

Reports & analytics
Cost: Free basic plan, paid plans
Free Quiz Maker #11 – Survey Monkey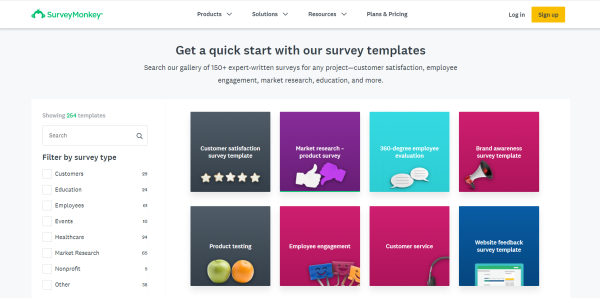 Survey Monkey is also a popular quiz software that can help you create basic surveys, quizzes, and polls for free. It provides hundreds of ready-to-use quiz templates that you can use to produce quizzes, saving you an incredible amount of time that would have otherwise been spent on planning and designing. This quiz creator tool can also help track the training progress of the learners and identify who has and hasn't taken their quiz. For those who are yet to unlock their tests, you can send them automated email reminders to follow them up.
While SurveyMonkey allows you to do a lot of things, the free plan only allows users to ask 10 questions per survey. If you're looking to conduct more complex quizzes, they have paid plans with advanced features that can give you more flexibility and customization options when creating training quizzes.
Key benefits: Easy quiz making with hundreds of ready-to-use quiz templates, tracking of training progress, sending of automated email reminders
Cost: Free, Paid plans start at $17.60 USD per month
Free Quiz Maker #12 – EasyTestMaker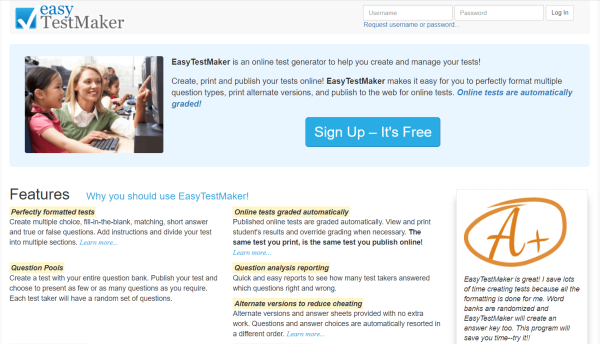 EasyTestMaker is online testing software that makes it easier to author and manage a variety of digital tests and quizzes. There are multiple question formats that you can use, including multiple-choice, fill-in-the-blank, matching, T/F, and short answers. So if you have no idea where and how to get started, then you've come to the right place. Just add new questions and sections, modify them as needed, and let this tool do the rest of the hard work for you.
EasyTestMaker can also export all your test questionnaires, analytics, and students' results to PDF or Word, which is perfect if you also want to have a printed copy of your training materials. The only drawback with this online test creator software is that users can only publish online tests with 25 test results, at least for its free plan. If you want to distribute more quizzes at once, you should look into its paid programs that offer more flexibility to users.
Key benefits: Easy quiz creation with a variety of question formats, export of test questionnaires, analytics and students results to PDF or Word
Cost: Free, Paid plans start at $59.95 USD per year
Free Quiz Maker #13 – Typeform
Don't settle for a boring quiz form. With Typeform, creating clean and professional quizzes is only as easy as drag and drop. Just choose your preferred question types, input your questions and answers, modify and customize them to your heart's content, and finally publish and share them with your team. If you're unsure where and how to start, it also offers 400+ visually appealing templates that won't disappoint your learners.
For the free version, however, it only allows 10 questions per typeform, with 10 responses per month. Furthermore, reports can only be exported using an Excel file, which is very limiting when reviewing results.
Key benefits: Drag-and-drop quiz builder tool, 400+ visually appealing templates, shareable reports and analytics
Cost: Free, Paid plans start at $25 USD per month
Free Quiz Maker #14 – Kahoot!

Kahoot! is a free quiz maker tool that uses colorful visuals and gamification elements to maximize engagement and ensure a higher completion rate from the learners. The quizzes are creatively called "kahoots", which can be accessed via a web browser or a mobile app. Yet the best part, they can be presented on a shared screen and answered by a group of "players" all at the same time. Alternatively, you can also arrange them as a self-paced challenge to be completed by your team asynchronously.
With the free tier, you can create kahoots and connect remote teams of only up to 10. If you want to increase the number of participants for your quizzes, you will have to invest in a paid plan.
Key benefits: Colorful and gamified quizzes to higher engagement and completion rate, host games for 3-10 players, can be arranged to self-paced challenge
Cost: Free, Paid plans start at $17 USD per month
Free Quiz Maker #15 – Google Forms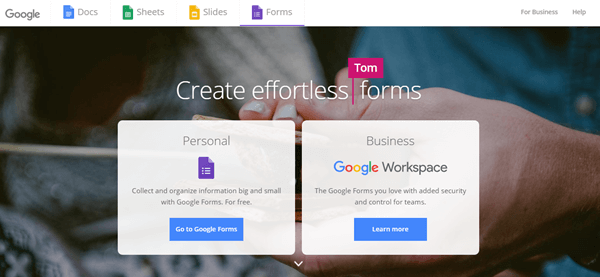 If you've been around the digital world for quite a while now, then most likely you've already come across Google Forms, maybe to answer surveys and order forms or request for a time off. But apart from these basic uses, this tool is also great for creating straightforward quizzes like multiple choice, checkbox, and dropdown. The summary report of the responses is instantly provided after each successful quiz completion, saving you an incredible amount of time for computation and assessment.
As compared to other tools, Google Forms tend to be static due to its limited customization options. The available templates are also very basic, so you'll most likely find yourself just creating your quizzes from scratch.
Key benefits: Straightforward quiz building, instant data result and analysis
Cost: Free
Free Quiz Maker #16 – Fyrebox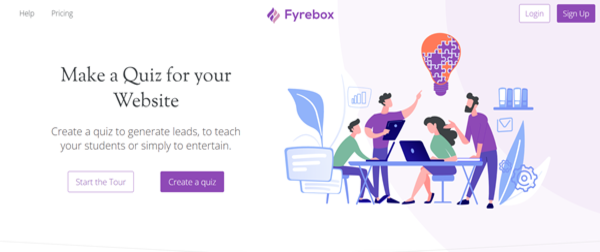 Fyrebox is yet another excellent quiz maker tool for creating interactive and colorful quizzes that you can use to evaluate your employees or share with the public to generate leads on your website or social media. Here, you can easily customize the appearance of your test, move buttons and change their color, choose your preferred font text, and even upload your background image. There are also various customizable templates to give you a kickstart should you find yourself a little lost in the process.
You can create as many quizzes as you can with Fyrebox. However, for its free version, all copies will be published with the Fyrbox logo. Furthermore, real-time statistics are only available to paid subscribers.
Key benefits: Flexible customization of quizzes, creative themes and templates accessible to all users, unlimited quizzes and completions
Cost: Free, Paid plans start at $16 USD per month
Free Quiz Maker #17 – Nearpod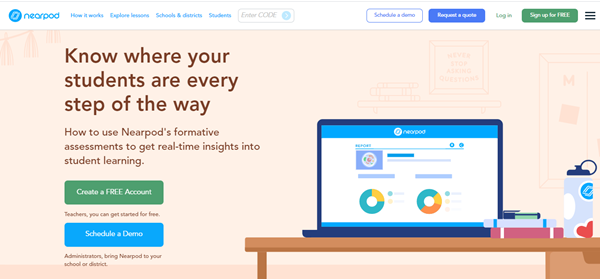 Nearpod is also a must-see if you're looking for tools to help you create and customize training quizzes. A variety of formative assessments, such as multiple choice quizzes, polls, open-ended questions, fill-in-the-blanks, and matching pairs, are available to evaluate the current skills of your employees or measure knowledge retention from their training lessons. If you want your content to be more interactive, you can also include media, video, or audio instructions alongside these quizzes. Real-time feedback and post-session reports will be provided so you can identify right away who needs a special coaching session.
Unfortunately, its free version can only get you 100MB of storage space to create and borrow lessons and quizzes. If you want to unlock more storage space, you can upgrade to their paid plans.
Key benefits: Flexible customization of quizzes, creative themes and templates accessible to all users, unlimited quizzes and completions
Cost: Free, Paid plans start at $10 USD per month
You may also be interested in: