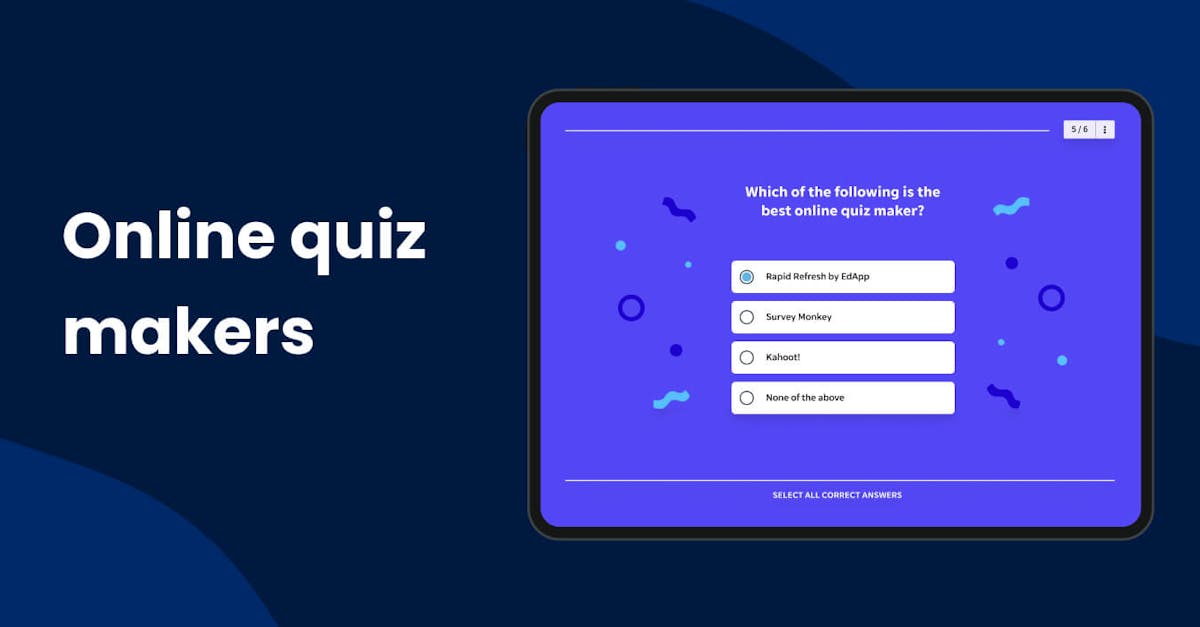 Not only can online quiz makers help you develop quizzes and training tests with ease, but they can also help you assess how much your employees have learned and what you need to improve in your existing training programs. In this article, we'll look at the best quiz makers in the market and explore some of their best features. 
1. EdApp
EdApp is a free learning management system and online quiz maker that makes learning fun and engaging for users. With this microlearning mobile app, teams are still able to catch up with their course lessons even with a busy schedule or shift work. That's why EdApp is the leading LMS across a number of industries, including retail, hospitality, manufacturing, and construction.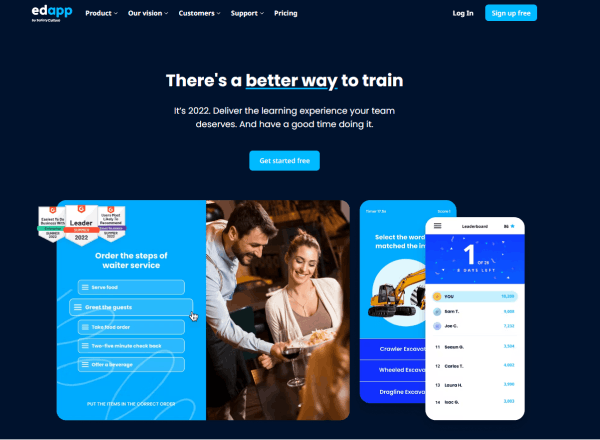 Its newest feature, Rapid Refresh, is a user-friendly online quiz maker designed to check your team's understanding of your training and reinforce their learning. Questions are set up using an easy-to-complete spreadsheet and the tool will automatically transform your content into gamified assessments, which you can then deploy directly to your learners' mobile devices.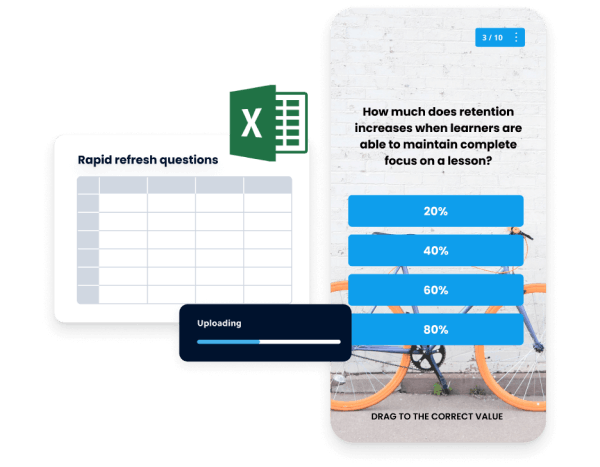 Leaderboards will automatically run for the time you've scheduled on your quizzes. By showing the names of the top-performers, the competitive spirit of your team will be heightened and they will be inspired to perform better. You can also activate other gamification features like rewards, stars, and real-world prizing to motivate your learners to complete their assessments.
Other than leaderboards, you'll also have access to EdApp's analytics to understand any knowledge gaps an individual or your team may have. You can also target inactive and disengaged learners with actionable reports. With the help of this feature, learners with lower performance will be automatically notified to re-engage them in the course.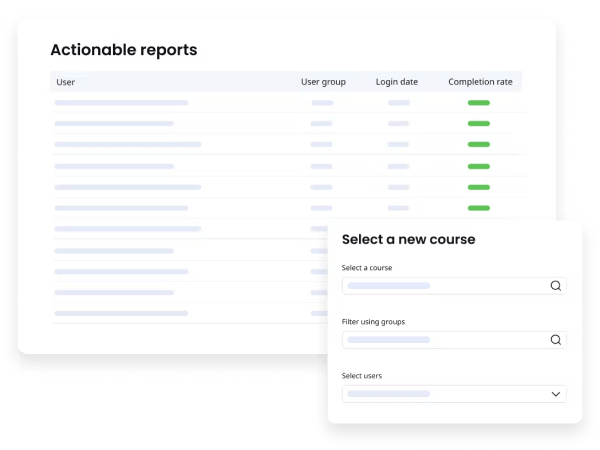 Apart from quizzes, you can also turn to EdApp's AI Create tool to design an entire training course for your team. You don't have to worry about researching or investing time in course design. Just hit that 'AI Create' button, and watch the magic unfold as your course materializes within minutes!
Features:
Upload questions in our easy-to-complete spreadsheet

50+ authoring & testing templates (no coding required)

AI Create tool

Completion certificates

Gamification with real prizes built into the learning process

Automatic grading, scoring, and advanced dashboard analytics

Easy in-app branding and customization

Automatically-generated spaced repetition to reinforce content

Translate your test into 100+ languages with our cloud-based translation tool

Diverse question templates: Multiple choice (carousel, chat simulation, circle the answer, images), games (find-a-word, jeopardy, letter jumble, true or false), and more

User groups access

Complete the quiz anytime, anywhere on the mobile app

Compatible with most devices (scaled display)

Reports & analytics
Cost: Free Quiz Maker
Sign up for Free and Start Using The Best Online Quiz Maker
2. Quizlet
Quizlet is a tool that is mainly promoted as a free online quiz maker for teachers to assess their students. With its easy-to-use instructional design, instructors from other fields can use it to create their own online quizzes.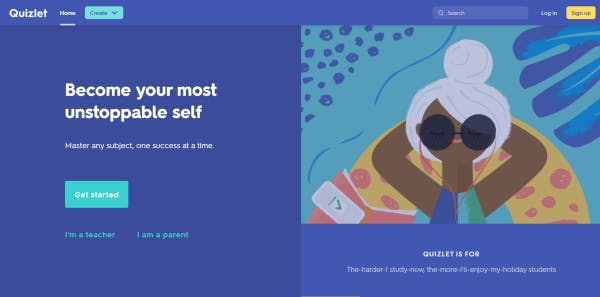 Features:
Flashcard format

Diverse question template: Multiple choice, written answer, audio button

Gamification to make content more engaging

Audio function for auditory learners and for people of all accessibility needs

Curated study sets available for different topics
Cost: Free
3. SurveyMonkey
SurveyMonkey is an online quizmaker software that allows users to quickly create questionnaires. The free basic plan is highly limited with a view-only mode of up to 40 survey responses.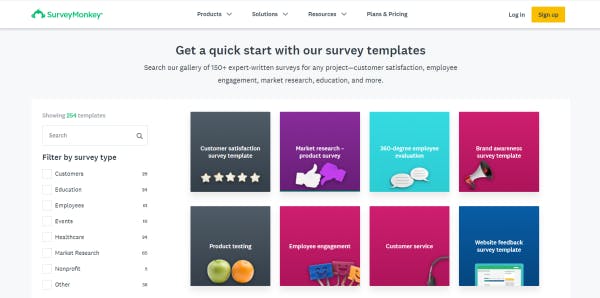 Features:
Easy creation of surveys, quizzes, and polls

Multiple quiz templates available

Customization tools for themes and designs

Export results

Analytics
Cost: Free basic plan, paid plans
4. Quiz Maker
Quiz Maker – as its name suggests – is a free online quizzing platform to create top quizzes. With its straightforward and basic interface, authoring quizzes is now made easy.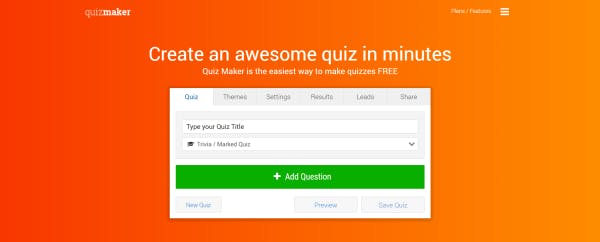 Features:
Different quiz types: Trivia, personality, graded, survey, polls

Multiple Default and customizable themes

Timed quizzes

Score results and leaderboards

Integration of 3rd party tools
Cost: Free basic plan, paid plans
5. Outgrow
Outgrow quiz maker is an interactive marketing platform that lets marketers create the most engaging quizzes and assessments for lead generation and lead nurturing. Not just that, you can use Outgrow to create other useful tools like calculators, surveys, forms, chatbots, polls, etc. to boost interactions.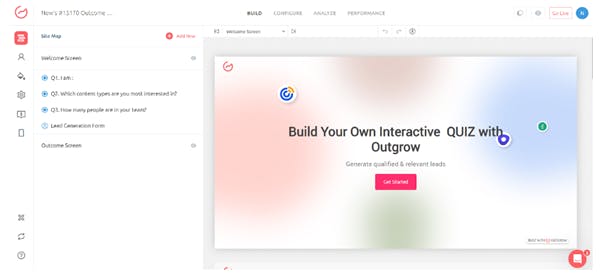 Outgrow quiz maker stands out because it is easy to use and requires no coding knowledge. It offers 1000+ templates to choose from along with robust analytics and automation features to make any plan a success. Experience the quiz maker that's advanced yet easy to use. 
Features: 
Cost: Multiple free and paid pricing plans. (There's a 7-day free trial to try out the tool for free. No credit card required.)
6. TriviaMaker
TriviaMaker is a free app to create quizzes in an educational quiz game format. The game styles are inspired by popular TV game shows, such as Jeopardy, Family Feud, Wheel of Fortune, and Multiple Choice. It's a fun and interactive way to challenge your teams while learning.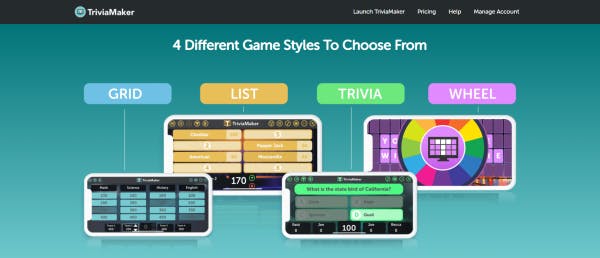 Features:
Different quiz styles: Grid, list, trivia, wheel

100+ pre-made games available

No need for sign-ins or downloads

Compatible with different devices
Cost: Free basic plan, paid plans
7. Interact
Interact is an online test maker to create quizzes mostly to generate leads for business growth. With their selection of quiz types, it could be used not only in businesses but also in other institutions or for personal use.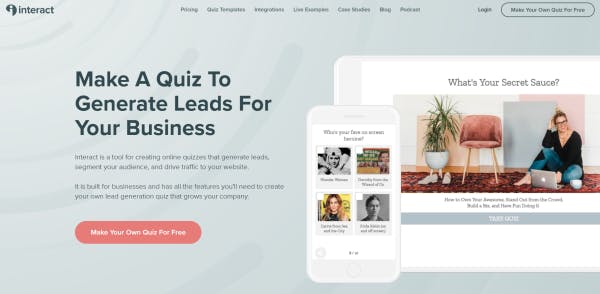 Features:
Quiz types: Personality, scored, assessment

800+ readily available templates

Includes branding and theme customization

GDPR compliance

Promotional assistance available
Cost: Free basic plan, paid plans
8. FreeOnlineSurveys
FreeOnlineSurveys is a free online quiz maker that allows the creation of unlimited quizzes. It is powered by KwikSurveys should you need a business or an enterprise account.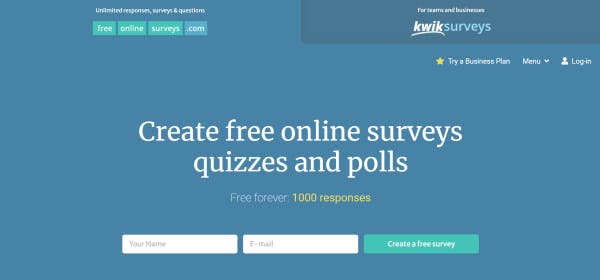 Features:
Different question types: Multiple choice, date/time, open-ended, multi-factor, ranking order, picture choice, split testing

1000+ responses supported

Customizable templates and quiz samples available

Filter & segmentation, cross-tabulation 

Rapid survey design assistant
Cost: Free
9. ClassMarker
ClassMarker is a free online test creator software for business and education. It's a great quiz app for teachers as it includes a web-based quiz maker to assess learners' proficiency.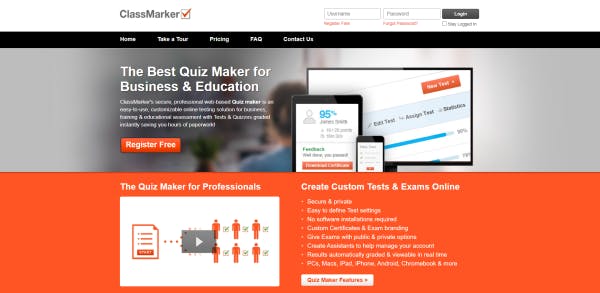 Features:
Different types: surveys, quizzes, forms

User access available (public or private viewing)

Flexible branding customization available

Software downloads not required

High security hosting solution that backs up data every hour
Cost: Free basic plan, paid plans
10. QuizGame
QuizGame is a training tool and free quiz maker tool to create quizzes in a text quiz games format. Seeing that the quizzes are gamified, the recall of knowledge is increased with its interactive approach.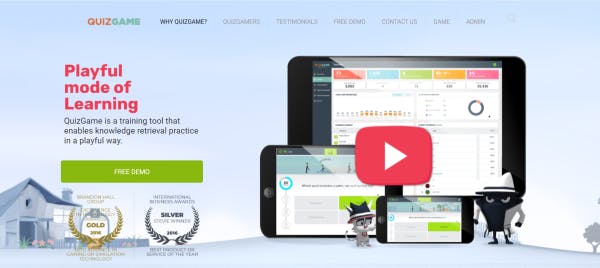 Features:
Quiz modes: games, stock-market-like structure, duel, group trivia

Several pre-made templates available

Assign questions to users

Mobile use supported

Analytics (based on 85 metrics)
Cost: Free demo
11. ProProfs Quiz Maker
When it comes to online assessments, ProProfs Quiz Maker is one of the most comprehensive platforms out there. This quiz softwares allows you to create over 15 types of questions and comes with a massive quiz library featuring over a million ready-to-use questions and 100+ professionally-designed training assessments. ProProfs also has an excellent reporting system complete with visual analytics and lets you configure, customize and secure your assessments with 100+ settings.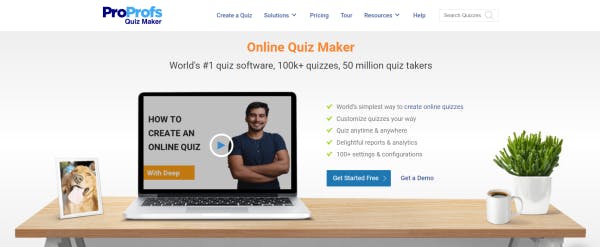 Features:
Quiz types: Scored, personality

15+ quiz question types: Multiple-choice, checkbox, video-response matching, fill-in-the-blanks, essay, etc.

Virtual classroom and a variety of reports

Editable ready-made templates and 100+ expert-designed assessments

Branding and customization available

Data privacy and 100+ smart security configurations
Cost: Free basic plan; paid plans start at $ 20/month (billed annually)
12. Edbase
Edbase is an intuitive online quiz maker that allows you to create tests in a couple of minutes. You can easily drag and drop items from your set of questions to your quizzes and rearrange them in any order you prefer. It includes a question editor so you'll also be able to add images and videos for more advanced questions. To ensure honesty, you can opt to set a time limit, randomize questions, and even lock learners' screens. Edbase offers a free plan, but it only allows 10 candidates and 20 test attempts each month.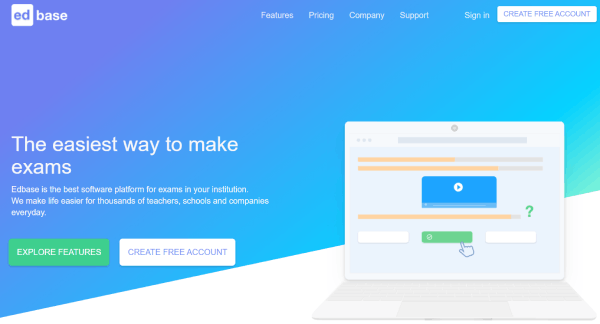 While SurveyMonkey allows you to do a lot of things, the free plan only allows users to ask 10 questions per survey. If you're looking to conduct more complex quizzes, they have paid plans with advanced features that can give you more flexibility and customization options when creating training quizzes.
Features:
Cost: Free and paid plans
13. EasyTestMaker
EasyTestMaker is online testing software that makes it easier to author and manage a variety of digital tests and quizzes. There are multiple question formats that you can use, including multiple-choice, fill-in-the-blank, matching, T/F, and short answers. So if you have no idea where and how to get started, then you've come to the right place. Just add new questions and sections, modify them as needed, and let this tool do the rest of the hard work for you.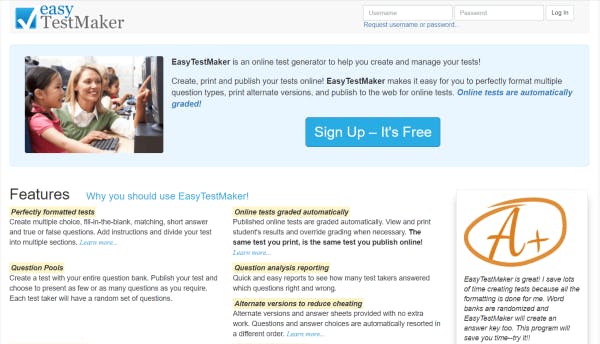 EasyTestMaker can also export all your test questionnaires, analytics, and students' results to PDF or Word, which is perfect if you also want to have a printed copy of your training materials. The only drawback with this online test creator software is that users can only publish online tests with 25 test results, at least for its free plan. If you want to distribute more quizzes at once, you should look into its paid programs that offer more flexibility to users.
Features:
Easy quiz creation with a variety of question formats

Export of test questionnaires

Analytics and students results to PDF or Word
Cost: Free, Paid plans start at 9.95 USD per year
14. Typeform
Don't settle for a boring quiz form. With Typeform, creating clean and professional quizzes is only as easy as drag and drop. Just choose your preferred question types, input your questions and answers, modify and customize them to your heart's content, and finally publish and share them with your team. If you're unsure where and how to start, it also offers 400+ visually appealing templates that won't disappoint your learners. The best part? It can also be used as a printable quiz generator.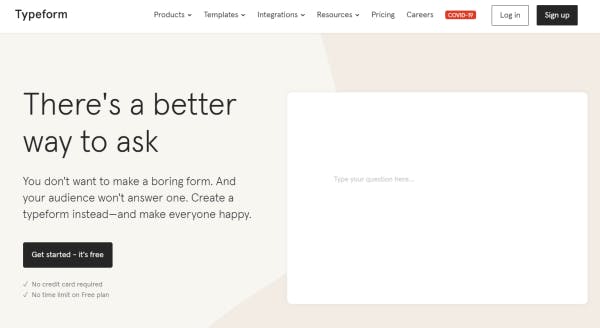 For the free version of this online quiz maker, however, it only allows 10 questions per typeform, with 10 responses per month. Furthermore, reports can only be exported using an Excel file, which is very limiting when reviewing results.
Features:
Drag-and-drop quiz builder tool

400+ visually appealing templates

Shareable reports and analytics
Cost: Free, Paid plans start at 5 USD per month
15. Kahoot!
Kahoot! is a free online quiz maker tool that uses colorful visuals and gamification elements to maximize engagement and ensure a higher completion rate from the learners. The quizzes are creatively called "kahoots", which can be accessed via a web browser or a mobile app. Yet the best part, they can be presented on a shared screen and answered by a group of "players" all at the same time. Alternatively, through the kahoot maker, you can also arrange them as a self-paced challenge to be completed by your team asynchronously.

With the free tier, you can create kahoots and connect remote teams of only up to 10. If you want to increase the number of participants for your quizzes, you will have to invest in a paid plan.
Features:
Colorful and gamified quizzes

Host games for 3-10 players

Self-paced challenge
Cost: Free, Paid plans start at 7 USD per month
16. Google Forms
If you've been around the digital world for quite a while now, then most likely you've already come across Google Forms, maybe to answer surveys and order forms or request for a time off. But apart from these basic uses, this tool is also great for creating straightforward quizzes like multiple choice, checkbox, and dropdown. The summary report of the responses is instantly provided after each successful quiz completion, saving you an incredible amount of time for computation and assessment.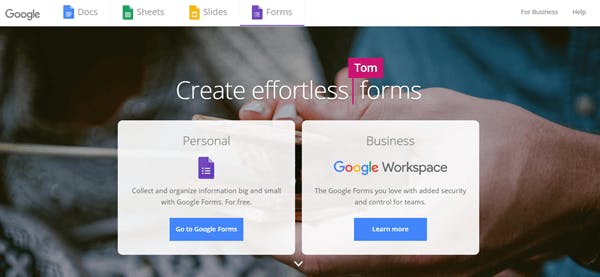 It's similar to Kahoot but free. Google Forms also tend to be static due to its limited customization options. The available templates are also very basic, so you'll most likely find yourself just creating your quizzes from scratch.
Features:
Straightforward quiz building

Instant data result and analysis
Cost: Free
17. Fyrebox
Fyrebox is yet another excellent online quiz maker tool for creating interactive and colorful online quiz programs that you can use to evaluate your employees or share with the public to generate leads on your website or social media. Here, you can easily customize the appearance of your test, move buttons and change their color, choose your preferred font text, and even upload your background image. There are also various customizable templates to give you a kickstart should you find yourself a little lost in the process.

You can create many quizzes for free with Fyrebox. However, for its free version, all copies will be published with the Fyrbox logo. Furthermore, real-time statistics are only available to paid subscribers.
Features:
Flexible customization of quizzes

Creative themes and templates accessible to all users

Unlimited quizzes and completions
Cost: Free, Paid plans start at 6 USD per month
18. Nearpod
Nearpod is also a must-see if you're looking for tools to help you create and customize training quizzes. A variety of formative assessments, such as multiple choice quizzes, polls, open-ended questions, fill-in-the-blanks, and matching pairs, are available to evaluate the current skills of your employees or measure knowledge retention from their training lessons. If you want your content to be more interactive, you can also include media, video, or audio instructions alongside these quizzes. Real-time feedback and post-session reports will be provided so you can identify right away who needs a special coaching session.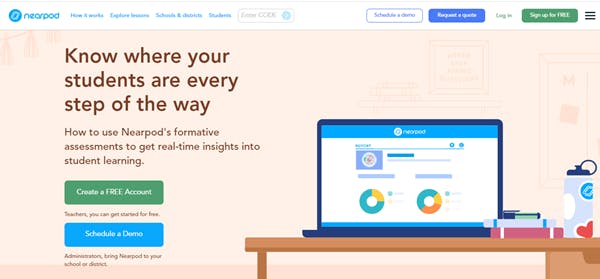 Unfortunately, its free version can only get you 100MB of storage space to create and borrow lessons and quizzes. If you want to unlock more storage space, you can upgrade to their paid plans.
Features:
Flexible customization of quizzes

Creative themes and templates accessible to all users

Unlimited quizzes and completions
Cost: Free, Paid plans start at 0 USD per month
19. PaperShala
PaperShala is a powerful online quiz maker for students that will allow you to create tests, reuse questions, and check results immediately. There's no need to worry about any power interruptions or connectivity issues when your learners take their tests as answers are saved in real-time and can be resumed anytime. Like the other tools in this list, it also has a question bank that houses all your test questions. Aside from this, it also gives visibility to more details, such as total attempts and total correct & incorrect answers. PaperShala also has a dedicated student dashboard where learners can check the exams they need to take, their current progress, and their overall performance.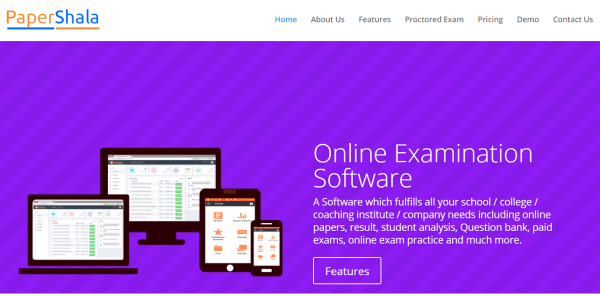 Features:
Cost: Free, paid plans
20. Mercer Mettl
Mercer Mettl is a free quiz creator software that caters both to schools and businesses. It boasts of an intuitive, hassle-free dashboard that allows you to focus on building tests instead of spending time learning how to do them. It offers a wide variety of question types, such as multiple-choice, true/false, and essay questions. Its powerful software even allows you to conduct more complex tests to check for very specific skills like spreadsheet proficiency and programming knowledge. However, Mercer Mettl doesn't offer a free plan and their pricing is based on your usage and the features you require.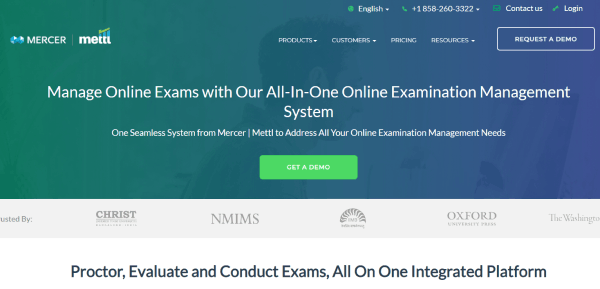 Features:
Test authoring

Complex skills testing

Different question types
Cost: Free demo, paid plans
21. Articulate Quizmaker 360
The Articulate Quizmaker 360 is a powerful employee training tool that you can use to author quizzes, surveys, and other assessments. With this tool, you can choose from 25 form-based question types including true or false, multiple-choice, fill in the blank, matching drag and drop, and freeform questions. Its content library features a wealth of characters and slide templates that can help you create ideal decision-making scenarios and tests. The quiz maker tool's responsive player adapts to different screen sizes and supports touch screen gestures like swiping and dragging, making it universally compatible with any desktop or mobile device. The feedback and annotation features keep everyone aligned regarding the quiz creation process, which makes it easier to spot errors and deploy tests quickly.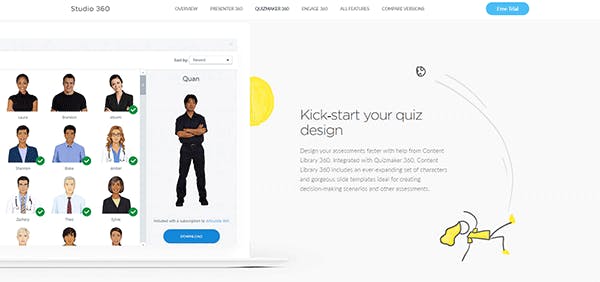 A huge drawback of this tool is that the plans are quite pricey, but students, teachers, and anyone in the academic field can get a 50% discount.
Features:
Content library

Responsive design that supports touch screen gestures

Review and annotation options
Cost: Free trial, paid plans start at 99 USD per user per year
22. Xperiencify
If you want to turn your online quiz into something more fun and engaging, Xperiencify is a good place to start. It houses an array of tools that can help you create quizzes in game format. But what makes it unique is that it can give you the ultimate flexibility to customize your quizzes in a way that will motivate your learners into taking and completing your training initiative. You can enable leaderboard and badge features, set variable rewards, add a countdown timer to trigger urgency and more. Creating quizzes with Xperiencify is free, but publishing them requires a monthly subscription. 
Features:
Game-based quiz creator

Leaderboard and badges

Reward system

Quiz timer
Cost: Free; Pricing plans start at 9 per month
23. FlexiQuiz
With FlexiQuiz, you can create, publish, and analyze online tests effortlessly. This powerful quiz maker software is perfect for individuals, teachers, and businesses who want to provide their learners with a fun and engaging learning experience. All the features are easy to use and require no coding or design experience, so you won't need to worry about creating quiz content from scratch. Just choose from formatting options and nine question templates including multiple-choice, picture choice, essay, short answer, matching vocab maker, or fill-in-the-blanks. Make your quizzes more engaging by adding media like GIFs, images, videos, and audio. You can also use FlexiQuiz to add fun and engaging quizzes on any course you wish to roll out, whether that be skill-focused training courses like CNC training courses and SEO courses or more behavior-based training courses like DEI training and drug and alcohol abuse training courses for employees.
Features: 
Multiple questions formats and templates

Ability to add GIFs, images, videos, and audio
Cost: Free plan, Paid plan starts at 5 USD per month
24. HubSpot
HubSpot is an all-in-one tool that offers various marketing, sales, and service tools that help you engage with your users while tracking their progress and experience with your platform. For quizzes, you can create dozens of examples using their Marketing Forms and embed them into different emails, websites, blogs, and more.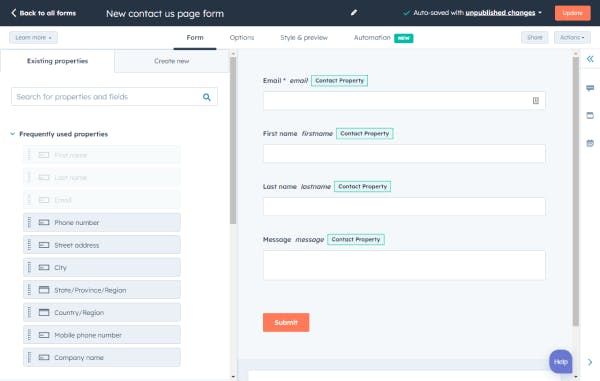 Features:
Drag and drop functionality with dozens of field options

Diverse question templates: multiple choice, fill-in-the-blank, written answers, etc.

Sync and connection to marketing, sales, service, and website platform

Automation and data storage functionality
Cost: Free
Even more quiz makers
While the quiz builders we have discussed here have mostly an educational focus, there are also different kinds of quiz tools. At Tooltester there's a list of 11 quiz makers that are slightly more marketing-focused and allow capturing email addresses.

Subscribe to our blog newsletter