2. Raven360
Raven360 is a training technology tool dedicated to building flexible learning paths for users so they can manage content that's more relevant to their development. While it focuses on its sales learning platform, it can also be used for any kind of employee training. This company training software works with any browser or device, making it highly accessible to your teams.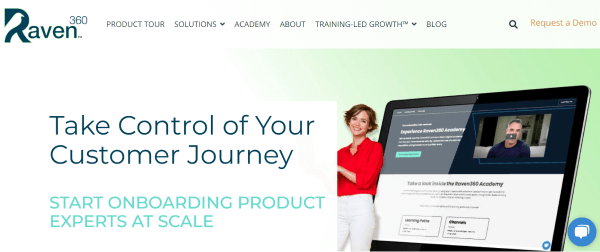 Raven360 supports different learning methods, such as instructor-led training, virtual instructor-led training, and on-demand learning, for a holistic experience. It also provides analytics to check on your sales team's performance. 
Cost: Contact Raven360 for pricing
Features:
Learning paths

Customizable content

Analytics
3. Auzmor Learn
Auzmor Learn is a learning management system that offers centralized launching, viewing, and reporting all in one channel. Course authoring is supported and features open enrollment courses. Their course library also supports the addition of custom and third-party courses that allow learners to customize their own learning experience. All in all, it's a simplified employee training tool that both technology trainers and learners will appreciate.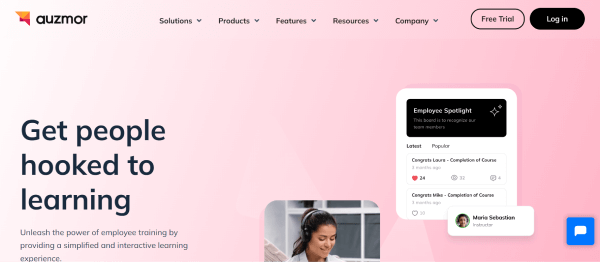 Cost: Contact Auzmor Learn for pricing
Features:
4. domiKnow
domiKnow is a learning technology tool that comes with an authoring tool and a content management system. The remote training software is used by both small and large organizations to meet their training and collaboration needs. The software is designed to help you collaborate as a team in real-time and create well-optimized learning content with just one tool. Design interactive content on any device using a range of templates and digital assets, and deploy completed learning materials on any device.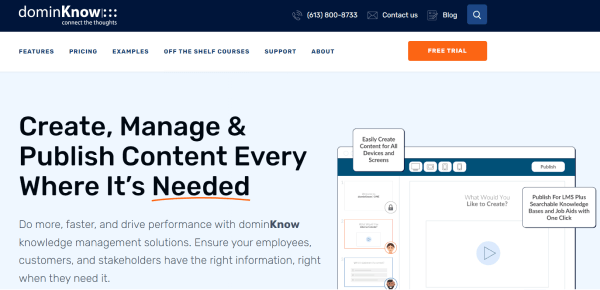 Cost: Contact domiKnow for pricing
Features:
All-in-one cloud-based learning

50+ language translation and localization capabilities

Real-time collaboration

Mobile learning
5. ProProfs
ProProfs is a training technology tool that easily deploys online and offline training. This LMS allows training managers to author courses from scratch or edit existing courses from its online training course library. With this platform, employees have control over what, when, and how they want to learn. They're free to learn at their own pace while being collaborative with each other through their virtual classroom. This helps reduce the time spent conducting instructor-led learning sessions.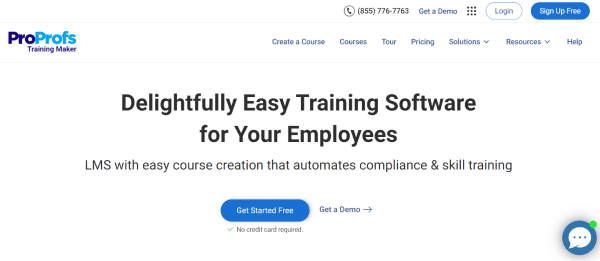 Cost: Free trial; paid plans start at 2.46 USD/month per user
Features:
Course creation

Test maker

Virtual classroom

Reports and analytics
6. Raptivity
Raptivity is a training technology tool that you can use to design interactive and visually stimulating online learning experiences. The tool features a growing library of pre-made responsive interactions, including parallax displays, panning slides, and 360 interactions. Even if you don't have prior design experience, you can customize interactive quizzes, games, simulations, flashcards, and brainteasers through the tool's user-friendly interface.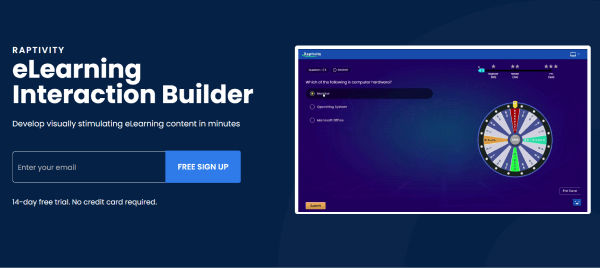 Whether you're a teacher or a trainer, you can maximize the tool's many features to keep your learners engaged and motivated throughout their learning process. It is important to note that the tools featured have some limitations, and you need to upgrade to download additional tools to design a well-rounded microlearning course.
Cost: Free trial; paid plans start at 30 USD/month
Features:
7. GoToTraining
GoToTraining has features for creating and managing online training sessions and courses. This training tool is great for knowing your audience before the date of training through custom registrations. With that additional information about the participants, you can better plan your training courses to suit your learners. There are in-session activities and breakouts to boost knowledge retention. After the session, detailed reporting on attendance, test results, and evaluations are available to see how successful your training was.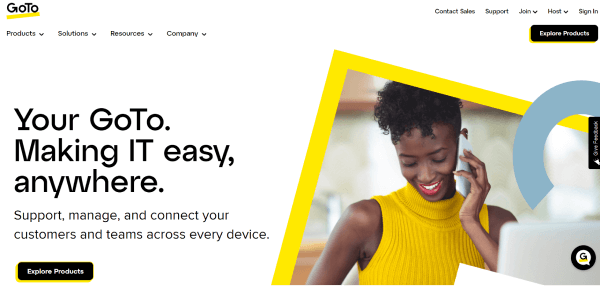 Cost: Free trial; paid plans start at 109 USD
Features:
Custom registration

Content library

Breakout sessions

Tests & polls

Reporting
8. Coassemble
Coassemble is a training technology tool that allows you to author courses with the templates in their library. Employee performance can be checked through checkpoints, quizzes, and assignments easily with their employee training tracker. To manage your teams, you can assign user roles with the necessary permissions to deliver training to different departments. You also have access to granular reports to assess and analyze the performance of your teams.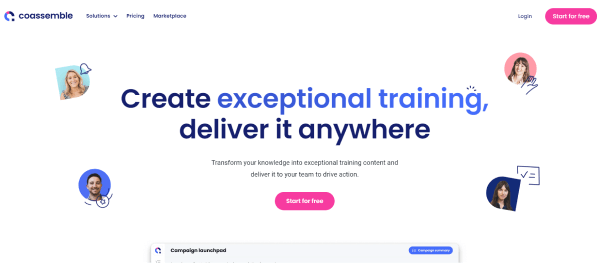 The only downside to its free version is that it only allows the creation of one course with four interactive templates. To unlock other features, you must subscribe to their paid plans.
Cost: Free trial; paid plans start at 50 USD/month (10 users)
Features:
9. Brainshark
Brainshark is a training platform that can easily diagnose performance issues, so you can address the gaps early. The platform offers courses that help upskill your teams, especially your client-facing employees. Brainshark also has a training module creation tool that can help you author courses faster. With their training and onboarding features, on-demand learning paths and dynamic courses will help the employees develop critical skills that will prepare them for their everyday tasks.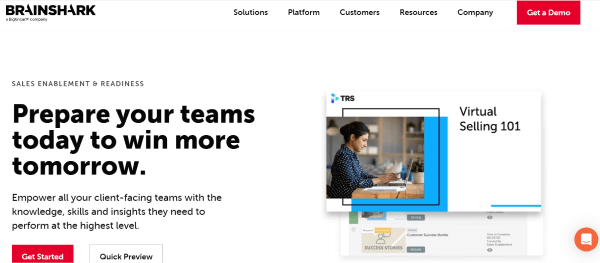 Cost: Contact Brainshark for pricing
Features:
10. Arlo
Arlo is a cloud-based learning technology tool that allows you to manage all your training resources in one place online. It has course management software, event management software, and integrations to deliver training from other business intelligence platforms. Its features include a dashboard where you can view real-time activity to ensure accessibility to the information you need.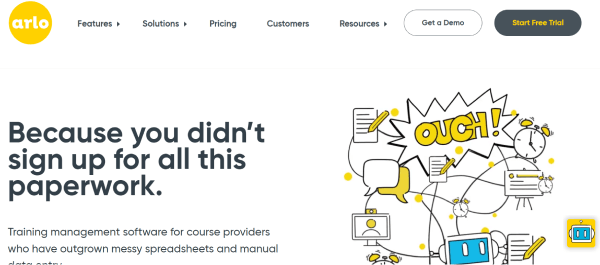 Cost: Free trial; paid plans start at 122 USD/month
Features:
Flexible learning

Course management

Customer portal

Online registration for live conferences and webinars

Certifications and licenses