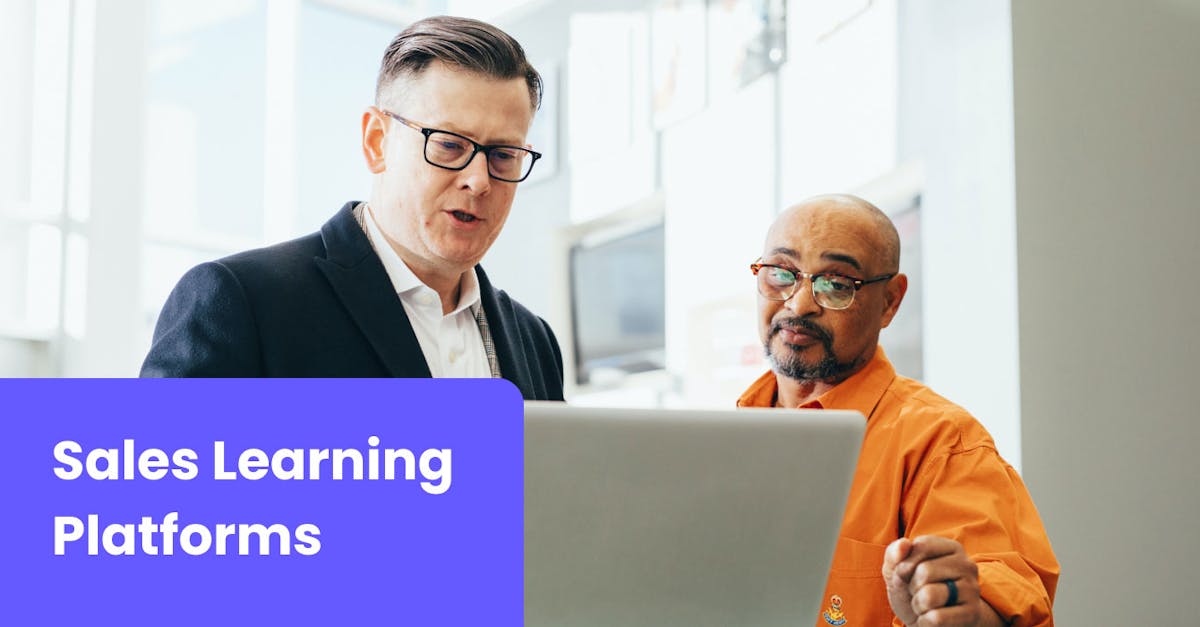 Sales representatives play a pivotal role in building your brand image and reputation and ensuring long-lasting customer retention. With this in mind, it is critical that they receive regular sales training and support to keep the quality of their performance up to the highest standard and further maximize their potential. 
Fortunately, building and managing a continuous e learning sales training program is no longer a pain in the neck. Gone are the days when you needed to waste hours or days building the perfect face-to-face programs, overspend for venues and lodges, or force your sales team to take time out from their busy schedule to attend a week-long seminar. With the advancement of several sales learning platforms online, learning is now feasible anytime and anywhere with almost any device.
There's no shortage of these tools in the market, but finding the best one that fits your training needs and preference may be a bit overwhelming. To help you out, we've created a quick list of the best 10 sales learning platforms that every sales training manager should check out. 
1. EdApp
EdApp is an award-winning sales learning platform designed with a range of invaluable tools that can help you create engaging and effective sales learning materials that you can deploy anytime and anywhere. Learners, on the other hand, are free to take their courses whenever and wherever they prefer, whether they're on their way to a sales call or taking a quick coffee break.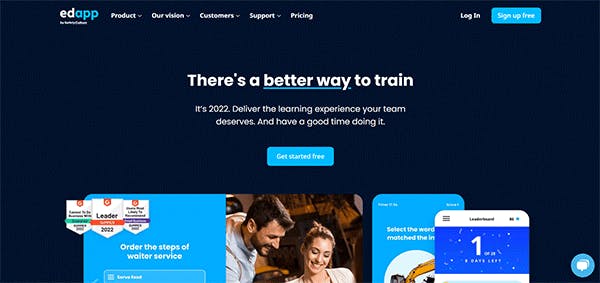 Perhaps one of its best tools is its template-based course authoring tool, which makes content creation as simple as drag and drop. All you need to do is choose from their 80+ intuitively designed templates, add your content, and hit publish – no intricate coding needed. In just a few minutes, you'll have your sales training course up and running, making this the best sales app for a lot of teams.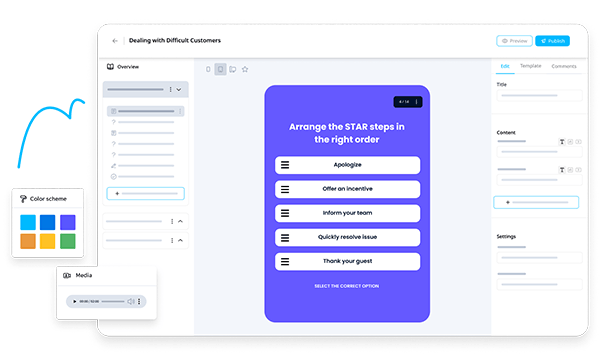 Beyond its expansive template library, EdApp also offers a range of sales training microlearning courses that your learners can conveniently take and complete with their mobile devices. Take, for example, The Language of Sales course, which you can use to onboard your new hires and teach them how to develop convincing arguments and handle unfavorable sales scenarios. There is also a course on Improving your Sales Forecast if you want to equip your existing sales workforce with some skills and techniques that will help them implement data-driven forecasting more effectively. To browse more sales courses, you can also visit their comprehensive course library.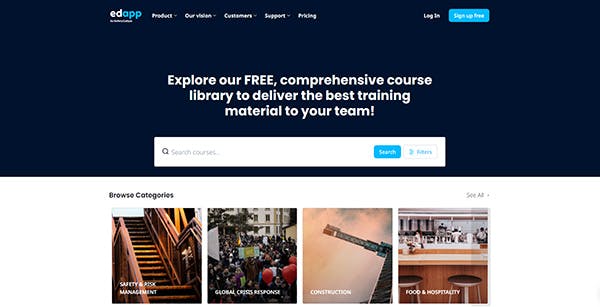 They are all free and ready to deploy, saving you a sum of time creating content from scratch. But that's not all – you can also edit and rebrand them, or even add your logo and company's specific sales strategy or sales process. If you like, you can also add additional features and interactive reinforcement activities like quizzes, games, and surveys to ensure higher engagement from your team. 
Cost: Free

Key features: Authoring tool, customizable sales training microlessons, mobile-friendly courses, quizzes, games, surveys
2. ELearning Brothers
Another sales learning platform to consider is ELearning Brothers, which gained popularity due to its powerful authoring tools. Not only can you create interactive sales courses, but you can also implement VR training and embed some immersive real-life scenarios to improve their verbal and sales skills and sales cycle. This learning technique is helpful particularly for onboarding new hires, eliminating the need to ask another sales staff, which probably has deadlines to catch up to, to train with them. 
When you're short on time and resources, this platform also offers a range of pre-built sales courses that are ready for immediate deployment. They cover broad topics essential to selling, like customer service, negotiation skills, closing sales, sales presentations, and more. 
3. Skillshare
Skillshare has grown in demand due to its extensive online classes that aim to upskill teams and employees from different sectors, including those in the sales industry. Their learning resources, however, are only limited to educational videos pre-recorded by industry experts and professionals. Plus, they are mostly 30-40 minutes long, some even longer, which doesn't sound engaging for those struggling with a short attention span.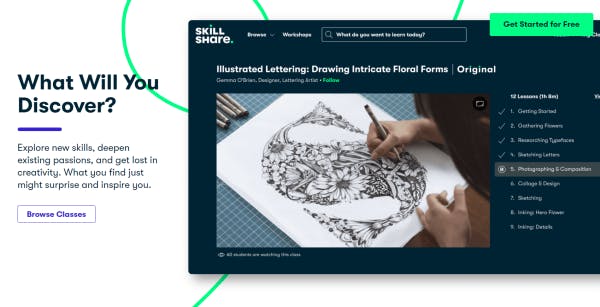 Among the sales classes in the platform include The Basics of Sourcing and Sales for Entrepreneurs, Success Toolkit for Sales Professionals, Profitable Sales Funnel Fundamentals, Effective Client Communication for Sales Professionals. These online classes are also accessible on mobile devices, so the learners can keep learning on the go. 
4. Sales Hacker
Sales Hacker offers free online courses for adults who want to improve their sales skills and become a top one-percenter in this competitive landscape. From blogs to podcasts, even webinars and conferences, this learning platform has it all. The sales topics that they discuss typically cover sales introduction, functions, techniques and strategies, as well as some tools that your team can use to learn, grow and solve the unique challenges they will likely face. To maintain close peer-to-peer connections, it has also built an online discussion forum where anyone can ask a question, start a discussion, share their experiences.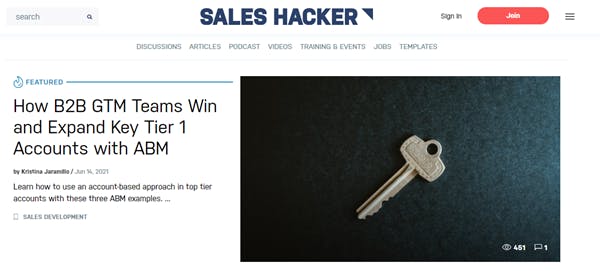 Surely, this platform has a wide range of learning resources available. However, it also tends to be a little overwhelming, especially if your teams aren't well-guided on the training topics that they should focus on. It may also confuse them since most of the learning materials presented here are universal for all kinds of sales workforces.
Cost: Free

Key Features: Blogs and articles, podcasts, webinars, conferences, online discussion
5. Customer Centric Selling
If your sales team has been struggling to close deals, you can head over to Customer Centric Selling to gain some tips and techniques and combat this problem. The structure of their methodologies is targeted to help sales representatives to sell more and do so repeatedly, with their insights mostly based on their research on how buyers make their purchasing decisions.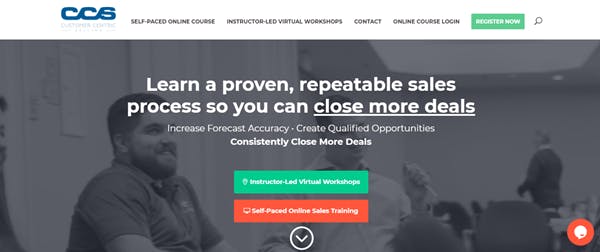 There are two ways to learn with Customer Centric Selling. You may invest in their 3-day instructor-led virtual workshop and acquire new sales skills and techniques through live and recorded sales video lessons, real scenario role-play, and skill development exercises facilitated through Zoom video conferencing. Should you prefer self-paced learning, they also offer online sales training online courses that you may access from any device. The only drawback here is that you need to pay an expensive registration fee of 95 USD to access their resources. 
Cost: Paid registration fee

Key Features: Reliable sales framework and methodologies delivered through virtual workshops or online courses
6. MTD Sales Training
MTD Sales Training is also a great place to learn quality and impactful sales training techniques that will help drive better business results. Since 2001, this team has already assisted over 9,000 organizations from different sectors, which validates the competency and effectiveness of their sales training solutions. Their specialty includes online selling skills courses, virtual sales training webinars, and elearning solutions, which you and your people can take anywhere, be it in the office or at home. They also host online sales training programs that are usually modular in nature and last a few months.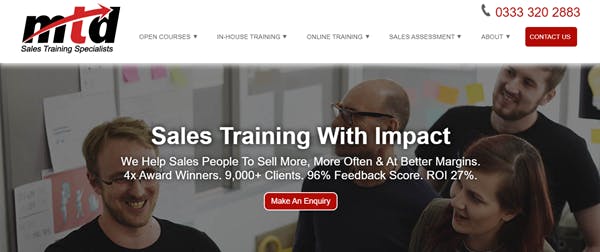 They don't have an authoring tool to help you create bespoke sales training and coaching, but they do have a team that can assist you in designing the perfect program based on your requirements.
Cost: Paid plans

Key Features: Online selling skills courses, virtual sales training webinars, elearning solutions, modular sales training programs
7. Coursera
Coursera is perhaps one of the most popular sales learning platforms on this list. Its training solutions include free and paid sales sources delivered by reputable educational institutions, companies, and industry professionals all over the world. This platform also has elearning mobile apps available, so you can learn at a pace that suits you.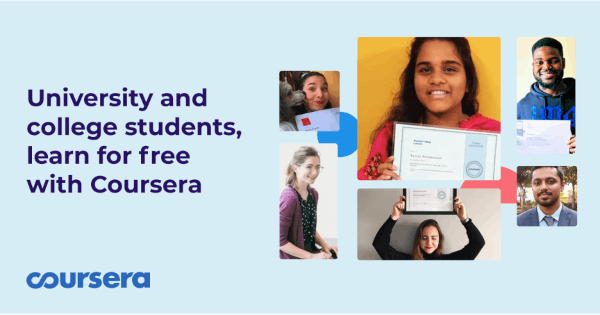 With Coursera, expect more than just lectures and modules. Some courses also provide additional activities, tasks, quizzes and skills assessments, and feedback, requiring active participation from the learners. There will be a certificate of completion for most courses, although you will have to pay a small fee of 0 – 00 USD. 
Among the sales courses that Coursera offers include Sales Management, Sales and Marketing Alignment, Sales Training for High Performing Teams, Building your Sales Career, and so much more. 
Cost: Free with in-app purchases

Key Features: Online courses, mobile accessibility, additional activities like quizzes, assessment and feedback, certificate of completion
8. Action Selling
Action Selling can help overcome a weak sales culture with its self-paced online corporate training courses, which are mostly focused on improving the three most critical factors that make up a winning sales team: product knowledge, selling techniques, and competitive mindset. In this platform, learning takes place through a series of video examples, eLearning modules and books, interactive quizzes, and certificate assessments. Most of these training materials are also designed with an exclusive open architecture, where you can add your unique selling situations, products, and custom settings. If needed, you may also approach them about co-branding their online courses to fit your company's goals.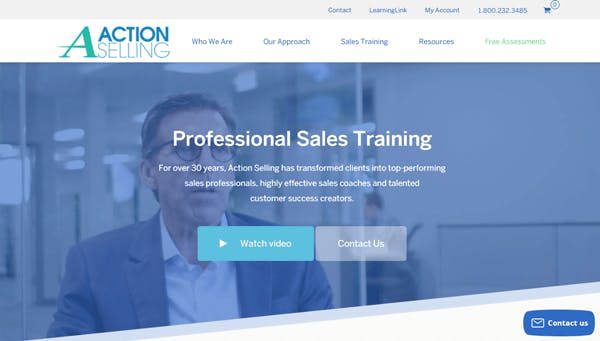 Cost: Paid plans

Key Features: Online sales training courses, video examples, eLearning modules and books, interactive quizzes, certificate assessment, customized training 
9. Learningpool
In the fast-paced world of the sales industry, speed and quality are everything. But worry no more – online learning platforms such as Learningpool can help you produce and deploy quick learning resources that can help boost the performance of your sales team. Here, you'll find hundreds of in-depth elearning sales catalogs with high-quality content and gamification engagement features prepared by some of the best industry experts in the world. They are ready-made but can still be edited to your company's style and branding, thanks to its Adapt Builder authoring tool.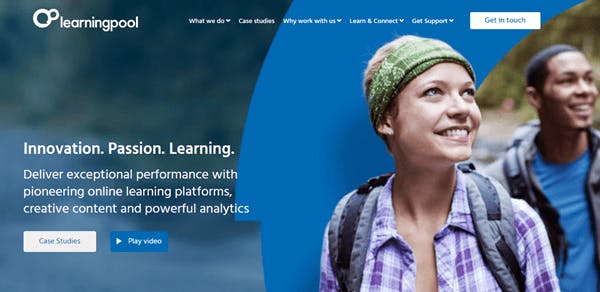 Unfortunately, Learningpool isn't free and you will have to contact them directly for pricing. There is also no free trial, but you can request a demo to learn how their features can help you and your sales team deliver exceptional performance. 
10. Develoop
Last but not least in this list is Develoop, an adaptive learning platform by Sproutlogix. This tool can help upskill and improve the performance of your sales team through individualized learning journeys, social collaboration, and an AI coach bot. It also utilizes surveys, assessments, analytics, and business-measured results to help you understand the skills and capabilities of your sales reps. This way, you can create a more targeted training and development program that will help solve any performance gap obstacle. 

While this platform does have a mix of innovative solutions that can support your sales workforce, it doesn't have a library of ready-made B2B sales training resources, unlike most of the platforms in this list. You might want to consider that before subscribing to their plans. 
Cost: Paid Plan

Key features: Individualized learning journeys, social collaboration, AI coach bot, surveys, assessments, analytics, and business measured results
You may also be interested in: