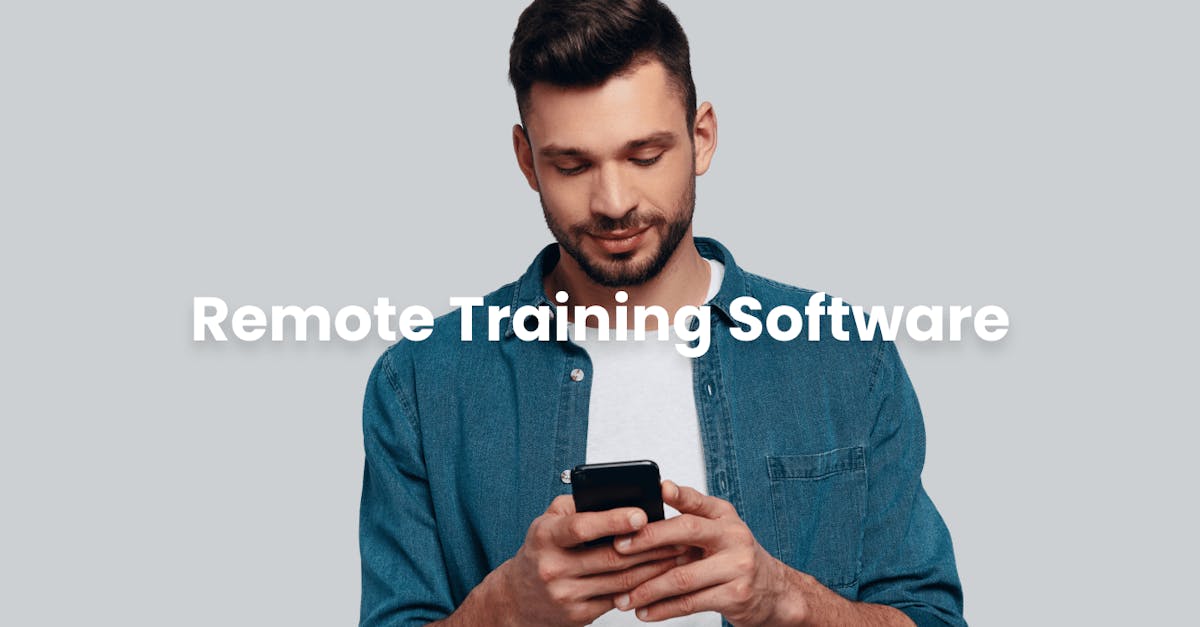 Remote training allows continuous learning within organizations without time and location restraints. This trumps traditional face-to-face training as learners don't have to be in one place and will always have access to learning materials when they need them. Using remote training software to shift to remote work ensures that your dispersed workforce still receives efficient training and resources to succeed in their roles. It also affords businesses the flexibility in creating, storing, delivering, and managing content for employee training.
We've compiled a list of ten remote training software to help you get started with your remote training journey. Scroll down below to learn more.
1. EdApp
EdApp is a remote training software and m learning platform that allows you to create and deploy digital training content anytime, anywhere. With the help of its free, editable course library, it also allows you to customize courses and lessons specific to your organization's needs. To further enhance remote training, the Virtual Classroom feature was designed to boost social interaction and ensure success in a virtual learning environment. Video meetings can be linked directly to a course for discussion to foster collaboration through the exchange of ideas, knowledge, and experiences. Conferences are also easy to set up and can be hosted on your preferred third-party platforms such as Zoom and Microsoft Teams. 
As EdApp is also a cloud-based mobile learning solution, this means that your learners can receive training through their smartphones which is perfect for a remote setting.
Cost: Free
Key features: Virtual classroom, mobile-first environment, editable course library
Sign up for free and start using the best remote training software today!
2. Braincert
BrainCert is a mobile-friendly remote employee training software that allows companies to easily deliver online training. With its virtual classroom functionality, learners can log in to their LMS and attend instructor-led classes remotely. It also has comprehensive blended-learning features similar to other learning management systems such as video streaming & chat, analytics, and reporting. BrainCert also allows content management providing smooth onboarding experiences. Like some platforms, BrainCert offers a free version although it's fairly limited, and the paid options can cost around 59 monthly.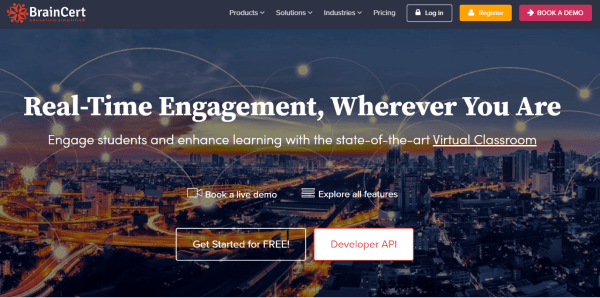 Cost: Free and paid plans
Key features: Virtual classroom, reporting, content management
3. Google Classroom
Google Classroom has gained popularity among many schools and organizations trying to reach learners remotely. Through this learning technology, trainers can create a "classroom" where employees will be able to participate in different training sessions and access lectures assigned to them. With the help of the resources and tools also created by Google, you can designate different creative projects and hands-on learning to keep them engaged. It also allows cross-software integrations with your favorite third-party apps, like Bakpax and BookWidgets, making sharing files and documents seamless. Since it's created by Google, this means it can easily be used with Google Meet, Google Docs, and the like for a more streamlined experience. While this is free of charge, it lacks the bells and whistles that come with other tools that allow for more customization to make it visually appealing.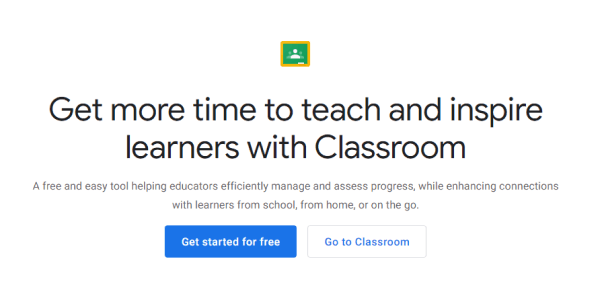 Cost: Free
Key features: Virtual classroom, apps and integrations, G Suite
4. Kahoot!
Kahoot! is another remote training software that you can use to spice up your online training sessions. It is a game-based learning platform that allows you to create training content with gamification examples, such as interactive games and quizzes, to drive interest and engagement regardless of location. With Kahoot!, you can deliver training, meetings, demonstrations, and events remotely, which can be presented on the employees' own devices. Another way to keep your teams connected and up to date is by hosting live kahoots over the video conferencing platform of your choice to combat learner isolation. Kahoot! Also provides reporting and analytics so that knowledge gaps can be spotted and feedback can be provided for a more holistic training experience.

Cost: Free and paid plans
Key features: Interactive game-based format, live kahoots, reporting & analytics
5. Arlo
Arlo is a remote training software created for training providers whose focus is on empowering learners through self-paced learning, live online learning, and remote learning. It extends training outside the four walls of the classroom through live and interactive webinars, eLearning modules, discussion forums, and recorded video tutorials. With Arlo, you can create modules that your learners can complete in their own time, online, from anywhere. You'll also be able to assign quizzes, record scores, and track progress. Arlo's base plan only provides basic features and the price can go up to 85 to get all their premium features.
Cost: Starts at 9/month
Key features: Self-paced eLearning, live webinars, course management system
6. Trainual
Trainual is another remote training software that you can use to onboard new employees or train current team members without location restrictions. You can easily customize learning materials by choosing from the platform's 150+ free templates. When creating an elearning program, you'll have the option of embedding images, videos, and multiple-choice questions. However, it doesn't support SCORM files or other eLearning formats, which can be a deal-breaker for those with existing content on other platforms. Trainual highlights the importance of process and procedure documentation so they also provide playbook templates for training to become infinitely repeatable and scalable. Your employees can access training courses through multiple online course platforms, including iOS, Android, Chrome extension, and any web browser.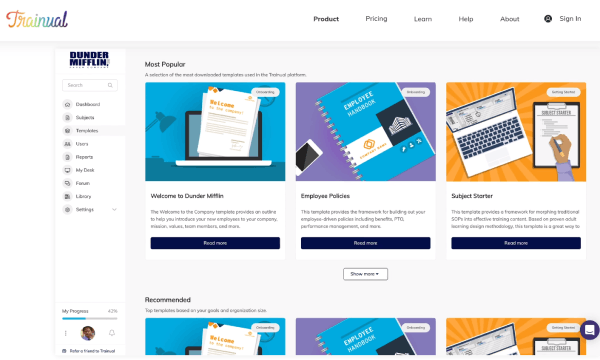 Cost: Starts at US 9/month
Key features: Course templates, multi-platform access, playbook templates
7. Apty
Apty is a training software that aims to provide high-impact, remote employee training. It allows you to build and maintain training materials with ease through its code-free course editor and course management features. One of its standout features is on-demand on-screen guidance, which effectively enhances the remote training experience. It enables you to present training material to your learners step-by-step in such a way that they feel guided by a trainer who is sitting next to them.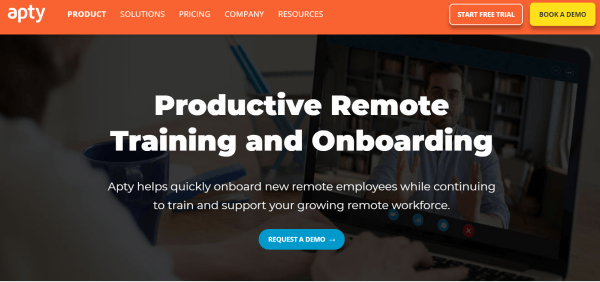 Cost: Free and paid plans
Key features: On-screen guidance, course management, course authoring
8. WizIQ
WizIQ is a remote training software that provides you with a virtual classroom and LMS all in one place. To increase learner engagement, you'll have access to polls, quizzes, and interactive whiteboards. This online training platform makes it easy to deploy training as all you have to do is set up your customizable learning portal and upload your training material using any format. WizIQ also supports multimodal learning where you have the option to use real-time audio, video, and textual communication. Through its virtual classroom, learners can also attend live classes on the go through the WizIQ app available on iOS and Android.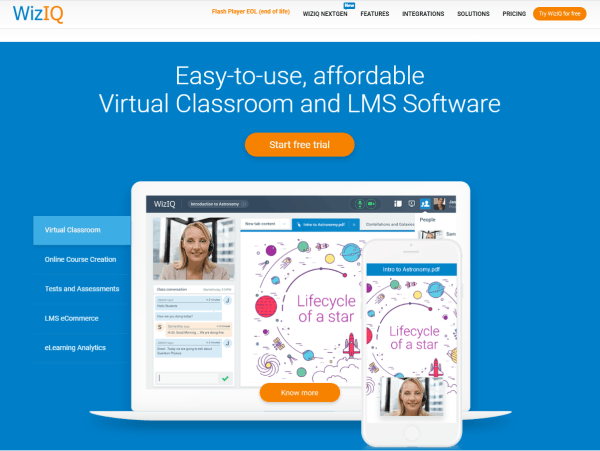 Cost: Starts at 5/monthly
Key features: Virtual classroom, elearning mobile app, customizable learning portal
9. Kitaboo Insight
Kitaboo Insight is a remote training software and mobile-first platform designed for delivering training through mobile devices. It's compatible with all devices, whether it be iOS or Android. It allows you to seamlessly integrate with the LMS you already use for a smooth transition to their software. Using Kitaboo Insight is as easy as uploading your existing training content and adding quizzes & knowledge checks with their pre-built templates. You can then upload training material securely with DRM protection and even have offline access to your content. One of its unique features is the ability to convert static PDF, PowerPoint, and text files into interactive digital content. This is perfect for learners with short attention spans who may have trouble going through long documents.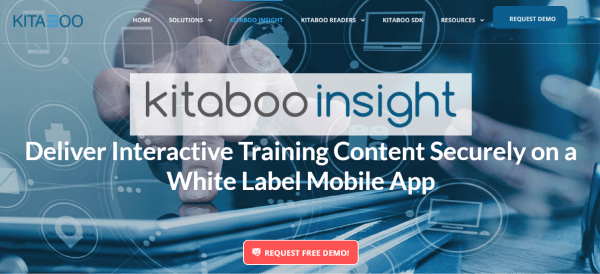 Cost: Contact Kitaboo Insight for quotation
Key features: Offline content accessibility, static file conversion, DRM protection
10. Yarno
Yarno is a remote training software with mobile in mind, designed to effectively train your employees wherever they're located. It features a learning library where your training teams and learners can store all your training content for easy access. It also has an interesting feature called Embed campaigns wherein quick quizzes can be rolled out over a certain period and completed daily to check for employee learning. Yarno is unique in how training is delivered by asking questions so learners can come up with answers that strengthen the recall of information. It's then followed up by explanations where they can receive feedback from their answers. The team at Yarno can also work with you to create custom-made videos to level up your employees' competency.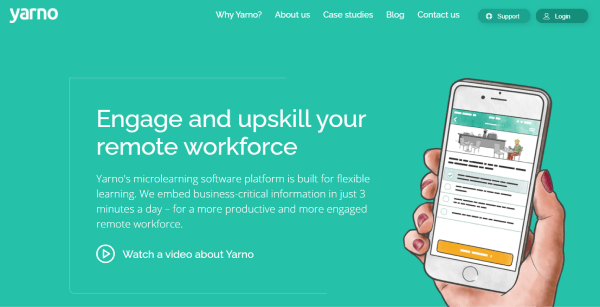 Cost: Contact Yarno for quotation
Key features: Question-explanation format, mobile-ready platform, custom-made videos
What is remote training?
Remote training is the most ideal and practical solution to reach and train teams across different locations and time zones. It has especially soared during the COVID-19 global pandemic, which has pushed hundreds, if not thousands, of businesses to shift to remote training to sustain a culture of growth and learning, despite their teams being forced to stay at home and work remotely. However, with the existing distance and lack of physical interaction from coaches or colleagues, keeping their learners engaged can be challenging. By investing in remote training software, you can leverage features that are designed to increase engagement and productivity in distance learning. 
Remote Training Software Summary