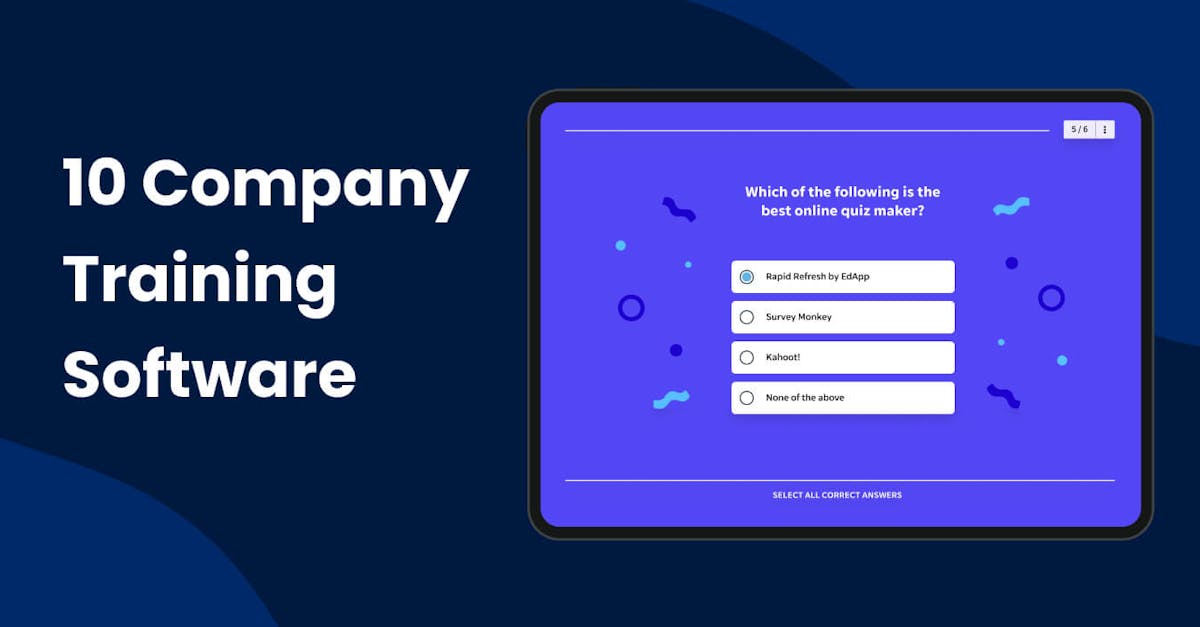 Many organizations face easily avoidable problems due to the lack of proper training implementation. Some of these problems include losing track of training progress, being unable to bridge knowledge and skills gaps, and lack of engagement. Luckily, with the different types of company training software available today, you can solve all of these problems and more.
1. EdApp
EdApp is the top company training software that helps you develop, edit, and publish engaging training courses wherever and whenever you want. EdApp's 80+ course templates are all designed based on the latest L&D trends and studies available today. The best thing about these templates is that you won't need any coding experience to edit them with your own content. Within minutes, you can create, design, and deploy courses made on EdApp.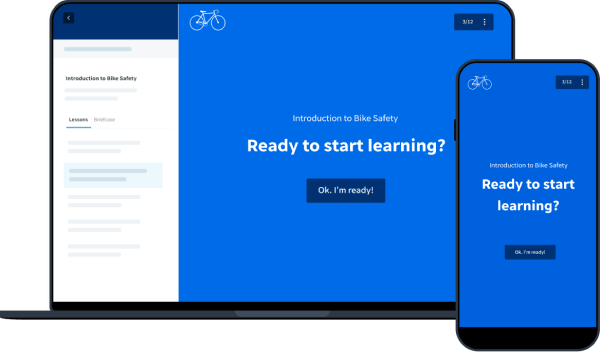 If you're looking for ready-made content, EdApp also has a massive course library ready to be deployed to your teams. Some of the courses included in their library are You can tailor-fit these courses according to your company's needs using its free customization feature. Gamification is already applied to these courses which will help in spicing up your corporate learning.
Additionally, EdApp's Virtual Classroom feature increases social interaction and assures success in an online training environment. With this feature, you won't have to worry about whether anything gets lost in translation during classroom sessions with the trainer and your trainees. Video sessions can already be linked directly to a course for discussion sessions with Virtual Classroom, fostering better collaboration through the exchange of ideas, expertise, and experiences. Video conferences are very simple to organize and can be held on third-party applications such as Zoom and Microsoft Teams.
With EdApp as your company's training solution, your learners can track training better, bridge knowledge and skills gaps, and increase overall learner engagement.
Cost: Free
Features: 80+ course template library, course library, customization, gamification, virtual classroom, video conferencing
2. GoToTraining
GoToTraining is ideal for anybody who's exhausted from hosting time-consuming training and webinars. This Docebo alternative offers engaging online training solutions with unique built-in features such as mobile learning, breakout rooms, and certificates.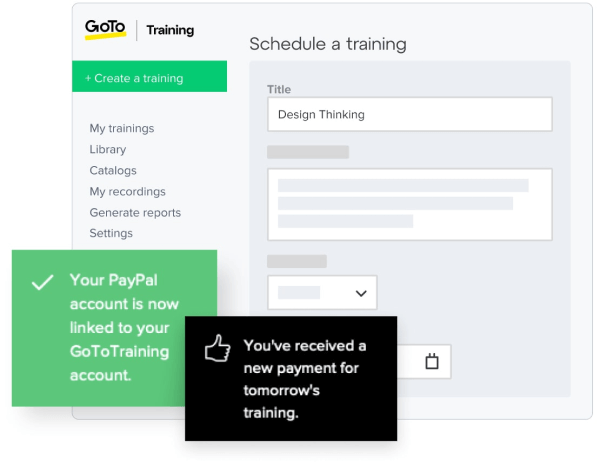 You can also conduct custom registration, organize training materials, and share and publish courses across your teams easily. It also improves social learning retention and engagement with exams and surveys, small-group exercises and collaborations, and debates during live training sessions. GoToTraining manages and maintains your training materials, assessments, and recordings across all platforms so that learners can view learning material from anywhere and at any time.
Cost: 09/month
Features: Custom registration, content sharing, in-session experience, training reports, massive content library
3. Trainual
Trainual is a remote company training software used to onboard new workers or train current team members no matter where they may be. Choose from the platform's 150+ free templates to create any type of training material you want. You can integrate photos, videos, and different question types while designing your courses. However, it doesn't accept SCORM documents or other eLearning formats, which might be a deal-breaker for individuals who already have materials on other platforms.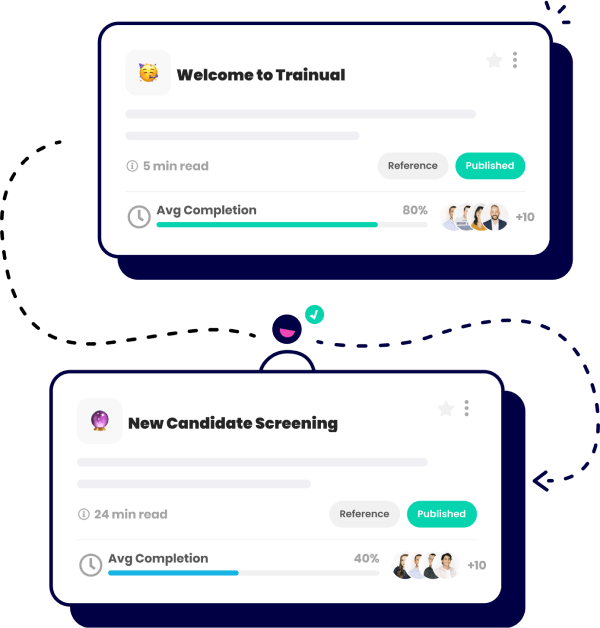 This eLearning authoring platform highlights the necessity of documenting processes and procedures, which is why they've also given you playbook templates for training to become endlessly repeatable and scalable. Your workers can access training courses via a variety of online learning platforms, including iOS, Android, Chrome extensions, and any web browser.
Cost: 9/month
Features: Course templates, multi-platform access, playbook templates
4. Auzmor Learn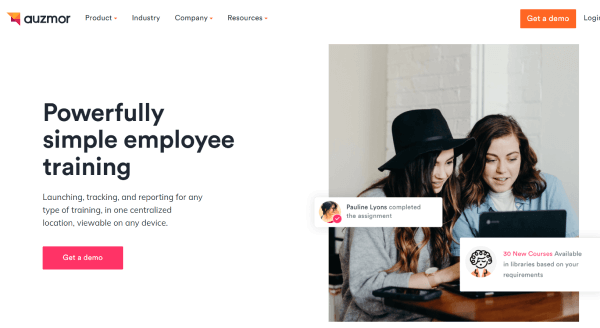 With a beginner-friendly UI, Auzmor Learn is a company training software that allows you to build courses, deliver learning content, and evaluate employee performance with no coding experience or complex tech expertise necessary. You can design your courseware from scratch or modify courses from their extensive lesson catalog using their simple course builder. You can also use Auzmor Learn's real-time analytics dashboard to analyze staff training progress and uncover learning patterns. To get access to Auzmor Learn, you can schedule a demo or request for a custom quote on their webpage.
Cost: Request quote
Features: Course builder, lesson library, real-time reports
5. UpsideLMS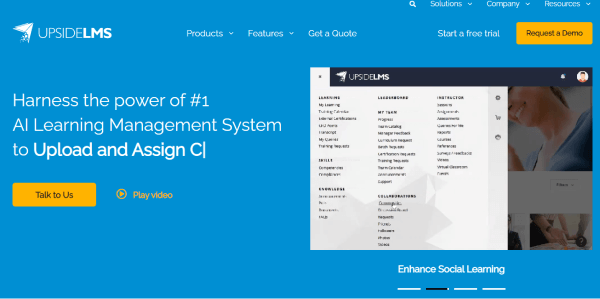 UpsideLMS is another company training software that helps you with upskilling your workforce, centralizing learning resources, and ensuring that your employees comply with corporate requirements. It has a ton of powerful features such as content production, gamification, reporting, instructor-led training, and virtual training. The LMS platform includes a large online library of over 80,000 ready-made microlearning courses and videos, providing your learners with quick access to high-quality online training content.
Cost: Request quote
Features: Content authoring, gamification, business intelligence reporting, instructor-led training, virtual classroom training, ready-to-use content
6. Vowel LMS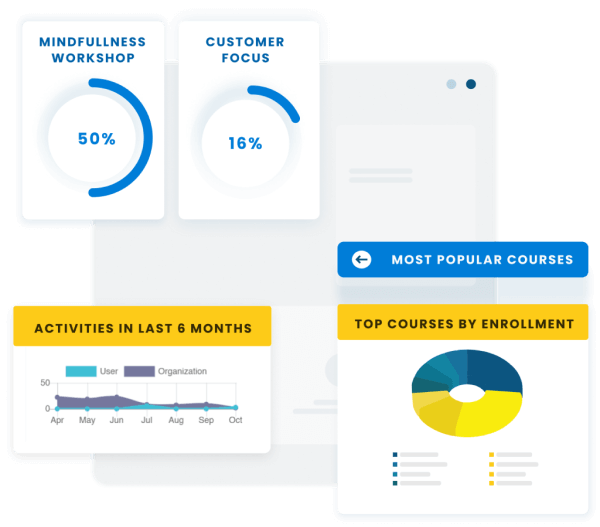 Vowel LMS empowers you to decide how learning happens in your workplace. It makes it simple to assign courses, manage student progress, and view customizable reports. With its drag-and-drop HTML course builder, it's easy to develop courses on the fly without any technical skills needed. If you already have SCORM or Tincan-compliant content, you can upload it with a single click, or you can pick from their catalog if you don't want to start from ground zero. You can also make your traditional training sessions a lot more seamless with Vowel LMS' classroom management features such as automated reminders, assignment submission portal, and workshop scheduling. 
Cost: Request quote
Features: Drag and drop course authoring tool, SCORM, Tincan compliant, content library, social learning hub
7. Learningbank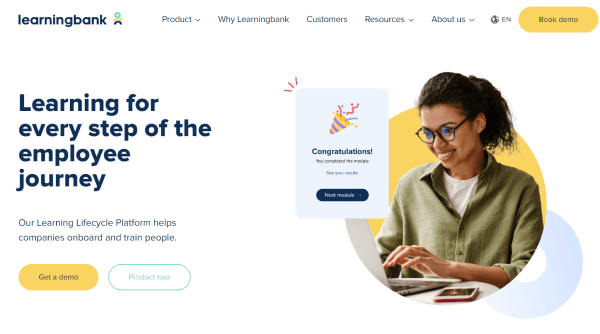 Another great company training software you can consider is Learningbank. This hybrid learning tool provides an active learning lifecycle platform that allows you to build and automate various training materials for different phases of your employees' learning journeys. You can also save time and training expenses by adopting the platform's pre-built customizable material. Simply import a course from their learning store, drag and drop your own material, and distribute the finished learning content to your team. Aside from its pre-built content and learning shop, you can also apply personalized branding, use its employee insights, and build a social learning wall. However, keep in mind that these extra features can raise the overall cost of your LMS subscription.
Cost: Request quote
Features: Learning lifecycle platform, customizable content, employee insights, social learning wall
8. Inquisiq
Inquisiq commits to its slogan — "More Training, Less Stress." This company's training software can install, administer, and track hundreds of rich-content course materials. You can also automate course registration and report creation with minimal time and effort on your part. This free eLearning software features a user-friendly, completely customizable, multilingual interface to provide the best possible customer experience and satisfaction.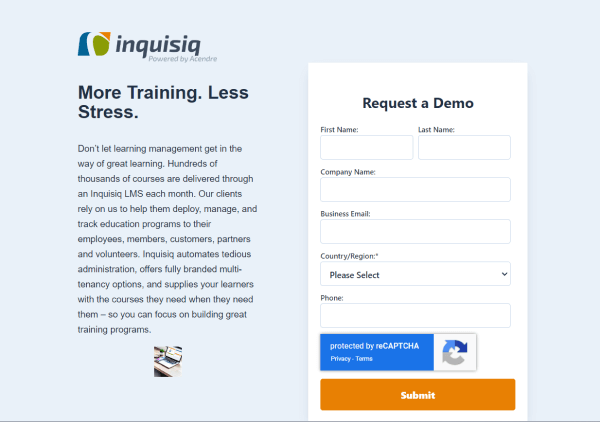 Learning doesn't stop after the courses are delivered to your teams. They can also take advantage of Inquisiq's large user communities by participating and communicating in messaging centers, walls, and feeds. 
Cost: 40/month
Features: Configurable and multilingual interface, SCORM compatibility, social learning, out-of-the-box automation
9. Ruzuku
Ruzuku is another excellent platform to explore. It has a user-friendly interface that allows you to develop and deliver fantastic online courses without being overwhelmed by design tools and options. You can personalize the look to meet your branding guidelines and incorporate material tailored to your learners' learning objectives. You can also include PDFs, Word, PPT, and other file types in your course materials and make them available for self-paced study if necessary. These learning modules will never go to waste since you can always duplicate and reuse them as refresher training for your learners.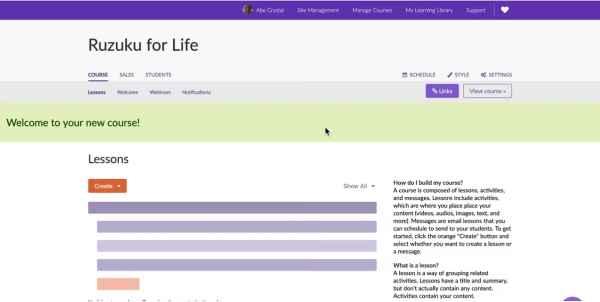 Another good thing about Ruzuku is it's not restricted to course design and deployment. You can also use slides to provide training and organize webinars. There's also a course health tool that lets you track your team's learning progress, including activity completion and any questions or comments they may have about their programs.
Cost: 4.75/month
Features: Clean and user-friendly interface, custom branding, self-paced learning, webinars, chatbox, course health feature
10. CreateLMS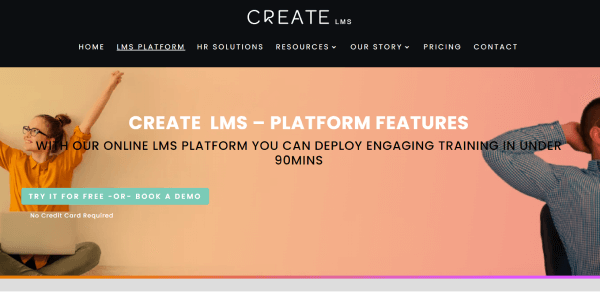 Last but not least on the list is CreateLMS, another great company training software. CreateLMS can help you onboard new staff more quickly and teach current workers more efficiently, all without breaking the bank. You can easily construct and manage elearning modules and assessments, webinars, and blended training with its powerful course builder and skills assessment tool. What's the best part? You can also engage your workforce by combining instructor-led training and evaluations with self-paced courses or videos and PPTs with quizzes. To ease the hassle of developing your own training programs, feel free to make use of some of their ready-made courses established by their content partners and directly deliver them to your workforce.
Cost: 2 per user/year
Features: Course builder, ready-made courses, surveys, assessments, communication tools
EdApp is a mobile learning management system designed for today's digital habits, delivering more engaging and effective micro-learning directly to learners anytime and anywhere.
Sign up for this company training software today.