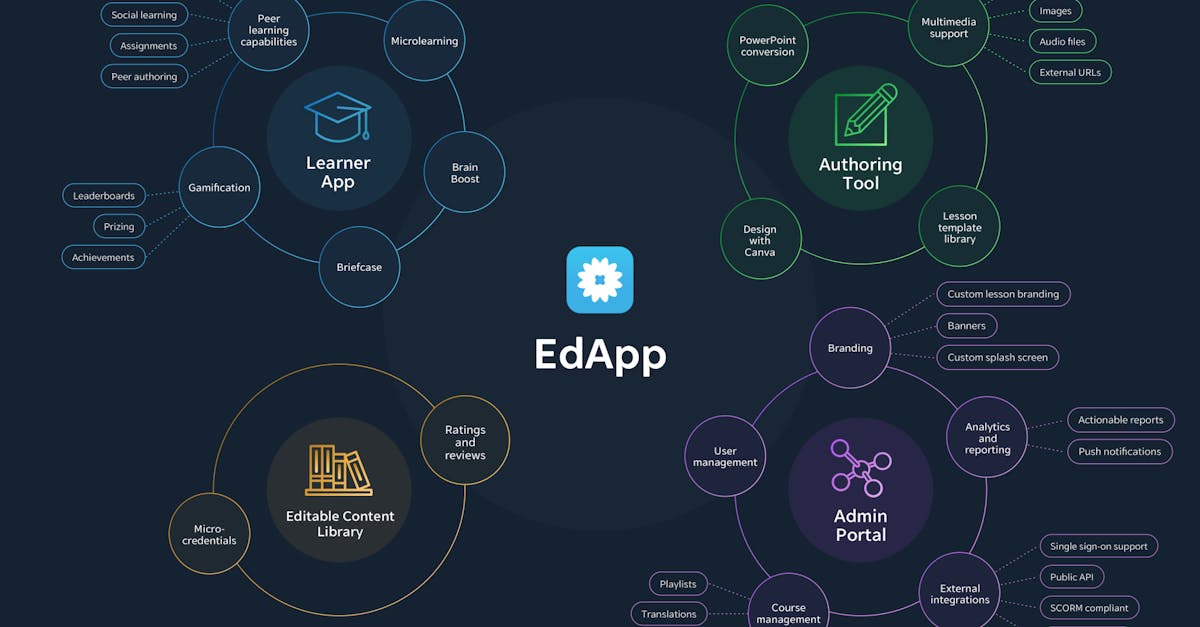 Training is an essential part of employee development and on a broader spectrum, overall organizational growth. Businesses usually provide their teams with training courses and developmental plans to ensure that they are compliant with workplace standards and ready to handle their job roles. But without proper management systems in place, it can be difficult for organizations to manage and deliver these training materials to their employees. This is where online tools like course management systems come in handy.
What is a course management system?
A Course Management System (CMS) is a software tool that provides an online platform for hosting courses as well as interacting with these courses. A CMS allows learning and development professionals to provide structure to their training process and easily manage training content. Some of the best systems help drive better learning results through built-in features like LMS integrations, data tracking, scheduling, and resource management. Today, instructors and course makers have the choice to use tools that are affordable, easy to use, and intuitive, enabling the rapid production of eLearning content without requiring special computer knowledge to use them.
Here's a list of the top 15 course management systems available:
1. EdApp
EdApp is a free all-in-one microlearning platform and course management system designed to help you create, organize, and deploy interactive multimedia learning content for employee training. It comes with many built-in features including an authoring tool, online quiz maker, course library, template library, user analytics, and more. Through the award-winning software's template approach, you can design courses easily. You can even transform your existing PowerPoint presentations into microlearning content. Once you click on the PowerPoint transformation option, you can choose to either convert and edit the course yourself or get EdApp's team of instructional design experts to transform your learning material for you through their Trade in your Training service.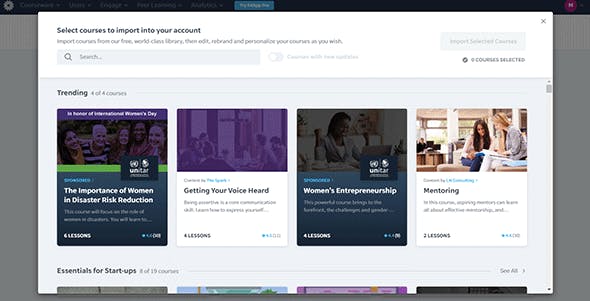 You can also import content from the course library and customize them according to your employees' learning needs. And because EdAapp is a mobile-first microlearning platform, learners can easily access and complete courses from their personal mobile devices.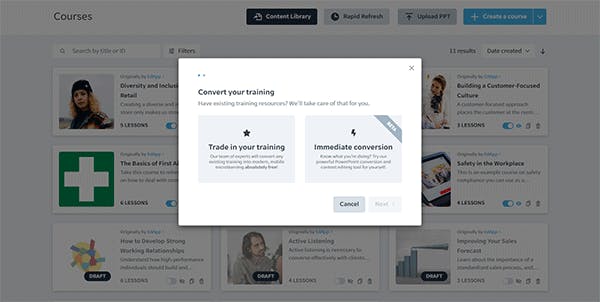 To dive deeper into EdApp's learning ecosystem, let's break down its four main components: Editable Course Library, Authoring Tool, Administration, and Learner App.
Editable Course Library
EdApp's Editable Course Library is built-in to the platform and is completely free for anyone to access and utilize. It's packed with interactive courseware designed by different industry leaders and experts from all over the world. This collection boasts hundreds of training materials like healthcare training courses, retail training programs, corporate training courses, construction safety courses, digital marketing courses, and so much more.
Authoring Tool
Aside from allowing L&D professionals to customize training content from the course library, EdApp also gives them the capability to create courses from scratch through the powerful cloud-based Authoring Tool. Even with no coding or design experience, instructors easily design interactive and effective microlessons. To spruce up their training materials, they can simply drag and drop images, embed videos, or add links to important external resources. They can also choose from EdApp's extensive template library, which includes over 50 uniquely designed templates that suit different learning styles.
Administration
The class management app also has a complete set of administration tools that are vital for delivering and managing your training content. The analytics and reports dashboard gives organizations the ability to track their employees' course progress, identify knowledge gaps, and assess learning patterns. With the necessary data on hand, they can easily adjust their training content to address their teams' learning needs. There's also a built-in push notification feature that they can customize to remind learners of course updates or incomplete training.
Learner App
As a mobile-first microlearning platform, EdApp really emphasizes the importance of making the training process engaging and interactive through the learner app. You can take advantage of features like real rewards and leaderboards to motivate your learners to take and complete their training. Gamification examples like true or false, image or word match, and letter jumble can also make learning more fun for your learners. Through such positive training reinforcement methods, you can improve your employees' learning retention and overall course completion rates.
Train your teams using the best course management system
No credit card required.
2. SHOWBIE
Showbie is one of the class management apps that are suitable for authors who encounter LMS or a similar environment for the first time, as it offers basic tools with clear explanations. You can create your content, rearrange it, or change templates from Showbie.
The platform supports basic integrations like Flash animations, pictures, and questions, to help upgrade your training content.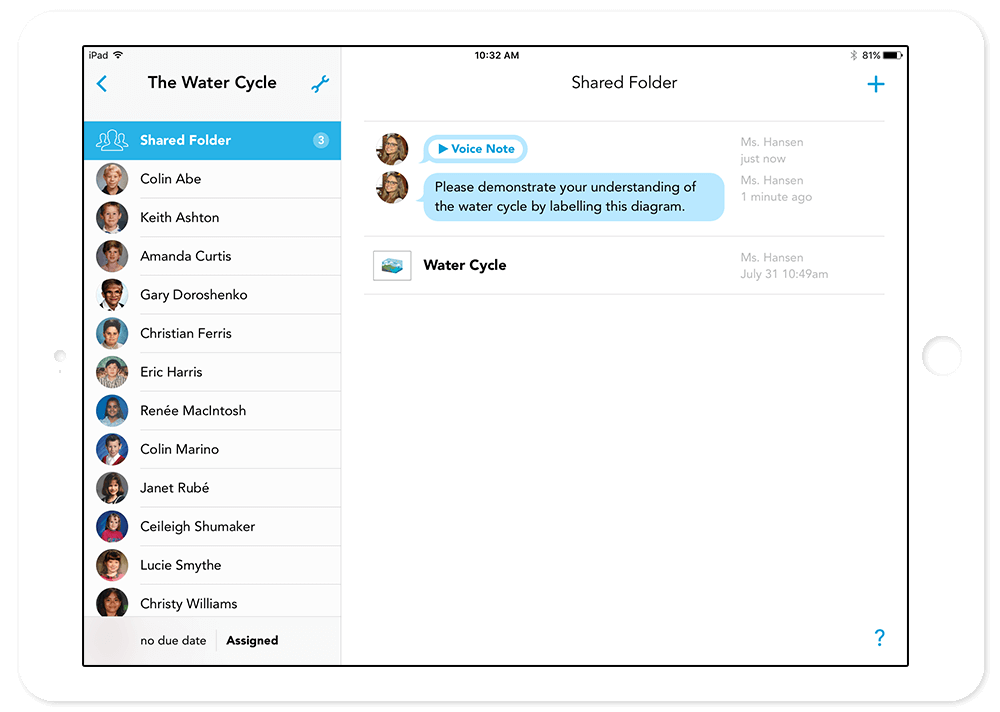 A course can be designed with the help of a tool in the form of a tree branch, which gives a feeling of greater interactivity, or you can stick to the usual linear way while designing your content.
While the tool is relatively easy to use, it's not ideal for corporate-business needs. If you need more complex functions, you will, have to turn to other software solutions to help boost your results and also measure results.
3. SMARTBUILDER
The SmartBuilder tool enables simple content creation for your learners. Since the platform doesn't provide the most intuitive experience, SmartBuilder offers an introductory 10-minute film to learn how to navigate it properly.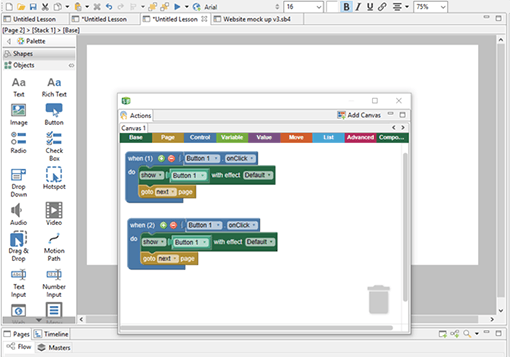 In terms of course creation, your content can be enriched by adding images with various special effects, inserting shapes, buttons, quizzes, surveys, and audio files. If you want to create content in multiple languages, SmartBuilder offers some translation tools as well.
Some areas need to be worked upon, as you don't get a feeling that this is an LMS that offers support for a complete course management cycle. For starters, there is no image library or webcam/screen recording. A major drawback is the limited set of templates (only three!), so selecting a platform that offers more customization with more choice is preferrable.
4. SANA EASYGENERATOR
The Sana EasyGenerator tool is a class management app intended for authors without technical knowledge. The latest version allows you to create your templates, with the option of adding images or text. You can easily change the properties of slides, specify a color or image for the background and icons, or add navigation buttons. Whatever you add to the first slide is automatically included in the rest of the worksheets, which can be convenient but also limiting, as you're automatically locked into the same design and structure.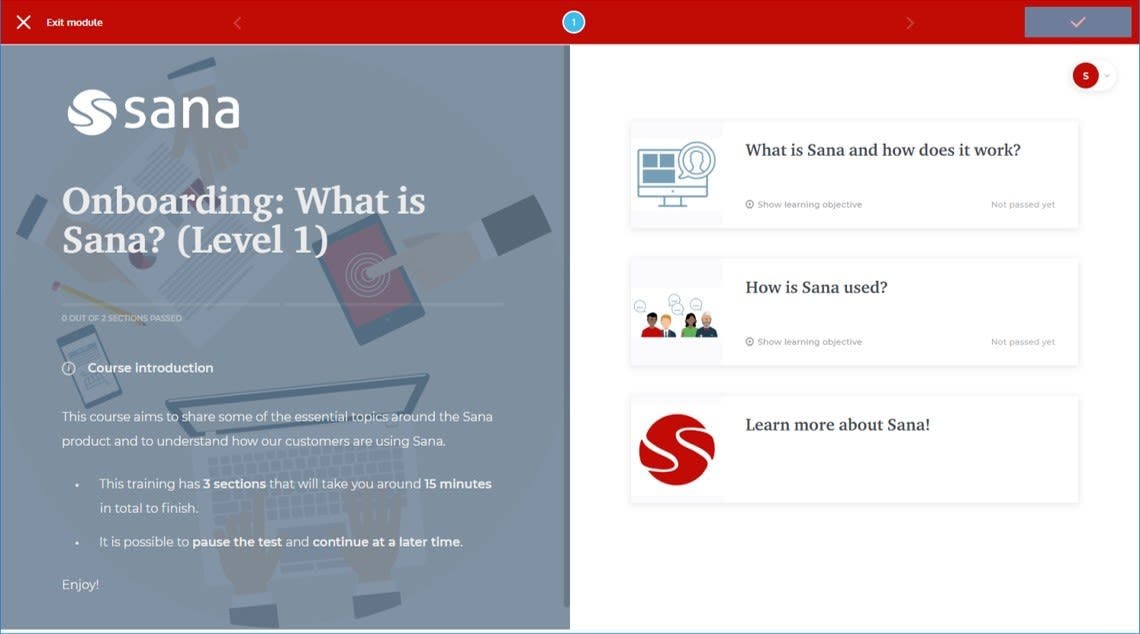 The platform's timeline design allows you to make your training interactive, and objects included on an individual slide can be hidden or displayed at certain times, to help guide learners. The cons are that the cost of the software is quite high, and Sana does not offer a mobile-friendly version.
5. HOT LAVA MOBILE
The Hot Lava Mobile tool is designed to create learning content for use on mobile phone.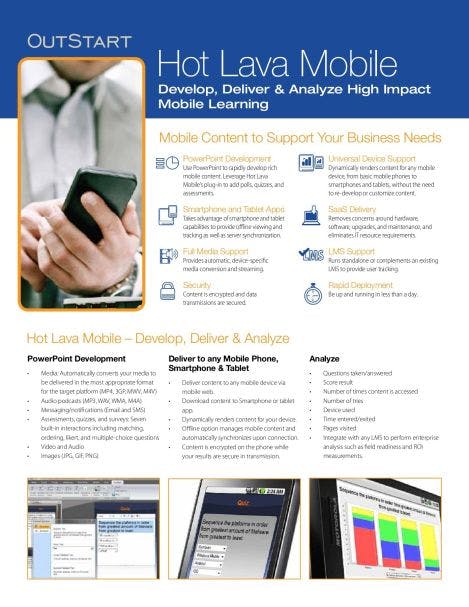 The tool offers a number of interactions for presenting and exploring content, such as quizzes, different types of questions, surveys, links to external sources, and imagery. The tool is ideal for adding videos to presentations followed by questions, so it is a good add-on to PowerPoint.
Hot Lava is only a mobile platform, so you cannot count on it to fulfil all your learning needs, but is better suited for small teams or with the use of additional resources to create a holistic learning or training experience.
6. EXACT
With the help of the Exact's built-in templates, authors can create courses and learning content by dragging basic elements such as images into the structure of the tree that represents the template.
The tool is also useful for creating content that needs to meet different learning requirements, such as delivery for PC, printed materials, and mobile devices. Exact has a "grab and drop" design mode to enable faster content creation while the indexing of materials provides a faster and easier search.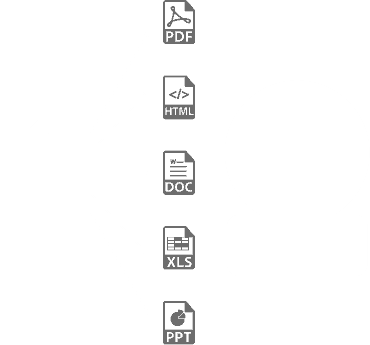 The Exact environment works on the principle of dynamic learning design and offers authors the creation of learning content based on the use of templates, design, and supplementation of templates.
Exact feels more like a content management system and lacks tools to help track, measure, and engage your learners. So if you are looking for a single training solution, Exact might not be the platform for you.
7. RUSTICI
Rustici software has an open-source course management version, but if you want access to all features you need to make a purchase. The paid version includes a more modern experience with some beneficial learning elements to help deliver better training and, in turn, in better results.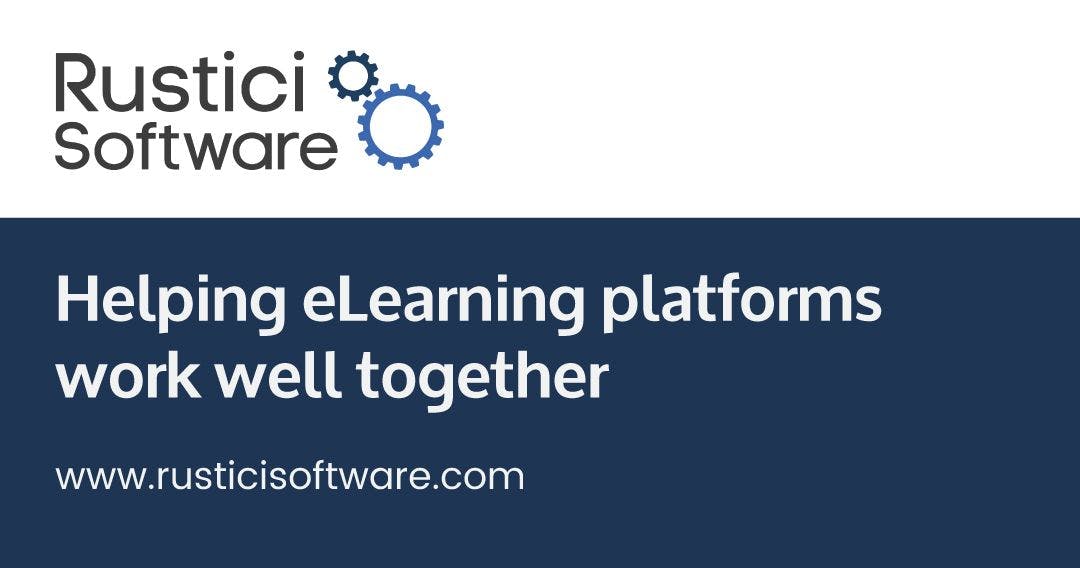 Rustici software is easy to use, the interface is intuitive. This means that creating eLearning content is easily achieved without any special knowledge of HTML. You can organize your training content into sections, pages, or according to the topic. Each new page added is initially blank, with the ability to add desired interaction, such as animations created with sound, text, video, quizzes, along with the option to create combinations between them.
Even if you purchase the software, it still falls short in certain areas like social learning as there is no video conferencing feature, for example.
8. ELMO COURSEBUILDER
Elmo CourseBuilder works online, so you don't have to have plug-ins or make time-consuming downloads to your computer. This makes it easy to collaborate in creating training content, regardless of everyone's geographical location.
Plus, the interface is very intuitive, as it works on the principle of WYSIWYG design (What You See Is What You Get), and the menus, which guide the author step by step, are also very helpful to create basic courseware to your learners.
Since the tool is fairly easy to navigate, it's suitable for authors without experience. But while it's a handy tool for course creation, it does not offer functions that support the whole course management process. For example, you cannot assess course progress, grade participants, and manage certificates.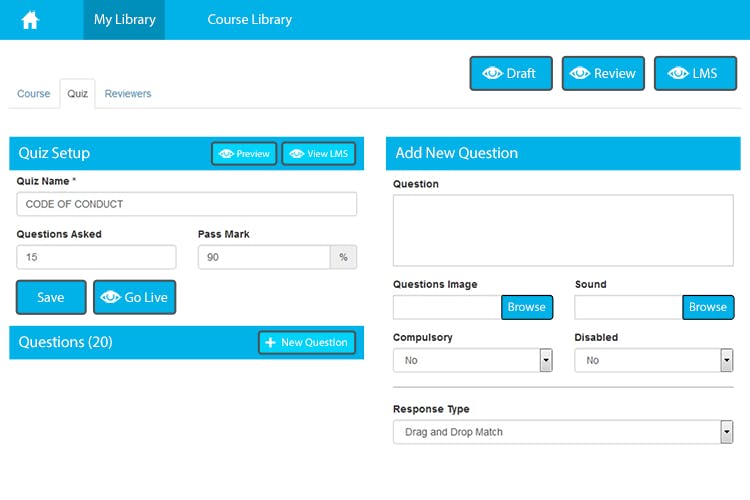 9. EDJET
Edjet focused on the course management process only, so it is limited compared to all-in-one LMS platforms which provide a holistic training experience.
That said, Edjet is a simple online tool for creating interactive elements and integrating them into learning content, without the knowledge of programming. Once you create an account, a collection of options appear on the interface, from which the authors can choose any type, depending on what they want to create (interactive pyramids, interactive conversations, quizzes).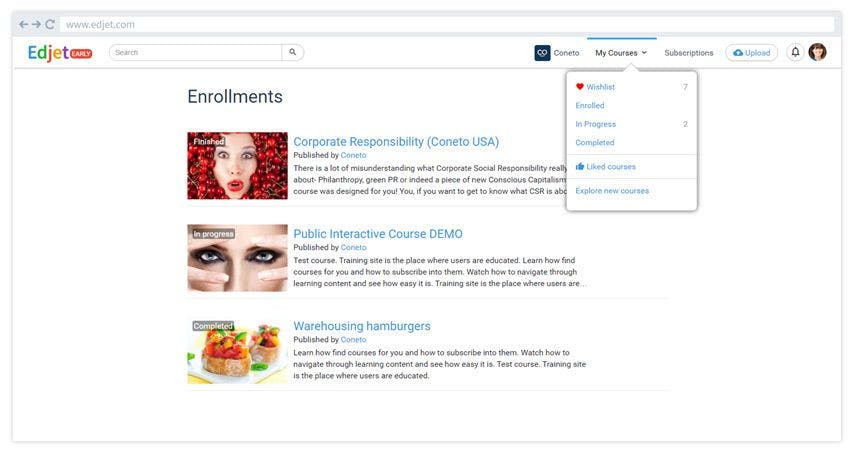 The tool also has several templates that can be changed and adjusted to your liking from a visual standpoint. These simple options include changing your course colour and size.
10. BRAINSHARK
Brainshark gives you the tools to create an essential training experience by adding elements like audio and video clips, adding questions, links, surveys, and the like. Within Brainshark, the content is created as a sequence of slides or clips, they can be imported from our already existing files like PDF documents and images.
Once the content is complete, a link can be sent via email to your teams. When you click on the link, the presentation is automatically opened. Users can view the content both on a computer and via mobile phones using regular browsers, Brainshark iOS or Android applications, but they need a specific application to solve interactive surveys and questions. Also, the web-version is flash-based, so you need to have flash installed.
With Brainshark, you can get a free demo, but after that, you need to subscribe to a paid version.
11. Academy LMS
Academy LMS is another training module creator that allows you to create simple yet well-designed online course modules, and set up multiple online quizzes. Lessons can be delivered through different content formats like video, pdf, doc, and image files, Instructors can use the course management feature within the tool to easily deploy training materials to their team. Meanwhile, learners can download the Academy app to access their learning content anytime and anywhere.
12. Raptivity
Raptivity is an e Learning creator software that you can use to design engaging and visually stimulating online learning experiences. The tool features a growing library of pre-made responsive interactions that include parallax displays, panning slides, and 360 interactions. Even with no design expertise, anyone can customize interactive quizzes, games, simulations, flashcards, and brainteasers through the tool's user-friendly interface. Whether you're a teacher or an instructional designer, you can maximize the tool's many capabilities to keep your learners engaged and motivated throughout their learning journey. But it is important to note that the tool has a few feature limitations and you might need to download additional tools to design a well-rounded eLearning course.
13. Mural
As a digital workspace and brainstorming tool, Mural allows team members to visually collaborate with one another. With its flexibility, teams can easily use the platform to share knowledge, plan projects, organize data, conduct workshops, outline content, and so much more. As an e Learning creator software, it allows project facilitators to create icebreakers and customize e Learning templates from the template library to enjoy a fun and interactive engagement activity with the team. While this is a great tool for remote collaboration, one disadvantage of this software is the difficulty in using its mobile version.
14. Coassemble
Coassemble is an eLearning creator software designed to provide a user-friendly course creator that makes the creation of interactive learning materials easier for managers and effective for your personnel. This training software allows you to transform your old presentations as well as PDFs and documents into engaging online courses with its available screen templates that support various media forms and provide interactive elements. You can assess your personnel's knowledge retention through pop quizzes or activity-based challenges. A certificate is also given to your employees upon course completion.
15. Gyrus
Gyrus is a cloud-based learning management platform designed with AI-driven intuitive features helping you bring world-class training and development objectives for your employees. This LMS serves as an e Learning creator software and blended learning solution by allowing you to develop training materials delivered through various digital formats – such as e Learning videos, webinars, documents, and virtual classrooms – which provide support in traditional onboarding and training activities, as well as 24/7 accessibility across any device. Its smart learning features are optimized for building customized e Learning programs for various groups of employees, and streamlining organizational compliance becomes easier for training managers.
Sign up to EdApp for free!