There's no shortage of options for free learning management systems, but which ones stand out? Training programs have always been present in corporate life, and a free online LMS allows corporations to fine-tune their learning programs to better align with their objectives. In this article, we'll explore the best free learning management systems out there and find out more about their key features.
1. EdApp
EdApp is a completely free mobile-first training solution, used by some of the world's leading organizations, including the United Nations, Mizuno, Shell, and Marley Spoon to train teams large and small around the globe. With an intuitive authoring tool and a free Editable Content Library, the award-winning platform uses a template approach to make creating lessons easy and sending them out to your teams even easier. The course library contains pre-made courses from industry leaders that you can drag and drop into your account.
These courses can be used and edited to customize them for your team's learning needs. And since the EdApp platform is mobile-first, learners can complete courseware from their personal smartphones. The best part? It is completely free and unlimited for you to train your teams with highly interactive, results-driven microlearning.
EdApp's learning ecosystem is made up of 4 main elements: Editable Course Library, Authoring Tool, Administration, and Learner App.
The completely free editable course library is built right into EdApp. It's full of beautiful, world-class courseware designed by thought leaders and leading industry experts around the globe. This unique collection boasts hundreds of lessons. This learning content is completely editable, so you can select, update, and deploy to your teams exactly how you like. One of the best parts of the Editable Content Library is that it's growing every day, so you will never run out of valuable resources to train your audience.
To complement the existing content, you can also create your own content with EdApp's powerful data-driven authoring tool. This tool gives you the opportunity to design beautiful, engaging, and effective microlessons with their built-in course authoring tool – no coding required. An all-in-one tool like this one hosts unlimited possibilities of multimedia. Easily embed videos, images, audio files, and external URLs into EdApp's microlessons easily and effectively.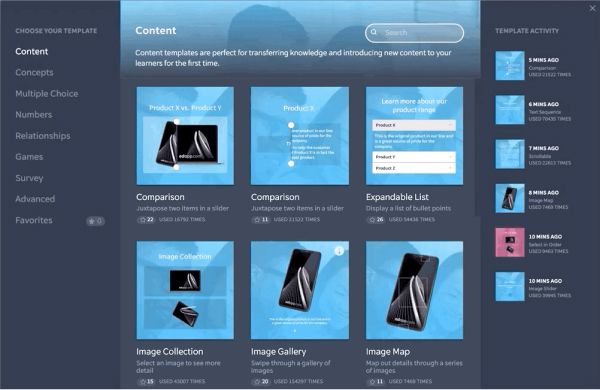 What's more, EdApp is the only LMS in the industry to include a Canva integration, unlocking millions of images and graphics for you to create and include in your microlessons. Similarly, EdApp's PowerPoint conversion tool means you can transform your dated PowerPoint training slides into beautiful, interactive, and modern microlessons – within minutes. EdApp is prepared to assist you along the way if you don't have enough time to complete administrative tasks like setting up your courses and onboarding your teams.
Meanwhile, EdApp's suite of administration tools gives you ultimate control and flexibility around the way you deliver and manage your learning content. The learning platform's analytics and reports give the ability to easily monitor courseware performance, identify skill gaps, and assess behavioral trends from the dashboard via progress metrics. The platform's advanced analytics allow you to collect and manage results through built-in tools like push notifications, which can act as a custom reminder to ensure that no learner is left behind.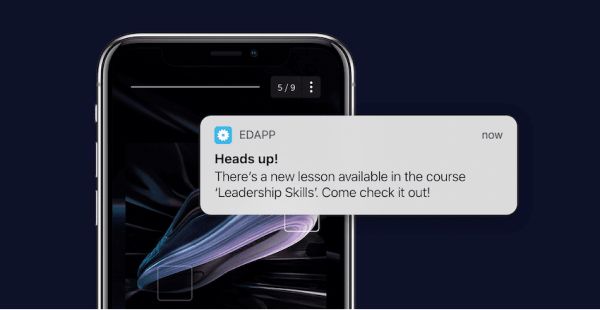 The learner app encompasses EdApp's built-in features to maximize the learning experience and ultimately deliver better training results. As the most modern LMS on the market, EdApp has a collection of cutting-edge elements including gamification, which includes real prizing and the ability to monitor achievements through EdApp's Leaderboards feature. This means that you can incentivize your learners through interactive games and administer real prizes of your choosing, based on completion, high achievement or whatever you like.
Start Using The Free Learning Management System!
No credit card required.
2. CourseSites
CourseSites is an online free LMS platform for teachers that allows instructors to engage with their students anywhere, anytime with an interactive eLearning platform that fits the needs of your students. This free LMS allows you to post and update course materials, interact with students, promote collaboration, and assess and improve performance, all from one place. It allows teachers and instructors from all levels, from kindergarten to university-level courses to add web-based content to their curriculum, or even build a whole class from the ground up and host it online. With customizable URLs, it's easy for students to find your class and follow along.
3. ATutor
ATutor is an open-source free LMS software geared towards education, used to develop and manage online courses and to create and distribute interoperable eLearning content. It's a cost-effective tool that allows teachers to develop online courses and create your own eLearning content. The learning management system LMS software provides several development tools for administrators, instructors and learners, and is designed with adaptability and accessibility in mind. The free LMS software is inclusive and features assistive technology for those with disabilities. It also allows for social networking, messaging, file storage, file tracking, and communication tools.
4. MyiCourse
Just like CourseSites, MyiCourse is a free learning management system for teachers catered to those who wish to teach online. The difference is, MyiCourse allows you to establish a virtual institution where you can publish or even sell educational content. You can either host a "public" college with your courses available to everyone on the internet or put up a "private" college with content available to a selected group of people.
In this regard, it is a little more sophisticated and allows you to create customized, interactive courses to train and engage your employees or students. Other features include branding options, test question creation, customizable certificates, custom registration, and the ability to monetize coursework.
5. Coggno
Whereas some of the options in this list offer LMS that are very technical and highly customizable, Coggno (again, more of a tool in the education space) is a free learning management system that encourages simplicity. This LMS offers training and certification globally and delivers a single, cloud-based system to connect stakeholders together. The downside is that Coggno charges for their courses, which are not built-in to the platform, but rather offered as add ons.
Coggno courses that are available for purchase are priced at around $14.95 per course. On top of being costly, these courses aren't editable like EdApp's, which limits your authoring experience even further without customization capabilities.
6. GoSkills
GoSkills was created as an LMS platform adequate for businesses of all sizes. Unfortunately, this platform is not completely free but, rather, offers a free trial. The corporate LMS incorporates elements of gamification to encourage friendly competition among your participants and supports all kinds of content and files to ensure the content remains engaging.
This cloud-based, free eLearning platform is a mobile-ready software that has a host of tools that give insight into the progress your participants are doing. The downside is that courses are not editable within their library and their priced options are quite expensive.
7. Chamilo
Chamilo is a free online learning content management system that allows you to create individual classes. It allows you to create a virtual campus for your training. It is designed for ease of use and speed and includes basic features such as courses catalog, skills management, certificates generation, and SCORM support.
Chamilo offers ease of creation regarding training content, as well as a host of solutions to track participant's results. It can accommodate over 3,000 simultaneous connected learners through its cloud compatibility, and therefore is a good solution for large companies that train many people at the same time. One drawback with Chamilo is its limited integration options. It also has only a small number of templates to use, meaning more time and effort is needed to create content.
8. Sakai
Sakai is a product of the joint resources of colleges, universities and some commercial firms who help design, build, test and refine the software on an ongoing, voluntary basis. It is a platform build by the community, for the community. This free LMS offers a responsive design and some basic features like banner alerts, notifications, lessons tool enhancements and intelligent feedback. This platform environment promotes training, learning, research and other pursuits of acquiring knowledge. It's a constantly changing platform that continually improves to meet the needs of the community that created it, and which it was created for.
9. Schoology
Unlike some of the other platforms in this list, Schoology is an LMS that particularly focuses on the needs of students. This elearning LMS allows you to track progress while also monitoring attendance, share instructional materials, and undertake grade recording.  It is a flexible interface with a real focus on improving the student experience and meeting their most immediate needs.
10. Appsembler
Appsembler's sophisticated cloud-based training platform makes it easy to create and instantly deliver hands-on, immersive learning experiences that stick. They believe in learning by doing, and so their courses and training is very hands-on, giving participants a real-world scenario and environment in which to practice their skills and develop their training. Their LMS is similar to other platforms listed, but the downside is that it requires you to integrate with their platform.
11. Employment Hero
If you're looking for an LMS eLearning that will help manage your HR, payroll, performance, learning, recognition, and employee benefits in one integrated platform, then Employment Hero is the perfect solution. This LMS is self-serving and performs transactional tasks like submitting leave requests and viewing payslips. While it's not completely free, users have a 14-day free trial to experience their features like applicant tracking, paperless onboarding, accelerated collaboration, HR compliance, electronic visa checks, and more.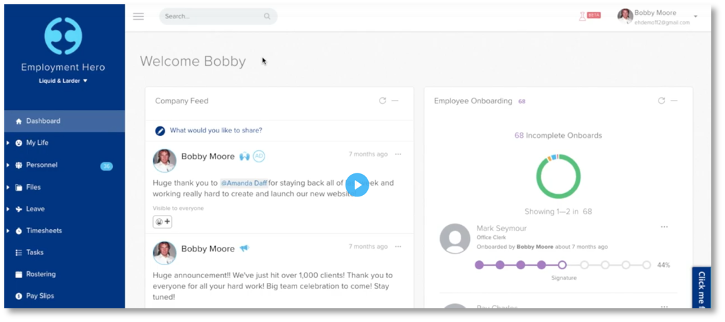 12. NextThought
NextThought LMS is dedicated to driving next-generation learning for corporate workspaces. It has done a good job in incorporating the digitally enabled social aspects of the learning experience, like gamification, online communities, and collaborative features (e.g., contextual conversations). For various services, monthly and annual tiered subscriptions are available. There is also a free trial, but the price then increases after it expires (tiered).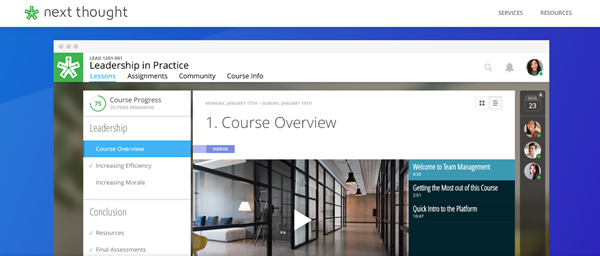 13. Acorn
Acorn is a cloud-based LMS software application that is popular among small to midsize businesses, as well as non-profit organizations. It is SCORM-compliant, customizable, and great for administrative tasks. If you want to sell your courseware, you can also benefit from their monetary option. ACORN can be quite expensive, with a monthly subscription starting at $800 for less than 100 users and $7.50 per user for 101-500 users. It provides a 60-day free trial for those interested in trying out its features.
14. Donesafe
Donesafe is also a cloud-based eLearning LMS that can host scalable training ranging from five to 100,000+ learners. It specializes in the Health, Safety and Environment (HSE) function, and it offers mobile learning features with limited social features such as gamification, leader boards, and video conferencing. What's great about this LMS software is that it allows L&D leaders to deploy their blended learning content and training resources in a few easy steps. Donesafe offers customized pricing plans with a free trial.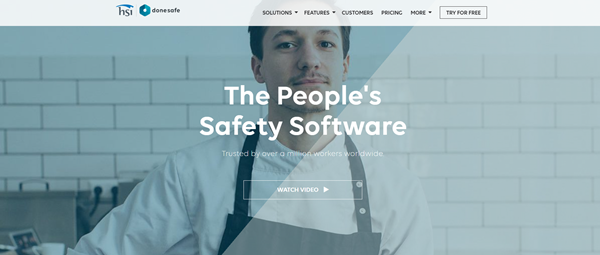 15. Knowmax
Knowmax does more than just deliver an eLearning LMS – it provides a better customer experience by creating and distributing consistent knowledge flow across all or targeted customer touchpoints. It includes all employees in contact centers, as well as those across the field and digital channels such as chatbots and websites. This LMS flexibly integrates with third-party platforms like SalesForce and Zendesk. You can choose a plan with Knowmax, and the best part is that each one comes with a free trial.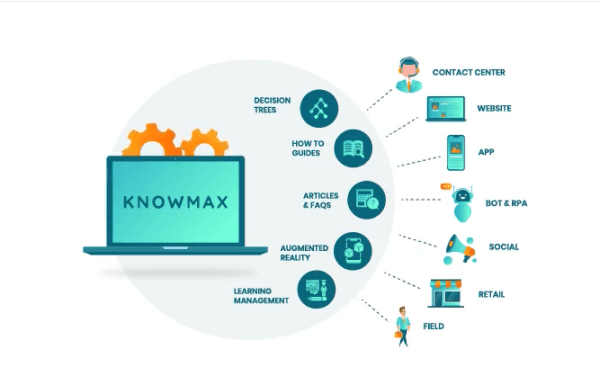 16. Trainual
Trainual is also an excellent free learning management system tool that you can use to provide quicker and easier employee training and onboarding without location restrictions. Building learning materials, like sales handbooks, hiring checklists, and orientation outlines, is easy and hassle-free, thanks to its 150+ free pre-built templates. While it does not support SCORM or other eLearning formats, there is the option of embedding images, videos, and multiple-choice questions. If you want to document your organization's policies and procedures, this platform also offers around 30+ free Standard Operating Procedure (SOP) templates that you can use, so you no longer have to start from scratch. Starting with Trainual is free, but after that, you'll have to pay at least $99 USD per month.
17. Neo LMS
If you're looking for a great learning management system platform with a nice and user-friendly dashboard, NEO LMS is a good option. Its highly functional dashboard functions in a drag-and-drop format, allowing course creators to create and manage all activities related to learning with ease. This includes building online classes, financing collaborations, assessing students, checking achievement, and many more.
Unfortunately, this LMS is best used for school learning, so you probably won't be able to maximize some of its features, like waitlists and time-limited classes.
18. Forma LMS
Forma LMS is well-known in the corporate world for its vast range of excellent features and services. For starters, it has a modern and responsive layout, designed for an easy and engaging user experience—no learning curve! Plus, you can use this LMS to create engaging courses in different formats: SCORM multimedia, HTML pages, videos, and powerful assessments. This platform also has a range of certifications, competent leadership support, and a wide range of virtual classroom management tools, including a variety of calendars and event managers. Forma LMS is free, although you can also upgrade your subscription to make the most of its features.
19. ProProfs
This free learning management system can take charge of the entire training cycle for you, so you can focus on more important tasks. ProProfs works as a cloud-based LCMS and SaaS, where you can create courses and quizzes, track the progress of each employee, and organize virtual classes. This learning management platform also provides a premium library with pre-made courses on topics, such as compliance and customer service, which you can easily deploy to your teams. You don't have to worry about accessibility since all learning materials made via ProProfs are easily accessible through desktop and mobile devices.
20. 360learning
360Learning is another top-notched LMS solution that you can use to manage your workforce. There are diverse tools that make it possible to train new and existing employees, like its authoring tool, content integration system, and analytics dashboard. With 360Learning, workers also have access to collaborative learning features like discussion boards and group pages, which allow them to participate in meetings with both managers and their fellow employees. All the tools require no technical skills to use, which is ideal if your company is only starting to shift to online training. 360Learning has a free trial for 14 days and should you want to subscribe, there are three plans to choose from: team, business, and enterprise.
21. Looop
Designed for enterprises, Looop is a highly ranked learning management system to deliver your online learning activities. With a focus on automation, the platform includes campaigns, user insights, dashboards, and resource builders. Looop's UX design means you can create engaging learning materials. This platform is ideal if your organization juggles multiple platforms since Looop automates the delivery of training content through channels like Microsoft Teams and Slack. On top of that, they also offer SCIM integration to synchronize data between different applications. Beyond integrations, the learning software also has some built-in features to measure completion rates and identify learning gaps to create great workplace training.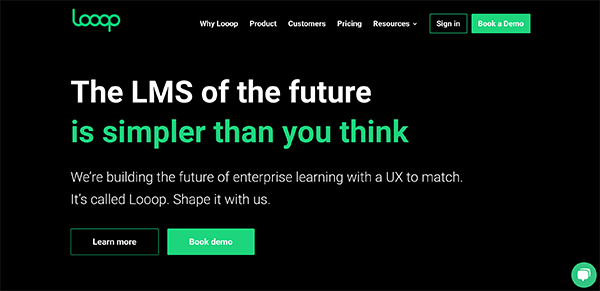 22. Auzmor Learn
This learning management system enables organizations and businesses to deliver, manage and track training materials for employees and their other stakeholders. With Auzmor Learn, you can author courses and store them along with other data in one place. If you decide to go with this LMS, you will get a dashboard that shows the progress of your learners, and the learners will also have a similar dashboard to keep track of their learning activities. One great feature of Auzmor Learn is its open enrollment feature. With this feature, your workers will be able to enroll themselves in any course and continuously upgrade their knowledge. We would love to see this platform get an international deployment function for teams that speak multiple languages.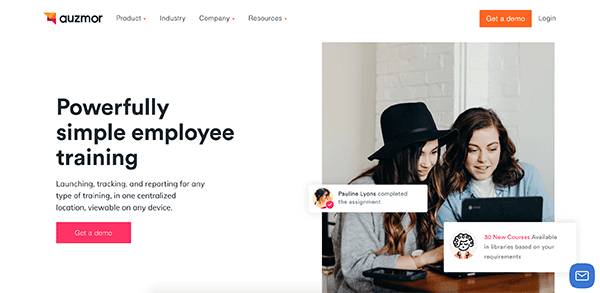 23. Studocu
Studocu is a platform that allows you to significantly improve academic performance. There is a huge amount of educational materials and notes created by more than 15 million students from different parts of the world. The tool is perfect for preparing for exams and tests. On Studocu you can find answers to exam tickets from fellow students and course experts.
The ability to save lists for training, and groups, notifications about the arrival of new materials for courses of interest, the sharing function with friends, and much more, make the learning and research process as convenient and efficient as possible.
Free Learning Management Systems # 24 – Coconut Learning
Coconut Learning offers an unrivaled learning experience for every type of organization, whether you're onboarding, reskilling, or simply updating your learners' expertise. Their customized LMS includes a variety of learning approaches that go beyond textbooks.
Here, you can deliver your training information in the form of videos and live demos, as well as arrange feedback sessions for a more engaging learning experience. It also has a user-friendly course administration system that allows you to submit all relevant information in one place while keeping track of your learners' progress and outcomes. With this fantastic LMS, you can save a significant amount of time and money by not having to leap from one tool to another.
Free Learning Management Systems # 25 – Sibme
Sibme's specialty is in creating engaging, blended, and tailored professional learning solutions that can help your team excel while also sustaining long-term growth. You can use this free learning management system to collect and distribute training information in various forms, foster team collaboration, and meet live and online with your staff at any time and on any device. You may even define specific goals for each team member and track their real-time progress using its training monitoring tools.