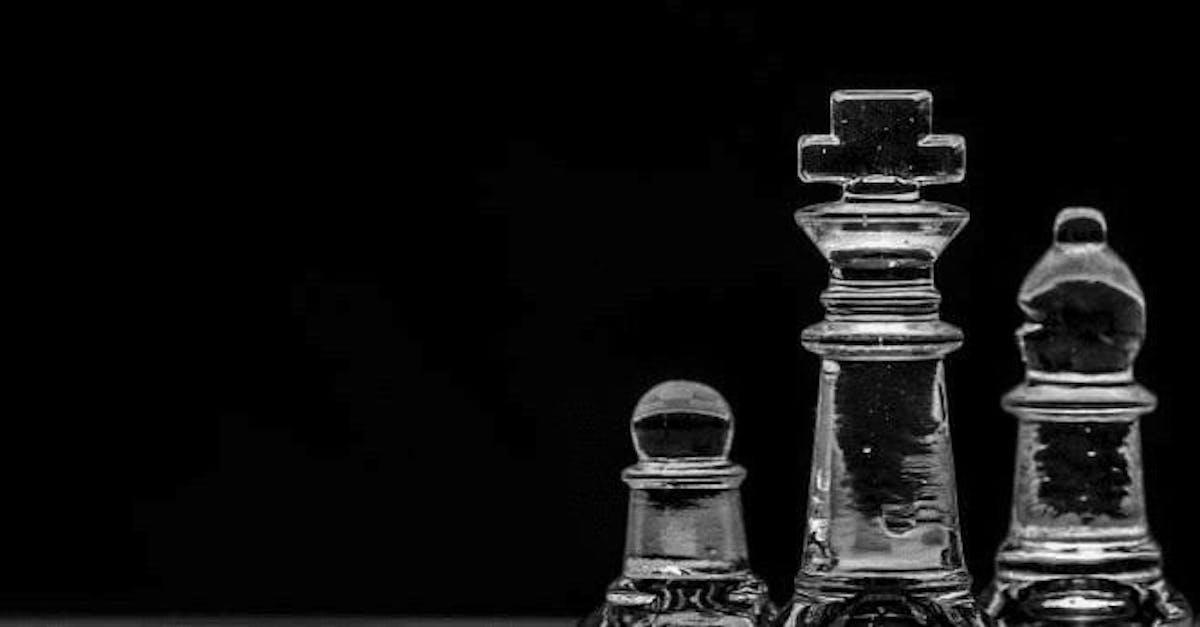 Gamification in business has the ability to turn mundane learning modules into game-like exercises, allowing for new information to be embedded in the learner's long-term memory. In other words, essential to spice up your employee learning.
Gamification works by lowering the mental barriers prohibiting employees from absorbing new information, whilst simultaneously increasing employee engagement and boosting productivity. But most importantly, it is proven to significantly enhance the retention of new knowledge.
If you've got what gamification means down pat but you're still wondering how to use gamification in business, we give you 6 examples.
Gamification Example #1 – Short Topical Lessons
Short, topical lessons release new information for employees to absorb in bursts. Each person can only hold a maximum of approximately five pieces of new information at any given time, meaning new information must be clearly presented in succinct and focused intervals.
2. Efficiently develop effective lessons from ready-made templates
EdApp's efficient authoring tool allows access to a vast library of effective templates, making it easier than ever to create worthwhile modules to incorporate into your employee training strategy. Populating our game-like templates with your own content makes for an easy way to improve the amount of company knowledge embedded in employees' long term memory.
Gamification Example #5 – Spaced Repetition
Our authoring tool implements a spaced repetition aspect through our Brain Boost feature, creating a truly-immersive learning experience for employees. Brain Boost refers to knowledge presented in scientifically-dictated intervals for maximum information retention in a shorter time.
Gamification Example #4 – Prizing and real rewards
Instilling a sense of extrinsic motivation in employees boosts motivation, thus engagement, further enhancing the gamified microlearning experience. Throughout the completion of modules, learners collect stars based on performance, which are then redeemable for rewards. REAL rewards. We're talking small prizes, such as free coffees or food vouchers, or something larger, like an Apple TV, all based on your budget.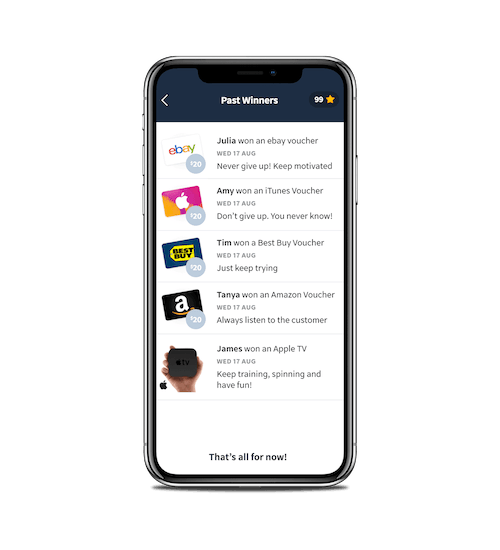 Gamification Example #6 – Leaderboards
Implementing our leaderboards feature instills healthy competition amongst employees, further increases motivation by pushing learners to be the best in their team. This will make training something learners want to do.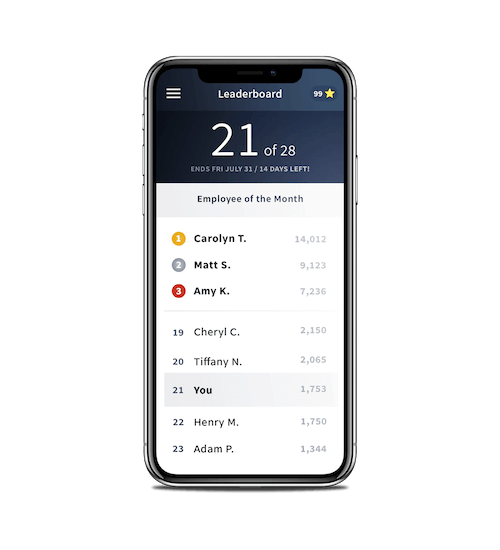 6. Opt for a rapid authoring tool with automated gamification
Our rapid authoring tool provides ready-made templates, only requiring you to import unique content and company branding. Our microlessons can then be used by exporting them to SCORM, meaning you integrated them into your existing Learning Management System, or adopt our mobile-focused LMS. The choice is yours.
Gamification for effective company training
If you'd like to use gamification at work to turbocharge your training for practices, policies, procedures or products, get in touch with EdApp at enquiries@edapp.com. You can also try EdApp's spaced repetition implementation, Brain Boost, for free by signing up here.
Curated course examples