Using Virtual Classroom Platforms
Virtual classroom platforms have become the norm for training and education. But virtual classrooms come in all different sorts and sizes. Trying to pick which one to use for your organization can be confusing.
Therefore, in this article, we will take a look at ten of the top virtual classroom platforms out there. We'll consider why each platform stands out amongst all the others out there on the internet. Now, let's get started.
Virtual Classroom Platform #1 – EdApp
The top virtual classroom platform is EdApp. This is a great choice for corporate environments in which you need to quickly roll out training that is effective, interactive, and allows you to monitor the progress of your workers.
EdApp's Virtual Classroom feature is built-in to the free platform and seamlessly works together with your favourite video conferencing platforms like Zoom and Microsoft teams. This feature allows you and your teams to connect without compromising face-to-face interaction. It enables companies to work remotely and connects even the most dispersed teams through a simple integration that's incredibly versatile and user-friendly.
You can also get set up in minutes and the Virtual Classrooms feature compliments EdApp's microlessons with interactive content, such as quizzes, videos, and surveys. One more thing worth mentioning is learner tracking. A comprehensive reporting suite allows for training staff to recognize learner improvement and also sees which users are falling behind.
Virtual Classroom Platform #2 – Edvance360
Another contender in the virtual classroom platform arena is Edvance360. This platform aims to please all educational markets from K to corporate.
This platform gives learners a lot of agency in their education, as they can construct their own personal learning environment (PLE). It allows them to create ePortfolios and earn badges so they can take ownership of their learning.
Virtual Classroom Platform #3 – Deck Toys
Another virtual classroom platform with several benefits is Deck Toys. This platform offers teachers a way to create lessons that are fun for younger learners.
Creating lessons is easy with a drag-and-drop interface that lets educators set down paths for their learners. Students can then learn through self-exploration which gives them a lot of choice in the way they want to tackle a curriculum.
Virtual Classroom Platform #4 – NewRow
NewRow is another classroom platform that is virtual. This well-built tool allows for high-quality real-time audio and video with many complementary tools to help keep learners engaged.
One of its main features is its digital whiteboard. This allows learners to draw and write together in one space, which is great for group projects.
Other useful tools include breakout rooms, where learners can be placed to learn together, and real-time notes, which let learners follow along in real-time as you type important notes.
Virtual Classroom Platform #5 – Kahoot
Kahoot is another virtual classroom platform that stands out amongst the rest. Kahoot gamifies the classroom so that young learners are constantly engaged with the curriculum.
This virtual platform allows educators to supplement their lessons with quiz reviews that will make learners want to succeed as much as possible. It also allows for students to create their own games, which further cements what they have learned into their memory.
Virtual Classroom Platform #6 – eTrain Center
We can also add eTrain Center to our list of top virtual classroom platforms. This platform focuses on two different types of learners: internal users that are creating training for their company's workers, and external workers that are starting their own training businesses.
Regardless of the type of users you are, you can get a course up and running quickly. eTrain allows you to author your course in their platform which has support for assessments, surveys, multimedia, and any SCORM-compliant content.
Virtual Classroom Platform #7 – Osmo
Another virtual classroom platform is Osmo. Adherents of this virtual classroom platform are called osmonauts. It is also geared towards young learners.
Osmo focuses on science, technology, engineering, and mathematics (STEM) skills. What's unique about osmo is that it isn't just staring at a screen for virtual learning. It also focuses on the tactile, so there are many parts that go along with it. Using tactile pieces can help reinforce learning because it allows you another way to encode the information into your head.
Virtual Classroom Platform #8 – Edulastic
Another virtual classroom to keep in mind is Edulastic. This virtual classroom software is targeted towards schools and school districts. Its main goal is to make it easy to assess where student gaps are and then address those as it closely measures students' growth.
One of its biggest strengths is assessments, and it has over 10,000 pre-built assessments that you can give to your students. It then analyzes test data in detail to determine how proficient a student is in a given area and then recommends the next bit of instructions.
Virtual Classroom Platform #9 – ProProfs
When mentioning platforms for virtual classrooms, ProProfs is another that comes to mind. This virtual classroom platform already has hundreds of preexisting courses that you can choose from, so you don't need to create your own if the training course is already there.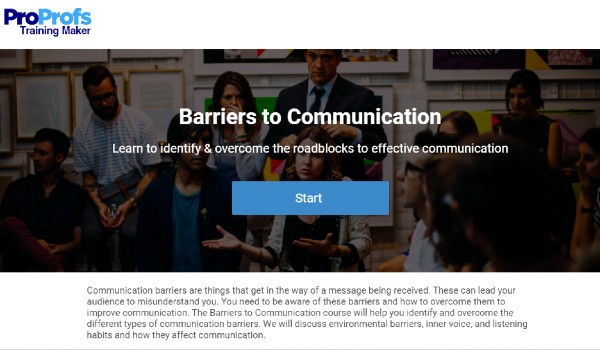 If you want to make your own, then there are multiple ways to do it on ProProfs. You can build your own with their tool or you can import your own courses that are SCORM or Tin Can compliant. Another added bonus for this virtual classroom platform is that you can sell your own courses on it. It gives you an easy way to brand your courses and accept payments.
Virtual Classroom Platform #10 – Wooclap
One final virtual classroom platform to include is Wooclap. This platform is designed specifically for mobile devices and allows learners to easily participate in classes.
Wooclap works for distance learning as well as live learning. With distance learning, students can do surveys, finish homework, and share files. Wooclap lets an educator take data from all that to really dig deep into understanding their learners' progress.
Virtual Classroom Platform Wrap Up
In this article we looked at ten of the best virtual classroom platforms available. You should have a good idea of the various features that these platforms have and how each one is different. You should now try some of them out and see how well each works for you.