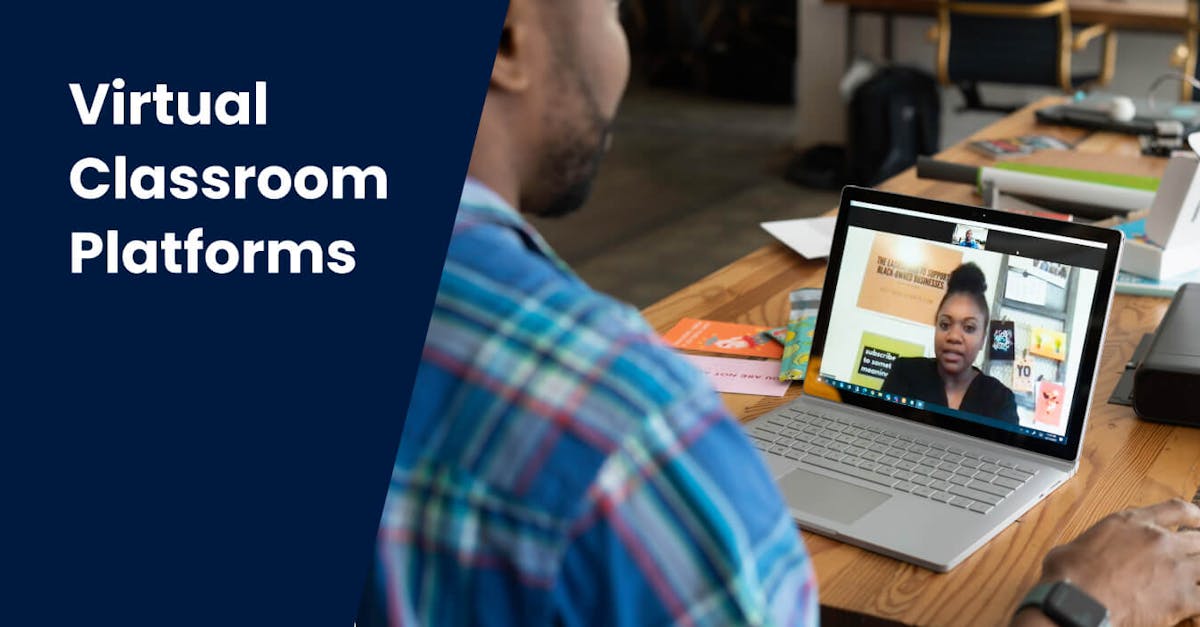 Virtual classroom platforms are becoming the norm for learning and training. Not only are they a flexible venue for trainers and learners, but they are also cost-efficient. Find out what some of the best virtual classroom platforms have to offer and discover which one works best for your organization below.
Virtual Classroom Platform #1 – EdApp
EdApp is an award-winning virtual class platform that's an excellent choice for any industry whether it's construction, retail, hospitality, and more. With EdApp, you can seamlessly work together with top video conferencing platforms like Zoom and Microsoft Teams to deliver instructor-led training (ILT) sessions. Monitoring performance, rewarding top performers, and creating content is also possible on this all-in-one platform.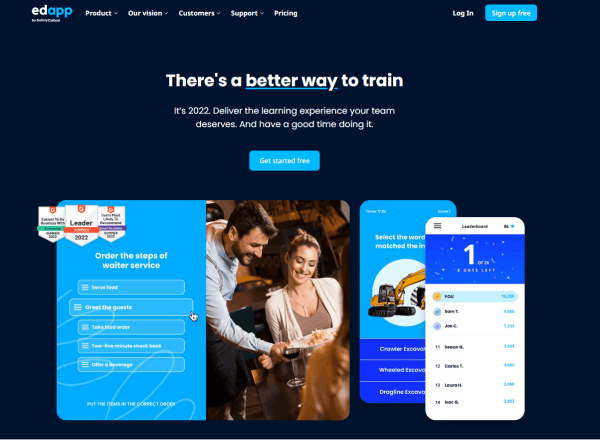 EdApp's Virtual Classroom feature compliments EdApp's microlearning courses, so you can deliver short-form interactive content and virtual training ideas in bursts alongside your ILT sessions. Microlearning can help enforce key concepts and improve knowledge retention, strengthening the effectiveness of your virtual classroom sessions overall. EdApp is the best platform to find a virtual classroom template free.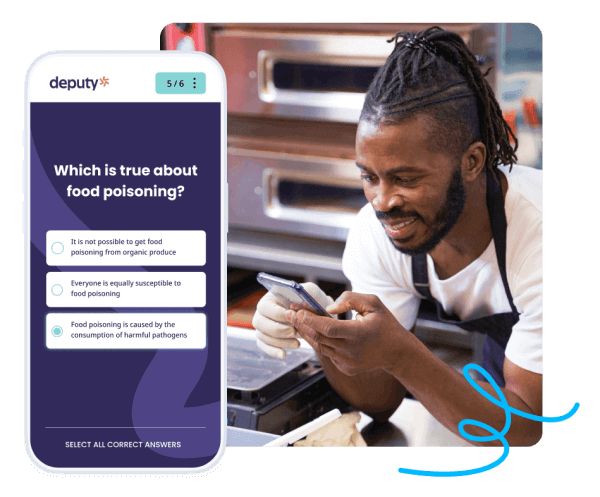 Setting up your virtual training sessions is also easy. You either invite your learners with a link via email or SMS text or you can send out a QR code for them to scan with their phones. Training can be delivered on any device as well so your learners can use their preferred device when it comes to learning. This makes virtual classroom setup at home possible and easy!
Check out EdApp for free and begin training on one of the best virtual classroom platforms today.
Virtual Classroom Platform #2 – Edvance360
Another contender in the virtual classroom platform arena is Edvance360. This platform aims to please all educational markets from K to corporate.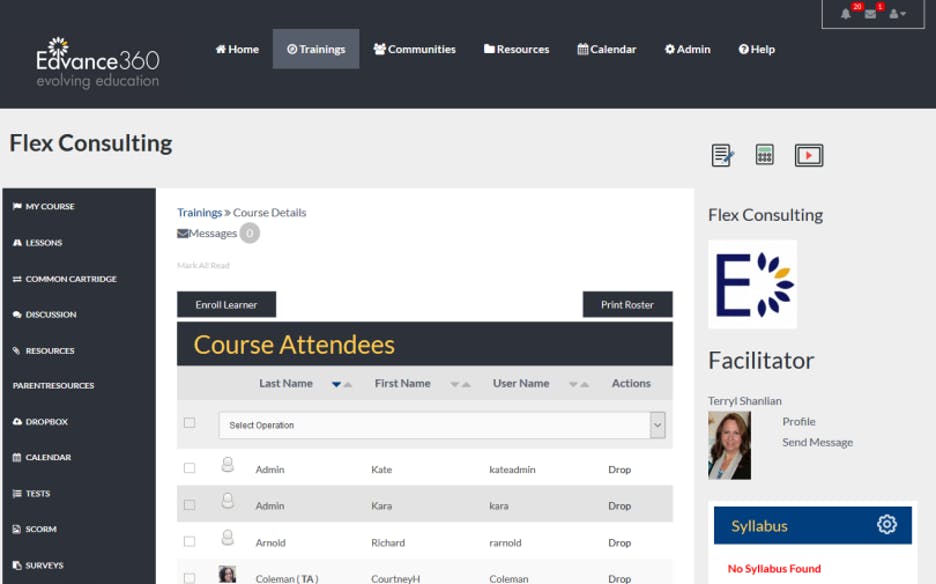 This platform gives learners a lot of agency in their education, as they can construct their own personal learning environment (PLE). It allows them to create ePortfolios and earn badges so they can take ownership of their learning.
Classroom Platform #3 – Deck Toys
Another virtual classroom platform with several benefits is Deck Toys. This platform offers teachers a way to create lessons that are fun for younger learners.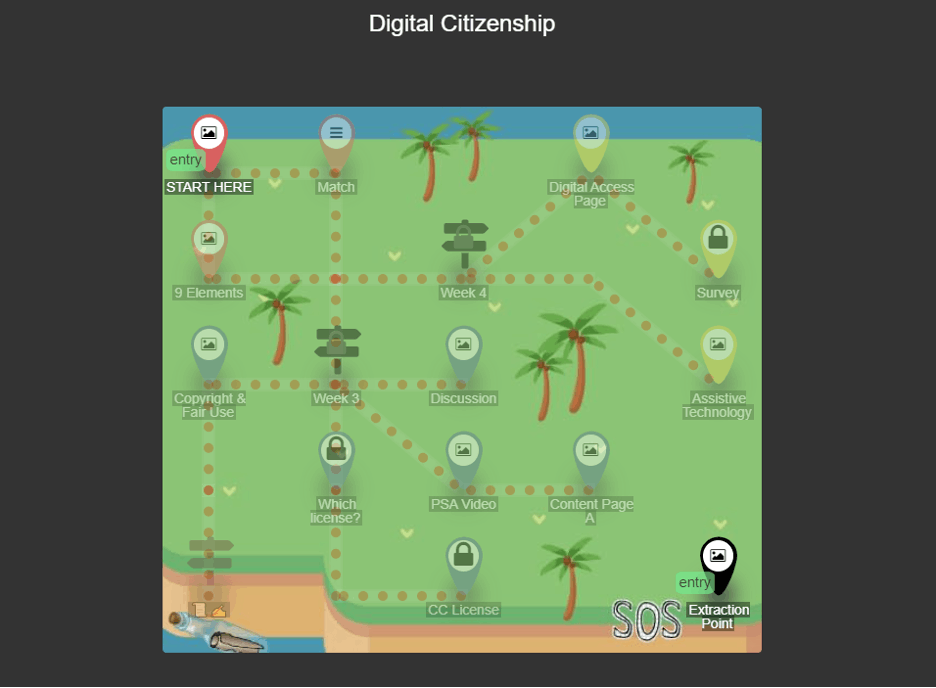 Creating lessons is easy with a drag-and-drop interface that lets educators set down paths for their learners. Students can then learn through self-exploration which gives them a lot of choice in the way they want to tackle a curriculum.
Online Classroom Platform #4 – NewRow
NewRow is another classroom platform that is virtual. This well-built tool allows for high-quality real-time audio and video with many complementary tools to help keep learners engaged.
One of its main features is its digital whiteboard. This allows learners to draw and write together in one space, which is great for group projects.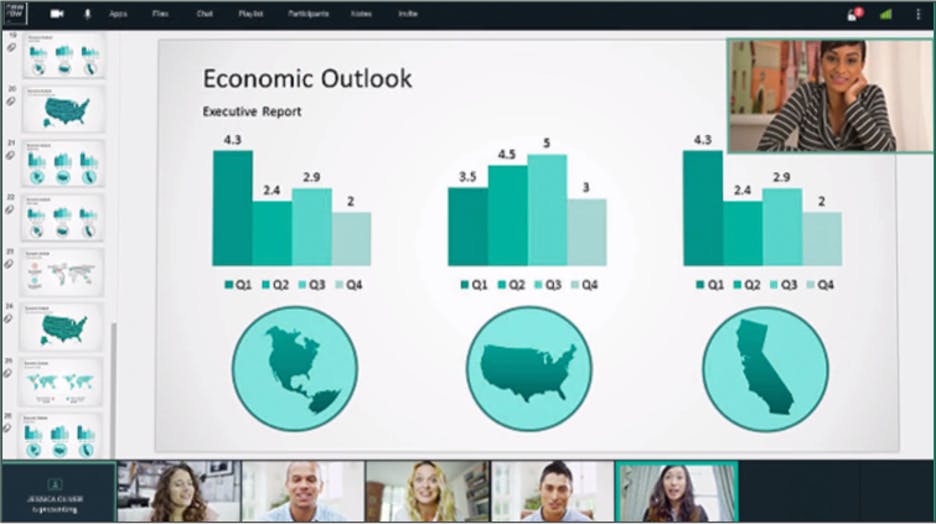 Other useful tools include breakout rooms, where learners can be placed to learn together, and real-time notes, which let learners follow along in real-time as you type important notes.
Virtual Classroom Software #5 – Kahoot
Kahoot is another virtual classroom platform that stands out amongst the rest. Kahoot gamifies the classroom so that young learners are constantly engaged with the curriculum.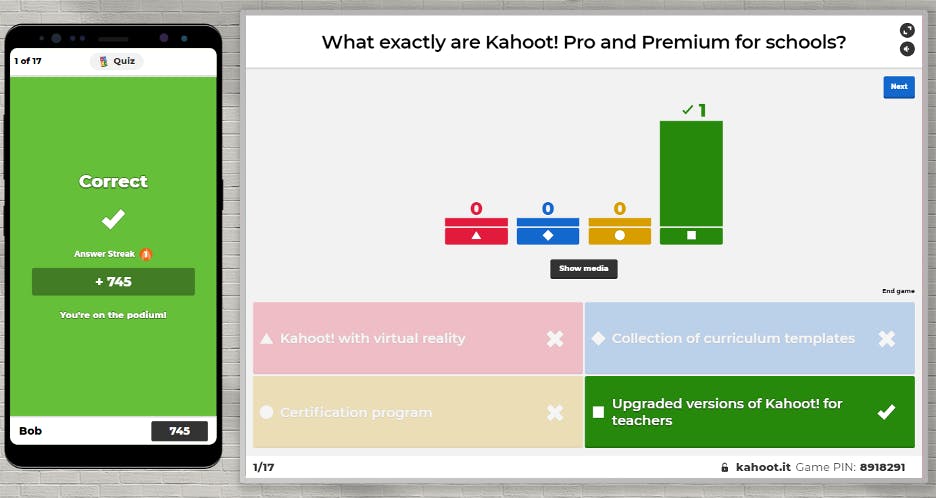 This virtual platform allows educators to supplement their lessons with quiz reviews that will make learners want to succeed as much as possible. It also allows for students to create their own games, which further cements what they have learned into their memory.
Online Class Platform #6 – eTrain Center
We can also add eTrain Center to our list of top virtual classroom platforms. This platform focuses on two different types of learners: internal users that are creating training for their company's workers, and external workers that are starting their own training businesses.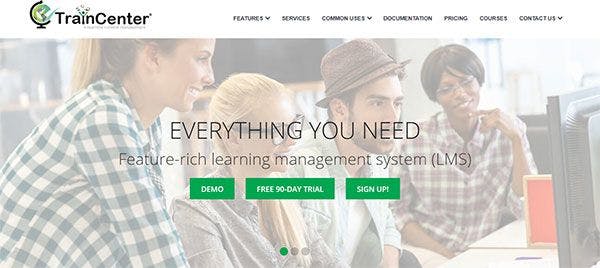 Regardless of the type of user you are, you can get a course up and running quickly. eTrain allows you to author your course in their platform which has support for assessments, surveys, multimedia, and any SCORM-compliant content.
Virtual Classroom #7 – Osmo
Another virtual classroom platform is Osmo. Adherents of this virtual classroom software are called osmonauts. It is also geared towards young learners.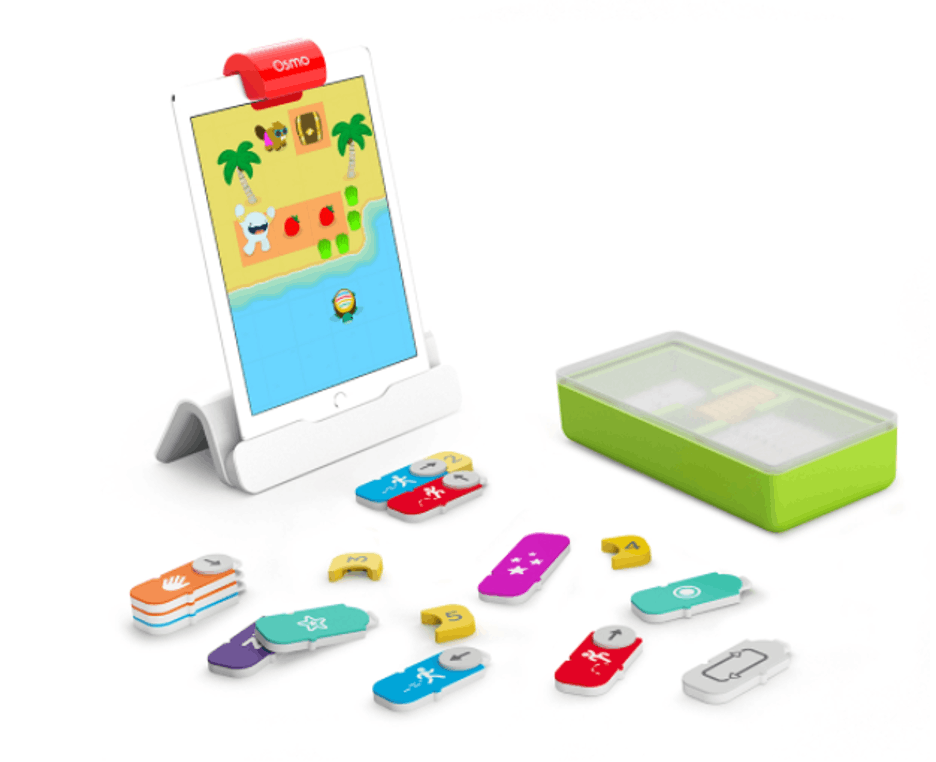 Osmo focuses on science, technology, engineering, and mathematics (STEM) skills. What's unique about Osmo is that it isn't just staring at a screen for a virtual learning platform. It also focuses on the tactile, so there are many parts that go along with it. Using tactile pieces can help reinforce learning because it allows you another way to encode the information into your head.
Online Classroom Platform #8 – Edulastic
Another virtual training platform to keep in mind is Edulastic. This virtual classroom software is targeted towards schools and school districts. Its main goal is to make it easy to assess where student gaps are and then address those as it closely measures students' growth.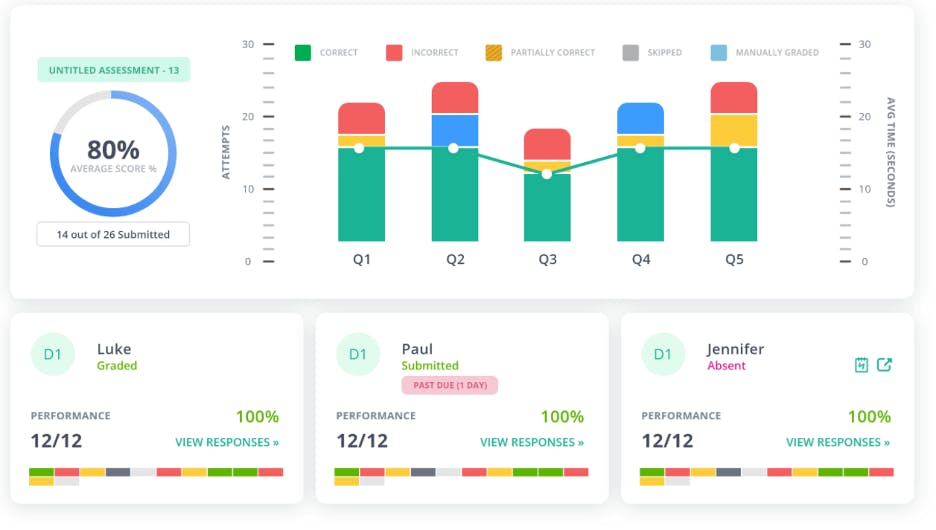 One of its biggest strengths is assessments, and it has over 10,000 pre-built assessments that you can give to your students. It then analyzes test data in detail to determine how proficient a student is in a given area and then recommends the next bit of instructions.
Example of Virtual Classroom Platform #9 – ProProfs
When mentioning platforms for virtual classrooms, ProProfs is another that comes to mind. This virtual classroom platform already has hundreds of preexisting courses that you can choose from, so you don't need to create your own if the training course is already there.
If you want to make your own, then there are multiple ways to do it on ProProfs. You can build your own with their tool or you can import your own courses that are SCORM or Tin Can compliant. Another added bonus for this virtual classroom platform is that you can sell your own courses on it. It gives you an easy way to brand your courses and accept payments.
Virtual Classroom Example #10 – Wooclap
One final virtual classroom platform to include is Wooclap. This platform is designed specifically for mobile devices and allows learners to easily participate in classes.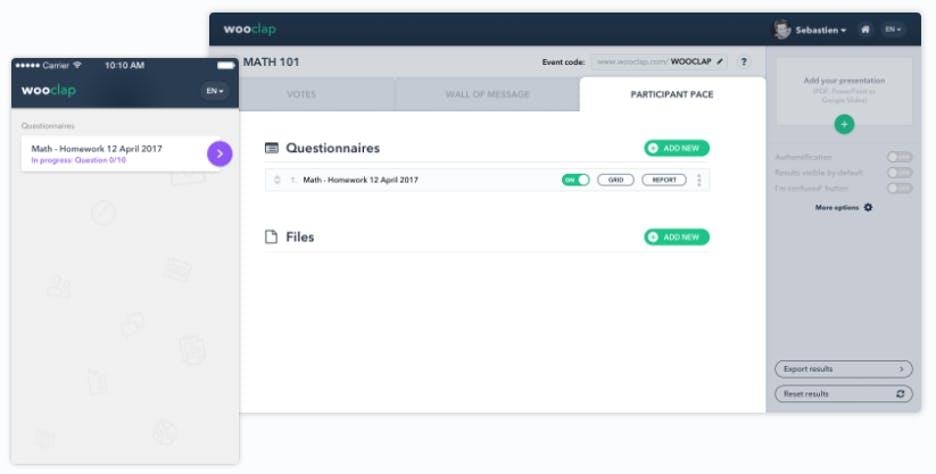 Wooclap works for distance learning as well as live learning. With distance learning tools, students can do surveys, finish homework, and share files. Wooclap lets an educator take data from all that to really dig deep into understanding their learners' progress.
Online Classroom Platform #11 – Google Workspace
The collaborating features provided by the software giant have all the basic features an online classroom might need. Google Workspace incorporates features of its Gmail, Google Drive, and Google Calendar — providing you with a learning ecosystem. Other internal online editing software such as Google Docs, Sheets, and Slides offer live editing options with your team.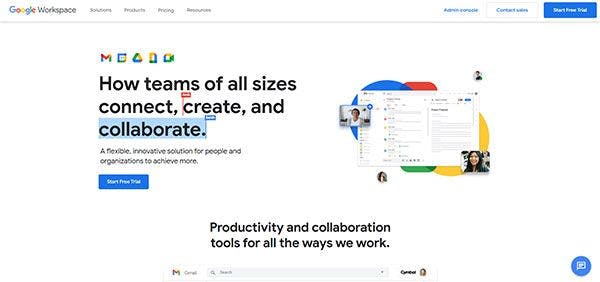 Apart from Google Meet video calls, teams collaborating via Google conference system have access to group and personal chats, and video calls can host up to 10 000 participants, regardless of their physical location. Google Classroom and Google Workspace for Education is also available for an academic setup. Using Google Workspace is free but requires opening a Google account.
Virtual Classroom Platform #12 – Ayotree
Ayotree is a cloud-based online platform for educators aiming at making remote teaching easy and accessible for everyone. Principally, Ayotree was designed to facilitate school education at all levels, including private teaching or language schools. It features a comprehensive management system containing quick and easy scheduling, attendance tracking and billing methods, helping to keep all the school affairs in one place.
Thanks to its cloud-based system, many users can access the same data simultaneously, which helps to avoid conflicting or duplicated data. It's also a white-label company which means you can design your online schooling completely with your own branding. Using Ayotree is paid but you can get access to a free trial.
Classroom Platform #13 – Zoom
By far one of the most popular virtual classrooms out there – so popular in fact, that it has become the tool to reach for regardless if you're meeting with friends, have a business call with workmates, or attend an online class.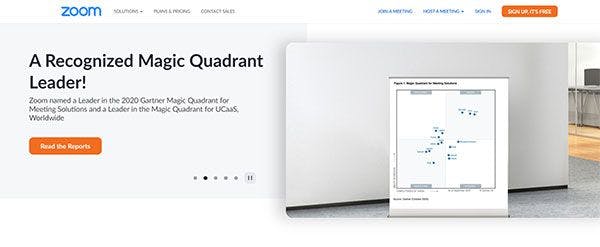 Zoom has all the basic features of a virtual classroom, such as screen sharing, screen record, group and private chat features as well as break-out rooms — perfect for interactive training. Calls with Zoom are accessible anywhere at any time through all mobile devices. Zoom is free software, but it requires a premium account for calls including more than 5 people.
Online Classroom Platform #14 – Blackboard Collaborate
Blackboard has been designed as a solution for institutions that aim at delivering engaging content for students and employees alike. It focuses on creating a community of like-minded people to enhance peer-to-peer collaboration.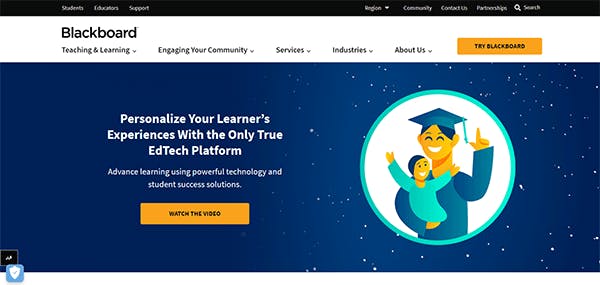 Blackboard can be used in remote learning and for conference purposes alike, and what makes it even better, one can stay connected anywhere at any time as this software is available on all mobile devices. Blackboard is designed to perform assessments, track progress and manage enrollments with efficient tools available in a number of languages. assessed through an individual quota.
Virtual Classroom Software #15 – Airstack
Much more than a simple virtual classroom, Airstack offers an unusual service namely compiling all your online tools and apps in one place for easy and trouble-free management. It allows for joining various teams through their own video calling software and quicker, more efficient communication between smaller teams or enterprises.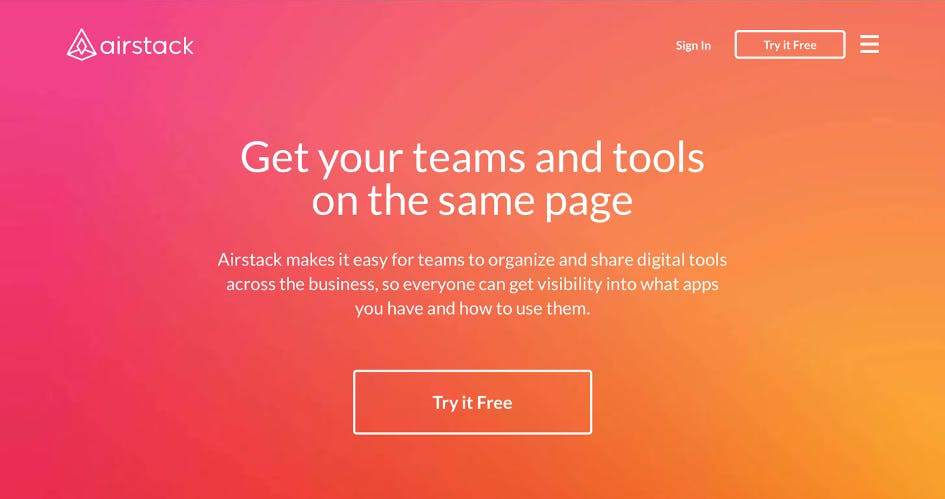 AirTech accelerates tech sharing, limits waste of spends and makes company management easy in the time of full digital operation. It's an interesting option for companies collaborating with various virtual classroom apps, willing to jump the hurdles, and get to work faster.
Online Class Platform #16 – Panopto
Panopto makes video calls easy and accessible for everyone. This mobile-friendly virtual learning platform allows for multiple participant professional video calls, screen sharing, recording, and streaming of pre-recorded content. With tracking features one can easily measure audience engagement and get feedback. Panopto is a great solution for corporate clients, who would like to synchronize virtual meetings through this platform with their LMS, CMS, and SSO software. Using Panopto is not free though, but one can access a free trial.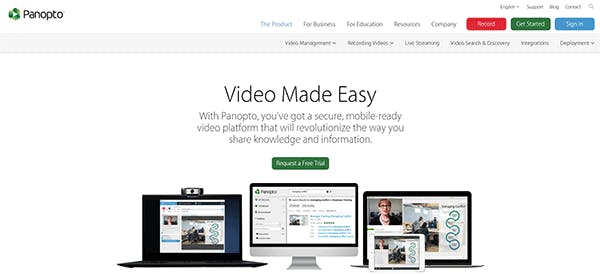 Virtual Classroom #17 – Samba Live
Samba Live has been there for its clients for over 17 years, enabling thousands of online conferences and meetings to take place. This award-winning, fully browser-based virtual classroom platform allows for both high-definition live streaming of conferences and recording them for further reference.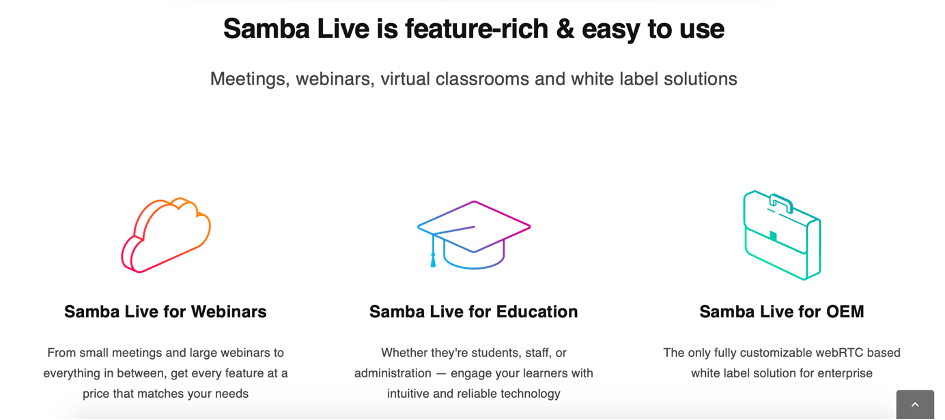 Through collaboration with Facebook and YouTube, your conferences or webinars can be streamed directly on your channels. As a white-label brand, it also allows for customization of your through free logo insertions and color adjustment. What's important for corporate clients, Samba software allows for integration with local LMS/LTI and API. Samba, unfortunately, is not free to use and pricing starts at 14$ a month.
Online Classroom Platform #18 – Vedamo
Vedamo is an established conferencing tool featuring not only all the necessary tools for efficient video calls but also a whiteboard, break-out rooms, and screen recording, making it a versatile solution that meets the needs of educational and business environments alike. It's simple and intuitive enough to be used for virtual classes of primary schoolers and still comprehensive to stand up to the standards of corporate team calls.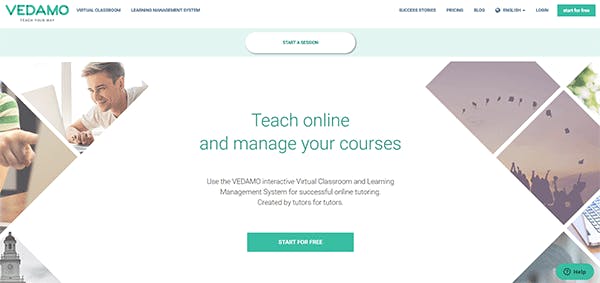 What is important, Vendamo doesn't require installing any additional software and it's integrated with a number of other virtual educational platforms such as Google for Education. There's a free trial available but then the cheapest option comes at 5 a month.
Example of Virtual Classroom Platform #19 – BrainCert
BrainCert is an all-in-one mobile-friendly training management tool with built-in virtual classroom features. Designed to meet the needs of corporate training, it sports a range of solutions for employee, partner, and compliance training. Within its blended learning solutions incorporated into the LMS they offer, BrainCert delivers a comprehensive toolkit for online teaching.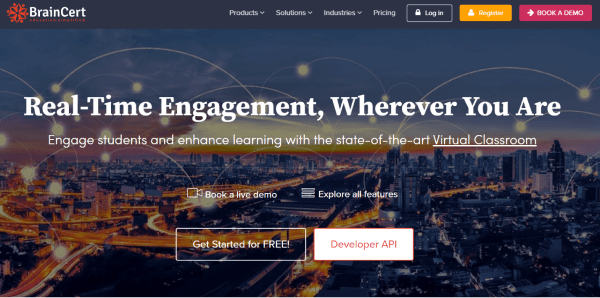 Virtual classrooms featuring comprehensive utilities support video streaming and chat features, together with constant feedback in the forms of analytics and reporting. BrainCert allows for free content management within the LMS and provides smooth onboarding experiences. Like some platforms, BrainCert offers a free version although it's fairly limited, and the paid options can cost around 59 monthly.
Virtual Classroom Platform Wrap Up
In this article, we looked at ten of the best virtual classroom platforms available. You should have a good idea of the various features that these platforms have and how each one is different. You should now try some of them out and see how well each works for you.