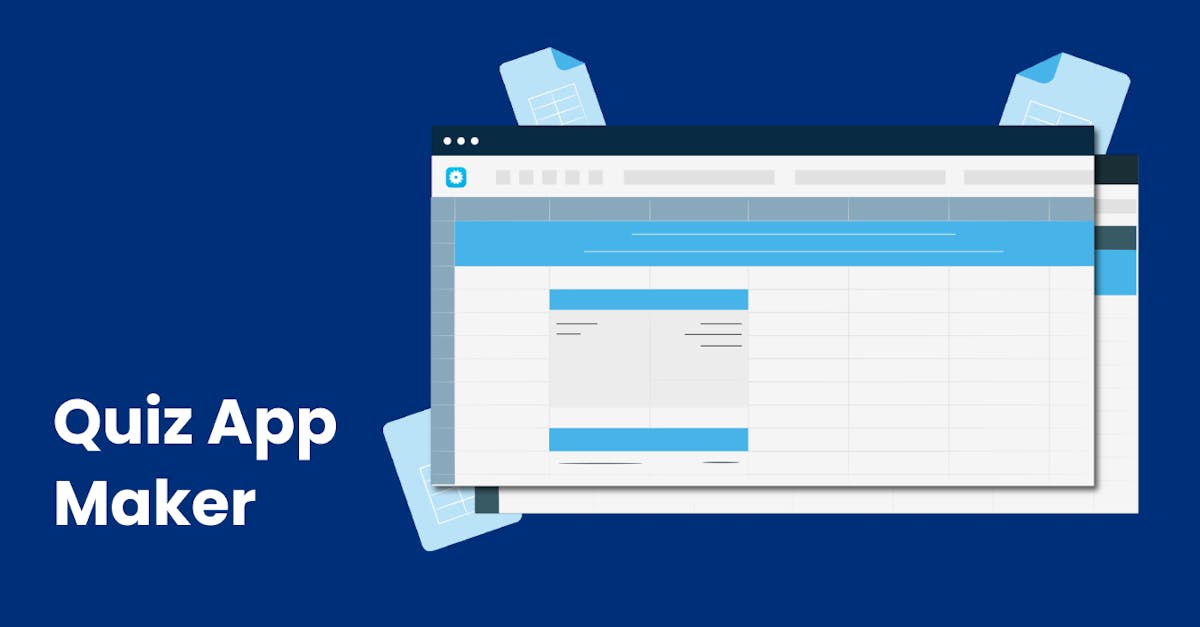 Quiz app makers make the creation of assessments easier and faster for managers. They also have automatic delivery to the respondents which is a feature that self-administered physical quizzes don't have. By turning digital, your training managers can easily conduct their assessment of their learners while saving both time and money.
Quiz App Maker #1 – Rapid Refresh by EdApp
Rapid Refresh is an intuitive quiz app maker feature of EdApp. It is designed to make online quiz building for busy managers a breeze with its easy-to-use interface. Simply input your questions into a spreadsheet template and they will automatically be converted into a quiz that's ready for distribution.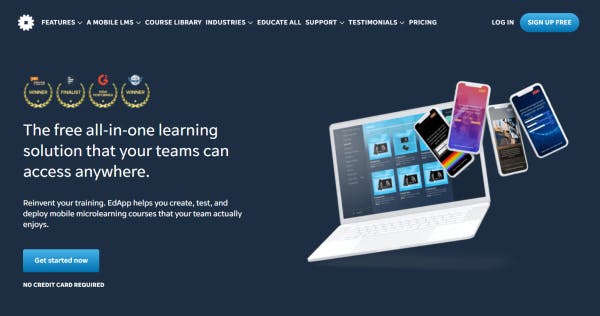 To assist your employees with their learning, Rapid Refresh can break down your quizzes into short bursts that are taken at regular intervals to reinforce knowledge retention. Additionally, you may schedule the exam delivery on a daily or monthly basis using the Spaced Repetition option, a feature that reinforces the participation of the learners. The test builder will take care of everything else; all you have to do is set the time interval.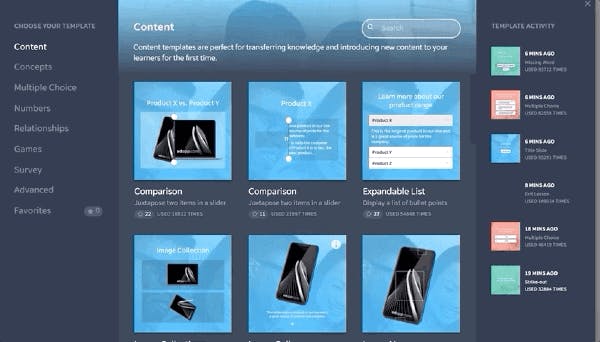 EdApp uses gamification as a technique to help learners absorb content more effectively. It makes learning far more engaging and entertaining than standard course materials thanks to its assortment of dynamic gamified templates. EdApp can undoubtedly meet your learning needs in terms of microlearning and knowledge retention.
Apart from quiz features, EdApp also houses pre-made courses that you can share with your team after taking their quizzes. They focus on a range of course topics, including marketing, cyber security, and electronic commerce, and corporate leadership training courses, among many others.
Deliver professionally designed L&D that your staff will value. Send your learning needs to EdApp's skilled instructional design team, and they will transform them into engaging and instructive courses.
Features: 
Cost: Free
Sign up for free and start using the best quiz app maker!
Quiz App Maker #2 – SurveyMonkey
Another quiz app maker is SurveyMonkey which lets you create surveys, quizzes, and polls. The survey platform offers hundreds of modifiable quiz templates that you can use to build questionnaires, saving you time from having to develop a quiz from the start. Its analytics capabilities also allow you to track your learners' online learning progress and overall quiz results. Additionally, you can automatically send email notifications to learners who have yet to begin their evaluation.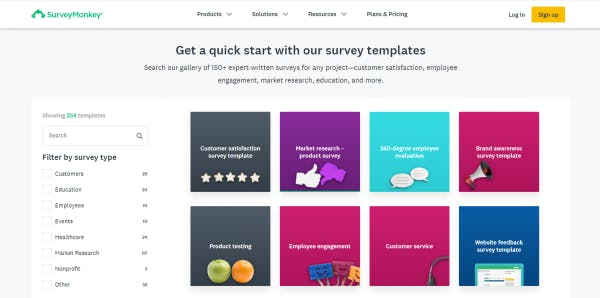 Features: 
Cost: Free, paid plan starts at 7.60 USD
Quiz App Maker #3 – Outgrow
One of the leading interactive app quiz builders for marketing practitioners is Outgrow's quiz app maker. Using fully configurable themes and templates, you can build interactive quizzes and other online learning games in a few minutes. Its no-code online quiz maker will assist you in generating relevant leads, engaging customers, increasing website traffic, creating an online quiz for real money, and promoting brand loyalty. Outgrow's quiz creator has a free trial for seven days, so you can try their professionally designed, pre-optimized templates and increase your conversion rates.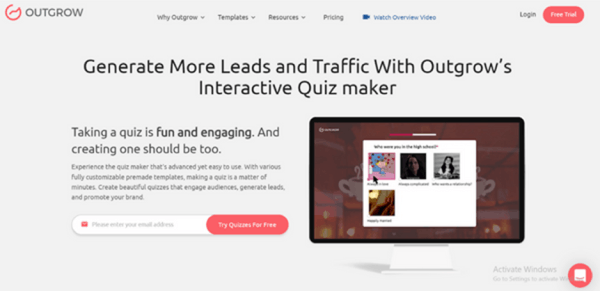 Features: 
Cost: Free trial, paid plans
Quiz App Maker #4 – Fyrebox
Fyrebox is a cloud-based quiz appmaker that you can easily use to create engaging and well-designed exams. By implementing a presentation or a discussion quiz format following chat applications like WeChat, WhatsApp, or Messenger, you may check your employees' training progress or create leads for your organization's website. You can change the color scheme, import background photos, and pick the font styles of your form with this tool. 

You can create tests with no limit if you have a subscription, but keep in mind that all test copies will be published with the Fyrebox logo with the free version.
Features: 
Quiz customization

Discussion quiz format

Themes and templates
Cost: Free, paid plans
Quiz App Maker #5 – QuizGame
QuizGame is an online quiz app maker that promotes the use of gamification to enhance information retention after training. It provides a variety of pre-made templates and quiz formats, including games, duels, and group trivia. Additionally, it gives users access to data analytics for effective interaction and learning progress monitoring. This quiz program successfully complements your employee training by assisting you in measuring employee knowledge, fostering competition, and effortlessly enhancing information retention.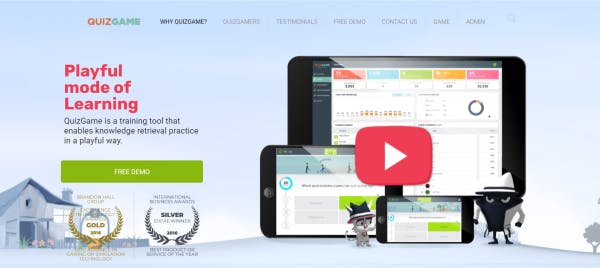 Features: 
Cost: Free demo
Quiz App Maker #6 – Nearpod
You can give Nearpod a try if you're looking for a simple multiple choice quiz app maker. You can use a variety of question types to construct a quiz that assesses your employees' competency levels . For example, you can use this tool to create quizzes about crane operators training programs to check your operators' knowledge level after taking their courses. To make the quizzes more interesting, you can also include other media, such as photos, video clips, or audio voice-overs. Real-time feedback and reports are given as soon as your learners finish their assessments, allowing you to quickly determine those who had a good score and which ones still require extra coaching.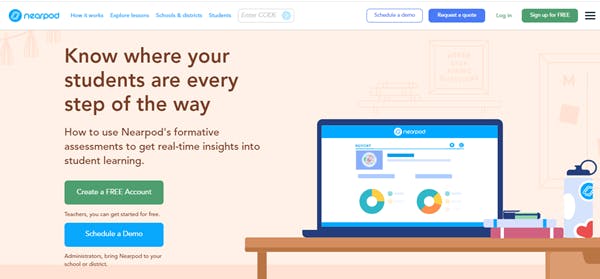 However, Nearpod's free version only offers 100MB of storage. You can avail of their paid plans to upgrade.
Features: 
Quiz customization

Themes and templates

Real-time reports
Cost: Free, paid plans
Quiz App Maker #7 – Testmoz
Another quiz app maker you can check out is Testmoz. You can distribute your exams online and get test results right away, even with the free version of the app.  Additionally, its features allow you to include images and videos, set time limits for each exam, and choose the language in which students will engage to further personalize the tests you create. This platform handles all of the grading for you, saving you time and effort that may be better used on more crucial tasks.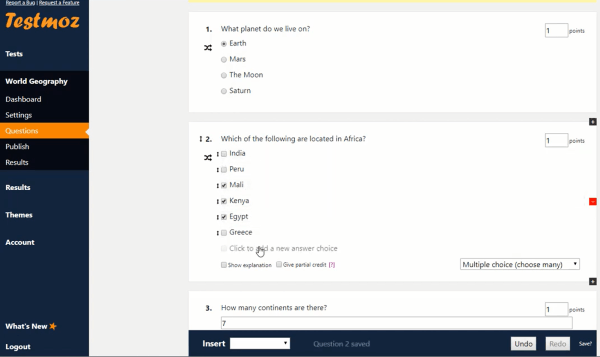 Features: 
Quiz maker

Customization options

Analytics
Cost: Free
Quiz App Maker #8 – FlexiQuiz
A simple way to build, evaluate, and deploy exams is with FlexiQuiz, a free quiz app maker. The question formats supported are multiple-choice, picture choice, short answer, matching type, essays, and fill-in-the-blanks. Additionally, you can select whether a question is required or optional, so you can influence the responses of your learners. After finishing each quiz, administrators can send test-takers their results immediately. The platform is mobile-ready, so both creators and respondents can access quizzes at any time using their smartphones.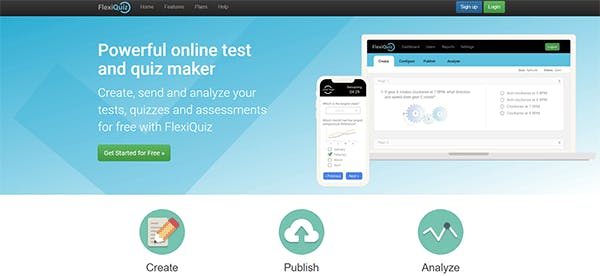 Features: 
Quiz maker

Mobile-ready

Private testing

Analytics
Cost: Free
Quiz App Maker #9 – Quiz Maker
Quiz Maker features a wide variety of quiz alternatives, including polls, surveys, trivia questions, and personality tests. If you don't want to start from scratch, it also provides several quiz templates that you can customize. So they can see how their peers are doing, leaderboards are also accessible for your employees which can further motivate them to perform well after tests. Take note that with the free version, only up to 20 questions are allowed in each form. Quiz Maker's free trial version is only available for 14 days of use.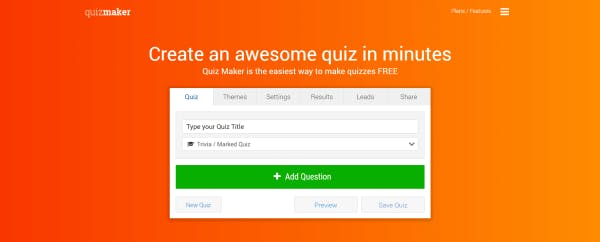 Features:
Different quiz types

Customizable themes

Leaderboards
Cost: Free, paid plans
Quiz App Maker #10 – SpeedExam
SpeedExam is a distinctive quiz app maker designed to help learners with their independent studies. For an extra challenge, it provides a variety of question formats so that your quiz-takers can face a variety of problem types.  Additionally, you can design exams that can be taken simultaneously, even in regional offices, which is ideal for worldwide enterprises. With SpeedExams' exam monitor, you can keep an eye on your learners as they take their tests. Take note that you have 25 exam attempts per month with up to 5000 questions in its free plan.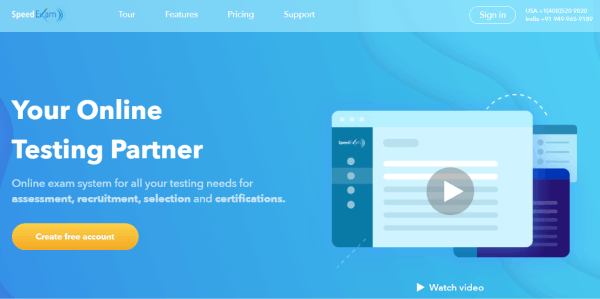 Features: 
Question bank

Concurrent tests

Automated proctoring
Cost: Free, paid plans
Try EdApp for free.