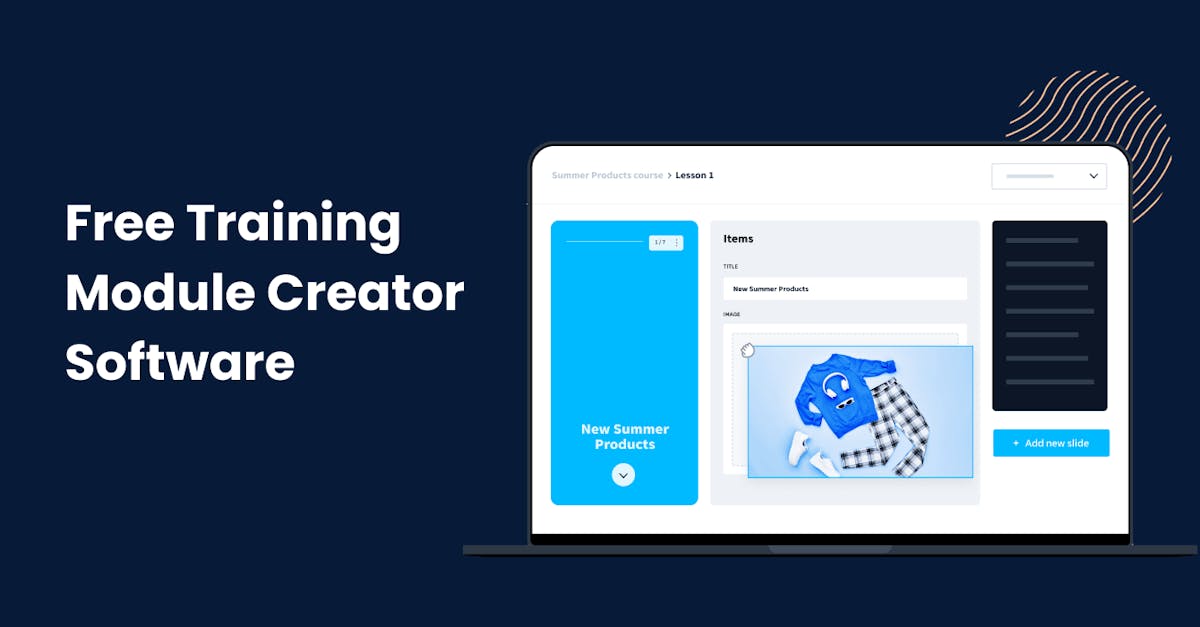 Access to free training module creator software has now been more available which means that effective training doesn't need to cost an arm and a leg. With this benefit, you can take advantage of the different features they offer to help speed up module building, create beautifully-designed lessons, and more. To narrow down your search, we've put together 10 free training module creator software to get you started.
1. EdApp
EdApp is a mobile-first microlearning platform that enables you to create, personalize, and deploy high-quality learning content. Through a user-friendly training module creator, you can transform overwhelming training information into bite-sized modules that focus only on key elements of any topic. When creating microlearning courses from scratch, EdApp gives you access to a library of 80+ interactive and engaging templates. To further increase the engagement rate, you can combine your microlessons with gamification elements and transform your eLearning content into smartphone-like games. This strategy is an effective way to motivate your employees in completing their training courses while also having fun.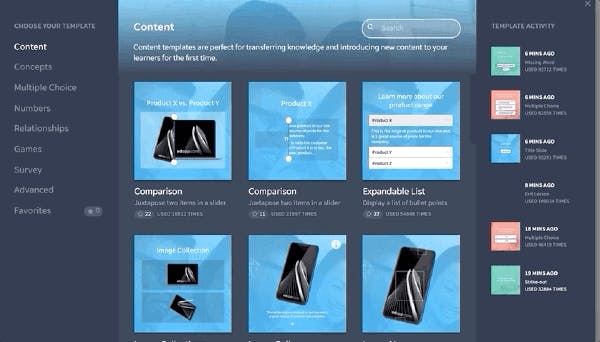 As a data-driven authoring tool, EdApp also provides insights on the most used templates by other authors, the most effective sequence for maximum retention, and the best placements of multiple-choice questions within a lesson. Through these data, you'll have a better idea of how to structure your courses to improve learning outcomes.
This training module creator software also integrates with Canva, a designing platform that enables users to easily create any kind of visual content using a simple drag-and-drop tool. It provides free and paid stock photography, fonts, illustrations, and templates in just one platform, which helps users easily design visually engaging content – even with little to no knowledge or experience of graphic design. With well-designed and visually informative lessons, your learners are able to have a better grasp and retention of your training content. If you don't have experience creating training materials, you can relax because EdApp's team of expert instructional designers can develop a course for you.
Highlights:
Price: Free
Start Using The Best Free Training Module Creator Software
2. Accessplanit
Accessplanit is a training management software suitable for training providers and other L&D professionals that deliver hundreds or thousands of courses. It serves as an all-in-one learning platform that can help you streamline and automate processes. With its training module creator, it also enables you to easily create high-quality training materials and provide exceptional learning experiences for employees or customers. Its course management feature also allows you to efficiently manage course and training events, may it be in-person learning sessions or e-Learning, making it compatible with a blended learning strategy.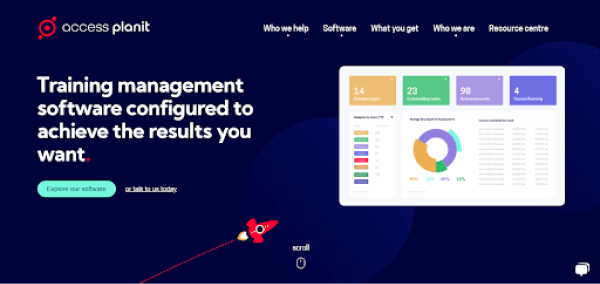 Highlights:
Authoring tool

Course management 

Reports and analytics
Cost: Price upon quote request
3. Coassemble
Coassemble is a user-friendly training module creator that makes the creation of interactive learning materials quicker and easier for training managers like you. This employee training software allows you to transform your old presentations,PDFs, and documents into engaging online courses with its available screen templates that support various media forms and provide interactive elements. You can also assess your personnel's knowledge retention through pop quizzes or activity-based challenges. A certificate will be given to your employees upon course completion.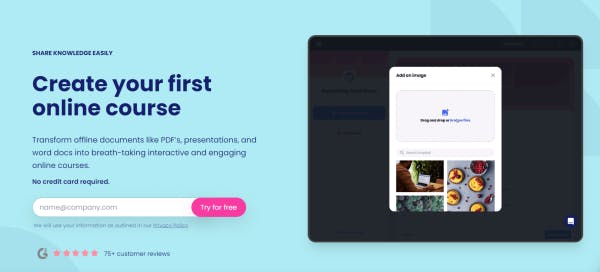 Highlights:
Price: Paid subscription starts at 99 USD (monthly)
4. isEazy
isEazy is a training module creator that enables you to design polished learning materials without needing technical design skills through a simple interface and intuitive editing system. The platform enables you to choose from a range of well-designed slide templates and course layouts, personalize your images, and translate courses with ease. You can also customize your course by adding interactive elements like quizzes, catalogs, and timelines. If you want to deploy a course more efficiently and save time, the collaborative tool is a handy feature that allows different users to simultaneously edit a single course. While this LMS is available for free, courses are published with an isEazy watermark.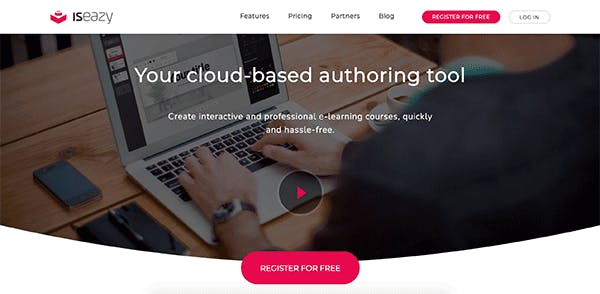 Highlights:
Slide templates

Collaborative tool

Course translation
Cost: Free basic plan, 9 USD pro plan, and 00 USD business plan
5. VAIRKKO
VAIRKKO e-Learning Cloud is engineered to meet the demands of L&D leaders looking for an intelligent tool to manage their courses.  Perfect for businesses of all sizes, you can create and publish as many business training courses as you wish through its training module creator. This easy-to-use platform also enables you to automatically assign lessons and monitor their completion and success rates through a streamlined process. Course lessons can be uploaded as PowerPoint, PDF, images, videos, and audio clips, and can be accessed across all devices.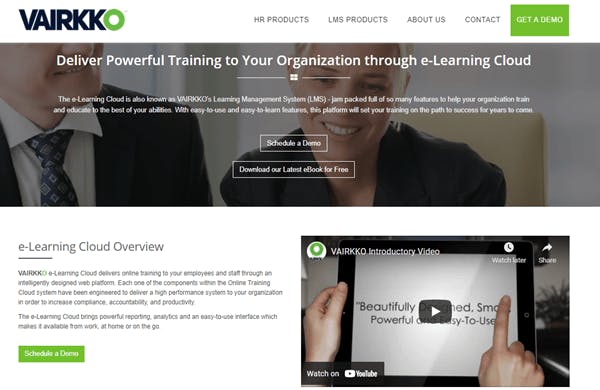 Highlights:
Intelligent e-learning cloud

Unlimited courses, smart assignments, robust reporting, and monitoring

Mobile- and desktop-friendly
Cost: Custom price available upon quote request
6. Academy LMS
Academy LMS is another training module creator that allows you to create simple yet well-designed online course modules, and set up multiple online quizzes. Lessons can be delivered through different content formats like video, pdf, doc, and image files, Instructors can use the course management feature within the tool to easily deploy training materials to their team. Meanwhile, learners can download the Academy app to access their learning content anytime and anywhere.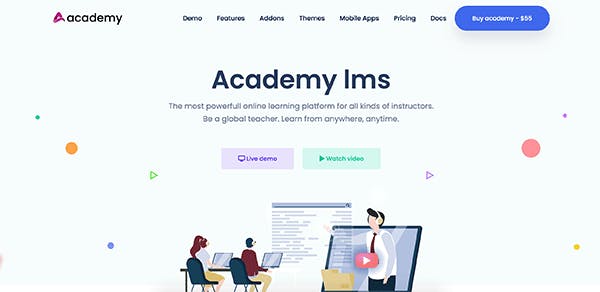 Highlights:
Course builder

Quiz creator

Interactive messaging
Cost: 5 USD regular license, 50 USD extended license
7. Mural
As a digital workspace and brainstorming tool, Mural allows team members to virtually collaborate with one another. With its flexibility, teams can easily use the platform to share knowledge, plan projects, organize data, conduct workshops, outline content, and so much more. It allows project facilitators to create icebreakers and customize e Learning templates from the template library to enjoy a fun and interactive engagement activity with the team. While this is a great tool for remote collaboration, one disadvantage of this software is the difficulty in using its mobile version.
Highlights: 
Pre-built templates 

Visual collaboration

Remote collaboration
Cost: 2 USD per month for starter plan, 0 USD per month for the plus plan
8. Arlo
Arlo is an LMS designed specifically for training providers aiming to empower learners through self-paced learning, live online learning, and blended learning. This LMS provides a blended learning solution by extending training with digital learning incorporated on live and interactive webinars, eLearning modules discussion forums, recorded videos, and assignments. It also provides a quiz maker so you can check knowledge retention among employees. Its innovative training management system design streamlines processes and simplifies tasks, enabling training providers to save more time. The platform's content creation and content management features also allow you to develop compliance training programs like first aid training courses, emergency preparedness training courses, EHS training courses, and hazard communication courses.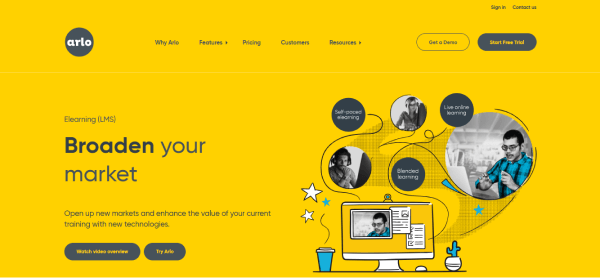 Highlights:
eLearning with self-paced modules, classroom sessions, discussions, assignments, and quizzes

Live online sessions such as web conferences and webinars

Course management
Cost: Custom price available upon quote request
9. Raptivity
Raptivity is a training module creator software that enables you to design engaging and visually stimulating online learning experiences. The tool features a growing library of pre-made responsive interactions that include parallax displays, panning slides, and 360 interactions. Even with no design expertise, anyone can customize interactive quizzes, games, simulations, flashcards, and brainteasers through the tool's user-friendly interface. Whether you're a teacher or an instructional designer, you can maximize the tool's many capabilities to keep your learners engaged and motivated throughout their learning journey. But it is important to note that these features have limitations and you might need to download additional tools to design a well-rounded eLearning course.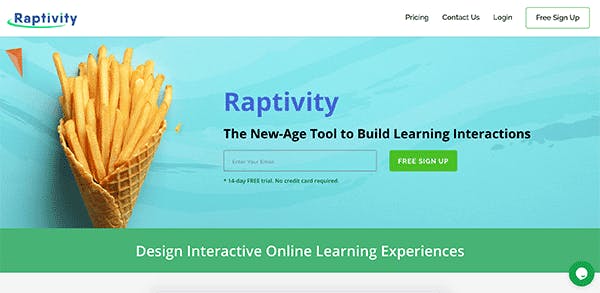 Highlights:
Interactive displays

Quizzes

Games
Cost: 0 USD/user (monthly)
10. Code of Talent
Code of Talent is a SaaS LMS platform that helps learning and development professionals build, customize, and launch microlearning courses for their teams. To promote self-paced training, social learning, and content engagement, Code of Talent's courses are designed to be mobile accessible, easy to digest, and interactive. Through its gamification feature, you can also create content or quizzes similar to mobile games, which can motivate learners to engage with the learning materials, complete their courses, and retain information in long-term memory.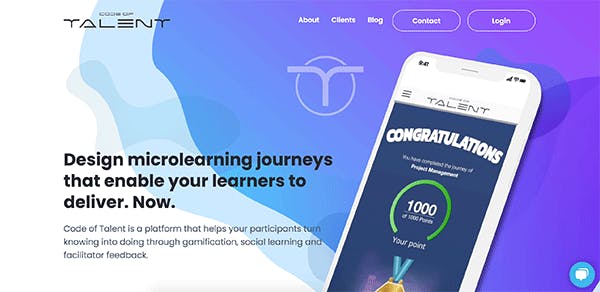 Highlights:
Gamification

Self-paced-learning

Social learning
Cost: Price upon quote request