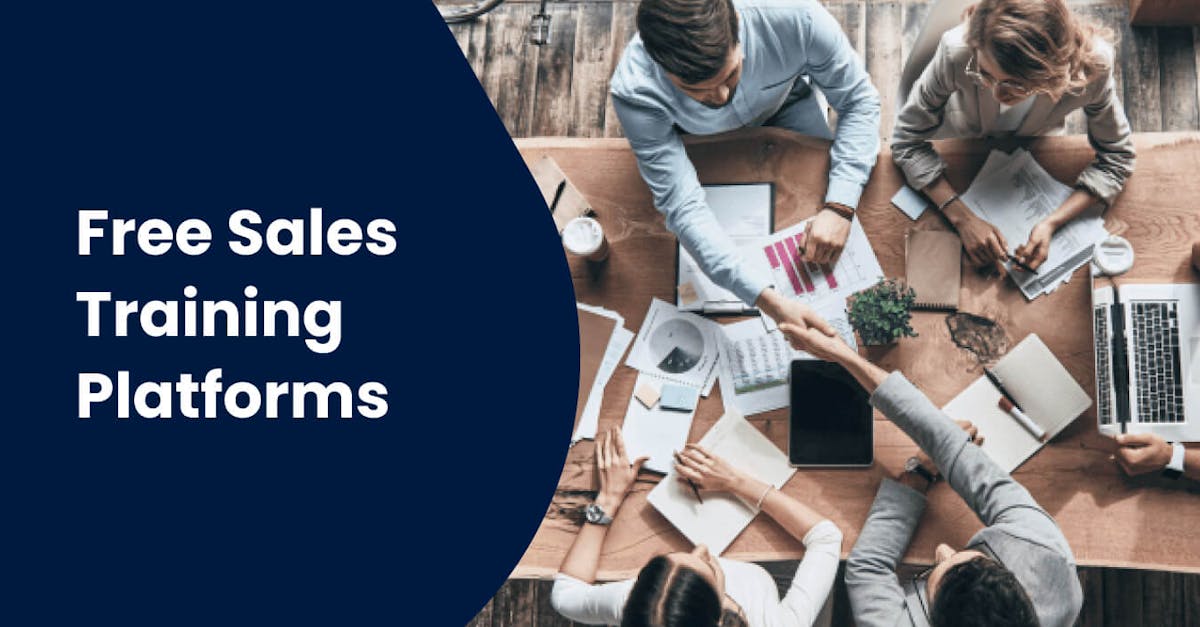 Investing in free sales training program will allow your sales force to stay competitive and up to date with the evolving shifts and trends in the industry. This way, they can continue bringing consistent value to your business. In this article, we'll look at some of the best free sales training platforms that can help you roll out and level up your sales training programs. 
What are free sales training programs?
Free sales training programs make an excellent tool for helping sales representatives ramp up more quickly and develop their skills so that they're well-prepared when interacting with clients. They can also be used to educate your team about any product or service update, without the need to hold an hour-long meeting. With the help of sales training platforms, you can now easily roll out ready-made free sales training programs or even create one of your own. Some platforms even allow you to gauge your sales team's skills and knowledge level, and spot and address any gaps that you previously didn't know exist within your team!
If you're ready to experience the benefits of a sales training platform, then this list will be your best guide. 
1. WizIQ
WizIQ is a platform where organizations can easily enroll students from around the world and offer sales training through virtual training activities delivered on elearning mobile apps. This portable access to training is 24/7 on the student's personal handheld devices. Using the WizIQ platform for sales training will require some creativity as the platform was designed for content creators trying to access individual students. This is ideal for small businesses who want to train individual salesforce members and not necessarily the best option for companies trying to train a large salesforce at once.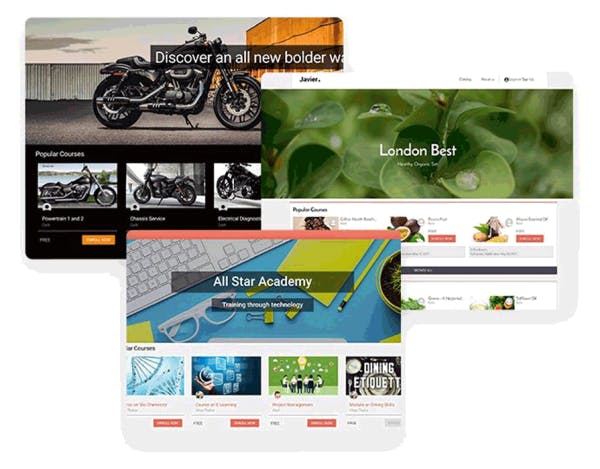 Cost: Starts at 25 USD/month
Features:
Mobile app

Virtual classroom
2. DeveLoop
DeveLoop from Sproutlogix is a training platform that helps businesses upscale, develop and align their employees with the business' objectives while using an innovative AI platform. This platform utilizes surveys, assessments, Analytics, business measured results, and adaptive learning journeys to help businesses train their employees in ways that can boost their sales performances. Unlike other platforms out there, DeveLoop does not have a library of sales training resources readily available.

Cost: Available upon request
Features:
3. EdApp
If you're in the market for a free sales training platform, you'll benefit a  lot from one that has ready-to-deliver sales courses. EdApp acts as a sales learning platform that has courses that you can either deliver as is or tailor to fit your company's needs. Its state-of-the-art authoring tool helps you turn these courses into your own in just minutes. Courses can be delivered to your team's mobile devices, aside from their computers, so they can access them at any time. Here is a course that trains your salesforce on the ins and outs of persuasive selling, and another course that will teach your team selling strategies that will improve their interaction with customers.
With EdApp, you won't run out of options you'll have the best sales training programs to choose from that are ready to roll out anytime. If you need some help when it comes to creating training content, then EdApp has you covered. They have a team of experts ready to give you additional onboarding and account support, plus course creation services.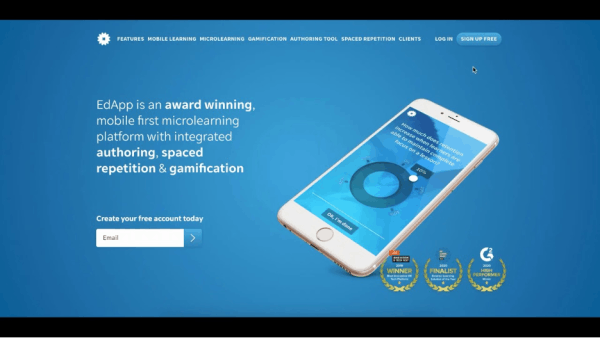 Additionally, there's no more chasing learners to do their training. With the push notifications feature, you can customize your message, set, and forget to give a gentle nudge to those who haven't completed their courses. Notifications will be delivered according to the user's timezone so there's no more converting the time from your local time for your global teams. You can choose to send notifications to all users, a specific user group, or even an individual.
Cost: Free
Features:
Course library

Mobile accessibility

Authoring tool
Sign up for free and start using the best sales training platform today!
4. uQualio
Right off the bat, we should let you know that this learning experience platform is not free of charge. If you're looking for one that is of no charge, you should take a look at the first option on our list. uQualio is a corporate training platform that understands the critical importance of training in any business. The platform offers a variety of training categories, from sales training to code of conduct and a lot of other things in between. The uQualio platform provides video eLearning solutions and this can be viewed as useful because videos are easy ways to provide information to employees on policies and techniques quickly.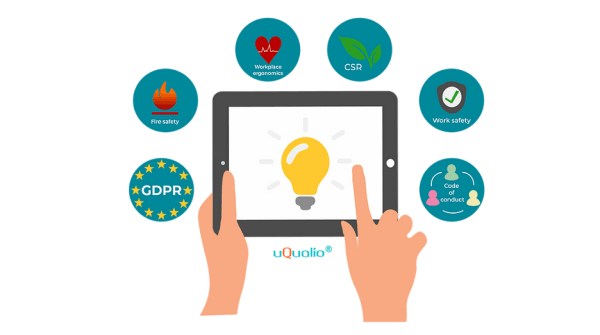 Cost: Starts at 89 USD/month
Features:
Video format

Training categories
5. Raptivity
The Raptivity learning platform is one that focuses on learner engagement and allows course creators to focus on the content. If your learners aren't engaged, they may not learn the sales techniques and strategies that you are trying to convey, so Raptivity tries to foster learner engagement through vibrant and fun interactions. This platform focuses on video virtual classes. The platform does have a mix of games and quizzes but does not have a lot of microlearning courses, unfortunately. This shortcoming may make it difficult to train a sales force that is constantly on-the-go and wants its information delivered in bite-size bits.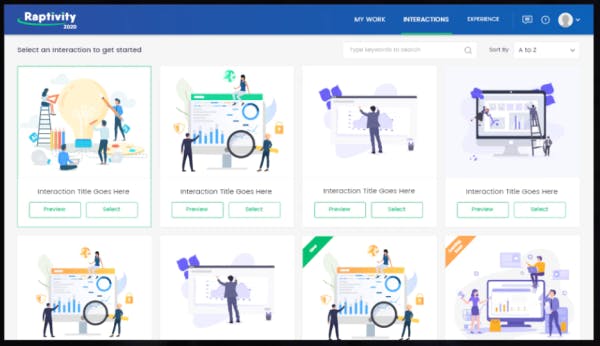 Cost: Free, paid plans
Features:
Interactions

Virtual classes

Games and quizzes
6. LearningStone
LearningStone is an online learning and collaboration environment that was designed with both learning and coaching in mind and can be used by content creators and businesses trying to set up training programs even without technical knowledge. This platform has a lot of useful features such as blended learning, social learning, spaced learning, and microlearning. These are great features for any platform to have, and the LearningStone creators should continue to improve on the platform by offering a wider range of courses and proven editable templates that can be used by any business to get desired results.

Cost: Free, paid plans
Features:
7. eLearning Brothers
If you're looking for a training management system that provides help with developing custom training solutions or a place where you can create your own e-learning or off-the-shelf courses, or if you are searching for ways to make the learning experience engaging for your trainees, the eLearning Brothers platform has you covered. This training platform focuses on a variety of different training categories such as onboarding, sales, compliance, Healthcare, soft skills, leadership, and more. The authoring tool is not necessarily the best on the market, and this is a significant drawback.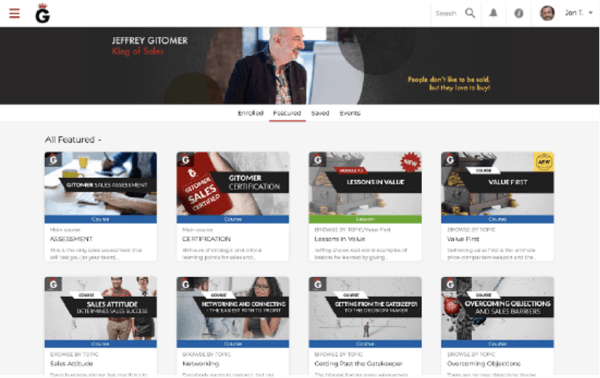 Cost: Paid plans
Features:
Course library

Authoring tool
8. Classtime
Using the Classtime training solution is one way to get your sales team up-to-date. This type of platform is great if you are focusing on a small-sized salesforce but may not be the best platform to train a large team. Classtime's platform allows you to engage every student and monitor their progress easily. With Classtime, you can build engaging lessons, collaborative challenges, and puzzles. Because the Classtime interface was primarily designed for educational purposes in the traditional sense, it will take some getting used to when trying to adapt it for sales training.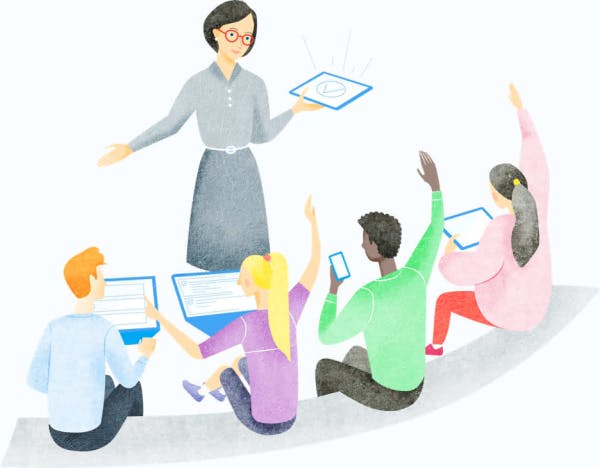 Cost: Free, paid plans
Features:
9. Learning Pool
Learning Pool is an open-source LMS that fosters high levels of learner engagement, and it believes that learners learn more when they help themselves. This enterprise learning management system allows course creators like yourself to create solutions that can integrate and scale with your company's needs. The Learningpool LMS portal offers personalized dashboards and custom reports that will help you keep track of essential data. Unfortunately, this platform is not SCORM compliant, so you won't be able to upload your SCORM-compliant courses for your sales force to access. SCORM compliance is the industry standard for eLearning platforms, so Learningpool is a bit behind in this regard.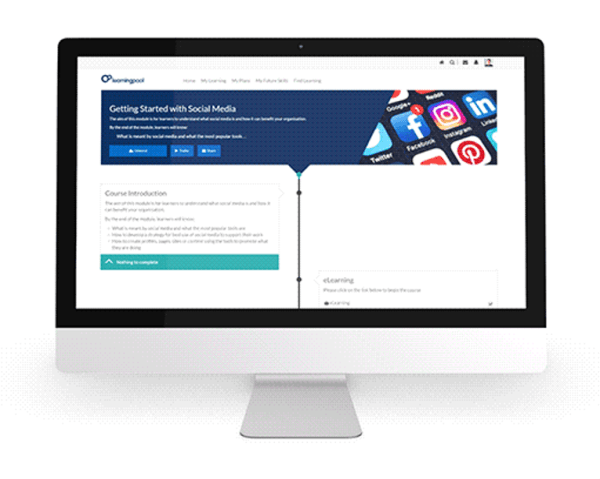 Cost: Get a demo
Features:
Personalized dashboard

Custom reports
10. Inquisiq
Inquisiq is pretty much a run of the mill LMS system that helps clients to deploy, manage and track training programs for their employees. The platform automates the administration and offers branded multi-tenancy options. It supports mobile learning, so your learners will be able to get the courses anytime they need them. These are great features as they will help you to focus on creating content and not devote a lot of time to administration activities. The platform is SCORM compliant, so you don't have to worry about importing your SCORM files and then having compatibility issues. The platform could improve greatly if it had a cloud-based option for clients who do not want to download bulky software to their servers.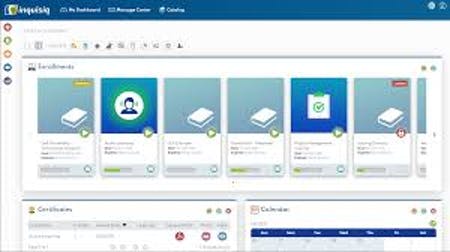 Cost: Start at 350 USD
Features:
Mobile learning

SCORM-compliant
11. Skillshare
Skillshare is another sales training platform to consider, with an extensive library of instructive videos tapping on different industries, including sales. Here, your staff can gain new sales skills and enhance their existing knowledge by watching video lectures, live and pre-recorded by industry experts and professionals. This platform is free for the first seven days, although, for unlimited access, you'll have to pay a monthly subscription fee. There's also an offline viewing option for premium members.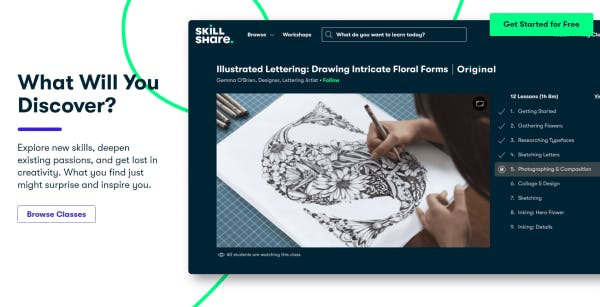 Cost: Start at 32 USD/month
Features:
Video lectures

Offline access
12. Sales Hacker
Sales Hacker was built to provide sales teams a community where they can access hundreds of free learning resources that can help hone their skills and knowledge, and become a top one-percenter in their field. These training resources range from blogs to podcasts, even webinars, and conferences, discussing valuable sales topics such as selling techniques, strategies, as well as tools they can use to handle any unique challenges they are most likely to face. Just a heads up that Sales Hacker can be a little confusing and overwhelming at times, given the wide range of topics they cover. Make sure your team is well-guided on the sales topics they should solely focus on for a more organized learning experience.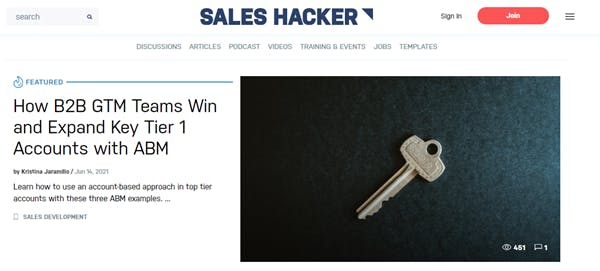 Cost: Start at 32 USD/month
Features:
Blogs and podcasts

Webinars
13. Dale Carnegie
Dale Carnegie is recognized for its systematic training programs, which you can use to help your sales force reach its maximum potential. What's unique about this platform is that they have formulated a continuous learning path for learners to reinforce key behaviors and sustain performance change. This approach, also known as the Performance Change Pathway™, consists of five critical components: Input, Awareness, Experience, Sustainment, and Output. Over the years, it has been proven to boost sales performance, allowing learners to speak with confidence, present with impact, and overall, provide world-class service that drives sales and revenue.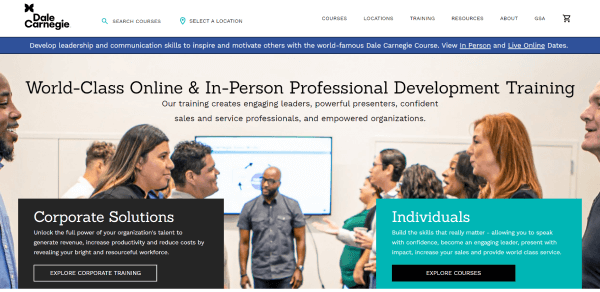 Cost: Available upon request
Features:
Learning path

Course library
14. Alison
Alison is a free sales training platform with over 1,500 free and flexible courses made in partnership with universities, organizations, and industry leaders. Sales Territories and Distribution Management, Fundamentals of Sales Management, Competitive Sales Techniques and Strategies, and Fundamentals of the Sales Funnels are just a few of the highly recommended sales courses they offer, all of which are broken down into manageable chunks for better retention. Learners who have completed a course and passed their assessment will receive a certificate. They can include their certificates in their credentials or share them on their social media accounts as proof of their sales skills and knowledge.

Cost: Free
Features:
Certification

Course library
15. Coursera
Coursera offers a variety of free and paid sales courses authored and hosted by experts from major institutions and organizations around the world. They offer Sales Management, Sales and Marketing Alignment, Sales Training for High Performing Teams, Building your Sales Career, all of which are aimed at helping your team improve their sales abilities and expertise. The majority of these courses are provided via online video lectures and modules, which your students can complete anytime at their best availability. Some also come with self-paced quizzes and hands-on tasks for higher learning retention. Coursera can issue a certificate of completion for a modest price ranging from 9 to 9 USD.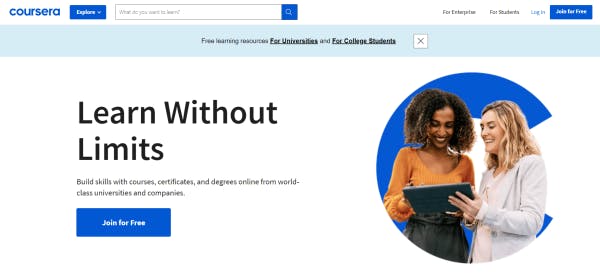 Cost: Free
Features:
Course library

Certification available
16. RAIN Group
RAIN Group is a free sales training company offering a suite of sales training programs that cover every part of the sales process. They use a blended learning approach, with their programs delivered either in-person or virtually, allowing your learners to learn in the way that suits them best. Their training programs are meant to help your sales representatives hone their selling behaviors and acquire additional abilities to drive performance improvement.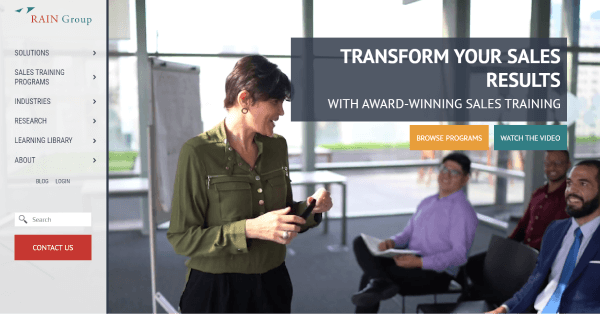 Cost: Free
Features:
Learning library

Certification available
17. Action Selling
You can also beat a weak sales culture with the help of Action Selling. This reputable sales training platform offers a wide array of online sales courses aimed at enhancing the three pillars that make a competitive and high-performing sales team: product knowledge, selling tactics, and competitive attitude. Learning takes place through a series of video examples, eLearning modules and books, interactive quizzes, and certification assessments. After taking their online courses, your sales team is expected to increase their sales and margins, cut down their sell-cyle time, and build loyal relationships with their customers.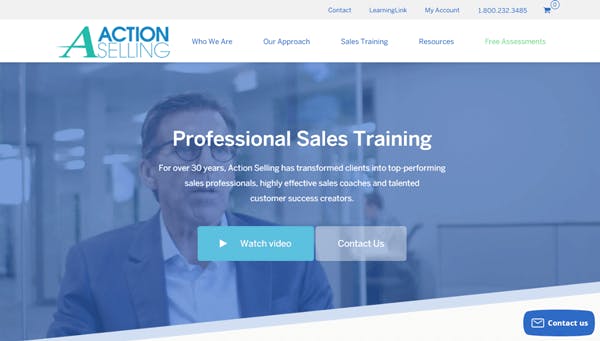 18. GoSkills
GoSkills is a training platform that you can also use to manage, track, and assign your sales training programs. Here, you can create sales courses from scratch and customize the branding, free of charge. Take advantage of their gamification system to make your courses more fun and exciting, and a little less complicated for higher learning retention. If you don't have enough resources at hand, you can also use their wide selection of courses, which are broken down into bite-sized lessons for the best microlearning experience.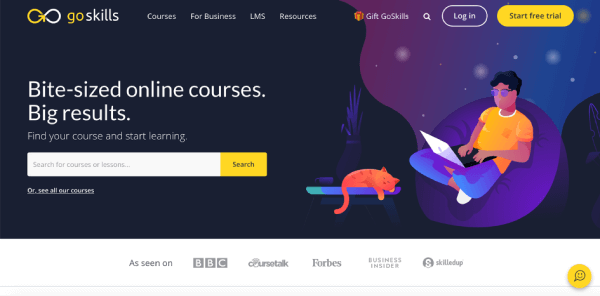 19. Cloudera
Cloudera offers a range of self-paced courses that are focused on improving technical and hard skills, which your sales team can use to level up their sales skills and abilities. It makes use of video learning delivered by industry professionals, providing learners with learning environments where they can put what they've learned into practice. Every course also includes quizzes and discussion forums where students can interact and learn insights from one another.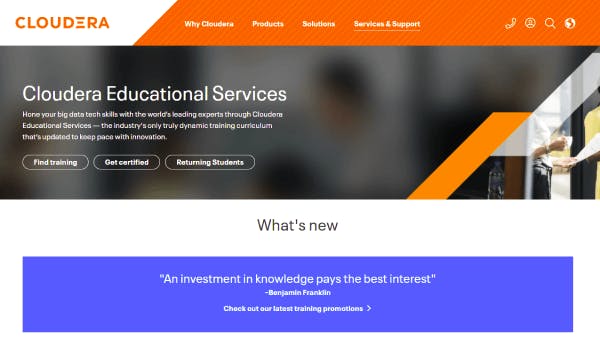 20. Abara LMS
You can also use Abara LMS to launch digital or virtual training and build small micro-learning modules for your sales team. Thanks to its advanced technology, it can help deploy your sales courses and deliver certifications automatically, saving you an incredible amount of time and money. On top of that, it can also help track the delivery of your training content, the performance of users on tests and assessments, and generate standard and custom reports. You can schedule automated reports, which are sent via email, based on your preferred delivery frequency, so there's no need to log in and manually generate reports.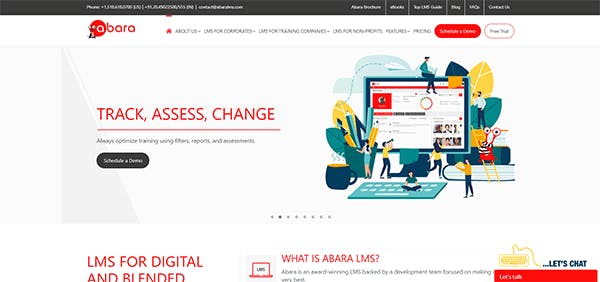 Conclusion
EdApp is the best sales training platform that we have come across. Its world-class sales courses, along with its powerful authoring tool, will give you all you need to ensure that your sales team has up-to-date, tested, and proven information. The platform is mobile-first, so convenience will not be an issue when it comes on to training.