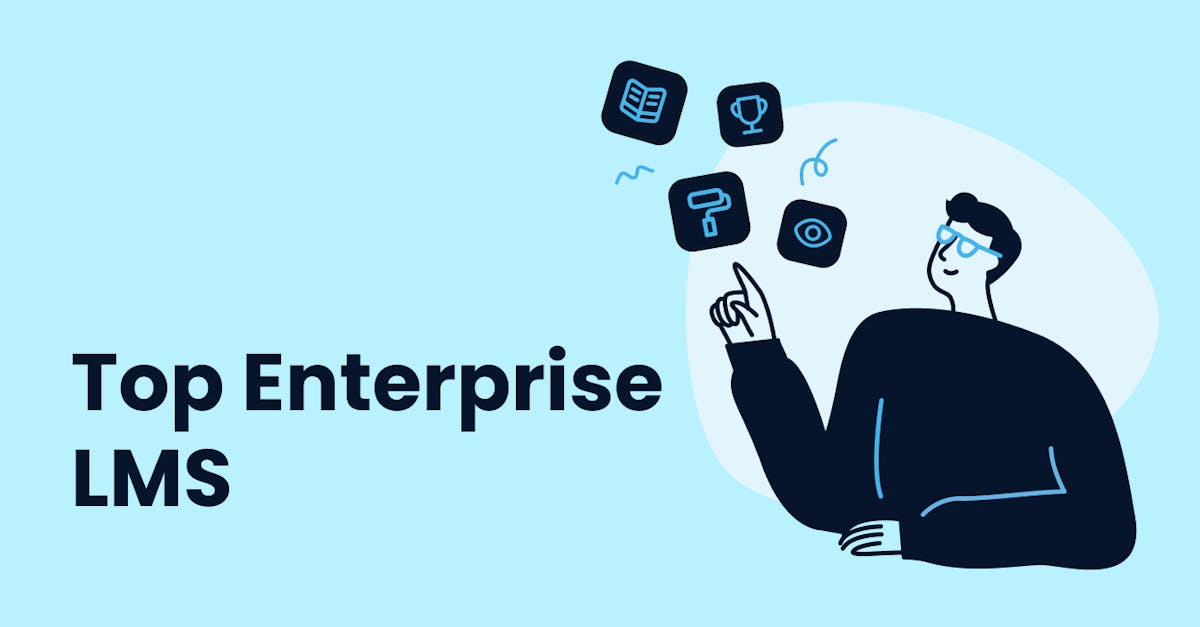 Do you want to maximize your corporate training programs?  With the right learning system, you'll be able to do just that. Discover some of the top 10 enterprise LMS below to boost your employees' learning experience.
1. EdApp
EdApp, the award-winning blended learning solution, boasts an impressive collection of features to drive better learning results. It's used by some of the world's leading organizations such as Shell, Coca-Cola, and Mars. These enterprises use EdApp to train their teams on a global scale. Want to know why? Because despite offering a free platform, it isn't stingy with its collection of built-in features.
The first of these features is a completely free, editable course library. This world-class collection is made up of hundreds of ready-made courseware for you to edit and deploy to your teams. Find everything from onboarding, health and safety, leadership and management styles, sales strategies, and more to take your workplace training to the next level. With a focus on continuous learning and constant growth, the editable course library is growing daily with increasing resources to train your learners with ease.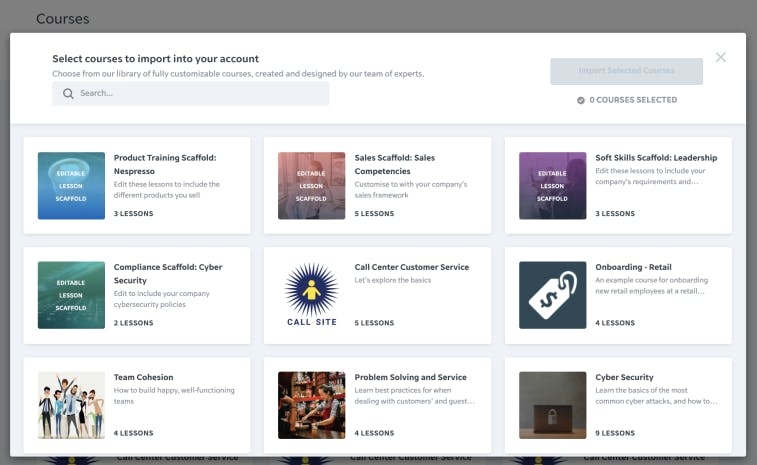 If you'd rather create content from scratch, EdApp's powerful SCORM-compliant authoring tool makes it quick and easy to develop beautiful and effective training. This is easily achieved with EdApp's over 80+ templates, all of which are designed to cater to a diverse set of learning styles.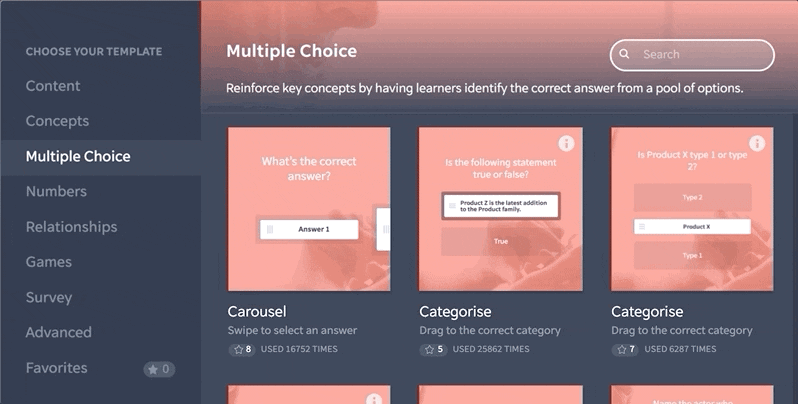 If you're looking for something a bit more customizable for your workplace, EdApp has a built-in Canva integration where you can create entirely customized graphics to deliver to your team. Beyond design and branding customization, you can also easily import your previous training content and turn them into EdApp microlessons like videos, PowerPoint slides, voice recordings, and more. Additionally, m
Cost: Free
Features:
Course library

SCORM-compliant

Authoring tool

80+ course templates

Canva integration

Content importation
Create a better learning experience by signing up with EdApp.
2. Looop
If you are looking for a SaaS LMS that offers internal and external training, Looop is a good choice.  Like EdApp, this extended enterprise training LMS works for teams large and small but it offers much less built-in features.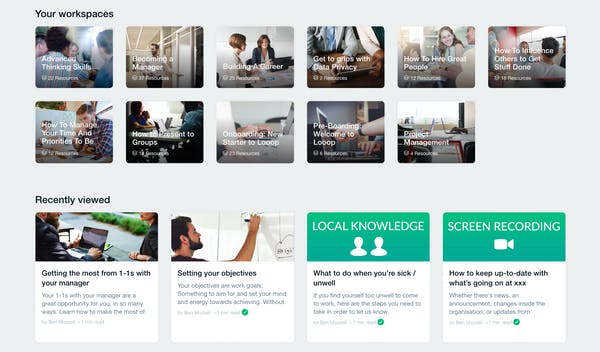 The notable highlights of Looop include easy integration through built-in or custom Application Programming Interfaces (APIs). The platform also allows for automated communication meaning you can send messaging to your teams whenever you need.  Getting started is easy with Looop and the features can maximize current capabilities but it's a more costly option which will charge an enterprise 199 per month and will cap your users at 500.
3. GnosisConnect
This LMS creates products and services that make it possible to unlock your employees' performance. With over two decades of experience, GnosisConnect combines innovation with customization.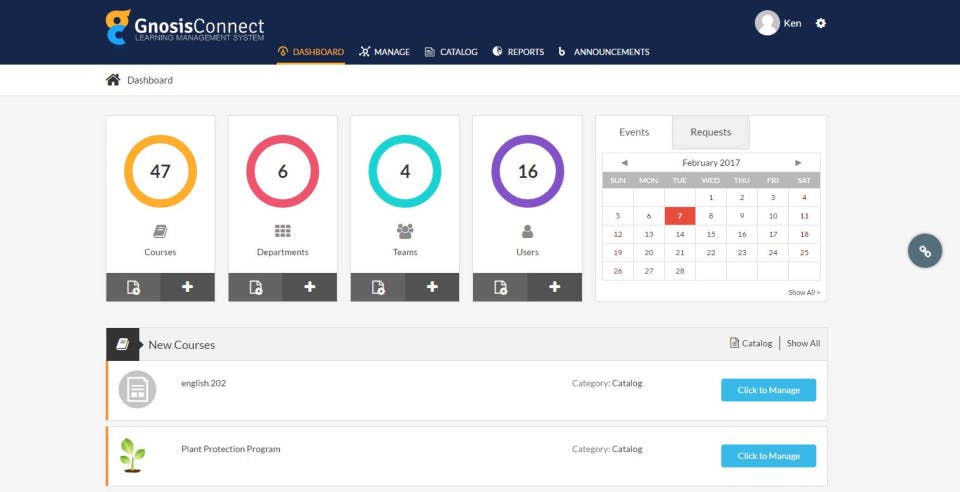 GnosisConnect is tailored to overcome four challenges associated with extended enterprise training: Content consumption, customization, administration, and reporting. Content consumption is simplified through content integration with existing software. If you need extended enterprise training options, this LMS provides those at different levels. And while the platform isn't free, it offers various price tiers and a free trial to test the platform out.
4. Vowel LMS
Vowel LMS is a customizable enterprise learning management system that enables unification and flexibility. Through enterprise management training, it can create user groups, maintain control, and work with your existing systems through basic integrations right from its dashboard.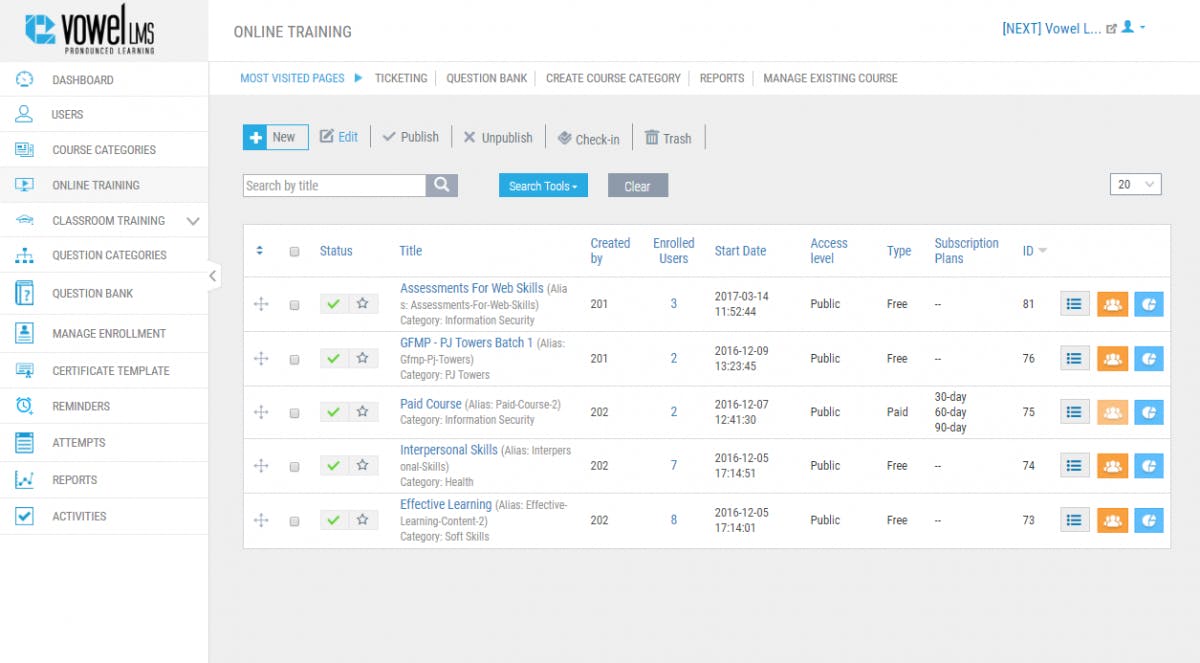 The highlights found in Vowel LMS include sensible pricing, strong support, and a solution-based environment. The LMS also makes it possible to engage external and internal stakeholders. Like GnosisConnect, this platform unfortunately does not offer a free plan, but it does have a free trial. Its current client base is also limited, and it's difficult to find reviews on Vowel LMS in reliable platforms like G2.
5. Braincert Enterprise LMS
This all-in-one LMS for small business has four core platforms in one place. A course platform, an online testing platform, a virtual classroom, and a learning content management system.  Real-time collaboration and a unique classroom for a blended-learning environment are notable features but unfortunately its features are limited there.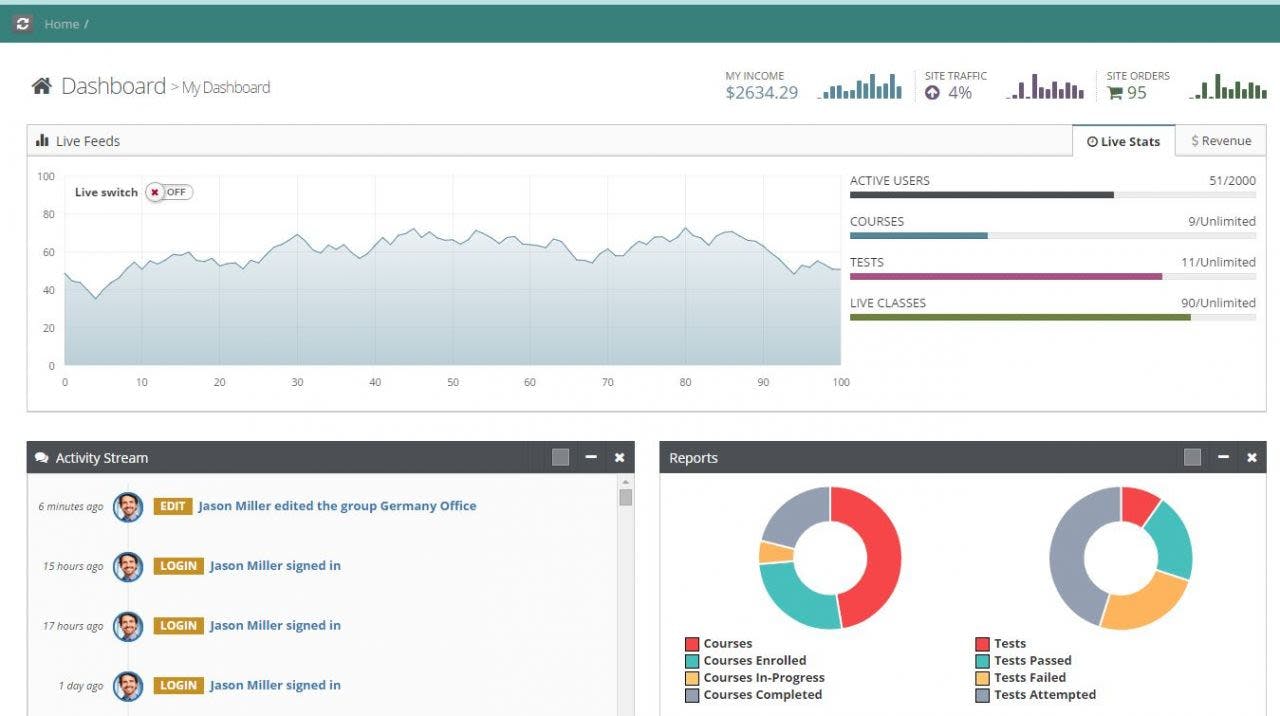 Following the adaptive testing results, difficulty levels can be matched for subsequent questions. BrainCert also has a variation of question difficulties available, depending on the level of your employees. With customer branding and a multilingual interface, this LMS can cater to a larger enterprise audience, although it falls short in being mobile-accessible and is best used on a desktop. It also offers a free trial but unfortunately has only paid options available beyond the trial.
6. Cloud Academy
Cloud Academy is a enterprise learning platform that works well with large organizations and is aimed at retaining your talent and maximizing your staffing ROI. It also offers some ready-made courseware to deploy to your teams on technical capabilities like Google Cloud, DevOps, Programming, and Security.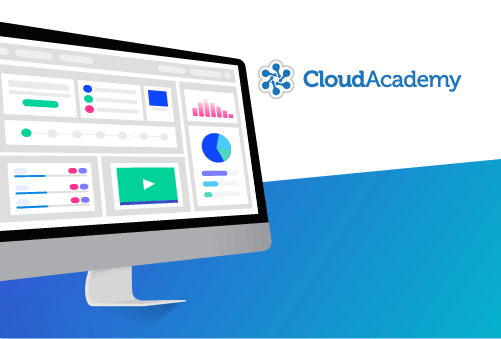 The Hands-on Labs are a technical starting point for trainers before they progress to Lab Challenges. Cloning and customizing labs allow employees to be trained in an environment that mimics yours. You also have the ability to utilize an internal enterprise certificate program that uses pre-built questions.
The Cloud Academy library has a wide variety of assessment options like quizzes and exams that take online training to the next level. Some users have said that the platform is clunky and hard to follow, making the interactive elements of Cloud Academy fall short. Like many other platforms, it also only offers a free trial.
7. Skillport
This learning content management system provides a highly targeted learning environment that allows enterprises to disperse training to employees.  The platform can integrate with existing IT or business systems.  It is primarily a content delivery platform but is accessible to LMS providers.  Skillsoft SCORM creator software work with several eLearning standards.  Leadership skills, IT skills, and compliance and safety training are all parts of what this entity has to offer.
With many different topics available, finding training can be done with less time.  There are many training programs available for IT staff.  There are also over 400 critical risk topics to assist with compliance training.
There are a variety of features in this learning management platform, like social learning, training certificates, and being mobile-friendly. Skillport, however, doesn't have the most extensive tools and the interface is a bit clunky and limited.
8. Kitaboo Insight
Kitaboo Insight's intuitive interface aids enterprises in delivering mobile learning to their employees. Delivery can be customized and training can also be made unique with multimedia components, including hyperlinks, images, video, and audio inserts.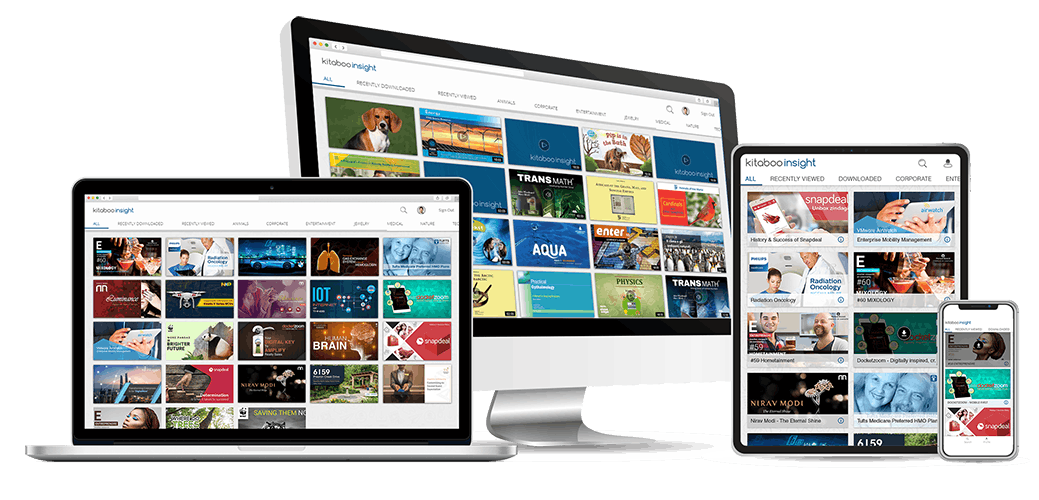 Content can be securely accessed across multiple devices and operating systems.  Gamification, assessments, and simulations are also available within the training module.
While Kitaboo Insight does offer basic branding capabilities and offline mode, it's limited in its reporting capabilities, making it somewhat challenging to monitor results, especially for large teams. It also isn't free, so take this into consideration when budgeting for your LMS.
9. Grovo
Creating and delivering engaging corporate training to employees is possible with Grovo.  This platform aims to make disseminating microlearning content easier for trainees to access given its compatibility with any device. Noted to be user-friendly and easy to administrate, Grovo is #9 on our list of enterprise LMS.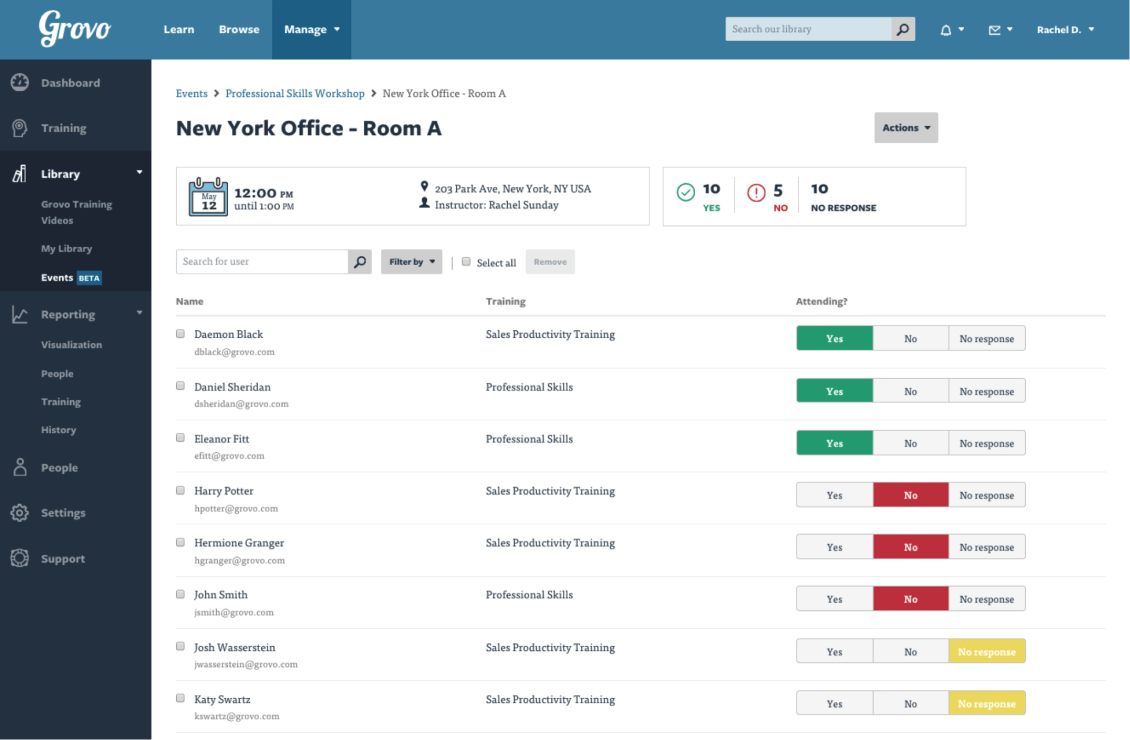 Enhancing existing content or creating one's own content is doable on this employee training tool, while it does take some time to create, edit, and deploy learning programs to your teams with their multiple steps. Grovo has specific requirements that can be checked to share multimedia content like video, but it should be noted that employees can easily skip through learning content, especially vide, making it difficult to guarantee they've absorbed all the information at hand. Another downside is that Grovo isn't free and will cost you between 9 and 39 per user, so it can get expensive especially if your teams are large.
10. TalentCards
The TalentCards platform was created to assist businesses in mass-training their people. With a commitment to easily-digestible content, course administrators can select learning nuggets that help trainees acquire information in bite-sized exercises.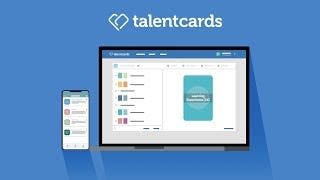 While TalentCards does offer some customization to create interactive content, it's limited in branding graphics, with a lack of color options and inability to adjust your font size or style within a lesson.  The learning platform does offer a free trial but will cost you up to 79 a month and is capped at 500 learners. At #10, TalentCards completes our list of 10 enterprise LMS.