As a sales leader, your priority is to invest in the skills and potential of your team that will result in closing more deals. To do this, you need a sales training program and a sales learning platform that will effectively engage your salespeople and help them retain key messages without bombarding your team with too much training information at once. 
Without an engaging sales training program, your salespeople won't fully participate in your training initiatives – performance will remain stagnant and they won't fully maximize their potential. To guide you in deciding the appropriate training tools and platforms, we've listed the top 10 best sales training programs for your company that will help you inspire better performance for your team and generate more revenue for the business.
1. EdApp
EdApp is an award-winning, free mobile training platform that provides innovative features designed to enhance knowledge retention, increase engagement, and ensure a higher course completion rate among your team. This Learning Management System (LMS) takes pride in its microlearning function that transforms your sales training materials into chunks of bite-sized, interactive lessons, making your sales techniques and key messages easier to digest for your team. As a mobile-first LMS, your team is given flexibility in completing training courses in just a couple of minutes at their own convenience.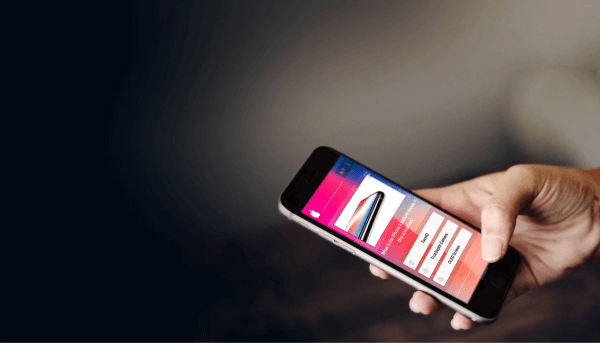 If you're starting from scratch, EdApp provides a free Editable Course Library where you can access and customize pre-made courses, designed by thought leaders and leading industry experts. You can also apply your own expertise on sales techniques and best practices specific to your business by creating business training courses using EdApp's built-in authoring tool.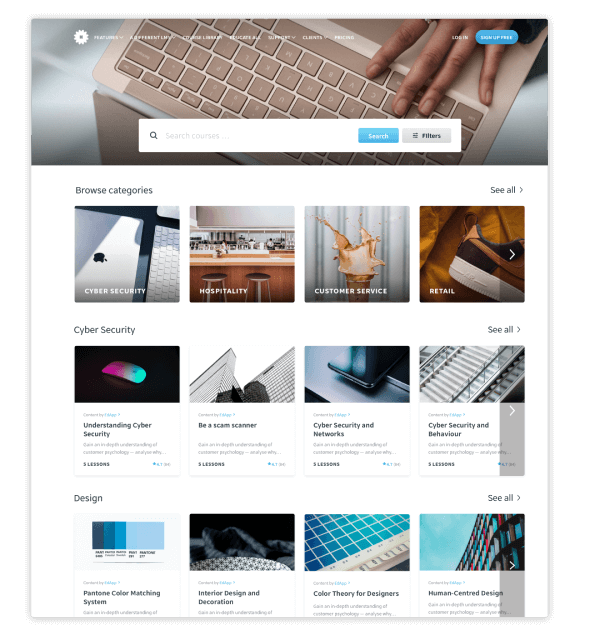 This LMS's other features such as leaderboards, real prizing, and gamification – that are proven to motivate learners and increase retention – allows you to leverage your salespeople's competitive nature to further increase their engagement. With EdApp's learning solutions, your sales training program which your team can perceive as another mundane work task becomes an enjoyable activity.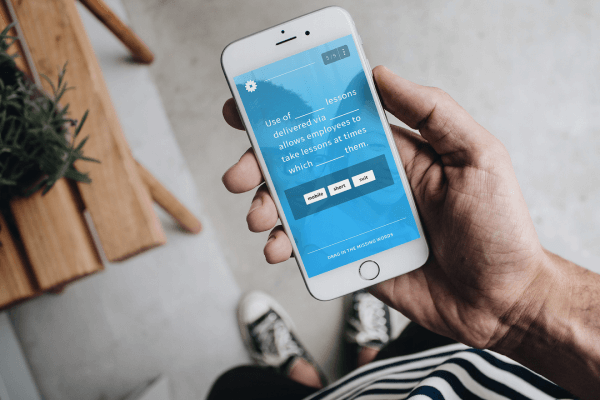 Features:
Microlearning function

Mobile-first learning platform for learners

Free editable course library

Built-in authoring tool that includes 50+ intuitively designed interactive templates, such as multiple-choice, in-app gamification, conceptual formats, surveys, etc.

Powerpoint conversion (PPT) into interactive, mobile-friendly lessons

Access to millions of images and graphics in designing courses with Canva integration

Gamification & leaderboards

Social learning: Discussions, assignments, virtual classrooms, and peer learning

Automatically-generated spaced repetition reinforces learning through Brain Boost feature

Real reward mechanisms, such as digital vouchers

Custom push notifications for new courses or reminders in completing existing ones

Cloud-based translation tool that translates courses into 100+ languages in just a few minutes

User and course management system that gives administrators full control and flexibility in the delivery of content to learners

Learning metrics dashboard & reporting

Offline mode
Cost: Free
EdApp is a free LMS that has – on average – an 80% course completion rate. Learn more about how you can use EdApp to create the best sales training program for your team by signing up for free!
2. Dale Carnegie
Dale Carnegie is a professional sales and training development solutions provider whose training program follows a deliberate approach that includes 5 key components in creating training programs: Input, Awareness, Experience, Sustainment, and Output. This methodology creates a continuous learning path for learners that supports skills development, behavior improvement, and emotional shift that will empower your salespeople throughout the sales process. The training programs are delivered through in-person and live online courses.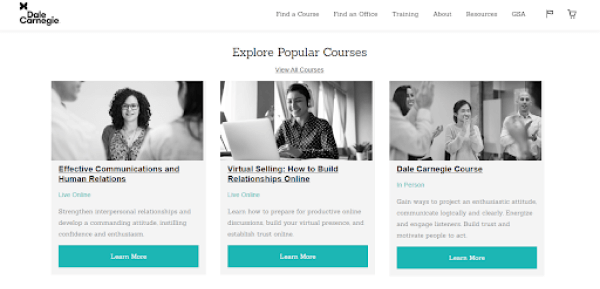 Features:
In-person training sessions

Live online courses

Dale Carnegie Unlimited: Live online subscription with access to 100+ hours of live online skill development courses

Dale Carnegie Unlimited: Subscriptions, certificates, and badging

eVolve Digital Learning & Collaboration: On-demand training, awards, badges, certifications, online classroom

Custom training solutions

Performance Change Pathway and Methodology
Cost: Free, Paid subscription starts at $1,995 USD per participant for in-person and $1,795 USD for live online sales training
3. RAIN Group
RAIN Group is a sales training company offering a suite of sales training programs that cover every part of the sales process. They deliver training programs through a blended learning program that incorporates tool customization, robust reinforcement, and coaching. Their training programs are designed to lead behavioral change in selling, not just build skills among your salespeople to drive performance improvement.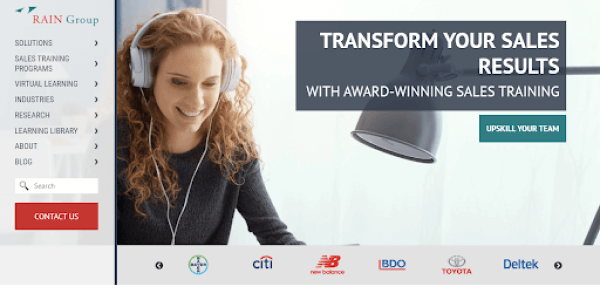 Features:
In-person and virtual learning system

Sales training programs for every stage of the sales process 

Sales training reinforcement

Sales assessments

Virtual instructor-led training

Execution assurance coaching

RAIN Group Total Access: Access to RAIN Group's IP and education system

Trainer certification
Cost: $299 USD for online sales training
4. VirtualSpeech
VirtualSpeech is a virtual reality (VR) soft skills training platform geared towards improving communication skills by combining eLearning with soft skills using realistic simulations through VR and AI. Their realistic immersive training scenarios enable you to develop your team's skills such as public speaking and sales pitching.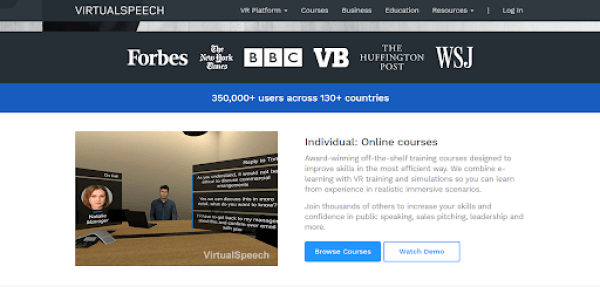 Features:
VirtualSpeech app

Online courses with VR training

Real-time feedback

On-demand repetition

Active learning
Cost: $75 – $280 USD (VR goggles are course-dependent).
5. Richardson Sales Performance
Richardson Sales Performance is a global leader in sales training and performance improvement. This sales performance training company offers a blend of in-person, and instructor-led online synchronous and asynchronous training sessions. Each sales training program is customized based on the sales stage and complexity of the sale and introduces critical selling skills and behaviors to your team that will enable them to increase revenue for the business and reduce the duration of the sales cycle.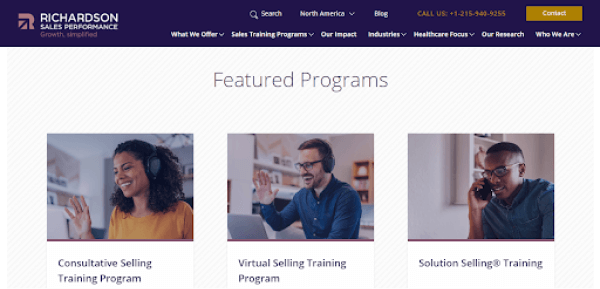 Features:
Synchronous virtual, instructor-led sales training

eLearning modules

User engagement through gamification, video-based learning scenarios, leaderboards, activity badges, and online contests

Performance measurement through assessments, formative quizzes, and learner confidence scoring

CRM Tools

Sales process consultation
Cost: Varies, Price upon request
6. Rapid Learning Institute
Rapid Learning Institute is an online training company, offering sales and leadership training through a blended learning solution that combines micro-training videos and virtual coaching. Their training programs for sales leaders equip them with the right methodology and tools for coaching sessions. They also provide training programs for your salespeople that are designed to create a "mindset shift," resulting in a sustained behavior change. For your convenience, learning modules can be licensed on your organization's LMS if you're using one!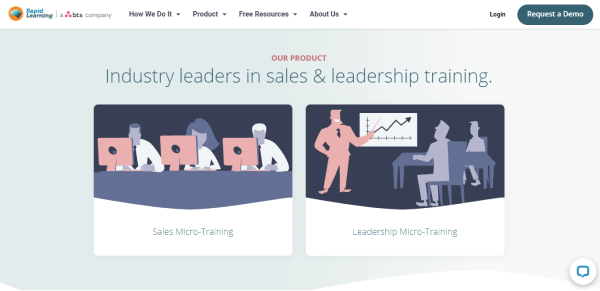 Features:
Support materials, handouts, and assessments

Assigned training and usage tracking

Paid access to a collection of tactical sales videos on their sales training library

Free access to webinars, sample training videos, e-books, industry reports, blog posts, etc. 

Rapid Learning
Cost: Price upon request
7. Sales Hacker
Sales Hacker is a platform that provides B2B sales training through online courses and events. They host free, no-pitch webinars for sales representatives and their managers every week. They also offer free training courses, as well as individually paid courses from partner companies. Their full-funnel sales training and coaching service will help your salespeople upskill and improve their sales process to increase revenue.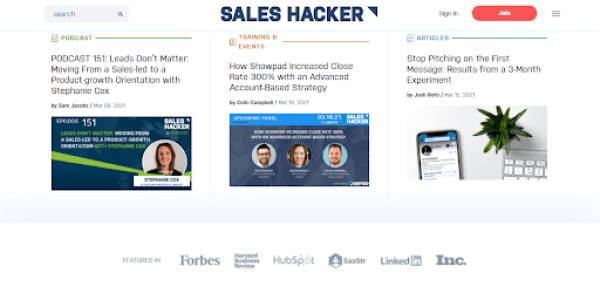 Features:
Webinars

Course library that includes free courses and paid courses from partner industry leaders

Podcasts available on iTunes and Stitcher

Video training content
Cost: Free, Price varies on courses curated by partners
8. Miller Heiman Group
Miller Heiman Group is a professional training and coaching company that offers expansive training, consulting technology and research using a methodology that provides your team a blueprint for optimizing sales and service disciplines. Once the framework is established, learning and application is reinforced through skills training that will equip your salespeople for the competitive sales environment.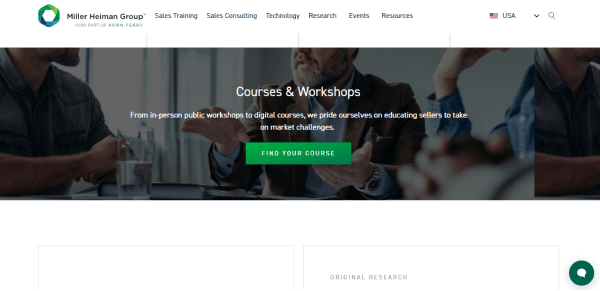 Features:
Instructor-led training

Digital learning

Real-time application and digital reinforcement

In-person training
Cost: Price upon request
9. New Velocity
New Velocity is an online training platform that takes advantage of the benefits of microlearning through high-quality and engaging video courses. With their featured sustainability program, they provide online and onsite training programs that cover best practices and repeatable techniques to help you transform your business, guide your sales team in discovering new opportunities, and enable them to reach their sales targets.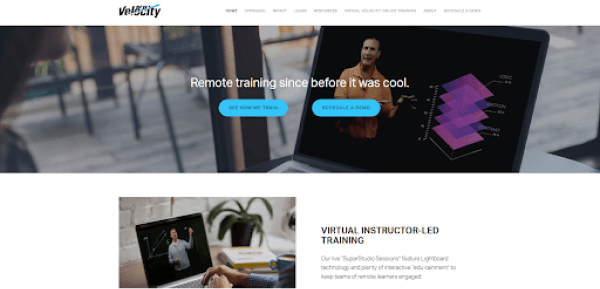 Features:
Video-based microlearning

Virtual instructor-led training

Webinars

Instructor-led onsite classes and workshops

Reinforcement through interactive and game-oriented activities, such as group discussions, contests, and polls

Certifications
Cost: Price upon request
10. IMPAX Sales Performance
IMPAX Sales Performance is a training company specializing in sales performance improvement for B2B organizations. They provide a wide range of training through onsite workshops, public seminars, online courses, and consulting solutions to help your sales performance drive higher profit.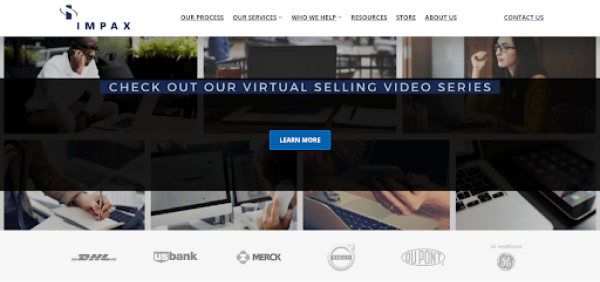 Features:
Virtual public workshops

Salesforce assessments

Sales skills programs

Consulting and coaching services

Keynotes
Cost: $2,295 USD per person for a virtual public workshop
Other Helpful Tips
You may have already assessed the focus of your regular training and development for your team. But, the planning doesn't stop there. You also need to determine the kind of training program that is relevant to their circumstances. Here are some other factors to consider when deciding on the sales training programs that best suit your organization:
Location

–

Is your sales company based in one office location only or is your team dispersed locally or globally?

Traditional live training sessions may be your initial plan. But you have to consider that with the pandemic in play now, your team may be predominantly dispersed or working remotely. In this case, online training should be your top-of-mind priority.  

Goals

–

What are the challenges you want to address or key concepts you want to reinforce among your sales team?

It's important to choose a sales training program that will directly address the needs of your time to ensure its relevance.

Participants

–

Are you training and developing new hires, or are you strengthening the skills of experienced salespeople?

Knowing your participants will help you refine the kind of sales training program you'll deploy to your team even more

–

whether it's a general one that can be deployed to the whole team, or tailored specifically to new hires or experienced salespeople among your team. 

Schedule

–

Can your sales team fit a training schedule in their hectic day-to-day responsibilities? Or, Is it possible to set synchronous training sessions among your globally dispersed team considering different time zones?

Carefully considering the schedules of your salespeople will determine the desirable length and mode of training program for your team. You don't want your team compromising possible deals or opportunities to fit a training schedule, or, have them participating in the training program but their mind is elsewhere due to pending work tasks. 

Budget

–

How much is your company willing to invest on your sales team's training and development?

You must ensure that the cost of your sales training program will deliver ROI from your team's improved performance. If you have a small sales team, you should opt for cost-efficient – or even free – but effective training programs. This also applies to big sales companies who have budget constraints!
Other free course lists