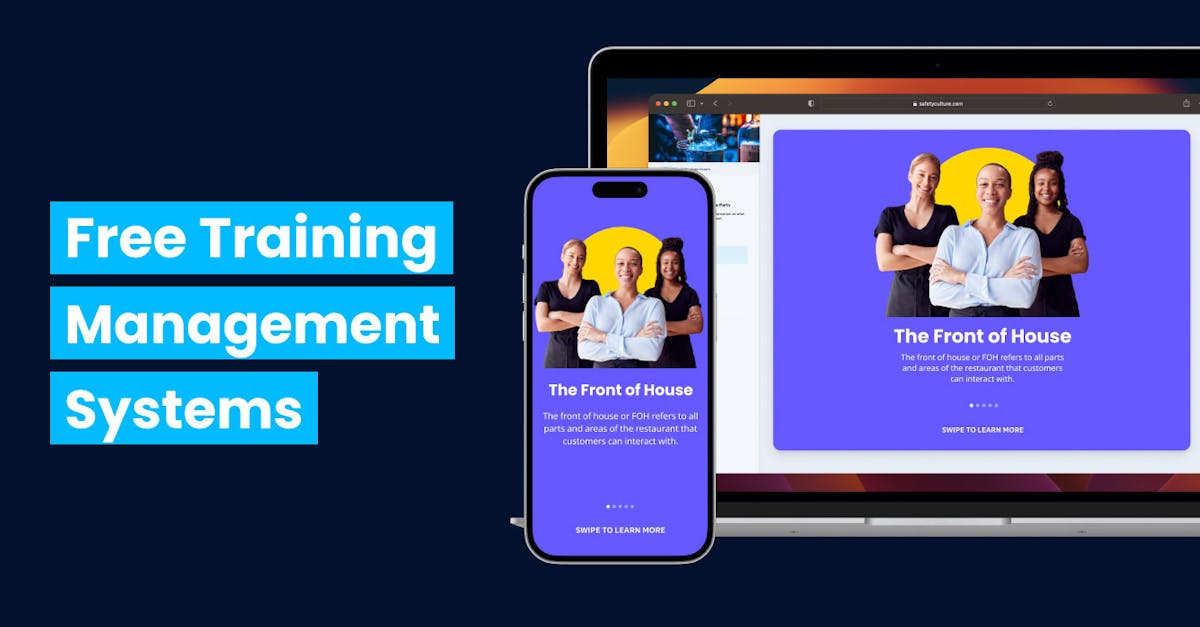 Are you looking for a solution to help you plan, design, deploy, monitor, maintain, and follow up with your employees' training in a digital way? If your answer is yes, you are looking for a Digital Training Management System. Lucky for you, we are going to go through the best ones for 2020. Spoiler alert, EdApp (at #1) is the best one of them all.
1. EdApp
EdApp is a digital learning management system that makes it easy to organize and coordinate training activities to ensure that your compliance training program runs smoothly. It features a built-in authoring tool that enables you to create your own microlessons using available interactive templates in minutes. If you don't want to start from scratch, its free editable course library offers hundreds of elearning and mobile learning courses that you can tailor with your own expertise or standards specific to your company.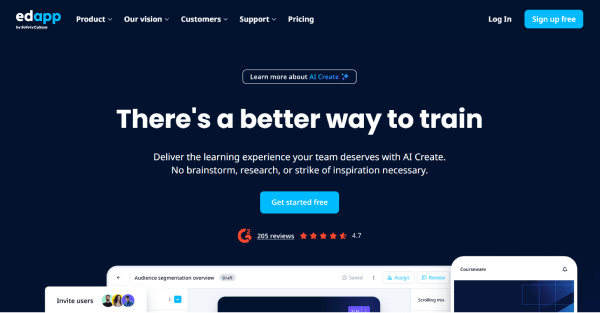 Designed with the most recent learning methodologies and trends in mind. EdApp's instructional designers have designed thousands of engaging courses for organizations and corporations worldwide. You'll have full control over course management as well, allowing you to configure courses and lessons as you wish.
EdApp's designers can also work with you to deliver custom courses that have been properly crafted. Simply provide your training materials to the team, and they will turn them into dynamic and captivating courses.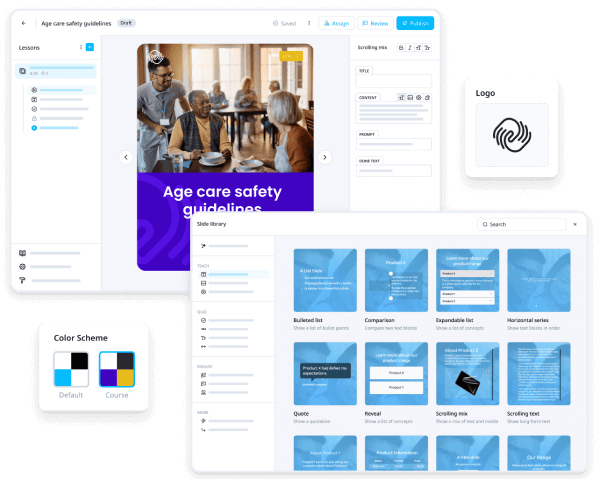 Deploying courseware to different training groups is also a breeze with EdApp's advanced user management, where you can set roles and permissions and even send push notifications or emails to remind them about completing their courses.
To check on the effectiveness of your training program, EdApp's in-built reporting allows you to monitor your learner's progress, identify knowledge gaps, and send push notifications and emails to learners for a highly engaging and agile learning experience.
Start Using The Leading Digital Training Management System
2. Intertek Alchemy
Intertek Alchemy is a wonderful Digital Training Management System with a built-in LMS that uses highly interactive courses to get employees to understand, retain, and apply what they learn to their jobs.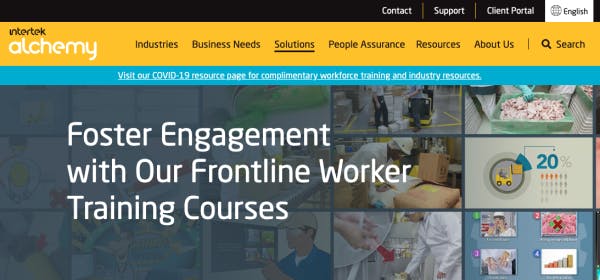 Unfortunately, Intertek Alchemy has a primary customer base of manufacturing workers on plant floors. This means that their resources and framework aren't easily adaptable to you if you don't have a team in a factory to train.
3. Learn Amp
This next DTMS on our list isn't free, so it's up to you to review its features and determine if it's worth it. Learn Amp enables its users to start training employees from as early as the onboarding stage. You will be able to send your new employees training materials even before they set foot in the building. This will enable your employees to plan their growth in advance.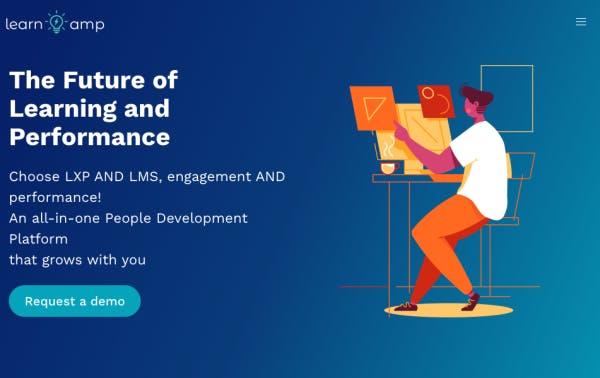 Learnamp's system facilitates employees learning at their own pace and allows users to set up automatic pathway progression learning programs. With Learnamp's DTMS, you can set level objectives aligned with your company's strategy, so your employees can achieve goals in line with that of the company.
4. Administrate
This DTMS can help you organize your resources and increase your efficiency by using its centralized scheduling and document management system. Administrate provides its users with a CRM that eliminates duplicate work and allows users to manage classroom events with event management.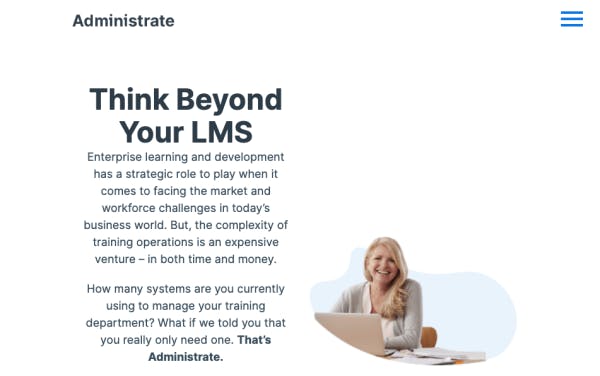 Administrate's key features are course templates, learning paths, event management, vILT rapid implementation, and it's CRM. With this DTMS, you are able to schedule instructors for your team and use course surveys to see if your learners are satisfied with their instructors. Unfortunately, administrate isn't a free software.
5. Arlo
Arlo is a fairly complete DTMS with only a few drawbacks, such as the cost associated with signing up for this DTMS and its target audience which are more individual learners and not company employees. This learning platform allows users to create online training websites or integrate Arlo into their existing websites. Users can customize their customer's registration forms and collect payment through the use of bank transfers, invoices, or credit cards on the same system.

Other useful Arlo features are its course management system and event management features. With these features, you can manage all the corporate training courses from one database, and some tasks can even be automated.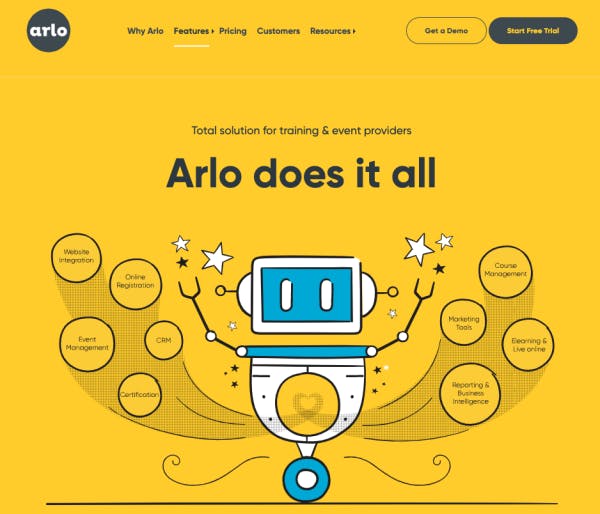 6. Tovuti
Tovuti course management feature will help you to deliver and track engaging learning experiences for your learners. Tovuti has a built-in authoring tool & SCORM Creator Software that can easily and quickly create interactive content even without SCORM files. It is a 100% cloud-based system, so it doesn't require downloads and installations on your computer.

Tovuti content offers gamification, and even though not required, you can import SCORM files into your library. Speaking of libraries, if you have existing content, you can upload them to your library as well. It's not free, unfortunately, so be ready to pay for its features if you decide to use it.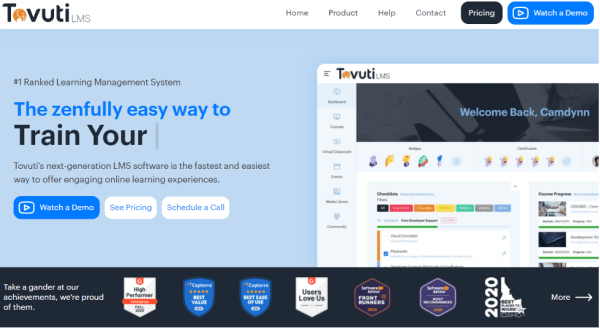 7. GoToTraining
GoToTraining is a DTMS that focuses on training for individuals and may not necessarily be the best option for companies looking to train a team. This DTMS allows for payment processing through PayPal integration and content sharing through class videos, course catalogs, and PowerPoint presentations. Do note that PayPal charges a fee for every payment transaction. You can calculate the fee using a PayPal fee calculator.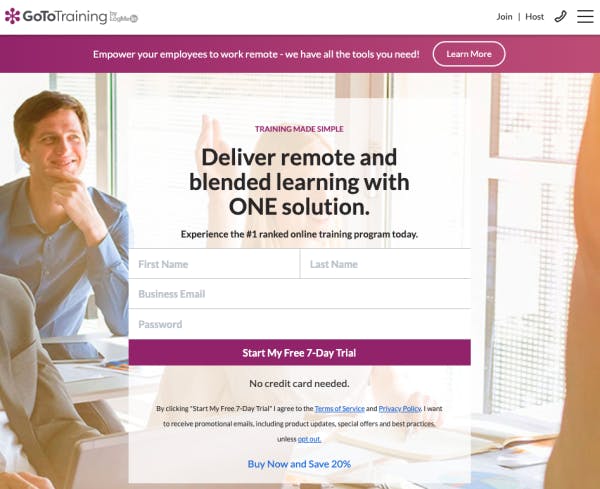 With GoToTraining, you can boost knowledge retention through activities and small group interactions, after which you can use tests and polls to evaluate knowledge and gain immediate feedback from your students.
8. PowerDMS
PowerDMS is an online training software aimed at helping companies to promote policy enforcement. PowerDMS helps organizations make their policy management processes more efficient by updating their processes and keeping their policies accessible and trackable. PowerDMS allows its users to deliver videos and PowerPoint presentations in a trackable format online so training organizers can see who has completed their training.

Training impact can be measured through tests in many formats, and employees can be rewarded through training certificates (various templates available). You won't be able to use this training management software for free, unfortunately.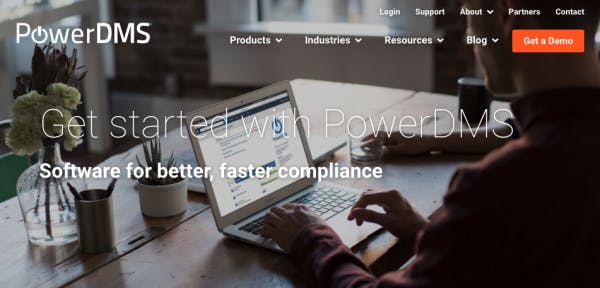 9. Trainual
Trainual's training management system is useful for eliminating wasted time on employee training. It does this by making training information easily accessible, trackable, and searchable. Trainual uses automatic notifications to help trainers and trainees keep up with training.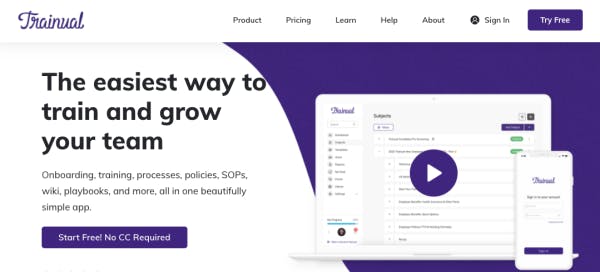 This DTMS provides engaging training content that can be enjoyed by your employees, and to ensure that your employees are following their training, Trainual allows for tests to be created to test employee retention.
10. LearningCart
LearningCart is not free, but its payment options are somewhat affordable. LearningCart is a management software that enables course builders to manage and sell courses from a single platform. This DTMS allows its users to integrate their courses' marketing and sales and even offers coupons and bulk discount options.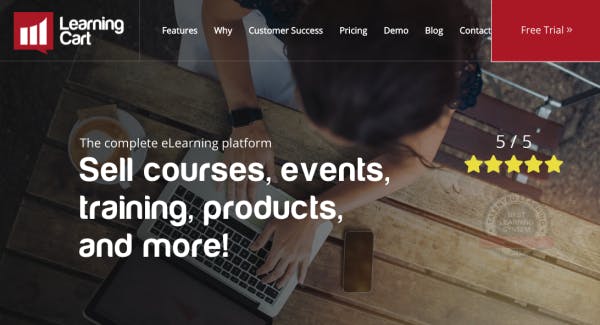 LearningCart has a built-in LMS that its users can use to build courses, track their learner's progress and compliance through reports, and enable certificates to be issued upon course completion. It is also SCORM software-compliant.
11. FutureLearn
FutureLearn is a training management system that can help employees acquire new knowledge and skills. This online course platform features 2,000+ unique programs covering a wide range of topics such as business, management, creative arts, and many more. Similar to other course training platforms, FutureLearn's courses are created by big universities and industry leaders. These are delivered in different formats such as videos, exams, and discussions. The programs provide certificate while being 100 percent online so your employees can take courses at the comfort of their workspace. 
12. Looop
As an advanced digital learning management system, Looop helps you create corporate online learning resources and automate training processes for your employees. With their simple yet visually appealing UX design, you can create engaging learning materials and access features like campaigns, and automate the delivery of training content through channels like Slack, Teams, and even SMS. Other features like user insights and analytics dashboards give you visibility on your teams' completion rates, learning gaps, and overall performance. Through these enhanced reporting features, you'll be able to gauge the effectiveness of your training and address your workers' learning challenges. To access all of Looop's products, you can sign up for a monthly subscription that starts at 99 per month for a maximum of 50 users.
13. Ruzuku
Another great training tool to consider is Ruzuku, built with a powerful yet clean and user-friendly interface and customization capabilities that allow you to create and run great online courses without overwhelming designing tools and options. They are all yours to edit – you can customize the design to fit your brand and incorporate content suited to your students' learning objectives. If needed, you can also add PDFs, Word, PPT, and other files to your course content and make them downloadable for self-paced learning. 
But it's not just limited to course creation and deployment. Ruzuku's course health feature also allows you to keep track of your team's learning progress, including activity completion and any queries or comments they may have about their courses. Any updates made by participants will be sent to you automatically via email.
14. IsEazy
With isEazy's sophisticated cloud-based authoring tool, you can create professional eLearning courses. You can quickly build polished instructional materials with its easy interface and intuitive editing system, even if you don't have any technical design background. You can choose from a variety of well-designed slide themes and course layouts, personalize your photos, and easily translate courses using the course designer program. You can also add interactive components like quizzes, catalogs, and timelines to your course to make it more personalized. The free version, on the other hand, publishes courses with an isEazy watermark. The collaboration tool, which allows multiple users to simultaneously modify a single course, is a useful feature for more effective course deployment.
15. Raven360
Raven360 platform allows users to create flexible learning paths so that they can manage content that is more relevant to their professional development. While it is geared at sales, it may be applied to any type of employee training. It's compatible with any browser or device, making it incredibly useful to your staff. For a complete experience, Raven360 supports several learning techniques such as instructor-led training, virtual instructor-led training, and on-demand learning. It also includes analytics for monitoring the performance of your sales staff.
16. Inquisiq
Inquisiq is also a great training management system, which you can use to deploy and manage training programs and also track your employees' learning progress without overspending too much time or effort. Its key features include automated course enrollment, a multilingual interface, and collaborative features like built-in messaging, user communities, and discussion boards. It even allows easy interoperability with other elearning authoring tools, thanks to its SCORM compatibility. What's more, you will also have the power to format your training's branding on the platform after you sign up.
17. Bit.ai
Bit.ai is known for its advanced yet user-friendly tools that make knowledge sharing and training management a breeze for businesses from almost any industry. Using this training management system will allow you to develop, publish, and share your instructional materials and documents with a specific set of people you choose. Bit.ai also features a smart search function, making it easier for you and your team to find any relevant documents anytime needed.
This platform has a free plan, but only for five members. Should you wish to scale up and make the most of its features, you can upgrade to their pro plans. 
18. Crowd Wisdom
Crowd Wisdom is proud of its cutting-edge technology, which is designed to assist employers and training managers in providing their employees with rich knowledge development and learning experience. From course personalization to learning progress monitoring, this training management system gives you the benefit to manage all your training needs in one centralized hub, so you'll never have to switch tools again. It can also be used to deliver dynamic exams to assess your employees' knowledge and learning progress, allowing you to better select the training content and delivery strategy that will be most useful to them. If necessary, you can also provide credentialing and certificate programs to encourage your employees to complete their training courses. 
19. ExpertusONE LMS
ExpertusONE LMS is perhaps one of the very few training management systems with an invisible learning delivery. For this strategy, shareable course links and embeddable widgets are already placed in areas that are frequently visited by your employees. This eliminates the time-consuming task of manually looking for training courses, ensuring a seamless learning experience for your team. On top of that, all learning materials stored in this LMS software can also be viewed using mobile devices, allowing learning to take place at any time and in any location, whether online or offline.
20. Blackboard
Blackboard has established itself as one of the most reliable training management systems available today. There are so many things that you can accomplish through Blackboard – you can tailor e-learning courses, organize your tasks, and track your learners' progress, among others. If you want to leverage social and collaborative learning for higher learning engagement, you can also host virtual training, enable discussion boards, or hold a live chat. Overall, businesses can benefit from its interactiveness, ease of use, and functionality.
21. Whale
Whale is another training management tool that focuses on process documentation and employee training. It comes with an easy-to-use editor and customization features, and a number of templates to create your training playbook, which can be automatically sent out to your teams. It makes use of a plug-and-play web extension to deliver training so it can be accessed on the apps they already use. Whale also offers a leadership development program that helps managers and employees develop the skills they need to be successful.
To gain insight on employee performance, they have user skill profiles to determine employees who need additional training to reach their goals or get certain skills. However, to get all these features, you'll need to cough up 19 monthly which allows only 10 users. They have a 14-day trial for those who want to test the waters before fully jumping in.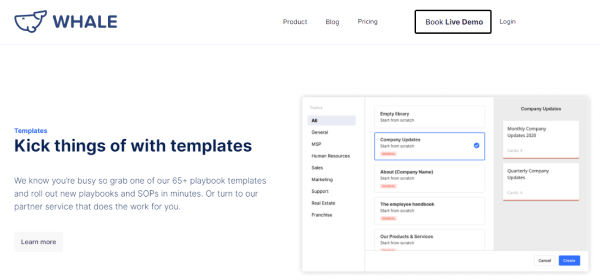 Price: US 19/month
Key features: Browser plugin, knowledge insights, custom integrations
22. Coassemble
Coassemble is a training management tool that allows you to create engaging courses with their provided templates that can be stored in their library. You can check employee performance through checkpoints, quizzes, and assignments easily with their employee training tracker. To manage your teams, you can also assign user roles and permissions to deploy training to different departments. Additionally, you'll have access to granular reports which can be easily downloaded to assess and analyze the performance of your teams. While they have a free service, it only allows you to create one course and only includes 4 interactive templates. You'll need to pay for a subscription just to get the most basic features.

Price: 9/month
Key features: Content creation and storage, granular reports, user roles and permissions
23. FrontCore
FrontCore is a cloud-based training management tool that can help plan, implement, and follow up on your training operation. It's a feature-rich tool that includes customizable online registrations, a CMS to create and deploy your training content, and a dashboard that gives you real-time updates on key figures. FrontCore isn't free so you'll need a paid subscription to use their tool. However, they offer a generous 30-day free trial for those who want to find out more about their product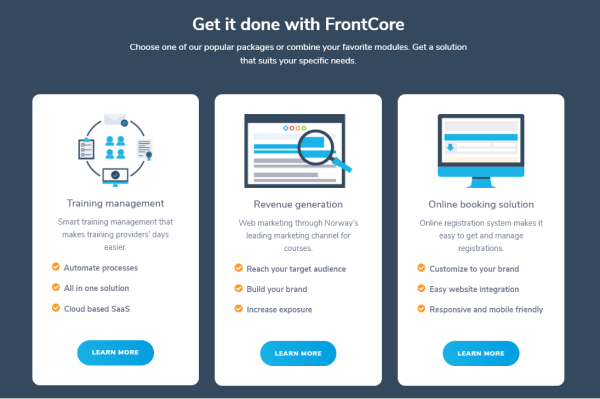 Price: £45/month
Key features: Online registrations, real-time dashboard, CMS
24. Trainual
Lastly, Trainual is another training management tool and SAAS platform that you can use for training, onboarding, and knowledge transfer. It allows you to create an account with your custom branding and provides free templates and playbooks to help guide you with your documentation. Accessing content has never been this easy through their free Google Chrome extension. To make your content engaging, you can embed videos and GIFs from over 700 available integrations. If you have existing content created elsewhere, they also have a content migration support feature to make the move to their platform easier. To get Trainual, you'll need to pay to access their basic features and shell out a bit more for their premium features.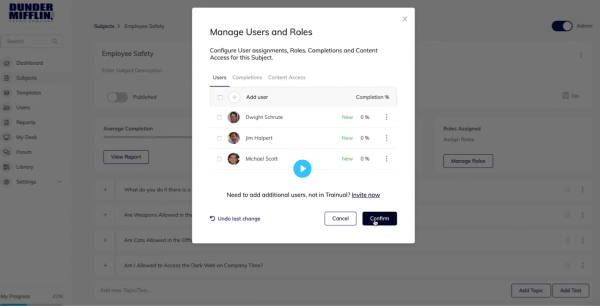 Price: US 9/month
Key features: Integrations, browser extension, content migration
Conclusion
From the top 20 Digital Training Management software of 2020, we conclude that EdApp is the best for workplace training. This free platform offers unlimited, world-class courses from an editable library that has something for every industry.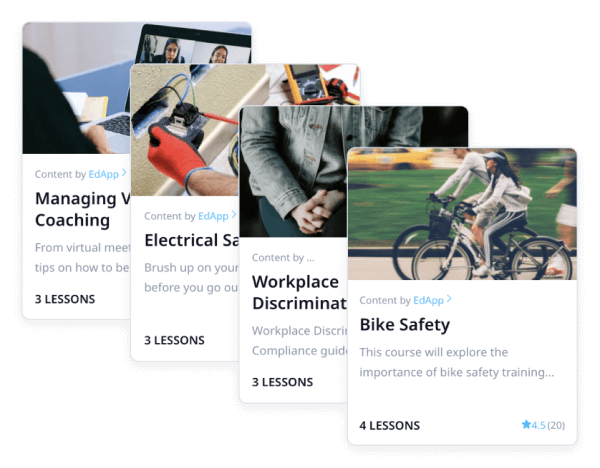 You can also design your own courses with its powerful authoring tool. EdApp also has a built-in PowerPoint converter that modernizes your dated PPT slides into beautiful and interactive microlessons your teams will love. The award-winning platform and also includes a built-in Canva integration that can be seamlessly accessed through its powerful authoring tool. This DTMS comes equipped with AI translation capabilities to enable you to train workers from all over the world.