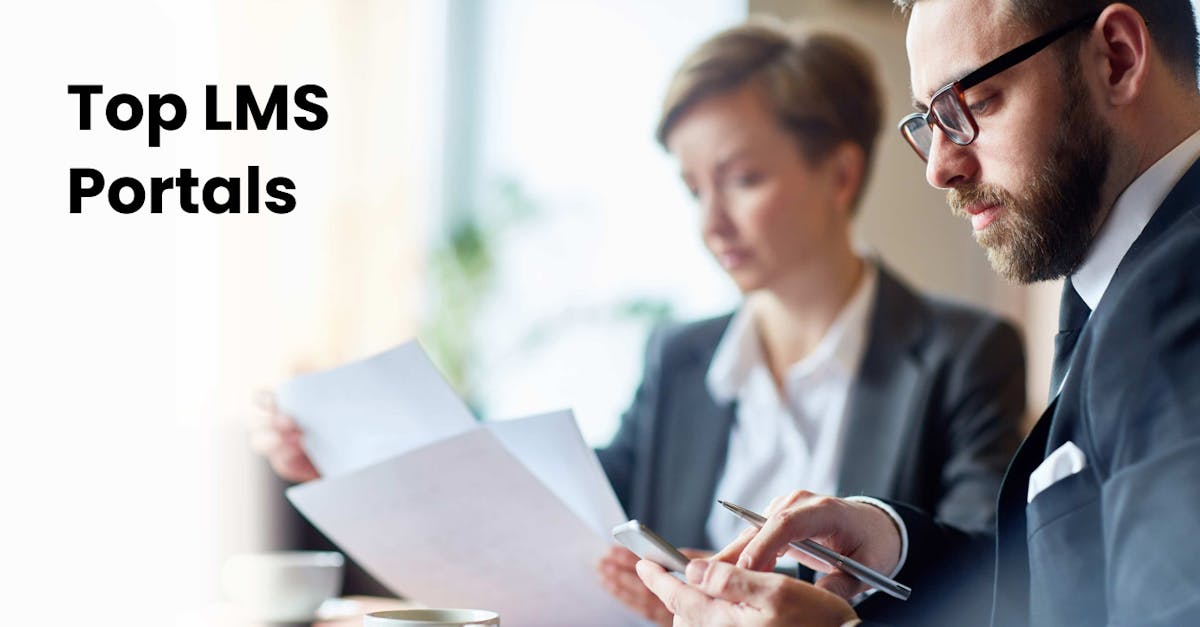 A Learning Management System (LMS) portal is a portal that is designed for administrators and content creators to create, distribute, and manage training content for learning and development. Companies use LMS portals from their servers or the cloud to administer eLearning through training courses and tests for employee training. Read on to discover the best LMS portals so you can select the one most suited for your company's online training.
Best LMS Portal – EdApp
EdApp is an award-winning LMS portal that makes the lives of both instructors and learners easy. Its admin portal is chock-full of powerful features to enhance your training programs, such as advanced user management, lesson management, course management, analytics, and customization, to name a few. On the opposite side of this LMS portal, learners will find an intuitive interface with a low learning curve and will be welcomed with an easy-to-navigate home screen. Here, they'll have access to their profile, courses, performance page, leaderboards, and many more.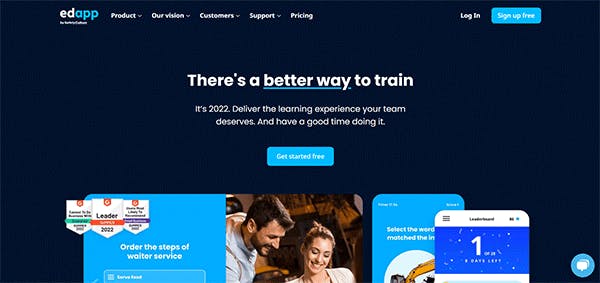 On top of that, EdApp offers a world-class, editable course library that can be used across numerous industries to train employees from all over the world and boost competency. It also offers a selection of results-driven microlearning templates to cater to every type of learner and, in turn, result in the best training for your teams.
This LMS portal also has a built-in PowerPoint converter and supports Canva integration, which is rare especially since all of these features (and many more) are there for you to use – all for free. You can use EdApp to deliver courses featuring spaced repetition and microlearning experiences to your employees to foster record-breaking retention rates.
1. AcademyOcean
AcademyOcean is an LMS portal geared towards the onboarding and training of employees. This platform offers certificate to employees after course completion, to help incentivize and help track course progress. It also offers simple customization in terms of course creation, although it's somewhat limited when it comes to branding.
Like most platforms, AcademyOcean is available on mobiles, so training can be done on your learners' preferred device. Unfortunately, AcademyOcean isn't free, so you should consider that when making your LMS choice.
2. Totara
Totara is an adaptive SaaS LMS that enables employees to access courses on any device. It offers blended and collaborative learning tools that can be used to upscale your employees. While there are many learning platforms out there, Totara promises to help you transform the way your company learns.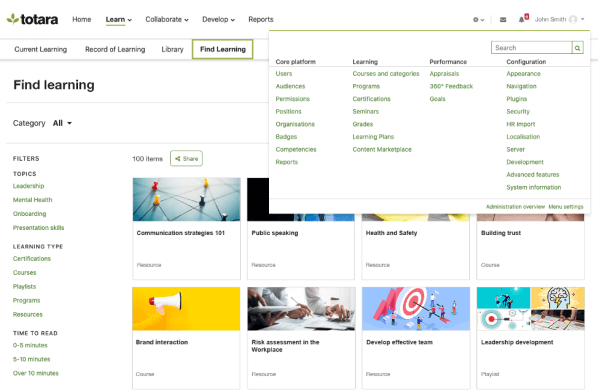 Totara's platform will allow you to automatically assign courses to groups that are categorized by the roles and skills of the group. Even though Totara is unique because it offers blended courses, it does not have a comprehensive content library like other top LMS portals.
3. Open edX
Open edX facilitates learning experiences at any level and any size. This LMS provides content hosting for every learning system, such as online campus courses, instructor-led courses, self-paced courses, and degree programs. All of these are done on one platform.
While this platform has an advanced dashboard system and interactive discussion boards and forums, it has limited capabilities apart from extensions with platforms like Salesforce. One huge drawback of this platform is that it isn't tailored to help organizations and employees with their training, which makes it more suitable for universities and other higher learning institutions.
4. Skillcast
Skillcast is a platform that is useful for managing ethics and regulatory training within your organization. For this reason, it's a viable option for companies that are looking for an LMS that will help them boost compliance by improving employees' understanding of policies, procedures, and systems. And while it lacks results-driven tools, Skillcast can help you to train your staff and automate your basic processes as well.
Skillcast has an available library with lots of courses for compliance training, as well as GDPR, Insurance, Financial Services, and Risk Assessment. Due to its small training niche, however, Skillcast isn't necessarily the best option for organizations looking to train employees on multiple topics across multiple departments.
5. Effectus
Let's start by saying that this LMS platform isn't free, so for those looking for budget or free options, this may not be the best one for us. Effectus is a simple LMS that allows administrators to host, manage, and deliver all their training programs.
Administrators can schedule classroom sessions for various types of resources such as SCORM-compliant courses, HTML Pages, PDFs, and more to audiences worldwide. In addition to organizing sessions, administrators can organize learners in various groups based on their preferences. Effectus does use gamification in its course presentations, but unlike the top LMS portals, it does not use spaced repetition.
6. GnosisConnect
With GnosisConnect, course creators can access multiple types of learning formats from one interface. Course creators can create videos, simulations, web pages, documents, podcasts, webinars, PDFs, and more at any time from anywhere through any of their devices.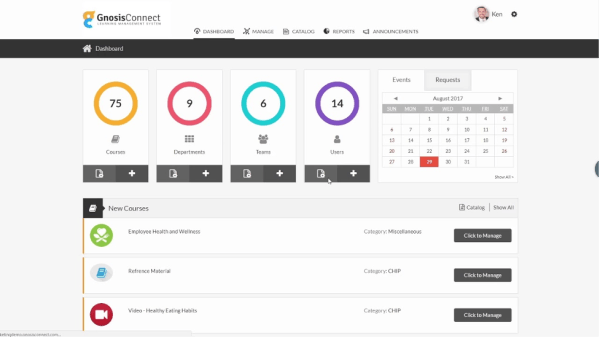 This type of LMS platform is scalable, so it can be considered for large and small businesses. Even though it has a wide range of course creation formats, it lacks a significant library that can provide ready-to-use courses to employees in multiple sectors.
7. Learn Amp
Learn Amp is an LMS that claims to boost engagement and performance in its all-in-one people development platform. Learn Amp aims to align the needs of companies with the needs of their workers and has the option to measure the impact of your courses by tracking the skills and the performance of the employees.
One unique aspect of this eLearning software is its focus on allowing employees to add content to the course library. It states that this shares the load of course creation and increases the impact of the courses. This platform isn't free and lacks scalability, as it doesn't support seamless translation so it won't support your global team, unfortunately.
8. Learning Pool
If you are into LMS platforms that encourage social and self-directed learning, natural language search, and personalized recommendations, Learning Pool could be right for you. Since Learning Pool is a scalable platform, it does offer basic elements like social learning, making it an option for online classes, especially in a higher learning environment.
Learning Pool is available on mobile devices, so the courses can be accessed by learners anywhere they are (as long as they have Internet access). Courses can be created for compliance, onboarding, leadership skill development, and more. Learningpool would be a lot better if it was a free platform and used spaced repetition.
9. Inquisiq
Inquisiq is a good option for administrators and content creators who are trying to deliver courses to not only employees and members but also to customers, partners, and volunteers. This LMS is useful in deploying, managing, and tracking educational programs delivered to multiple stakeholders.
With this learning content management system, managers will have access to a platform that is SCORM compatible, offers blended learning, and mobile learning with its mobile-friendly configurable interface. Even though Inquisiq is tailored towards workforce training, it doesn't offer a world-class, editable content library that is useful across multiple industries, nor is it free.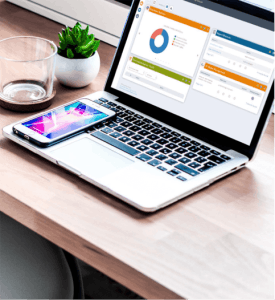 Conclusion
Now that we have reviewed the entire list, clearly, the LMS portal with the most value is EdApp. Its authoring tools and integrations combined with its vast library and effective course delivery methods make it a unique platform that can offer the best service to leaders who are looking to train their workforce.