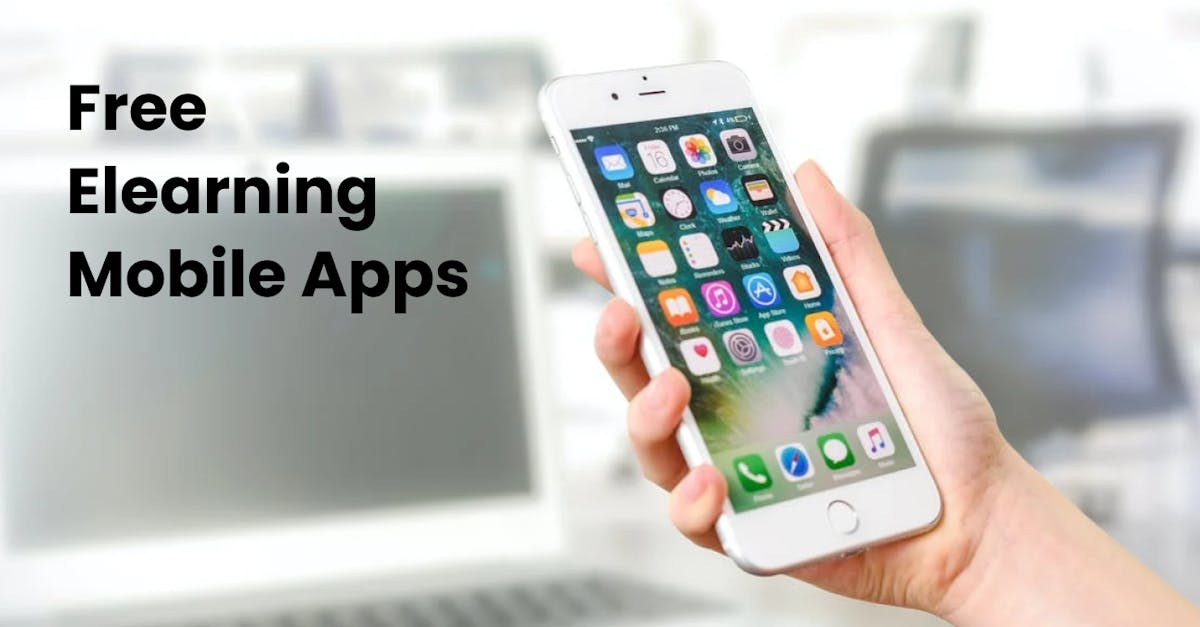 By delivering eLearning materials on a mobile app, you're able to adapt your training to make it engaging for any nature of work or employee schedule. Here, we've listed the best eLearning mobile apps that allow employees to learn at their own convenience. Read further to discover the best eLearning mobile app for the m learning experience for your workforce – whether they're remote-based, office-based, or out in the field.
1. EdApp
EdApp is an award-winning elearning mobile app that enables a flexible and effective learning experience for each individual learner. This learning management system takes pride in its microlearning feature, which transforms overwhelming training information into bite-sized modules that focus only on key elements of a topic. This allows your learners, especially those out in the field or those who barely have enough time to spare for training, to complete courses in just a couple of minutes.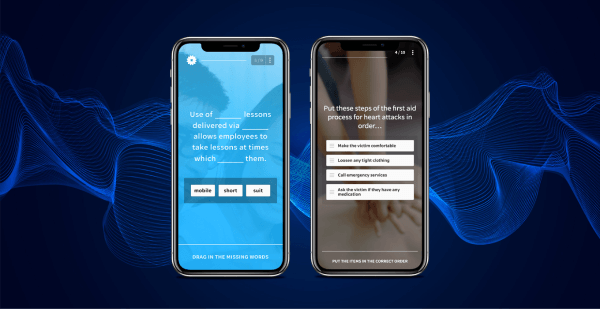 Even with little to no experience in creating and designing microlessons, building them from scratch is made easier with EdApp's built-in authoring tool. It gives you access to a library of 80+ interactive and engaging templates. You can also easily deploy readily available courses in EdApp's free customizable library that are made by thought leaders and industry experts. If you want something more seamless and bespoke, try out the managed plan.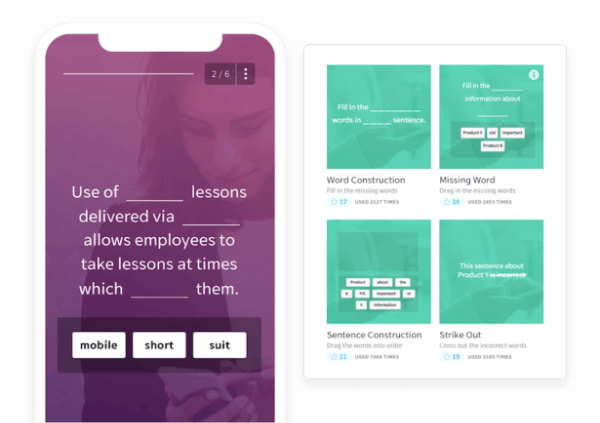 As an eLearning mobile app, this LMS makes your microlessons not only effective but also engaging. To combat the lack of motivation and boredom associated with learning work-related information, it uses a gamification feature that makes training feel like simply playing smartphone games instead of doing another work task. This strategy is proven to result in 90% (or higher) completion rates compared to typical eLearning courses.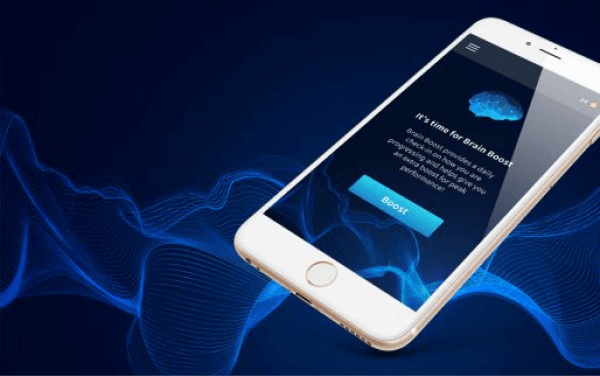 To ensure that key information is embedded in their long-term memory, EdApp integrates the Spaced Repetition strategy through a system-automated quiz called Brain Boost. This feature automatically pulls questions from your lessons and creates personalized quizzes for each learner to test which information they've retained. The more answers they get right, the less frequently they are tested on a particular lesson. This strategy allows you to reinforce key learning concepts to enhance knowledge retention. 
Highlights:
Mobile learning

Microlearning 

scorm and tin-can compliant authoring tool

Template library that includes 80+ intuitively designed interactive templates, such as multiple-choice, in-app gamification, conceptual formats, surveys, etc.

Free editable course library curated by thought leaders and industry experts

Gamification & leaderboards

Spaced Repetition

User and course management system

Learning metrics dashboard & reporting

Cloud-based AI translation
Cost: Free
Sign up for free to start using the best free elearning mobile app today!
2. Yarno
Yarno is an eLearning mobile app designed to effectively train your employees wherever they're located. This SAAS features a learning library where your instructional designers and learners can store all your training content for easy access. It also includes a quiz feature called Embed that allows you to identify knowledge gaps and reinforce information. In this platform, training is delivered through interactive questions to further strengthen the recall of information. Answers are supported with informative explanations where they can receive feedback from their answers. You can also work with a team at Yarno to help you create custom-made videos for different types of training, including DEI training, leadership training, communication skills training, and so much more.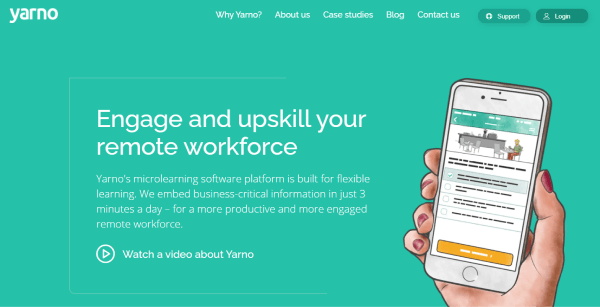 Highlights:
Cost: Price available through a quote request
3. Violet LMS
As a full-service training solution, Violet LMS serves as a strategic partner by ensuring your employees are equipped with sustainable knowledge on onboarding, employee training, sales training, and compliance training. In this eLearning mobile app, virtual learning materials are delivered through interactive courses and collaboration is also promoted through virtual classrooms, which are adapted into a mobile learning environment. Its course management system streamlines the process for training managers for more convenient learning content creation.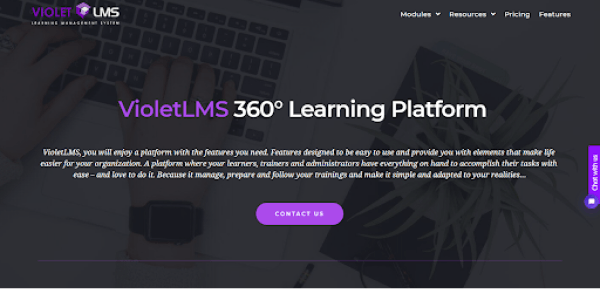 Interactive courses,

Virtual classrooms

Blended learning
Cost: Price available through a quote request
4. Kahoot!
As an online quiz maker and eLearning mobile app, Kahoot! uses visually appealing gamification elements to maximize engagement and ensure higher completion rates among learners. Your learners can access these interactive template-based games and quizzes, which are uniquely called "Kahoots", via a web browser or a mobile app. The best part is that they can be presented on a shared screen and answered by a group of "players" all at the same time through any video conferencing platform. Alternatively, you can also set Kahoots as a self-paced challenge to be completed by each team member asynchronously. This platform also provides trainers with reporting and analytics so that knowledge gaps can be addressed and feedback can be provided.

Highlights: 
Gamified quizzes

Live Kahoots

Asynchronous kahoots

Multiple game templates
Cost: Free, Paid plans start at 7 USD (monthly)
5. WizIQ
WizIQ is a learning platform designed to deliver an online classroom experience equipped with a comprehensive set of LMS features. The platform offers simple, no-nonsense authoring tools allowing for the creation of customizable, impactful courses. Using WizIQ online test builder you can prepare and conduct tests and assessments for your teams. As an eLearning mobile app, WizIQ makes knowledge easily accessible and stress-free. It also provides a powerful analytical tool that allows you to monitor and assess the learning outcomes of your training.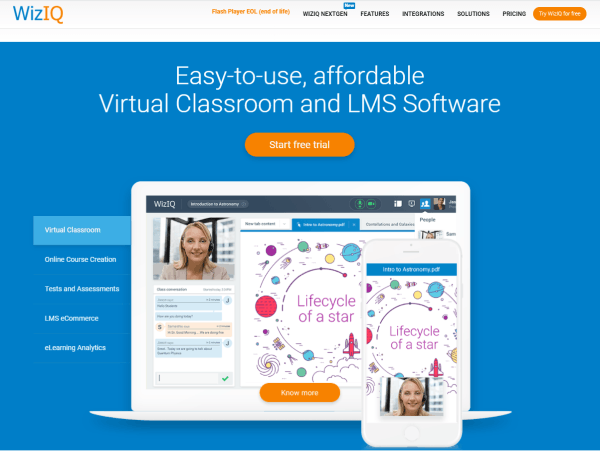 Highlights:
Cost: Starts at 5 (monthly)
6. Kitaboo Insight
Kitaboo Insight is a remote training software and eLearning mobile app designed for delivering training through mobile devices. It's compatible with all devices, whether it be iOS or Android. It allows you to seamlessly integrate with the LMS you already use for a smooth transition to their software. With its pre-built templates, you can easily create or customize your training content and quizzes. Once training materials are securely uploaded, you can have offline access to your content. This platform also allows you to convert static PDF, PowerPoint, and text files into interactive digital content. This is perfect for learners with short attention spans who may have trouble going through long documents.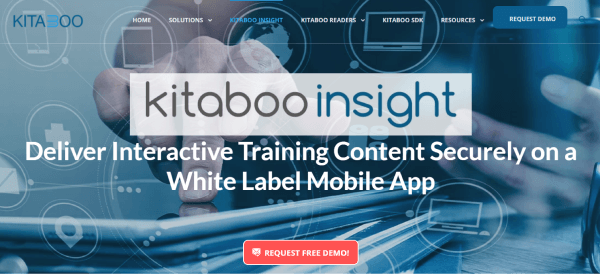 Highlights: 
Cost: Price available through a quote request
7. Qstream
Qstream is a microlearning platform dedicated to delivering learning programs that combat the forgetting curve and improve knowledge retention among employees. Delivered through an eLearning mobile app, Qstream reinforces knowledge, develops skills, and enhances productivity through its feature called Content Hub which enables training managers to create content with a template library and a set of guide questions, as well as the ability to facilitate real-time practice through videos submitted by your personnel. You can also track learning progress through an analytics dashboard and proficiency heatmaps.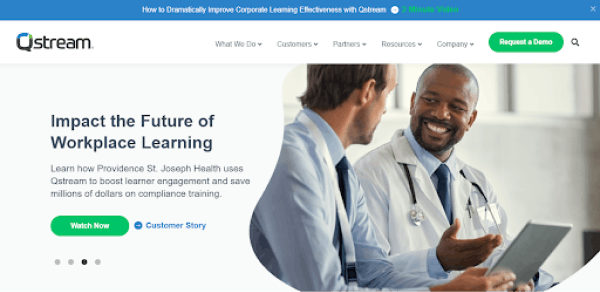 Qstream can also be used to deliver specialized training programs like emergency preparedness training courses, HIPAA training courses, first aid training courses, quality assurance training courses, and the like. These can help your personnel to be better prepared for their roles.
Highlights: 
Mobile learning

Microlearning

Content hub

Analytics dashboard
Cost: Price available through a quote request
8. Hoopla
Hoopla is a sales gamification software and engagement solution specifically designed to motivate sales teams to increase performance through contests, leaderboards, and real-time recognition. With this eLearning mobile app, you can identify sales goals and create tournament-style or race-style contests for friendly competition between employees and accelerate overall team productivity. Team members can even track their individual performance through the tool's built-in leaderboards system. Every time an employee reaches their target, Hoopla automatically sends a live news update to fellow team members so that everyone can celebrate their win. By fostering a competitive and encouraging atmosphere in the corporate elearning, your teams can have fun while hitting their targets.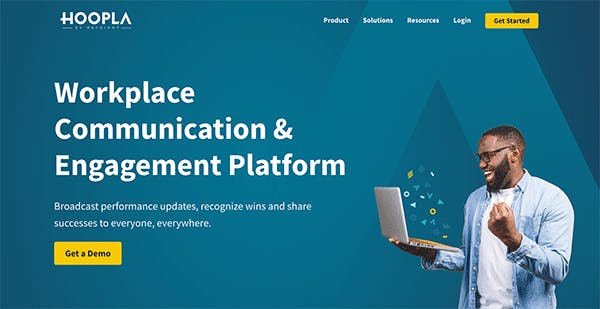 Highlights: 
Sales gamification

Contests, 

Leaderboards

Real-time recognition
Cost: 14-day free trial, Custom price available through a quote request
9. Braincert
BrainCert is an eLearning mobile app that allows companies to easily deliver online training. With its virtual classroom functionality, learners can log in to their LMS and attend instructor-led classes remotely. It also has comprehensive features such as video streaming & chat, analytics, and reporting. This remote training software also includes a content management system that provides smooth onboarding experiences.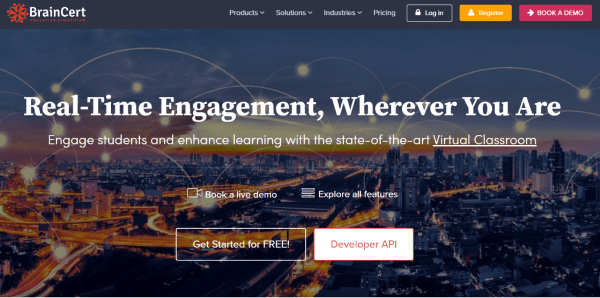 Highlights:
Virtual classroom

Reporting

Content management
Cost: Free and paid plans
10. EduBrite
EduBrite is a learning management software designed for professional onboarding, support, and training of your employees, customers, and partners. This LMS platform allows you to create self-paced online courses and certificate programs through a course editor. This feature supports various types of learning materials, such as video, audio, presentation, documents, PDF, Youtube, and Vimeo. Lessons are deployed through EduBrite's eLearning mobile app which makes training accessible and convenient for learners.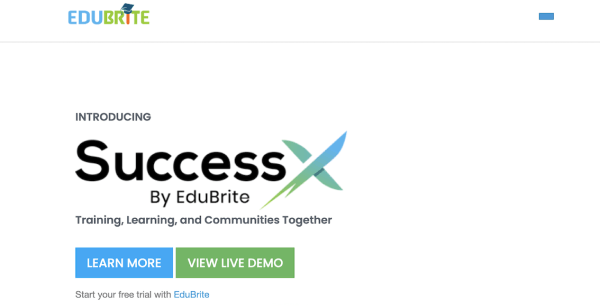 Highlights:
Cost: Paid plans start at 99 USD (monthly)