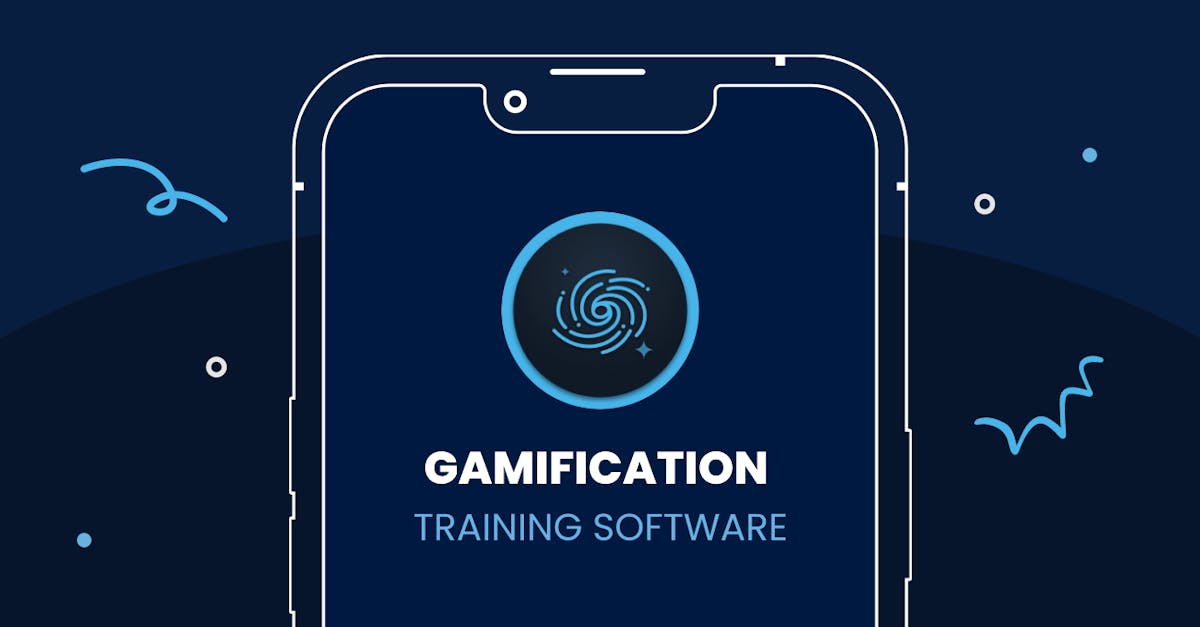 Through the use of gamification training software, you can incorporate gaming elements like narratives, badges, points, rewards, and leaderboards to help engage learners and spark friendly competition within the team. There are tons of existing platforms to choose from online but we've done the work for you and narrowed it down to a list of the ten best gamification training software.
1. EdApp
EdApp is considered as one of the best gamification apps as it allows you to transform dull learning content into smartphone-like games that motivate your employees to complete their courses and retain training concepts while also having fun. Some of the game template examples that you can use for your own learning materials include letter jumble, find a word, next in order, true or false, image/word match, jeopardy, and elevator game.
Thankfully, this is made easy for you through its cloud-based SCORM authoring tool where you can create, customize, and distribute high-quality training content for your learners. When designing a course, you can choose from a selection of engaging content, game, and quiz templates that allow you to put together learning materials in just minutes or hours instead of the usual days or weeks.
If you want to create a training course from scratch, staring at a blank page can be intimidating when creating training courses. Luckily with EdApp's AI Create tool, you won't have to start from zero anymore. Get a beautifully designed and fully fleshed out course within minutes.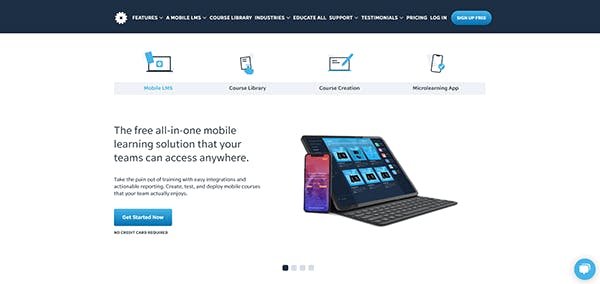 You can also spice up your gamified lessons by adding weighted scores or timers and by making use of the leaderboards, prizing, and real rewards features. Based on set criteria, you can allocate stars to learners who get top scores or complete their courses on time. They can then use these stars to redeem rewards like coffee or food vouchers. 
Additionally, Custom Achievements is a reward system feature that helps level up your engagement game by recognizing and incentivizing superb learning habits. It allows learners to earn achievements that can be customized based on your criteria of good learning behavior. With Custom Achievements, you can personalize a wide range of accomplishments and rewards. Some can be as simple as opening the app for the first time or completing an entire course with flying colors. It's all up to you to determine the ingredients of each achievement and set up a "recipe" for success based on your intended learning process.
Cost: Free
Highlights: Microlearning, template library, eLearning gamification, spaced repetition 
Create gamified lessons with EdApp gamification training software for free!
2. Qstream
Qstream is another gamification training software that offers gamification elements, micro-explanations, challenges, scenario-based Q&A, and spaced repetition features, you can also increase your learner's knowledge retention and productivity. Managers can determine training efficacy, address knowledge gaps, and track overall employee performance in real-time with useful tool components like proficiency heat maps, leaderboards, team comparisons, and analytics dashboards.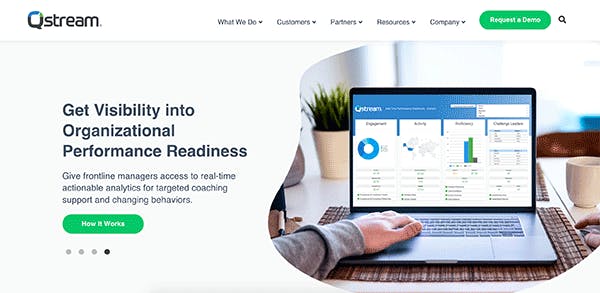 Cost: Get a quote
Highlights: Leaderboards, analytics dashboards, coaching hub, real-time heat maps
3. Unlock:Learn
Unlock:Learn has been in the corporate training industry for more than 25 years. As a platform, they've enabled organizations to develop interactive training content and bespoke learning experiences for their employees. With its intuitive features and automated training tool, you can seamlessly onboard, engage, and train your entire business in just a few clicks. You can also plan for training strategies by accessing relevant reports through the platform's analytics feature.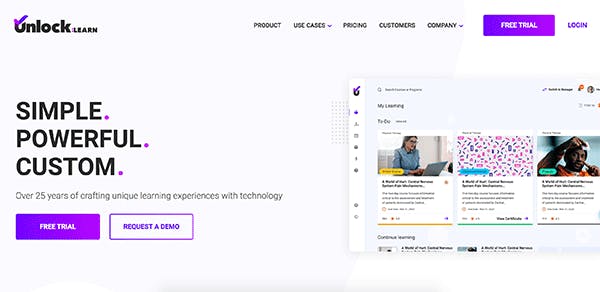 Cost: Starts at 0 USD per year with a 15-day free trial
Highlights: AI-powered chatbot, automation, collaboration, reporting analytics
4. Tovuti LMS
As a learning management platform and gamification training software, Tovuti LMS helps you streamline your employee training system. With its built-in course authoring suite, you can design, edit, schedule, and deploy interactive courses hassle-free. You can also include leaderboards and other gamification elements to encourage learners to complete their assigned learning tasks. Learners also have access to a personalized portal that shows their badges, certificates, leaderboard rank, checklists, assigned courses, and upcoming training sessions.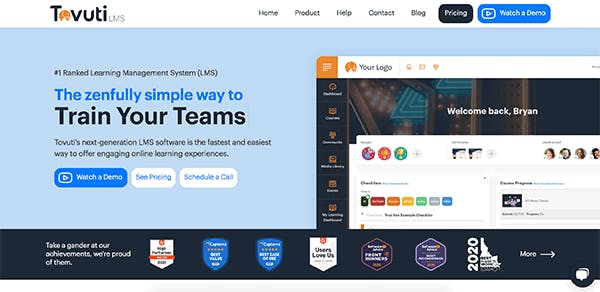 Cost: Get a quote
Highlights: Course authoring tool, leaderboards, virtual classroom, personalized learner portal
5. Gametize
Gametize is an enterprise-grade gamification training software and LMS solution that enables organizations to enhance their employees' training experiences, whether they are going through onboarding or upskilling programs. With this tool, you can easily design your own gamified content by choosing from a vast library of game templates, which are divided into project categories like employee engagement, learning and development, talent acquisition, and many more. You can also boost training engagement and completion rates using flashcards, quizzes, and interactive challenges.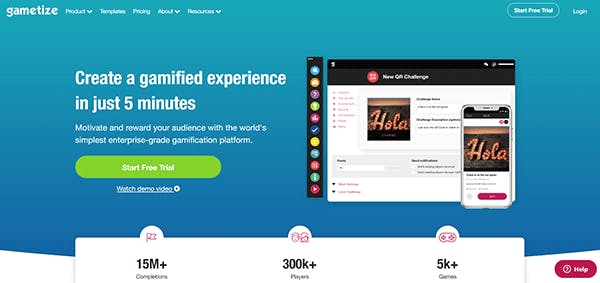 Cost: Starts at 00 USD per month
Highlights: Game template library, leaderboards, badges, rewards, results tracking
6. Edgagement
With Edgagement, you can build gamified microlearning content, quizzes, and surveys through a simple drag and drop authoring tool. Even with little to no knowledge of graphic design, you can easily create interactive training materials with the help of over 15 game templates like spin to win, fact or fiction, double match, connect the dots, jumble pic, and many more. Encourage friendly competition among your workers and motivate them to complete their training through the platform's leaderboard and reward features.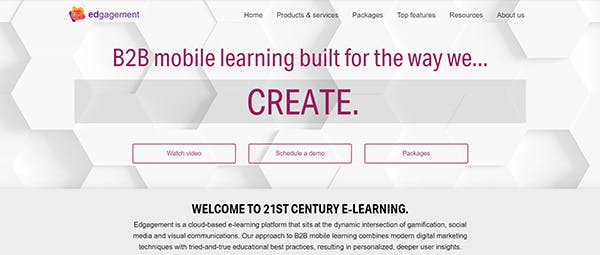 Cost: Get a quote
Highlights: Drag and drop authoring tool, gamified quizzes and surveys, micro-moment content, leaderboards, 
7. Kahoot!
Primarily an online quiz maker, Kahoot! uses visually appealing gamification elements to maximize engagement and ensure higher completion rates among learners. Your learners can access these interactive template-based games and quizzes, which are uniquely called "kahoots", via a web browser or an elearning mobile app. The best part is that they can be presented on a shared screen and answered by a group of "players" all at the same time through any video conferencing platform. 

Cost: Free, Paid plans start at 7 USD per month
Highlights: Gamified quizzes, live kahoots, asynchronous kahoots, multiple game templates
8. Hoopla
Hoopla is a gamification training software and engagement solution designed to motivate sales teams to increase performance through contests, leaderboards, and real-time recognition. This sales gamification software allows you to identify sales goals and create tournament-style or race-style contests for healthy competition between employees and boost overall team productivity. Team members can also track their individual performance through the tool's built-in leaderboards system. With the Newsflash feature, you can deliver recognition instantly with no manual intervention needed. Every time an employee reaches their target, Hoopla automatically sends a live news update to the whole team so that everyone can celebrate their win. You can even get through tedious compliance training courses like fire extinguisher training courses, first aid training courses, and emergency evacuation training courses by making use of the platform's nifty leaderboards and gamification features.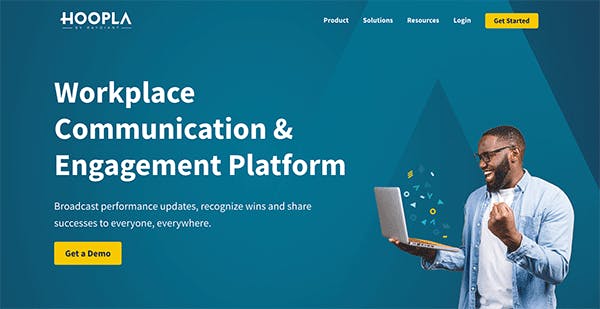 Cost: Request a 14-day free trial
Highlights: Sales gamification, contests, leaderboards, real-time recognition
9. Centrical
Design personalized microlearning content with Centrical's powerful gamification training software. With its user-friendly interface, you'll be able to design visually appealing game-based learning materials without needing advanced design expertise. On the platform, you can customize learning challenges, set prize-winning competitions, or design quest-based game narratives to help your employees adopt the right behaviors, practice skills in a risk-free virtual environment, and improve the overall knowledge and skills they need to succeed. Centrical continuously rolls out new games, challenges, and raffles so that learners can sustain excitement throughout their entire training process.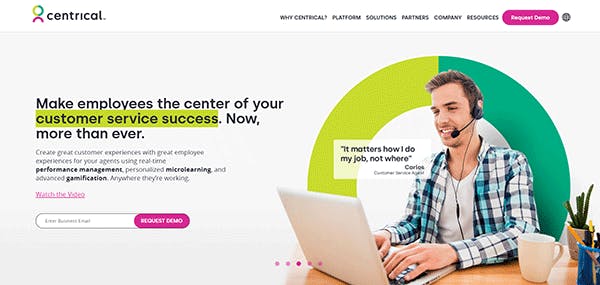 Cost: Request a demo
Highlights: Personalized microlearning, quest-based game narratives, rewards, real-time performance management
10. Archy Learning
Archy Learning is an all-in-one gamification training software and elearning platform that you can use to create a global classroom, perfect for those who are training remote teams across the globe. With its intuitive user interface, you can easily copy and paste Youtube links or upload classroom notes, PDFs, and other digital resources that your learners will need to complete their training. You can even design learning paths by incorporating custom course quizzes, mixed media exams, homework, interactive video modules, and personalized games. Course certificates are also available to motivate learners to complete their lessons.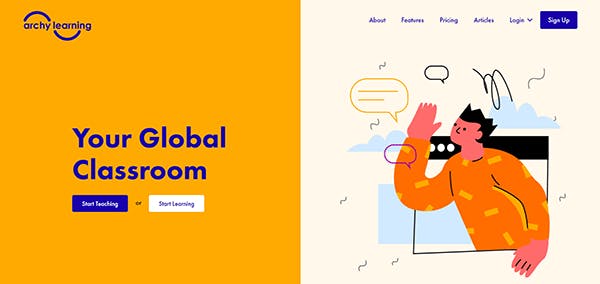 Cost: 5 to 00 USD per month
Highlights: Global classroom, custom course quizzes and games, interactive video modules, school tracking
11. Mambo.IO
Mambo.IO is another gamified learning management system that allows you to customize gamification solutions based on your own key performance metrics and helps you boost the learning outcomes of your employees. This way, you can align your training strategy with your objectives. You can also assign rewards based on their learning progress or completion of an activity or business process. A behavior-and-point-based Leaderboards feature is also available to encourage friendly competition and inspire better performance among employees. To further increase engagement and motivation, you can also reward learners with tangible benefits through its coupon system. This feature enables learners to redeem coupons from the points the learners have earned.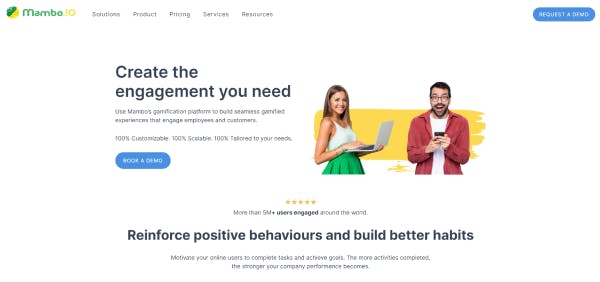 Mambo.IO's gamification solutions can also help you boost the learning outcomes of your employees when it comes to different types of employee training programs, including HIPAA compliance training courses, fire extinguisher training courses, risk management training courses, and the like.
Cost: Price available upon quote request
Highlights: Activity streams, rewards system, leaderboards, coupon system
12. Funifier
Funifier is a gamified learning platform that incorporates game techniques in its features to increase engagement. It provides features like Quest lists, Leaderboards, Progress bar, and many more to boost your employees' learning performance. To further encourage learners to stay on top of their game, Funifier gives you the opportunity to create a custom incentive program so you can reward learners through its Rewards Catalogue. Aside from these, you'll also have access to a gamification dashboard, which you can customize with KPIs that are relevant to your objectives. You can then use your data to enhance your gamification learning strategies.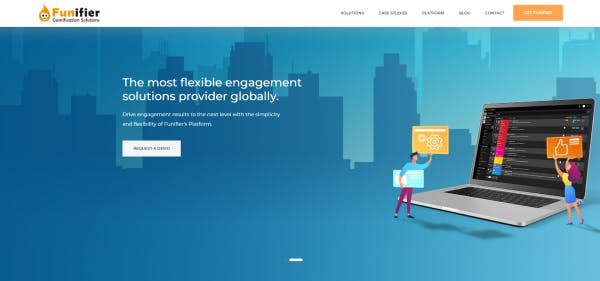 Cost: Price available upon request
Highlights: Game techniques, rewards catalog, custom incentive program
13. Xoxoday Compass
Managing sales incentive programs can be difficult and create a lot of manual work for an organization. Even worse, some companies fail to pay commission on time as they should. This leads to frustration, complaints, and lost opportunities.
Xoxoday Compass is a sales incentive compensation management software solution that helps businesses manage their sales efforts. With Compass, you can design and launch gamified sales incentive programs for your sales force, offer real-time visibility into performances, commission information, and incentive plan details, and process incentive payments.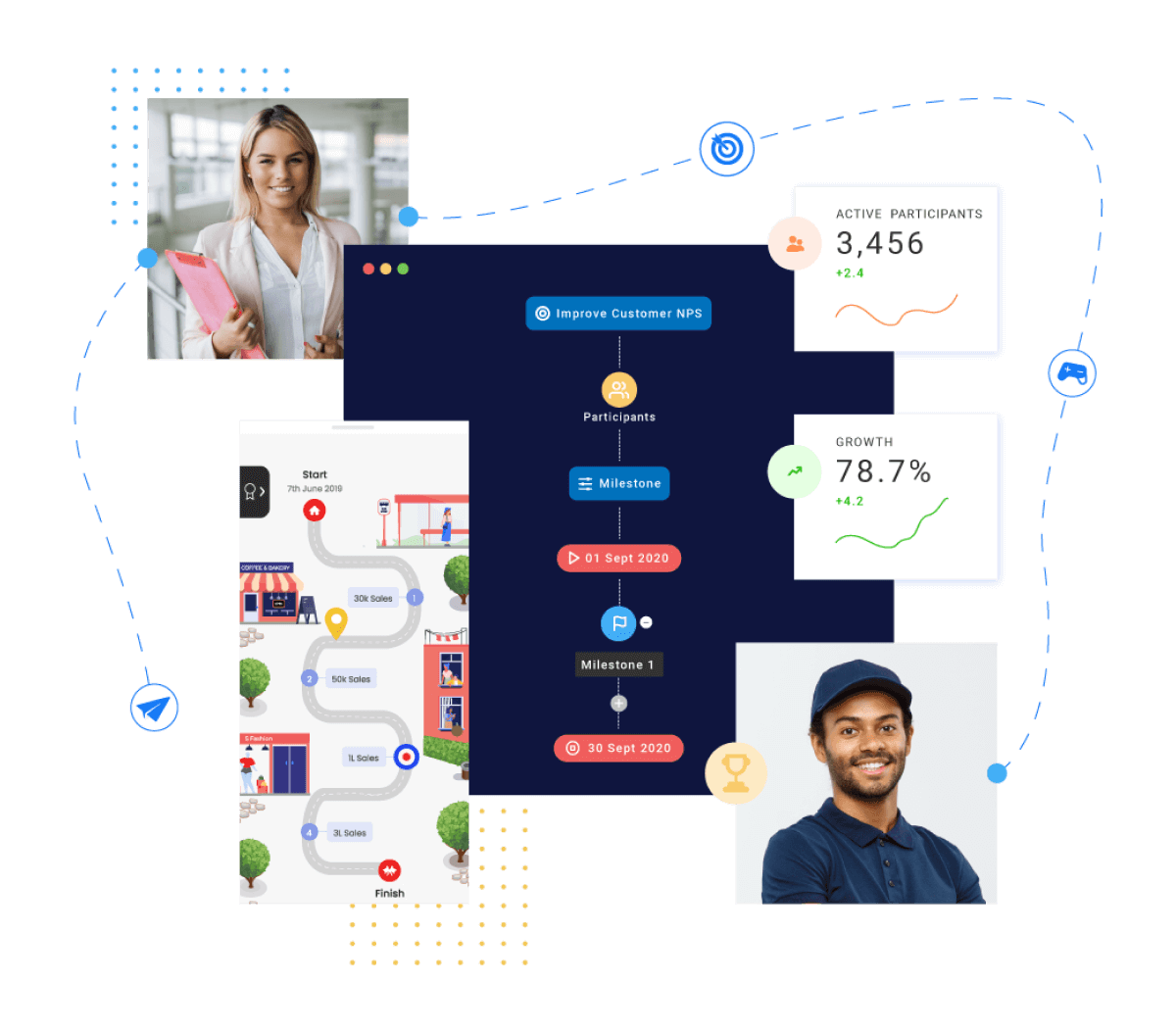 Xoxoday Compass is designed to complement any enterprise resource planning (ERP) system or accounting platform while providing your business with flexibility and accuracy in managing its sales incentive programs.
The best thing about Xoxoday Compass is that you can easily integrate it with any of your CRM. Compass follows a progressive pricing model. This ensures you enjoy all the features of Compass at all times. As you add more users, your average price per user decreases. Book a demo here.
Cost: Progressive pricing
Highlights: Gamified sales incentive programs, real-time performance visibility, CRM integrations
You might also be interested in: