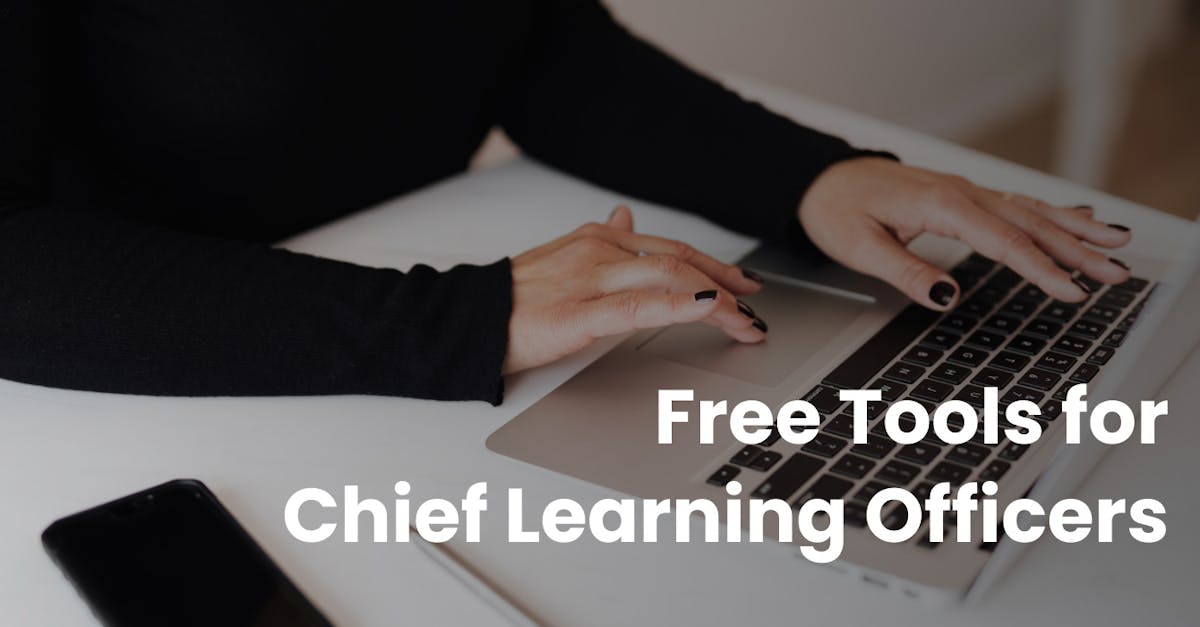 Chief learning officers have a huge responsibility to improve the knowledge and skills of their employees. Nowadays, there are various technologies and online tools for chief learning officers that make it easier to train and manage teams. We've done the hard work and rounded up the top software that you can use to level up your team's training experience.
1. EdApp
If you're looking for a comprehensive tool for chief learning officers, EdApp is a top choice. It offers user-friendly course management systems, which make it easy for you to plan, put together, and distribute expertly crafted courses and monitor employee performance. Its powerful Creator Tool is one of its best features, allowing anyone to build interactive microlearning courses in only a matter of minutes rather than days or months. 
EdApp also gives you access to pre-made elearning templates, which don't require any coding to use and let you get started on authoring courses straight away. You can also drag and drop content like images, videos, and audio to make your training more engaging. 
If you don't want to spend hours creating training content from scratch, you can also simply import ready-to-use courses from EdApp's extensive course library. As chief learning officers, you can also opt to enroll in some of the courses to expand your skill set and earn credentials to include on your chief learning officer resume.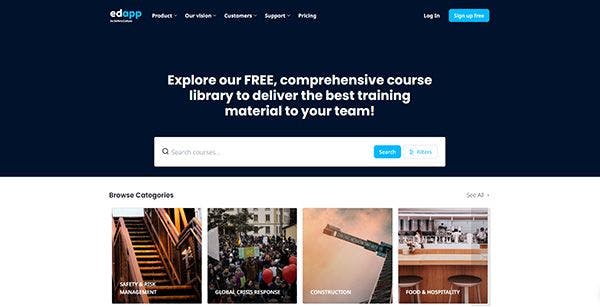 These courses are designed with the newest and best learning trends in mind. EdApp's team of expert instructional designers has produced thousands of engaging courses for top brands across the world. These microlearning programs allow for quicker training for your teams.
Rapid Refresh is another nifty EdApp feature that allows you to create and manage training assessments. To use it, simply submit your questions into their user-friendly spreadsheet and then watch as the tool transforms your questions into interactive quizzes that are sent at predetermined intervals. Once your learners complete their courses and assessments, a detailed report will be sent to you promptly that you can use to track and address the knowledge gaps in your team's training.
Cost: Free

Key Features: Built-in authoring tool, intuitively-designed templates, ready-to-use online courses, Rapid Refresh quiz maker, granular report, mobile learning
Sign up for free and get your chief learning officer certificate with EdApp's free tools for chief learning officers!
2. AdaptiveU
AdaptiveU is also an excellent tool that can help you build custom courses and create tailored learning tracks for your entire team – from interns to veterans – ensuring that their performance remains consistent with your company's goals and objectives. The process is quick and simple – just copy and paste your content, add links to relevant articles, and attach images or videos. If needed, you can also include pre-recorded video lessons with the best instructors to train the newbies in your organization, eliminating the hassles of organizing face-to-face sessions. The only con here is that it lacks a design customization function, so you may have to spend more time building your courses for your training programs.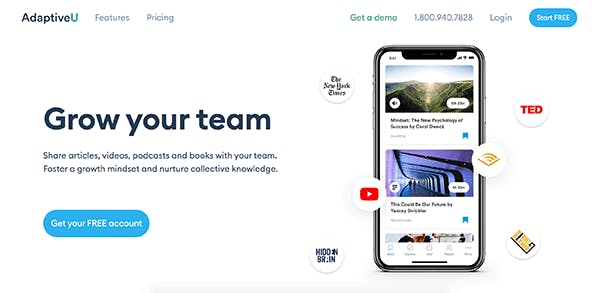 Powered by cloud technology, all courses here can be accessed by your learners anytime with their own devices. If they can't finish their lessons in one sitting, they can also save their progress and resume where they left off. As for the admin side, you have the authority to monitor and check their progress and ensure that elearning development is indeed taking place. 
3. Crowd Wisdom
Crowd Wisdom uses the best digital learning technology to help chief learning officers like you foster employee growth and development and provide rich learning experiences for your team. There are a lot of things that you can accomplish from using this tool. First, you can build personalized courses based on your employee's objectives, competency goals, and certificate paths. You can even deliver them in a variety of formats, including microlearning, live online, and webinars. To motivate them to complete their training, you can also issue them certificates that they can include in their microcredentials.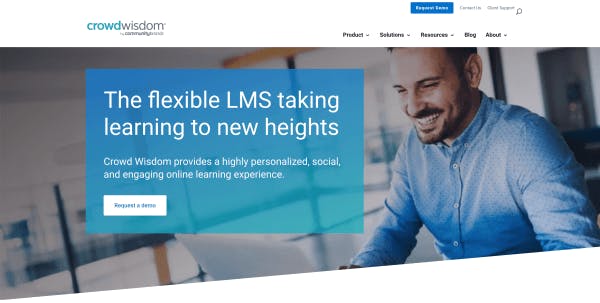 This tool has no free version, but it offers a free trial and personal demo so that you can first try their training solutions before committing to their paid plans.
Cost: Pricing plans available upon request

Key Features: Personalized courses, microlearning, live online, and webinars, course certificates
4. EasyTestMaker
Administering quizzes is the best way to track and evaluate the success of your training program. You may also use it to measure your team's skill and competence level, which will help you determine the ideal training and support for them. With this in mind, an online quiz creator can help you simplify the process of authoring and managing your tests and quizzes, which is where EasyTestMaker comes in. Here, you have multiple test templates to choose from, such as multiple-choice, fill-in-the-blank, matching type, true or false, and even short essays. They are ready to be filled with your content, so all you need to do is type in your questions and answers, hit publish, and send them to your team. These tests are graded automatically, saving you an incredible amount of time instead of checking them one by one.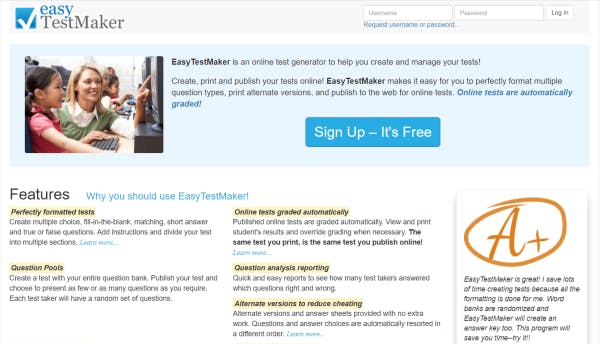 EasyTestMaker has a free version, although you are only limited to creating and publishing 25 tests at one time. To distribute more quizzes, you will need to subscribe to its Plus or Premium plans. 
Cost: Free, paid plans also available

Key Features: Online quiz creator, multiple test formats, automatic grading
5. LearnWorlds
Online video resources can also be used to stimulate and engage learners in their training topics. Tech tools like LearnWorlds can help you create and design interactive video training, securing an increased learning experience for your employees. You can also include interactive transcripts and subtitles, overlay images, questions, and pointers to strengthen your team's focus and understanding of the training content.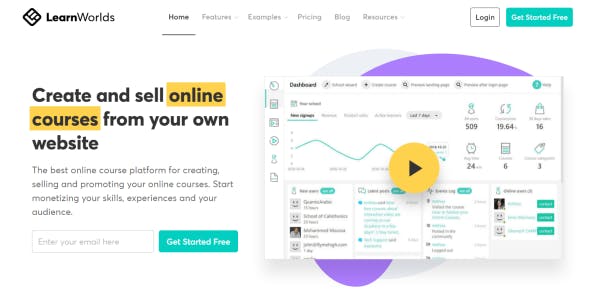 Another key feature to explore from this automated training tool is its drip feed, which makes it possible to schedule and automate the delivery of your video courses. It's all up to you whether you want your users to navigate them freely, sequentially, or you may also set restrictions if needed. 
Learnworlds, unfortunately, is not free. Its pricing plans may also come a little bit expensive, especially for small and startup companies. But still, this tool can come in handy, particularly if you have no technical skills in video editing. 
Cost: Pricing starts at 4 USD per month

Key Features: Video learning, interactive transcripts and subtitles, overlay images, questions, and pointers, automated course delivery through a drip feed
6. Internet Archive
Internet Archive serves as a digital library of vast repository videos, audio recordings, books, texts, and images that you can use for instructional learning purposes. And just like your traditional library, all these resources are free for the general public, adhering to their general mission of providing "Universal Access to All Knowledge". Most of its resources can also be downloaded and replicated without copyright restrictions. So if you're short on training resources, this place is your ultimate lifesaver.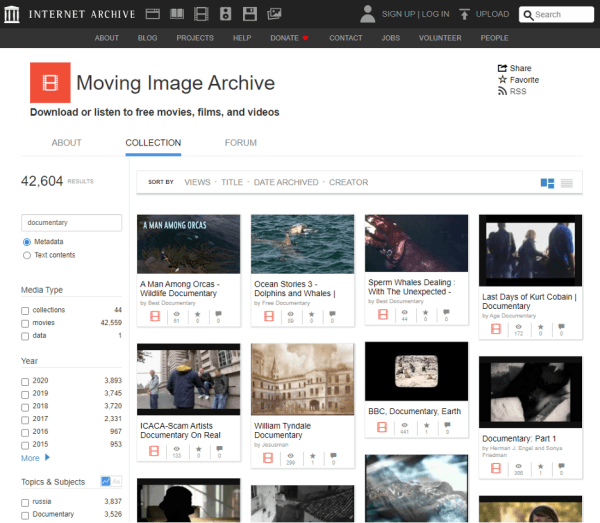 Take note, however, that Internet Archive's work is only limited to storing and providing access to various digital learning materials. It doesn't have any eLearning functionality, and most of the pages usually take a long time to load. 
Cost: Free

Key Features: Digital library of vast repository videos, audio recordings, books and texts, and images
7. Google Classroom
If you've been around the L&D industry for long enough, then there's a great chance that you've already heard about Google Classroom. This popular tool allows chief learning officers like you to easily set up a virtual classroom in your learning environment. This is where your employees can participate in different training sessions and access lectures assigned to them which is great for supporting blended learning. And since it was created by Google, your learners can always attend their training sessions or other chief learning officer webinars via Google Chrome or on any device, including desktop computers and mobile phones. All files are also stored on Google Drive, meaning all resources will never get lost in the process. The only disadvantage of this tool is that it lacks customization abilities, which leaves your training courses a bit dull and visually outdated.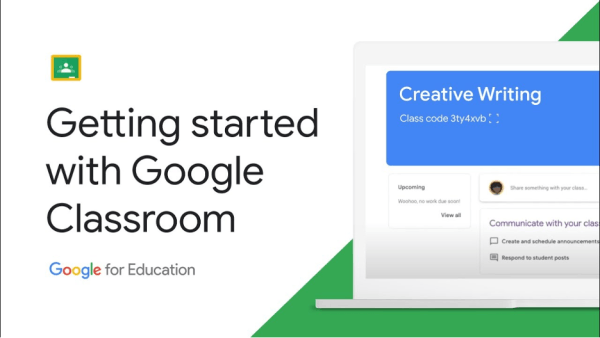 Cost: Free

Key Features: Virtual classroom, assigned lectures, integration with other Google apps such as Chrome and Drive. 
8. EasyWebinar
Perhaps you're thinking of running webinar-based training? Then you, as a chief learning officer, may want to consider getting help from EasyWebinar, a flexible webinar tool that can run high-quality webinars with up to four presenters allowed at a time. Leveraging high technology, it promises pixel-perfect, high-definition presentations with no delay and latency, audio echo, and blurry screens, even with two persons speaking and presenting at the same time. Recording and archiving are also feasible with this tool, providing your learners access to your webinar training sessions even after they have already concluded.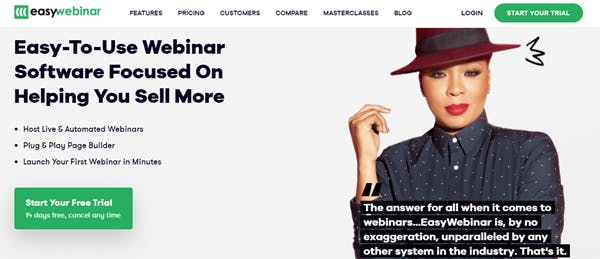 EasyWebinar has three pricing plans available: Standard, Pro, and Enterprise. It has no free version, unlike your basic Zoom account, despite having almost similar features. However, you do have the advantage of having numerous presenters at the same time, which is uncommon for most webinar tools for development officers.
Cost: Pricing starts at 8 USD per month

Key Features: HIgh-quality webinars with no delay, no latency, and no blurry screens and audio, multiple presenters at a time, recording and archiving
9. Slack
Collaborative learning is also an effective training method, where employees can obtain new skills and knowledge together, teaching and learning from one another. Slack is an excellent tool that can make this learning happen, allowing real-time communication to take place without the need to send formal emails or set up a meeting. Here, you can create channels targeted for specific teams, topics, or projects, where your employees can directly call, chat, and share files with the right set of people.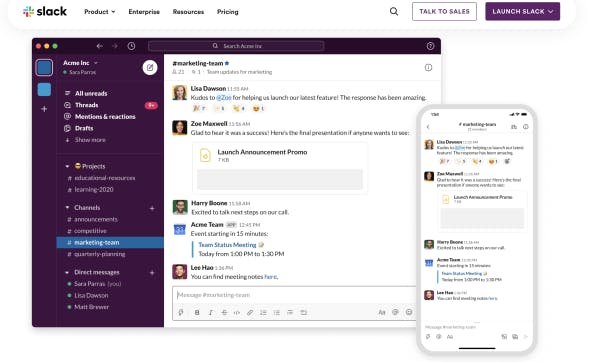 Just a heads up that Slack only functions best as a communication tool. Still, it does a great job at promoting and facilitating collaboration on projects, especially with its integration feature – you can easily connect it with a wide range of apps like Jira, Zoom, Google Drive, and more.
Cost: Pricing starts at .67 USD per month

Key Features: Real-time communication, targeted channels, file sharing, apps and integration
10. Officevibe
Officevibe is an ideal tool for putting together surveys and collecting insightful feedback from your employees, understanding their training and support needs through conversations that wouldn't happen otherwise. There are multiple ways to engage with your team – you may opt for 2-minute weekly surveys, anonymously written feedback, or custom polls. Customizable templates are already provided, so all you need to do is fill them out with your desired questions. As for the admin's side, you may respond directly to their anonymous messages or arrange a one-on-one session for further discussion.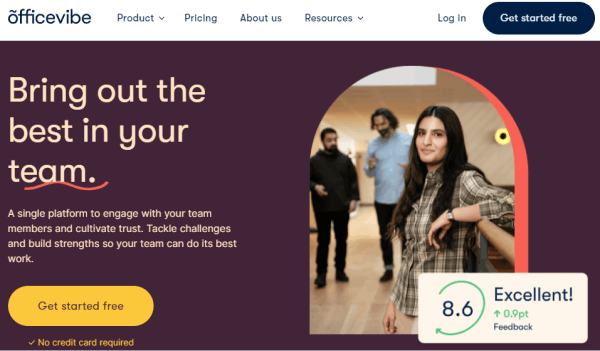 If you're on a tight budget, then this tool is a must-have as it offers a free basic plan. Premium subscriptions are also available should you want to use more of its advanced features and make the most out of Officevibe. 
Cost: Free, paid plans also available

Key Features: 2-minute weekly surveys, anonymous written feedback, custom polls, customizable templates, one-on-one sessions
You may also be interested in: