Organizations can reap multiple benefits when it comes to employee training through emerging technologies used by personalized learning platforms. This is because they allow flexible learning opportunities that traditional classrooms fall short of providing since they're usually done in a linear approach. Employees each have their own unique skill set, learning style, and pace when taking in information so it's important that training is aligned to address their varying needs. By using personalized learning platforms, organizations can improve the way employees learn and absorb information by setting a path that leads to their growth and development. It also helps cultivate a sense of self-learning so they can acquire new skills that go beyond their current roles.
To help you narrow down your search, we've handpicked 10 personalized learning platforms that you can use to facilitate personalized learning in your organization. Scroll down below to learn more.
1. EdApp
EdApp is a mobile learning management system that supports trainers with the creation of personalized learning through its many user-focused features. With its easy-to-use SCORM authoring tool, you can quickly create beautiful online training and immersive lessons to tailor to every learner's needs. You can also choose from over 80 intuitively designed templates to populate your compliance training content in a matter of minutes. If you need inspiration or are unsure of where to start, EdApp has a vast library of world-class and scalable courseware that you can edit and customize to make your own.
To step it up a notch, you can also reward and incentivize your employees' excellent learning habits through EdApp's Achievements. You can name your achievement, upload your own image or design one on Canva, and choose your preferred color scheme to match your organization's tone of voice. You can even include a personalized message to display whenever a learner earns a specific achievement. It's all up to you to determine the ingredients of each achievement and set up a "recipe" for success based on your personalized learning strategy.
Cost: Free, some paid features
Key features: SCORM authoring tool, course library, easy-to-use authoring tool, customizable Achievements
2. Schoox
Schoox is a cloud-based, personalized learning platform that focuses on learning and talent development. It has a course library that includes a wide range of topics, such as safety, security, human resources, and many more. With Schoox, you can create courses in any format with its drag and drop authoring tool. Adaptive learning paths can also be set for employees so they can take the right learning resources to hone their skills. Schoox's Impact Factor feature considers aspects like the employee's job responsibilities, their skills performance, and skills strength, to better assign personalized courses.
Cost: Contact Schoox for pricing
Key features: Content curation, personalized course suggestions, drag-and-drop authoring tool
3. WalkMe
The need for in-person training can be eliminated through WalkMe's self-service feature called Walk-Thrus. Learners can go through their training content on their own from start to finish by following clear and simple directions provided in the Walk-Thrus on their screen. These Walk-Thrus take the form of tooltips, pop-up messages, and notifications that you can fully customize. This self-serve feature empowers learners and lessens any unnecessary back and forth which speeds up and increases completion rates. WalkMe is also invested in the user experience which is why it allows you to create engaging and personalized on-screen content with its no-code authoring tool.
Cost: Contact WalkMe for pricing
Key features: No-code authoring tool, on-screen guidance, self-serve tools
4. WorkRamp
WorkRamp is a personalized learning platform that serves as an all-in-one corporate learning platform for your personnel, especially those in sales, support, retail, marketing, and HR. This centralized LMS gives you a streamlined process in creating customized learning pathways for your personnel based on their role, teams, skills, or seniority. It provides a specialized onboarding process, advanced corporate training content creation, and learning progress tracking through dashboards and analytics. It also gives a blended learning experience with support for virtual instructor-led sessions.
Cost: Contact WorkRamp for pricing 
Key features: Streamlined onboarding, learning pathways, analytics
5. Raptivity
Raptivity is a cloud-based employee training software that delivers distance learning through visually stimulating content. It incorporates gamification in the workplace by including games in the training material, such as bowling and dart game quizzes. It also has an interactive template library suited for different learning styles that you can customize with various themes and colors. In this distance learning tool for teachers, learning programs can run on different devices, including mobile. This helps you focus more on your content as you're sure that it will seamlessly display your training materials regardless of the device used. 
Cost: US $30/user (monthly)
Key features: Gamification, template library, mobile-friendly
6. Raven360
Raven360 is a personalized learning platform dedicated to sales training and enablement but can also be used by any business. Raven360 supports different learning methods such as instructor-led training, virtual instructor-led training, and on-demand learning to cater to different learning styles. It also allows for the creation of Learner Paths so you can guide your employees to training content that's important and relevant to them. This platform also provides analytics to check on your team's performance and measure the effectiveness of your training program. 
Cost: Contact Raven360 for pricing
Key features: Flexible training methods, learning paths, analytics
7. Continu
Continu touts itself as a learning platform built for today's modern workforce. With its powerful course authoring tools, you can build courses and create training and development tracks to suit each learner's needs. You can tailor learning experiences through its Smart Segmentation feature which allows you to filter by geography, department, or by using custom variables. Continu also comes with custom reporting so you can fine-tune reports to gain insights on the performance of your employees. On the other hand, learners will have access to their unique dashboard so they can stay on top of their training and progress.
Cost: Contact Continu for pricing
Key features: Personalized learning tracks, Smart segmentation, custom reporting, learner dashboard
8. Whatfix
Whatfix makes it easy for learners to digest training material no matter what learning style they have. When logging in for the first time to the platform, they'll be greeted with a personalized message and will be given a tour to introduce them to the application. With Whatfix, you can create interactive training material with its straightforward, no code authoring tool. To further personalize the learning experience, you can create condition-based walkthroughs that fit a learner's role, competence, and location. It's SCORM-compliant so you can easily construct training programs at scale. Whatfix provides advanced real-time analytics as well so you can measure the effectiveness of your training program.
Cost: Contact Whatfix for pricing
Key features: No code authoring tool, smart user targeting, SCORM-compliant, real-time analytics
9. Explain Everything
Explain Everything leverages the use of digital whiteboards to create a personalized learning experience, especially for visual learners. It goes beyond the typical whiteboard as learners can fully interact during training sessions through drawings, GIFs, animations, audio files, and many more. Explain Everything's tools are not just limited to a simple whiteboard as it allows you to create dynamic visual lectures, animated illustrations, and even games to engage learners with your training content. To make sure everyone is on the same page, you can summarize each session with a short video that learners can revisit as often as needed.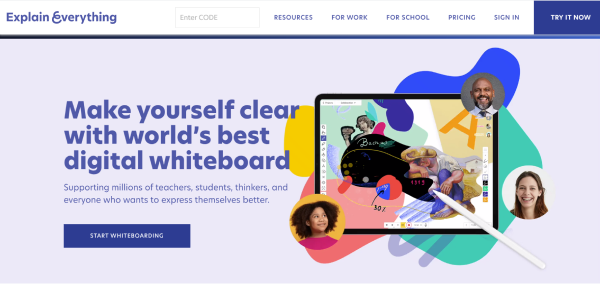 Cost: Free and paid plans
Key features: Digital whiteboard, gamification, video summaries
10. Axonify
Axonify is an eLearning platform whose goal is to deliver quick, valuable training content to get employees up to speed with the knowledge  and skills needed for their roles. To help them reach their goals, you can set up structured learning paths and deliver relevant training content in as little as three minutes per day. You can create training content, repurpose existing materials, or choose from their vast content marketplace. Learners are also given the flexibility to pursue additional training activities that they can complete in their own time to drive continuous learning.
Cost: Contact Axonify for pricing
Key features: Bite-sized training, structured learning paths, content marketplace