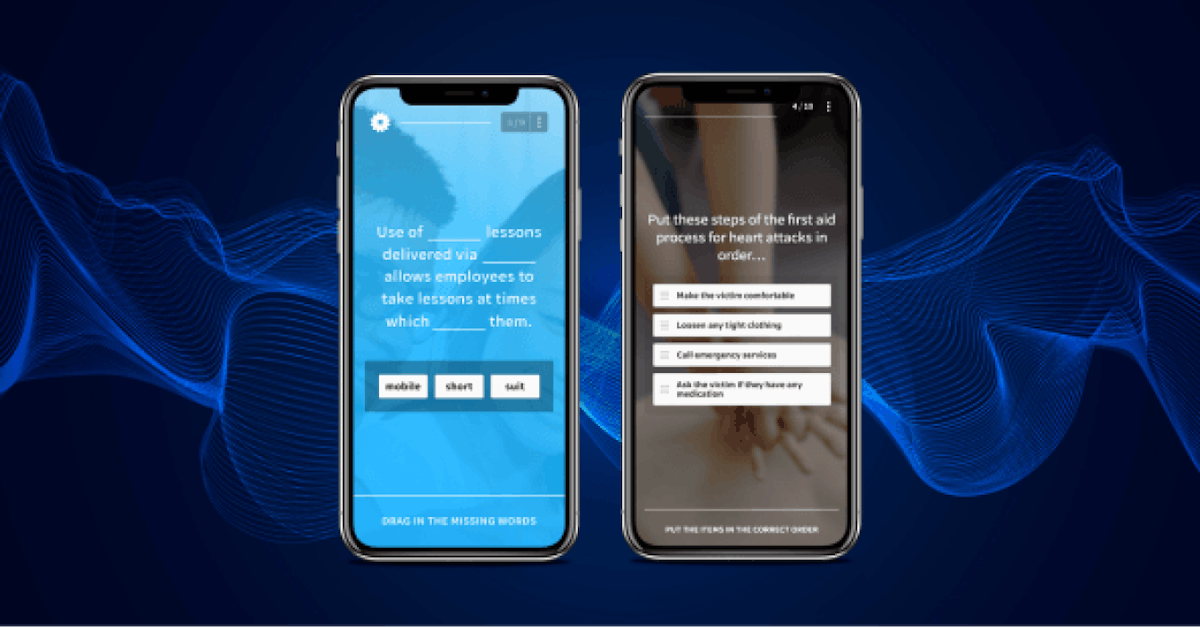 Game based learning platforms are designed to increase learner engagement and productivity by incorporating gaming elements into the training strategy. We've curated a list of game based learning platforms below that highlights their key features such as game elements and templates.
1. EdApp
EdApp is a game based learning platform that integrates different engagement elements to help you increase course completion rates while ensuring an effective learning experience for your learners. Additionally, this platform has a group of instructional designers available to create your game-based courses.
Microlearning is one of EdApp's core strategies which breaks down overwhelming training information into bite-sized modules. It focuses only on key elements of a topic, allowing your learners to complete courses in just a couple of minutes. This strategy can be combined with gamification, which transforms regular training modules into casual smartphone games so it doesn't feel like doing another work task. 
Gamification is proven to result in 90% (or higher) completion rates compared to typical eLearning courses. This is because it makes training feel like simply playing smartphone games for learning. For easier creation of gamified microlessons, EdApp provides a built-in authoring tool that includes interactive templates like image/word match, letter jumble, true or false, and many more. 
It also has a scoring system and a gamification-based reward system where learners can earn Stars and win real prizes (like Amazon gift cards or discount coupons). To further boost motivation, you can stimulate friendly competition among your learners through its Leaderboards feature that's available for microlessons, and even Rapid Refresh quizzes.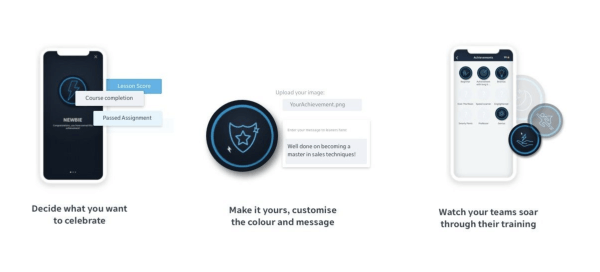 This platform also offers the world's first-ever customizable Achievements feature, which allows you to congratulate, motivate, and inspire learners with customizable banners and badges. You're also given the option to export each learner's Achievements to internally shout out top achievers and learner's milestones. This creates intrinsic motivation for learners, as well as an internal buzz between employees, leading to higher engagement and better learning behaviors.
Highlights:
Course creation service

Microlearning strategy

Gamification & leaderboards

Built-in authoring tool that includes 50+ intuitively designed interactive templates, such as multiple-choice, in-app gamification, conceptual formats, surveys, etc.

Custom Achievements

Rapid Refresh quizzes

Mobile-first approach
Cost: Free
Join EdApp for free and get started with game based learning today!
2. Kahoot
As an online quiz maker and game based learning platform, Kahoot! uses visually appealing gamification elements to maximize engagement and ensure higher completion rates among learners. Your learners can access these interactive games and quizzes, which are uniquely called "Kahoots", via a web browser or a mobile app.

The best part is that they can be presented on a shared screen and answered by a group of "players" all at the same time through any video conferencing platform. Alternatively, you can set Kahoots as a self-paced challenge to be completed by each team member asynchronously. This platform also provides trainers with tips on how to best provide game based learning.
Highlights: 
Gamified quizzes

Live Kahoots

Asynchronous kahoots

Multiple game templates
Cost: Free, Paid subscription starts at 7 USD (monthly)
3. Gametize
Gametize is an enterprise-grade game based learning platform and LMS solution that enables organizations to enhance their employees' training experiences, whether they are going through onboarding or upskilling programs. With this tool, you can easily design your own gamified content by choosing from a vast library of game templates, which are divided into project categories like employee engagement, learning and development, talent acquisition, and many more.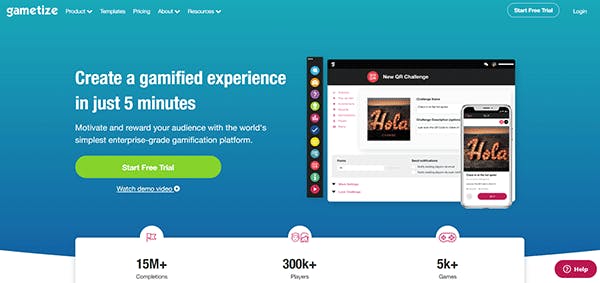 Similar to Kahoot, you can also boost training engagement and completion rates using flashcards, quizzes, and interactive challenges. Similar with other gamification software, Gametize uses leaderboards, badges, and rewards to drive motivation and foster healthy competition within teams. Other advantages of this tool include results tracking and analytics, player moderation, and team collaboration. 
Highlights:
Game template library

Leaderboards

Badges

Rewards

Results tracking
Cost: Paid subscription starts at 00 USD (monthly)
4. Centrical
Centrical is a powerful gamification training software that allows you to design gamified microlearning content. With its intuitive user interface, you'll be able to create polished game-based learning materials without needing advanced technical design skills. On the platform, you can customize learning challenges, set prize-winning competitions, or design quest-based game narratives to help your employees adopt the right behaviors, practice skills in a risk-free virtual environment, and improve the overall knowledge and skills they need to succeed.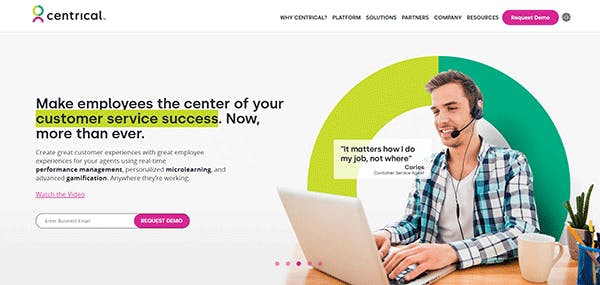 Centrical continuously rolls out fun training games for employees, challenges, and raffles so that learners can sustain excitement throughout their entire training process. Another great thing about this platform is that it provides a real-time performance management feature, which learners can use to access their performance data and training feedback. 
Highlights:
Gamified microlearning

Quest-based game narratives

Rewards

Real-time performance management
Cost: Custom price available upon quote request
5. Archy Learning
Archy Learning is an all-in-one gamification training software and eLearning platform that you can use to host  global classroom, perfect for those who are training remote teams across the globe. With its intuitive user interface, you can easily copy and paste Youtube links or upload classroom notes, PDFs, and other digital resources that your learners will need to complete their training.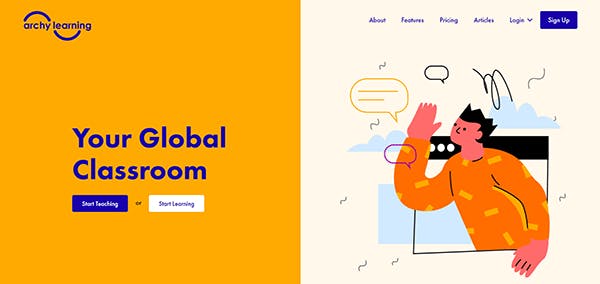 You can even design learning paths by incorporating custom course quizzes, mixed media exams, homework, interactive video modules, and personalized kahoot like games. Course certificates are also availablen in this interactive site for learning to motivate learners to complete their lessons. The tool's school tracking and head office features are designed to give you insight into each of your learners' course progress and assessment results.
Highlights:
Global classroom

Custom course quizzes and games

Interactive video modules

School tracking
Cost: Paid subscription starts at 5 to 00 USD (monthly)
6. Hoopla
Hoopla is a sales gamification software and engagement solution specifically designed to motivate sales teams to increase performance through contests, leaderboards, and real-time recognition. With this eLearning mobile app, you can identify sales goals and create tournament-style or race-style digital game-based learning to promote friendly competition between employees and accelerate overall team productivity.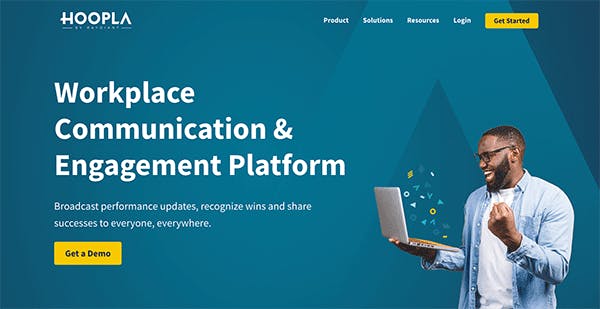 Team members can even track their individual performance through the tool's built-in leaderboards system. Every time an employee reaches their target, Hoopla automatically sends a live news update to fellow team members so that everyone can celebrate their win. By fostering a competitive and encouraging atmosphere, your teams can have fun while hitting their targets. 
Highlights: 
Gamififed sales content 

Contests 

Leaderboards

Real-time recognition
Cost: Free (within 14-day trial), Custom price available upon quote request
7. Raptivity
Raptivity is an interactive eLearning solution that you can use to design engaging and visually stimulating online education games and learning materials. The tool features a growing library of educational web games and pre-made responsive interactions that include parallax displays, panning slides, and 360 interactions.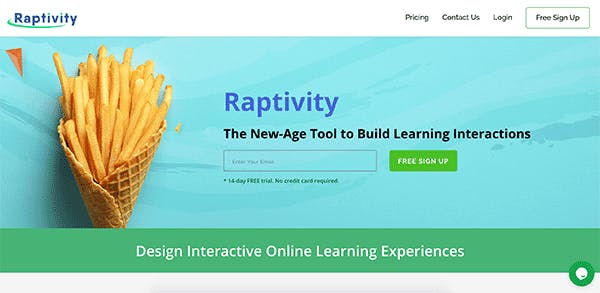 Even with no design expertise, anyone can customize interactive quizzes, games, simulations, flashcards, and brainteasers through the tool's user-friendly interface. Whether you're a teacher or an instructional designer, you can maximize the tool's many capabilities to keep your learners engaged and motivated throughout their learning journey. But it is important to note that it has a few feature limitations and you might need to download add-ons to design a well-rounded eLearning course.
Highlights:
Interactive displays

Quizzes

Games
Cost: Paid subscription starts at 0 USD/user (monthly)
8. ProProfs
ProProfs LMS is an employee training software that easily combines online and offline training, providing blended learning solution. This LMS enables training managers to create new educational content made from scratch, or, existing courses from its online training course library. It features gaming software examples which include brain games, learning paths, and quizzes.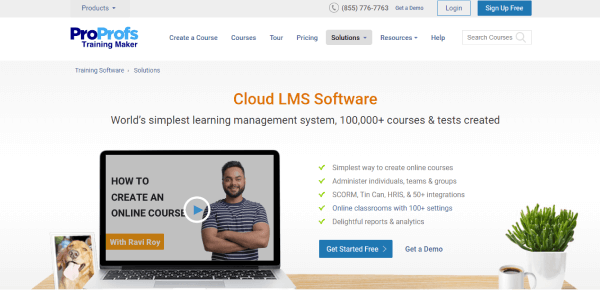 Aside from increasing engagement, it allows learners to have control of what, when, and how they want to learn. For training managers, this reduces time in conducting instructor-led learning sessions. Instead, employees are given the opportunity to learn at their own pace while still fostering collaborative learning through virtual learning games and classrooms. 
Highlights:
Gamification elements

Premium course library

Easy online course authoring

Course completion certificates

Collaborative learning through virtual classroom
Cost: Free (within a 15-day trial), paid subscription starts at 4.96 (per feature monthly) 
9. GoSkills
GoSkills is another learning games website. It's an online on-demand game based training example that's packed with features designed to create training courses with ease. It boasts a wide selection of bite-sized courses featuring sought-after skills, such as business writing, data analysis, and web development. Courses on GoSkills are mobile-friendly and cloud-based so they can be taken anywhere.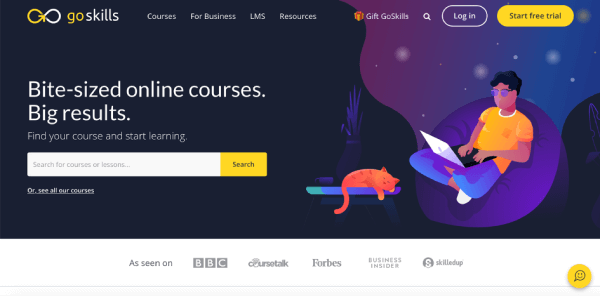 It also features gamification examples like daily streak and time-tracking goals. Learners can also obtain verified certifications that they can add to their resumé and share on their LinkedIn profile. In addition, they can also earn Continuing Education Units (CEUs) or Professional Development Units (PDUs).
Highlights:
Game-based learning

Mobile learning 
Cost: Paid subscription starts at 500 PHP/user (monthly)
10. Hurix Digital
Hurix Digital is an end-to-end digital content solution provider integrating different content creation and delivery platforms designed for modern-day learning. Among these platforms is a custom LMS that enables organizations to deliver training content through immersive training modules.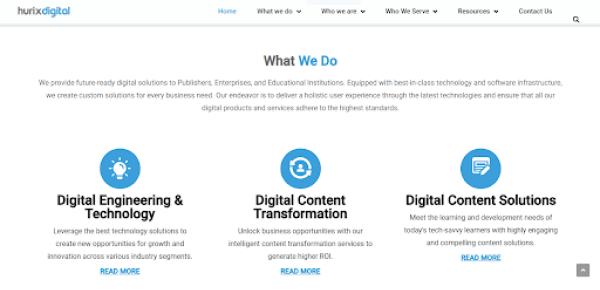 It includes engaging videos, gamification, simulations, and scenario-based learning that are accessible across multiple devices. With this tool, you can customize your LMS according to your organization-specific training workflow. Its game-based learning strategy incorporates puzzles, game for learning, problem-solving games, strategic games, challenge-based games, and many more.
Highlights:
Custom LMS

Immersive training modules using engaging videos, gamification, simulations, and scenario-based learning

Game-based learning incorporating puzzles, problem-solving games, strategic games, challenge-based games, and many more
Cost: Price available upon quote request
11. Quizlet
Quizlet is an online quiz maker that is well known for its flashcard format. Its game-show style content can be used in educational settings and employee training. You have access to a library of pre-made flashcards stacks for easier quiz game authoring. Otherwise, you can create your own from scratch.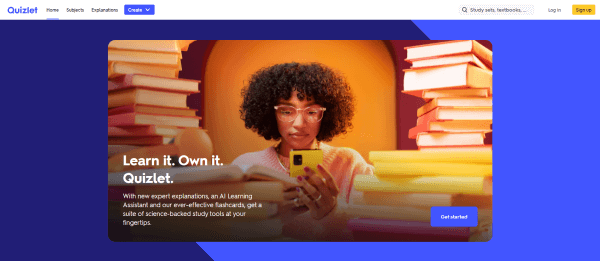 The flashcards you make can also include audio and visual content. This tool is available for free, but if you want access to analytics and customization options, you'd have to get their paid service. QuizletPlus has a free 7-day trial and is priced at US5.99 per year.
Highlights: 
Cost: Free, paid plans start at US5.99 per year
12. Gimkit
Gimkit is a game based learning platform that anyone can access through any device. In a Kit, learners will be exposed to questions multiple times to ensure mastery of the content. There's in-game currency that serves as points and can be reinvested by purchasing upgrades & powerups.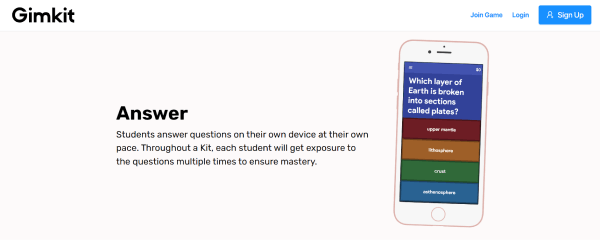 With millions of combinations, students can make purchases that suit their strengths. With 10 unique game modes and more on the way, you can make lessons and assignments more interactive and engaging.
Highlights: 
Cost: Free
Game based learning course examples