If you need to host, author, schedule, deliver, test, and track online training activities for your employees, then you're in need of an LMS or learning management system. Many of these LMS solutions are available, so we commend you for doing your research and getting to this page. We're going to review the top LMS solutions we think are the best so you can make an informed decision.
1. EdApp
EdApp is a learning management system that's particularly useful for workforce training. Among its key LMS solutions is the SCORM-compliant course creator tool that you can use to create beautiful and professional-looking courses.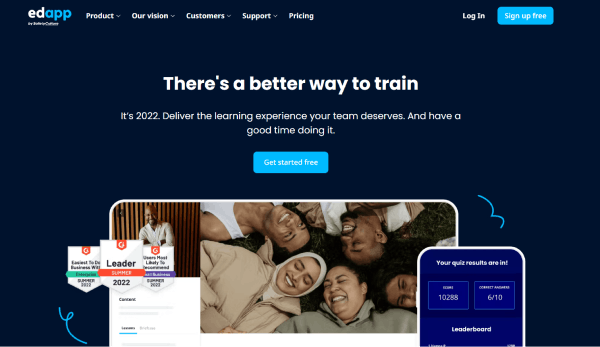 If you don't have the time to get into the nitty-gritty of creating courses, EdApp has a library full of ready-made learning courses that you can share right away with your team to improve their skills and competencies. What makes these courses unique is that they follow a microlearning format, which means that they are delivered in short but highly targeted bursts to secure higher learning retention. It's perfect for busy employees who prefer short training sessions at regular intervals better than one-time drawn-out training events.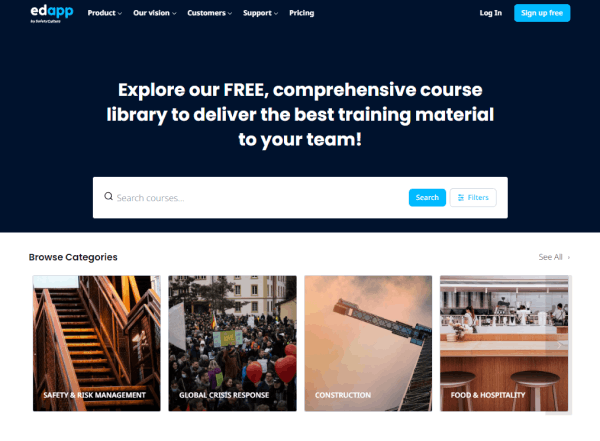 EdApp also offers a course creation service. The instructional designers at EdApp take your information and transform it into effective microlessons. You can review the course material and make the necessary modifications with EdApp at no additional cost as well.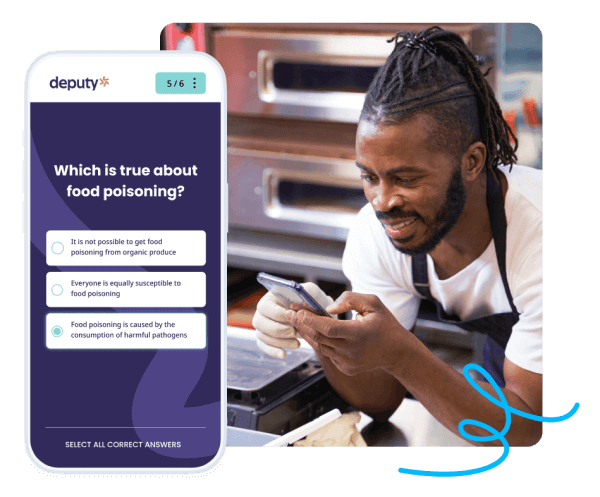 But that's not all. This LMS platform also takes pride in its powerful analytics suite that allows you to automatically track the learning progress of your team. Not to mention that it can also generate reports and make them actionable. This means it can identify inactive and disengaged learners and remind them of their courses.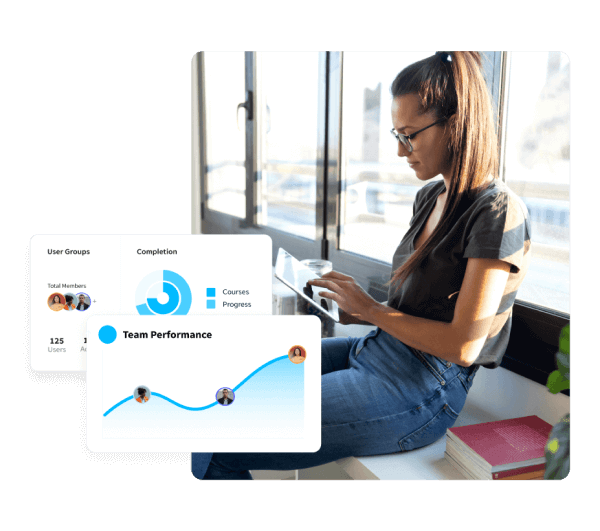 Train your teams using the best LMS solutions from EdApp! Sign up today for free.
2. Ipix LMS
Ipix LMS is one of the learning management systems that offer various features that content creators like yourself will find useful. They offer custom integrations for companies that require specific configurations and update to current integrations over time based on the feedback they receive from customers. Currently, they provide G suite, Google Drive, SIS, and Office 365.

Ipix LMS does not limit the courses that we can create, and it supports formats such as PowerPoint, video, SCORM files, 3D videos, CSV files, and PDFs. One drawback to Ipix LMS is its Library. They do not currently have a library of content accessible for businesses in any industry to use for employee training, so you will have to create all your courses from scratch.
3. Teachable
Let's start by saying that this elearning software is not free and is not necessarily the best for companies looking to train their employees because it focuses more on individuals learning skills. Teachable offers a free version, but it's limited in its features available.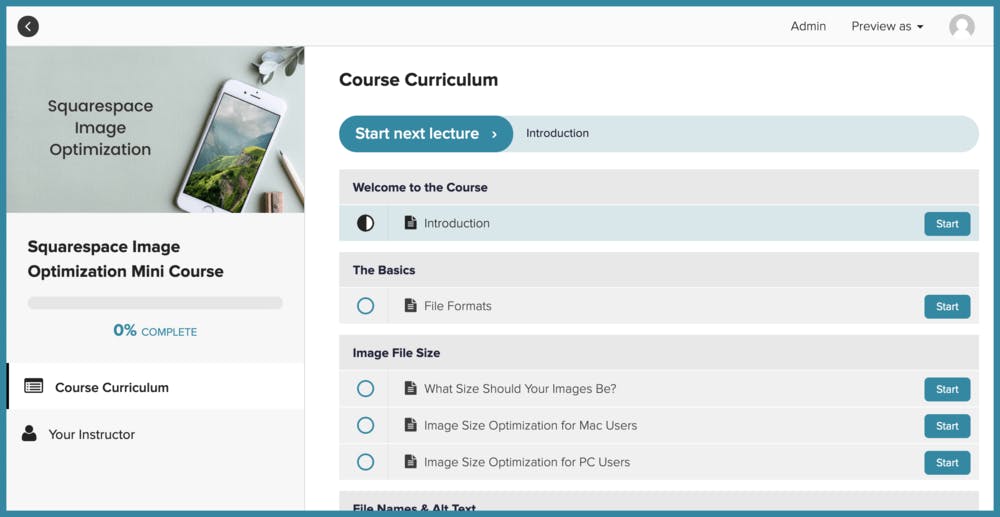 If you are an SME or a coach and want an LMS solution that allows you to easily create training courses online and sell them on the same platform, teachable is a great choice. The platform offers personalization options, so coaches like yourself can easily stand out from the crowd.
4. Blackboard
Blackboard is an online learning management system that has a simple personalizable interface that allows learning anytime. The SaaS LMS's mission is to advance educational experiences with a focus on student-teacher learning dynamics.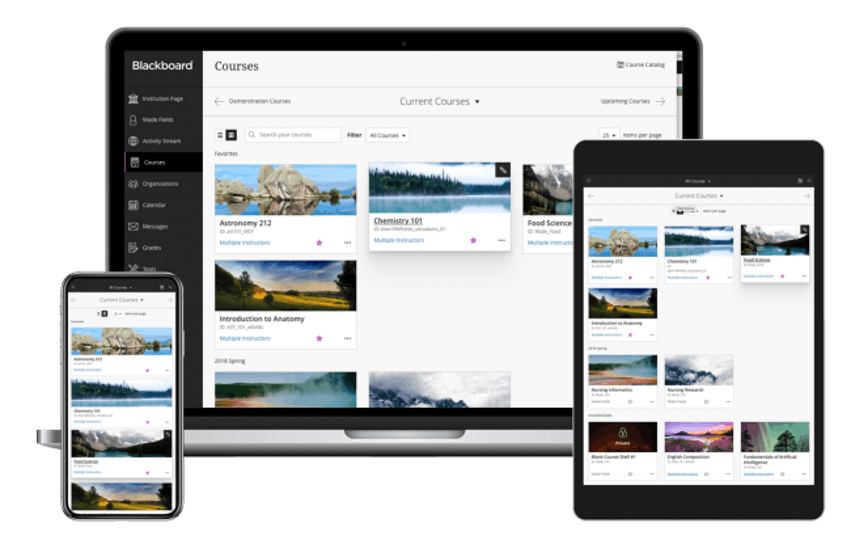 For course creators like you who want an LMS for your workforce, Blackboard is not the best way to go because Blackboard is an LMS that fosters engagement, quality learning and development, and interaction amongst students, focusing on students in school.
5. Google Classroom
With the spread of the novel coronavirus recently, Google Classroom has gained popularity as a learning management platform among many teachers and schools trying to reach students virtually. This LMS allows teachers to add students to their classrooms or send links for them to join the classes, and it only takes a few minutes for the classrooms to be set up.
In addition to connecting with students, teachers can also reach out to parents and send them updates on their children's progress. Google classroom is a wonderful platform for the education industry but has significant drawbacks for corporate learning. It does not have courses designed for microlearning, which would be a negative for professionals who want to learn on the go.
6. WizIQ
WizIQ is a training software that is geared towards tutors and institutes to deliver live online classes and host self-paced courses. This LMS solution is credited as being user-friendly, however, it will come at a price of around 3 per month for every 25 students and users have reported that support took a long time to fix errors or lags within the platform.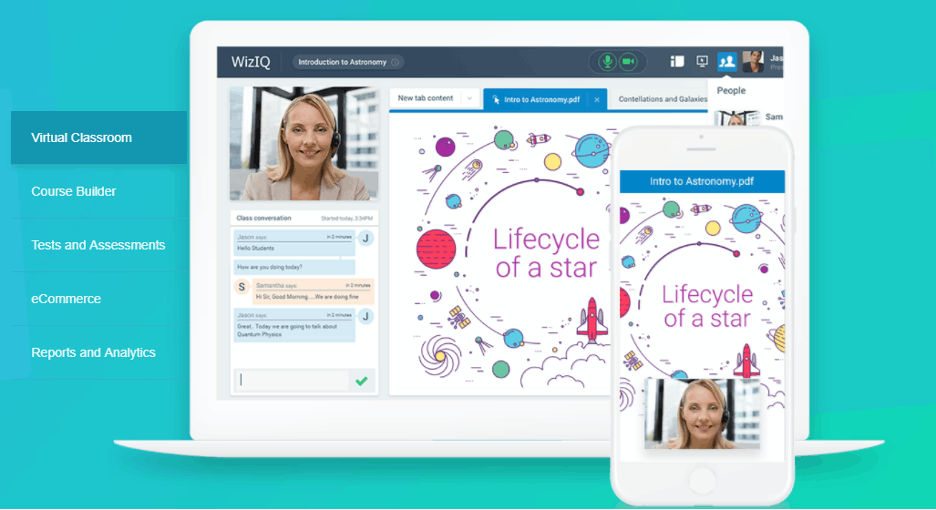 While WizIQ hosts a virtual classroom feature for interactive elearning, which acts as a live student-teacher experience, the platform falls short with other features to note. For example, it's limited in languages and translations available and content can't be customized with your branding. It also provides basic reporting but the platform is more geared towards formal education rather than workplace training.
7. Edsby
Edsby is built around the needs of K-12 students. The platform is a very comprehensive online training system that can be utilized by school districts, regional governments, and private schools.

Being a platform that is solely focused on the needs of K-12 students, it has features that are designed for parents to keep up with their children's learning. Because there are different ways to get the job done, Edsby allows regional compartmentalization of customer data and report formulation.
8. EduBrite
EduBrite is an all-in-one LMS platform that has microlearning courses for short, targeted learning and community learning experiences that were put together with tech companies in mind. This course management software also provides users with a knowledge base that they can store detailed information about their products.

Not a lot of LMS solutions offer collaborative learning through communities, but Edubrite does. The platform would be even better if it had a free option and catered to more industries, but it does not.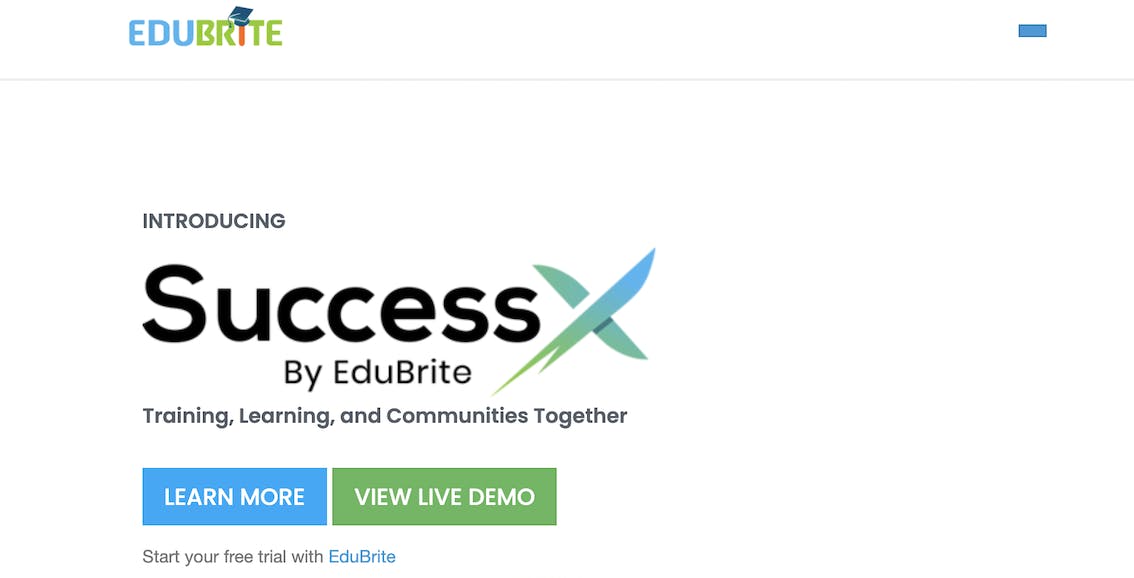 9. Totara
Totara is a very flexible LMS that also offers performance management and employee engagement services. These are great services for an LMS to offer for corporate elearning because managers can keep a close eye on their employee's performances and develop courses to boost this.

Totara does not have integration capabilities like Canva, so many apps and content such as social media graphics, posters, and other visual content aren't accessible on this platform.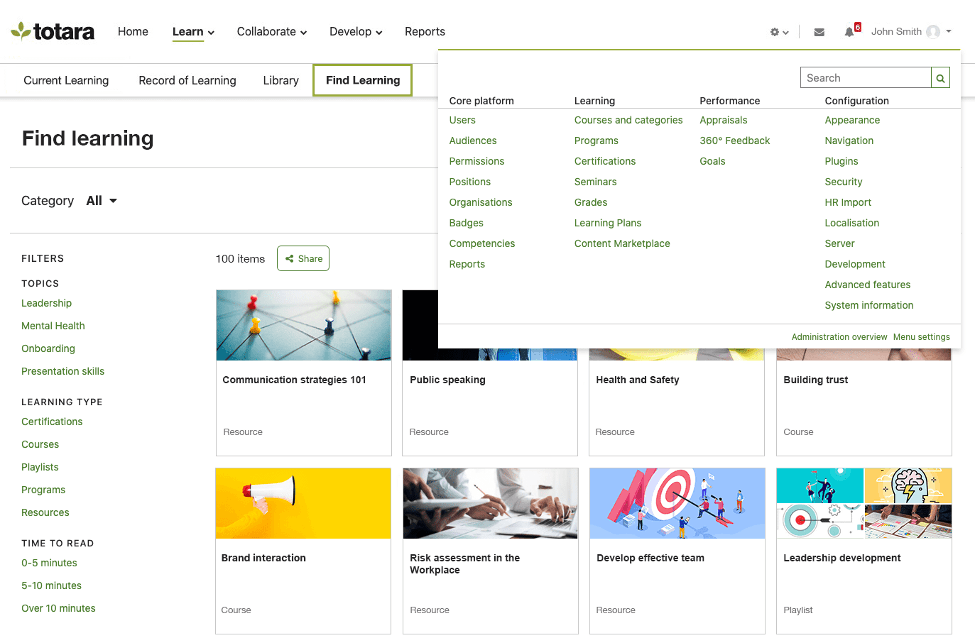 10. uQualio
uQqualio caters to course creators who are trying to build a business of their own through videos and not to workforce training. uQualio is an LMS solution that utilizes videos as a teaching tool.

The platform allows users to take tests after their courses, and if they do well, they can earn shareable badges, which can be used to generate awareness for their brands. The platform has two solutions. The first solution allows users to register and learn from any channel on the website. The second solution enables creators like you to build their web-based applications to reach your students.
All of these platforms are relatively good in their own rights, that's why they made our top 10 list, but all but one is incomplete or not quite suited for workplace training.

EdApp is the only platform on our list that can cater to all the needs of companies looking to engage and train employees in an all-in-one LMS solution. EdApp supports a wide range of formats, including PowerPoint, so you can easily convert your elearning program and other existing files into online micro-lessons in any language.