Training can be considered as the backbone of any organization as it enables individuals and businesses to achieve growth and success through continuous learning. Ensuring that training is effective is an ongoing process as companies have to constantly adapt to modern learning techniques, new learning environments, and technological advancements. This is where the use of training software comes in as it makes it easy for your L&D and management teams to develop online training courses, organize learners, assess their knowledge, and check their performance in a digital landscape. By using training software, you can keep your training materials organized and deliver content seamlessly, which can boost learner engagement making your sessions more effective.
We've come up with a list of ten training software to streamline and elevate the ways your organization prepares employees to perform well and excel in their jobs. Scroll down below to learn more.
1. EdApp
EdApp is the leading training software that allows you to create and deploy training content anytime, anywhere. With the help of its free, editable courseware, you can customize courses, instructional designs, and lessons specific to your organization's needs. This blended training platform even promotes gamification to spice up your corporate learning. To ensure that the effectiveness of training isn't compromised even in a remote setting, the Virtual Classroom feature was designed to boost social interaction and ensure success in an online learning environment. With this learning management system, video meetings can be linked directly to a course for discussion to foster collaboration through the exchange of ideas, knowledge, and experiences. Conferences are also easy to set up and can be hosted on your preferred third-party platforms such as Zoom and Microsoft Teams. As a mobile learning solution, EdApp allows your learners to receive training through their smartphones, increasing progress and completion rates.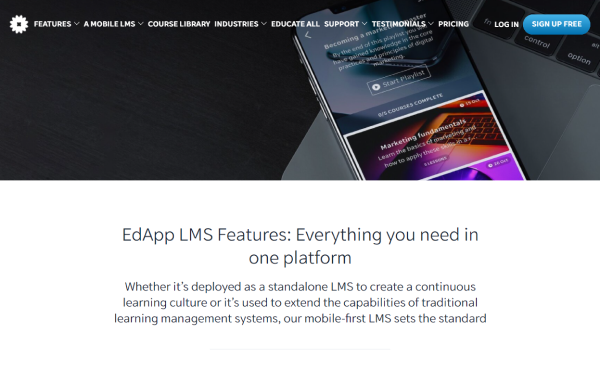 Cost: Free
Key features: Virtual classroom, mobile-first environment, editable course library
2. Brainshark
Brainshark is an employee training software that can easily diagnose performance issues so you can address knowledge gaps early on. The platform offers courses that help upskill your teams, especially your client-facing employees. Brainshark also has a training module creation tool that can help you author courses faster. Their training and onboarding features, on-demand learning paths, and dynamic courses can help the employees develop critical skills, which will prepare them for their everyday tasks.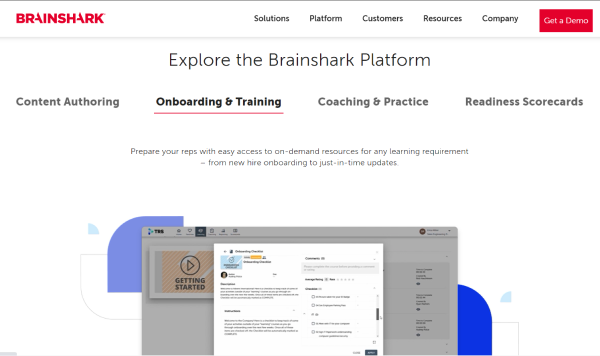 Cost: Paid plans
Key features: Readiness scorecards, content authoring, eLearning library
3. GoToTraining
Perfect for anyone tired of hosting tedious training and webinars, GoToTraining features engaging online training solutions with unique, built-in features. This platform enables organizations to conduct custom registration, manage training materials, and share and publish courses without any fuss. It also encourages better social learning retention and engagement during live training sessions through tests and polls, small-group activities and collaborations, and discussions. No content will go to waste – GoToTraining organizes and stores your training materials, tests, and recordings so that learners can access learning content anywhere and anytime.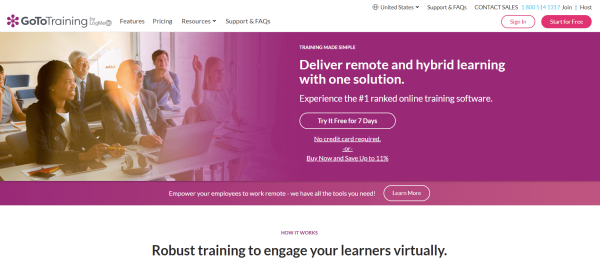 Cost: US $109/month
Key features: Custom registration, content sharing, engaging in-session experience, training report, content library
4. Trainual
Trainual is a remote training software that you can use to onboard new employees or train current team members without location restrictions. You can easily customize learning materials by choosing from the platform's 150+ free templates. When creating courses, you'll have the option of embedding images, videos, and multiple-choice questions. However, it doesn't support SCORM files or other eLearning formats, which can be a deal-breaker for those with existing content on other platforms. Trainual highlights the importance of process and procedure documentation so they also provide playbook templates for training to become infinitely repeatable and scalable. Your employees can access training courses through multiple online course platforms, including iOS, Android, Chrome extension, and any web browser.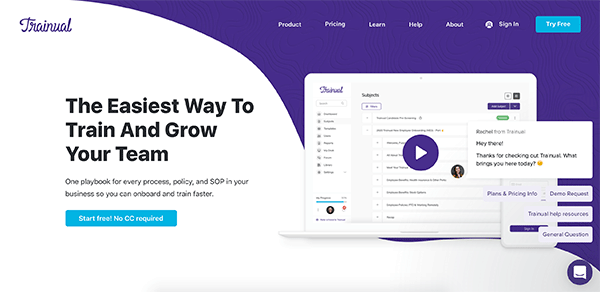 Cost: Starts at US $99/month
Key features: Course templates, multi-platform access, playbook templates
5. Auzmor Learn
With its simple user interface, Auzmor Learn is an employee training software designed to help you easily create courses, deploy learning content, and monitor employee performance even without coding knowledge or advanced technical skills. With their easy-to-use course builder, you can create your training content from scratch or customize courses from their vast lesson library. You can also track employee training progress and identify learning trends through Auzmor Learn's real-time analytics dashboard. To get access to this tool, you can ask for a demo and obtain a custom quote directly from their site.
Cost: Contact Auzmor Learn for pricing
Key features: Course builder, lesson library, real-time reports
6. WorkRamp
Designed as an all-in-one learning platform, WorkRamp can be customized for different types of employee training, more specifically for sales, support, retail, marketing, and HR. It can even be used to train your clients on product adoption, increase customer engagement, or drive more revenue to the business. Some of the platforms' notable features include a specialized onboarding software process, custom reports, virtual instructor-led training events, and compliance training. By combining all of these tools, WorkRamp enables you to create a streamlined training experience for your employees.
Cost: Contact WorkRamp for pricing 
Key features: Sales learning platform, support training, customer training, virtual events, compliance training
7. Coorpacademy
Coorpacademy is a training software that promises to deliver an innovative learning experience for your employees. They have 1000 courses included in their course catalog where 80% of those are recommended soft skills training by the World Economic Forum for 2020. They also have engaging features, such as leaderboards and Battle Mode where learners can compete with each other to see who makes it to the top of their class. Coorpacademy also includes an analytic dashboard so you're always updated with your learners' progress. 
Cost: Contact Coorpacademy for pricing
Key features: Premium course catalog, leaderboards, analytics
8. Eloomi
Eloomi aims to simplify digital learning through its online training platform that you can readily access from any device. It provides flexibility with content creation as it allows you to make custom training courses or select from hundreds of their pre-built programs. It also has a 360-degree feedback system wherein peer reviews can be given for a more purposeful evaluation to close any skill gaps. Eloomi also allows you to set learning paths to direct your employees to training content that's most relevant to them for a personalized path to career advancement and success.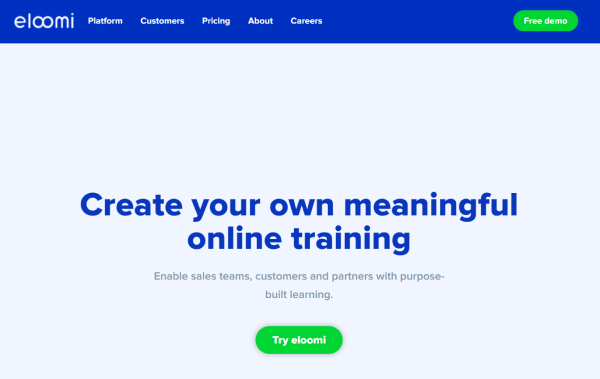 Cost: Contact Eloomi for pricing
Key features: Built-in course authoring, 360-degree feedback, learning paths
9. WalkMe
If you're looking for a training software that provides a holistic approach, look no further as WalkMe highlights self-sufficiency instead of knowledge just being purely fed to learners. The need for in-person training can be eliminated through WalkMe's self-service feature called Walk-Thrus. Learners can go through their training content on their own from start to finish by following clear and simple directions provided in the Walk-Thrus on their screen. These Walk-Thrus take the form of tooltips, pop-up messages, and notifications. This self-serve feature empowers learners and lessens any unnecessary back and forth which, in turn, speeds up and increases completion rates. WalkMe is also invested in the user experience which is why it allows you to create engaging and personalized on-screen content with its no-code authoring tool.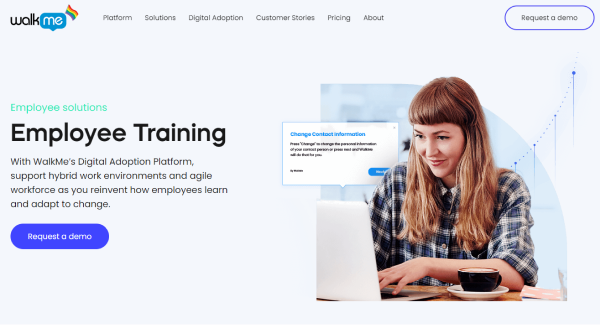 Cost: Contact WalkMe for pricing
Key features: No-code authoring tool, on-screen guidance, self-serve tools
10. GoBrunch
If you'd like your learners to feel as if they're in a real seminar room receiving training, GoBrunch is the training software that's right for you. You can set the ambiance by choosing your room's layout and including your logo. Learners can then upload their photos and even choose their seats in your virtual room giving them a more realistic experience. Unlike other platforms, there's no time limit in their free version and you can host webinars for as long as you like for up to 409 attendees. To share the courses with your learners, you can easily provide them with a link to a course catalog where they can also access their classes and other learning resources.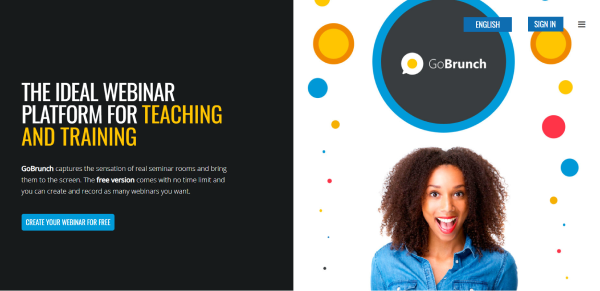 Cost: Free and paid plans
Key features: Virtual seminar rooms, unlimited webinars, course catalog