Nowadays, the use of technology in supplementing training and education is widely used to engage users in their digital learning process, making training effective. Visual learning software takes the learning experience of employees to a whole different level with different virtual and interactive features.
Visual Learning Software #1 – EdApp
EdApp is an award-winning visual learning software and learning management system perfect for training your teams. It has a course authoring feature that makes it easy for managers and trainers to seamlessly create and deploy their content material to learners. Gamification templates are available for more visually appealing designs to engage learners in their training experience. It also has a course library where you'll find design thinking courses, creative thinking courses, and more.
To ensure that the effectiveness of training isn't compromised even in distance learning, the virtual classroom feature allows businesses to operate remotely and connects even the most distant teams with a simple interface that is very flexible and user-friendly. EdApp's virtual classroom integrates seamlessly with video conferencing systems such as Zoom and Microsoft Teams. This blended-learning option enables you and your team to communicate without having to sacrifice face-to-face engagement. Video conferences can be immediately linked to courseware for training discourse, fostering cooperation through the sharing of ideas, expertise, and experiences.
Features:
SCORM Authoring tool

Gamification

Virtual classroom
Cost: Free
Visual Learning Software #2 – Newrow
Newrow is yet another visual learning software for both students and employees. This well-designed platform provides for high-quality real-time audio and video, as well as a variety of other options to keep students involved.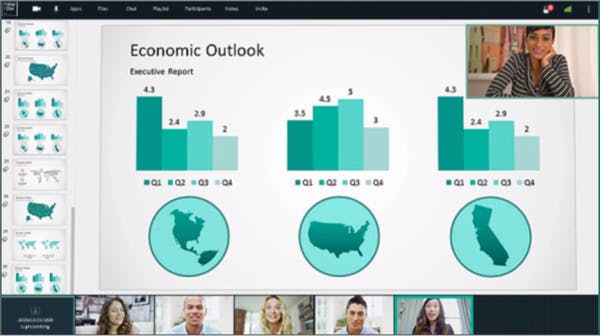 It has a digital whiteboard as one of its key features perfect for blended-learning activities. This allows students to sketch and write in one location, which is ideal for collaborative activities. Other visual learning tools include breakout rooms, where learners can be grouped to learn together, and real-time notes, which allow learners to follow along as training is happening.
Features:
Digital whiteboard

Breakout rooms

Real-time tools
Cost: Starts at US 4/month
Visual Learning Software #3 –  Innform
If you're searching for a visual learning software and learning management system that can handle all of your training requirements, Innform is a one-stop solution. You can choose from over 100 pre-made courseware or input your content and have it transformed into learning courses. It also has an integrated repository that allows you to effortlessly drag and drop files into the elearning courses or tests you design.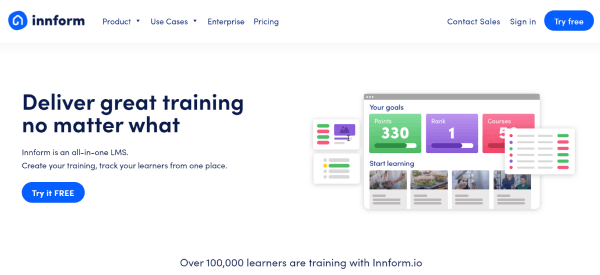 When learners complete online courses, they are rewarded with points, badges, and spots on the leaderboard to increase their engagement. With Innform's monitoring and reporting tools, you can always keep track of your students.
Features:
Cost: Starts at £1/month
Visual Learning Software #4 – Violet LMS
Violet LMS is a full-service visual learning program and also a learning management system that assists employees in developing their skills through a long-term learning experience. Dedicated guides are available depending on the type of training session you're delivering such as employee training, onboarding, compliance, and more.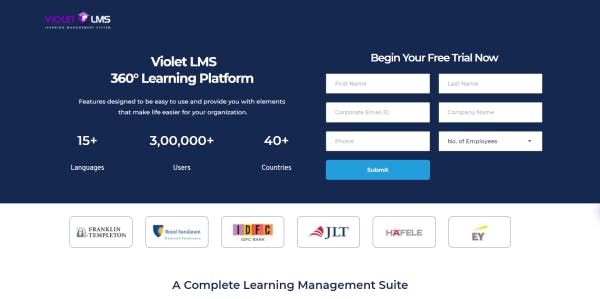 Also, their interactive training and virtual classroom sessions help employees improve their knowledge by immersing the learners in the process. Managers can use this software's flexible training plan to see a visual calendar of tasks and goals, as well as track and measure results for each learner using a robust reporting tool. Employees may maximize their potential and enhance their performance by using individualized digital learning courses and plans tailored to their needs.
Features:
Mobile learning technologies

Unlimited elearning courses

Virtual classroom

Visual calendar

Progress tracker
Cost: Paid plans
Visual Learning Software #5 – Edulastic
Edulastic is a visual learning software that is targeted towards schools and school districts. To closely measure students' growth, its main goal is to make it easy for educators to assess where digital learning gaps are and then address them.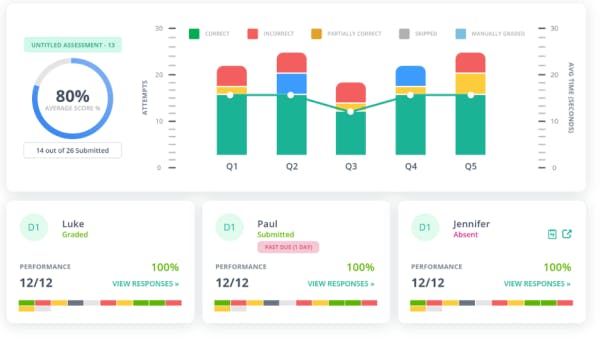 One of its biggest strengths is assessments, and it has over 10,000 pre-built assessments that you can give to your students. It then analyzes test data in detail to determine how proficient a student is in a given area, and then recommends the next bit of instructions. It's a convenient platform for blended-learning and distance learning.
Features: 
Cost: Free
Visual Learning Software #6 – LearnCube
LearnCube is a browser-based virtual learning program and content management system that provides user-friendly features like an interactive whiteboard, custom branding, instant messaging, and class recording, which can be especially useful for teaching languages and online tutoring.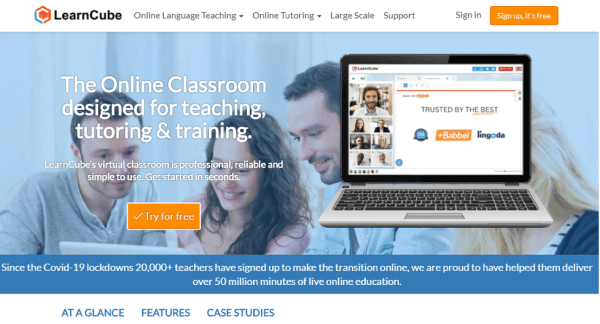 Through the platform, you can customize your virtual classroom by adding your organization's logo or changing up background colors. It's also super easy to upload, save, and access multi-media content, which you'll need to enhance your classes.
Features:
Whiteboard tool

Custom branding

Messaging tool

Virtual classroom
Cost: Free
Visual Learning Software #7 – Kahoot!
Kahoot! is a visual learning tool that uses colorful visuals and gamification elements to maximize engagement and ensure a higher completion rate from the learners. It's known for creating quizzes that are creatively called "kahoots", which can be accessed via a web browser or a mobile app. Yet the best part, they can be presented on a shared screen and answered by a group of "players" all at the same time.

This visual learning platform allows educators to supplement their lessons with quiz reviews that will make learners want to succeed as much as possible. It also allows for students to create their own games, which further cements what they have learned into their long-term memory.
Features:
Gamification

Quiz maker

Visual game format

Browser and mobile ready
Cost: Free, paid plans
Visual Learning Software #8 – Tovuti LMS
Tovuti LMS is another visual learning software that you can use to streamline your employee training process. With its built-in SCORM course authoring suite, you can create, schedule, and deploy interactive courseware in just a few easy steps. You can also include gamification and leaderboard features to your online courses to encourage them to complete their assigned learning tasks.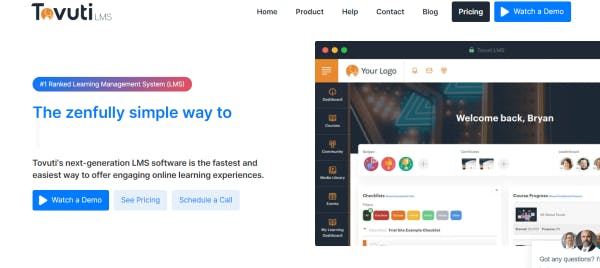 If you want to integrate synchronous learning sessions into your training, Tovuti LMS's live virtual classroom allows you to meet with your team members in real-time and discuss learning content through third-party online video conference platforms like Zoom and GoToMeeting.
Features:
Course authoring

Analytics tool

Gamification

Virtual classroom
Cost: Paid plans
Visual Learning Software #9 – WizIQ
WizIQ provides you with an all-in-one learning program and visual learning tool that you can use to set up and manage your employees' training with ease. It supports multimodal learning techonologies, giving learners the option to use real-time audio, video, or textual communication in learning courses. Through its virtual classroom and HD video conferencing features, learners can participate in synchronous online classes and collaborate with their peers on group assignments.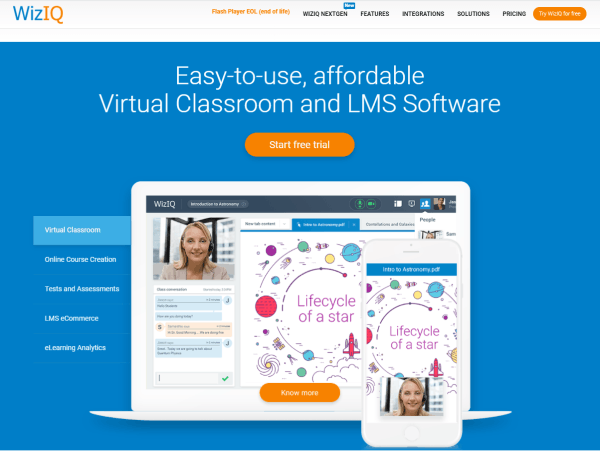 To further boost engagement, you can also give learners access to interactive whiteboards, polls, and even quizzes. Accessible on both desktop and mobile devices, WizIQ makes it easy for you to design, customize, and deploy your online courses through their user-friendly SCORM course builder. All you have to do is set up your learning portal, upload your learning content, and you're good to go.
Features:
Multimodal learning

Virtual classroom

HD video conferencing

Course builder

Desktop and mobile ready
Cost: Starts at US 5/month
Visual Learning Software #10 – Shift
Designed as an LMS and visual learning software, Shift enables learning and development professionals to build and customize multi-language elearning courses and publish them with just one click.

It can also be set up to deliver training to learners at specified intervals while keeping learners engaged. A great advantage of this tech tool is that it still works even when it's not connected to the internet, which is ideal if your learners are on the go, in a remote location, or need to save on data on their phone.
Features:
One-click publishing

Multi-language

Works without internet
Cost: Free trial, paid plans