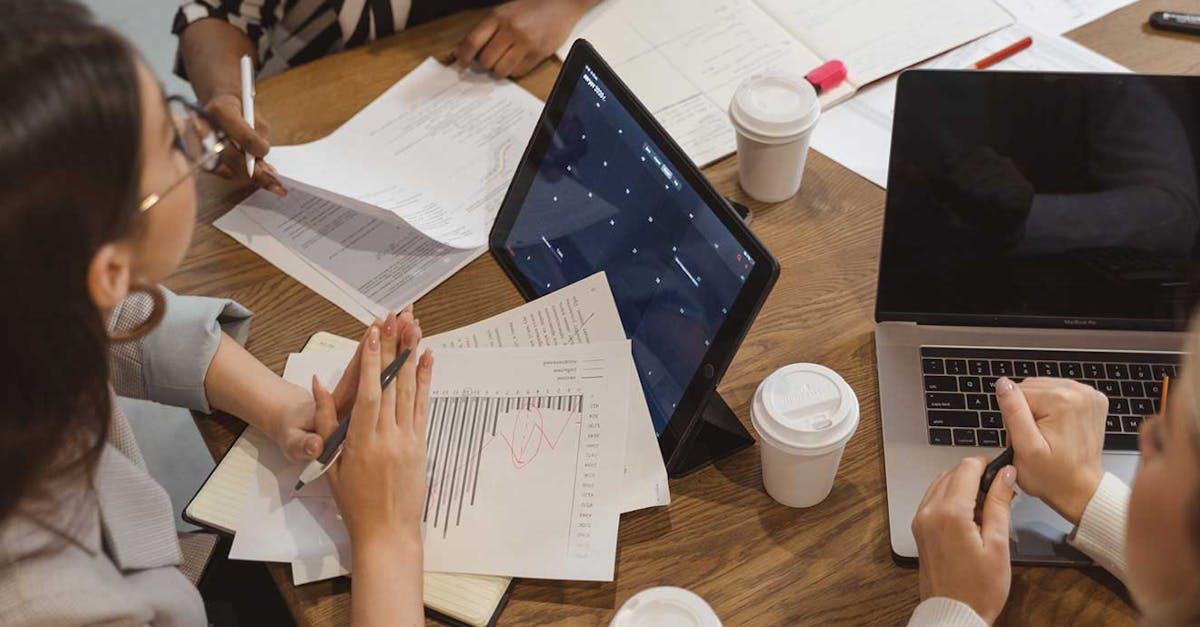 Onboarding new employees can be difficult, time-consuming, costly, and sometimes ineffective if done without proper planning. And when done poorly, it can also demotivate new hires trying to adjust to their jobs.
In industries like hospitality, retail, and construction, an inefficient onboarding process might even be dangerous if new employees aren't taught job-specific guidelines and can't pass their compliance training. It could set a poor tone at the beginning of their employment and impact employee retention.
But if prepared well, a smooth-running onboarding process can help new hires start off strong. It gives them the knowledge and also the confidence to do their work well. It helps increase productivity, which has a positive impact on the company's timelines. It also gives the employees a great first impression of the organization and drives them to perform even better at work.
As someone in human resources or in a leadership position, it should be a priority to make your new employees feel welcomed and prepared. If you're looking for a way to revamp your onboarding process and make it more effective for your new hires, an LMS is a great solution.
What is an Employee Onboarding LMS?
A Learning Management System (LMS) is any platform that allows you to develop, deploy, and track your team's overall online learning. It enables you to create lessons or upload learning materials, assign courses, measure progress, and manage the overall performance of your learners. This makes learning faster, more cost-effective, easily accessible, and trackable.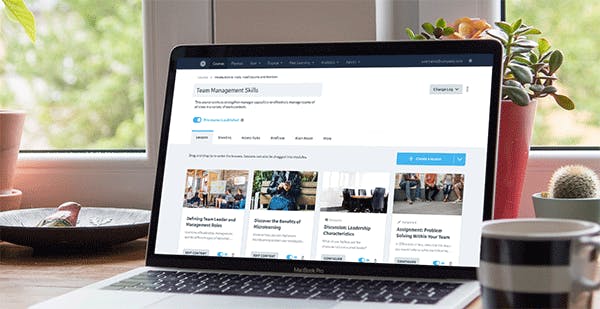 Some features of an employee onboarding LMS include:
Accessible courses

Content personalization

Assessments/Tests/Evaluations

Training and Certifications

Analytics, Tracking, and Reporting

Automated notifications

Mobile learning support

Gamification

Integrations

Easily scalable
You may have also heard an LMS referred to as a training management system, learning activity management system, or a learning experience platform (LXP). 
Depending on your training needs, you can choose between a variety of available LMS online. Some examples include Schoology, Totara Learn, Tovuti LMS, and Looop. EdApp is also a great LMS option if you're looking for a course library that cover any subject, including diversity and inclusion, harassment and bullying prevention courses, and even free English classes. There are also additional features like an editable course library, an authoring tool, and built-in gamification.
New to EdApp? The world's most loved mobile training tool is completely free to train your teams. Sign up for free – get started in minutes.
Key uses of LMS for Onboarding Employees
In the corporate world, an LMS can be used not only for employee training but also for virtual onboarding. With an LMS or online HR software, you can convert your HR processes into digital format through online guides and courses. Instead of printing and distributing resources physically, you can upload all the necessary information your new employees need through the LMS.
For instance, you can upload an easily-digestible presentation for new mechanics that shows all the different sections of the machine shop, including where to find all their tools. This is vital information that they'll need to remember when they begin to assist customers.
There are a lot of onboarding materials that your new employees will need again in the future like rules and regulations, IT guides, writing templates, and the like. With an LMS website, they can quickly access these online. Some onboarding LMS also serve as course completion tools for employees that need to undergo compliance training before starting their jobs.
You can even integrate your onboarding LMS with a Human Resources Information System (HRIS) so that it automatically sends relevant resources once a new employee is added to the system.
To give you an insight into the many ways LMS can be used in different industries, here  are a few examples:
Construction Training Solution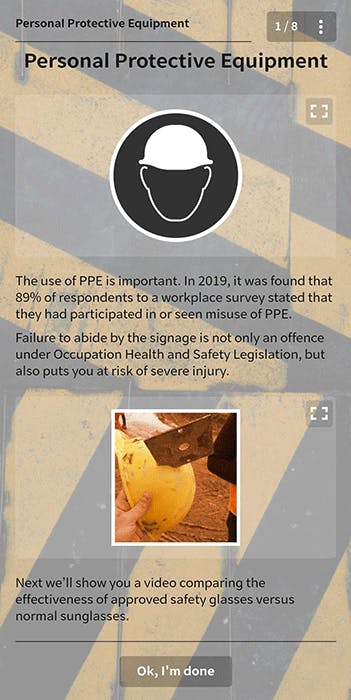 Employers can access EdApp's content library and use the courses on Machinery and Safety in the Workplace to equip their new employees with the practical knowledge they need while working in construction. You can also track safety training progress and gain insight into your team's performance using a built-in dashboard with access to user analytics.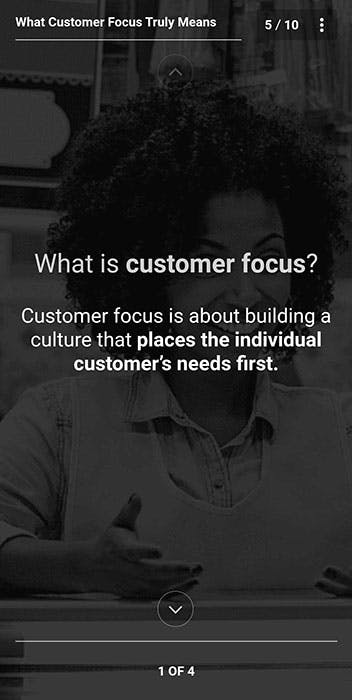 Discover a variety of templates in EdApp's authoring tool and onboard your new hires using our interactive learning features. For instance, you can ask your learners to match an ingredient with a corresponding menu item to familiarize them with a franchise recipe. A variety of visual content can really help them retain all this new information as they go through the onboarding resources.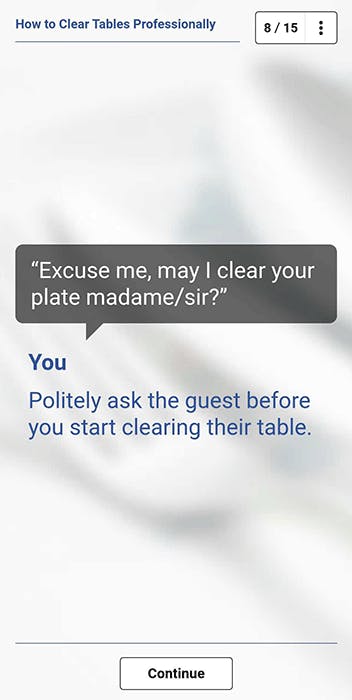 Even without access to personal computers or stationary work desks, your new hospitality employees can still receive and complete their onboarding courses using EdApp's mobile-first platform. You can also use the gamification and leaderboard features to motivate them to complete all their hospitality training. EdApp's fully customizable courses also allow you to create branded onboarding materials in just a few clicks.
Healthcare Training Solution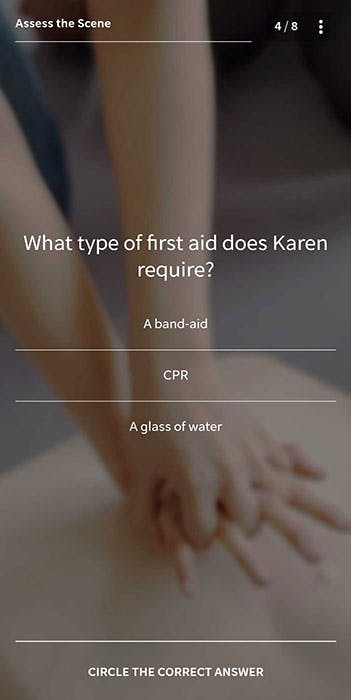 With courses being easily editable, you can create a sustainable and long-term onboarding resource that supports the ever-changing needs of healthcare professionals. Through our analytics tool, you can see reports on each new hire and identify learning gaps. Even though new healthcare professionals will be busy adjusting to their daily tasks, they can still complete their training requirements in between patients through microlearning on their mobile devices.
Benefits of LMS-based Employee Onboarding:
Cost-effective
Instead of having to allocate a certain budget for instructors, venues, transportation, and other additional resources, you can create onboarding content through your LMS and upload them online without any cost. You can even onboard new employees while working remotely with no additional expenses as long as you give them access to your LMS.
Highly accessible
Once you distribute onboarding materials through your LMS, new employees don't have to worry about losing physical copies of their training resources because everything they need is accessible online.
Scalable
Whether you're onboarding a small group of 10 new employees or a group of 100, lessons are consistent. With this automated training software, you can even set your process so that everyone receives their courses at a scheduled time.
Trackable
An LMS also allows you to track the progress of each new employee. This helps you evaluate their skills and aptitude for tasks and can also help you determine what roles and responsibilities are best suited for them. 
Through their performance results, you can also determine who might need help and give them additional focused training to catch up.
Asynchronous
An advantage of LMS is that learning can be asynchronous. As long as you've given the proper instructions and all the needed onboarding materials, new hires can learn at their own pace while still doing their work requirements. This is also good for the business because it minimizes downtime and disruption at work.
At the end of the day, you want your employees to enjoy their onboarding experience.
Sign up for free on EdApp and discover different ways to help your new hires integrate smoothly into the company.
No credit card required.
You may also be interested in:
Employee reward and recognition: How your LMS can help in 2021