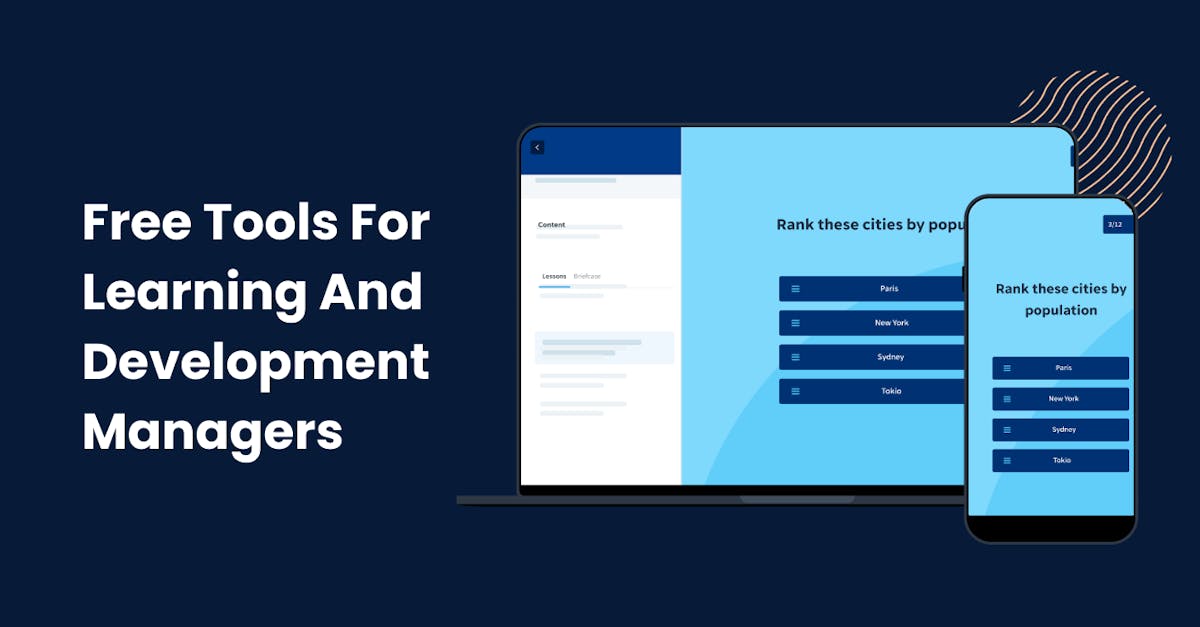 The main responsibility of a learning and development manager is to hone the skills and working knowledge of the members of their organization. And with the help of innovative learning platforms, they can author and deploy training courses on time and with ease. To help you with your search, we've compiled a list of different tools for learning and development managers.
1. EdApp
EdApp is the #1 mobile-first training tool for learning and development managers. It's well-known for its sophisticated yet user-friendly learning management system, which makes it easier for L&D managers to create or adopt specially designed courses and deploy them to assigned learners. EdApp has a library of 800+ pre-made courses from instructional designers, where users can import courses for free into their accounts for ready-to-deliver training.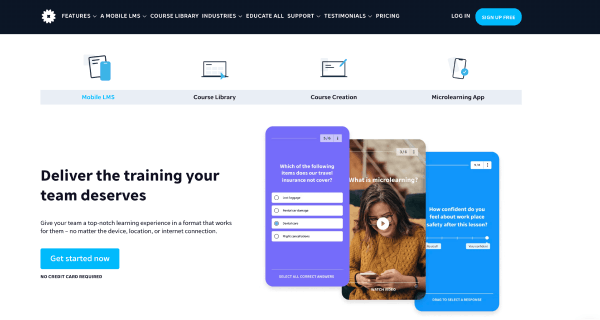 Its built-in authoring tool is one of its biggest features, allowing anyone to develop interactive microlearning courses in no time. You may get started right away with their user-friendly authoring and gamification templates that don't require any coding knowledge, which makes everything easy and quick to organize. There are a lot of options in the authoring tool that allows L&D professionals to insert videos, audio, and photos into the courses. Additionally, EdApp provides additional account setup assistance and course creation services by a team of experts.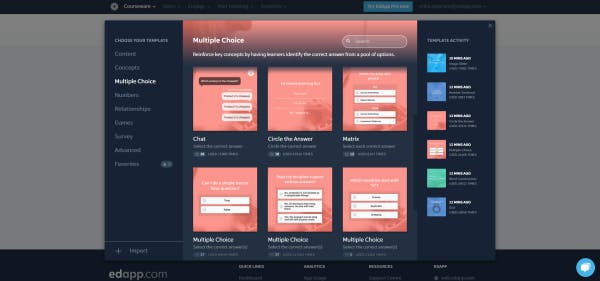 This top tool also has a quiz maker feature called Rapid Refresh. It allows the employees to take assessments in between lessons to reinforce knowledge and for managers to know the knowledge gaps. Building quizzes using Rapid Refresh is so easy – all you need to do is to enter your questions into their simple spreadsheet file and wait for the magic to happen when your quizzes are delivered at your set predetermined intervals. Also, their analytics tool is useful to track training progress and success rates.
Features:
Editable course library

Authoring tool

800+ high-quality courses

80+ highly customizable authoring templates (no coding required)

Gamification quiz templates

Compatible with most devices with optimized display scaling

Rapid Refresh quiz maker

Analytics
Cost: Free
Join EdApp today to start using the best free tool for learning and development managers! 
2. Learn Amp
Learn Amp is an all-in-one people development platform, combining learning experience features with their LMS tools. It allows you to create pathways and playlists of learning that will lead your employees to a training course that's most relevant to them. Learn Amp includes polls and surveys to gather feedback, which you can also use to gauge employee engagement. Employees can also create their social profiles where they can display their interests and expertise and connect with their peers.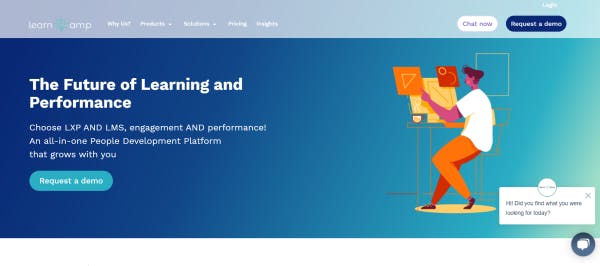 Features:
Learning playlists

Social profiles

Surveys
Cost: Paid plans
3. Degreed
Degreed is a training platform that is recommended to learning and development managers that handle large-scale training programs annually. It is best known as an upskilling platform that can identify the areas needed for improvement of your employees based on the tool's analytics data. Following this, L&D managers can begin designing specific content pathways for each employee to assist them to gain proficiency in skills that they previously lacked. It is also possible to create personalized learning experiences that connect learners to the information and resources needed to participate, collaborate, and contribute. Certificates are provided after each course completion as proof of the upskilling or reskilling training the employees received.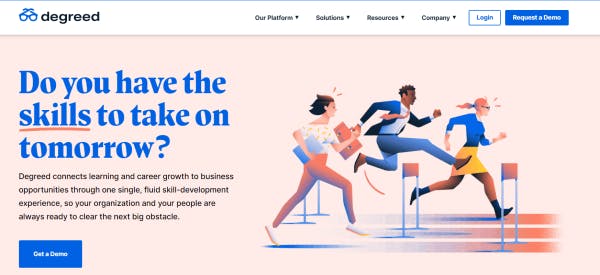 Features:
Scalable training

Upskilling

Real-time analytics

Content pathways

Skill certificates
Cost: Request a demo, paid plans
4. Knowbly
Knowbly is an employee training software designed by Turning Technologies to help L&D professionals deliver effective learning solutions at scale. Through its highly responsive course authoring tool, you can easily create and customize interactive learning content that works seamlessly on desktop, tablet, and mobile devices. You can design dynamic and engaging digital learning materials with features like interactive quizzes, games, simulations, infographics, flashcards, and easy-to-use course templates. Also, it is possible to reuse most training materials or transfer them to other LMSs by publishing them as SCORM or xAPI format packages. Although its 95 USD starting price is quite steep, you'll have unlimited access to courses, quizzes, and even storage.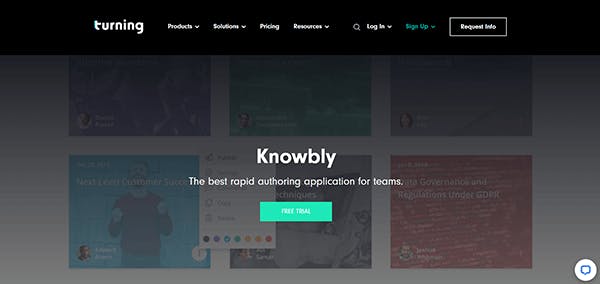 Features:
Responsive course authoring

Interactive templates

Unlimited courses, quizzes, and storage
Cost: Starts at 95 USD per author per year
5. Gyrus
Gyrus is a skill-management-focused tool for L&D managers. The platform's main objective is to provide an LMS solution that aids in employee development and compliance through training. With Gyrus, training is fully scalable and supports quick deployment of learning materials is also made possible. You can find webinars being offered, as well as a skill evaluation tool that will allow the system to calculate a competency grade based on employee performance. For gap analysis and reporting, data from feedback and evaluations are also incorporated. This way, managers can closely monitor the learning progress of the employees.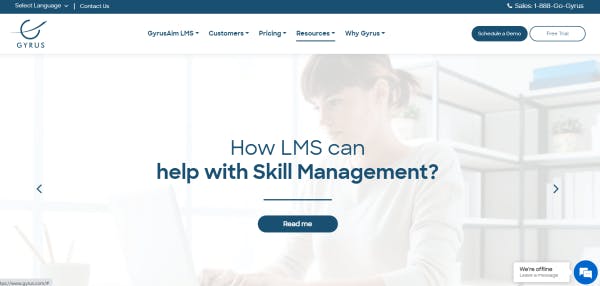 Gyrus offers three different subscriptions to suit your needs: basic, advanced, and enterprise. There are free trials and demos offered.
Features:
Cost: Free trial, paid plans
6. VAIRKKO
VAIRKKO, a cloud-based training software, is designed to fulfill the needs of L&D professionals looking for a smart course management platform. This user-friendly platform allows managers to build and publish as many corporate training courses as they want, assign lessons automatically, and track learners' course completion and success rate with ease. Lessons can be uploaded in different formats such as PowerPoint, PDF, photos, videos, and audio snippets which can be accessed via smartphones, tablets, and laptops.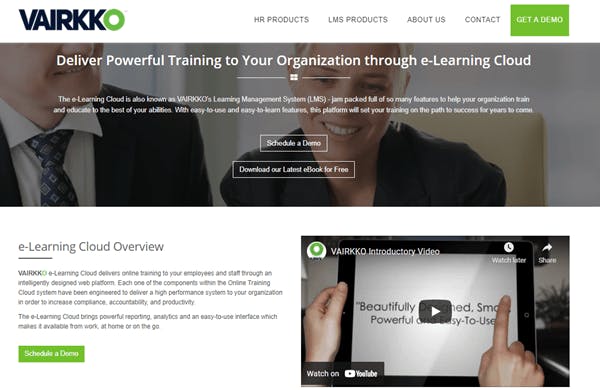 Features:
Intelligent e-learning cloud

Unlimited courses

Automatic course deployment

Reporting and monitoring

Compatible across multiple devices
Cost: Paid plans
7. Ruzuku
Another great corporate training tool for learning and development managers to consider is Ruzuku. Built with a powerful yet clean and user-friendly interface, the platform allows you to create and run great online courses without overwhelming designing tools and options. The content is all yours to edit – you can customize the design to fit your brand and incorporate information suited to your students' learning objectives. If needed, you can also add PDFs, Word, PPT, and other files to your course content and make them downloadable for self-paced learning.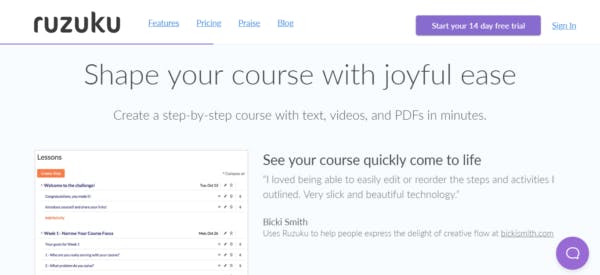 But, it's not just limited to course creation and deployment! Ruzuku's course health feature also allows you to keep track of your team's learning progress, including activity completion and any queries or comments they may have about their courses. Any updates made by participants will be sent to a manager of learning and development automatically via email.
Features:
Cost: Starts at 4.75 USD
8. Core Achieve
You can always count on CoreAchieve for the creation, management, and delivery of SCORM training courses. When preparing your courses, you can either build SCORM compliant courses from scratch using their training development tool or import and edit your existing learning materials. This software also features an advanced and easy-to-use tool, which you can use to build quizzes, assessments, and surveys, and also check their results. The data gathered can help you monitor your employees' learning progress and training effectiveness.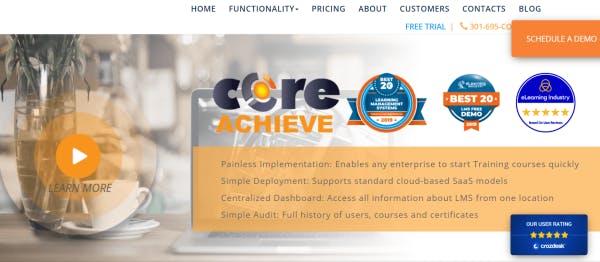 The only downside with this software is that it is limited in terms of how many users you have per month. It's not exactly practical if you need to train and manage hundreds to thousands of workers. 
Features:
Training development tool

Creation, management, and delivery of SCORM training courses

Learning progress tracker
Cost: Paid plans
9. Asana
Asana is a comprehensive tool for L&D managers with a range of features that include calendars, task allocation, and project status updates. The organizational and management tools allow teams to know the order of the tasks needed to be done and the objective behind those. The platform also supports cross-team collaboration, which can keep projects organized. While the tool isn't ideal as a standalone LMS, it's best suited to organize and manage projects. It can easily bring your team's goals, tasks, and files together to help support your training but should be relied on more as a project management tool.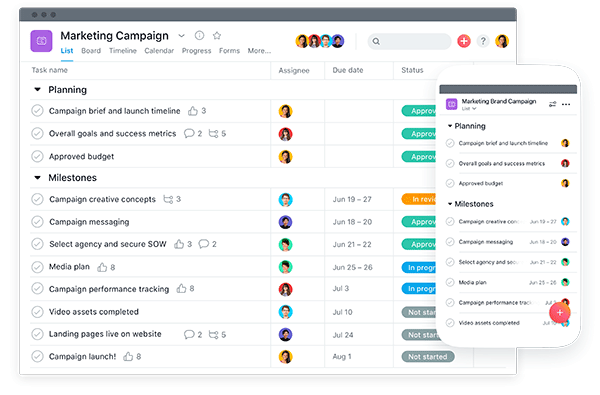 Features:
Management tool

Cross-team collaboration
Cost: Free, paid plans
10. Alison
Alison is a training platform that houses over 3,000 courses. Learning and development managers can deploy training to the employees easily with Alison's readily available course content. Afterward, certificate is issued once learners finish a course that they can use as proof of completion. As one of the world's largest free learning tools, it's designed for employees to upskill and learn independently, without having to formally enroll in academic institutions. 

There are several areas of study to choose from such as business, marketing, management, computer science, and more. Learners are required to achieve at least 80 percent completion to move on and are on a self-guided learning pathway.
Features:
3,000+ courses from reputable universities

Course categories: Management, sales & marketing, engineering, etc.

Certificate
Cost: Free, paid courses