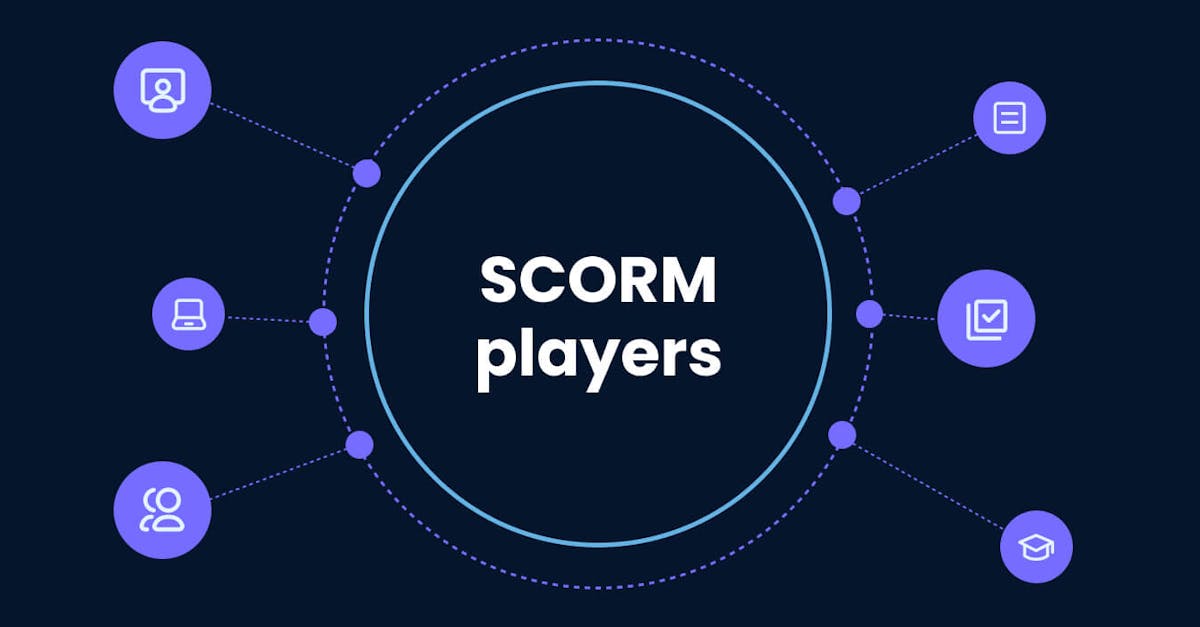 SCORM players are powerful learning tools that can display training materials from different learning management systems. Because of their standardized format and interoperability, you can be sure that your training programs are always compatible with other platforms. In this article, we've put together a list of 10 SCORM players that can help you create more adaptable and accessible training materials.
1. EdApp
EdApp is a top-of-the-line SCORM player and elearning solution that allows you to import and play SCORM-compliant and tin-can compliant files with just a few clicks. Simply create a new lesson, click on 'SCORM' in the lesson menu, and select a SCORM file to upload. Adding new content, images, and videos is also made easy with EdApp's authoring tool, which comes complete with over 80 elearning templates. There's even a fully editable course library that allows you and your trainers to import and customize online courses for free. You won't need to worry about compatibility or think about going back to instructor-lead training as all your digital lessons can be exported into SCORM format.
Compared to most SCORM players, this elearning solution is jam-packed with tons of other built-in features and integrations such as a reporting and analytics dashboard, a virtual classroom, a quiz maker, Canva integration, and Deputy integration. They also have a simple and intuitive AI Translation feature that uses Google's powerful translation tool so that you can easily deliver any course in your learner's preferred language without wasting funds on a translator.
Cost: Free
Features: Authoring tools, 80+ elearning templates, fully editable course library, export SCORM feature, reporting and analytics, virtual classroom, quiz maker, AI translation, Canva and Deputy integrations, cloud-based saas, mobile learning, easy-to-use elearning software, great learning experience
Sign up for Free and Start Using The Best SCORM Player
2. SCORM Cloud
SCORM Cloud is an open-source SCORM player that helps you easily deliver your courses to other learning management systems. It also allows you to upload your course to the cloud and share it with other learners through a public or private invitation. To access SCORM Cloud, you can opt to use their web application or integrate it into your existing app via API. To preview your course, just upload the content and you'll be able to troubleshoot from there. Even if the course is importing and running, you'll get visibility into what's happening. This platform offers a free trial but it has a storage limit of 100 MB a month and up to 10 registrations only.

Cost: Free, Paid plans
Features: Web application, cloud saving, public & private invitations, API integrations, SCORM 1.2 and SCORM 2004 support
3. Coassemble
With Coassemble, you can easily include existing online training content through SCORM packages in your courses. All you have to do is upload the SCORM file from your computer, choose the module type, and select the SCORM version. As some SCORM packages don't show their completion status, Coassemble allows you to manually set the SCORM package as complete and preview it. Like other SCORM players, Coassemble also allows you to export SCORM files but with certain limitations. Do note that this LMS platform isn't free but they offer a free trial for all of their plans which include the SCORM import feature.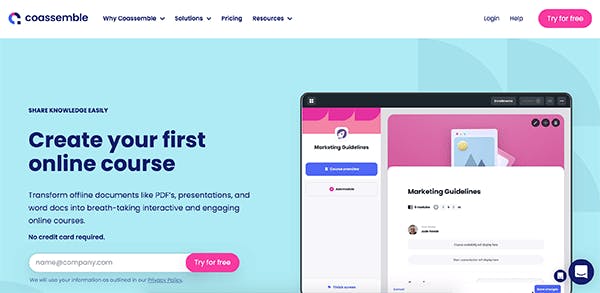 Cost: Starts at 9 USD
Features: SCORM file upload, SCORM export, free trial
4. Totara Learn
Totara Learn is an online learning management system designed for businesses that can help host your content and play your SCORM files. It enables you to upload SCORM packages with SCORM 1.2 and SCORM 2004 specifications and you can set who can view these files. Similar to other open source SCORM players, Totara Learn also tracks a learner's access, progress, scores, and completion of SCORM packages, as long as the scorm file contains this information. Once uploaded, you also have the option to update the SCORM package without losing the completion data and current learners' progress. If your SCORM package will be used for multiple courses, you can take advantage of their neat auto-update feature and just select your preferred frequency.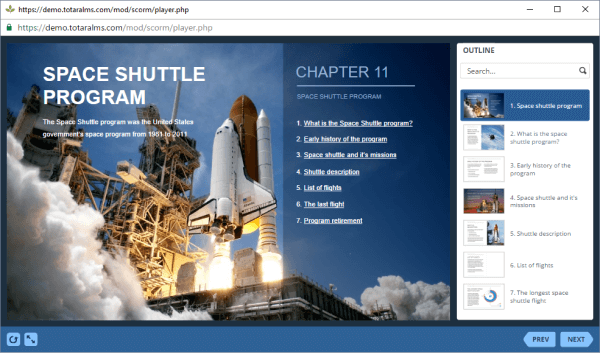 Cost: Available upon request
Features: SCORM activity, SCORM manual & auto-update, SCORM viewing limit
5. Schoology
Schoology is another open-source SCORM player that allows you to integrate your SCORM content on other software. You don't need to worry about compatibility as it supports SCORM versions 1.1 and 1.2, as well as 2004 – version 4. To organize your content, Schoology has course folders as well as personal and group resources which are built-in repositories where you can upload SCORM packages before integrating them into a course. Alternatively, you can directly upload them from your computer if you'd like. Keep in mind though that it has a size limitation of 10 GB per file. After uploading, you can configure your SCORM package settings, such as the title, attempt limits, and grading.

Cost: Available upon request
Features: SCORM grading, SCORM package configuration, file repository
6. Blackboard
With Blackboard, adding SCORM packages is as easy as adding any regular file. Just upload your SCORM file and edit your content package details with its many configuration options. You can choose to set due dates, automatic grading, and the number of attempts. You can even allow conversations between peers so they can have quick exchanges about the Blackboard SCORM package. Like most platforms, Blackboard's SCORM engine supports both SCORM 1.2 and SCORM 2004 standards. Aside from being an open source SCORM player, you can also have visibility on analytics reports to view your learners' progress.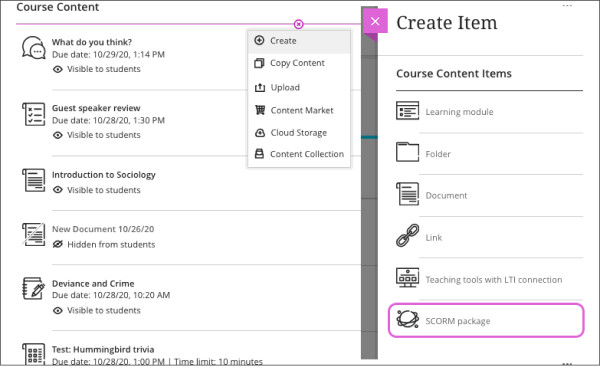 Cost: 500.00 USD/year
Features: Class conversations, SCORM analytics, SCORM settings panel
7. 360Learning
360learning is a collaborative learning platform and open source SCORM player that allows you to add a SCORM file to their platform and automatically convert it to a course. You just have to make sure that it's in a zip file and published in HTML5 before uploading. It supports both SCORM 1.2 and 2004, however, it's not compatible with SCORM 1.2 multisco. One of its advantages is that learners who have access to the course can instantly see any changes made to it whenever it's being edited. If your course is meant to be played on mobile platforms though, you'll have to check first that the SCORM file is responsive to avoid any issues.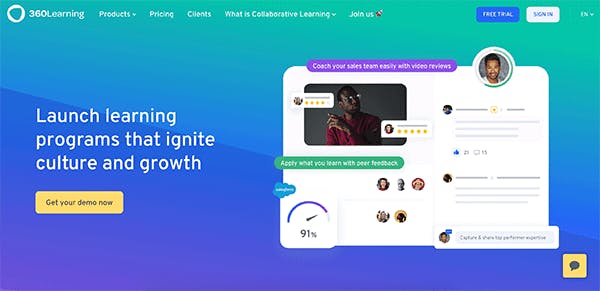 Cost: Starts at USD/user/month
Features: SCORM course editing, course converter, mobile compatibility
8. Sonata Learning
Are you looking for an open source SCORM player that works offline? Look no further as Sonata Learning has developed a modern-day tool that can still be used without an internet connection. It runs on Android and Windows and can be downloaded for free on both platforms. Aside from being SCORM 2004-compliant, it can also play WebM and H.264 encoded videos. You can also use Sonata Learning to track learner progress and results, then export to a file for emailing or analysis in Excel. However, if you're a Mac or iOS user, you'll have to look elsewhere for a tool compatible with your operating system.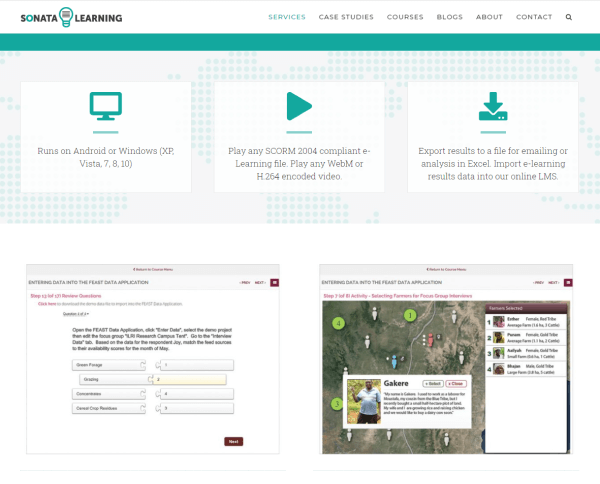 Cost: Available upon request
Features: Offline player, analytics, export reports
9. Skilljar
Skilljar is a customer service training management software that includes an open source SCORM player for easy viewing and exportation of courses made in other software. It supports SCORM 1.2 format as well as HTML5 web packages. After uploading, you can then set SCORM display dimensions, record multiple SCORM progress attempts, and hide SCORM lesson content after completion. With Skilljar, you'll also have access to a SCORM report that provides an overview of multiple data points of your SCORM package performance across your courses.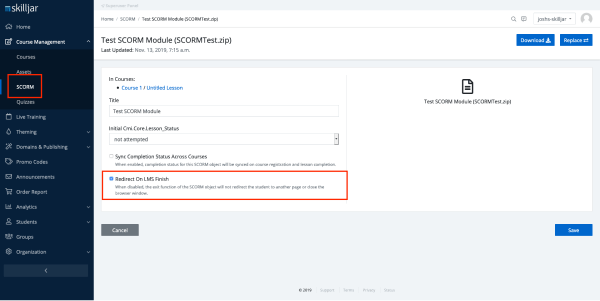 Cost: Available upon request
Features: SCORM configuration, reporting & analytics, bulk upload
10. Learn Amp
Learn Amp is a learning management software and open source SCORM player which also supports SCORM 1.2 and 2004. Just drag and drop your file then enter your key details such as the title, description, and total time. It also has multiple engagement features that you can choose to activate, such as Q&A, discussions, and reviews. In case you need to update your SCORM package, your users' completion record will remain unaffected. This tool isn't free to use but they offer tailored pricing to suit your organization's needs.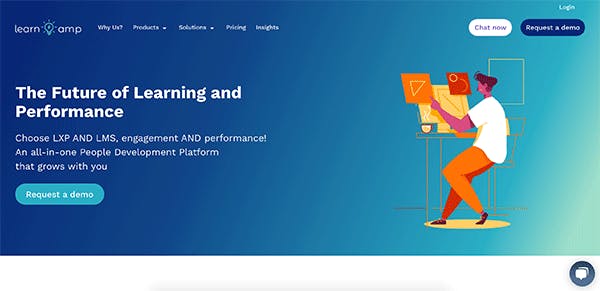 Cost: Available upon request
Features: SCORM engagement features, SCORM update, SCORM upload
Subscribe to our blog newsletter