Often, companies focus mainly on implementing instructional-led training or developing online training courses like presentations, videos, and assessments to help their employees gain new information and skills. A lot of businesses overlook the importance of providing teams with corporate training for practical applications which can help information retention. And because of this, they run a higher risk of their employees making mistakes while on the job. These mistakes can negatively impact a company in different ways but in high-risk industries like healthcare, aviation, construction, and transportation, such mistakes can lead to serious, and sometimes even fatal, consequences. 
This is where scenario training comes in. To better prepare your team for future job responsibilities, it is essential to provide employee training that immerses your workers in real-world scenarios, helps them improve their problem-solving and critical thinking skills, and allows them to apply manual skills in a safe learning environment. 
In this article, we'll dive deeper into what scenario training entails, why it is used by different businesses, how it can help your team improve their skills, and which employee training tools you can use to implement scenario training for your organization.
What is scenario training?
Scenario training, also known as scenario-based training, is a powerful method that uses immersive simulations like VR environments, eLearning games, mini quiz scenarios, role-play training, and the like to help employees apply knowledge and skills in real-life situations. As opposed to a linear model of training, where learners go through increasingly difficult concepts topic by topic or assessment by assessment, this learning program uses a more practical approach to learning and training and development. Employees use and practice skills that they'll need for their role, in a controlled and simulated environment. 
Through scenarios and immersive learning activities, employees can also explore consequences and see the impact of their decisions at work. And as they progress through the simulation, trainers can provide feedback by showing them what they need to improve on and how they should handle similar situations in the future.
For example, by incorporating scenario-based learning methods into your sales learning platform, your employees can learn how to ask the right questions in a sales negotiation. They'll also learn how to use that information to their advantage when they are trying to close a deal. 
Because it's such an adaptive and effective training method, corporate trainers and other learning and development professionals can also use it to demonstrate a range of topics like conflict resolution in the workplace, handling customer complaints, safety practices when operating machinery, communicating with patients in healthcare, and many more. 
What are the benefits of scenario training?
In a nutshell, scenario training can:
Show learners the cause-effect relation of their decisions

Turn onboarding process into a fun and engaging activity

Drive behavioral change

Facilitate effective application of knowledge

Increase their critical thinking and problem-solving skills

Give them confidence in their decision-making skills

Provide them with a safe mode to practice manual, professional, or labor-intensive skills

Allow them to make mistakes and get feedback to improve
What are some examples of training methods that use scenario training?
Here are a few examples of how scenario training is used for specific training methods in different work industries:
Communication Skills Training
Different eLearning scenarios or role-playing games can be used to imitate sales and customer service dialogues, communication between healthcare professionals and patients, and even conversations between managers and their team members. Improving interpersonal skills overall.  
To give you an example, in customer service, you can help your agents practice handling complaints by providing them with role-play scenarios that determine how they would navigate through similar situations with different types of customers. Aside from helping employees be more confident in their communication skills, communication skills training prepares them for how future interactions might turn out. 
Leadership Training
Leaders often handle difficult decision-making situations in the team. These decisions can be costly if they're not delivered properly. With scenario training, you can enable your organization's leaders to handle complex crisis situations, provide proper guidance for their members, and face challenges with critical thinking. By investing in their leadership skills, you would be investing in your company. 
Through these scenario-based interactive eLearning tools and talent management software, leaders can see the broader impact of their decisions, realize the consequences, and come up with a solution for difficult situations that may arise.
Compliance Training
For any company, there are certain types of compliance training that need to be completed according to mandatory laws. Some of these compliance training include fire safety training, earthquake training, ethical and diversity training, and other important subjects. Organizations that don't accomplish these requirements can face serious consequences. 
So instead of relying on lectures and compliance training checklists, you can try scenario-based training to help immerse your employees into realistic simulations like fire and earthquake drills. By planning for and preparing for these situations ahead of time, your employees will be better equipped to handle fire and earthquake emergencies when they occur. 
Professional Skills Training
Healthcare professionals, engineers, pilots, and other professions that require an extensive level of training go into their fields knowing the high cost of a single mistake. Although scenario training can't replace real experience, it provides these professionals with a chance to practice their skills and apply their knowledge without being afraid of making mistakes and risking physical harm to anyone or other grave outcomes.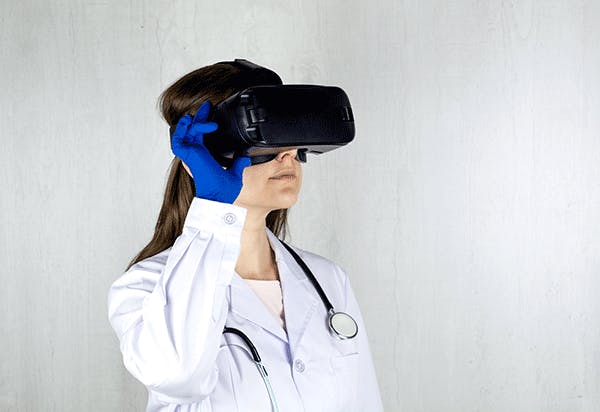 A great example of scenario-based training being incorporated into professional learning is virtual reality (VR) training for beginner pilots. Through these VR training courses and elearning solutions, they can learn about topics like what each part of the cockpit is used for, how to operate these mechanisms to successfully fly and land a plane, and how to fly in different types of weather.
What tools can you use to deliver scenario training?
There are a number of online training solutions that you can use to create and implement scenario corporate learning for your organization. SweetRush is one web-based training platform that allows you to develop custom learning experiences through well-designed scenarios, stories, and training simulations. Obsidian Learning is another option that you can try out. Having been in the industry for 22 years, this trustworthy platform enables learning and development professionals to incorporate storytelling, problem-solving, and collaboration elements into their scenario training courses. 
EdApp, which is a SCORM microlearning platform and blended learning management system (LMS), can also be used for your team's scenario training process. With the platform's highly intuitive cloud-based authoring tool, you can create, manage, and implement bite-sized online courses and training materials in just a few simple steps, all from one powerful tool. This makes the entire elearning development process quick and easy. Through these courses, which can feature interactive templates, gestures, and gamification elements, you can depict different simulations based on your training needs in a fun and engaging way.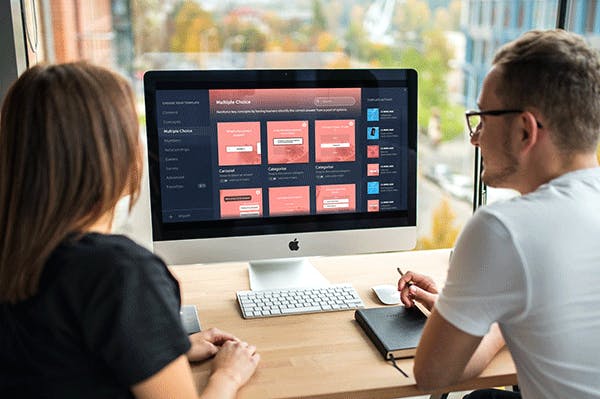 Rapid Refresh is another useful EdApp feature that you can utilize to reinforce key concepts by allowing you to create and schedule scenario-based training assessments and then deploy them directly to your team member's mobile devices. By providing your employees with gamified scenario training through their phones, you give them the flexibility to learn at their own pace and the option to have a great time while learning.
You may also be interested in: