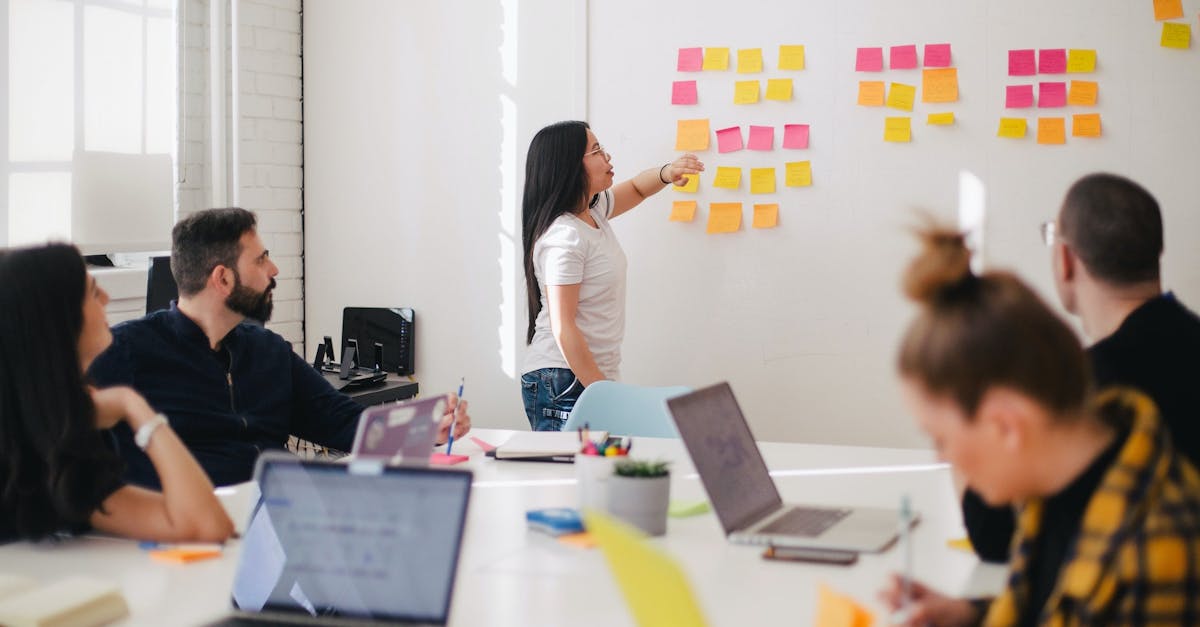 Effective workplace communication is essential for almost every workplace process. From the ground employees up to management, every member of the workforce should work on improving their communication skills so that they can reduce conflicts and misunderstandings while improving efficiency and fostering growth. Communication skills need to be learned and continuously updated, so we have 10 of the best online communication skills courses for you today.
Using courses for improving communication skills
The use of elearning courses is an efficient way to help improve your employees' communication skills. If you have a learning management system with a course library included, you can just easily roll out courses to your teams in a few clicks. If this isn't the case but you have ones that are SCORM-compatible, this option is also great if you have existing ones from other platforms. By having these resources at the ready, it's easy to give training to your employees as these communications online courses can help them improve their communication skills without needing a classroom environment all the time. They're accessible through different gadgets and some are even available on mobile making completion a breeze.
1. Communication in Project Management Course
If you are looking for a course that will teach you effective ways to know how you can communicate with your team, EdApp's Communication in Project Management course is for you. After completing the course, you will learn how to write in ways that will effectively communicate your views and ideas for your projects to your team. In addition to effective writing techniques, the course will also teach collaboration tips and techniques that will help you to work effectively with your team, and finally, you will also learn how to properly delegate tasks in ways that allow your team to understand and meet project goals. You'll also be able to find other great communication & active listening courses from the EdApp course library.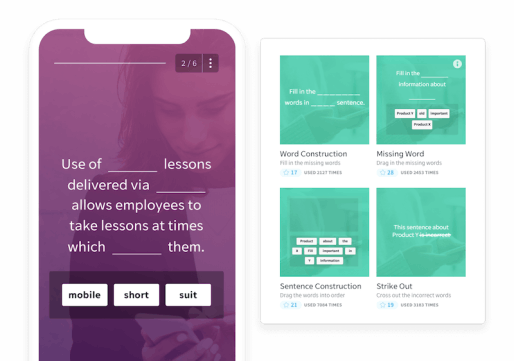 2. Impactfactory's Communication Skills Training Course
This communication training course from Impact Factory will teach your employees how business communication works by explaining communication elements. It is important to understand the elements of communication and how to effectively use them in the workplace so they can work on their communication skills. The course will also cover body language and nonverbal cues. This is a very important topic because the majority of the ways we communicate is through nonverbal cues. There is a communications tool kit included in the skills training course as well. Unfortunately, the course is priced at around 400euros.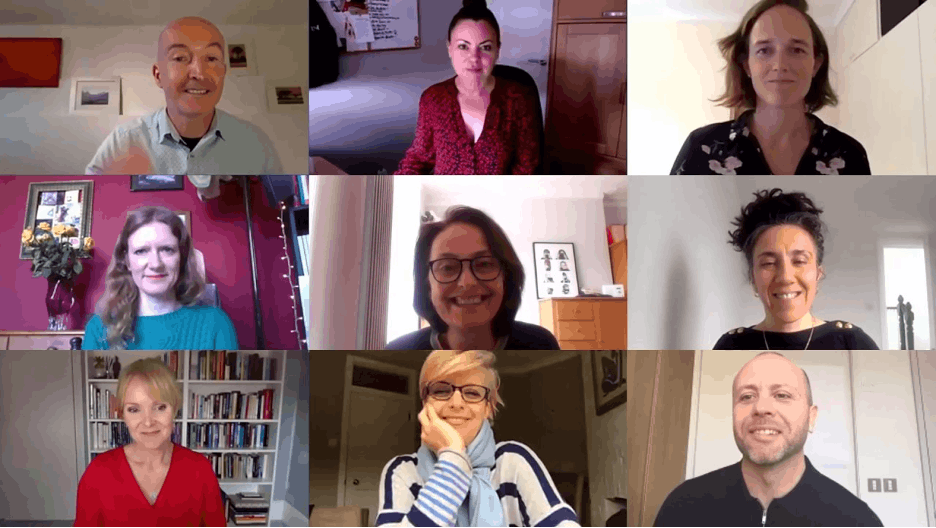 3. Basic Skills in Constructive Communication Course
This constructive communication course aims to help learners develop interpersonal skills and improve interactions and learn how they can formulate and communicate their thoughts in clear ways to be understood. In some organizations, it is common for processes to take longer than expected because of poor communication between colleagues and leaders, personal relationships also get in the way. The Basic Skills in Constructive Communication course aims to eliminate this wastage of time. This course would be easier to digest if it was available in a microlearning format.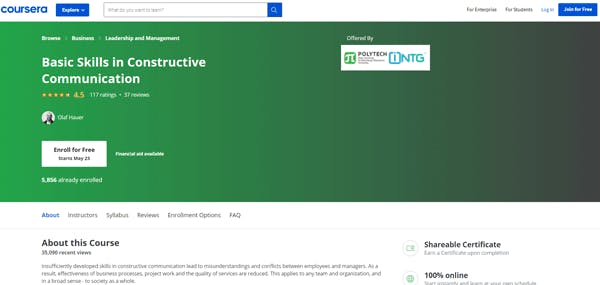 4. Youth Entrepreneurship – Leadership Skills Course
Entrepreneurship has been the backbone of almost every economy across the world since the beginning of time. Unfortunately, communication has been one of the major challenges that entrepreneurs face. This free course from EdApp aims to help entrepreneurs understand the concept of communication, its importance in their businesses, and improve employee communication. Entrepreneurs who do the course will gain communication professional development, both written and oral, that they can use to communicate with their employees and perform effectively in interventions and negotiations. There are many other communication courses from EdApp.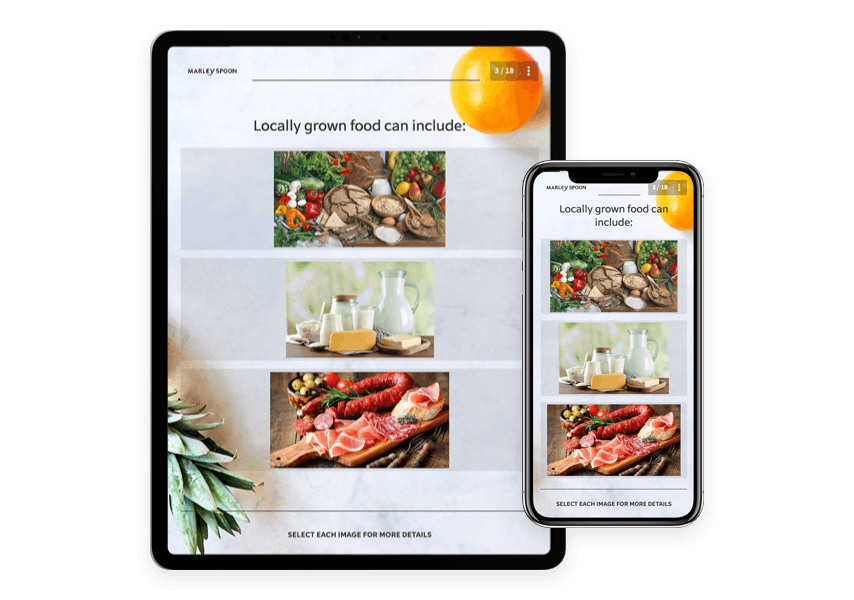 5. Improving Employees Communication Skills
The course itself is free, but you will need to pay for the certificate if you would like to get certified. It is a four-week-long course that has a total of 10 hours worth of material, so it isn't exactly microlearning friendly. The aim of the course is to help learners develop interpersonal communication at work, learning how to communicate effectively, and how to improve verbal communication skills in order to achieve their goals. The course is fairly comprehensive as it covers things such as when to cooperate instead of when to compete, how to create persuasive messages, how to ask thoughtful questions, and so on. At the end of the course, you should understand what your coworkers want and how to respond to their needs.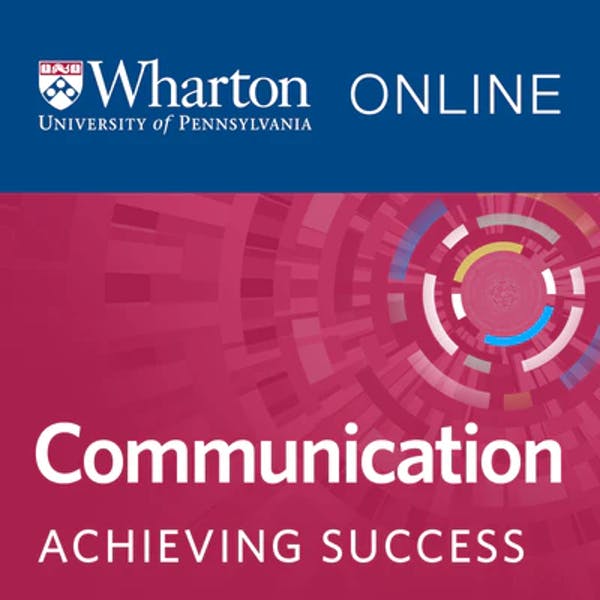 6. Communication Skills in the Workplace Learning Path Course
This communication skills in the workplace course is a very long course that may not be suited for workforces on the go, but it is quite in-depth and outlines ways to improve communication in the workplace, such as adjusting writing styles, teaching communication skills to adults, and how to express thoughts in a clear, concise and efficient manner. In addition to floor level staff concise communication training, the course will also help leaders communicate better by teaching successful ways to carry out team meetings and plan and develop presentations effectively. Only a few courses teach communication from a cross-cultural communication point of view, and this is one of them that does.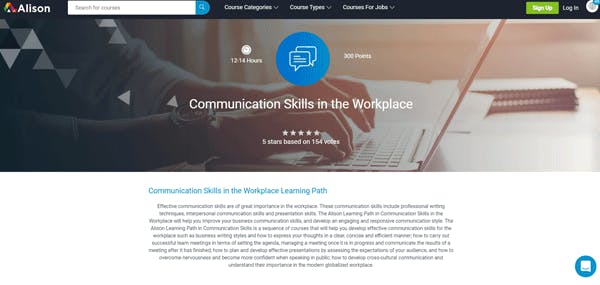 7. Teamwork Skills – Communicating Effectively in Groups Course
This communication skills course is a teamwork and group communication-focused course that helps employees to communicate in these situations. Being able to successfully communicate in group scenarios is helpful for both professional and personal success. After completing the course, your workforce will learn how to make better decisions and be more innovative and creative. They will also learn how to manage conflict by working with different group members, negotiating for acceptable outcomes, and very importantly, they will also learn how to communicate in virtual environments in this day and age. If you ask us, the course is a bit long, at around 10 hours.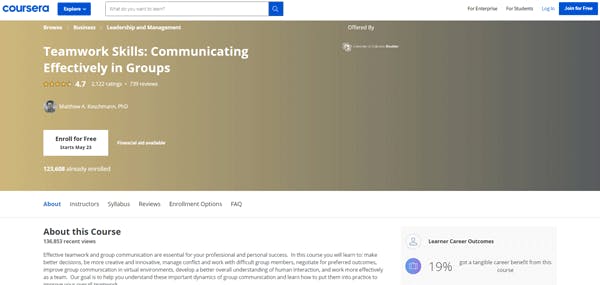 8. Communication Skills Training Course
Just like almost all other communication skills training courses, this is one that seeks to help employees develop skills that will, in turn, help them to communicate more effectively. The course covers the purpose of communication and how to improve communication skills along with teaching the methods of communication to employees. Unfortunately, it is not editable.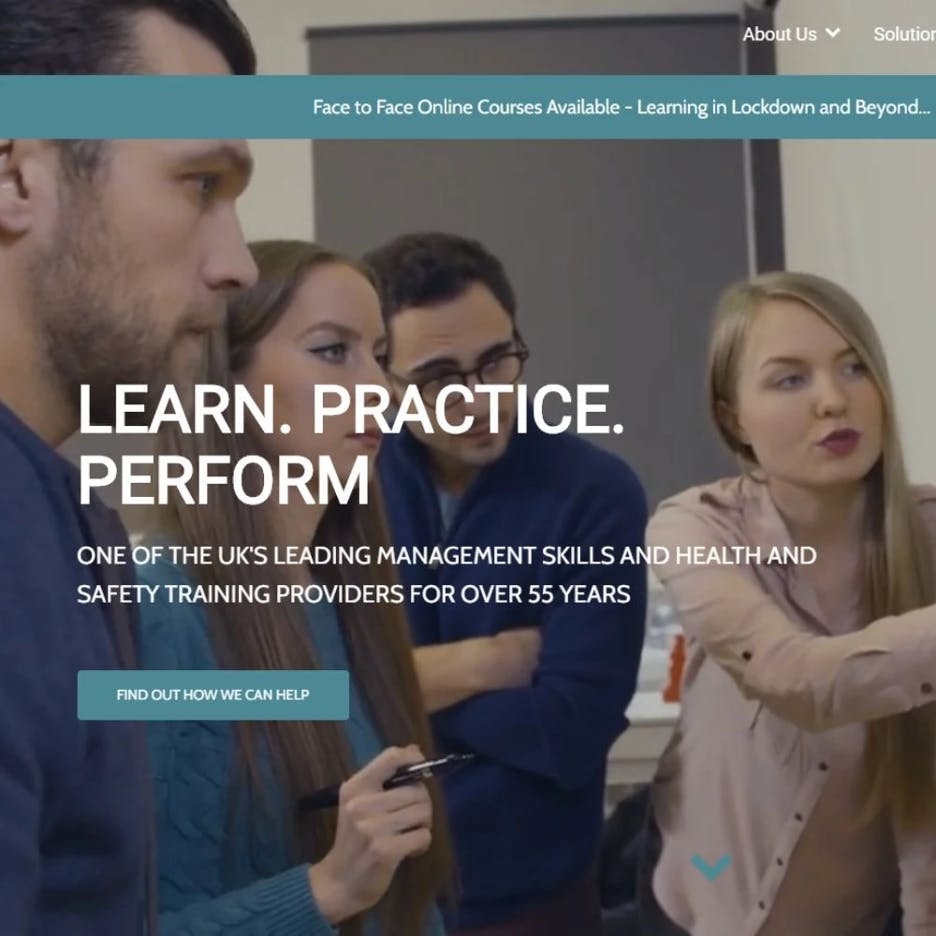 9. Workshop for Effective Communication Skills Training Course
We understand that you may be looking for courses that are editable that you can customize to suit the specific needs of your team. So far, only the 1st and 4th courses have this option, and unfortunately, this course from Pollock is not editable either. This workshop for effective communication skills will teach employees what are workplace communication skills, how to be more efficient in achieving relational goals, and how to turn potential conflicts into opportunities for deeper understanding. One of the unique features of the course is that it teaches how to resolve issues even before they start to grow and fester.
10. Communication Strategies for a Virtual Age
Coursera presents the course, but the University of Toronto offers it. Unfortunately, course creators won't be able to add useful features such as spaced repetition and microlearning to this course. Learners who take their course will learn how to apply communication principles for both in-person and workplace communication activities and use a science-based approach to create impactful presentations.
11. Communication Skills: Become More Clear, Concise, & Confident
Offered on Skillshare, the Communication Skills: Become More Clear, Concise, & Confident course discusses the different aspects of communication that managers and aspiring leaders can apply in one-on-one conversations, presentations, and team meetings. The first part of the online course teaches them how to form concise messages using simple sentences, clear points, and confident pauses. It also highlights how eliminating filler words and sentences can help learners relay information more effectively. The last part of the training program delves into non-verbal communication skills that can help anyone become a more confident speaker. Once learners have finished the lessons, they'll then be encouraged to prepare for an upcoming presentation, meeting, or conversation and put their newly learned skills into practice. 
12. Communication and Interpersonal Skills at Work
FutureLearn's Communication and Interpersonal Skills at Work course touches on the best communication strategies that will help you improve your communication and interpersonal skills at work and navigate positive collaboration with your colleagues. Specifically, these techniques ensure that you effectively share your ideas, points of view, knowledge, and information and that your audience fully understands the idea you're attempting to convey. In this course, you'll also discover your communication style and the importance of matching this style with your work and project outcomes to achieve effective workplace collaboration. Managing challenging conversations will be discussed as well, preventing conflict in a modern workplace. 
13. Strategic Communication for Sustainability Leaders
Strategic Communication for Sustainability Leaders is a course offered by edX, designed to help sustainability leaders become effective science communicators. It identifies the different tools of science communication and effective visualization and narrative techniques, which leaders like you can use to articulate a succinct, captivating message and communicate complex scientific data-sets to any audience. This course will also walk you through the step-by-step process of assembling, presenting, and delivering a compelling presentation that will capture your audience's attention and motivate a broad spectrum of stakeholders to work toward change. The content of this edX course will be delivered in a video format. This course is available for free although for a limited time only. To gain unlimited access, you'll need to pay $149 USD. 
14. Connecting Through Talk – The Ingredients
Learn the ingredients of the language of compassion communication with this online course, Connection Through Talk - The Ingredients by OpenLearning. This course goes through the OFNR framework – observation, needs, feelings and requests, and how these ingredients can help you connect effectively with your colleagues, and honor and hold their needs and yours in mutual respect. At the end of this course, you'll witness how this communication style will dramatically improve the quality of your relationships, not only with your colleagues but also with your family and friends. This course is free and can be completed anytime and anywhere. If needed, you may also get personalized feedback and course certificate for a $15 AUD fee. 
15. Active Listening Class
The Active Listening course by EdApp delivers the main principles of active listening and how you can use them for effective client communication. In the sales communication skills training, active listening is defined as hearing with full attention and understanding and you'll discover why it's a skill that must be practiced often in sales. By developing better listening skills, employees are able to converse more effectively with customers as they already know what it is they're looking for in a product or service. The Active Listening course by EdApp highlights the main principles of active listening and how you can leverage the techniques to improve your client communication and relationship and how to improve your talking skills.
Conclusion
The best course on our list today is the Leadership and Communication course from EdApp that teaches both communication and leadership strategies. One of the main reasons why we like this course is it can be edited by course creators in the editable library on the platform. This is one of many courses from the EdApp that can be totally customized to fit your company's needs. EdApp is free for you to train your teams – large and small.
Other free courses